Eclectic Luxury Design: Lori Morris
Interior designer Lori Morris is the Canadian-based reigning queen of glamorous and eclectic luxury design. Her creative work is a masterful balance of elegance and opulence. The designer doesn't believe in rules and never limits herself to using traditional colors, textures or any one style. To see her designs is a pure sensory delight. It's not that she completely abandons traditional ideas. For this visionary designer, "traditional" is without boundaries and beauty and luxury go hand in hand.
Backed by her "House of LMD" team of more than thirty creatives, Morris cleverly merges periods and effortlessly mixes styles in a way that has become a signature. She forms sophisticated layers, creating multifaceted expressions with an avant-garde edge that combines different surfaces, shades, and attitudes. With nearly thirty years of experience in the industry, the designer knows how to transform her clients' lifestyle dreams into reality. Her primary objective is to create beautiful, one-of-a-kind, bespoke environments that reflect the client's ideas.
The House of LMD strives to deliver a luxury experience with an emphasis on every detail. Morris identifies as a creative artist who uses furnishings and architecture to communicate a story, to reflect a vision, and to interpret feelings. Right in the beginning, the designer meets with her clients to establish the feel they want for their lifestyle. She asks what feeling they want to achieve when the house is done. From there she provides inspiration and focus. The style that results is inspired by what the client wants and will enjoy. Whether it is contemporary or classical, her approach to any design project is the same "do it in detail."
Russell Hill Eclectic Luxury Design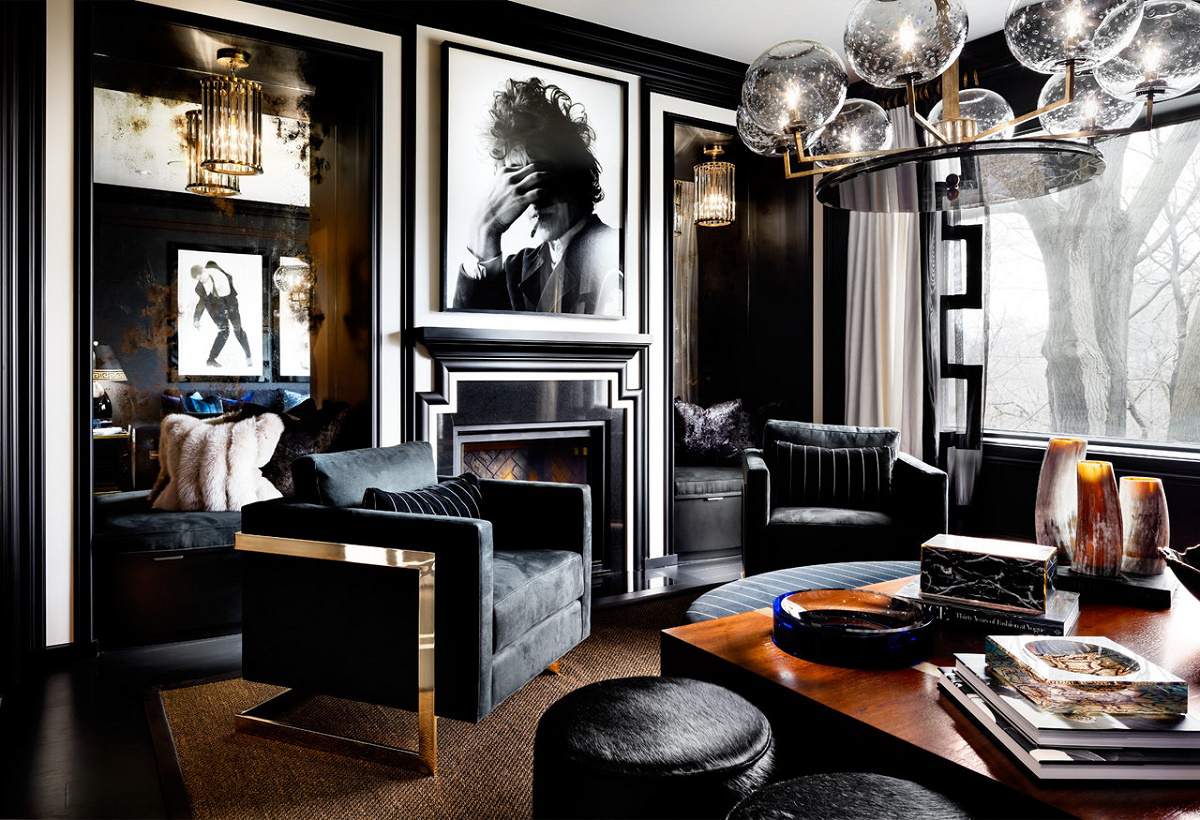 Realizing the client's vision, Morris delivers original designs that interpret and express that vision. It is never about color or a set style; it's about creating a feeling and managing what you experience in each space. She very carefully selects your finishes, colors, furniture, fabrics and design details. House of LMB custom designs everything: furniture, mill-work, and draperies. Her approach is to choose everything for you so that it perfectly reflects you and your interests. She approaches a home like an artist approaches a painting. She balances the proportions and infuses key details, and ultimately the space comes together like magic.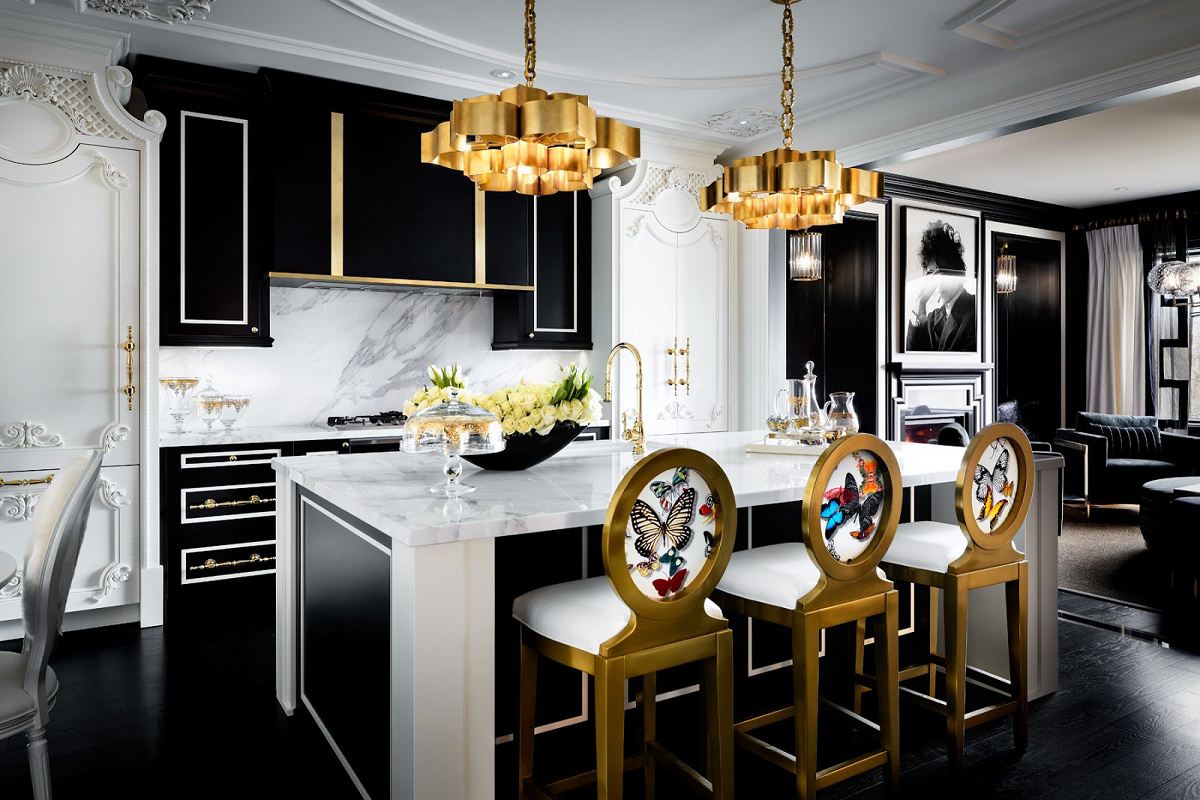 The two photos above demonstrate the designer's eclectic luxury design. Morris layered Deco, Modern, and Traditional French elements in this Toronto apartment, balancing the black-and-white palette with unexpected touches for added interest. A black marble fireplace surround contrasts with the white wall. On either side of the fireplace, she created recessed seating with antique black mirroring, suede upholstered cushions, and vintage lighting. Brass accents tone down the sharp contrast.
In the kitchen, ornate French-inspired white armoires flank the sleek black cabinetry. At the breakfast bar, the stools, with brass frames and whimsical butterfly-designed backs tone down the seriousness of the design.
Castle For One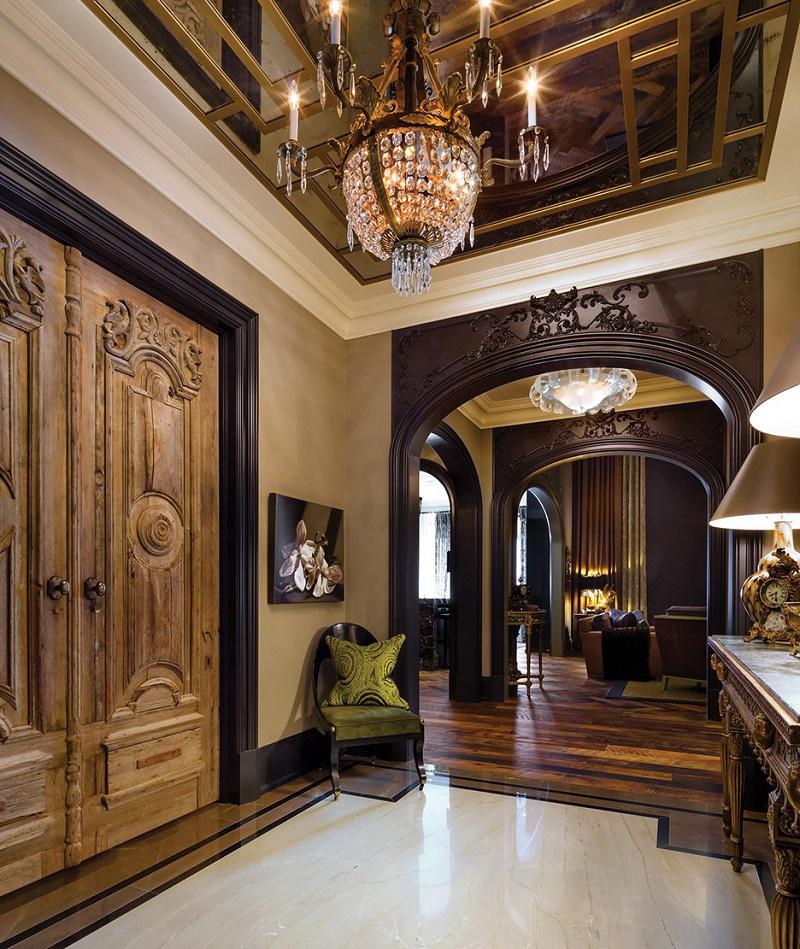 Next, we have a custom residence created for a client who wanted a home that inspired and empowered her, leading to the idea of a castle. Here in this view of the foyer, we see the reclaimed entrance doors sourced from a centuries-old chateau in France. The grand scale and aged, intricate detail create a feeling of significance and nobility the moment you enter. Stepping into a Lori Morris masterpiece can instantly transport you to another world of your choosing.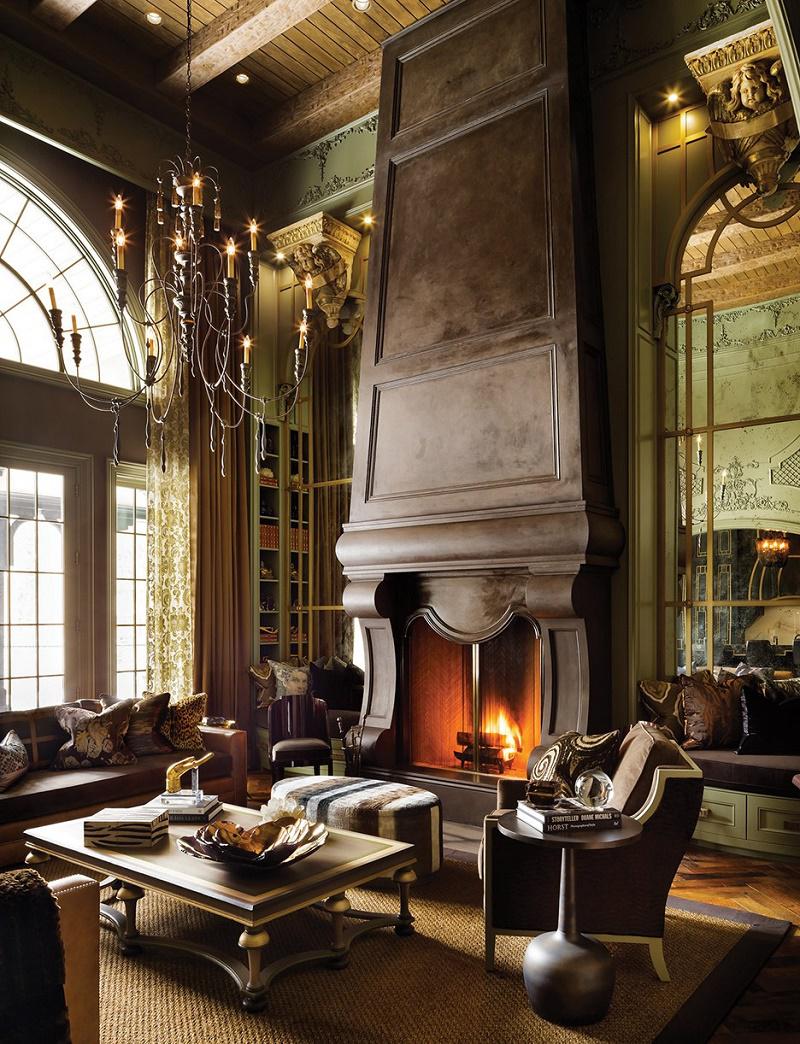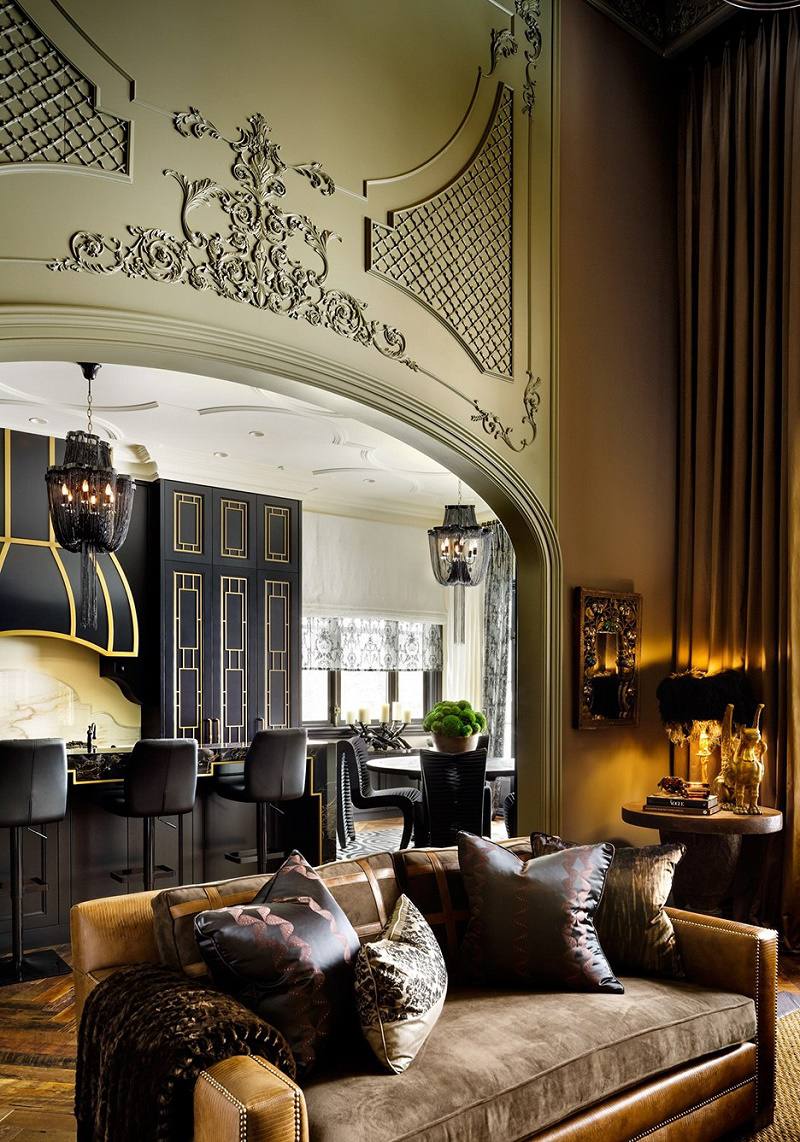 Soaring double-height ceilings
Carved and embellished archways
Highlighted rich wood grain floors
Massive floor to ceiling fireplace
Seating niches backed with high arching mirrors
Massive old-world-style chandelier
Warm glow of golds
Every bespoke designed detail fulfills the home owner's desire for a home that inspires and empowers her. It's a majestic rendering of Baroque style for modern day luxury living.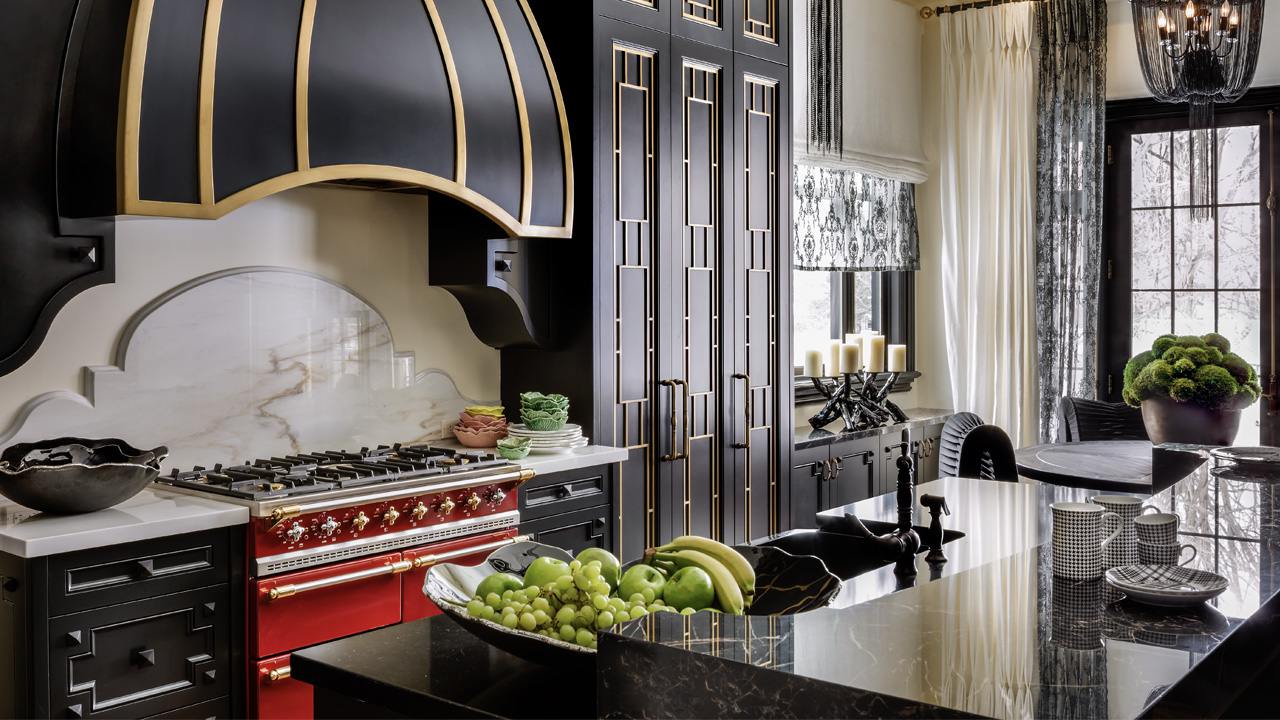 In the kitchen and dining areas, the designer used black with gold detailing to create intrigue. Michelangelo marble on the island and smooth white marble beyond create a powerful contrast that makes the vibrant red stove an even louder statement piece. As an artist, Morris sees her clients as her muses, and through her artistry, their vision comes to life. She helps them see what can be when they open themselves up to the possibility. They trust her to evoke the emotion they seek to achieve in their home.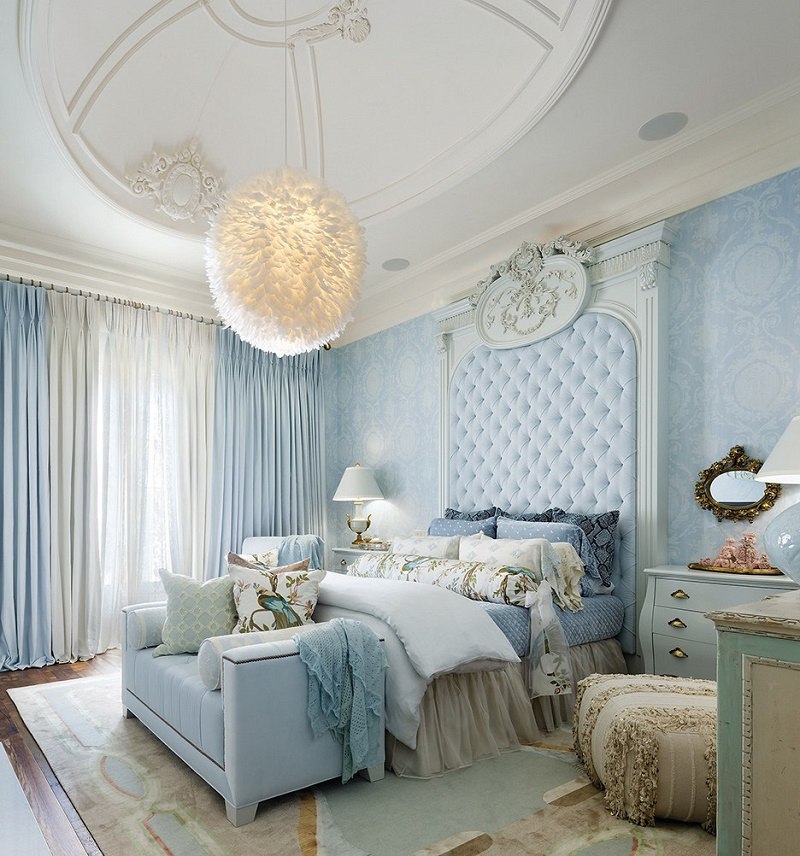 The master bedroom is pure storybook romance. The designer used layers of material and texture to create a highly sensual experience. The domed ceiling, which crowns the room with dignity, and the grand bespoke headboard all elevate the inhabitant to a place of exalted splendor. The pale blue palette and the feather dome light provide a soft balance to temper the design. The House of LMD makes dreams come true.
English Manor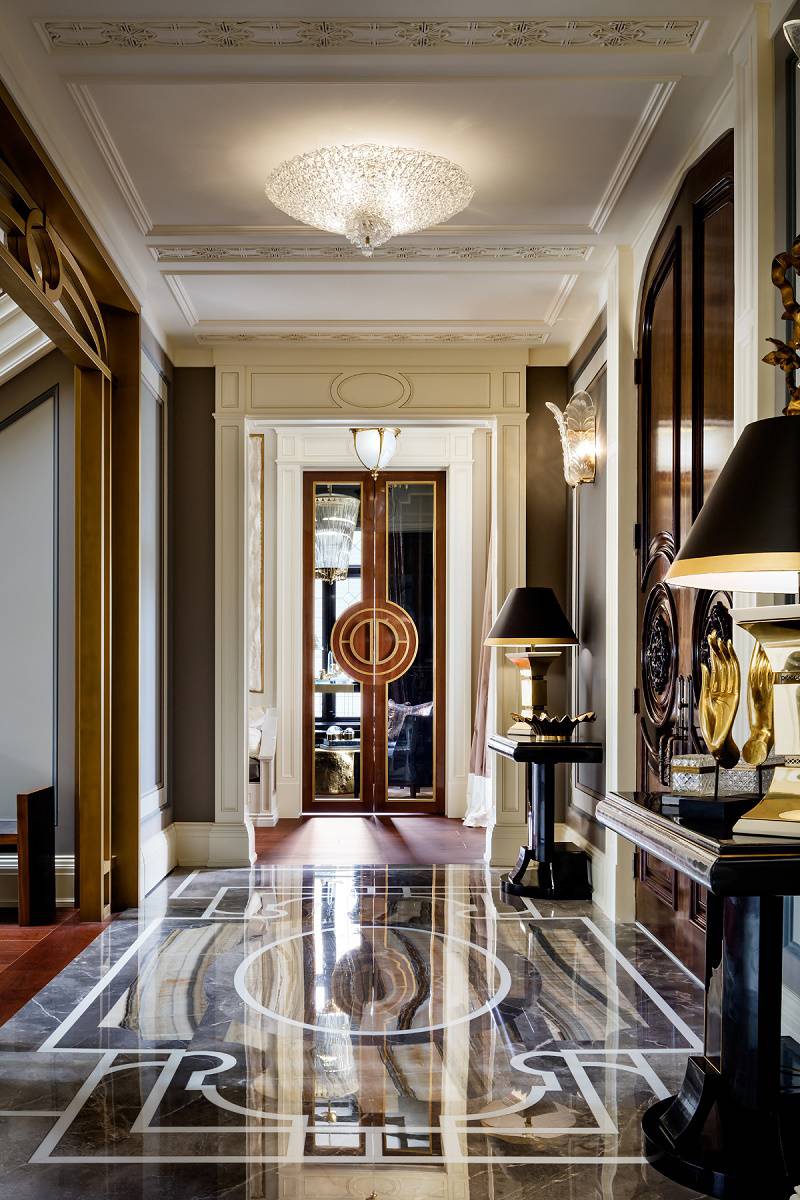 These final photos come from an English-manor style house in Toronto. This home is a fusion of classical architecture with Morris' modern edge resulting in a detail-rich eclectic luxury design. The above photo shows the entry hall. Marble and black onyx make up the art deco inspired floor design. A pair of 1940s Murano-glass sconces hangs over a pair of 1950s black lacquer consoles. Brass fretwork frames the doors and doorways throughout.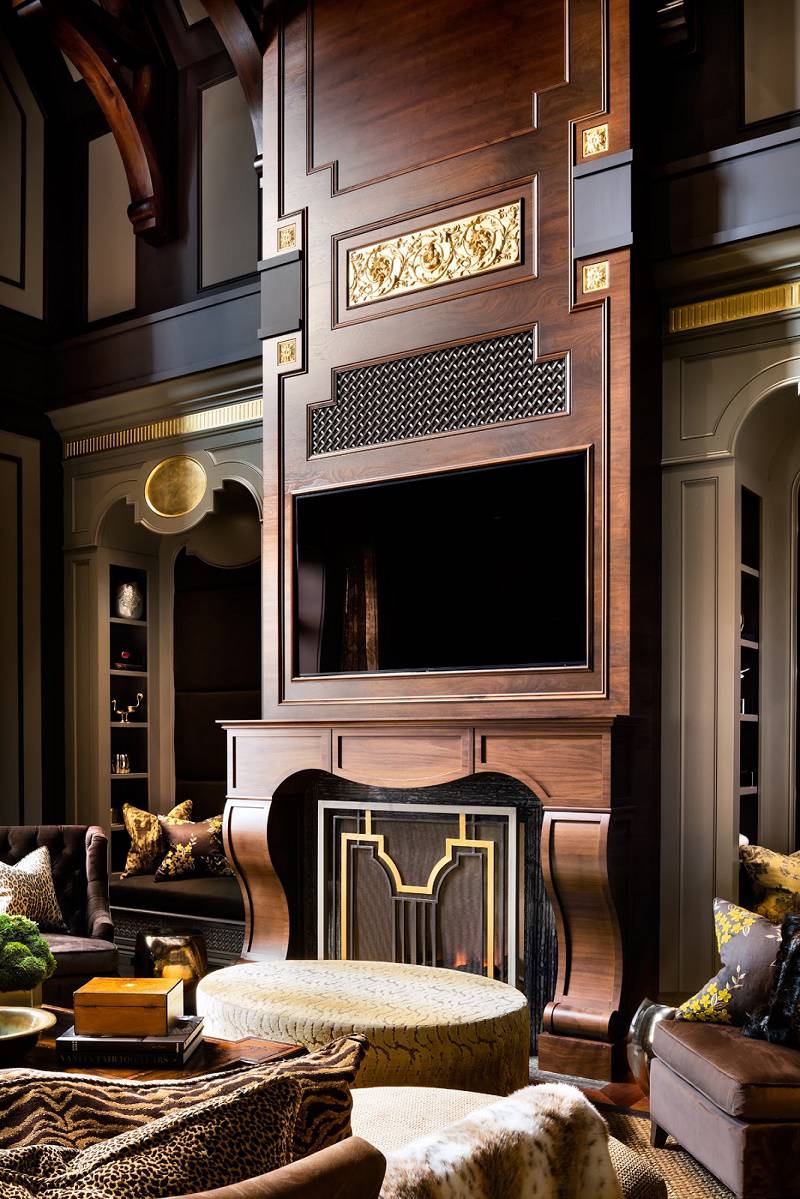 I'm just focusing on the details now. Here we have the family room's double-height walnut fireplace with gilded decorative panels. A pair of seating niches with built-in shelves flank the fireplace with gilded trim and decorative ovals above them. The room indulges in richly executed bespoke designed details.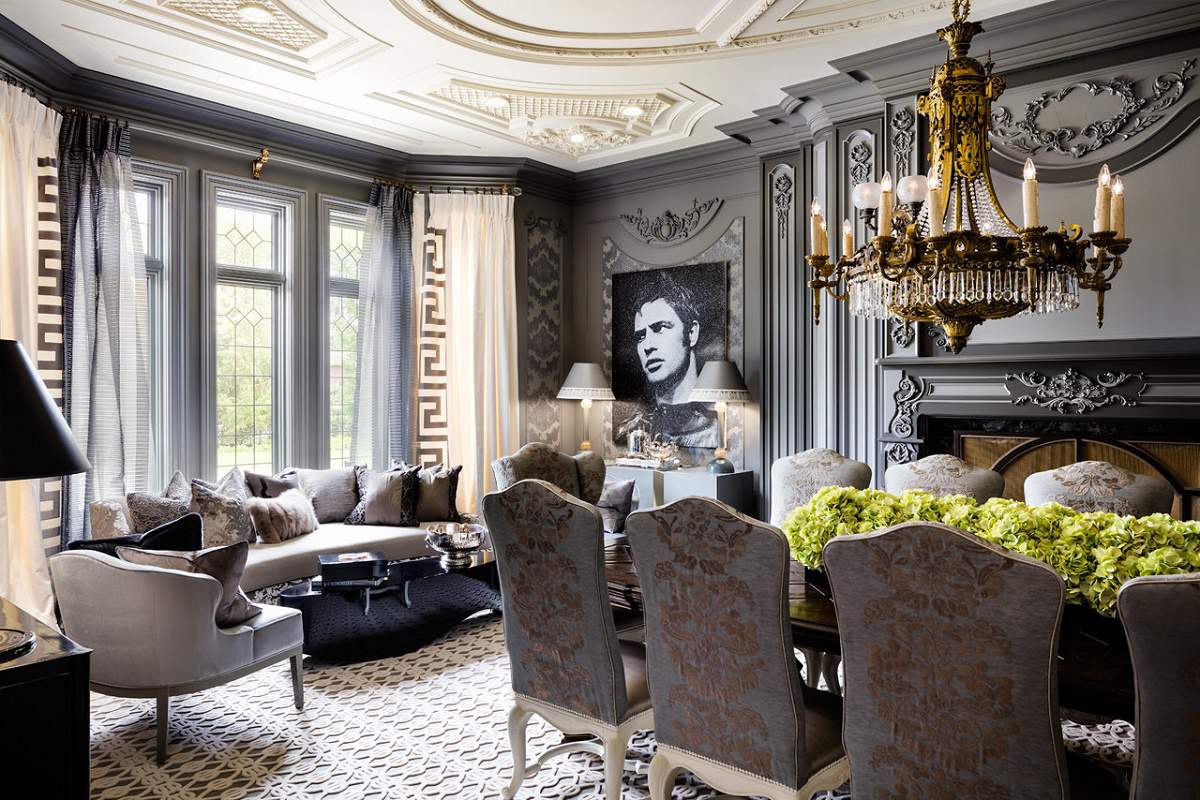 The dining room features layers of traditional design elements tailored in a finely tuned sophisticated contemporary tone. The French-style paneled walls include inset Christian Lacroix wall-covering. Ornate plaster-work decorates the ceilings from which a circa-1900 Louis XVI-style gilt bronze chandelier suspends. A contemporary cut-pile carpet covers the floor. Embroidered Damask upholstery and cream lacquer cover the dining chairs. Morris designed this room for entertaining a crowd comfortably. Custom seating arranges before the large windows framed in over-sized Greek key. Dramatic details continually unveil themselves as every look reveals something new and imaginative.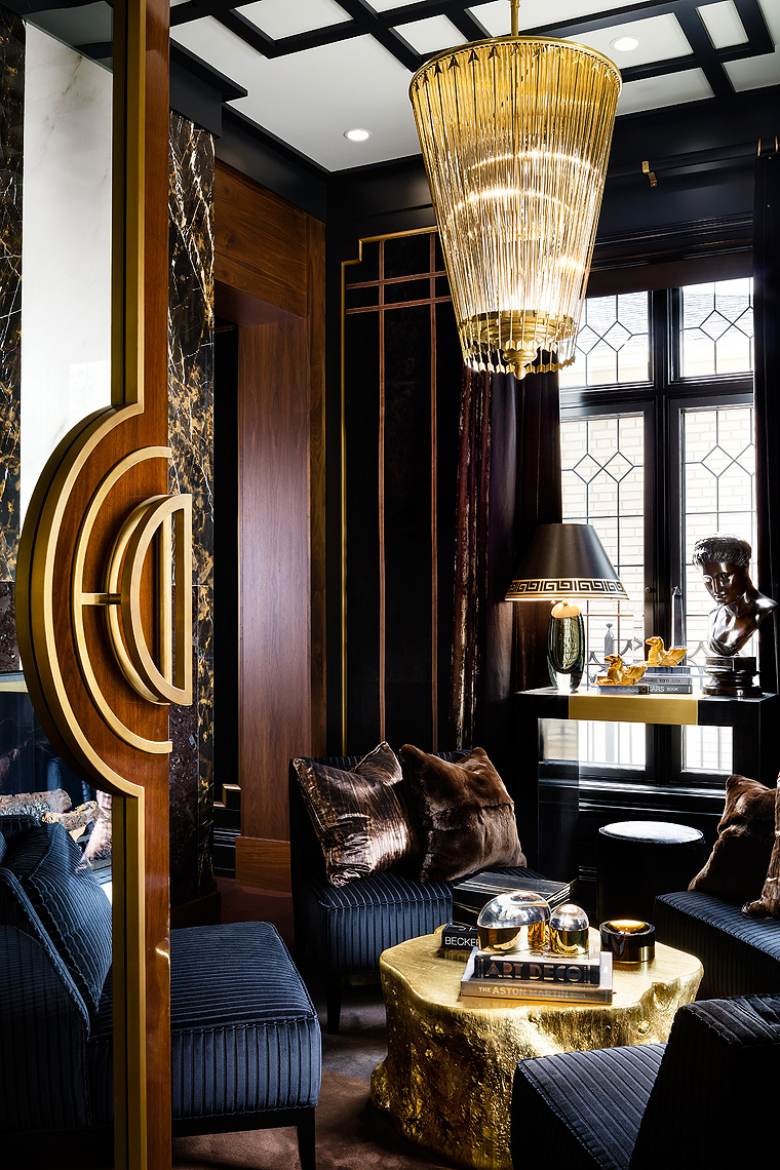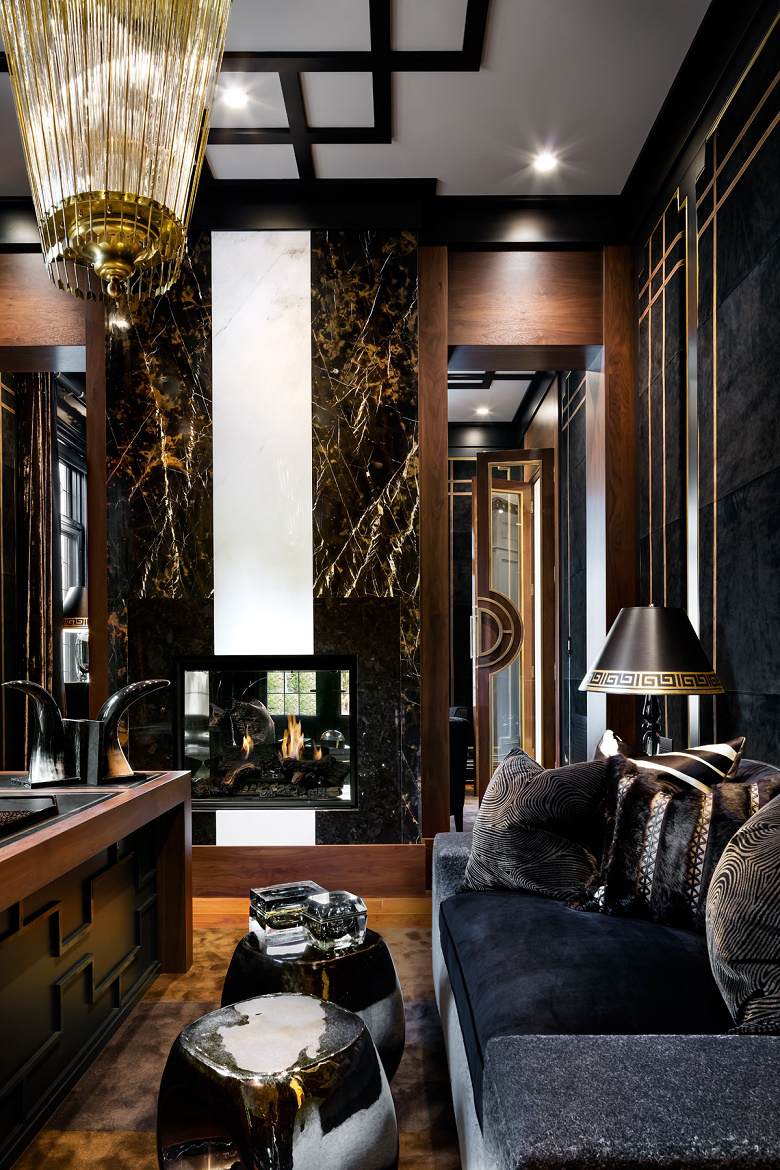 This final room is awe-inspiring. Black suede with chocolate brown suede strap detailing cover the walls of the library/lounge. Michelangelo marble pairs with white marble to form the double-sided fireplace. A group of four armless chairs upholstered in striped velvet gathers around a gold-leafed organic cocktail table on one side. Mid-20th-century Italian lighting pendants hang from the fretwork designed ceilings above. A large desk and velvet upholstered sofa occupy the opposite side.
Four Seasons Residences
I would feel like I was only showing a particular side of the designer's eclectic luxury design work if I stopped here. So, I include a few more pics from her Four Seasons Residences project that show a little more of her huge style vocabulary though without going into detail which maybe we can do in another post.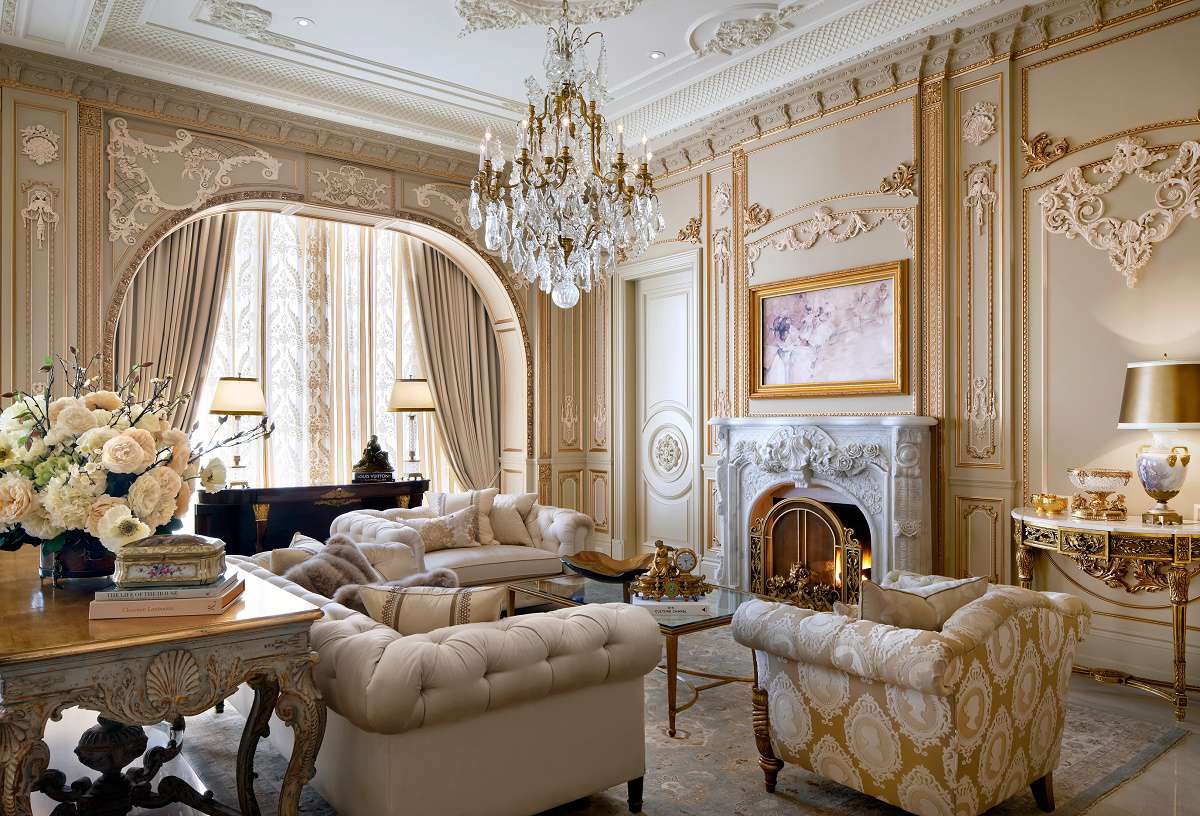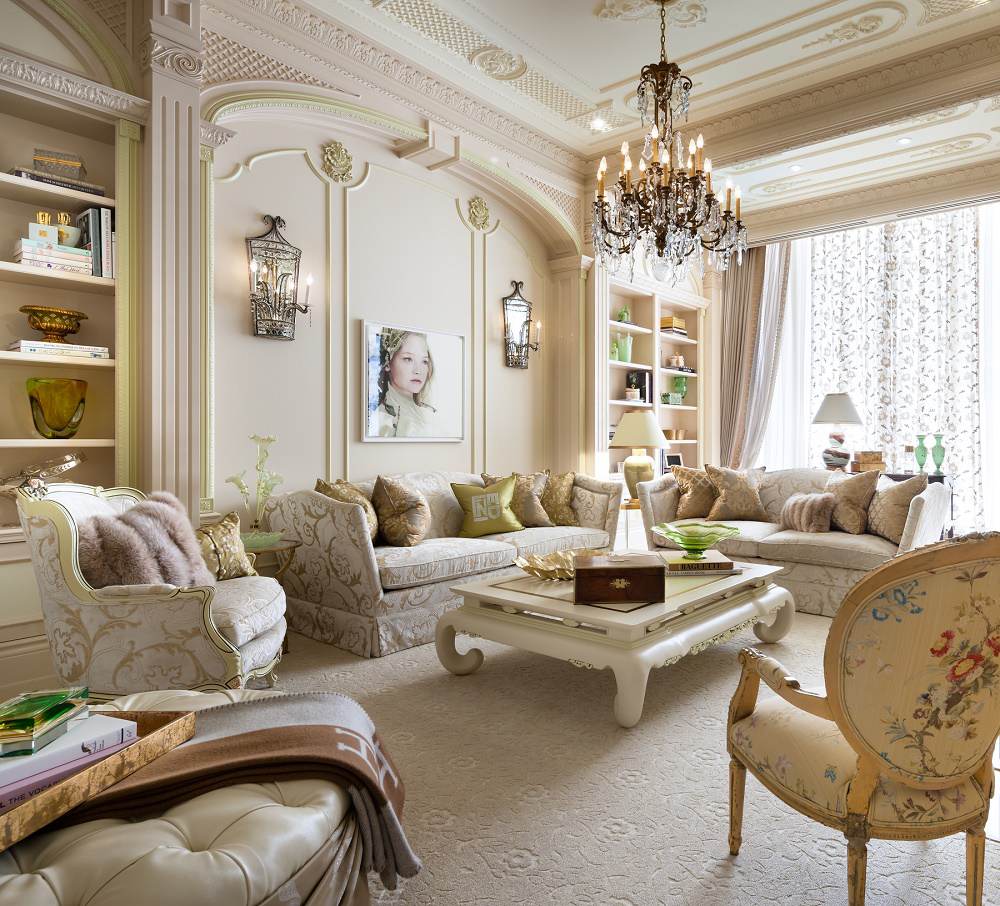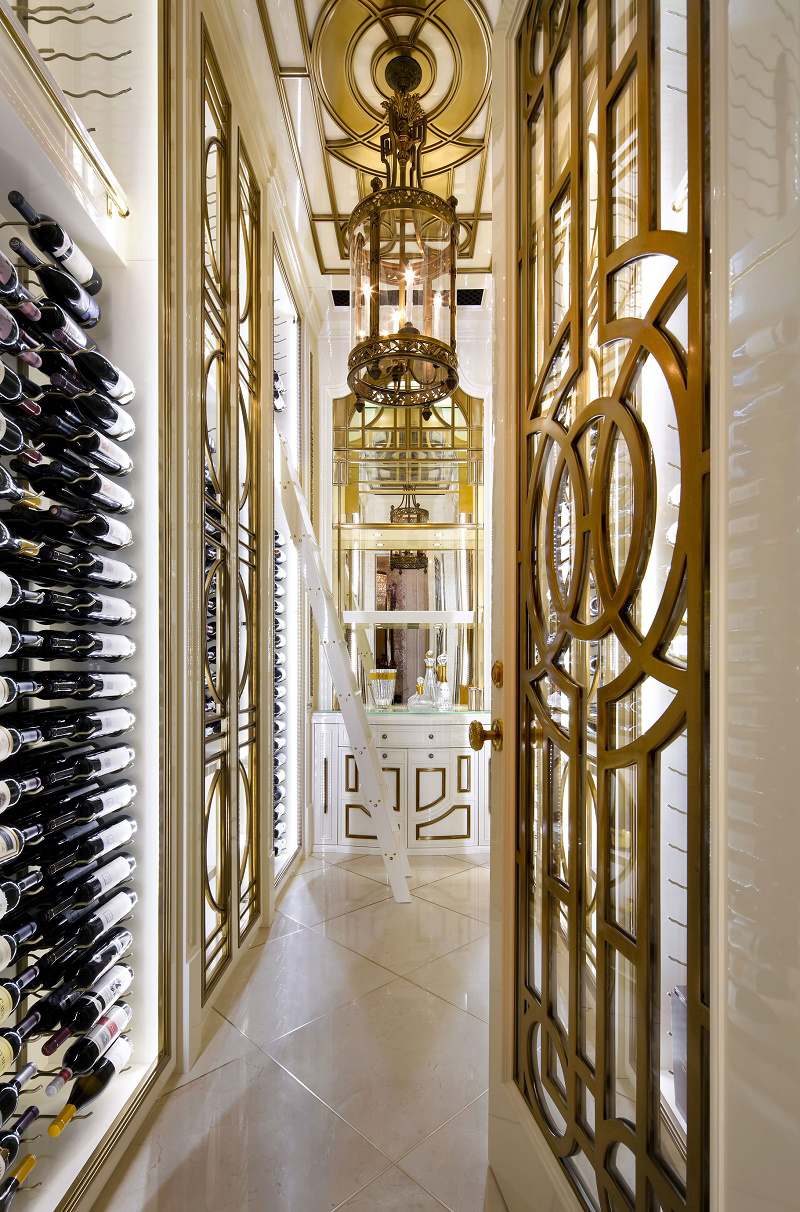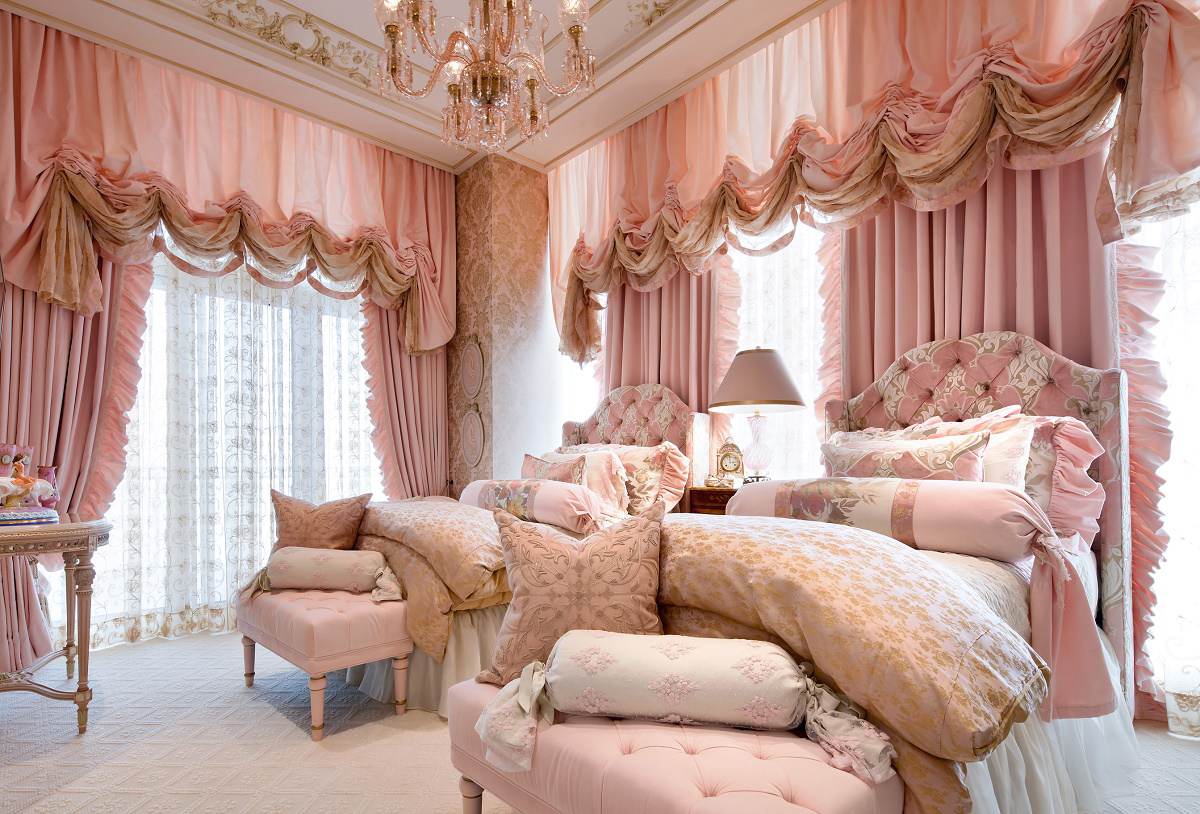 What sets LMD's eclectic luxury design apart is its distinctiveness. The designer goes beyond expectations and creates entire custom spaces for her clients. There are no rules, only imagination. Her style always delivers unique and luxurious spaces. She doesn't follow trends. Her designs are based on the personality of the homeowner, so they are sure to stand the test of time.
Lori Morris' Eclectic Luxury Design Conclusion
Luxury is different for everyone. To Lori Morris, it's about being surrounded by beautiful things. It's in a place that is extravagant and extremely comfortable, as well as sophisticated and sexy. I must say that this certainly makes my list too!
That concludes our design inspiration, my friend. Thank you so much for reading along with me today.
To learn more about this very talented designer, be sure to check out her website.
Interior Design: Lori Morris
One of the homes featured today, the English manor-style house, was honored by being named Robb Reports 2016 Ultimate Home. Congrats!!
To see another fabulous post on a beautiful Canadian residence, check out:
Luxury Interior Design in the Golden Mile by Britto Charette.
Toronto Penthouse Design by Studio Munge
Iconic Luxury Design: Ferris Raufauli
What did you think of Eclectic Luxury Design: Lori Morris? I look forward to hearing from you in the comments.
If you have enjoyed today's post, please share it on social media!
Have a great day!
Please like us and share: