Contemporary Luxury Design: Hyde Park
The exquisite tailoring of this chic London apartment is a testimony to contemporary luxury design in the historic city. Set within a grand, iconic mansion block with beautiful views over Hyde Park, the four-bedroom residence has been re-designed by the Chelsea-based interior design studio Elicyon, who have rendered it an exceptional home finished to highest standards.
The design studio restored many of the home's original architectural features while completing it with a polished contemporary luxury design for elegant modern living.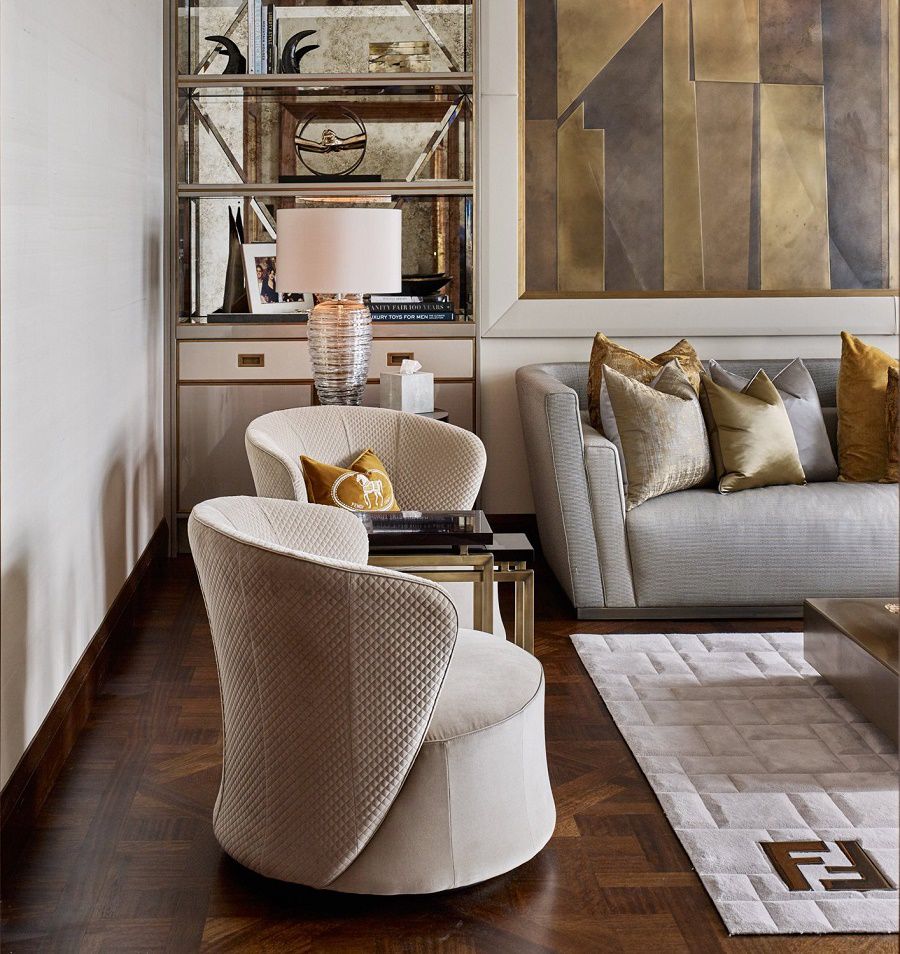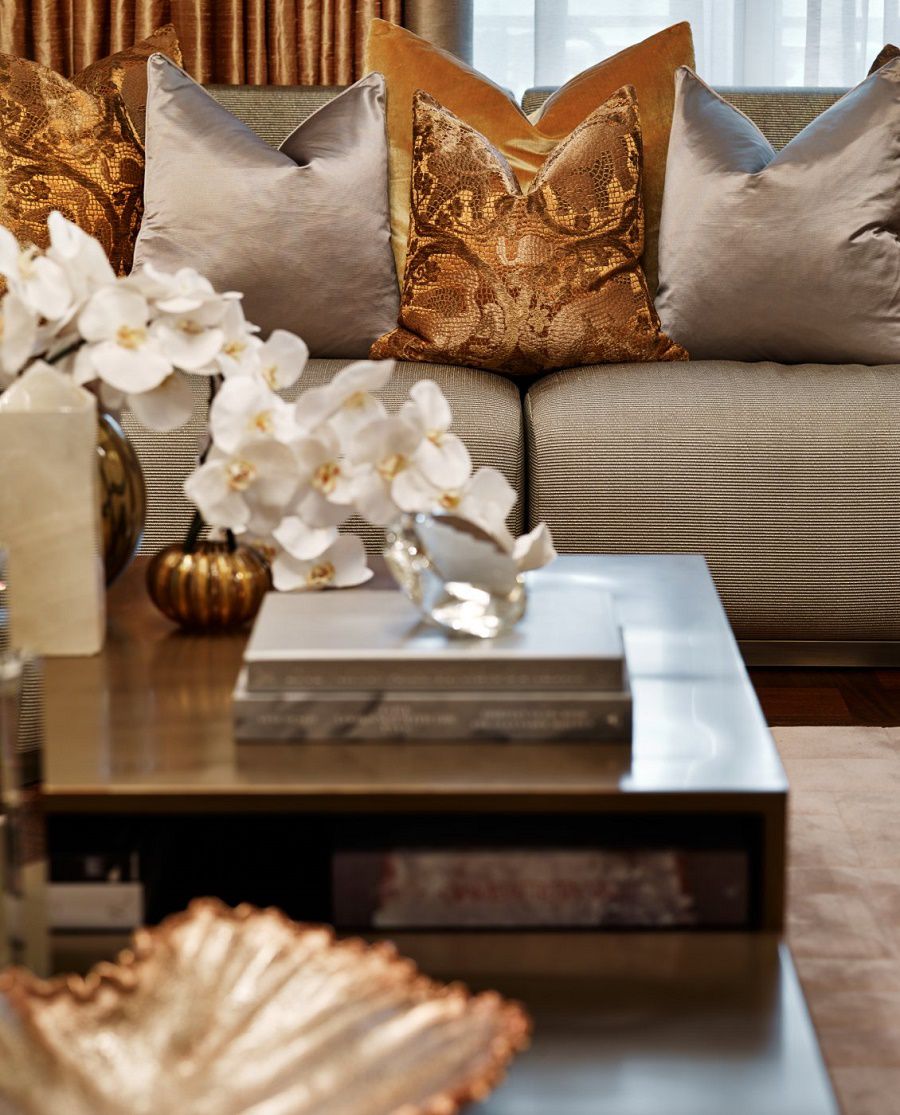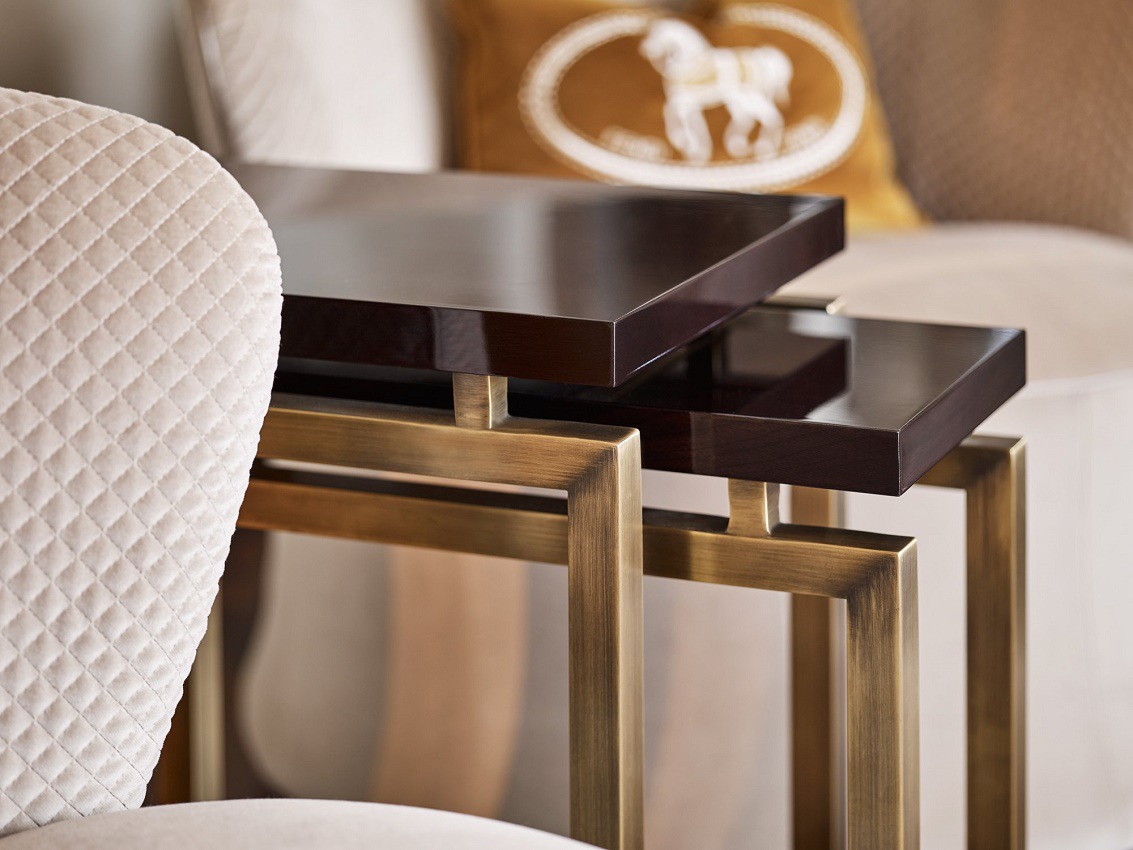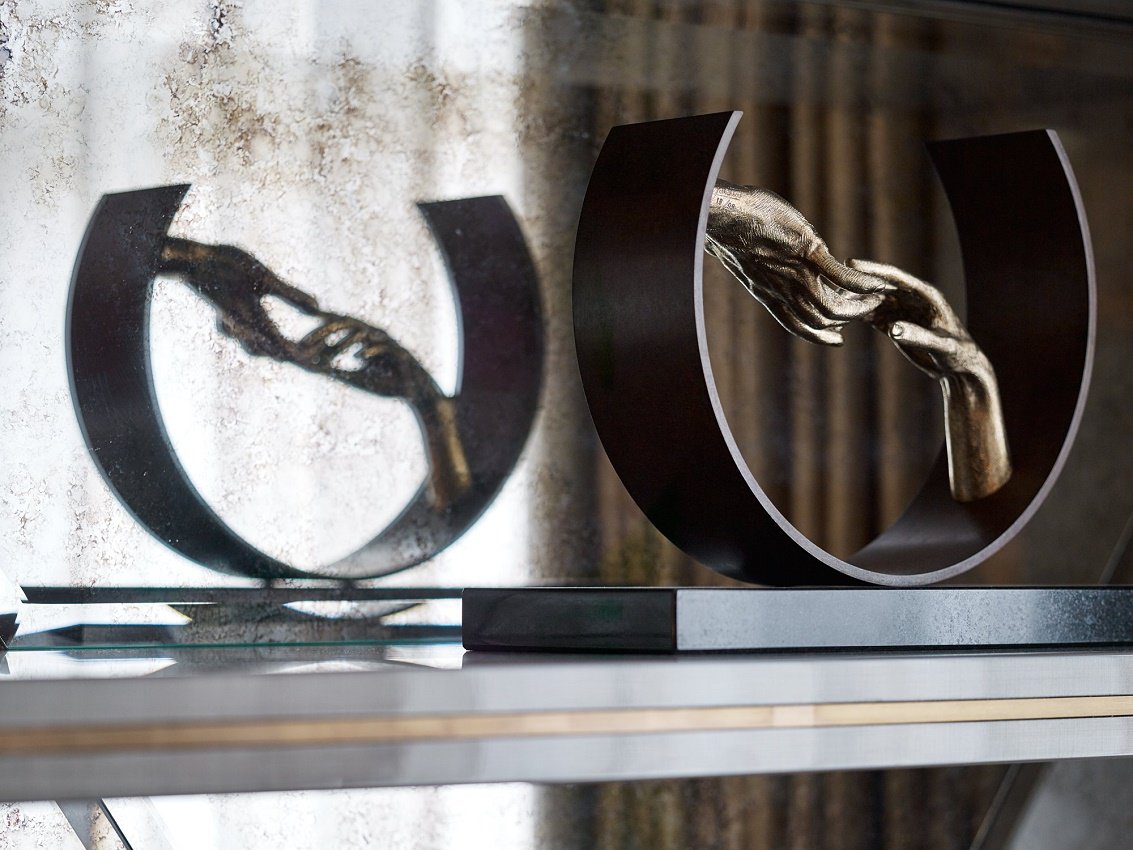 The living room features a sophisticated neutral color palette of creams and grays, highlighted with a layering of metallic hues.  Two gray sofas and a pair of quilted armchairs anchor the furniture arrangement around a two-stepped coffee table on a graphically carved silk rug, all from the iconic luxury brand Fendi Casa. The entire home has a sophisticated air with contemporary glamorous interiors.
A large bespoke artwork by the art studio Based Upon, acts as the room's focal point with its prominent position located above the center sofa. On either side of the bronze-and-brass work is a custom display cabinet. The home's design notes every detail.  Almond cream leather with brass trim fronts the cabinets and drawers beneath the display shelves complete with lacquered inner sides. A structured tiered chandelier echoes the design of the room perfectly. Silk draperies and luxurious cushions in an array of shimmering and textured silk, satin, velvet, and suede create a soft balance for the rather luxe rendition of an industrial inspired space.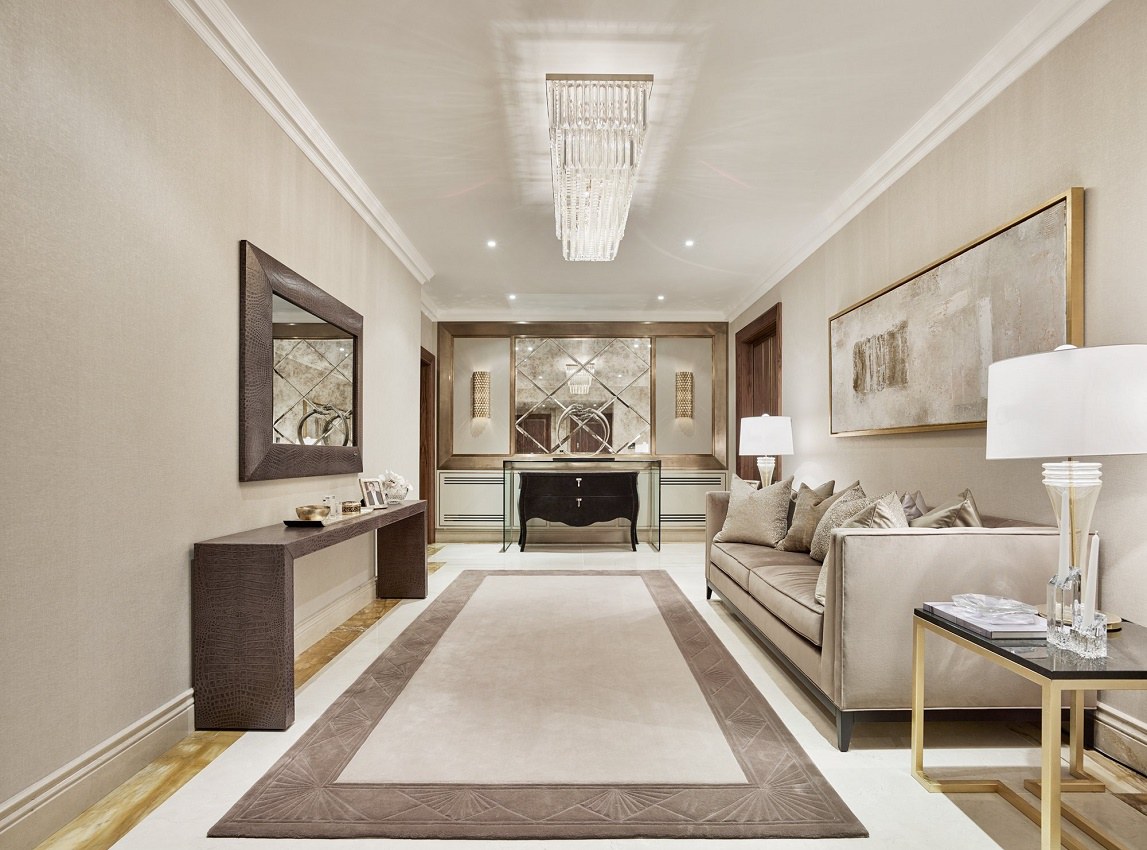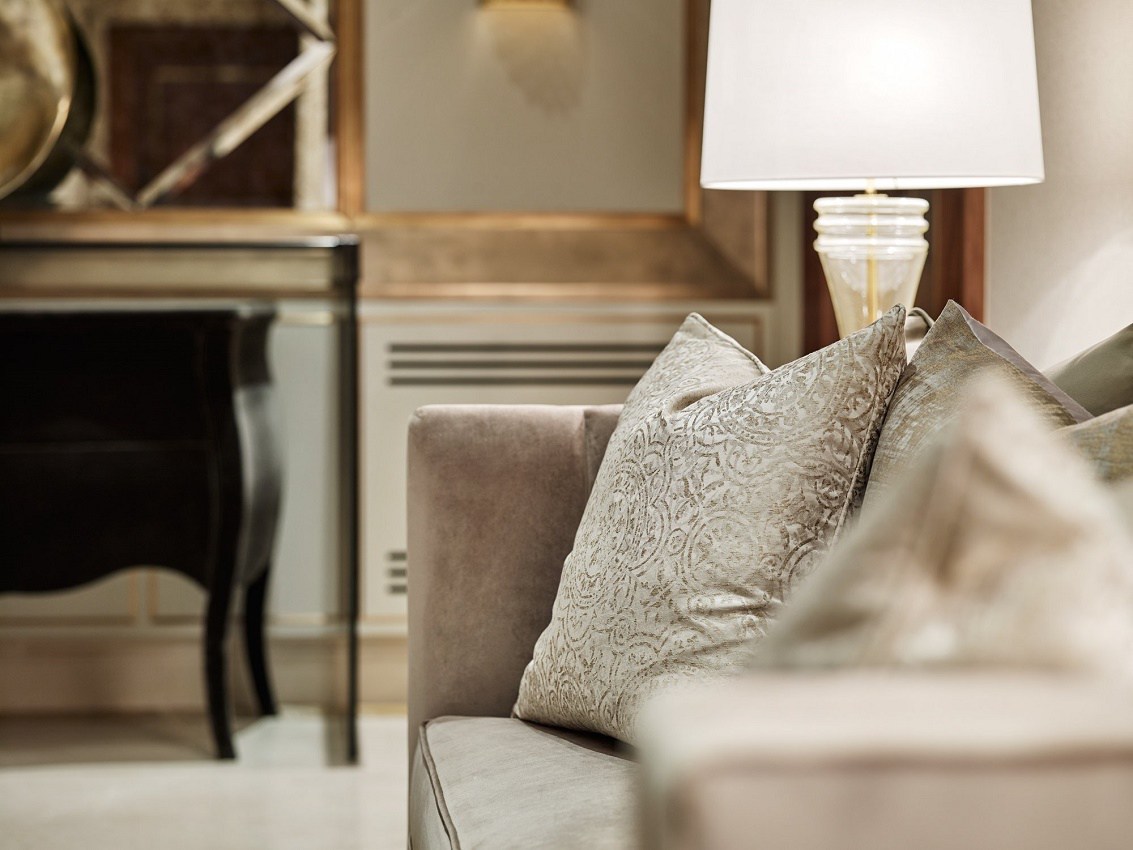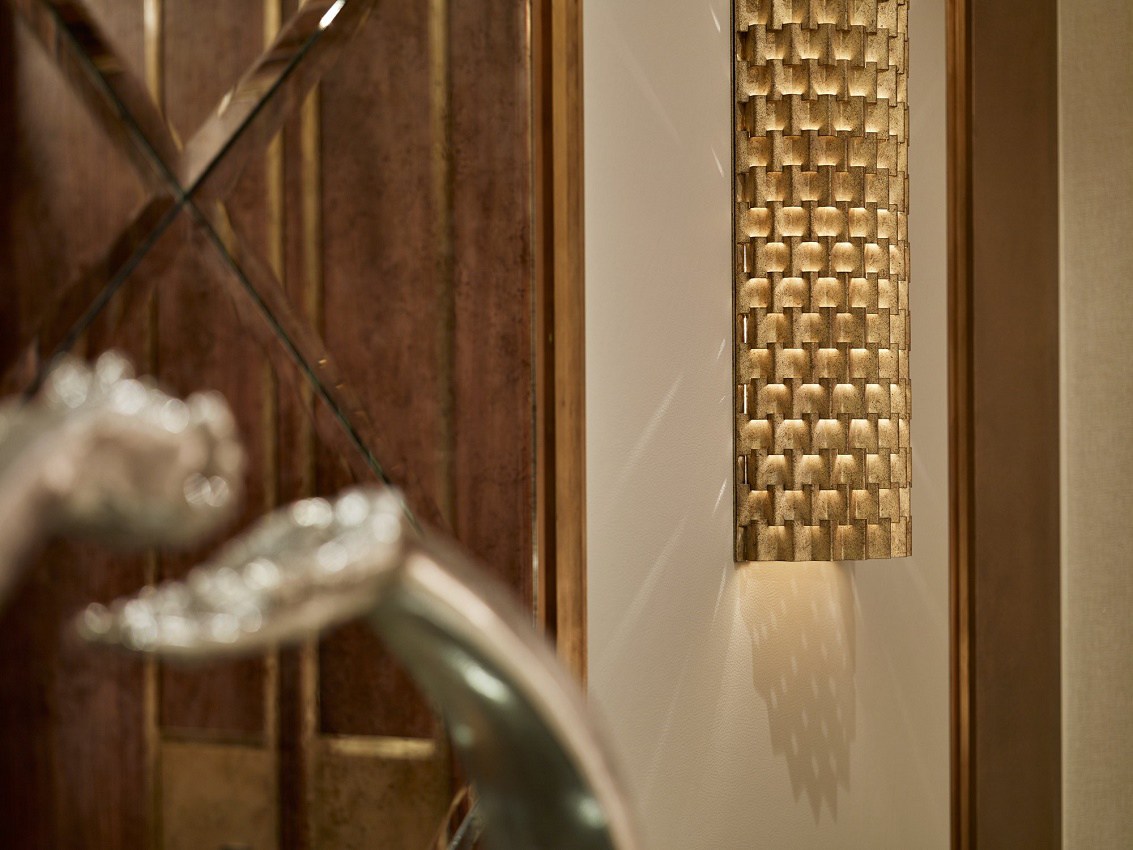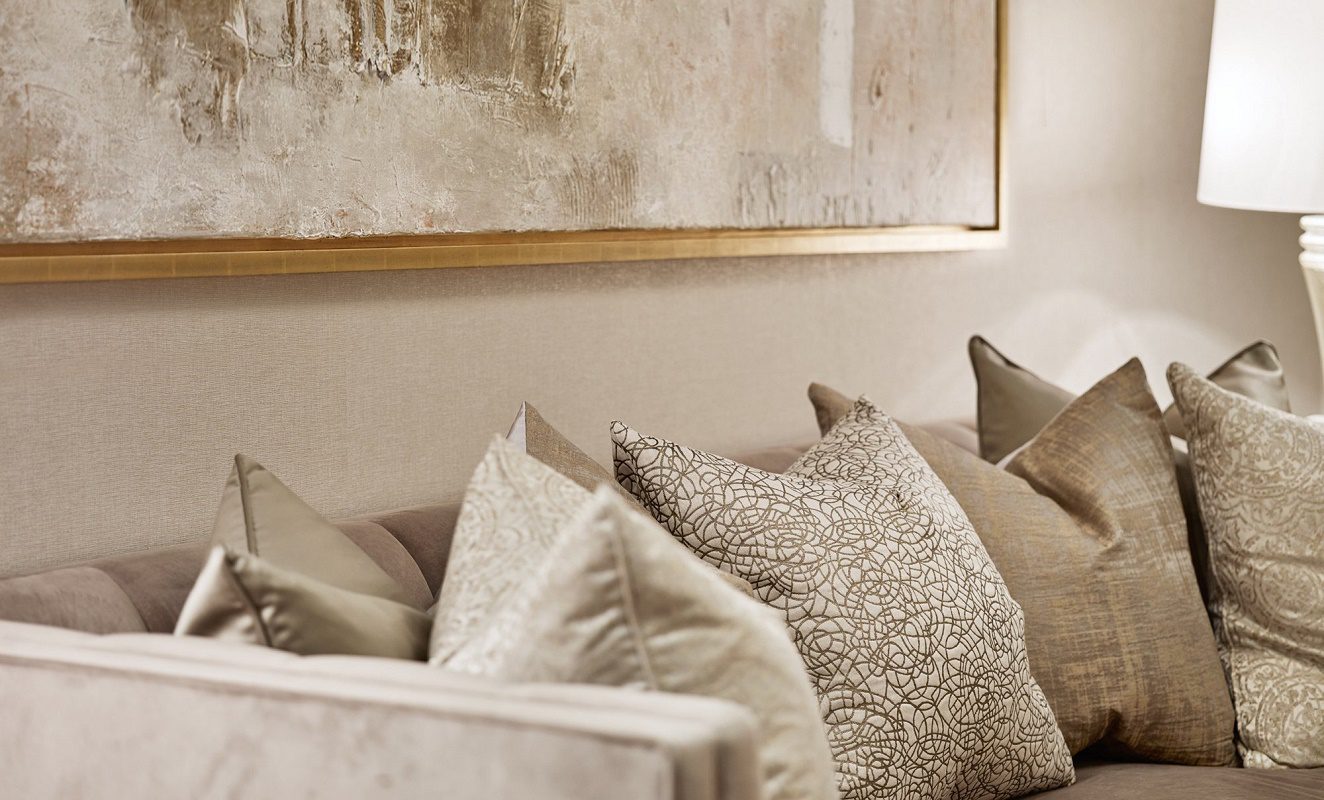 The entrance hall is elegant and refined. The colors are more soft and subtle, but the details and textures are pronounced and strong. The far wall is rendered a work of art and treated accordingly. A pair of basket-weave lighting sconces flanks the bronze antiqued diamond-pattern mirrors. Bronze framing encases each section. A sculpture by Lorenzo Quin, Give and Take III centers the feature wall.
A custom rug runs the length of the hall, while a custom Murano glass chandelier illuminates the space from above.  A crocodile leather Fendi Casa console and mirror position across from a contemporary luxury design sofa layered with indulgently soft, textured silk cushions.  The oil painting above the sofa, like all of the paintings throughout the residence, was custom created specifically to complement the color palette around it.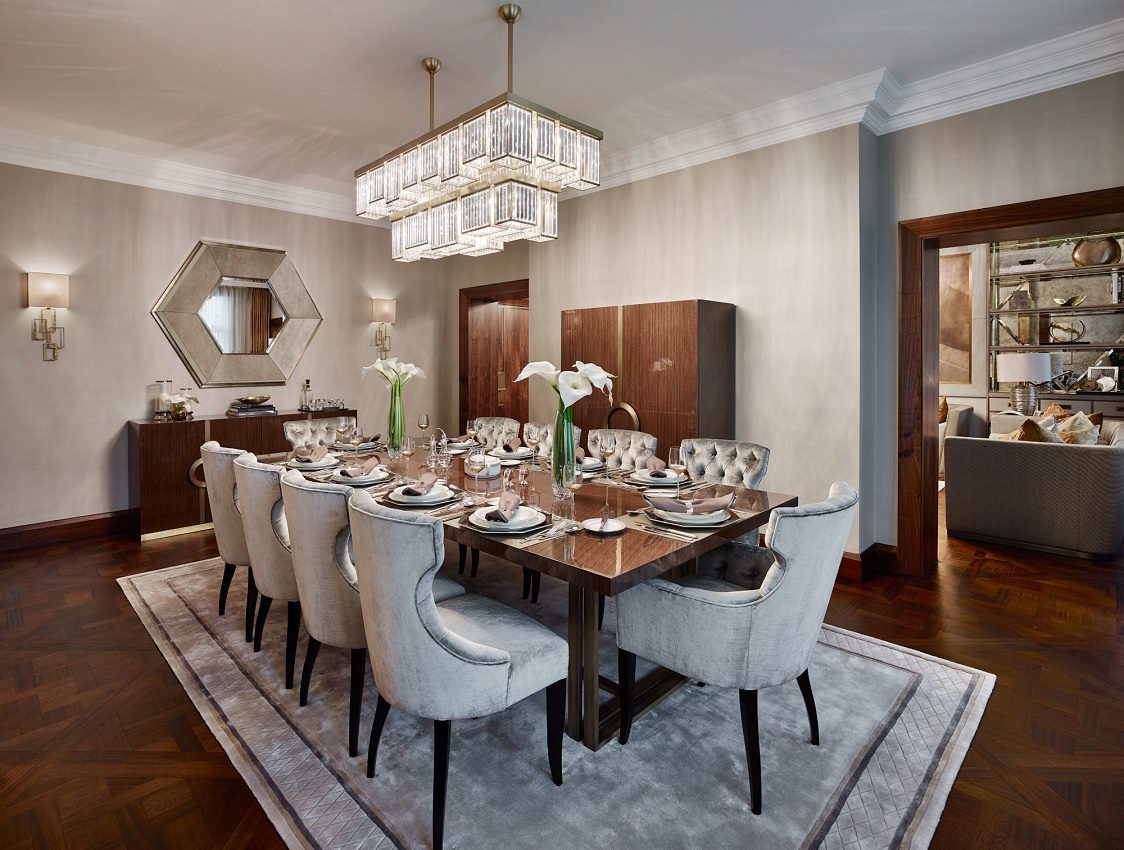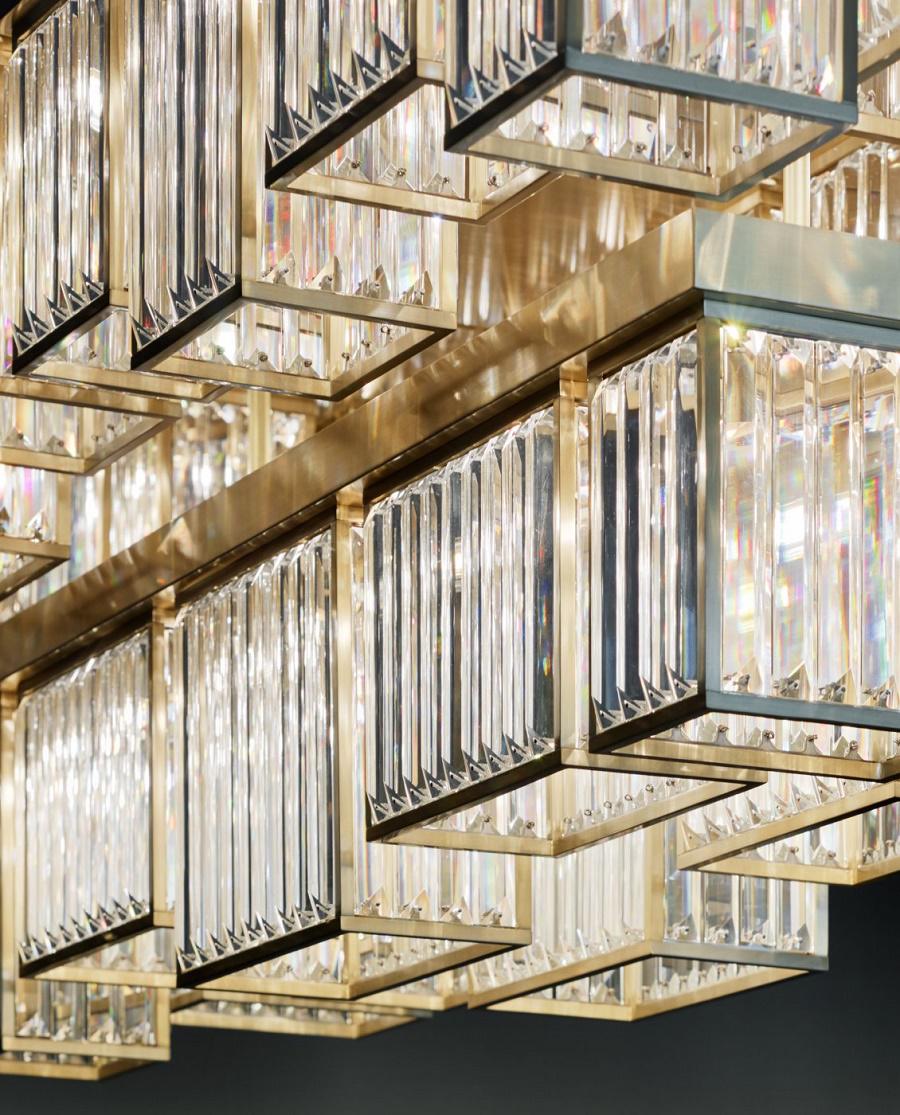 The formal dining room is gracious and glamorous. A custom dining table composed of a walnut tabletop on a brass sled base groups with ten button-tufted velvet dining chairs gathered on a custom silk rug with another structured faceted crystal chandelier sparkling above. Sleek walnut side pieces with brass detailing echo the table's design creating an Art Deco feel. A pair of brass sculptural light sconces flanks an octagonal shagreen mirror above the buffet.
The look is both classic in its design and very now.  The room's location right beyond the living room makes for an easy flow when entertaining.  The luxurious, sophisticated design of this entire apartment demands the return of the "cocktail hour" before dinner.  This place is designed for living beautifully.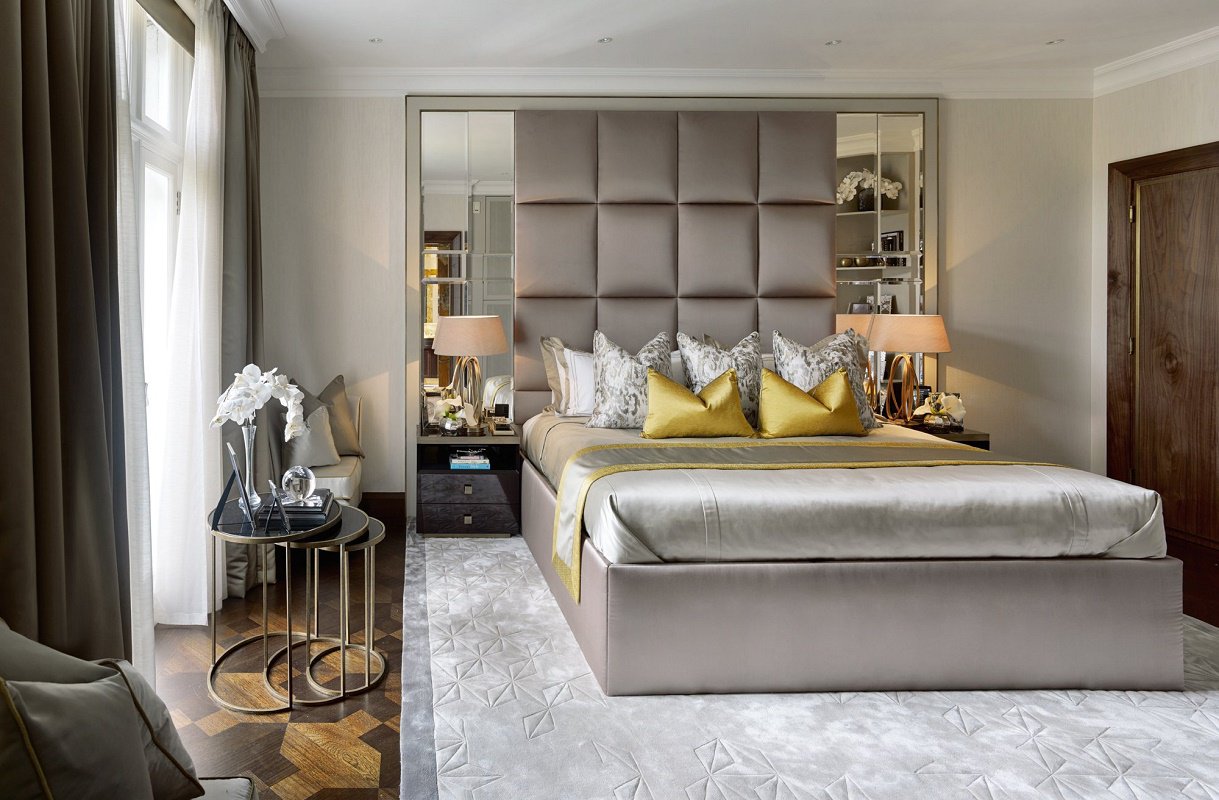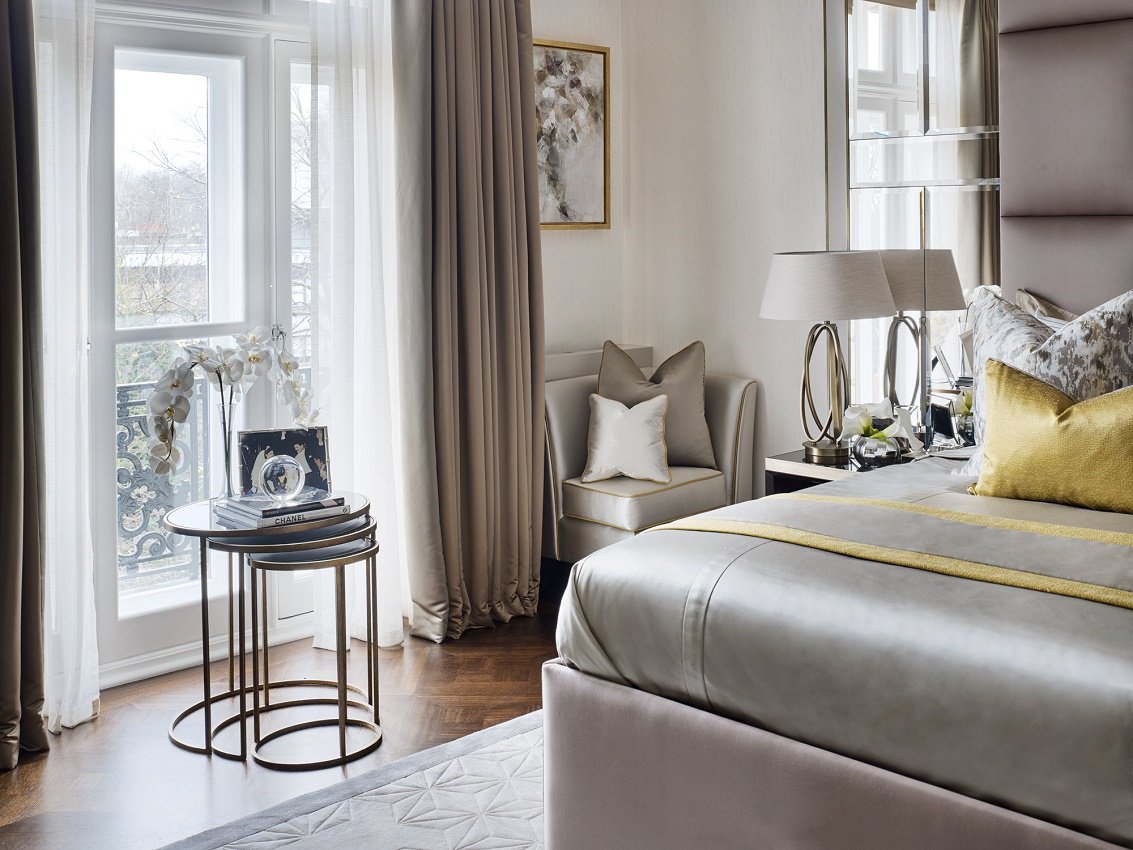 The master bedroom features a custom silk-upholstered and grid designed mirror headboard wall.  Golden yellow accents kick up the soft glistening color palette a bit.  Custom upholstered chairs fit into and soften the corners of the room. Crown molding along the ceiling line conceal the window drapery panel's fittings for a smooth, flawless finish of all things. The fabrics used here and throughout the apartment are beautiful and sublime in their design simplicity, yet rich in texture and supreme softness. Nothing is plain and ordinary. The combination of the finest materials and iconic luxury brand furnishings mixed with bespoke pieces have created an entirely custom and contemporary luxury design without being loud or showy. The effect is smart, serene and very inviting.
This Contemporary Luxury Design is how modern day luxury is supposed to be!
The following photos show the remaining bedroom's rich features.  The same level of detail and care used in the rest of the house are continued throughout.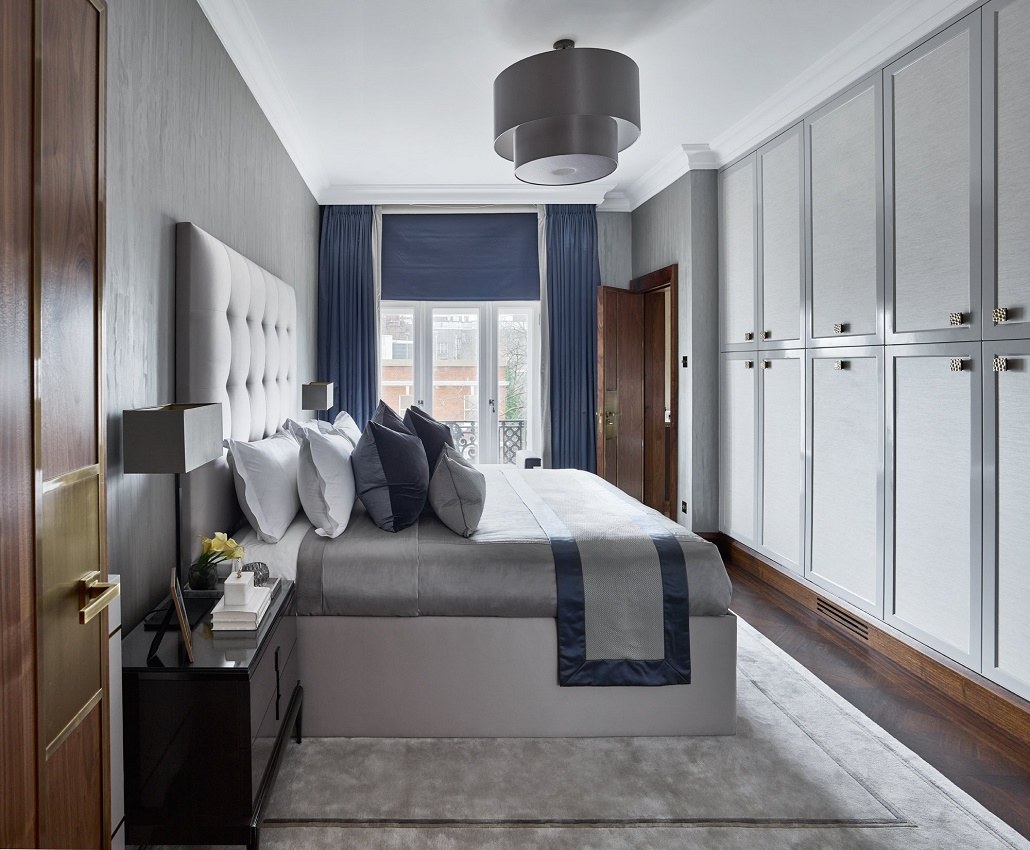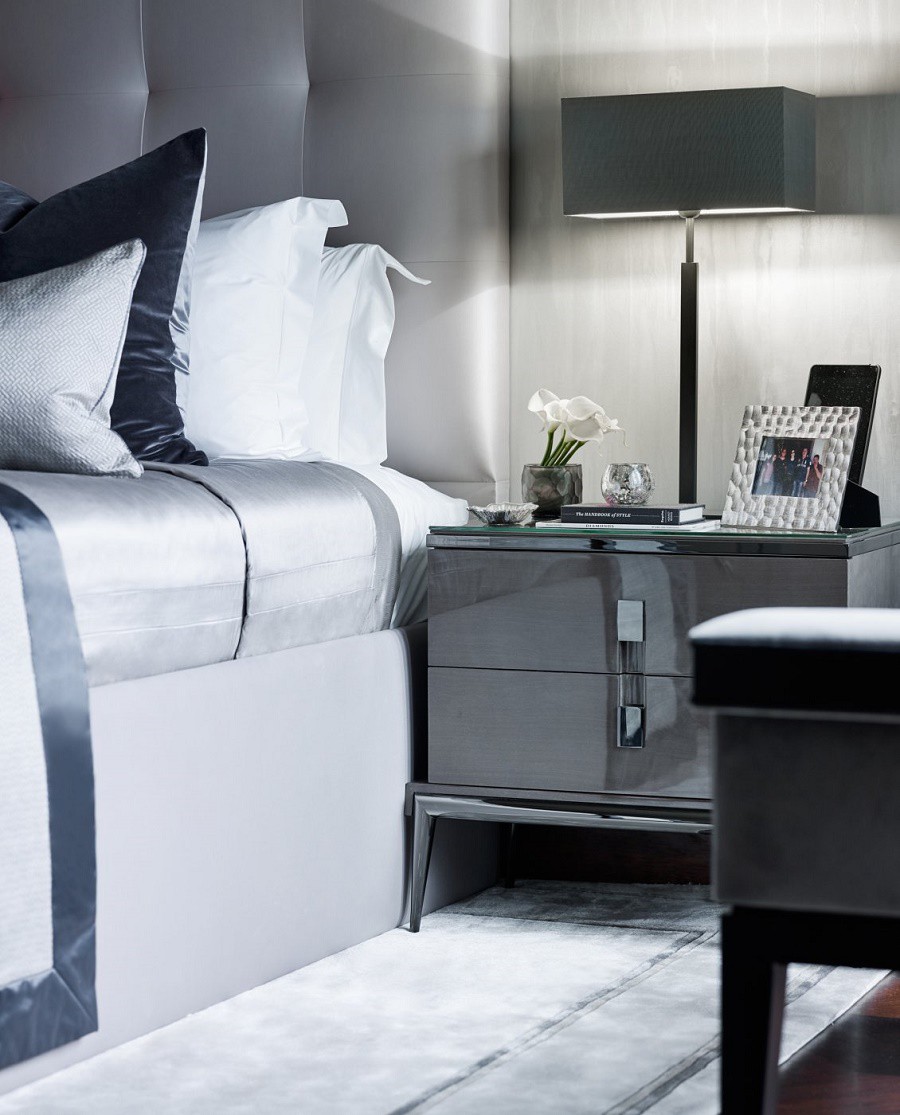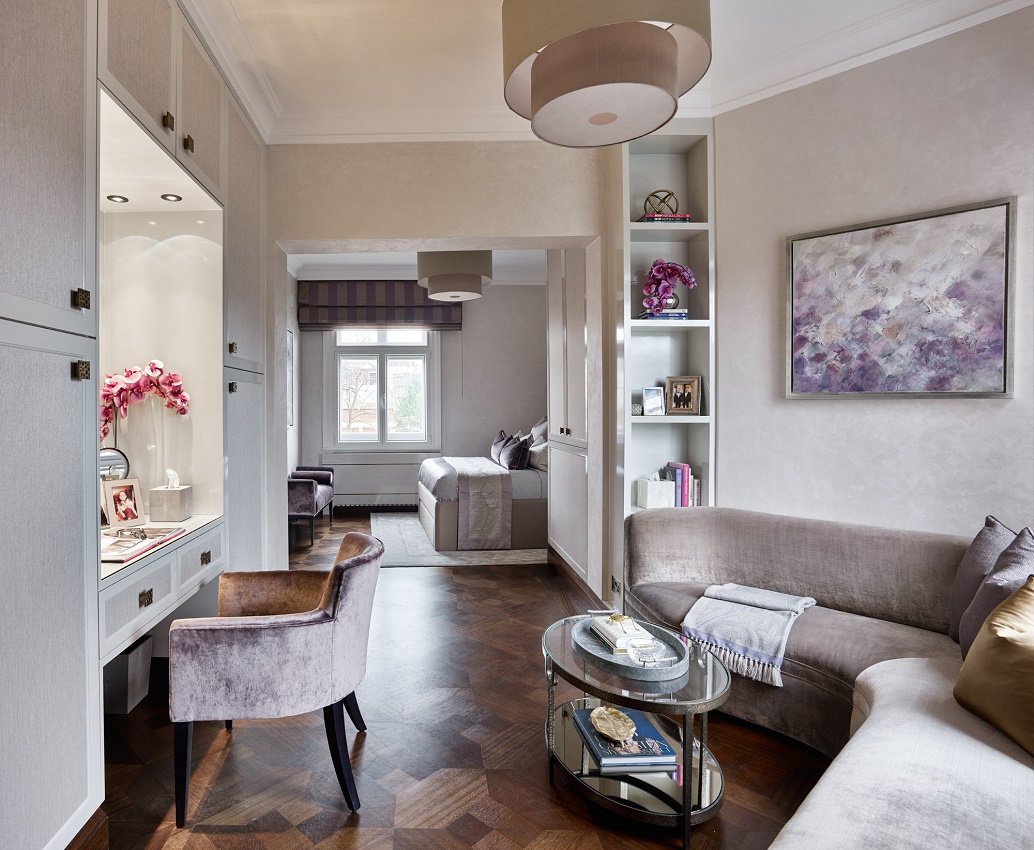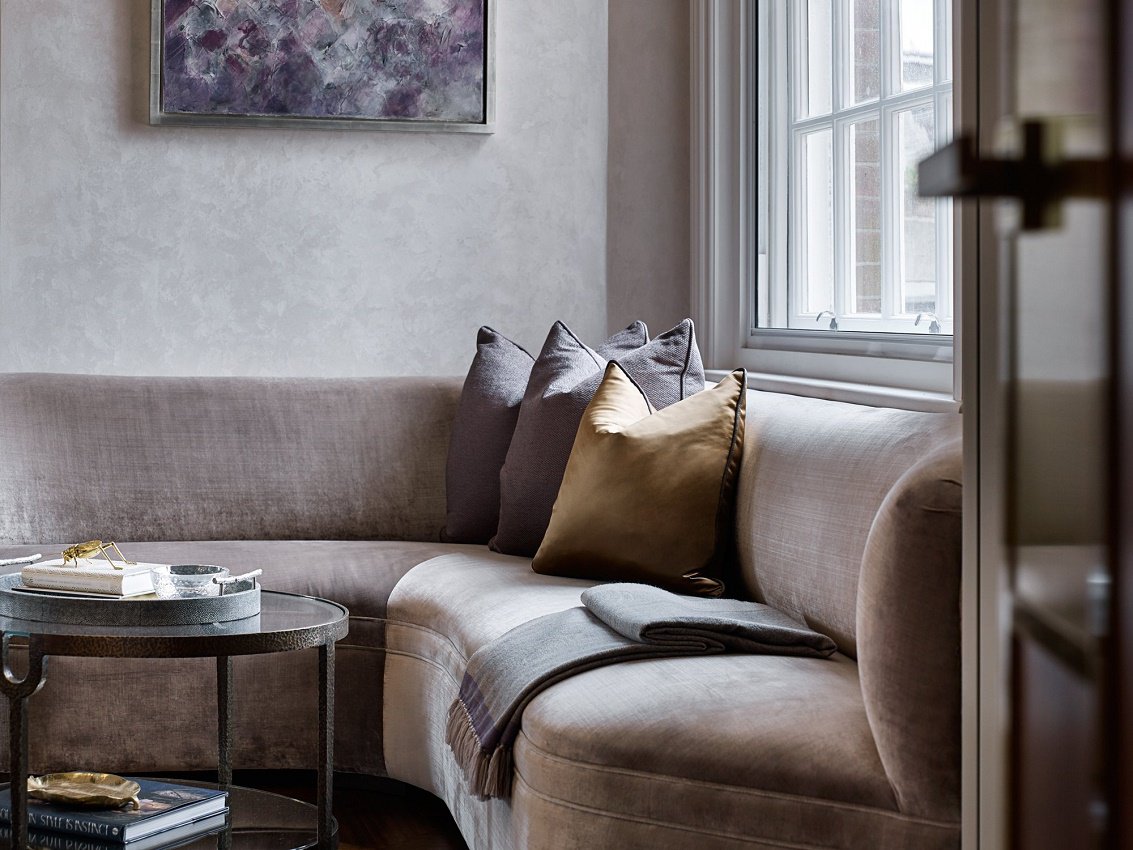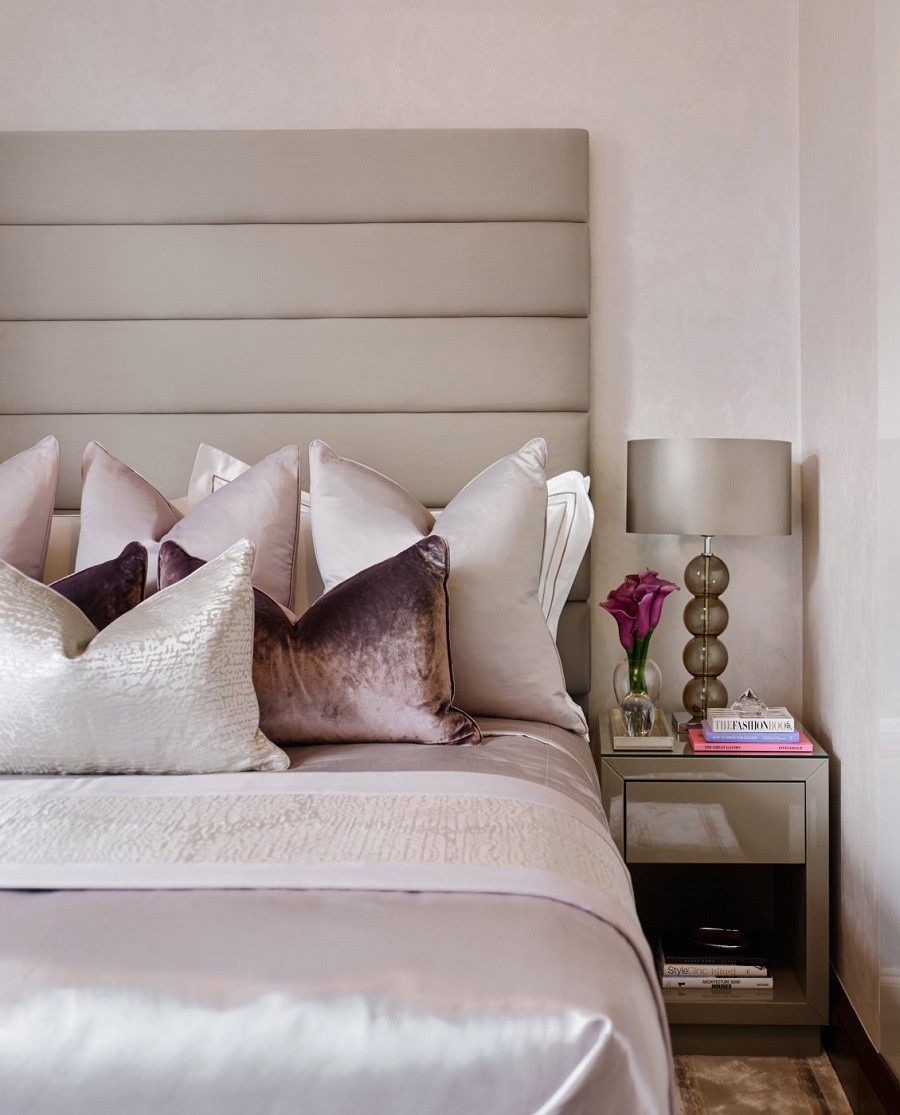 That concludes our design inspiration for today, my friend. I hope you enjoyed this exquisitely tailored London apartment and its contemporary luxury design. Bespoke cabinetry, Fendi Casa, crystal-dripping chandeliers, luxurious fabrics, and plenty of mirrors; This is an exciting interior design that I applaud!  Be inspired to amp up the glamour in your home and surroundings today!!  Let me hear from you too.  Please share with me in the comments some ways that you have created glamour in your home or some ways that you will be adding some in the future.  We want to share in the experience with you.
Elicyon Design Studio
A little more about the creators of this lovely home: Elicyon is a luxury design studio based in Chelsea, London. The studio creates tailored environments, crafted with precision, care and meticulous attention to detail. The professional and sophisticated design team at Elicyon are adept at discovering and bringing to fruition the vision of their clients. The firm masters all forms of design, from large scale, bespoke joinery and custom-made statement items through to intricate embroidery details on sumptuous fabrics. They ensure that each piece is fundamental to the scheme and produced to the highest specification. Rather than following a distinct house style, Elicyon ensures that every project they undertake stays faithful to the initial brief from the client, perfectly tailored to their needs, their personal taste and lifestyle. For more info and more inspiration be sure to check out their beautiful website.
Interior Design:  Elicyon
also:  Luxdeco.com/ Tour A Glam West London Apartment
Thanks so much for reading along with me!
Please remember if you haven't already done so, to sign up for our weekly updates letting you know about our latest post and such.
If you have enjoyed reading today's post, please share it on social media!
Have a great day and come back to see me soon!!
Please like us and share: