Classic Contemporary Design: Laura Hammett
Laura Hammett is a London-based interior design and interior architecture practice specializing in high-end, luxury residential projects. The multi-award-winning firm, formed in 2008 and now ran by husband and wife team Aaron and Laura Hammett, has quickly become an industry highlight offering highly personalized bespoke design services for developers and private clients. The firm's work combines a meticulously detailed approach with their signature timeless classic contemporary design style tailored to meet the individual needs of each client.
For our design inspiration today, we are looking at some of the best from multiple completed projects starting with one of their latest. The first residence is a redeveloped historic Belgravia townhouse with connected mews property completed with property developers Residence One. This 7,100-square foot home includes beautiful entertaining rooms, five bedroom suites, staff accommodations, and an indoor leisure complex with spa, pool, and gym. Laura Hammett completed this residence with over £1 million of bespoke designed furniture, fittings, and specially curated works of art presented as a "turnkey" luxury home. The Chester Square residence is the epitome of fashionable luxury London living.
The opening photo shows the grand first-floor drawing room with its full height French doors swagged in elegant draperies. Architectural moldings and millwork respect the structure's Georgian history while also emphasizing its ideal proportions. A restored original fireplace surround and mantel with a gilded mirror above serves as the room's focal point. The room's classic features combine with bespoke designed contemporary furnishings. Silk and suede upholstered sofas pair with damask-covered modern chairs on a custom silk rug with a Bella Figura chandelier suspended above to form the conversation area.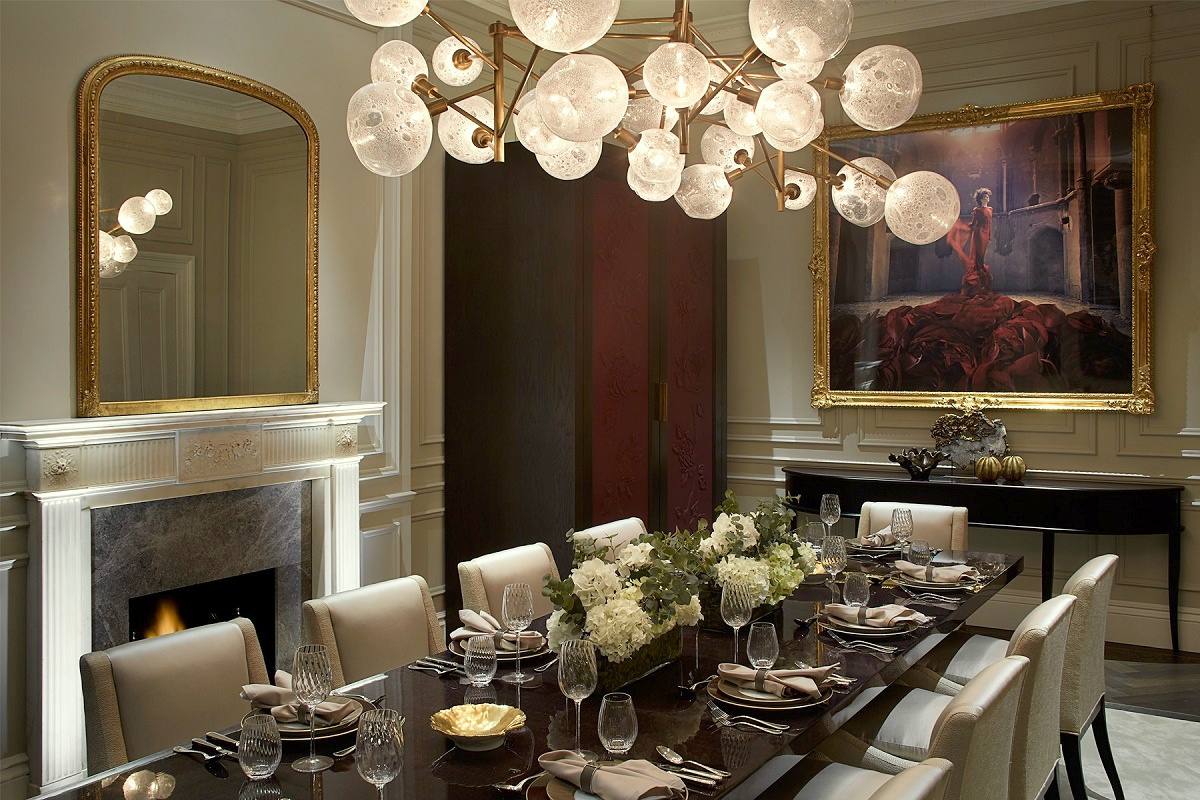 The formal dining room is another expression of the designer's timeless classic contemporary design style. Another original fireplace surround mounted with a gilded mirror centers the room. On either side of the fireplace stands a bespoke designed dark oak cabinet with laser cut leather upholstered doors. Each cabinet conceals a Gaggenau wine fridge inside which is just brilliant. A bespoke contemporary lighting fixture suspends above the dining table.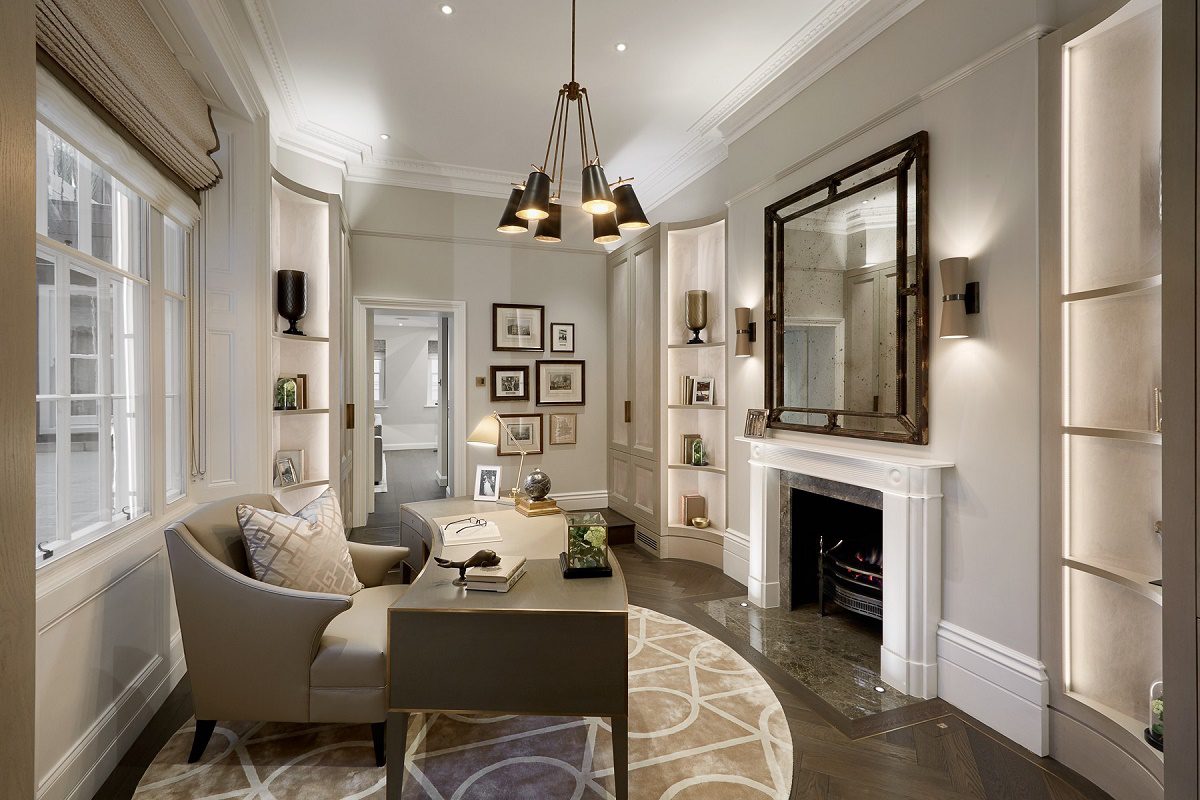 The sophisticated study includes herringbone oak floors with antique brass trim. Bespoke oak and suede cabinetry provide plenty of space for public display and concealed storage.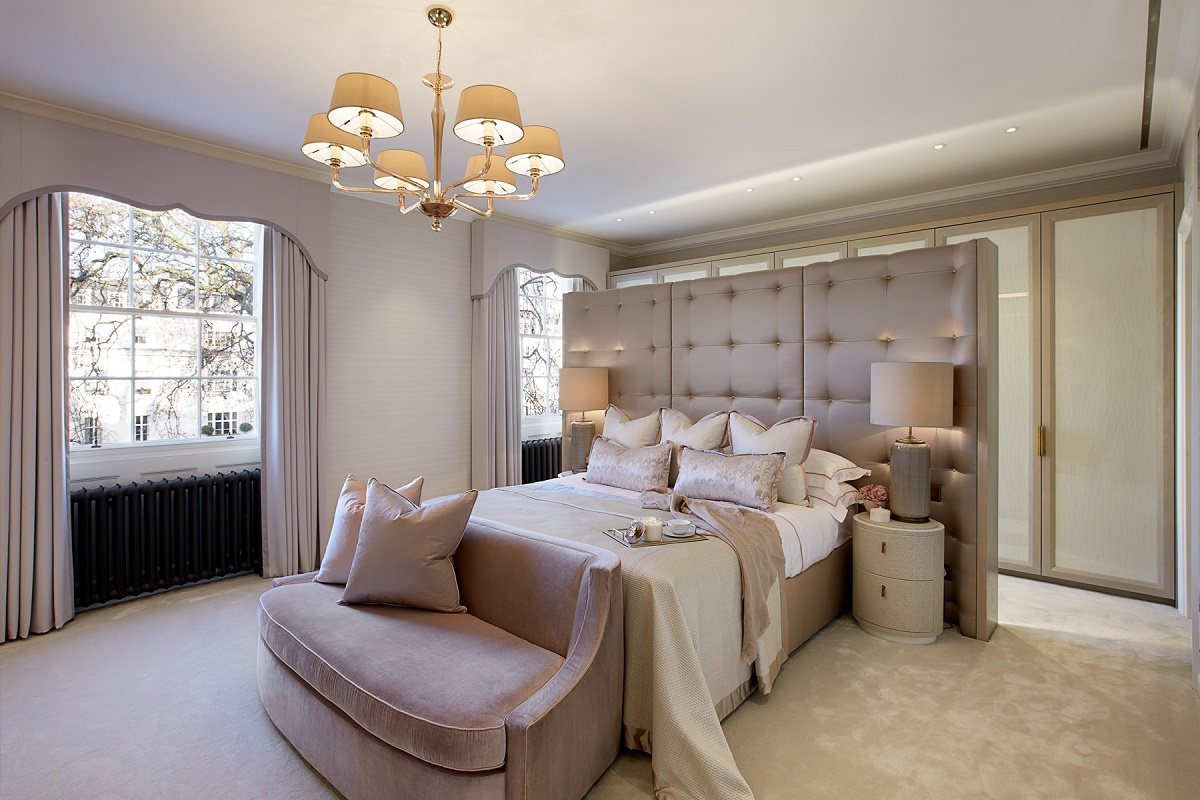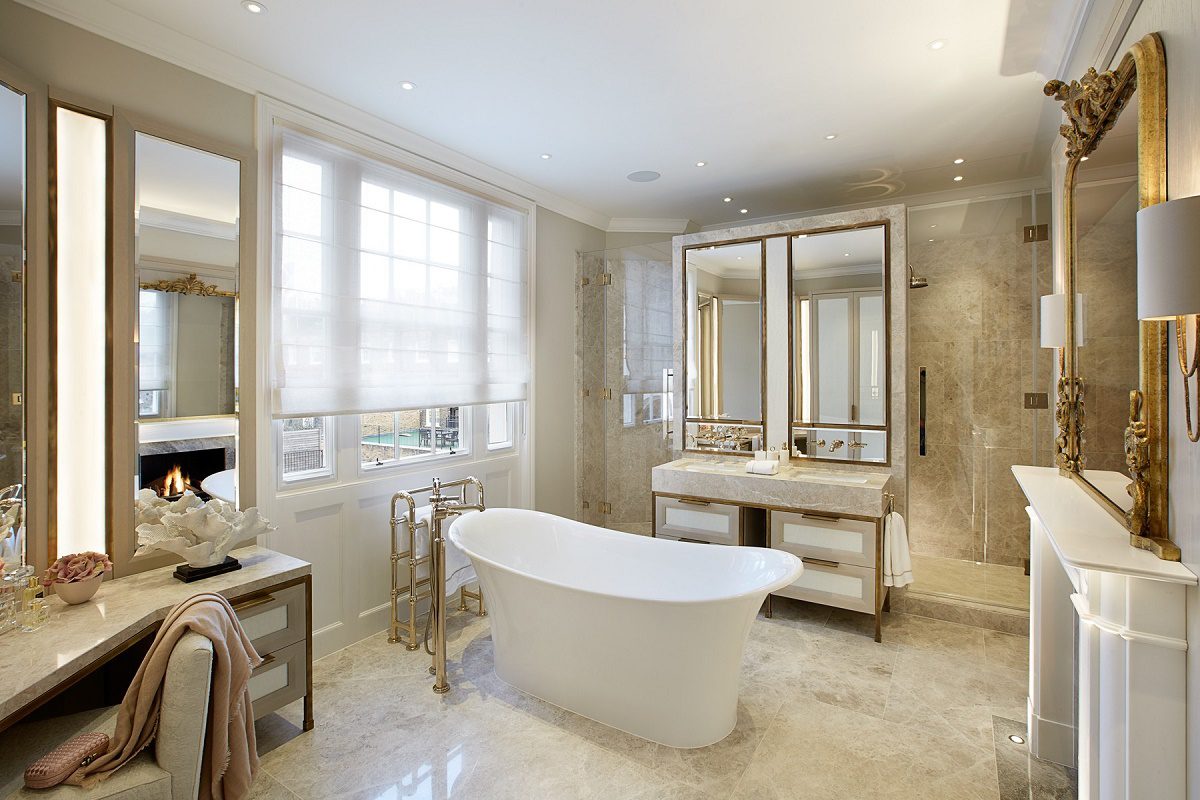 The master bedroom suite is a decadent delight that commands the entire second floor with the bedroom, dressing room, two bathrooms, and a private terrace. Silk upholstered walls and plush, deep pile carpet envelope the room with textured luxury. A freestanding silk button-tufted headboard forms a partition that brings the room forward to create more intimate scale. The space behind it creates more dressing area before the wall of glass door closets that leads to a dedicated side dressing room. Silk draperies frame the windows and silk velvet covers the seat at the end of the bed dressed in custom luxurious linens.
Emperador marble covers the bathroom wall and floors. Bespoke vanity and dressing tables line the generously scaled room. The rear holds the walk-through shower while a freestanding soaking tub is in the center. The antique gold faucets and fixtures are by Samuel Health. The mirrors include automatic demisters and LED lighting. The room completes with a limestone fireplace mounted with an antique mirror that conceals the television within.
The home delivers a seamlessly flowing living environment, enriched with thoughtful functionality, elegance, and classic contemporary design style.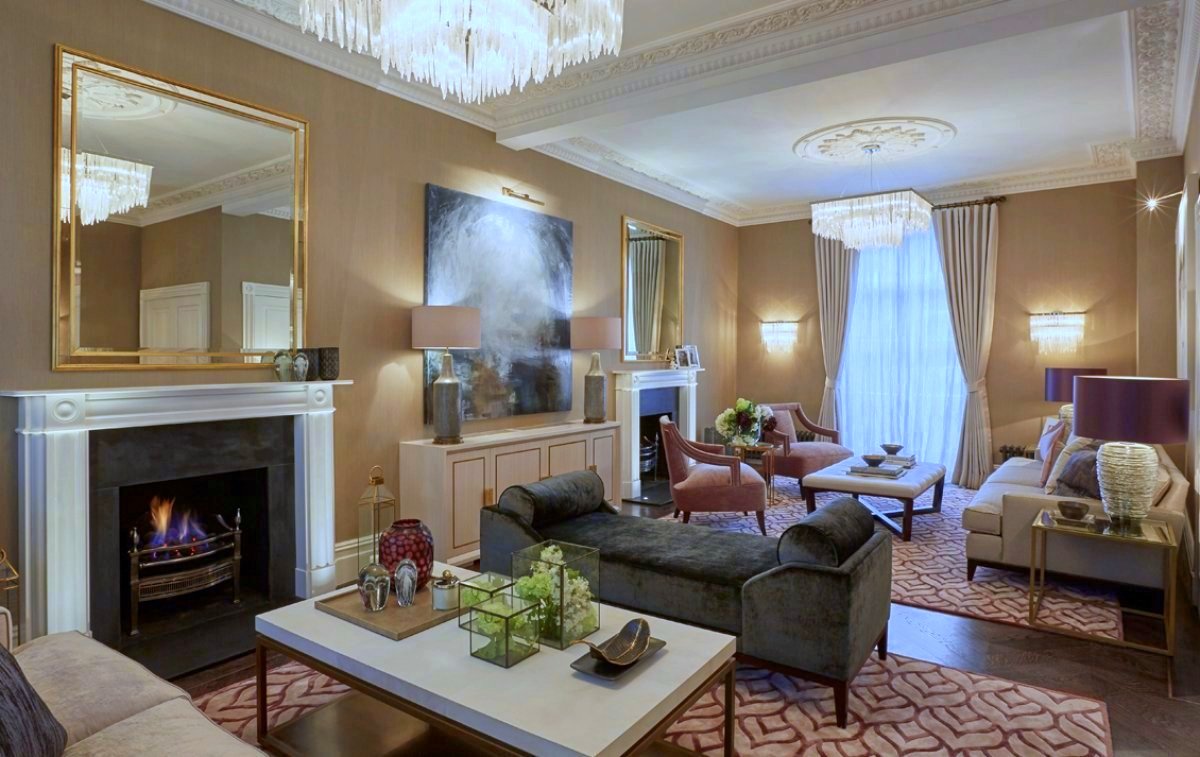 Our next residence is another refurbished historic Belgravia townhouse completed with developers Residence One. This one is a bit smaller with 4,600 square feet over five floors. The refurbishment included the restoration of many period features balanced with the best for a contemporary luxury lifestyle. Laura Hammett designed the interior architectural details and finishes with full turnkey furnishings and their signature classic contemporary design styling. I covered this entire project at length in my post: London Georgian Townhouse Renewal.  It's fabulous!
Above, we see the first floor, formal drawing room. The double-volume room is designed for entertaining with style. It arranges into two seating areas each gathered on a silk rug before a white marble fireplace, beneath a sparkling Ambika rock crystal chandelier.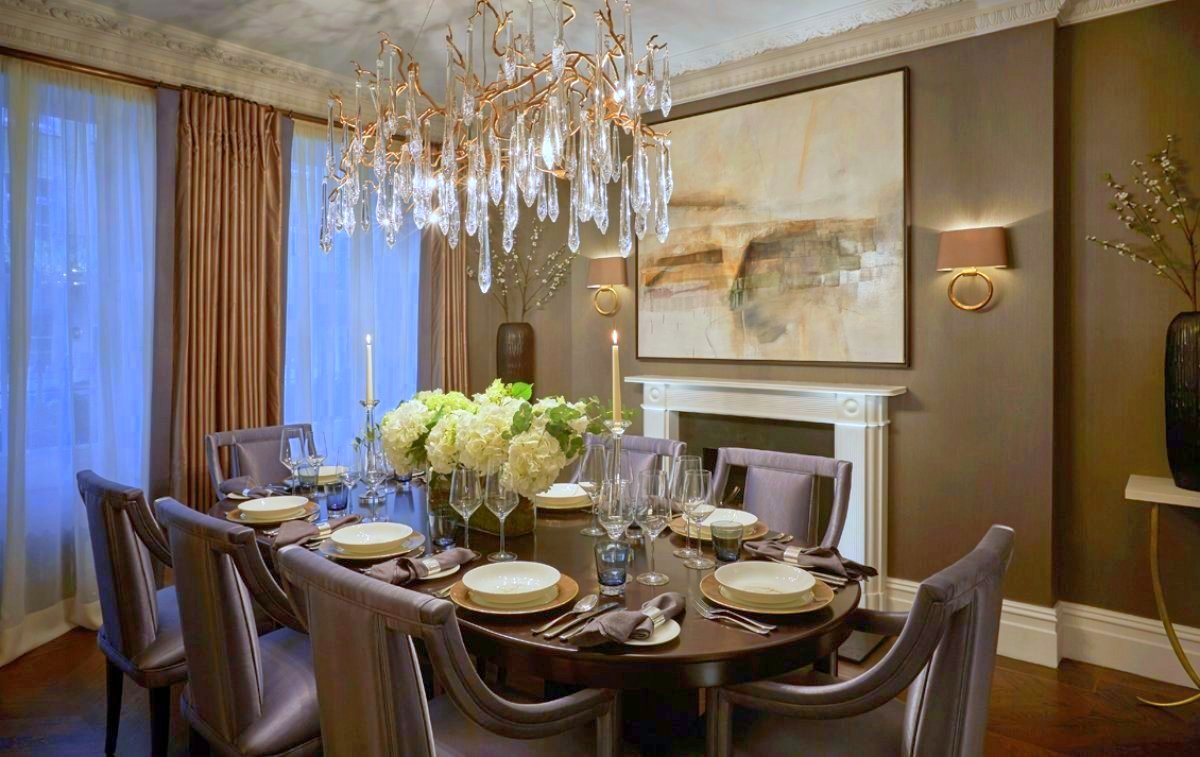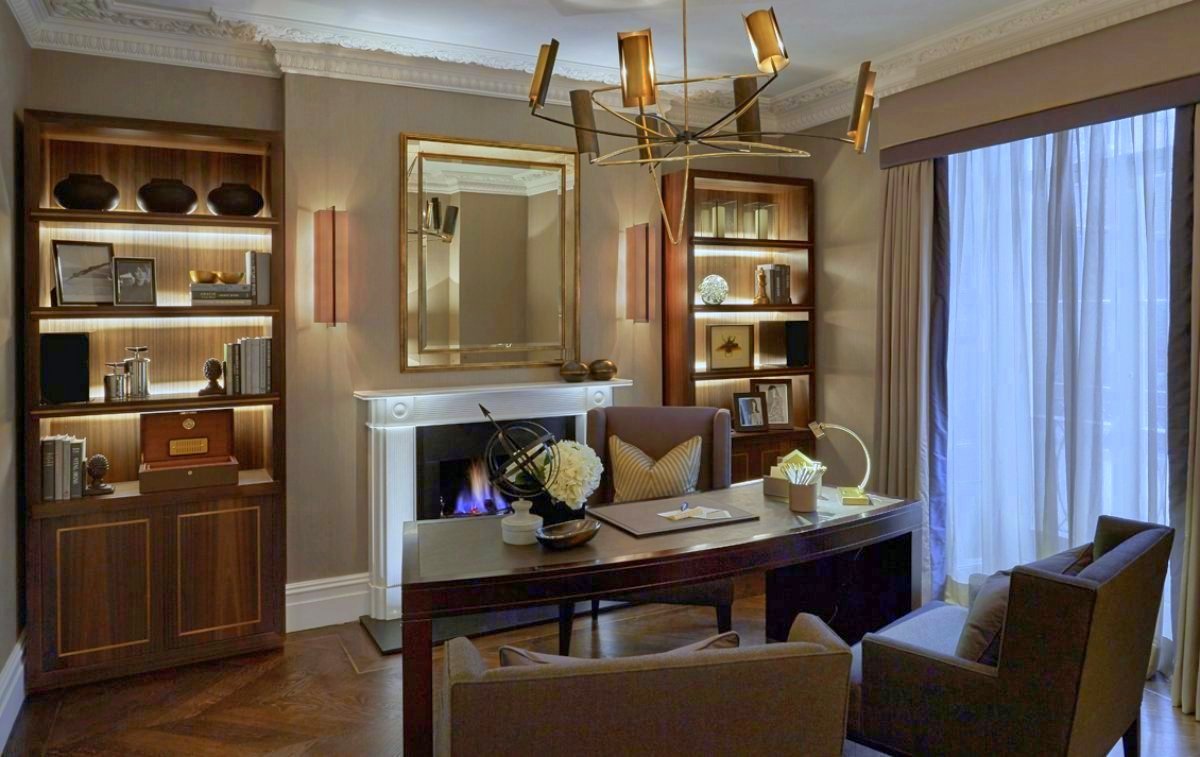 The ground floor of this magnificent home holds both the formal dining room and the study with similar looks. The rooms have custom chevron oak flooring with brass inlays and integrated LED lighting. Both rooms feature silk-covered walls and classic architectural details, and both have white marble fireplaces. The furnishings for each of these rooms are bespoke designed. The chandelier in the dining room is by Serip, while the pendant in the office is a Porta Romana.
Laura Hammett completed the design with an understated elegance that would complement, rather than compete with the classic architecture.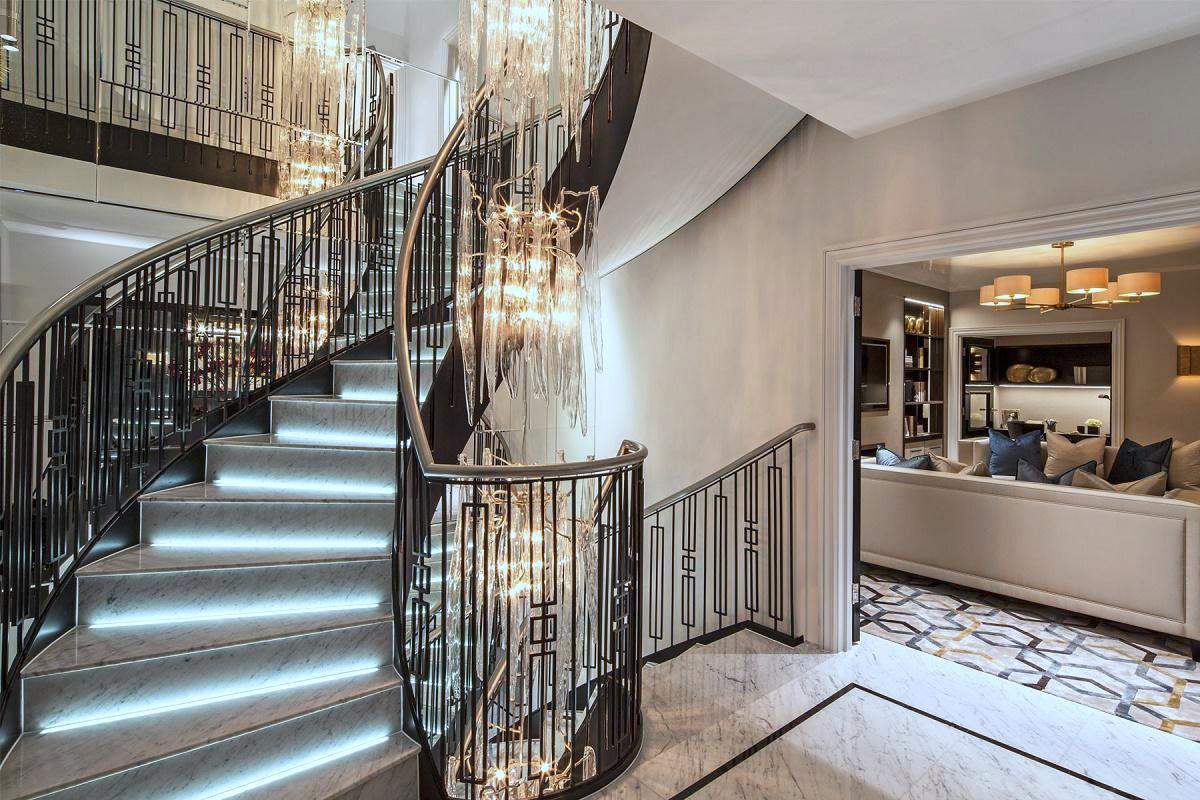 Our next residence is a redeveloped mews house located in the heart of Belgravia. This house is a little smaller and a bit more contemporary but still respectful of its historical origins. The 2,200 square-foot home arranges over three floors. Laura Hammett designed the architectural details and interior finishes. They also bespoke designed every piece of furniture in their classic contemporary design style.  I covered this project in its entirety, which you can see in my post: Contemporary Belgravia Mews House.
The above photo shows the ground floor entrance hall with its inlaid marble floors. The entrance hall gives access to the bespoke helical staircase with marble steps and recessed LED lighting. The stairway, which leads to the upper floor and the basement level below includes beveled mirrored walls along the back extending all three levels. A 23-foot bespoke designed Serip chandelier suspends down through the center to all floors. The mirrors reflect the natural light that comes in from the upper floors and distributes it through to the lower level. It's a very attractive and statement-making feature that also serves multiple practical purposes.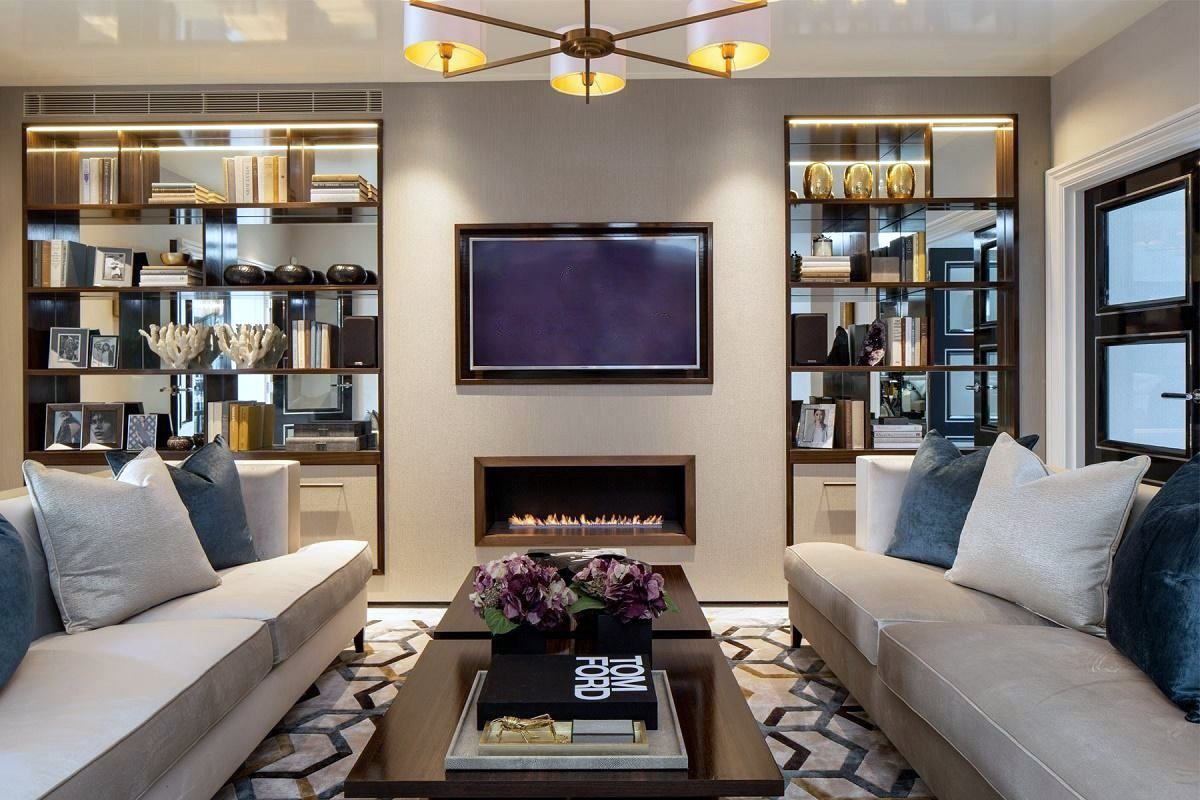 The living room is just off the entrance hall. In this chic space, the ceiling shines with a specialized high-gloss finish which mirrors the polished marble floors below. These design details also help to reflect light through the home. A television integrated into the wall above a bronze-framed firebox serves as the room's focal point. On either side of it, custom fumed eucalyptus shelves with mirrored backing create a visual display and storage. A pair of facing sofas centered by a pair of cocktail tables gather on a custom graphic rug to form the conversation area.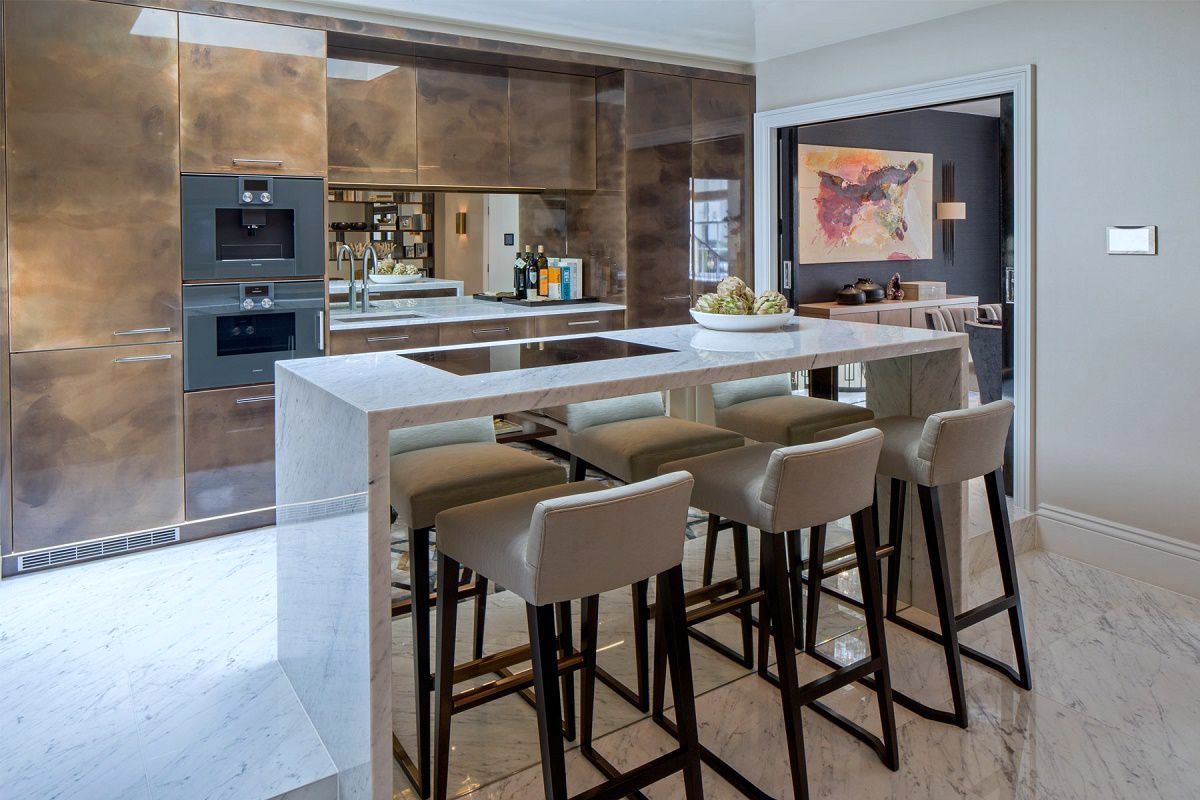 The marble floors and high-gloss ceilings continue here in the sleek custom kitchen. Handmade, high-polished bronze cabinets with walnut interiors pair with Carrera marble counter-tops with mirrored back-splashes. The appliances are by Gaggenau. Laura Hammett's use of bespoke luxury details significantly increases the appeal of this home's limited space.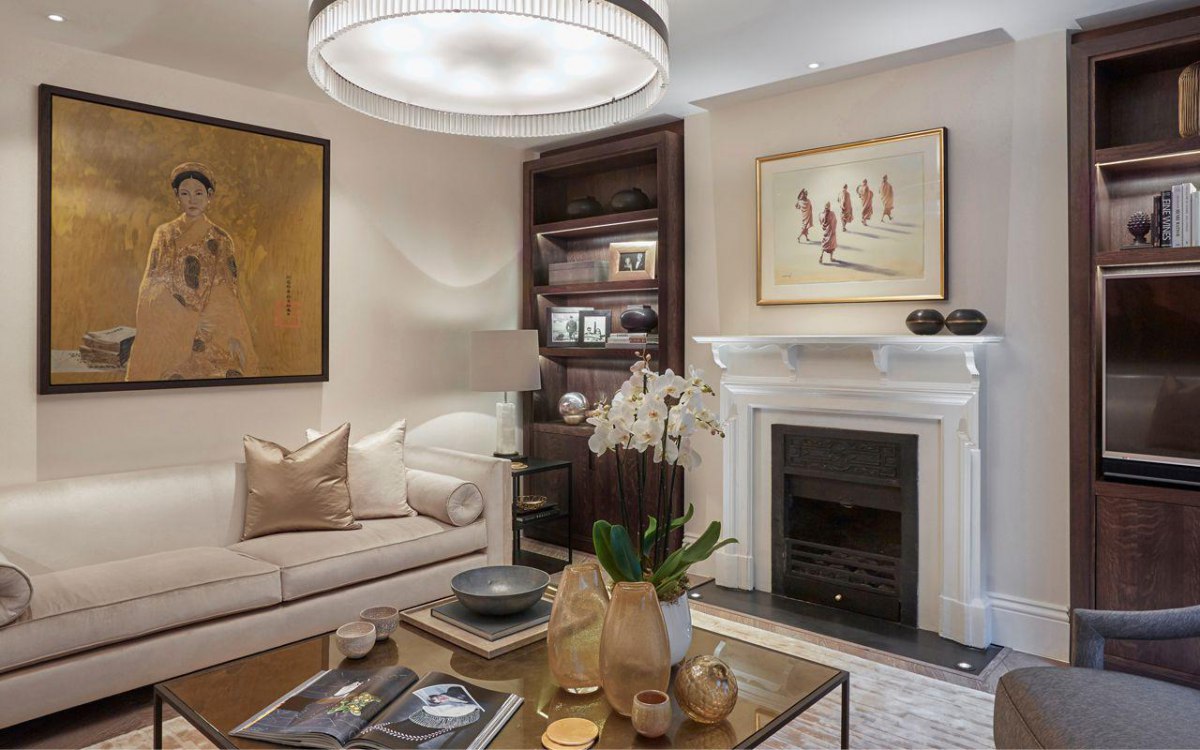 Our final residence is a 2,200-square foot apartment set within a historic Georgian townhouse in Marylebone. The design team thoughtfully balanced features that reference the homes Georgian heritage with furniture and finishes that make it a home for contemporary life.
Here in the living room, the design team kept everything light and simple. A large cream sofa gathers with bespoke eglomise and bronze tables and accent chairs on a carved, polished rug to create a serene backdrop for the owner's collection of Tibetan art.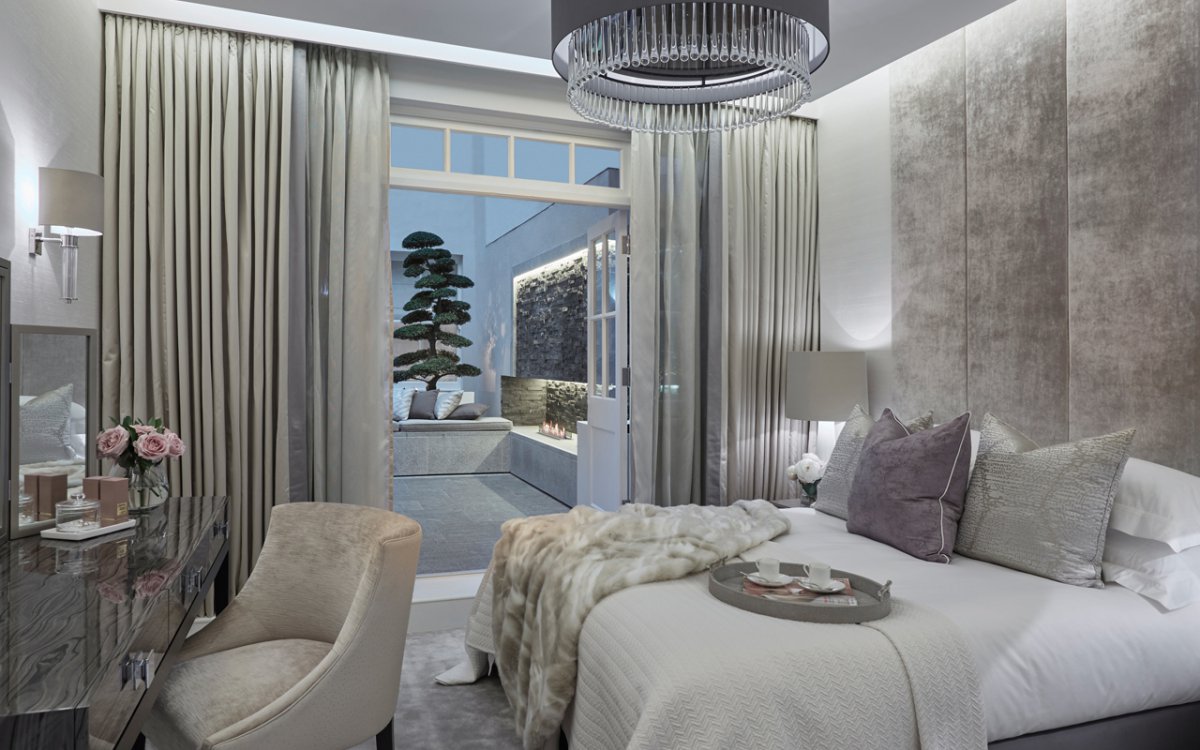 The luxurious master bedroom is a dream. It looks so inviting and comforting with the upholstered headboard, deep pile carpet, and the dense layers of window draperies. The pearly whites and silvery shades of gray make it even more calming and gorgeous.
The courtyard beyond is central to the home and accessible from all the main rooms making it excellent for extending entertaining outdoors.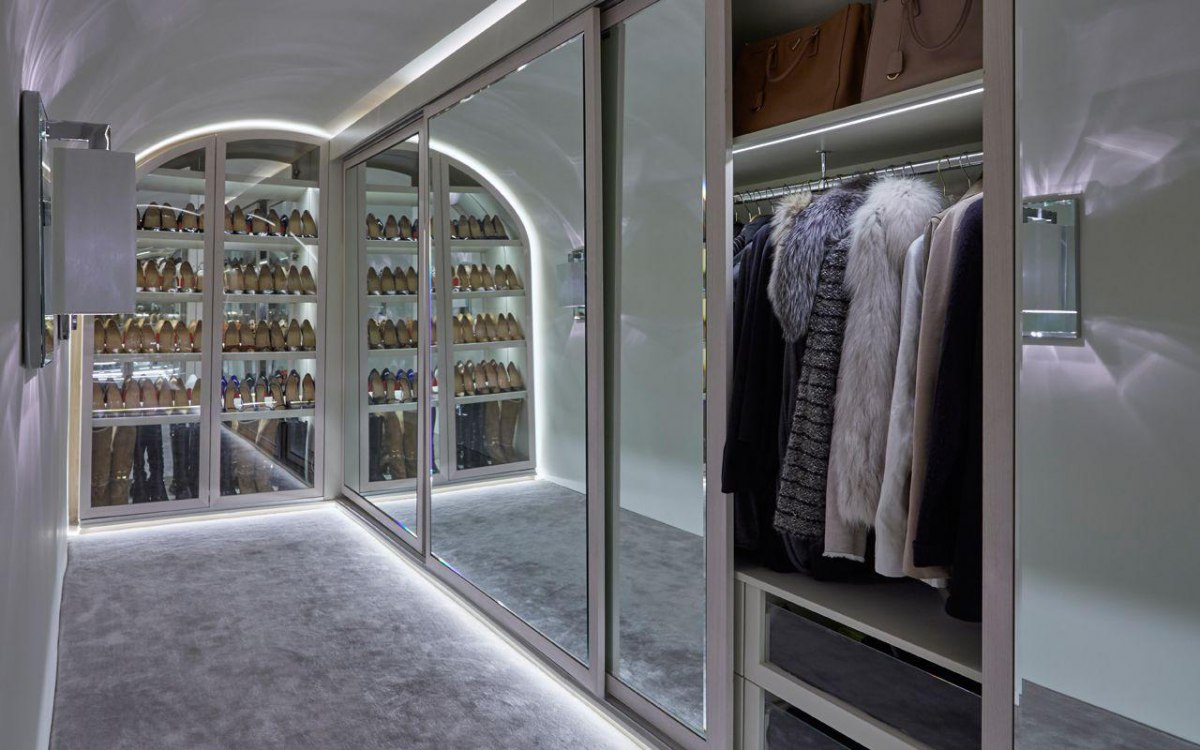 The perfect finale for this showcase apartment is the custom dressing room. Pearlescent walls, polished carpet, endless mirrors, glass-fronted closets, and display lighting. Just add some seating against the open wall, and many fashionistas would seldom care ever to leave.
Classic Contemporary Design Conclusion
That concludes our design inspiration, my friend.
Interior Design & Interior Architecture: Laura Hammett
Thank you so much for reading along with me today. What do you think of Laura Hammett's signature Classic Contemporary Design styling? I look forward to hearing from you in the comments.
If you have enjoyed today's inspiration, please share it on social media!
Have a great day!
Please like us and share: