Contemporary Penthouse Design: Studio Munge
This sleek and very refined penthouse is located within an exclusive residential condominium building in the heart of Toronto's historic St. Lawrence neighborhood.  The 4,500 square-foot, two-level residence has been given an edited and sophisticated new contemporary penthouse design by the Toronto based interior design firm Studio Munge.  Every detail in this luxury home has been masterfully appointed by the design firm who has imparted a clean, modern aesthetic without sacrificing any of the comforts of a traditional single family home.  The penthouse illustrates very well how an urban condo can have all the comforts of a traditional home, which was an initial concern for the new owners.
The light-filled, open-flow and airy interiors feature floor-to-ceiling windows, along with an additional 2,000 square-feet of sprawling outdoor terrace which wraps around the entire first level, providing plenty of space both indoors and out, as well as expansive views across the city.  The inspiring interior design within this penthouse ultimately created the ideal home for the owners, alleviating all of their previous concerns.
…imparted a clean, modern aesthetic without sacrificing any of the comforts of a traditional single family home.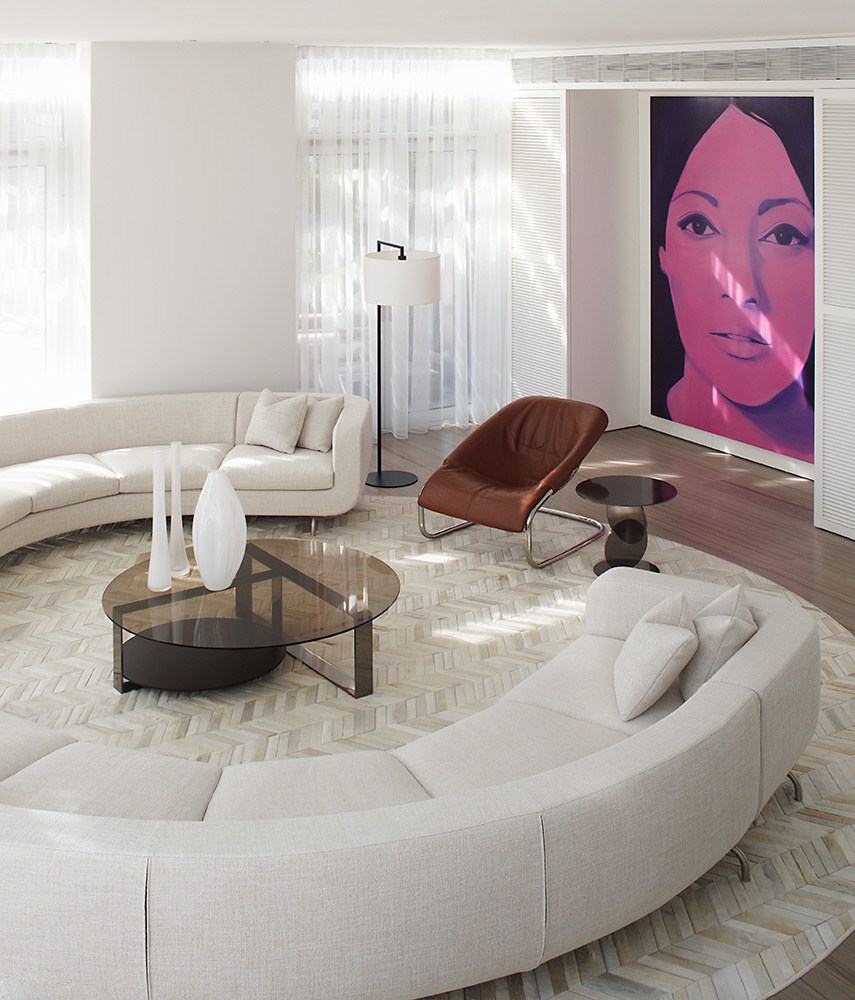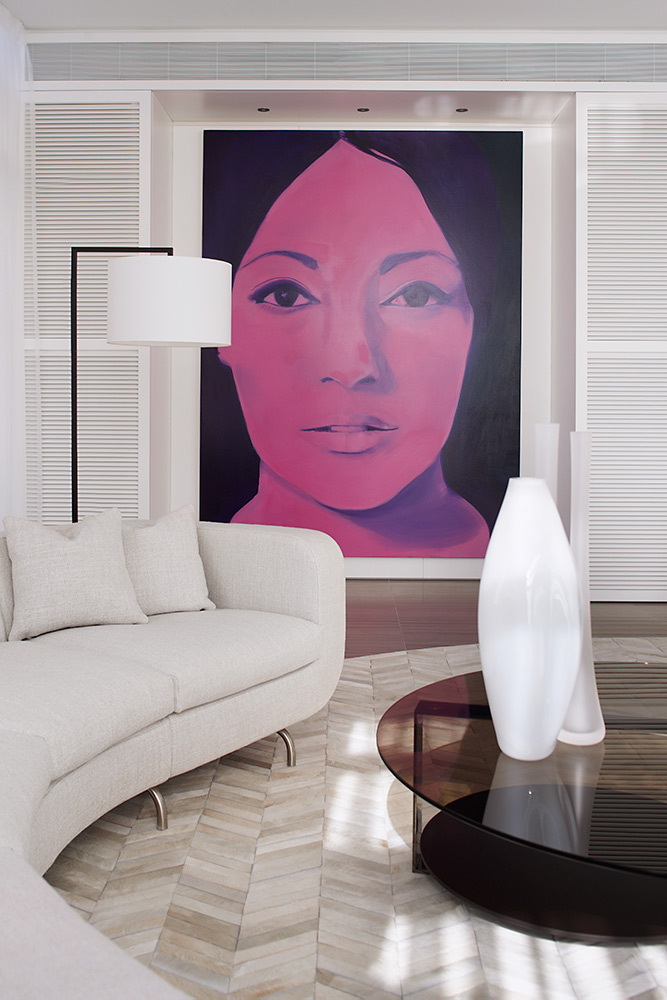 Studio Munge used a soft, neutral color palette, and natural but luxurious finishes to accentuate the sculptural quality of each element within.  The main living room here is spare as in the entire home, and minimalist in its effect.  The space is furnished with contemporary pieces from Italian furnishings company Minotti, including two generously proportioned Dubuffet sofas, paired with the Cortina armchair and round Bressen coffee table.  All gather on a custom cream-colored, hairy-hide rug from Kyle Bunting.  The art used in the residence was carefully selected according to its scale and function within each area that it occupies.  Its deliberate placement punctuates the living areas and creates a fascinating interplay with the surrounding palette.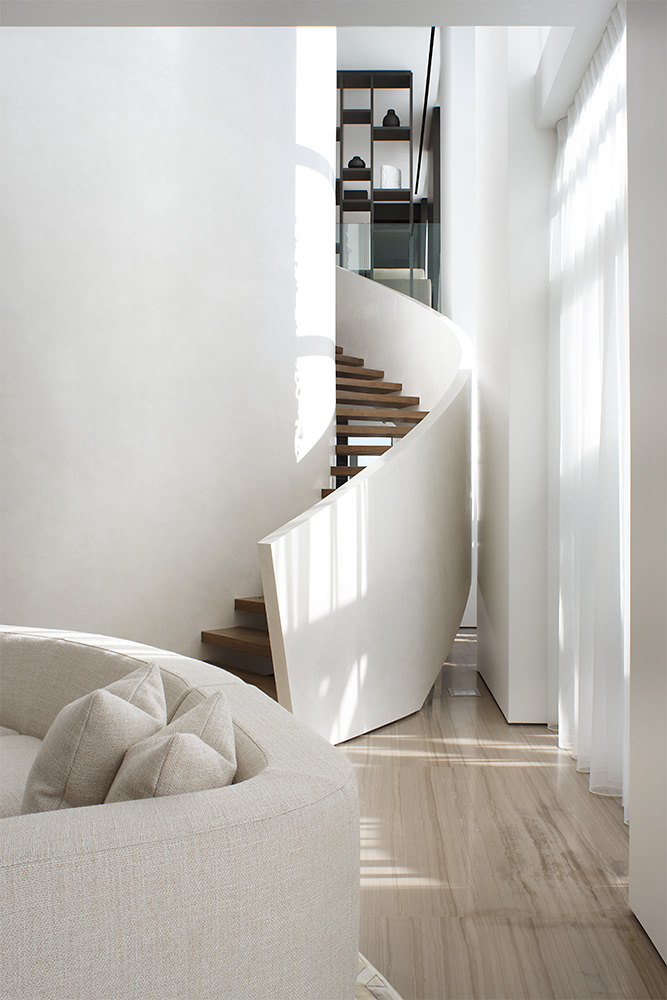 The sculptural spiral staircase separates the living and dining areas on the main floor and provides access to the upper level.
The clients initially were concerned that moving to a condominium would prohibit them from enjoying the lifestyle they had become accustomed to in their family home while raising their children, who are all grown and out of the house now. They desired the benefits of living in a luxury residential building in such a prime location, as well as the chance to have a serene, contemporary design created for adults within it, but just weren't perfectly sure.  They put their faith in Studio Munge, whose work they much admired and they are so glad they did. The design firm made it a point to integrate the same comforts found in their traditional family home, complete with abundant storage, outdoor space and ample room for entertaining friends and family.
The home  lays out as a series of distinct but open spaces to create an uncluttered atmosphere that promotes effortless transition between rooms.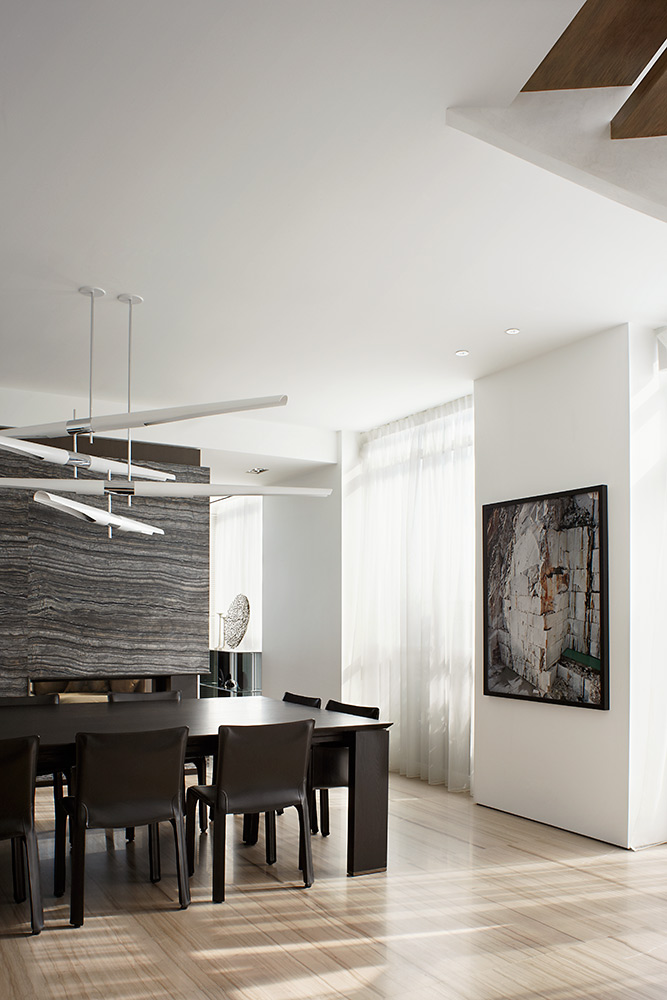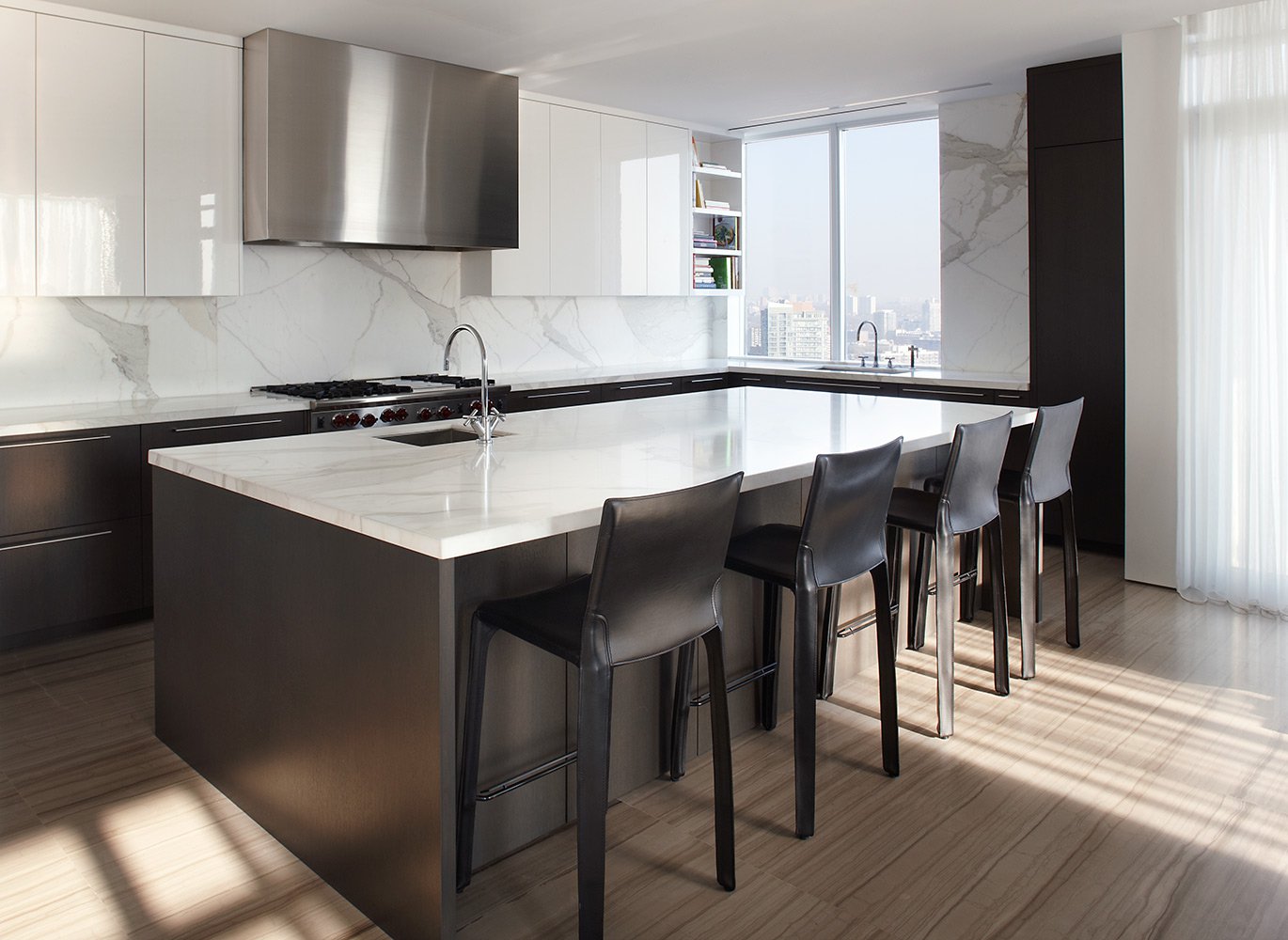 An open-concept kitchen flows from the dining room.  Custom furnishings with clean lines, free of any distracting ornamentation allow the pieces to shine for their design alone.  The sophisticated kitchen features stone surfaces, custom Studio Munge designed cabinetry, and of course, Miele appliances.  A spectacular two-way Costa Azure marble-clad digital fireplace in the dining room creates the focal point.  The dark marble offers a delicious contrast to the soft color palette displayed so far while remaining neutral and dignified.   The contemporary lighting piece above the table offers some visual drama.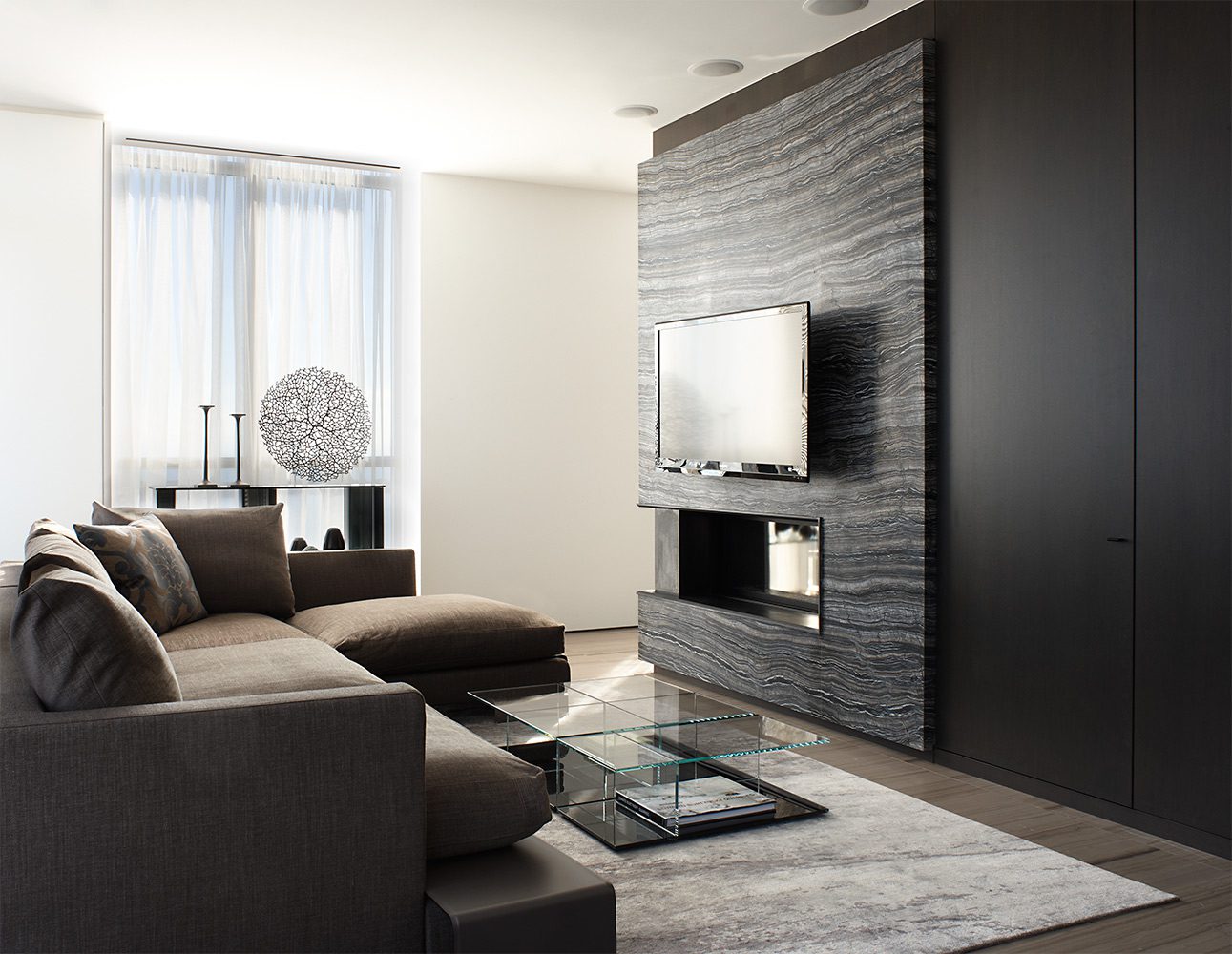 The den lies just beyond the dining area. These rooms share the two-way digital fireplace with marble faced wall surround.  The contemporary penthouse design continues the warm, earthy shades with the same minimalist approach. This room gives a greater nod to more relaxed comfort. Its design provides more casual family living space with its plush upholstered seating and television above the fireplace.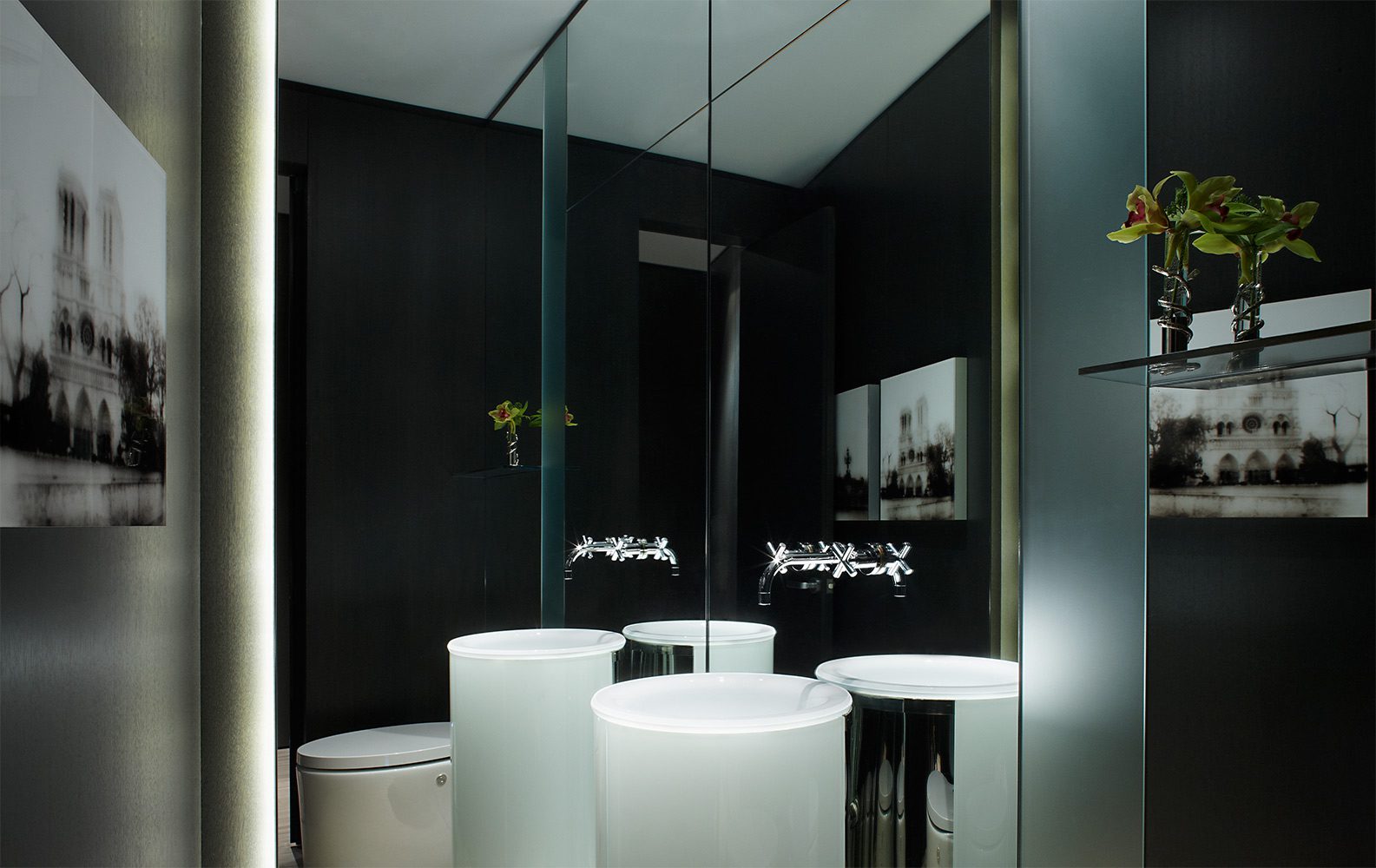 The powder room is the epitome of chic!  This is so good. Any room featuring walls of mirrors, especially one lit from behind wins with me. The very contemporary design sinks, lit from within, with their wall mounted faucets make for a very smart look.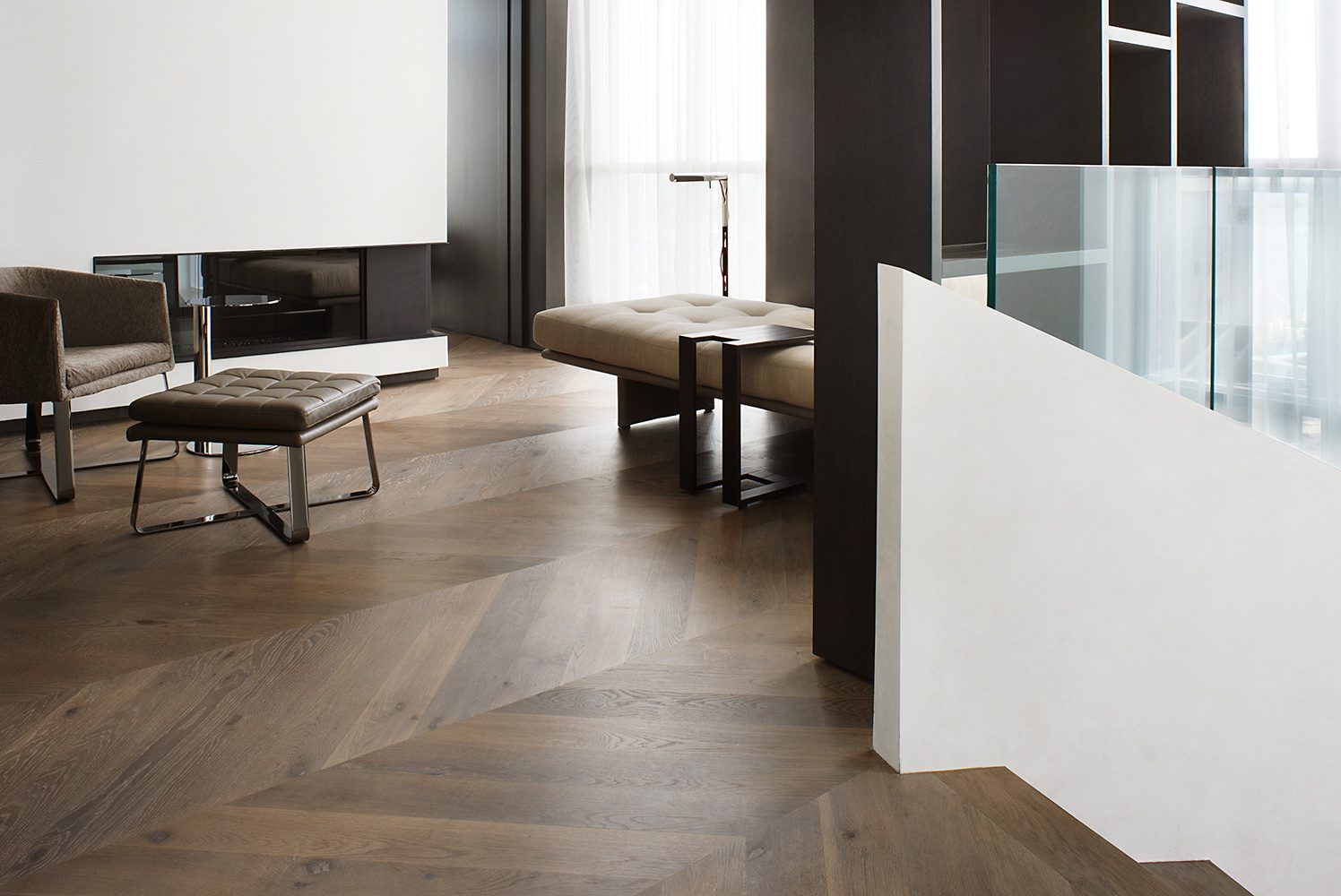 On the second floor, a lounge area directly off the spiral staircase provides a place to unwind.  It also gives access to the master bedroom, guest bedroom, and the home library/study.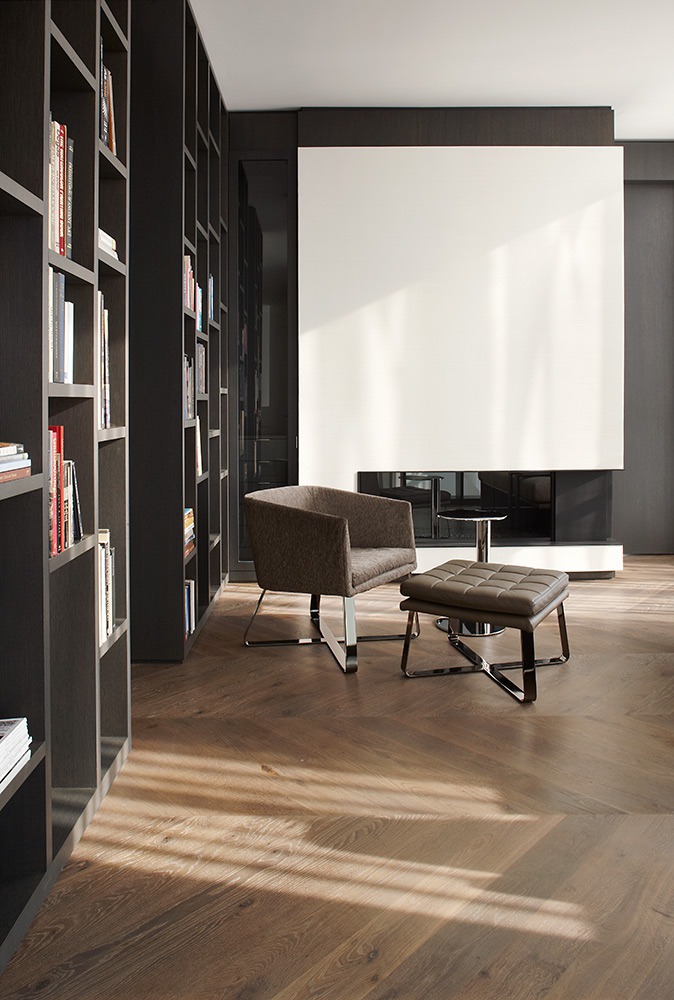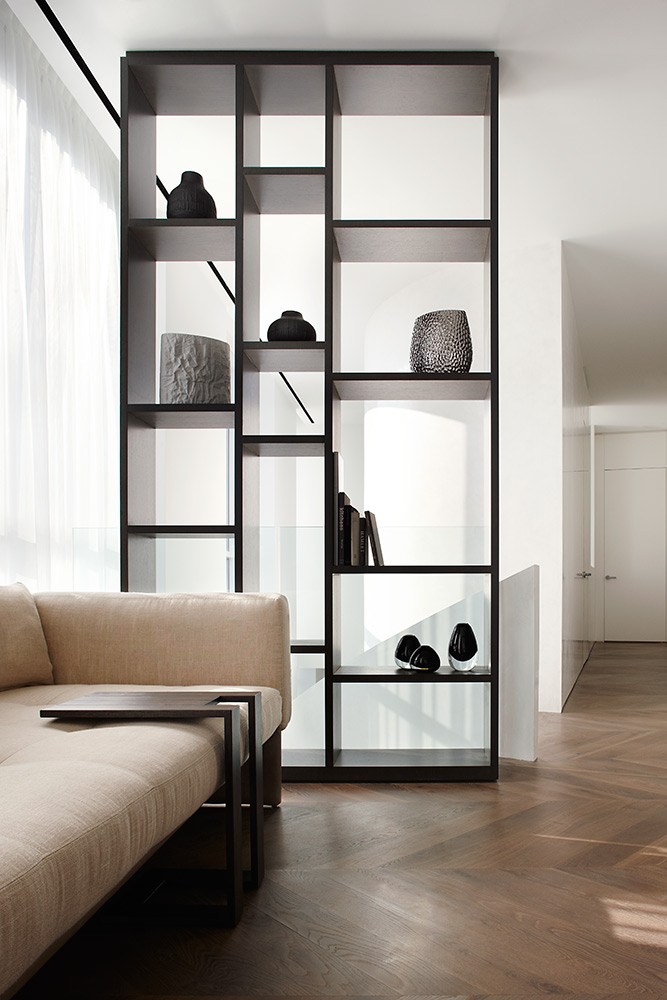 Custom shelving and the main staircase structure partially hide the library. This gives it a sense of privacy while maintaining the open concept feel. This level includes wood flooring laid in a classic herringbone design.  The two-way digital fireplace up here sports a more smooth surround.  A perfect balance of edited contemporary penthouse design with luxe natural finishes.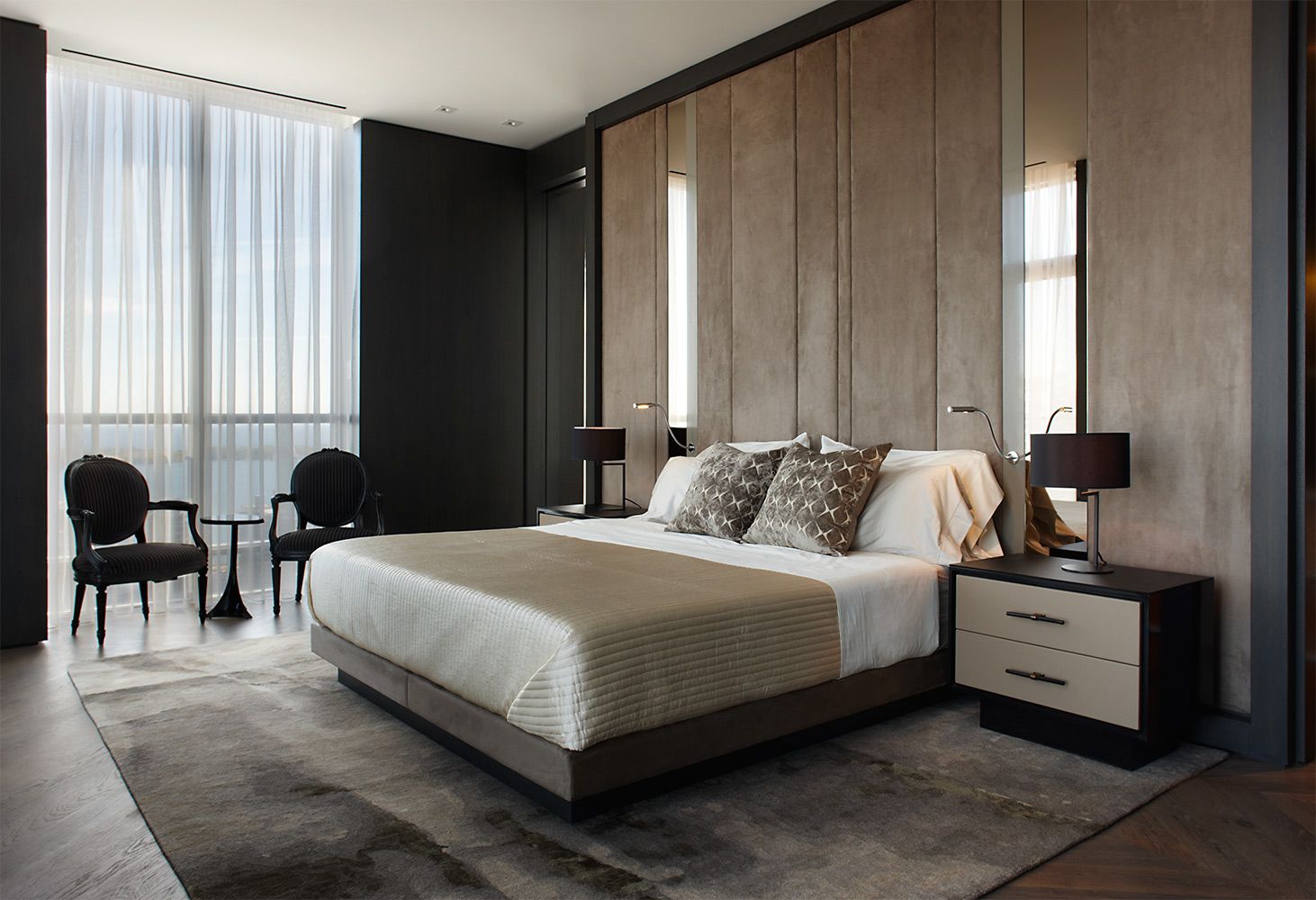 In the master bedroom, the bed's headboard design integrates with the upholstered walls which conceal storage areas. Bespoke designed furnishings and luxurious Italian linens on the bed complete this room with style.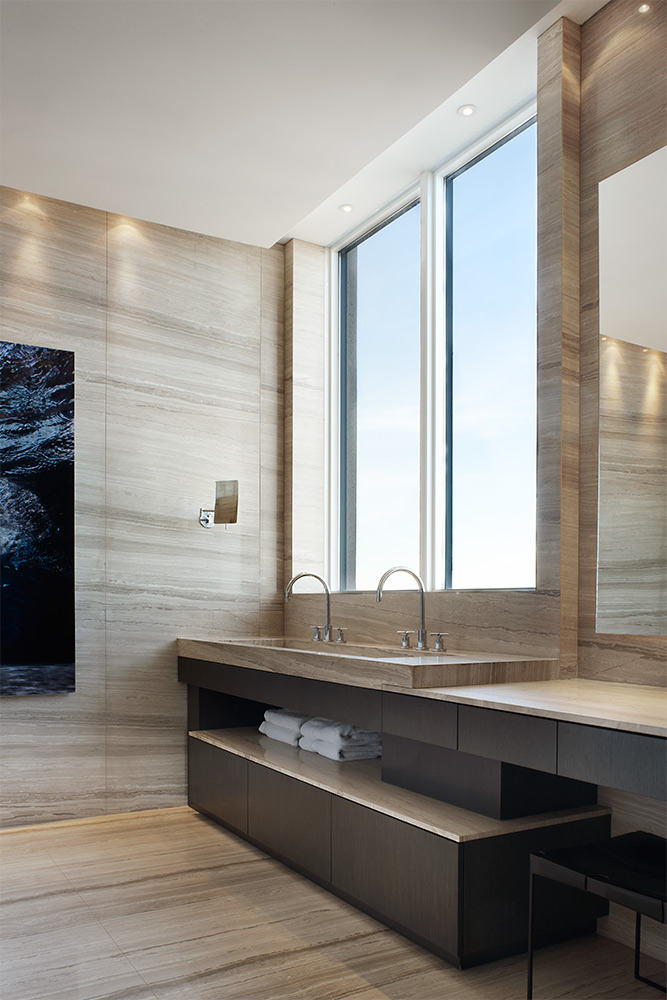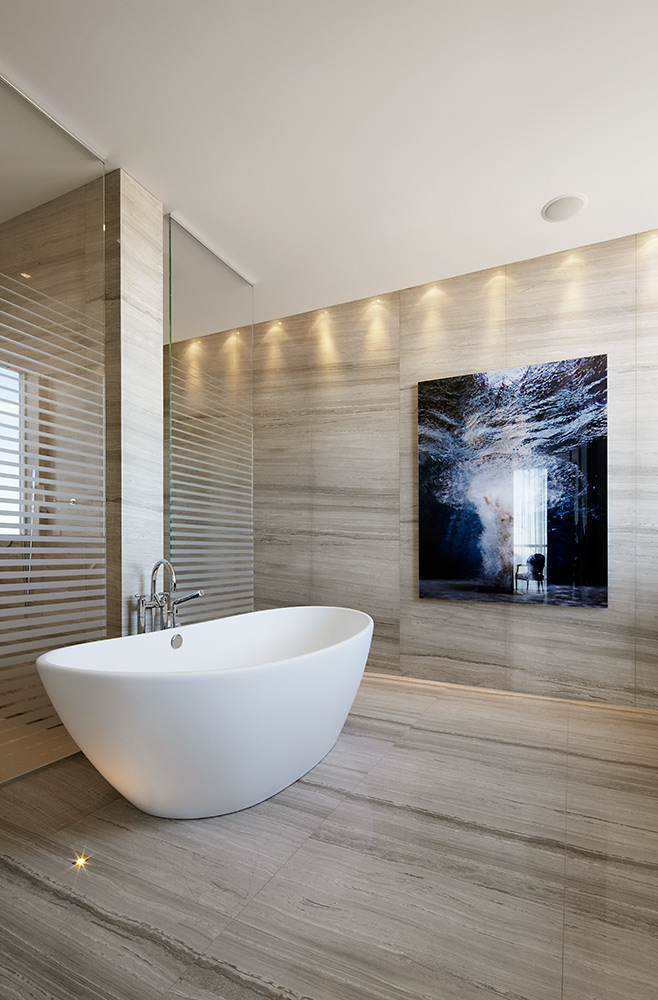 Stone envelopes the master bathroom, completed with sleek, custom cabinetry.  The space includes separate standing showers and a free floating soaking tub.  Perfectly sublime right?  Hidden storage provide a place for things so the owners never have to feel cramped or cluttered.  A correct place for everything and everything in its place.  My kind of styling indeed!  Kudos Studio Munge!
To see more clean, contemporary design, be sure to see:
Knightsbridge Contemporary Penthouse: Staffan Tollgard
Contemporary Design in a Period Gem
Studio Munge's Contemporary Penthouse Design
That concludes our design inspiration for today, my friend.  I hope you enjoyed today's post.  Let me hear from you in the comments.  Tell me what you think about this contemporary penthouse design.
Passion for great design drives Studio Munge.  Excellence and exceptional service guide the design firm.  Creative leadership informs and inspires their multidisciplinary team to produce distinctive, transformative design.  For more than 20 years Principal Alessandro Munge's global perspective, inquisitive nature and quest for the perfect solution propelled Studio Munge onto the international stage.
Interior Design:  Studio Munge
Photography:  Evan Dion
Thanks so much for reading along with me!  We appreciate you so very much!
If you have enjoyed reading today's post, please share it on social media.
Have a great day!!
Please like us and share: