Glamorous Luxury Design: Elicyon
This spectacular residence, a five-bedroom apartment located within the prestigious One Hyde Park building, situated in the heart of cosmopolitan London's Knightsbridge, has been completed by the luxury interior design studio Elicyon.  The flawless contemporary design has been executed with opulent materials and exquisite bespoke craftsmanship to create a remarkable city residence in the homeowner's style.  This unique property is an example of the ultimate in glamorous luxury design, and that is what makes it our design inspiration for today.  Let's take a look!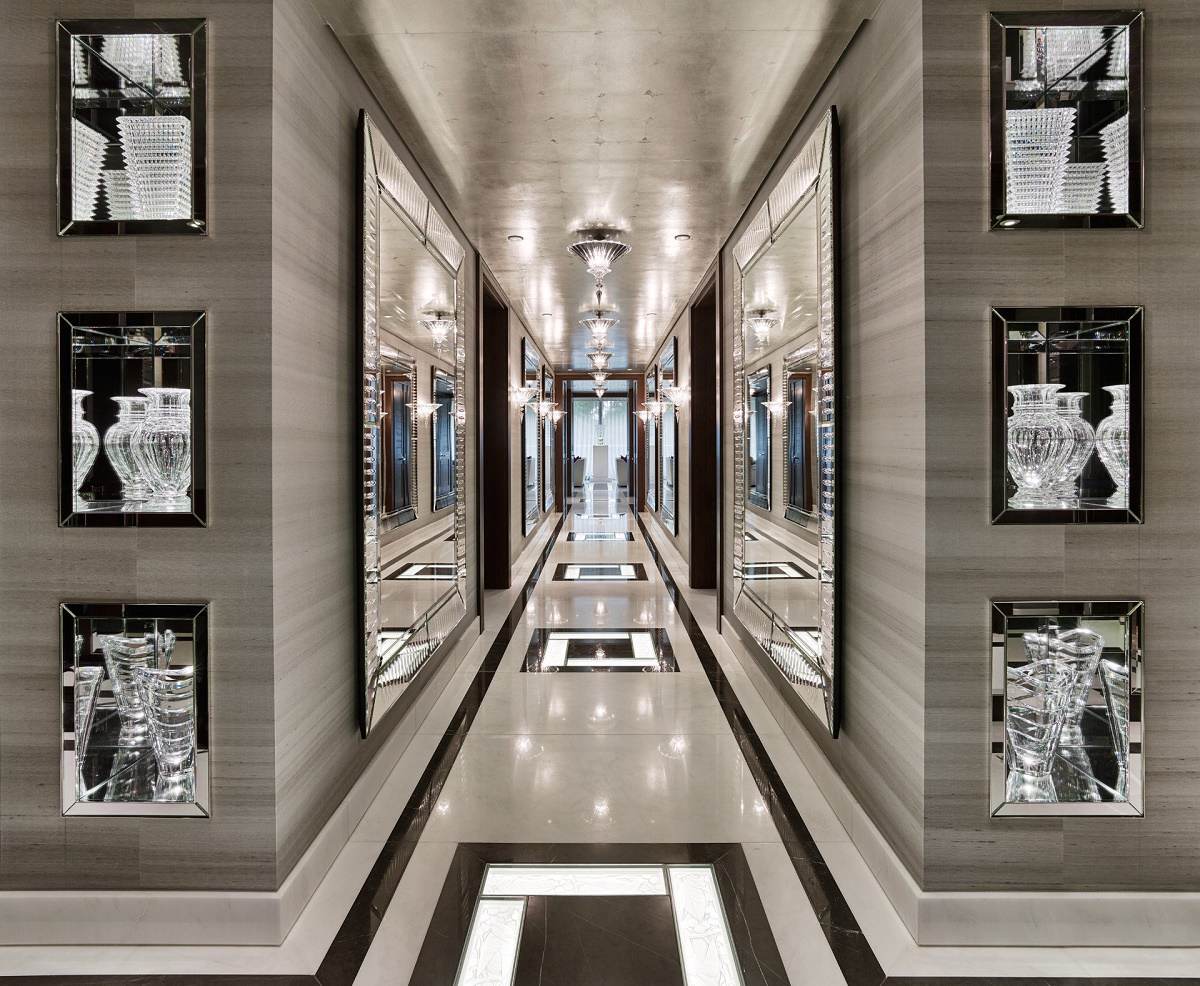 The homeowners, an international family, use the residence for special occasions whenever they are in the city and want it to be a grand showstopper when they entertain.  They are Baccarat crystal enthusiasts with quite an extensive collection of vases and lighting which Elicyon incorporated into the home's interior design.  Marble, mirrors, and fine crystal, it's pure glamorous luxury design!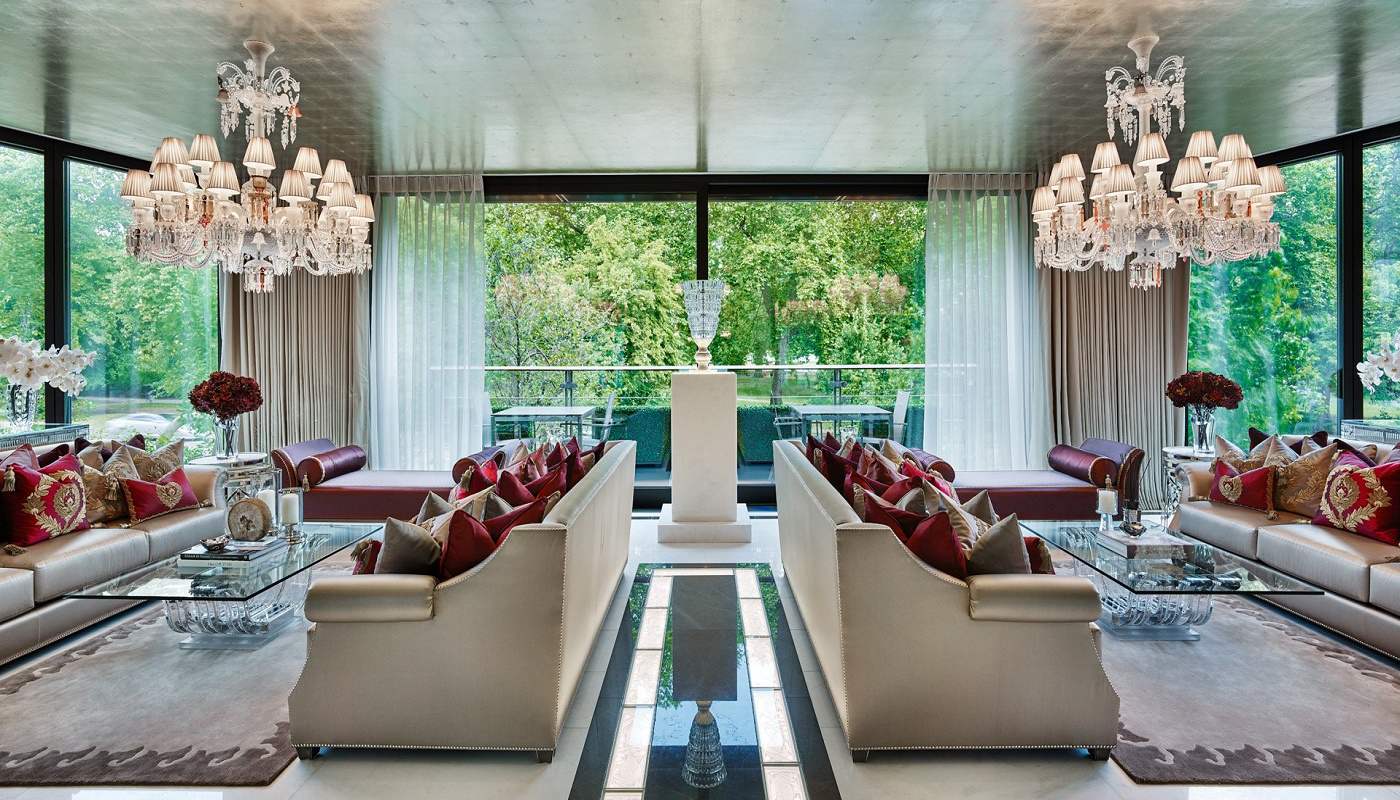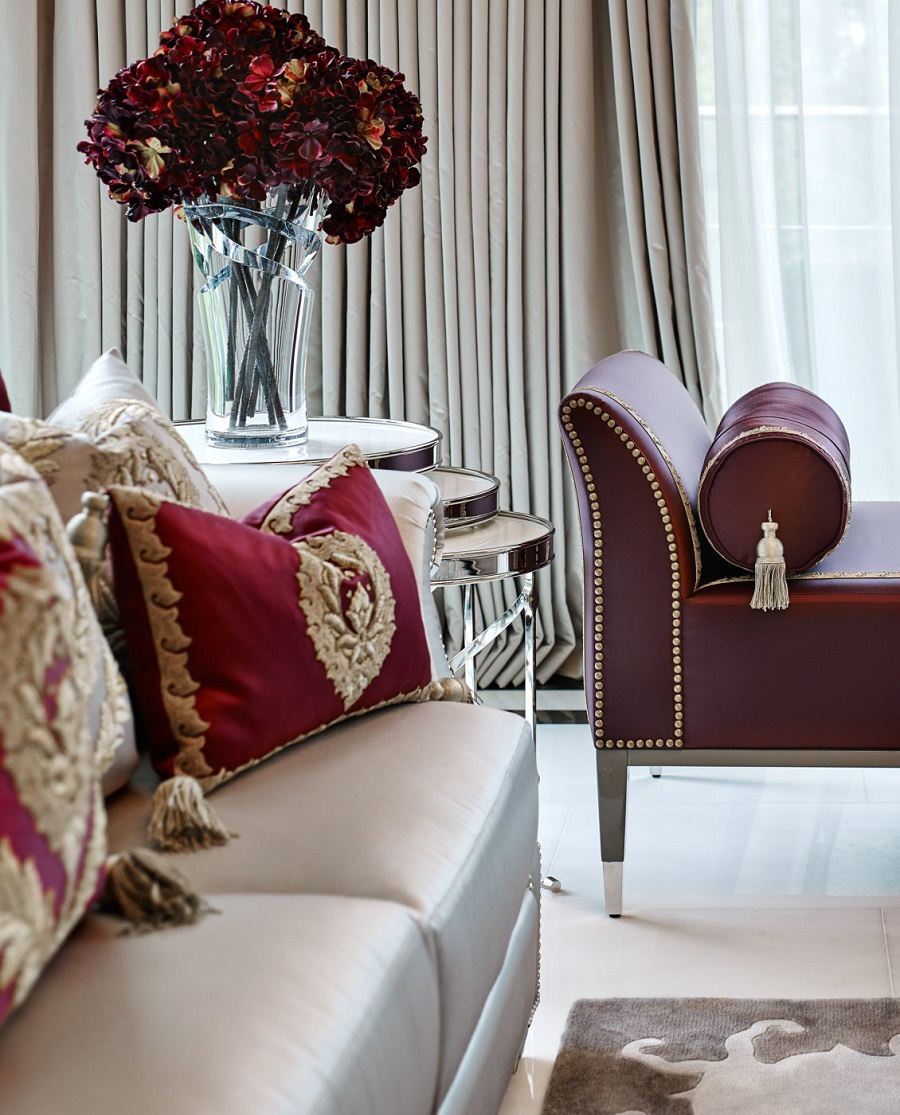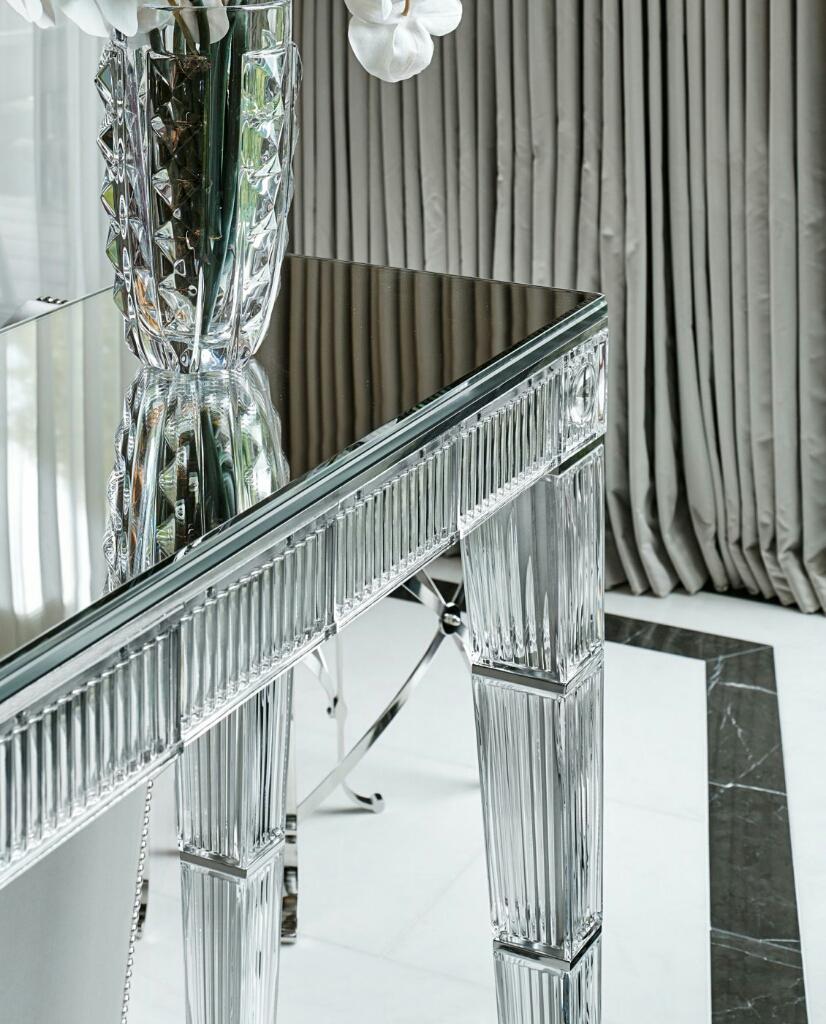 Contemporary lines and symmetry define the home's lavish interiors and the specialty pieces created to complete them.  Every angle and detail is carefully considered and executed.  The double-volume formal living room holds two seating areas, each crowned with a grandly-scaled glamorous Baccarat chandelier, created to mirror each other.  Silver leaf finished ceilings softly scatter the light above, while high-contrast Italian marble floors reflect the room from below.  Sculpted Lalique crystal tiles, inlaid and under-lit, further enhance the beauty of the floors.  Custom furnishings of bespoke design complement the owners existing pieces to perfect the space they occupy.  Every detail displays exquisite luxury design.  Elicyon knows this is a must when creating homes for some of the world's most discerning clients.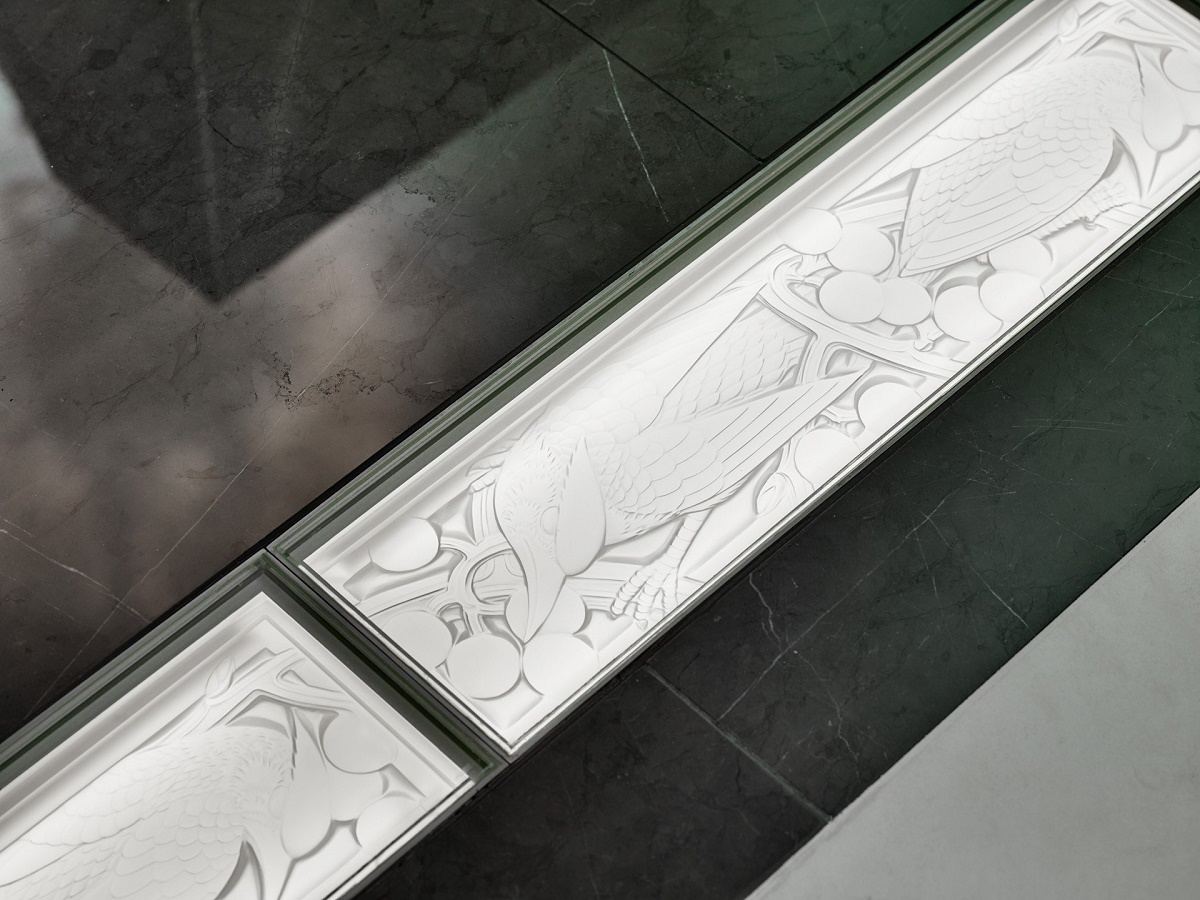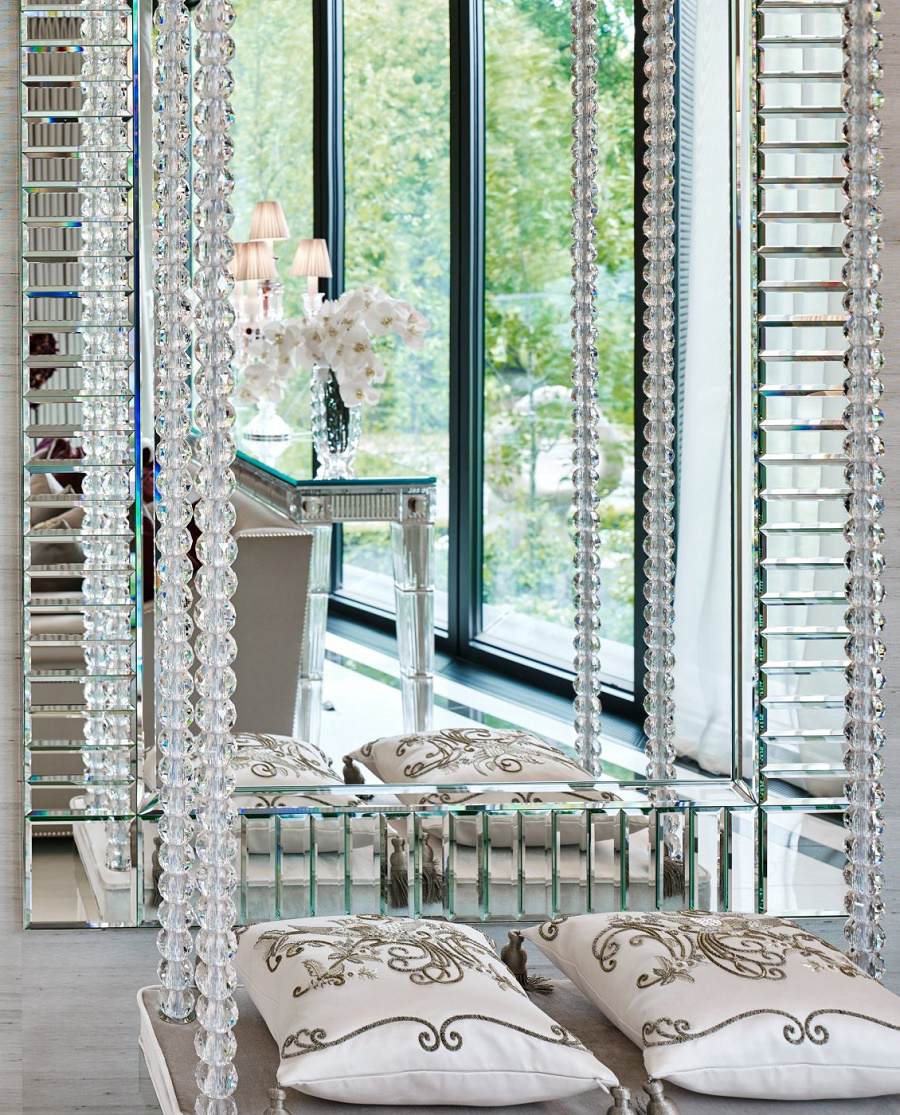 Elicyon brought in the specialty firm Interior ID, to create the joinery throughout the entire property to the highest specifications using incredible materials and featuring beautiful details.  Interior ID, from its Notting Hill studio, controls each project from the first commission stages, through the creative design process and project management to delivery and installation.  The firm has its workshop in Austria. With its extensive in-house facilities, they bring together traditional craftsmanship with state-of-the-art technology to create unrivaled bespoke cabinetry and fitted interiors.  Renowned for their excellence, the company produces complex projects in many exceptional materials and finishes; wood, glass, metal, stone, leather, and textiles.  Interior ID actively collaborates with many of the top names involved in the creation of luxury properties.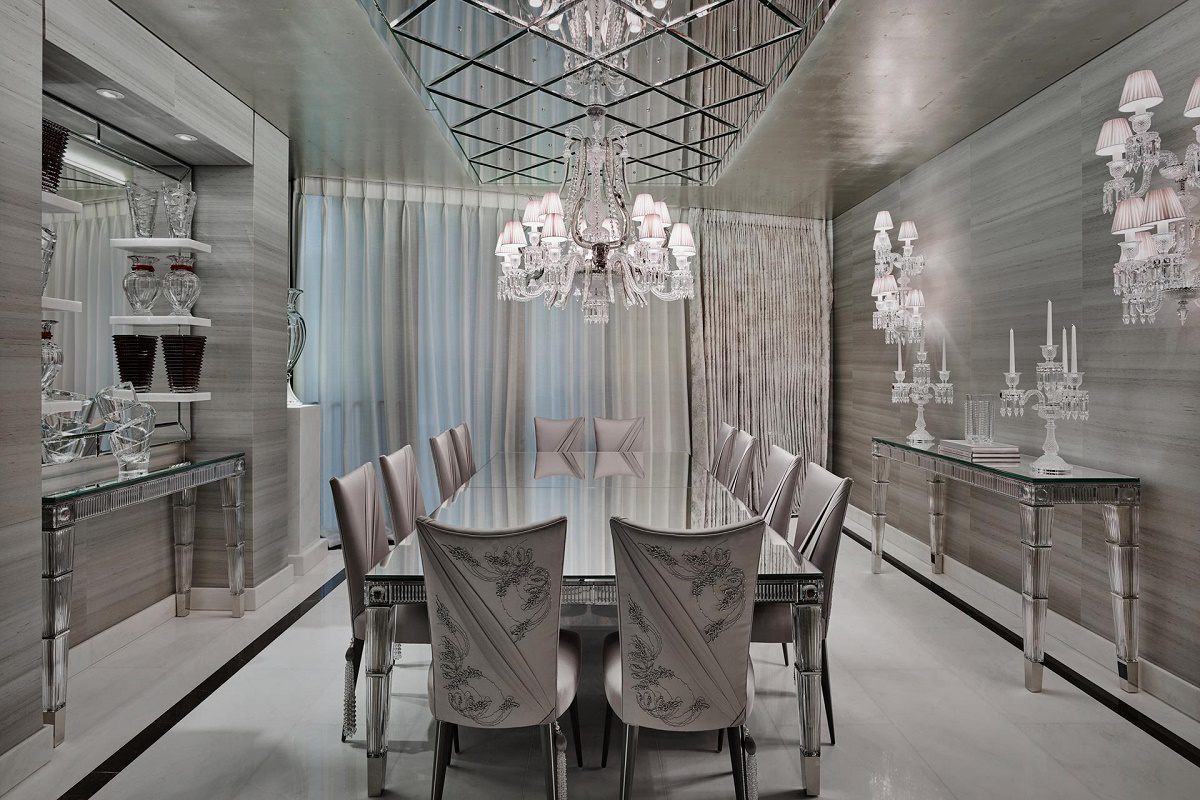 For the highly-specialized upholstery work, Elicyon brought in Aiveen Daly.  Note the fabulous work done on the backs of the dining chairs, along with all the detail displayed throughout the home. Elicyon also included the beautiful couture artistry of Beaumont and Fletcher.  I cannot begin to say enough about the extraordinary level of refined beauty this company creates.
Aiveen Daly's couture-inspired work with furnishings and accessories feature in high-end interiors all around the world.  Her studio uses luxurious embellishment and artful fabric manipulation techniques to adorn furniture and surfaces.  Her work includes exquisite detailing such as delicate beading, pleating, and stitching executed on fine fabrics and supple leathers. Daly is one of London's top go-to insiders for the most beautiful bespoke luxury design with home upholstery. She regularly collaborates with top interior designers, design studios, architects and other purveyors of luxury goods around the globe.
Beaumont and Fletcher provides the design industry with rare and beautifully designed textiles of unequaled quality.  Their couture collection of extraordinarily luxurious fabrics feature flawlessly executed hand-embroidery on fine silks and velvet, with gold and silver threads.  Some embellished with pearls and crystals, others inlaid with semi-precious stones, but each a true work of art.  They also create fine furniture and accessories with meticulous attention to detail rendered with traditional craftsmanship in uncompromising quality.  You really should take a moment and look at their website if you love exquisite beauty.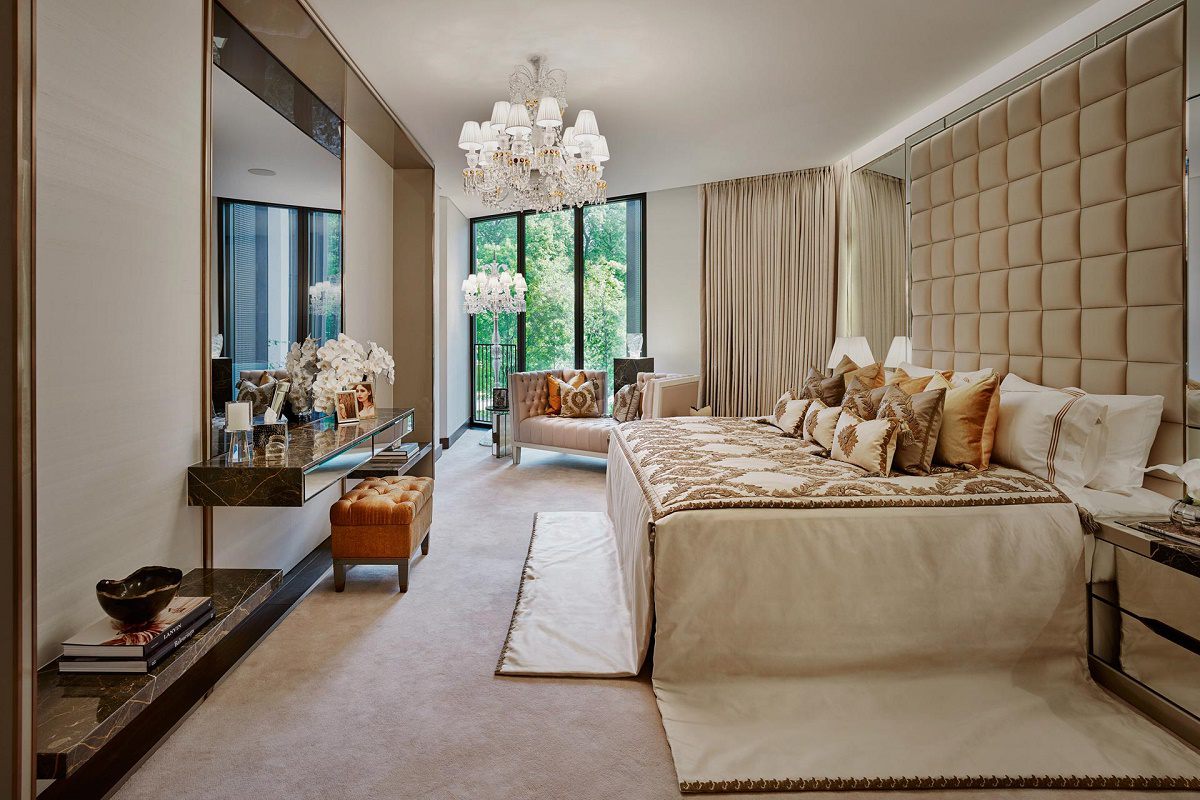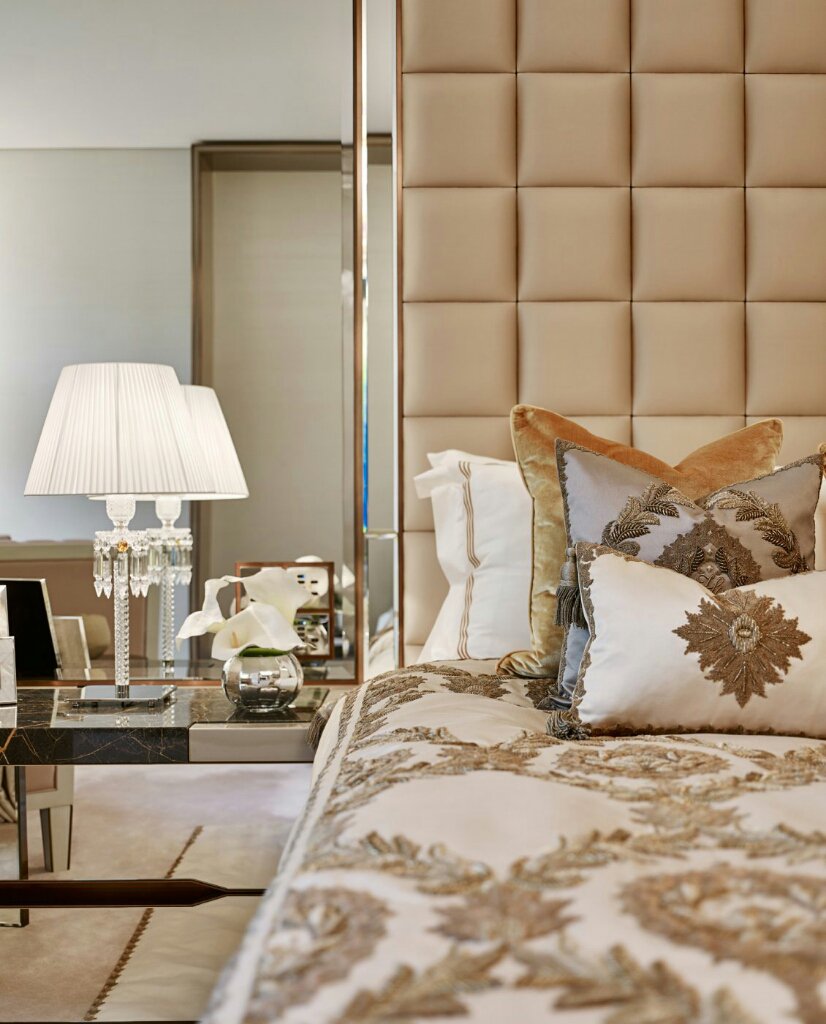 The beautifully created master bedroom displays intelligent design and bespoke detailing. Quilted satin covers the mirror framed, upholstered headboard. The custom bed coverings feature exquisite specialty detailing; intricate raised embroidery, hand beading, and tassels.  It is so rare to find this level of couture finishing on home goods.  The bedside tables have mirrored fronts, polished Port Laurent marble tops, patinated brass trim and shimmering gloss finish.  Across from the bed, a floating marble vanity anchors the mirrored wall.  The Baccarat chandelier and lamps complete the room with a jewel box perfection.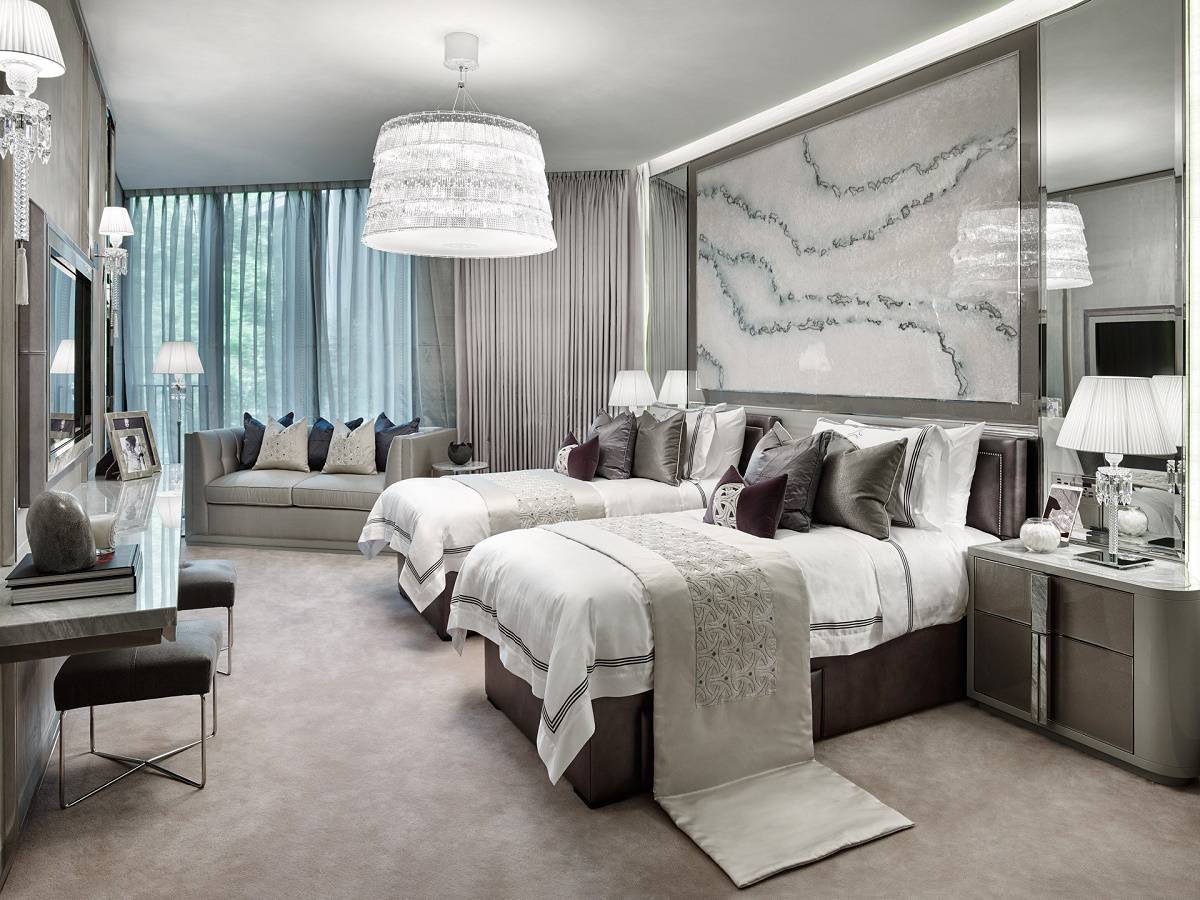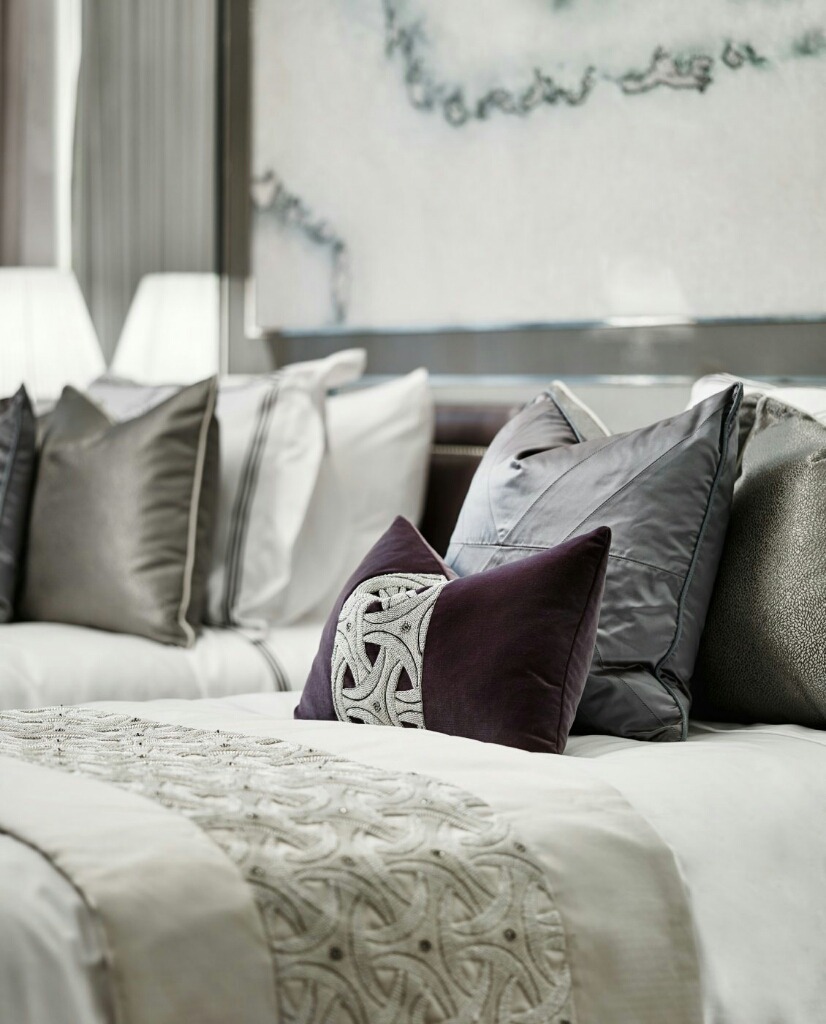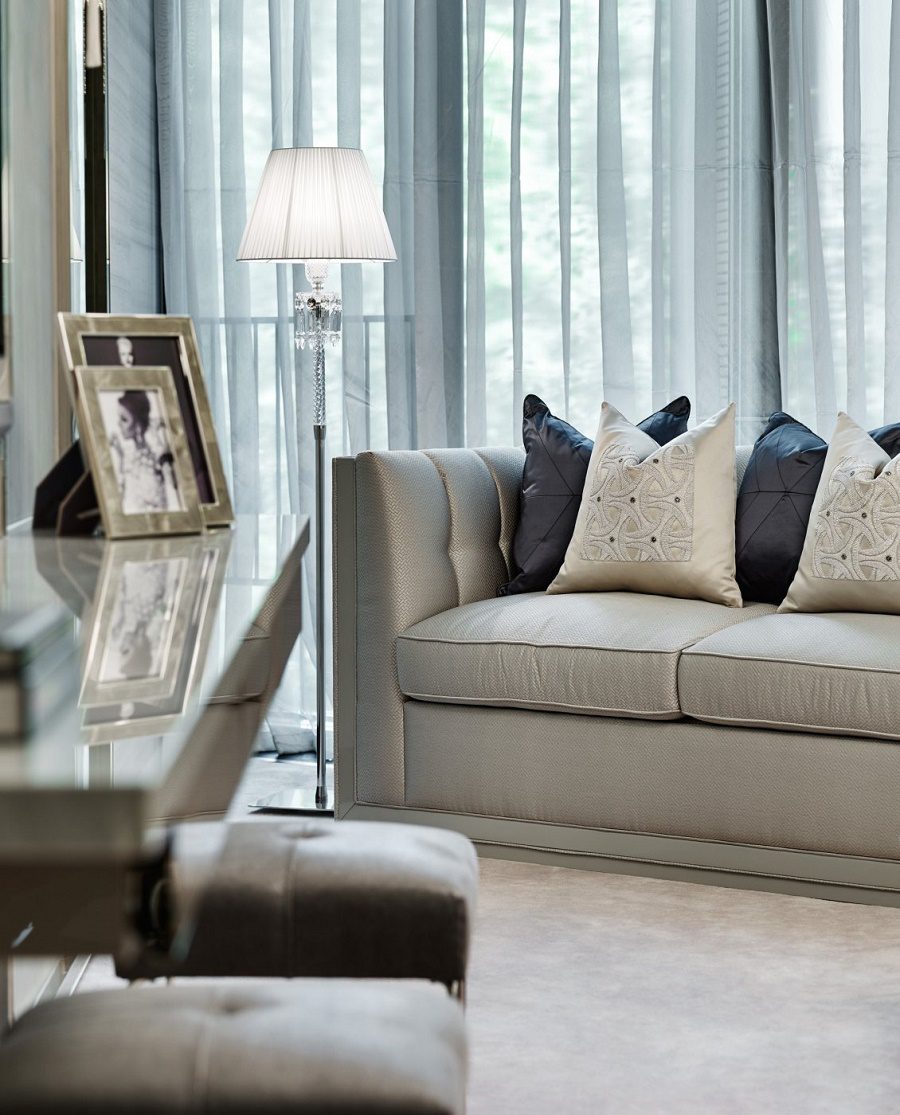 Above and in the photos below, we see two of the guest bedrooms. Both include a pair of twin beds united beneath a framed headboard in a specialist resin finish.  Mirrors span the walls to the side to encompass the width of the bedside tables.  The ceiling above stops just before meeting the wall to allow for soft lighting to glow from within.  The bedside tables and other pieces about the rooms shine in polished high gloss lacquer.  Some pieces have marble tops, with either patinated brass or polished nickel trim and handles.  Each of the fully upholstered beds has integrated storage beneath them.  Both rooms, as well as the other bedrooms, have their bespoke detailing for a luxury design.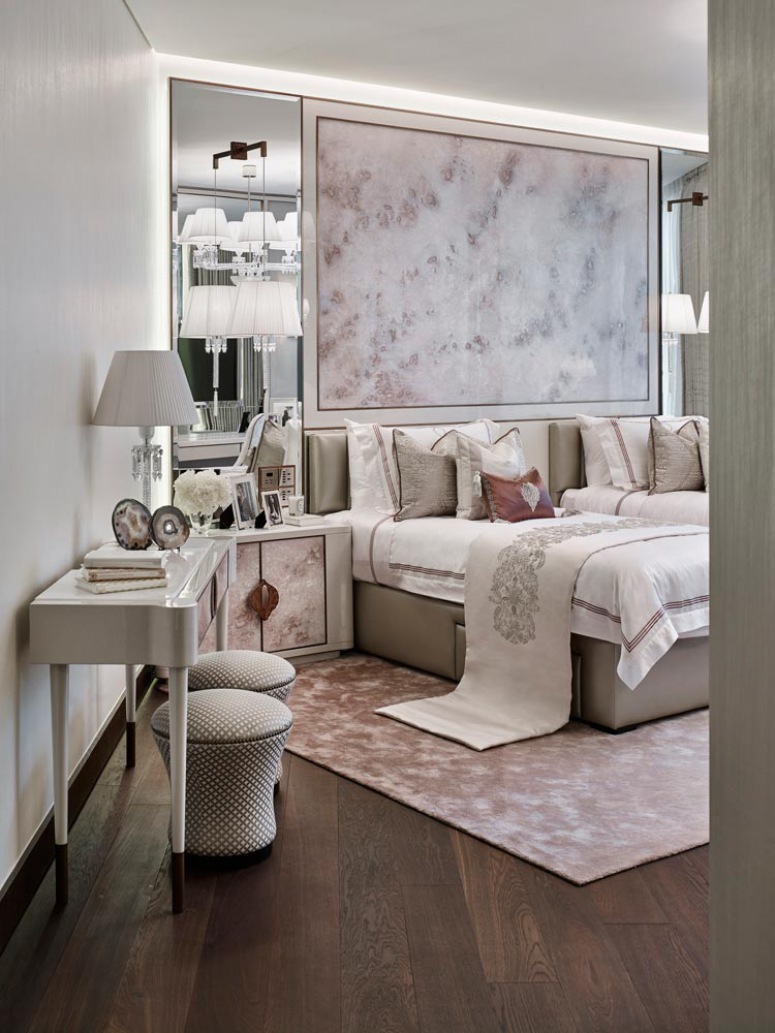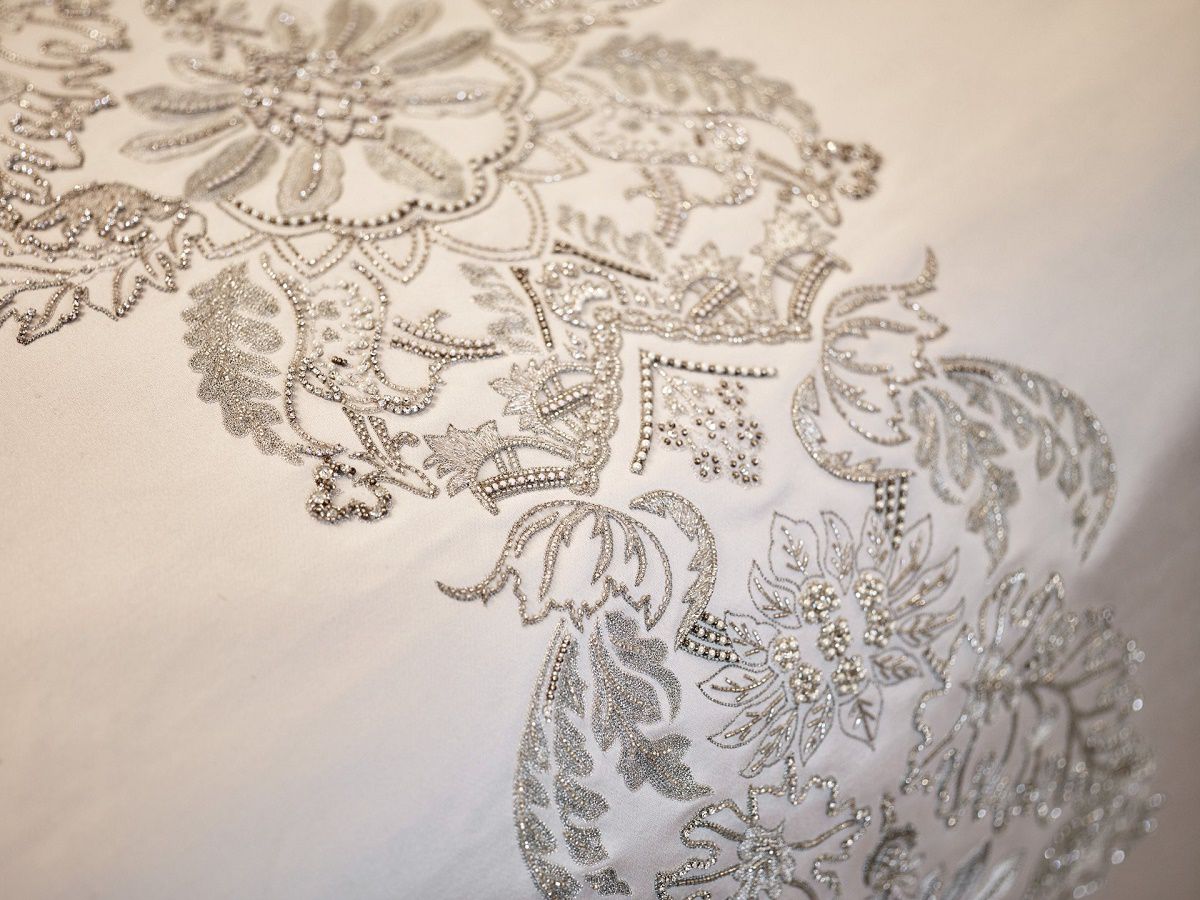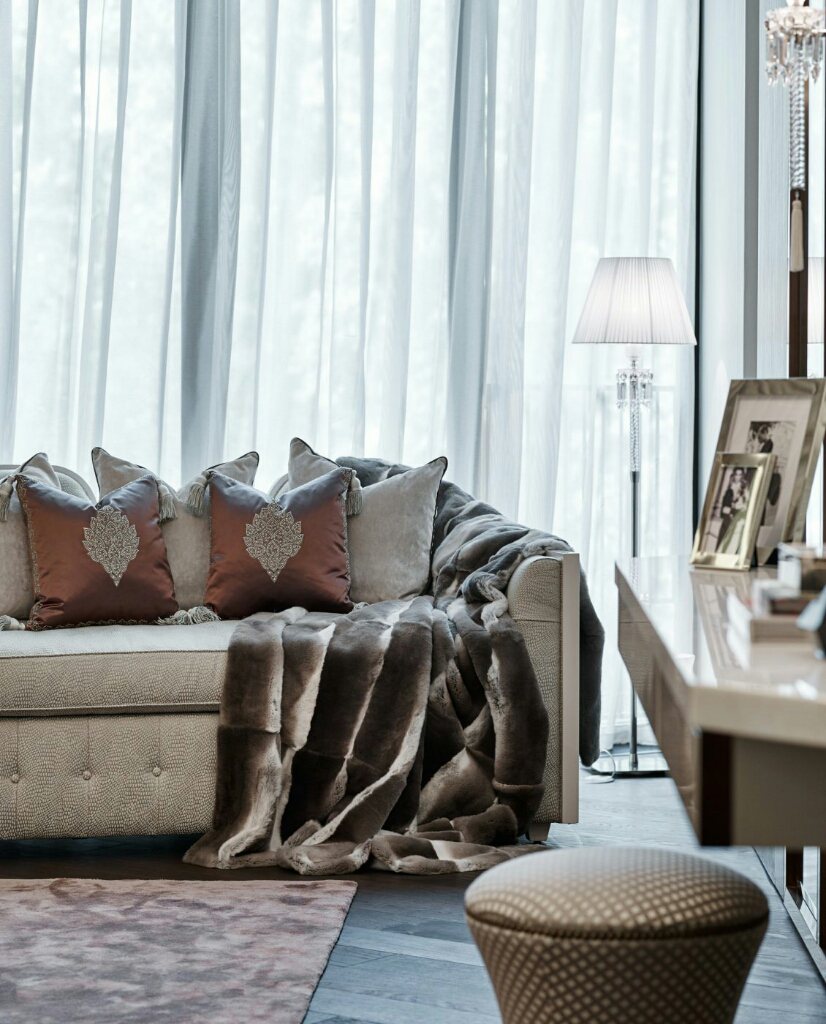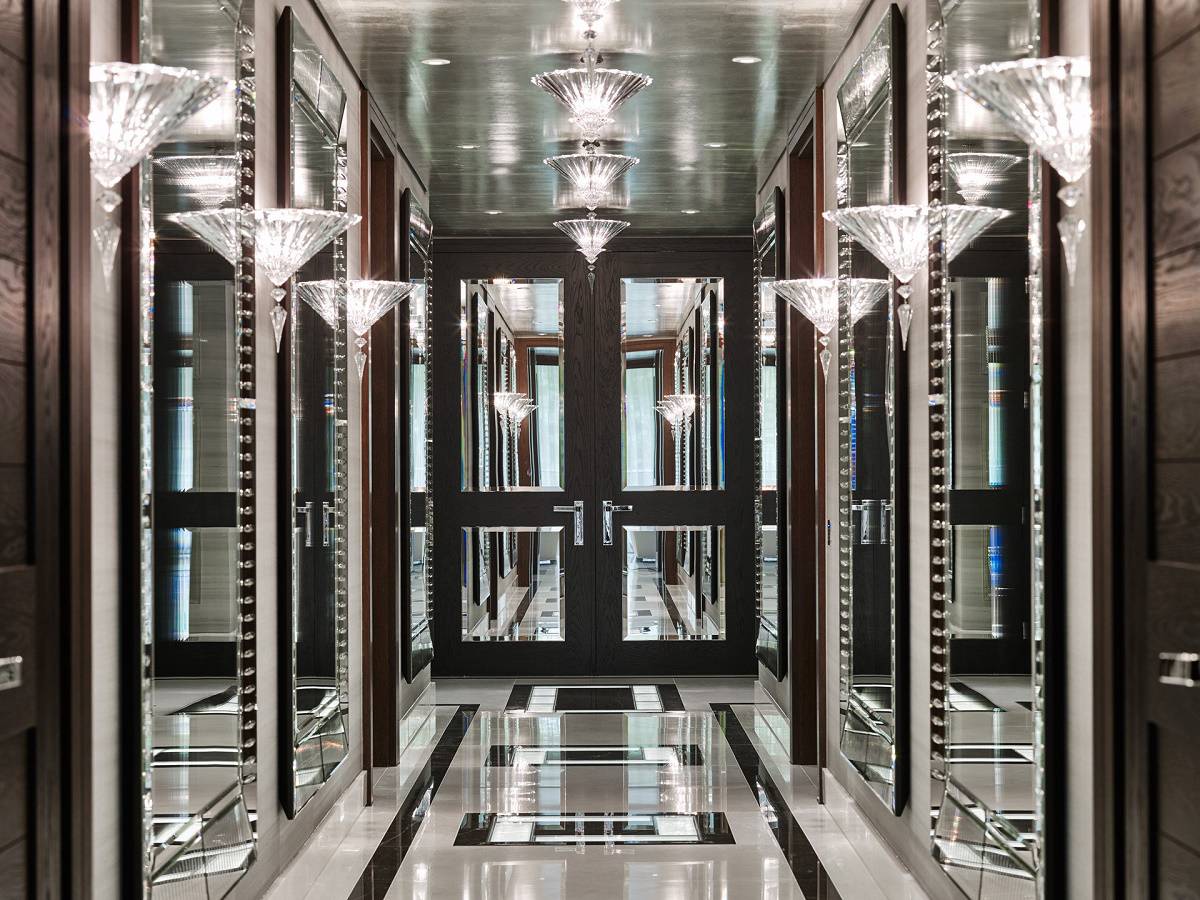 Elicyon's Luxury Design Conclusion
That concludes our very glamorous luxury design inspiration for today, my friend.  I hope you enjoyed the fine contemporary design of this home located within one of London's most exclusive addresses.  This residence was shortlisted for The Design Society's International Interior Design & Architecture Awards 2016.
To see another fabulous residence completed by Elicyon, be sure to see:
Contemporary Luxury Design: Hyde Park
To see more glamorous interior design, you must check out:
Eclectic Luxury Design: Lori Morris
Iconic Luxury Design: Ferris Rafauli
Elicyon is a Chelsea, London based luxury design studio.  The award-winning firm creates tailored environments, crafted with precision, care and meticulous attention to detail.  For more information, be sure to check out the firm's website.
Interior Design:  Elicyon.com
Thanks so much for reading along with me today.  What do you all think of Glamorous Luxury Design: Elicyon?  I look forward to hearing from you in the comments!
If you have enjoyed today's post, please share it with your friends on social media!
Have a great day!
Please like us and share: