Modernist Inspired Lakefront Residence
For today's design inspiration, we have a modernist inspired lakefront residence with crisp contemporary interiors.  The residence, located on a wooded property on Chicago's North Shore, features walls of floor-to-ceiling windows, a neutral and nature-based color palette, and clean contemporary furnishings.
The owners of this home were empty nesters looking to downsize and simplify their lives.  They decided to sell their sprawling 1930s Colonial family home and build a smaller, smarter, and more streamlined home nearby.  A scenic 90-foot-wide lot right on the waters of Lake Michigan with trees to flank the future home like sculpture proved a perfect site.
To create this new home for the next chapter of their lives, the couple enlisted Ernest A. Grunsfeld III of Evanston based Grunsfeld Shafer Architects, whose modern design inspired works they really liked and wanted for themselves.  For the interiors, they enlisted Steve Kadlec of Chicago based Kadlec Architecture + Design.  Kadlec specializes mainly in residential interiors and they admired his work, noted for its simple yet sophisticated design.
For their new lakefront residence, the couple definitely did not want what had become the norm for lake homes of late, such as what they perceived to be, the grand statement-making exteriors and overly made-up interiors.  On the contrary, they didn't want a house that would attract excessive attention from the street at all and didn't want huge rooms that they didn't need and wouldn't use.  They wanted nothing fussy, over-sized, or too involved and that is exactly what they got.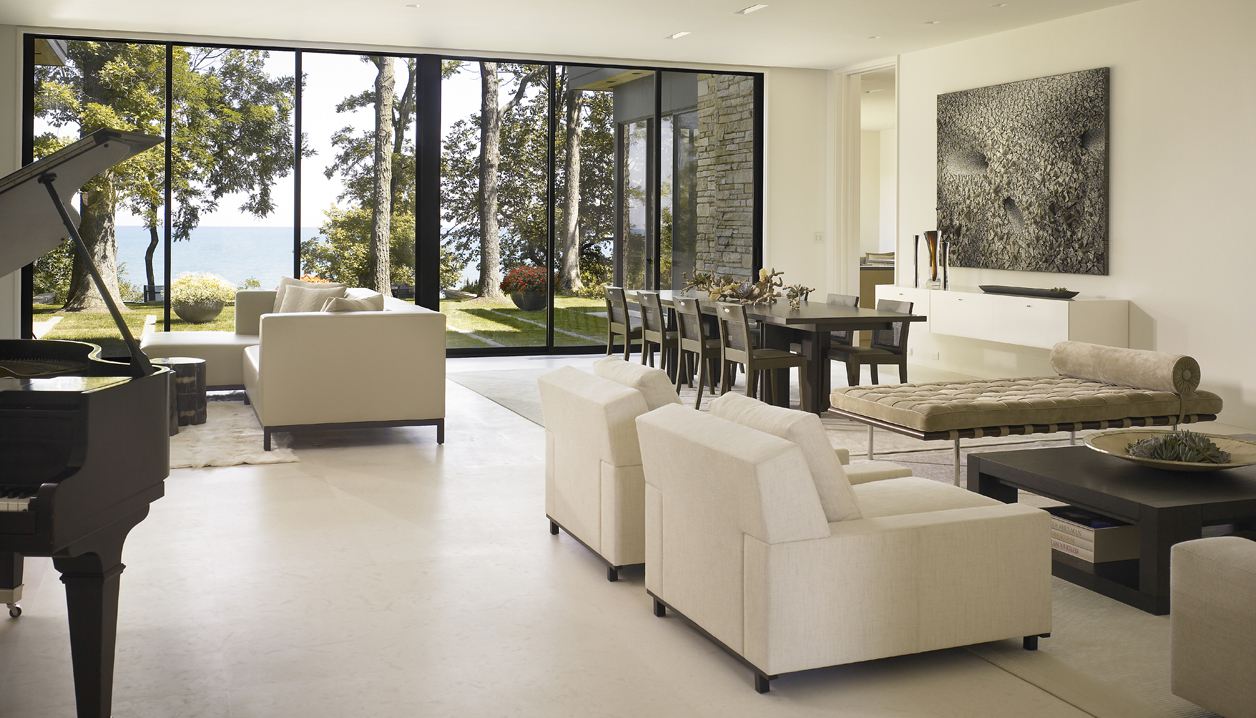 Grunsfeld shaped the 5,000 square-foot home into a modified H configuration to give it the maximum amount of exterior wall space.  The shape provides lakeside views from everywhere possible, which was the owner's biggest request.  The configuration also organizes the home into three zones: public spaces in the middle, mainly the living areas; private spaces to the north, including a study and master bedroom; utility spaces to the south, mainly the kitchen and garage.  The architect topped the center of the H with a second level home gym and two guest bedrooms.  This configuration allows the main living area, master suite, kitchen, gym, and a guest bedroom all to face the lake.  These room's walls of floor-to-ceiling glass, from the outside, create a fabulous two-story rear elevation.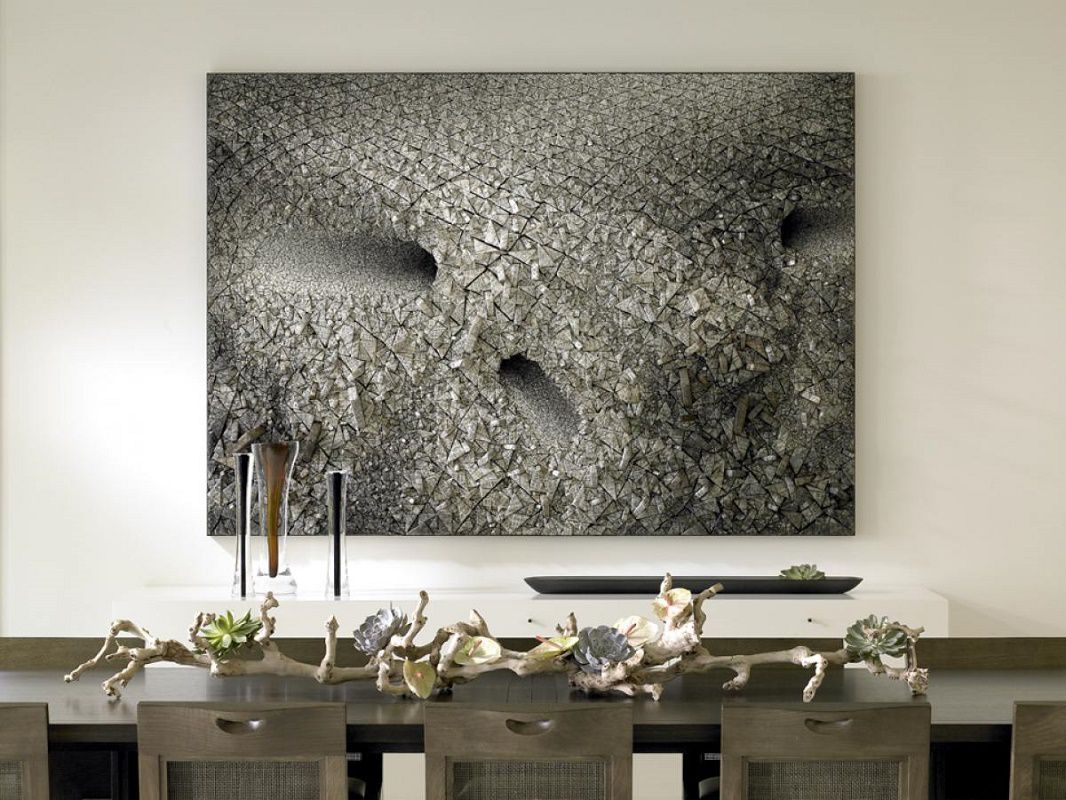 The three photos above show the homes primary open living space which Kadlec quietly perfected while making the lake views the focal point.  The room includes multiple seating zones arranged on area rugs.  The dining area features a rift white oak table that seats sixteen normally and thirty when split and enlarged with leaves.  White limestone floors flow here and throughout the entire ground floor and continue up to create the fireplace surrounds.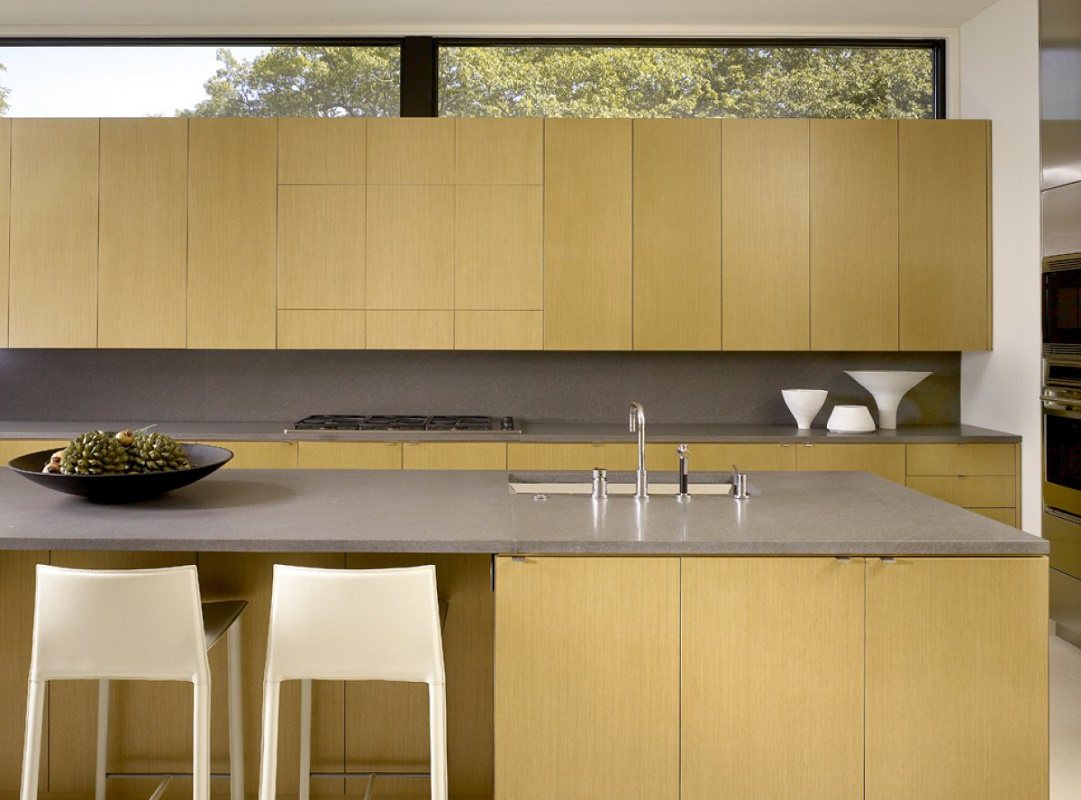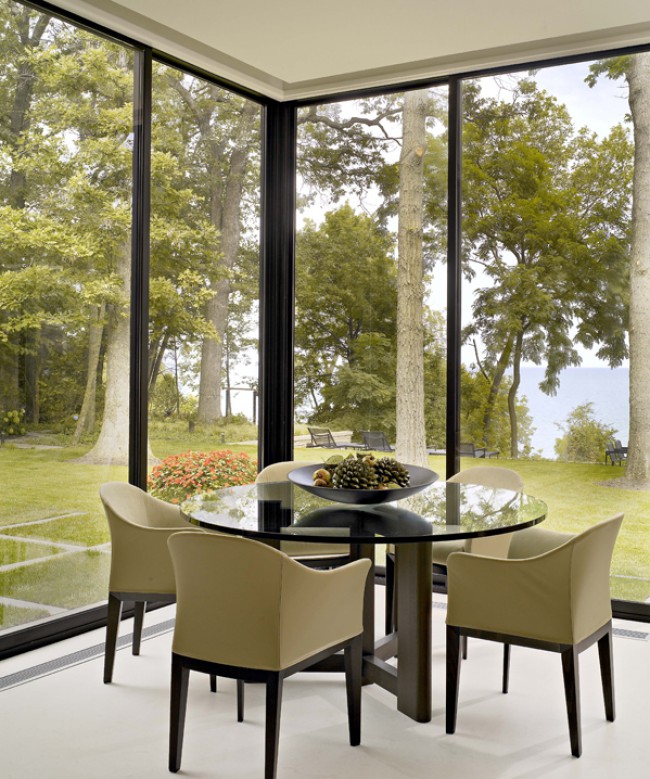 Kadlec granted the home owner's request for sleek, contemporary interior pieces as well.  Many of the items used throughout the home are his bespoke designs.  The color palette inside draws from the same colors that you see in the views outside, further embracing and enhancing the homes natural surroundings.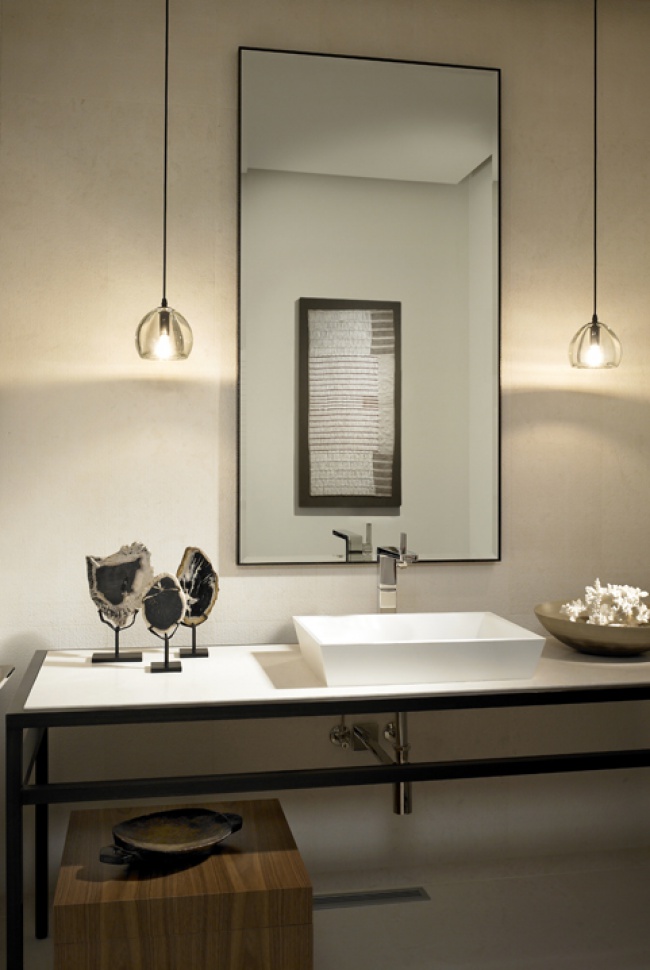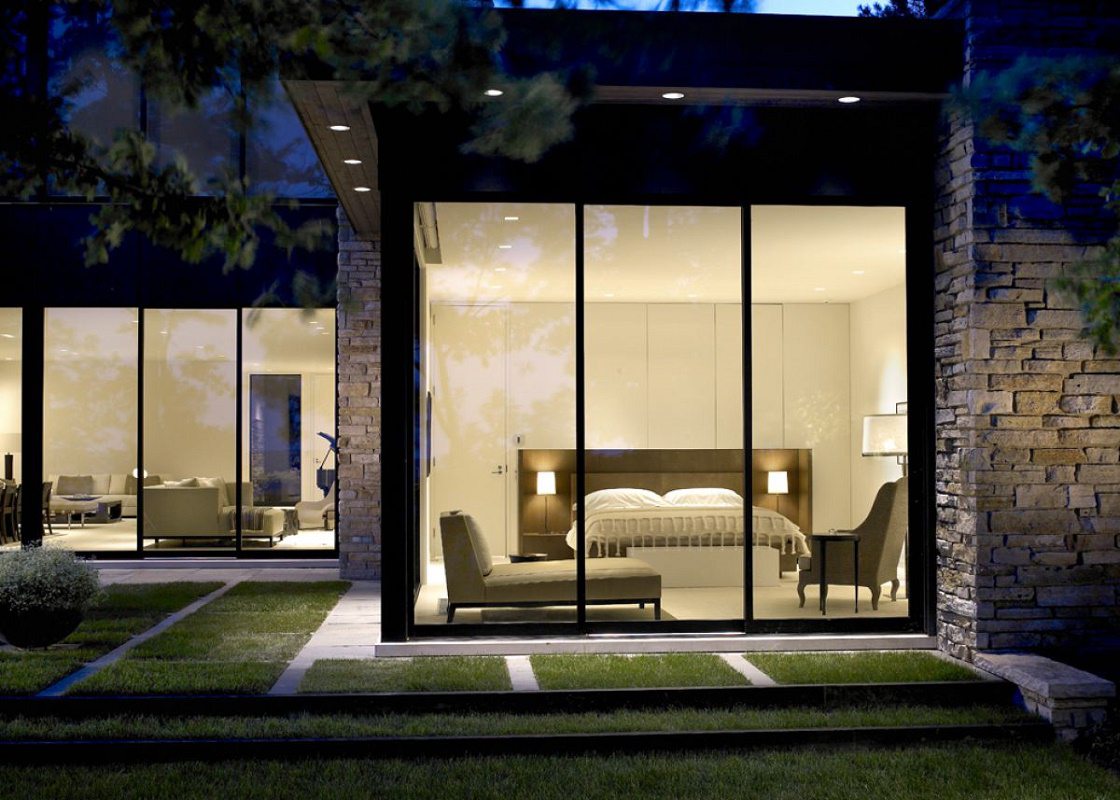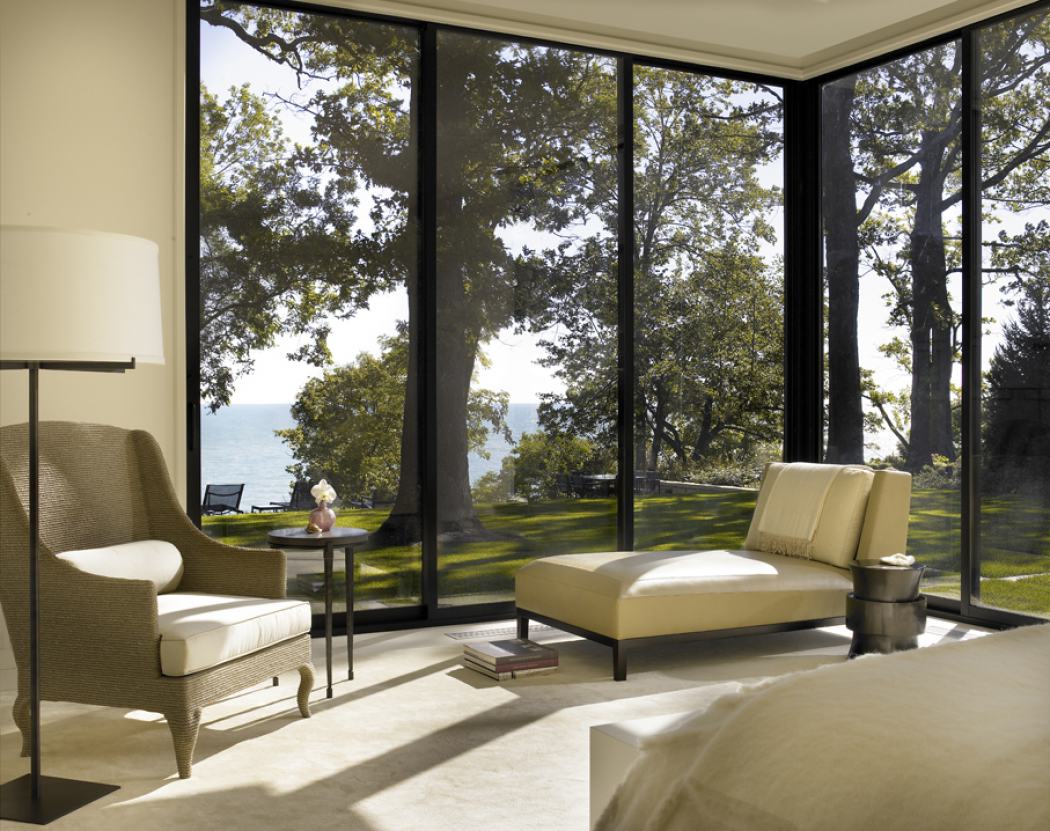 In the master bedroom, Kadlec hid the huge walk-in closets behind cream-colored lacquered panels and had the bed custom created to float in front of the doors.  There need be nothing to interrupt the peace and flow in the space.  Bespoke designed custom furnishings create a calm low-profile sitting area.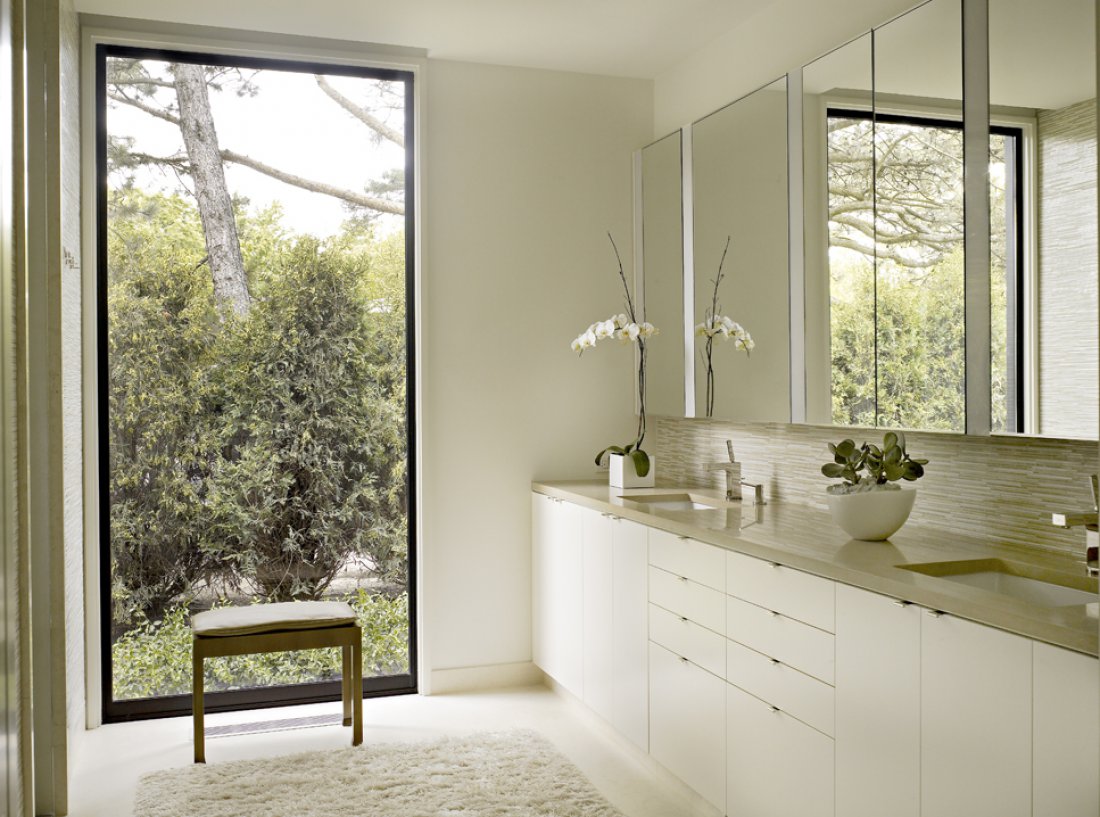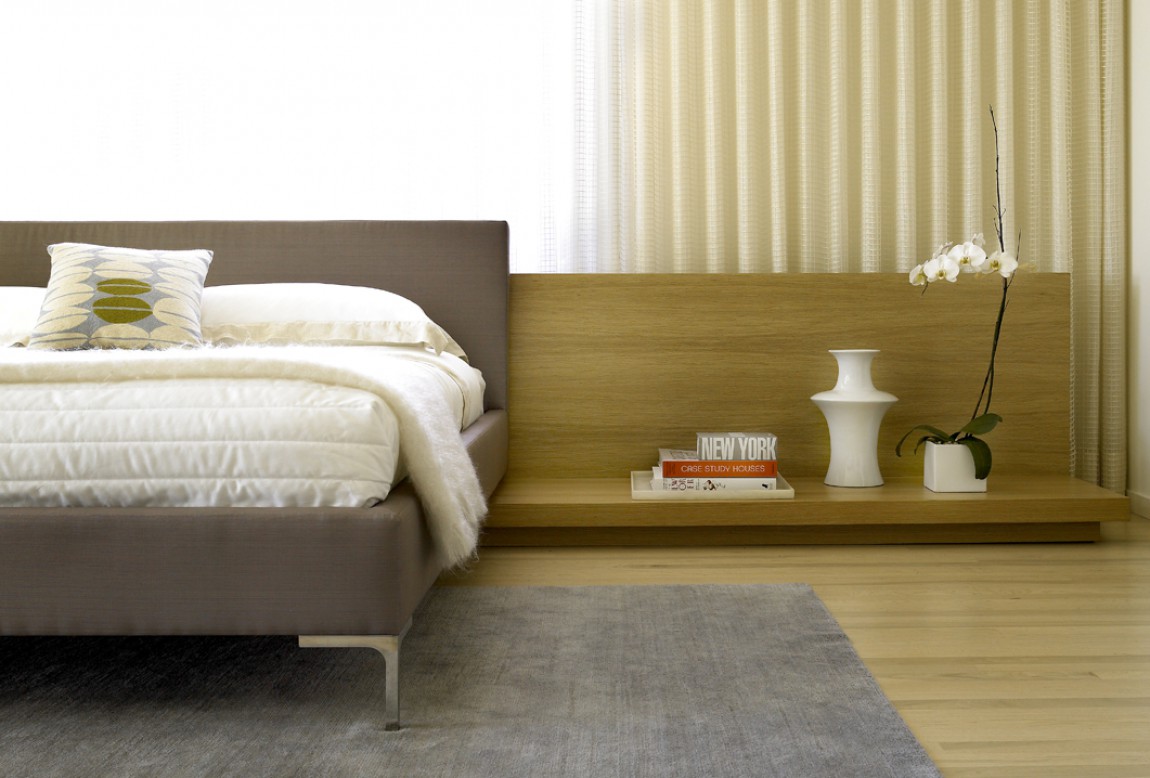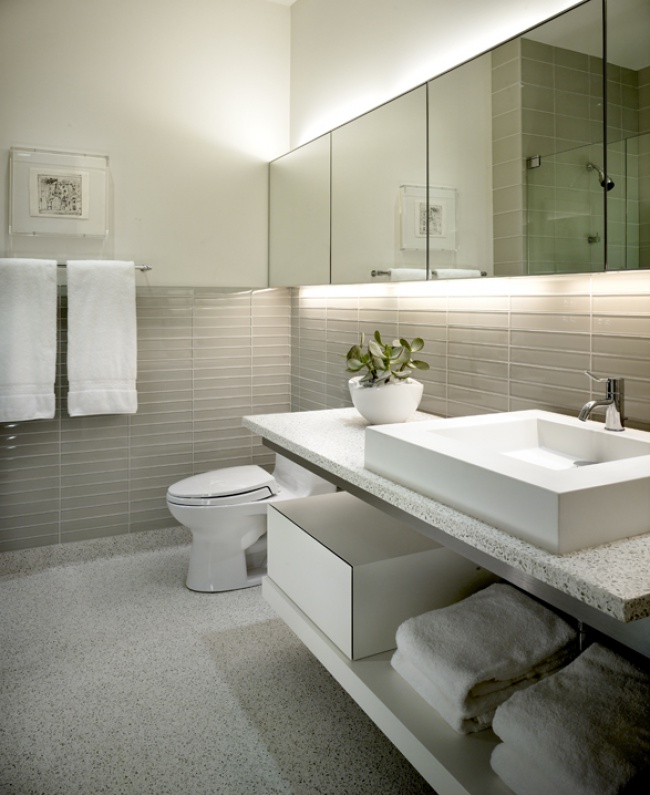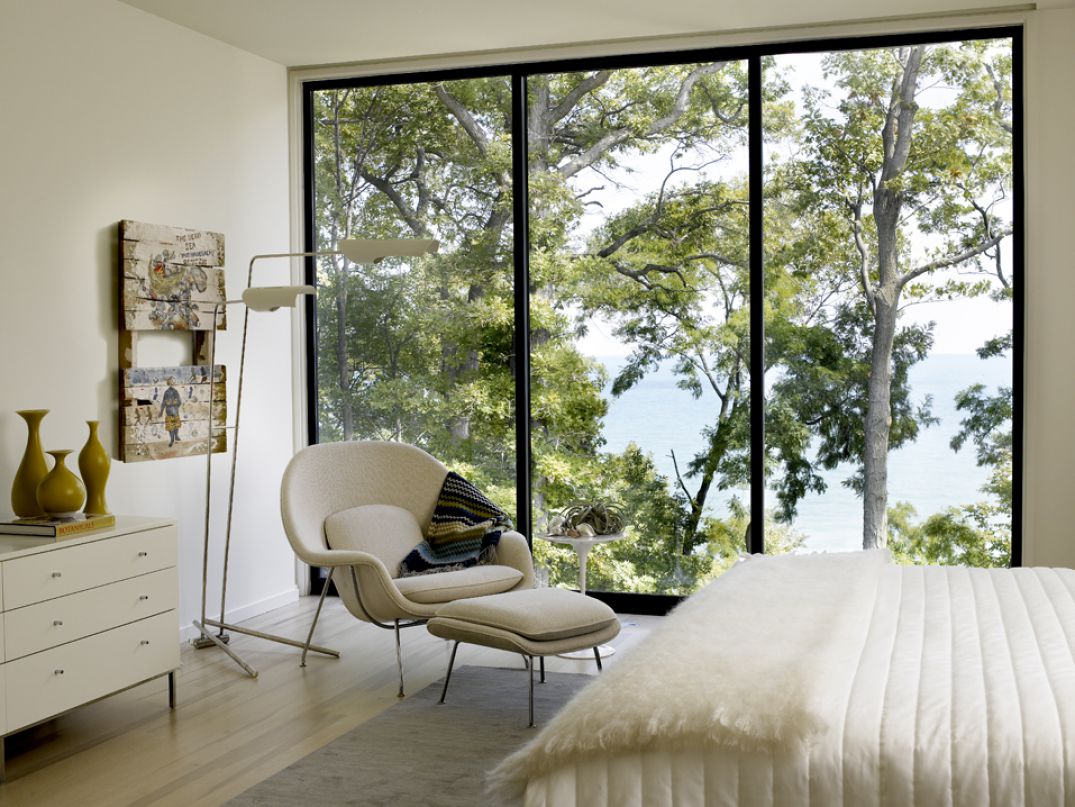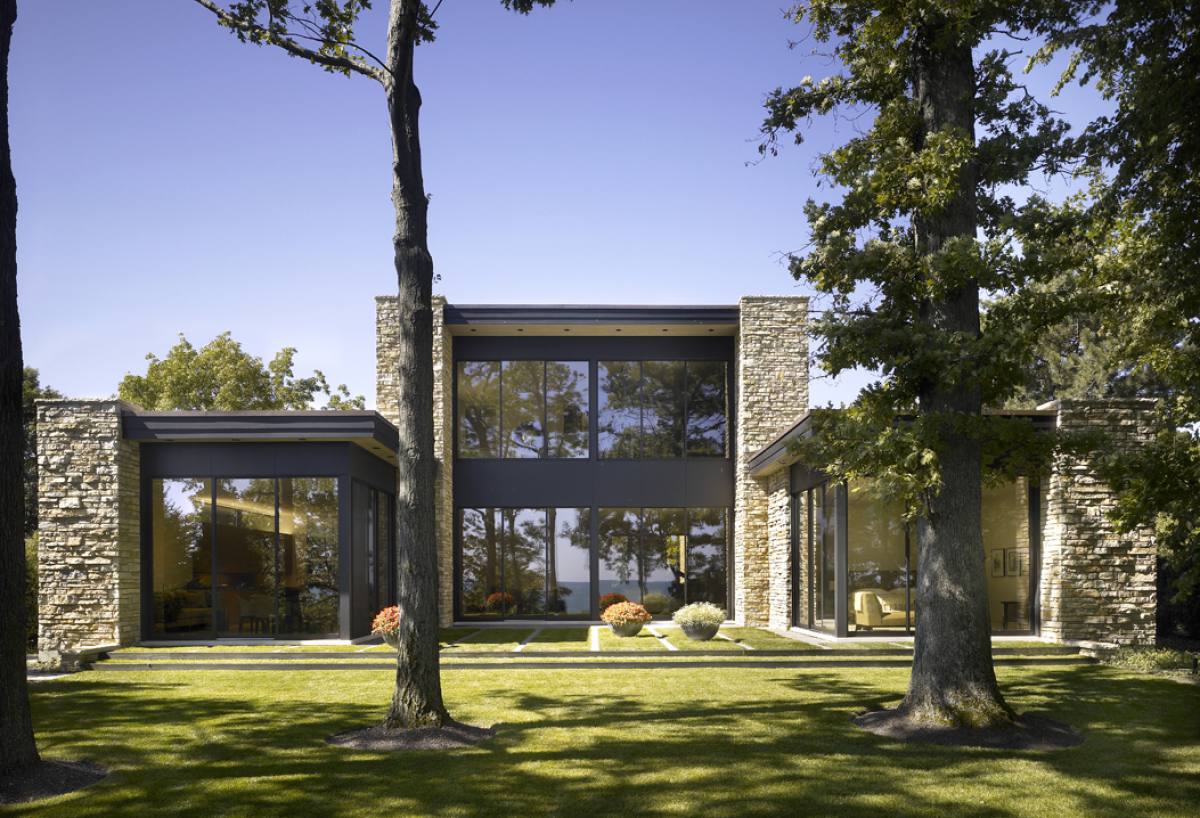 Outside, Scott Byron of Lake Bluff-based Scott Byron Landscape architecture designed the lawns.  In an eco-friendly move designed to conserve the bluff, Byron created wide ledges that terrace down to the lake.  He employed clean, disciplined designs close to the home while maintaining the look of the natural surroundings further out.
This is, in all of its very refined simplicity, a Modernist inspired contemporary luxury lakefront residence.  This is how the homeowners define luxury.  Clean lines and open spaces, natural elements, beautiful views of the outdoors, sleek minimalist design fixtures, and custom-created, contemporary furnishings.  It's calm.  It's easy. I must agree.  This is luxury for modern day life.
If you would like to see another lakefront residence, be sure to see:
Contemporary Lakeside Villa: Eric Kuster
Modernist Inspired Lakefront Residence with Contemporary Interiors Conclusion
That wraps up our design inspiration for today my friends.  I hope you enjoyed this excellent modernist inspired contemporary residence with its clean lines, open spaces, and nature-based neutral colors.  It certainly looks to be an oasis of peace and calm..and really, is there much luxury greater than that?
To see another great post on Steve Kadlec's work: Modern Deco Design in Chicago!
Architecture:  Ernest A. Grunsfeld III with Grunsfeld Shafer Architects
Interior Design:  Steve Kadlec with Kadlec Architecture + Design 
photographer:  Tony Soluri Photography
additional:  Luxe/Chicago/Smooth Moves
Thanks for reading along with me today, my friends!  Be sure to let me hear from you in the comments!  What did you think of today's post?  I love hearing from you all!
If you have enjoyed reading today's Modernist Inspired Lakefront Residence, please share it on social media!  We appreciate you greatly for doing so and thank you for all of your support!
Come back and visit again soon.
Have a great day!
Please like us and share: