Classic Mayfair Penthouse: Oro Bianco
Our design inspiration for today comes from an elegant penthouse in central London's exclusive Mayfair district.  The classic Mayfair penthouse boasts excellent views of the city's skyline including Green Park and Buckingham Palace.  The new owners, an international family, purchased the 7,000 square-foot residence, located within a 1904 heritage protected Old Park Lane building, to establish for themselves a London base for when they were in the city.   Luigi Esposito and his team at Oro Bianco Interior Design transformed the space into a luxury home where the family could both comfortable reside and entertain with great style.
The family asked the design team to restore the noble proportions of the main public rooms, and where possible, to extend those proportions into the more intimate family areas as well.  The interior architecture had to be reconfigured a bit to create a home suitable for modern living, while also preserving and restoring the exquisite period architectural details.  The design team was to create a home that was classic in its design, but completely contemporary in its function.  The completed residence would also need to properly display their extensive collection of modern art, and perform a list of other special functions.  The home was to be turn-key complete with everything in place including the linens and dishes.  Note:  The design house had just come together and this was their first project as a team.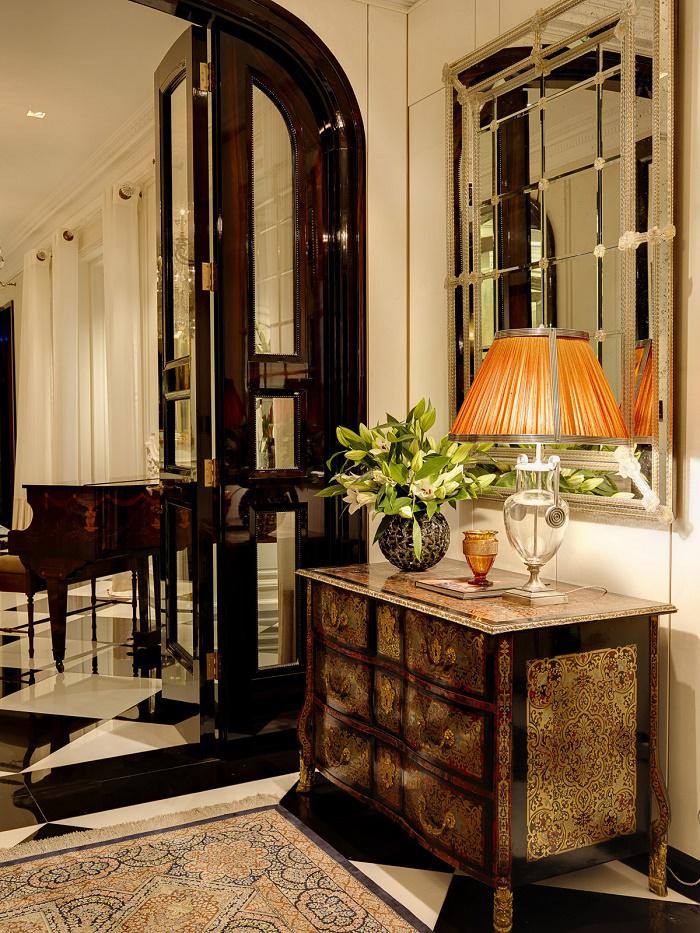 The classic Mayfair penthouse design allows the foyer, entrance hall, drawing room, library, and formal dining room all to be used for grand entertaining when the series of lacquered wood and glass double doors connecting them open. These same rooms function ideally for more intimate family gatherings as well. The photo above shows the foyer as it opens onto the entrance hall. The design team anchored the room with an ormolu-mounted Louis XIV commode, inlaid with tortoiseshell marquetry and a dazzling mirror above it.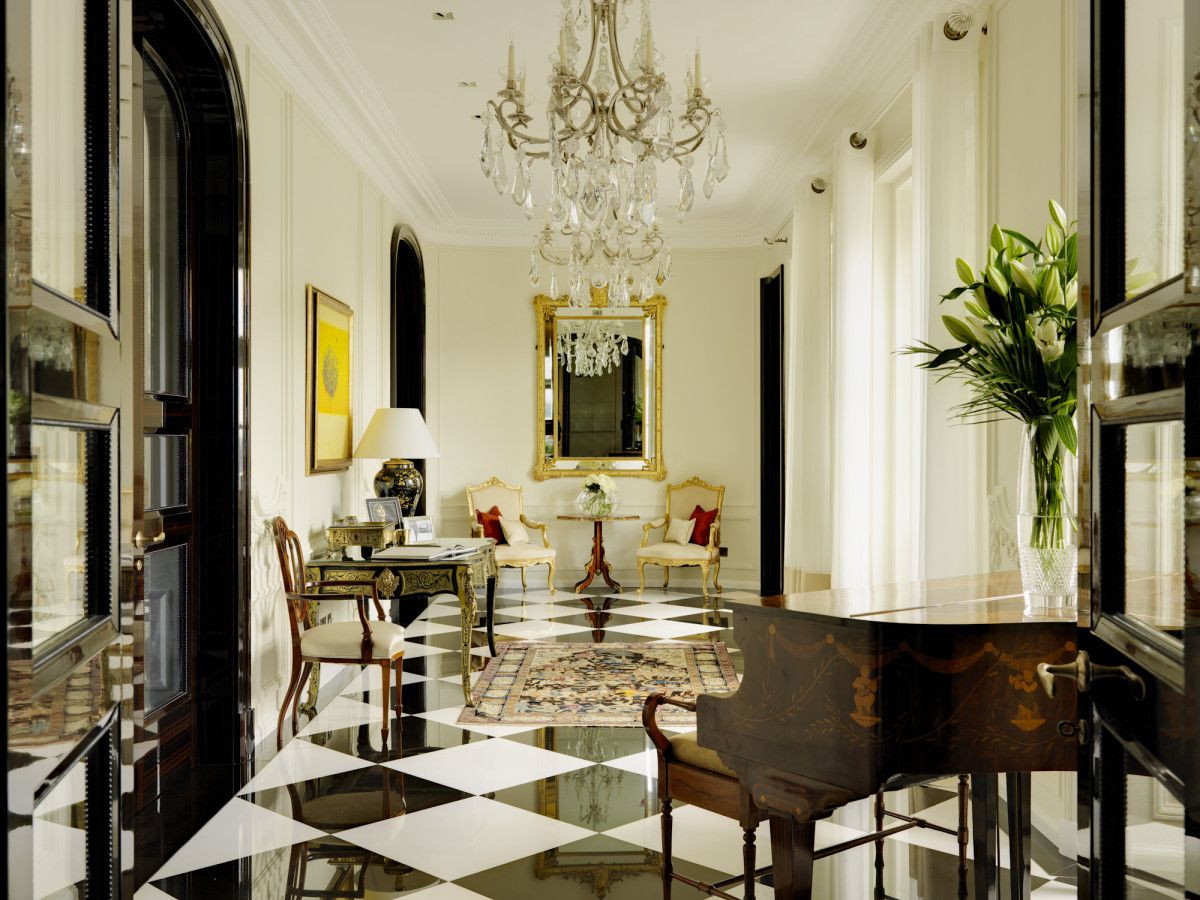 A grand formal entrance hall sets the tone for the home's glamorous interiors.  Polished black and white marble floors shine as brilliantly as the lacquered doors. A pair of crystal chandeliers reflects forever in the large antique gilded mirror on the far wall.  An ebonized and ormolu-mounted Louis XV-style marquetry desk in the Boulle technique centers this space, topped with an ink-well in the same style.  The designers expertly restored the crown molding to its original splendor. Imposing sets of double doors give the room an air of grandness while allowing natural light to flow through into the rooms beyond.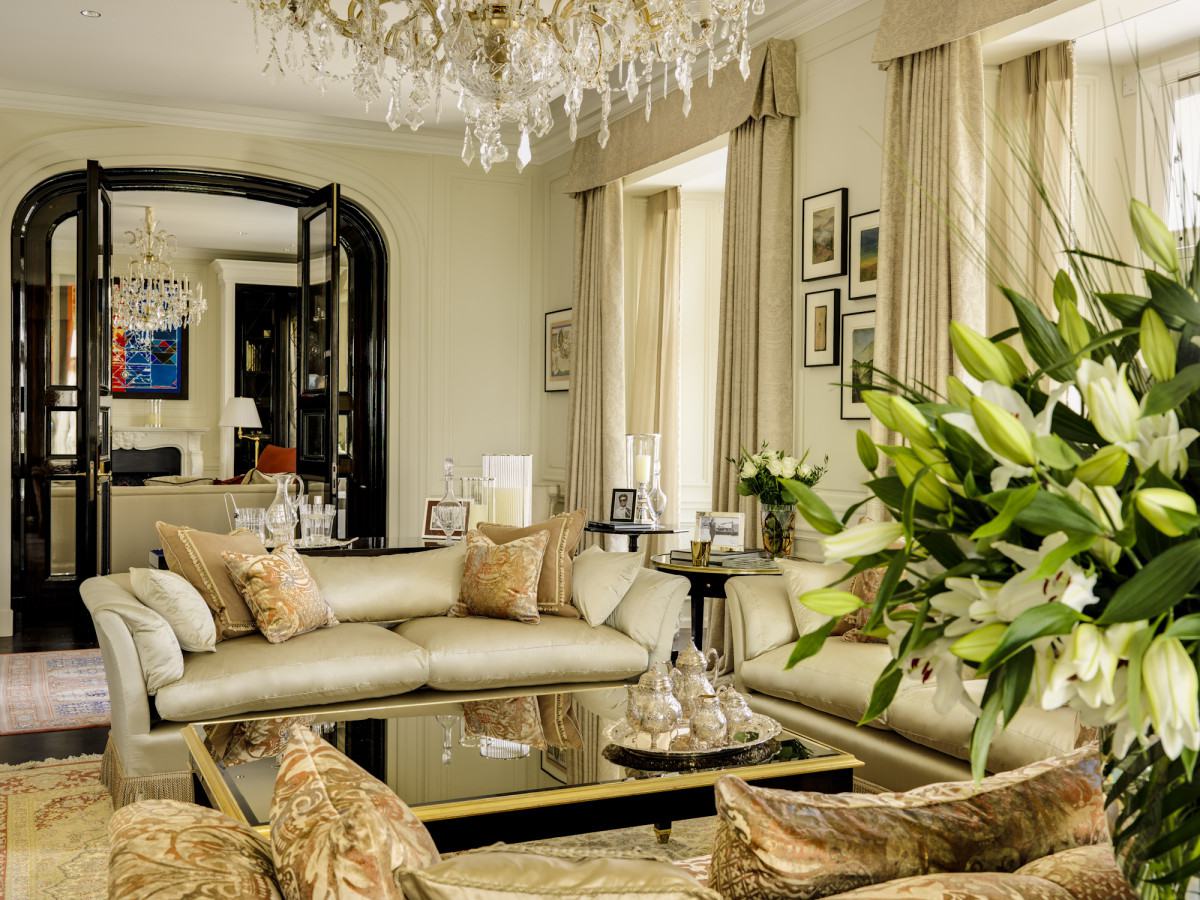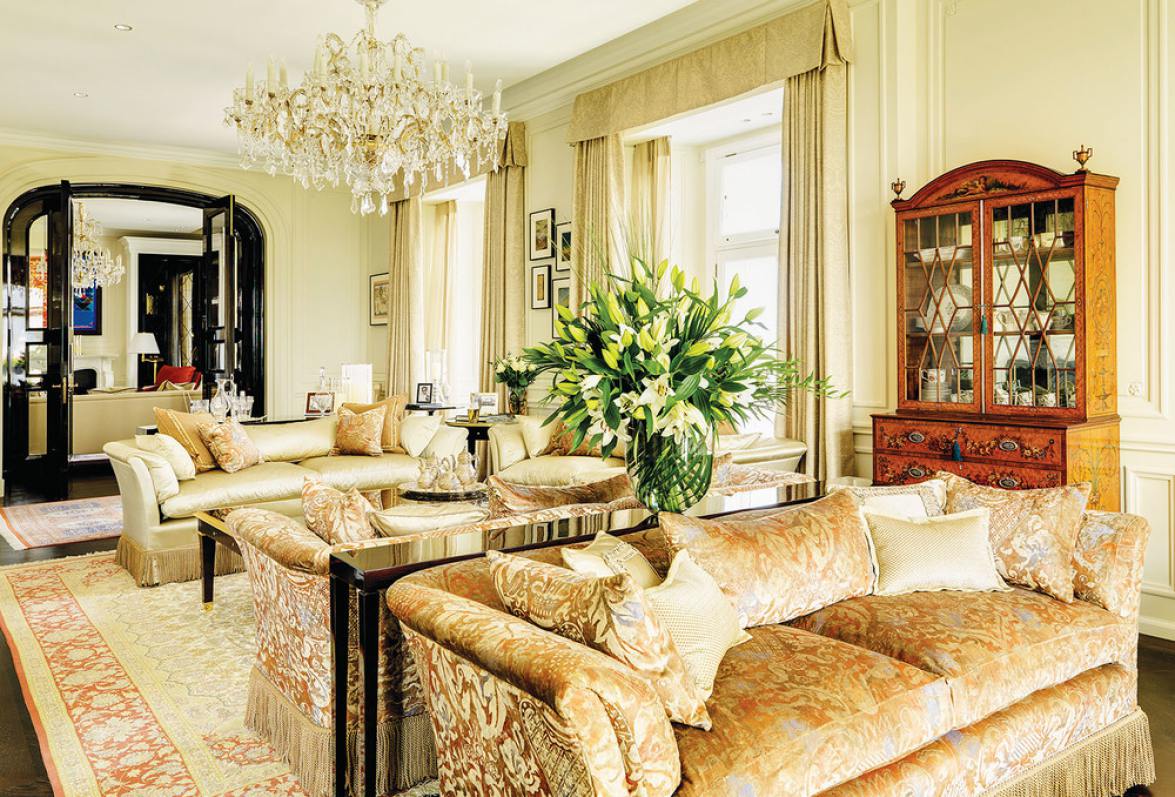 Here we have the double volume drawing room. Paneled walls emphasize the room's height and volume. Another fabulous large crystal chandelier illuminates the space. The colors are soft while the surfaces are smooth and reflective. Lead designer Luigi started his career in fashion and it really shows here. An antique c.1870 Hepplewhite secretaire bookcase serves as a focal point dividing the two seating arrangements. Luxurious silk and velvet cover the Soane sofas with skirts trimmed with bullion. Two layers of tailored curtains frame the sets of French doors that open to balconies.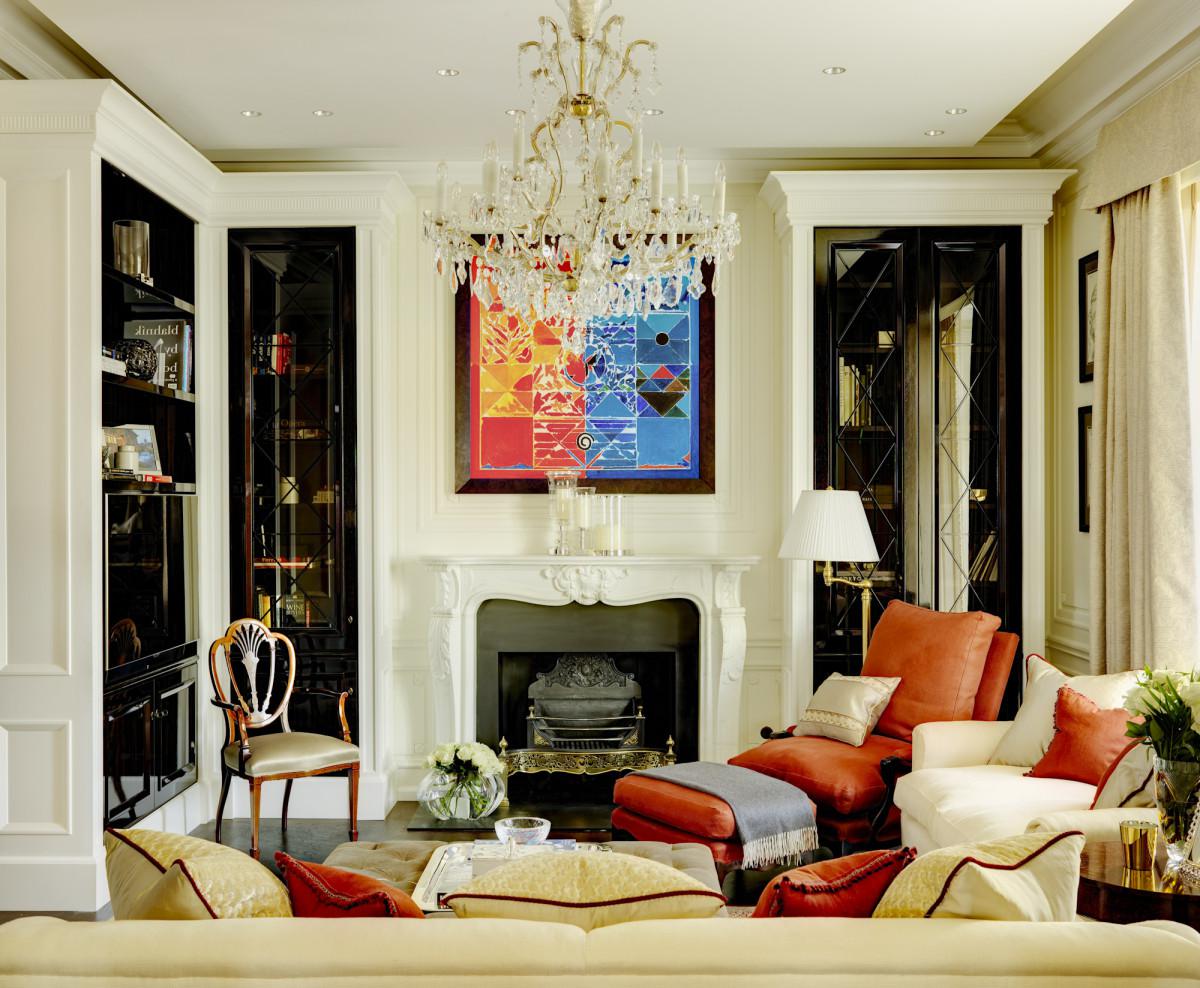 The drawing room flows into the cozy library. Bespoke designed shelves and cabinetry frame a traditional fireplace mantle topped with a contemporary painting. The property, of course, features discretely managed complete automation and includes Lutron lighting, underfloor heating, motorized blinds and concealed speakers, along with all of the other amenities necessary for a modern luxury home. Nothing was allowed to impact the classical design features. The Bianco team worked very closely with the Conservation Department to ensure that they fully understood and approved their designs.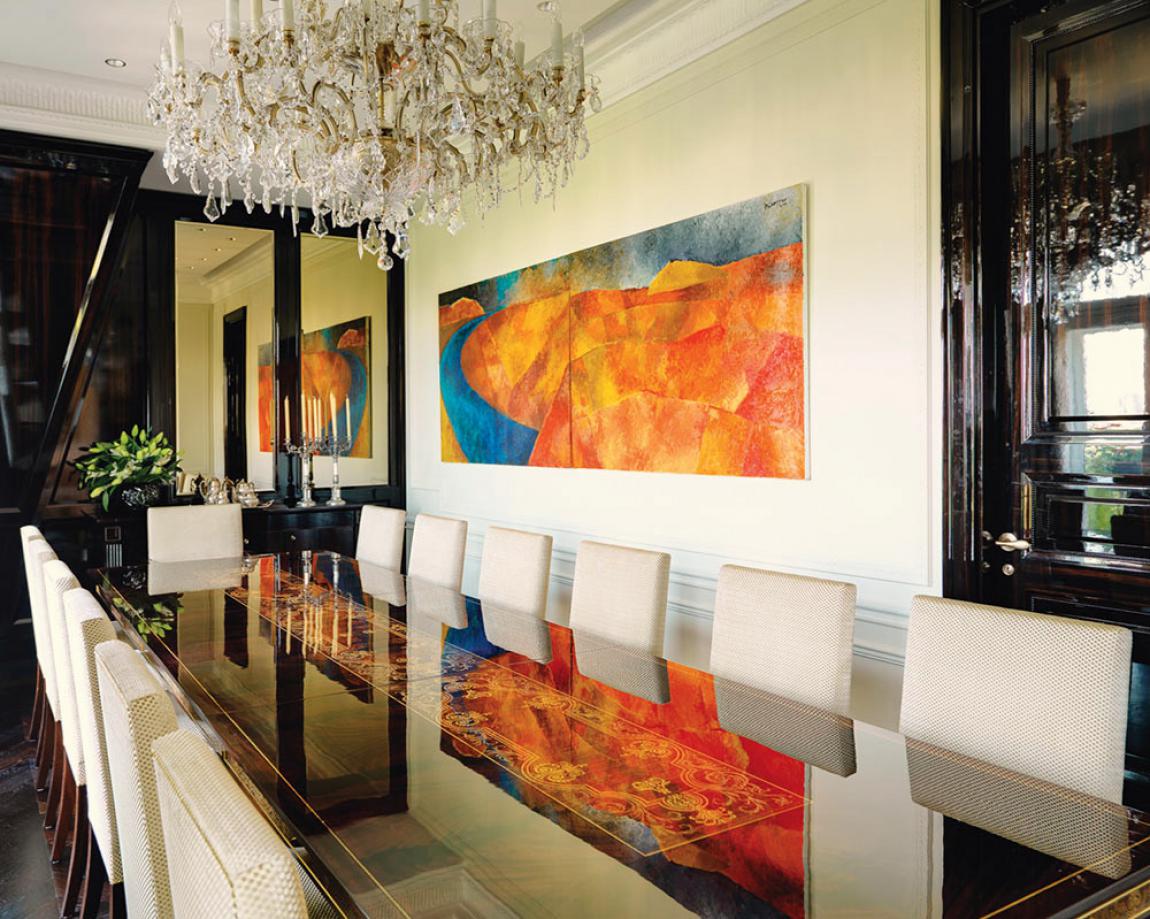 The formal dining room includes a custom hand-crafted table by Linley, the woodworking company founded by the nephew of Queen Elizabeth II. Brazilian Mahogany, Amboyna, and American Walnut form the beautiful inlaid designs. It can seat as many as eighteen people comfortably under the glow of the crystal chandelier.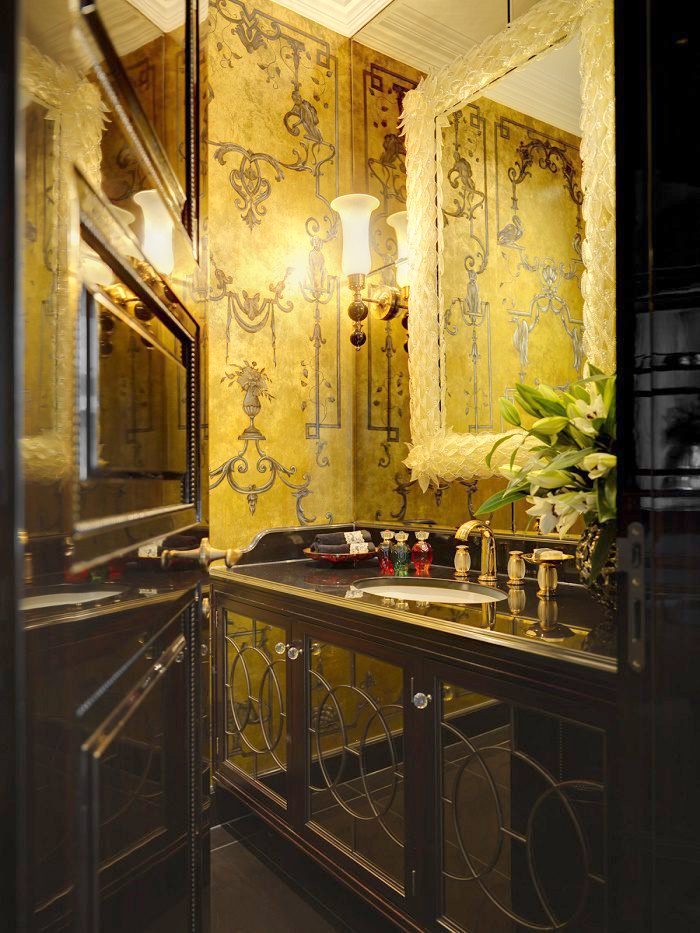 An exquisite powder room!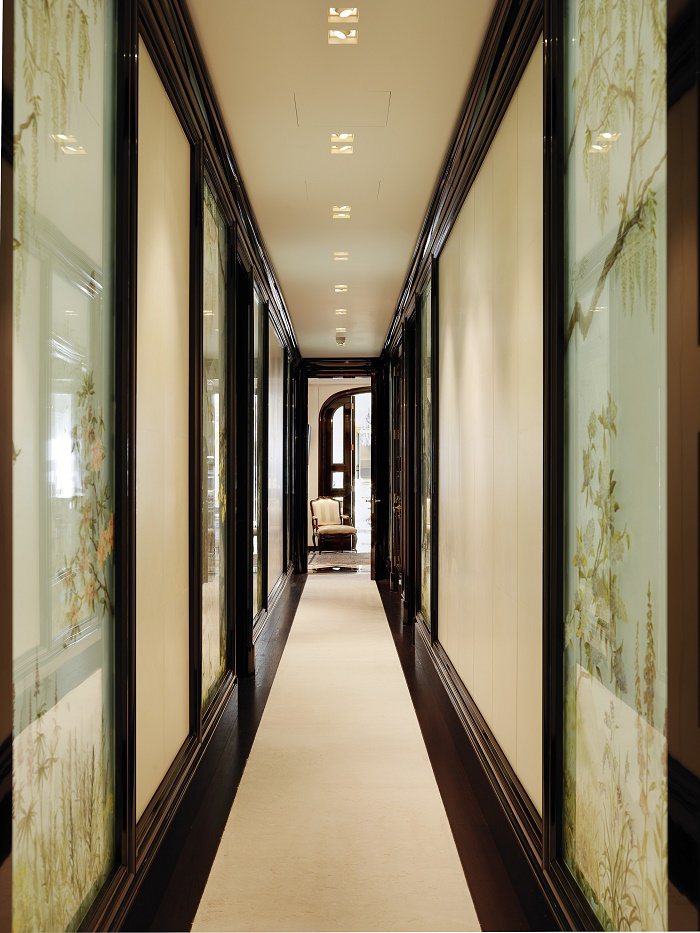 The bedroom corridor features back-lit, hand-painted eglomise glass panels which give the impression of natural light streaming in from both sides. The series of translucent glass panels form an  English Garden theme.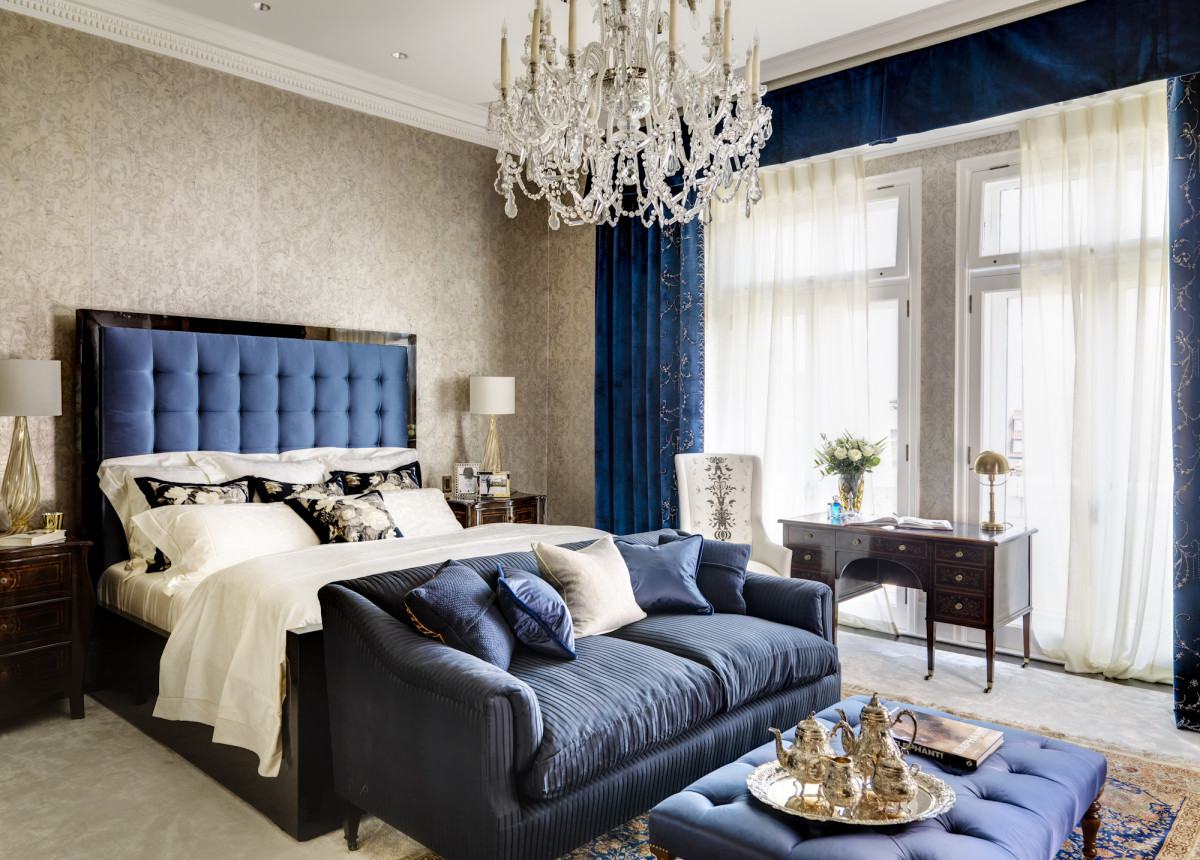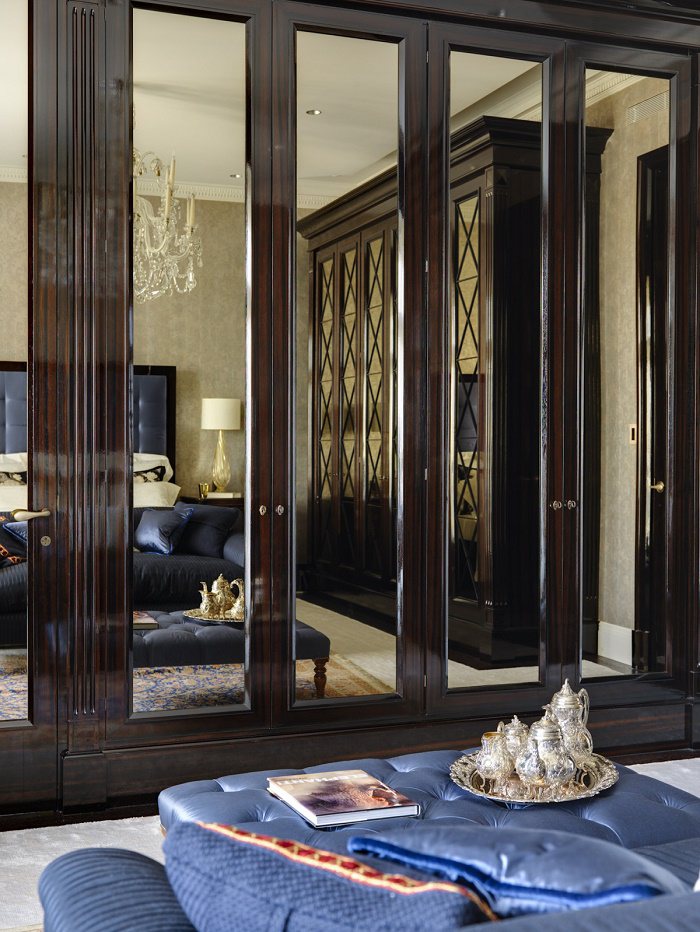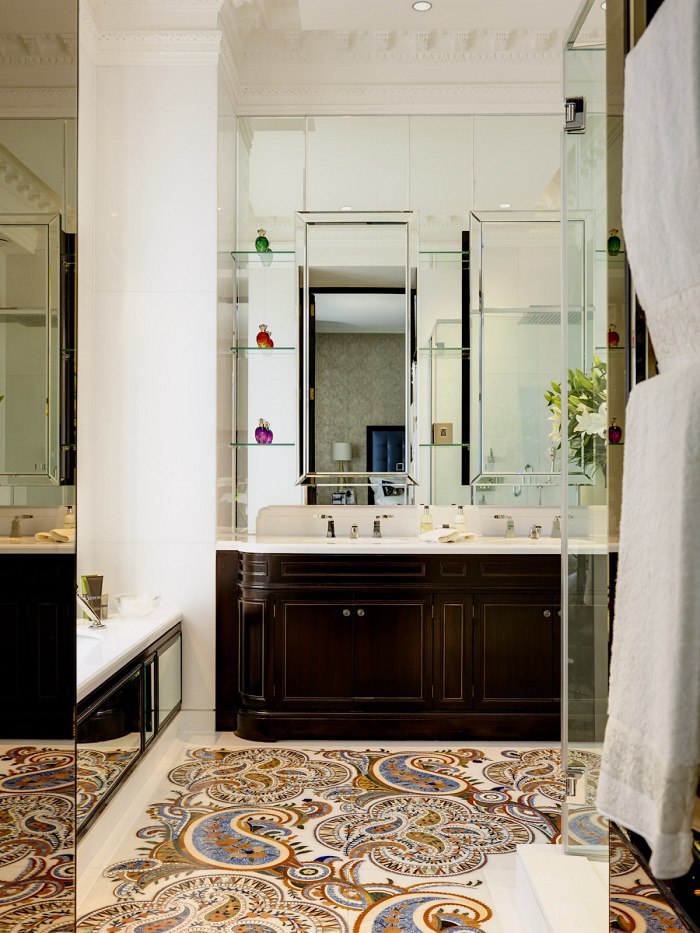 Blue is the client's favorite color, and it serves as the primary color in the master bedroom. Blue silk covers the head and foot-board of a Rosewood Simonetto bed. Bespoke designed silver-leaf damask covers the walls. Blue silk threaded with silver and hand-detailed with Swarovski crystals forms the curtains. The closets were custom made in Italy and installed on site. They were perfectly planned and finished with rich lacquered wood, inset with mirror panels. An antique Persian rug layers on the silk carpet. Even the desk chair features hand embroidery. Another beautiful crystal chandelier, sparkling like jewelry completes the room.
The master bathroom displays serious detailing. The marble floors include a mosaic of over 30,000 pieces of semi-precious stones, such as amethyst, lapis lazuli, mother-of-pearl, and carnelian. All of this rests beneath beautiful layers of crown molding above.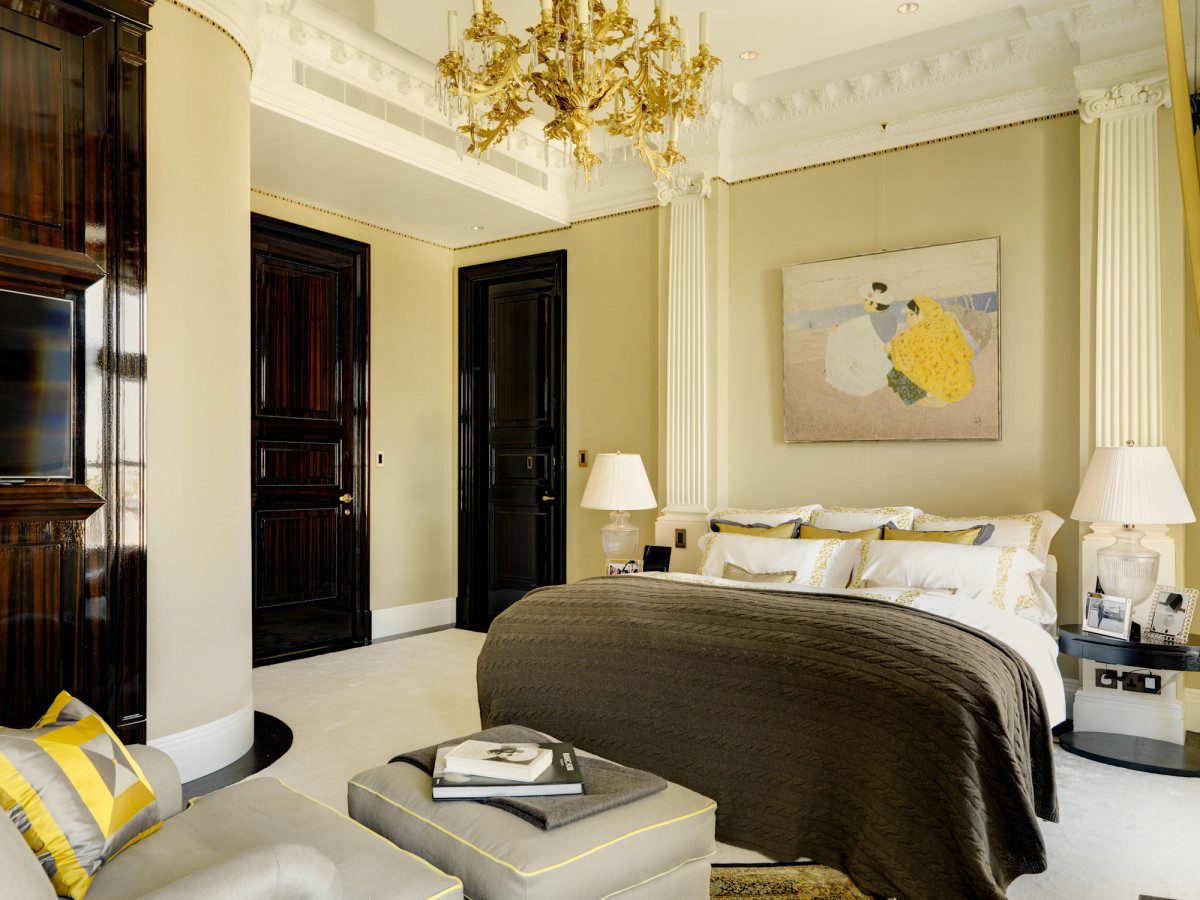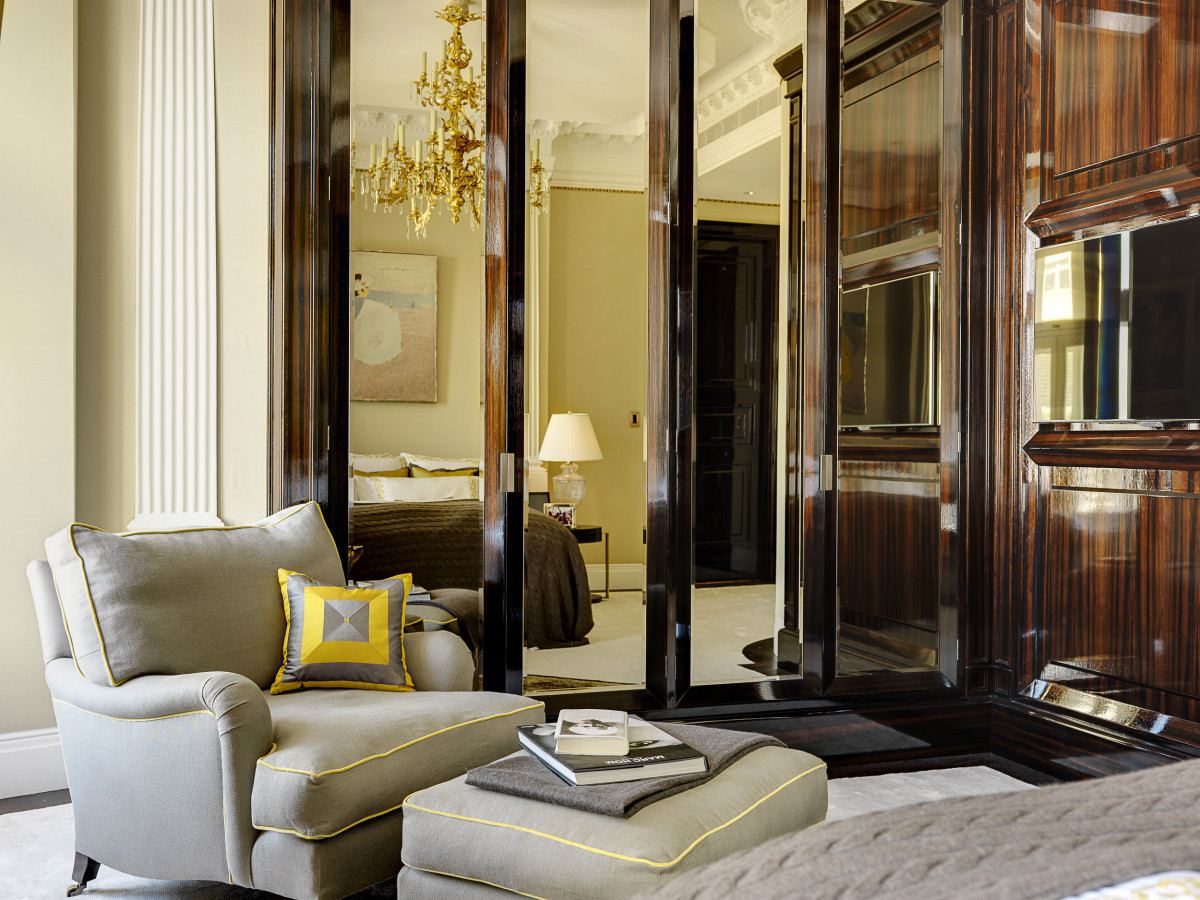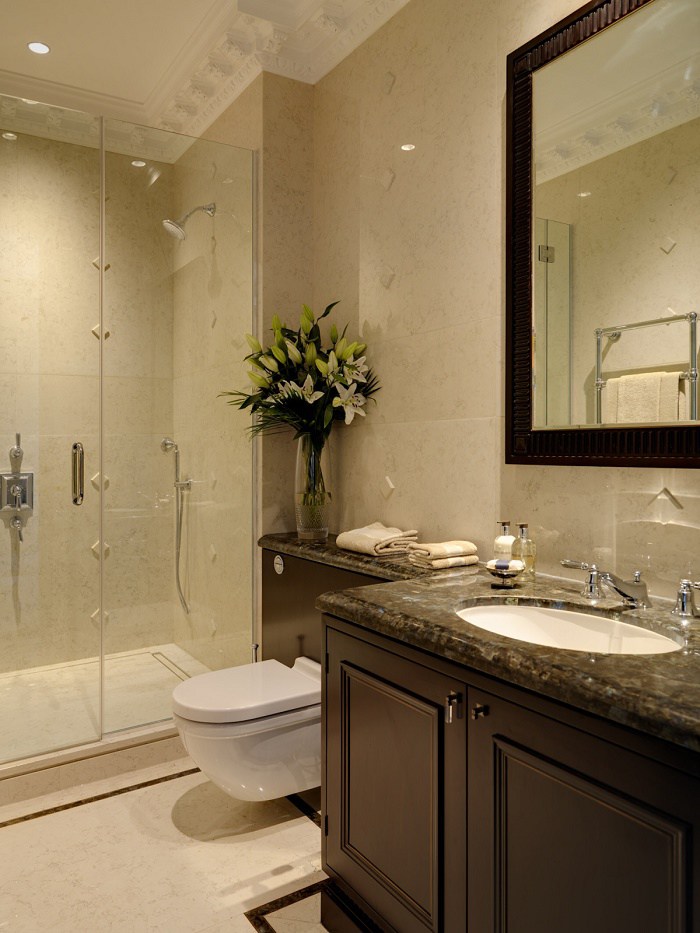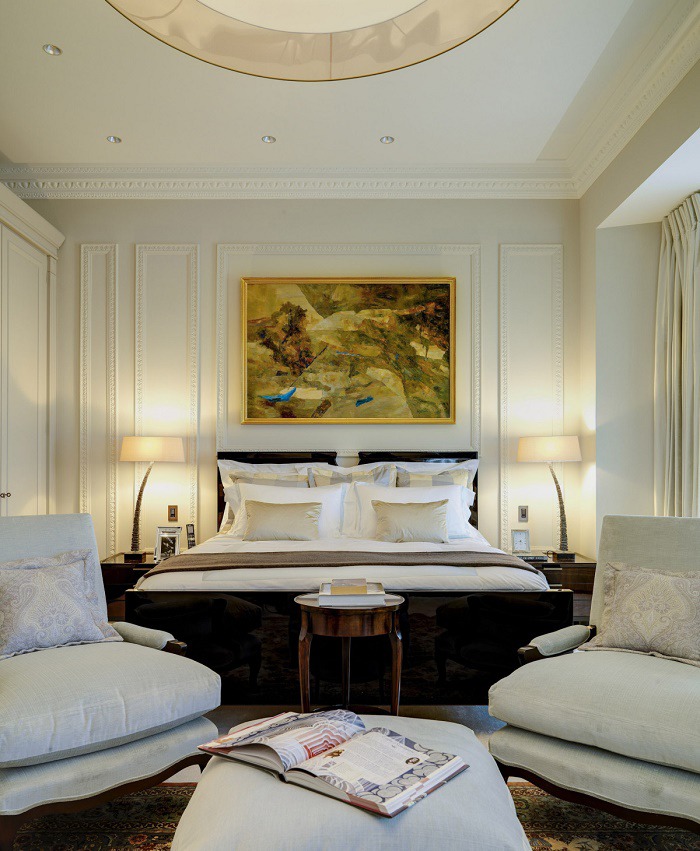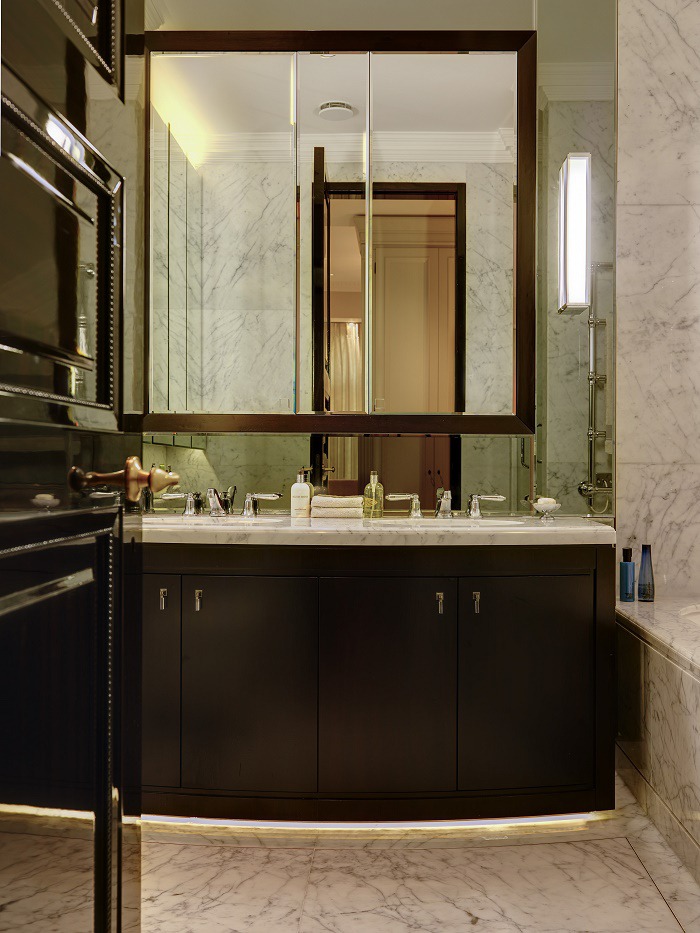 The home includes two guest bedrooms with en suite bathrooms finished out with as much care and attention as the rest of the home.
A final detail…  The son in this family, a recent MBA graduate from a prestigious American business school, had the entire upper floor designed specifically for his own personal use.  The rest of the family would only be at this home a few times a year for a few weeks at most.  The son would be here more often and he wanted his upper floor to be a little different from the rest of the residence.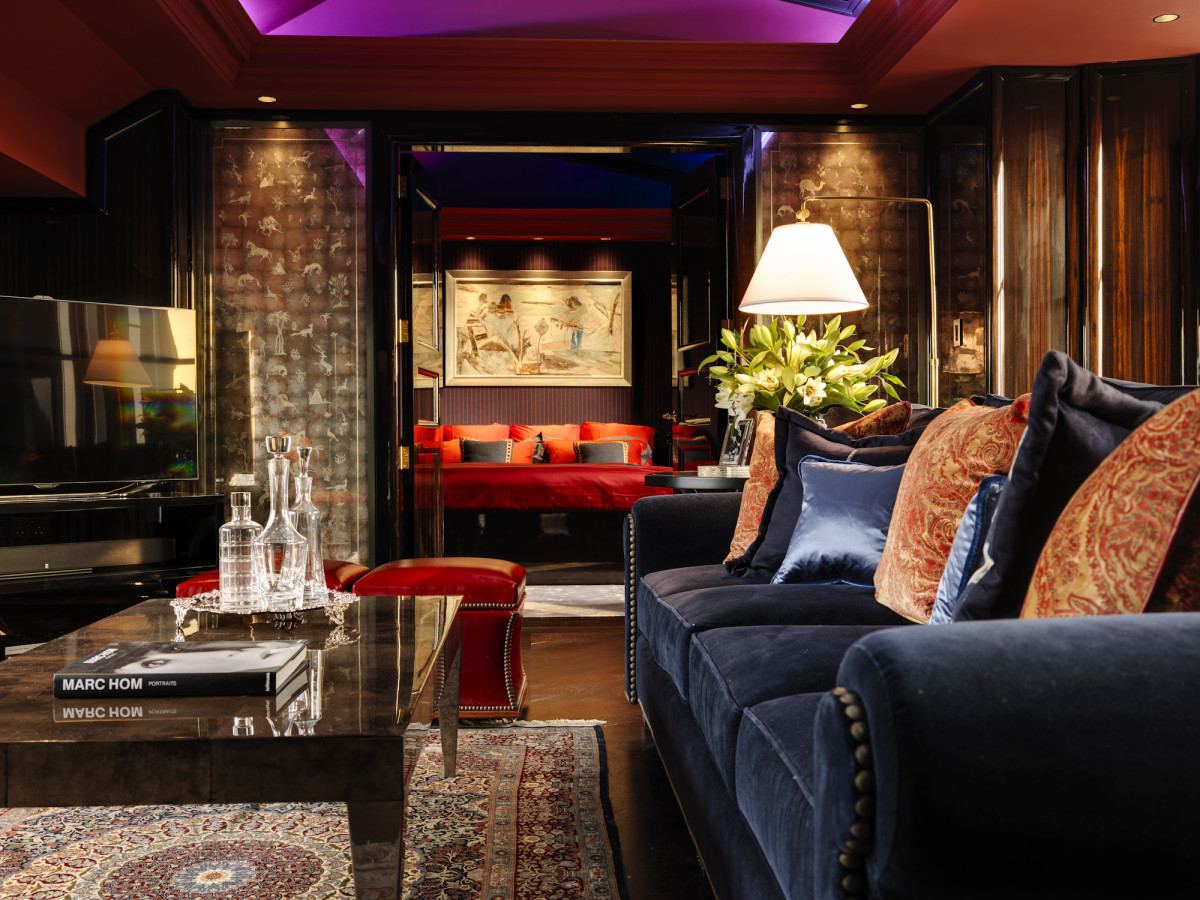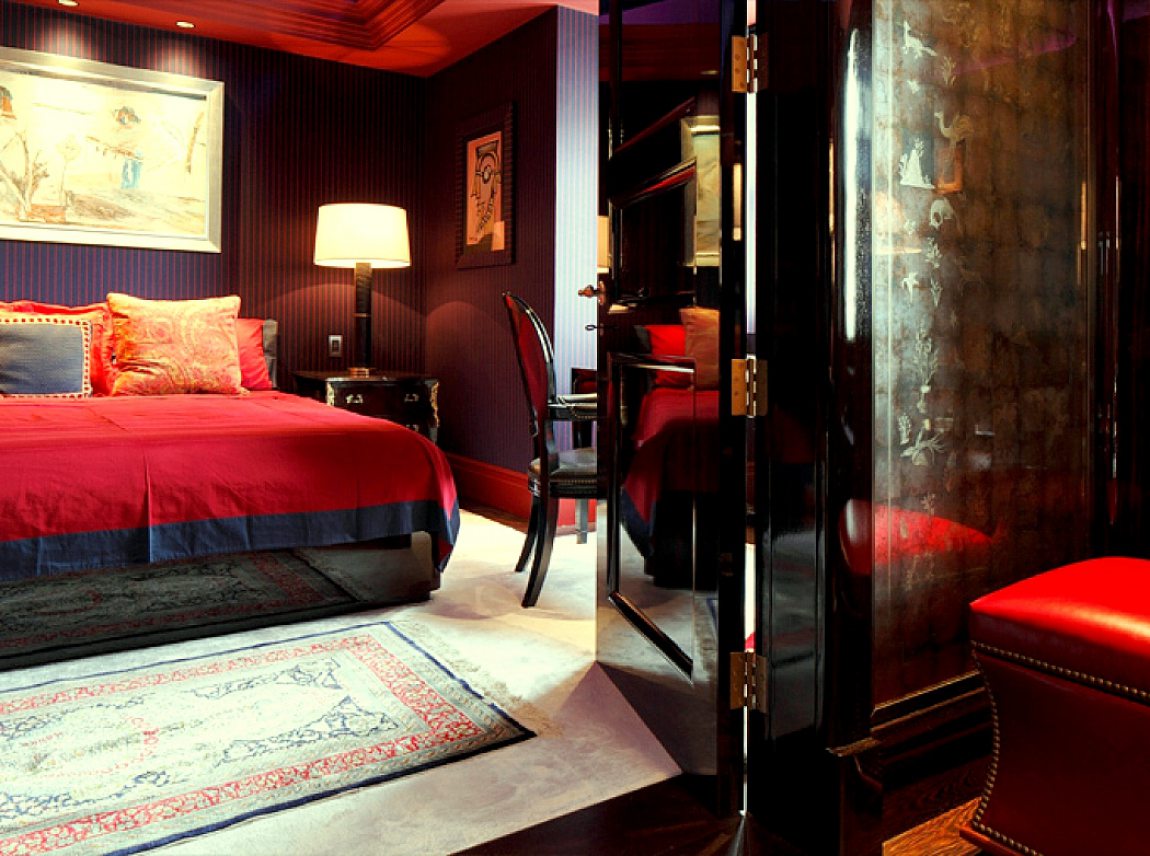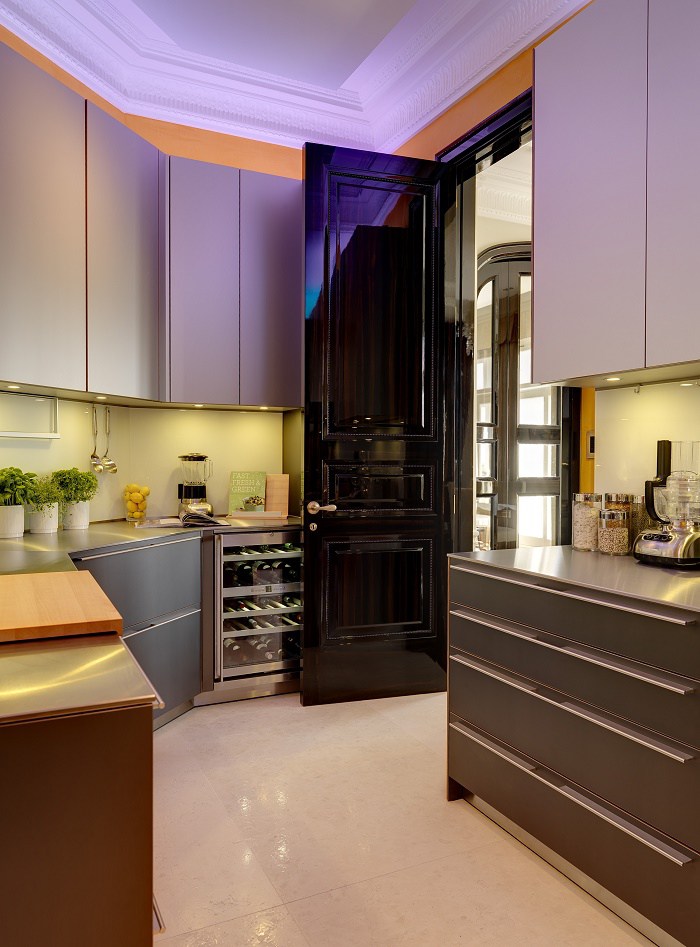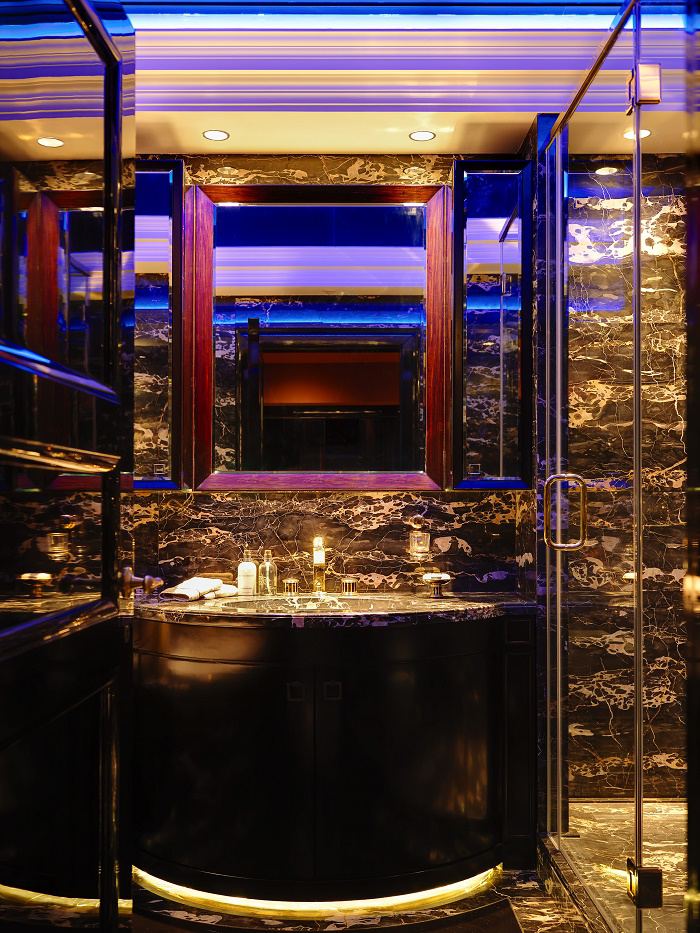 The upper floor has a more contemporary design with bold, rich colors and a more masculine mood.  Macassar ebony paneling as well as specially created eglomise mirror panels finished with palladian leaf lines the walls.  The space is complete and independent of anything below really with its own kitchen even.  This upper floor also includes a series of retractable glass roofs.
Yes!  The completed home was a success!  This was Oro Bianco Interior Design's first official project as a team and it was also their first big success. It firmly set the design group into a solid position.  This project gave solid credibility to Luigi and his entire team of architects and designers.  The home has received plenty of press in London and Internationally.  The luxury home design has received endless praise and critical accolades.
To see another residence completed by the design house, be sure to see:
Knightsbridge Townhouse Reinvention
Oro Bianco's Classic Mayfair Penthouse
Oro Bianco Interior Design, founded by Luigi Esposito, Stefania Mazzarini and Killian Thomas Lynch, is a luxury design house distinguished by its sole focus on London's super-prime property market.  Luigi, Stefania and Killian's decision to focus solely on super-prime property has created an interior design powerhouse, ideally positioned to bring the best in luxury design to London's super-prime property owners.  In addition, Oro Bianco is proud to introduce the Credenza Collection, the first of our bespoke furniture ranges.  Be sure to check out their website for more info.
Interior Design: Oro Bianco Interior Design-London
Photography: Barry Murphy
additional- tasteoflifemag.com
That concludes our design inspiration for today, my friend.  I hope you enjoyed this classic Mayfair penthouse with its architectural details paired with both traditional and contemporary  furnishings and finishes.  There was no shortage of inspiring interior design ideas packed into this one today!
I look forward to hearing from you in the comments.  What did you think of today's post?   If you enjoyed reading today's post, Please share it on social media!
Thank you so much for reading along with me.
Have a great day!
Please like us and share: