Fifth Avenue Classical Design
For our design inspiration today, we are taking a look at an elegant Fifth Avenue apartment located within a handsome prewar residential co-op building on New York's Upper East Side. This residence serves as a pied-a-terre for a couple who wished to create for themselves a very special luxury home in the city. Their appreciation for classical design elements allowed for the creation of a home rich with architectural ornamentation and exquisite detail. These classical-inspired features include highly articulated ceilings and decorative wall treatments forming rooms with ordered and balanced compositions rendered in a subdued but sophisticated color palette. Bespoke designed custom furnishings and an array of period antiques combine with the owner's significant collection of modern art in a seamless fusion of refined luxury.
New York-based architect John Murray, a noted master of the classical design tradition, created the three-bedroom residence by combining two original one-bedroom units. The relatively small 2,500 square-foot pied-a-terre doesn't have the requirements of a year-round home, so space gave itself to design. The public rooms arrange as a series of enfilades with each room opening to one another creating a formal sense of progression. Ornate crown moldings designed as part of the paneled walls make the ceilings appear higher. Tall baseboards and chair rails placed low on the walls make the rooms seem proportionally taller. These and other such principles carry throughout the apartment expanding the volumes to their best proportions.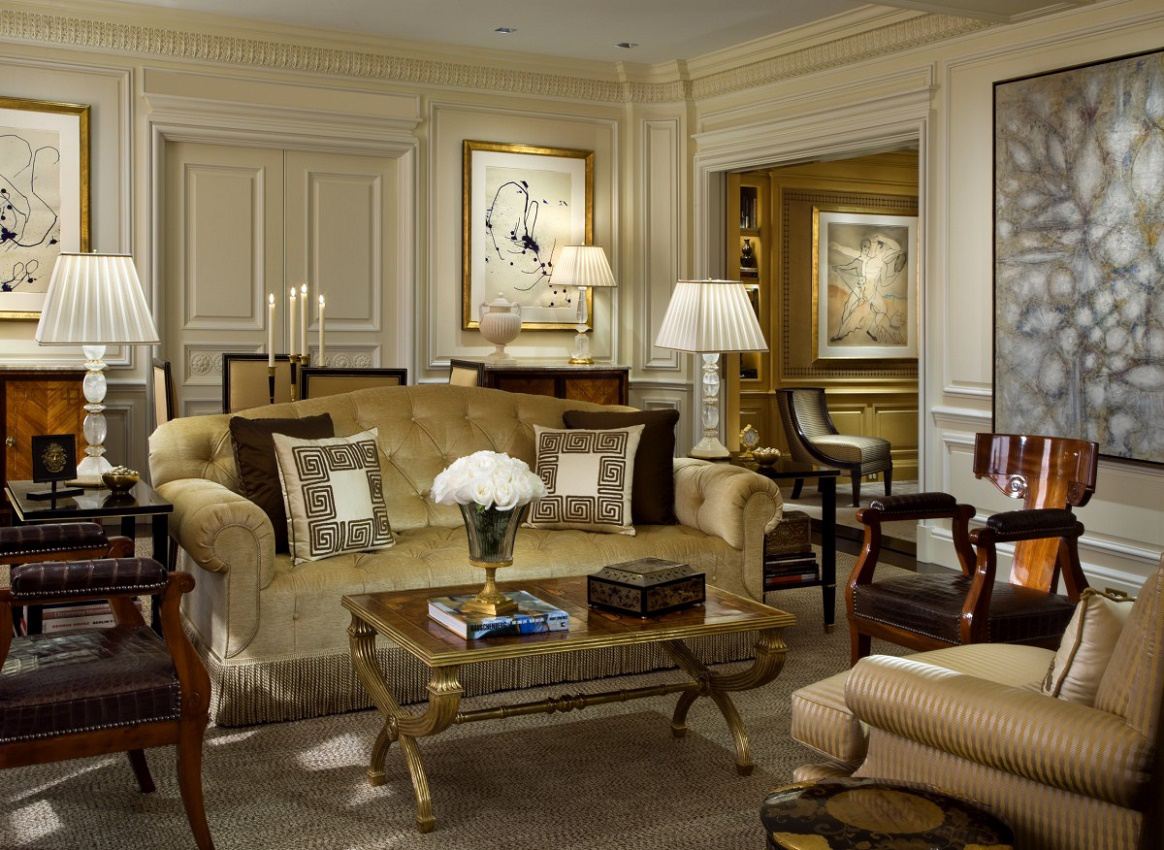 New York-based interior design firm Cullman & Kravis brought together the homes furnishings and decorating details.  In all their projects, the firm embraces a modern traditional design aesthetic.  By artfully mixing antiques of all periods and origins alongside contemporary works and bespoke designs, the results are always timeless and comfortable, just as they are here.
The living room's paneling includes curved corners and other effects to create a graceful line around the room, as well as for the practical purpose of concealing various structural components.  The design includes a highly stylized custom acanthus leaf molding that lines the room beneath the plaster cornice.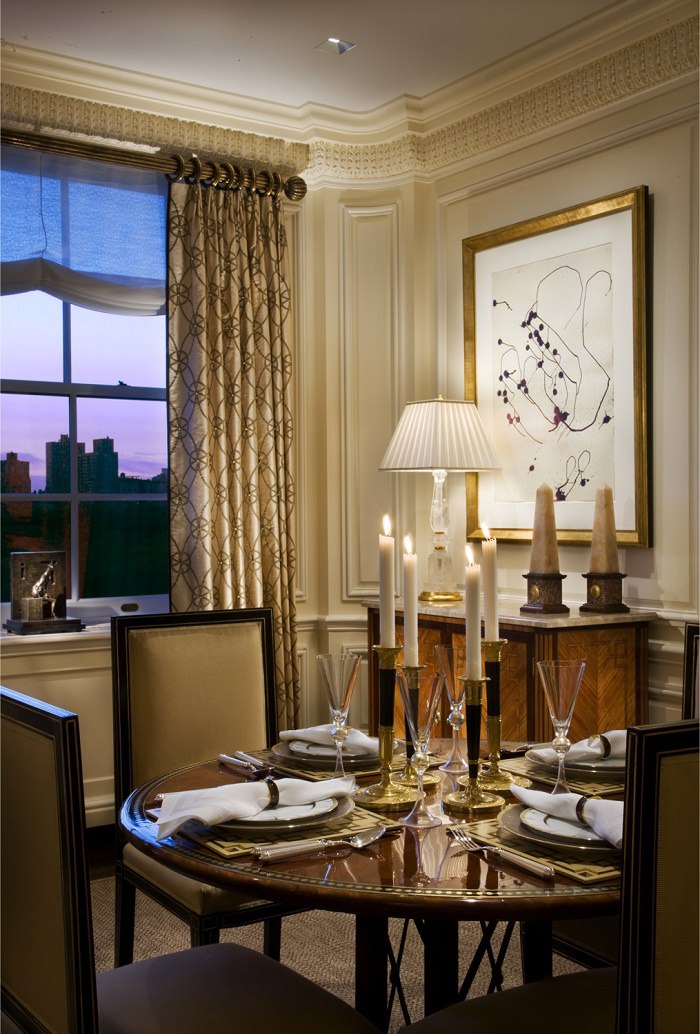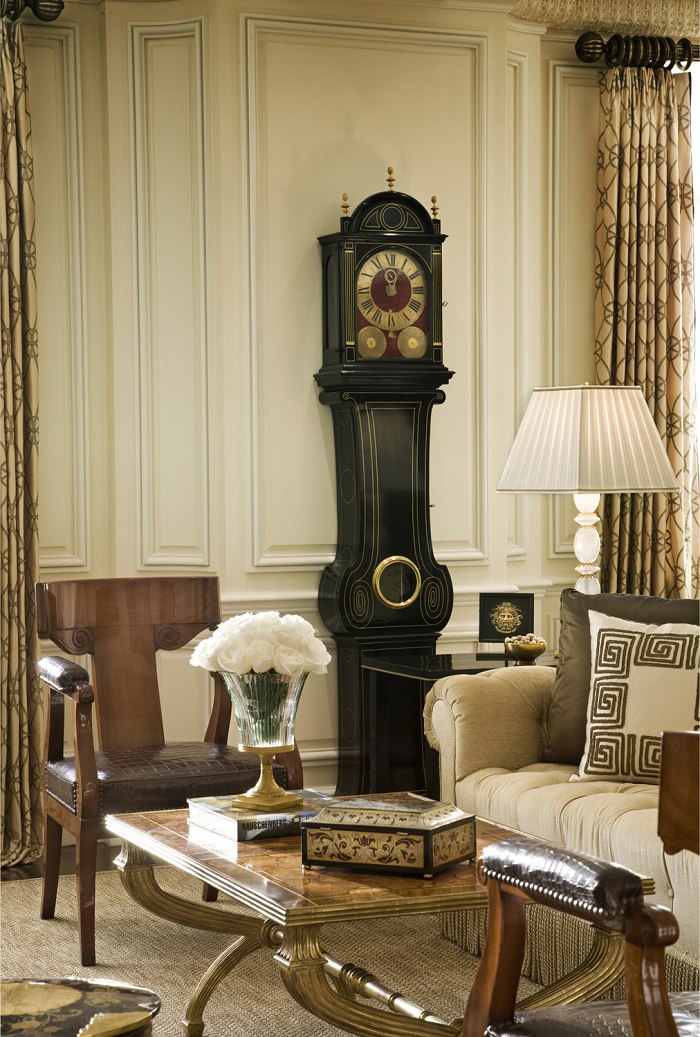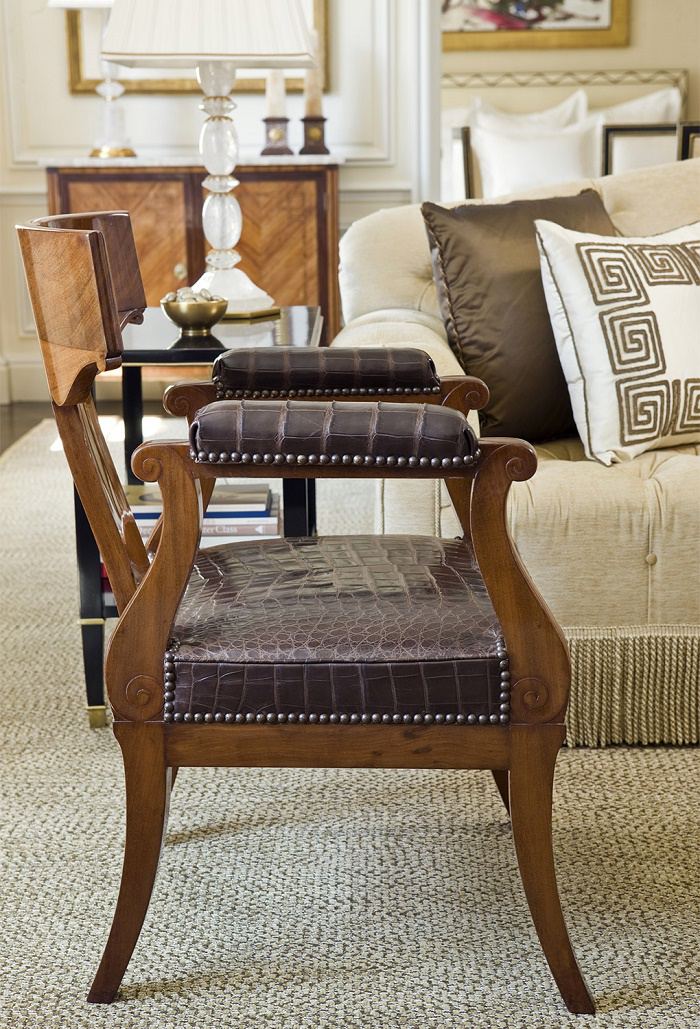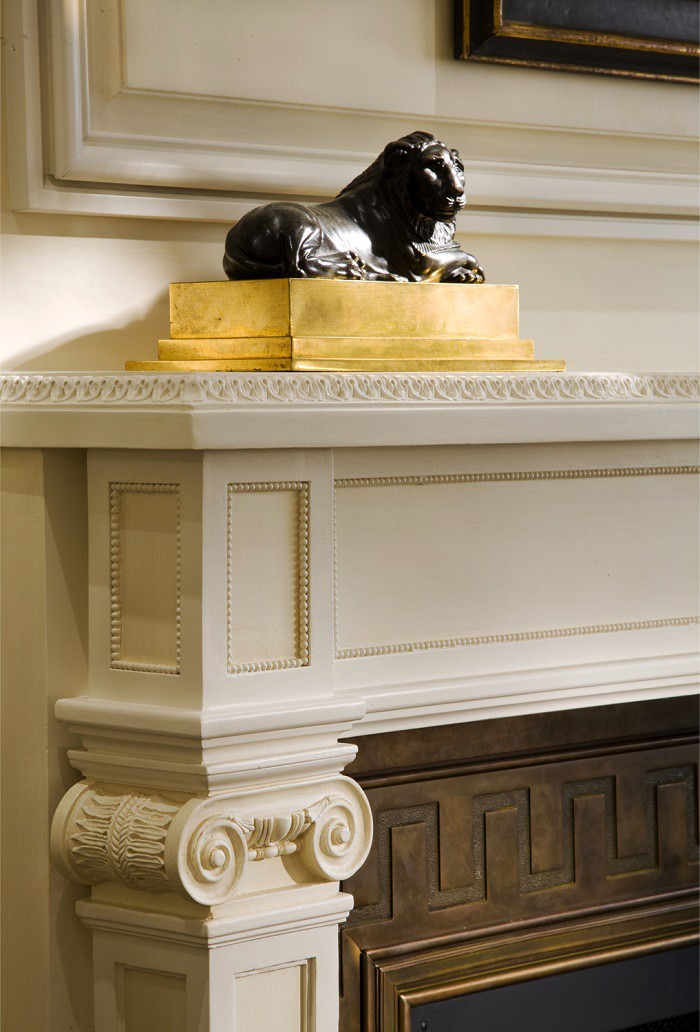 The fireplace features custom bronze work cast by P. E. Guerin.  Its design has been integrated into the paneling of the south wall to create the rooms focal point.  Note the gator leather with tack trim on the Klismos chairs.  Hand painted and beaded silk forms the window draperies.  Art by noted contemporary masters displays on the walls.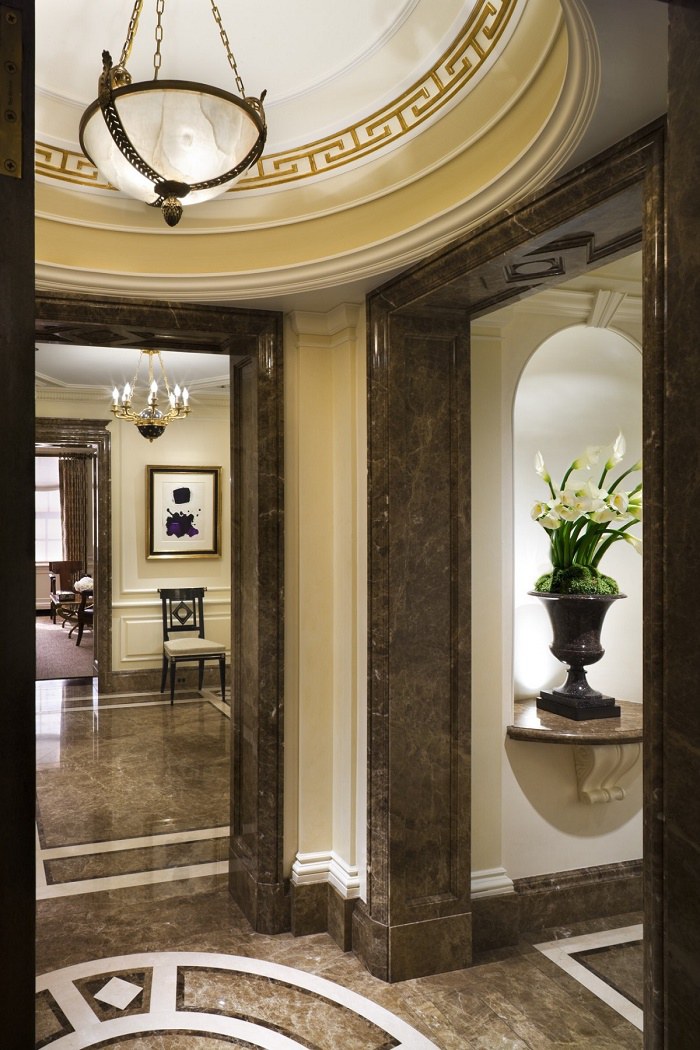 For the grand entrance into the apartment, a rotunda-shaped entry vestibule was created. The dome ceiling, highlighted with a stylized Greek key in gold, creates the perception of greater height.  This space gives way to a rectangular gallery to one side and to a vaulted gallery down the center of the apartment leading to bedrooms.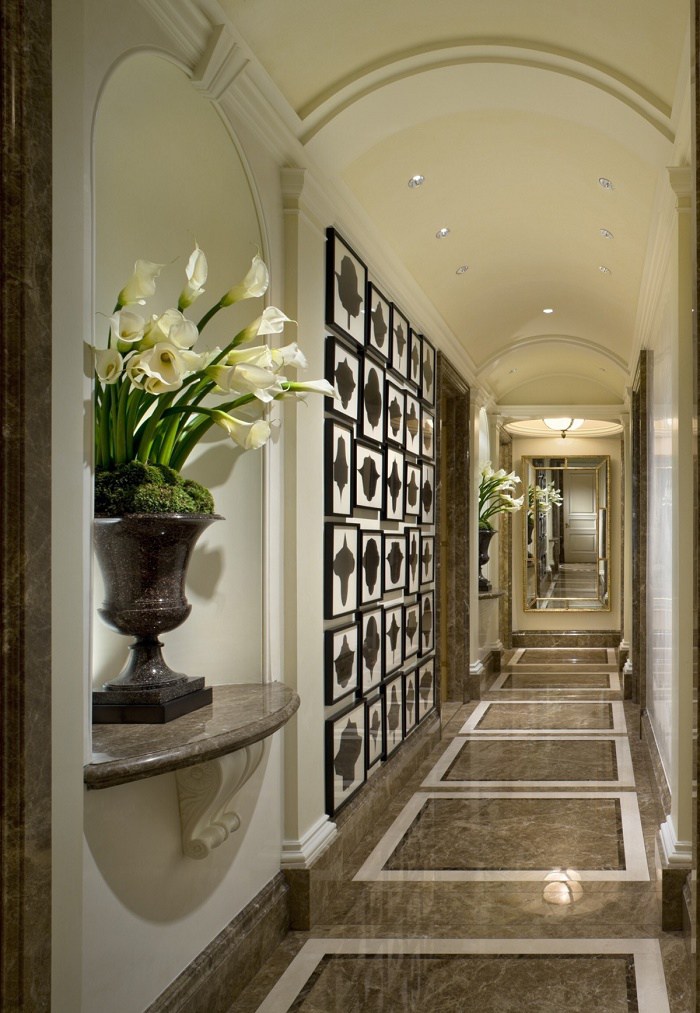 A group of graphite drawings by Alan McCollum, 1989-1990 hang in a modern grid as per the artist's instructions.  To prevent any early notions that the place is period or overly formal, the design team installed simple art lighting in the vaulted ceiling.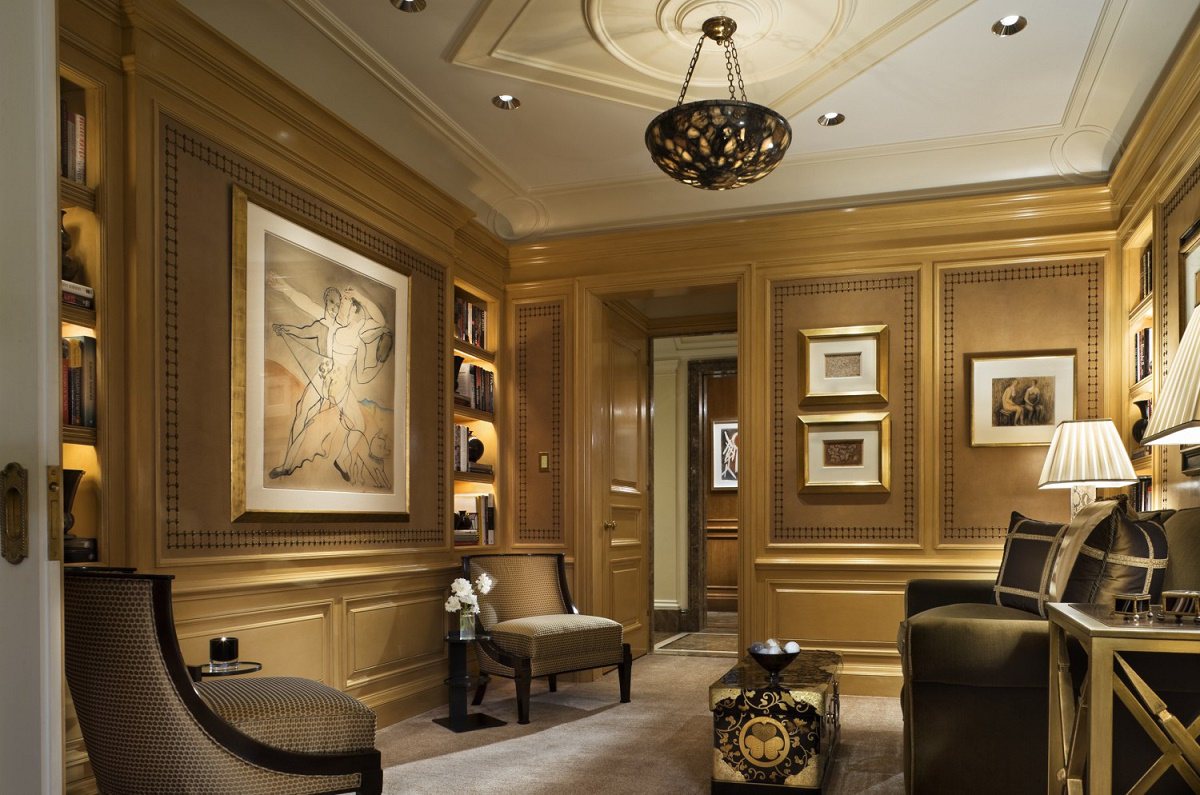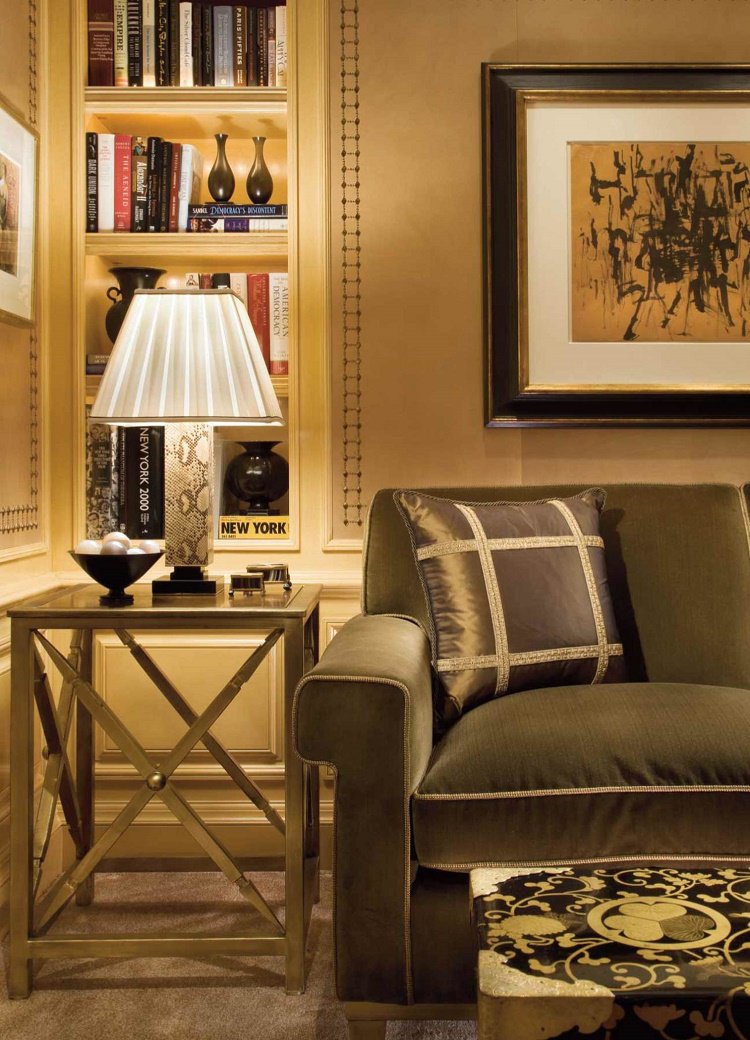 Painted wood with leather panel insets ornamented with bronze stud work dress the library's walls. The articulated ceiling incorporates a layering of banding that serves as a decorative organizer for the lighting.  Corner details enhance the form of the cove ceiling.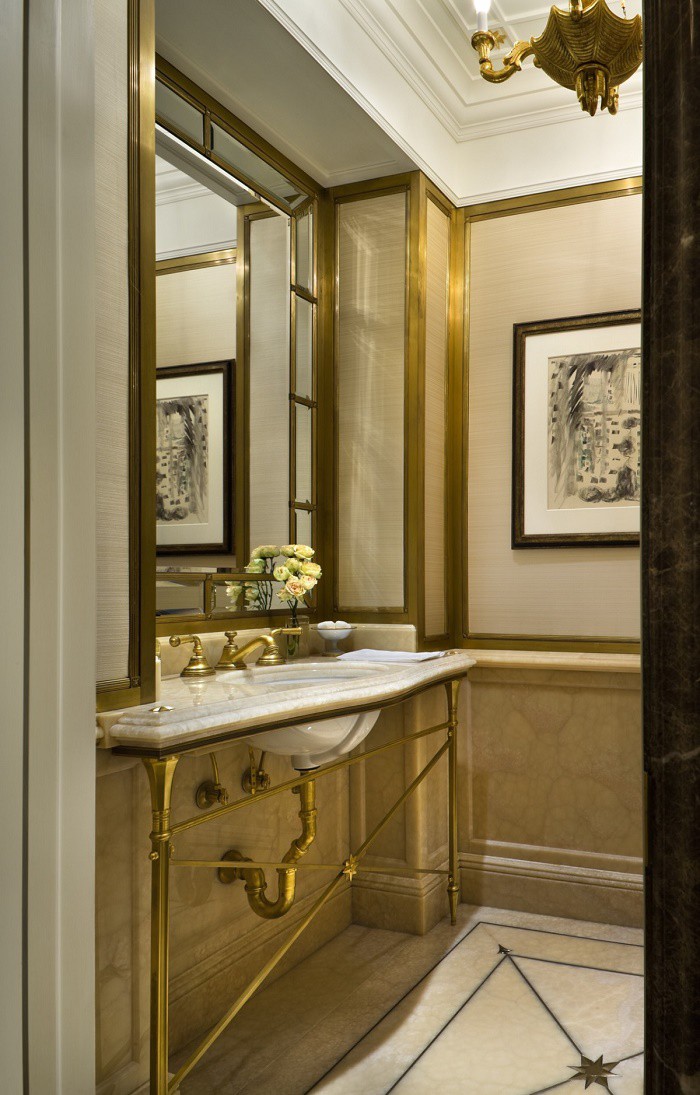 How exquisite is this powder room?  These are really quite glamorous interiors!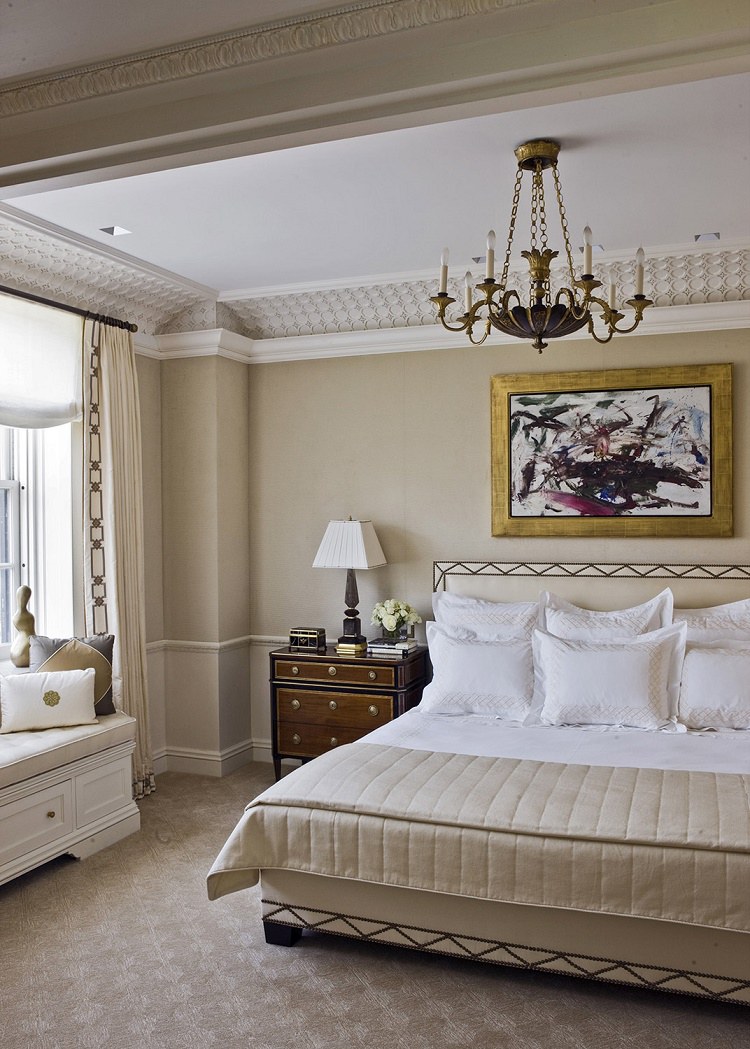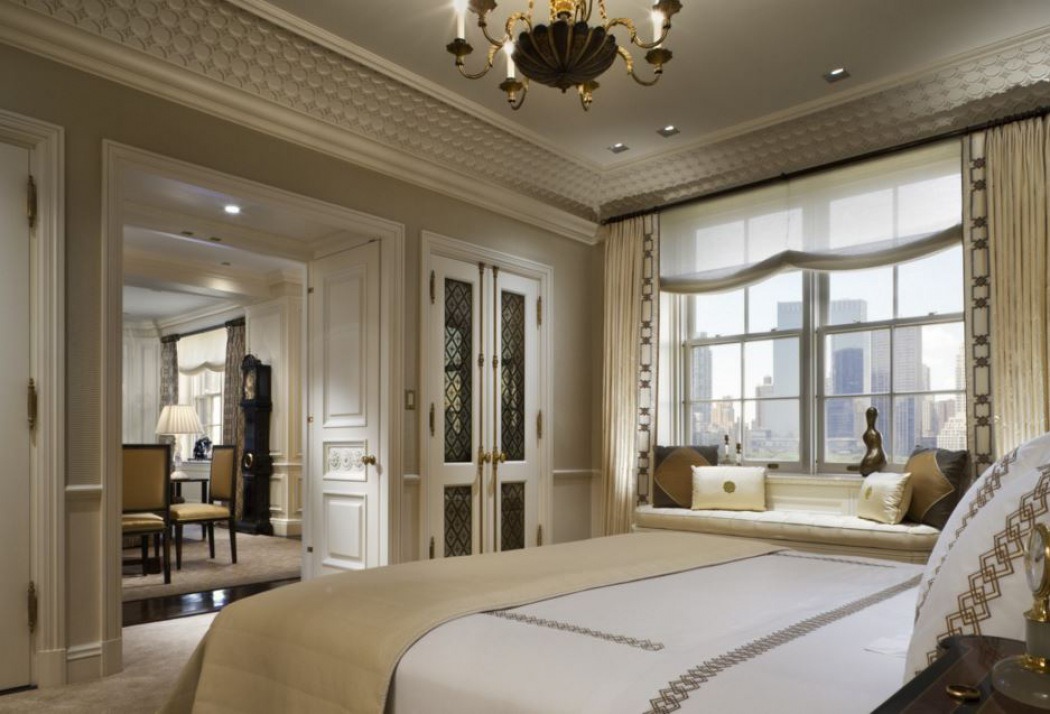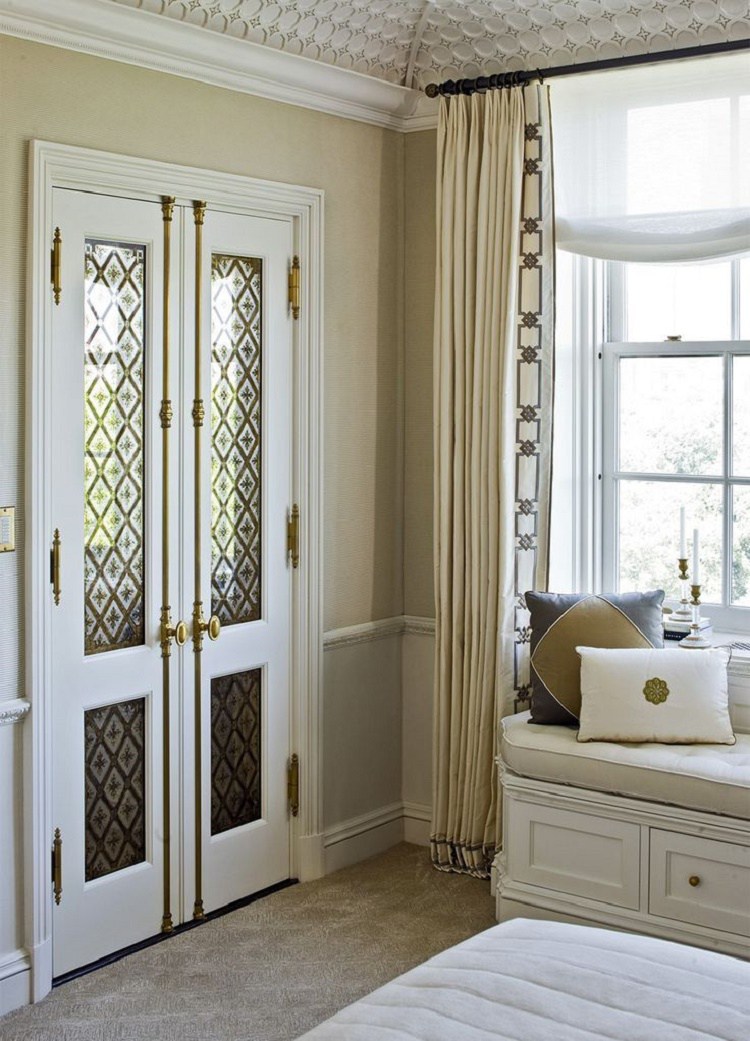 Here in the master bedroom, the custom plaster cornice features a repeated geometric design.  Various geometric designs incorporate around the room; in the carpet, the glass panels of the very fabulous closet doors, and as trim along the bedding and draperies.  The overall impression of the apartment is that it has always been here, and yet it is still very current.  It is timeless.  It is just as the couple wanted for their pied-a-terre.
That concludes our classical design inspiration for today, my friend.  I hope you enjoyed Fifth Avenue Classical Design.
To see other homes complete by Cullman & Kravis be sure to see:
Venetian Waterfront Residence: Cullman & Kravis
Georgian Modern Traditional Elegance
Classical Design Inspiration Conclusion
Architecture: John B. Murray Architect
For over 15 years John Murray's office has been lauded for its traditional aesthetic and its supreme craftsmanship. Starting with hand-drawn plans, the firm's designs all reflect their context, while seamlessly integrating sophisticated and unique details. This old world care and respect for the creative clarity that comes from a visual as well as in-person dialogue between client and architect are the firm's hallmark. Over the years Murray has collaborated with many of America's top decorators.  He is considered an expert on the Park Avenue vernacular.
Interior Design: Cullman & Kravis
Cullman & Kravis is known for providing the highest quality of design excellence and personal service since 1984.  They collaborate closely with their clients to realize their aesthetic ideas and practical needs while adhering to their established budgets.  While elegance and practicality are C&K's first objective, their utmost pride comes from the fact that every home they design reflects the personality of the owner, making no two projects the same.  The goal of their most recent work is to redefine the traditional interior.  Their designs have been edited, clarified, and strengthened with new materials and palettes to achieve a "modern traditional" aesthetic.
Photography: Durston Saylor
Thank you so much for reading along!  Let me hear from you in the comments!  What did you all think of this Fifth Avenue pied-a-terre?
If you have enjoyed reading today's post, Please share it on social media!
Please like us and share: