Marquand: Refined Contemporary Design
This refined contemporary design private residence, located within the New York City landmark building Marquand on Manhattan's prestigious Upper East Side, was completed by Miami-based interior designers Britto Charette. The Beaux-Arts Revival style building built in 1913 on Madison Avenue and 68th Street along Central Park was recently restored and now serves as a luxury condominium building offering gracious prewar space along with every amenity for contemporary living.
The 3,500 square foot apartment acts as a pied-a-terre for the owners, an energetic and entrepreneurial couple who have trusted Britto Charette with their multiple other homes as well. They wanted the design of this residence to be sensitive to its classic heritage but interpreted with a refined contemporary design to provide them with a peaceful refuge in the city. The designers took full advantage of the restored buildings wood paneled walls and architectural details, combining them with the couple's favorite pieces, custom built-ins, and contemporary furnishings.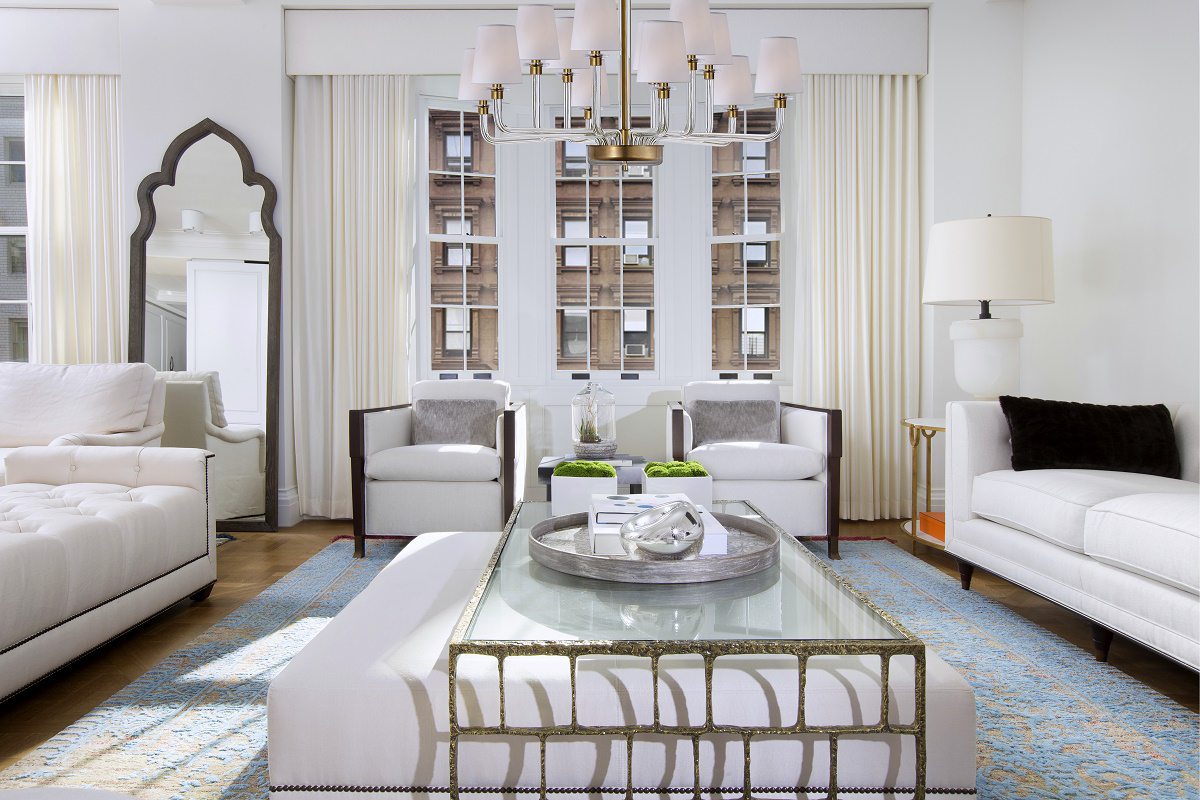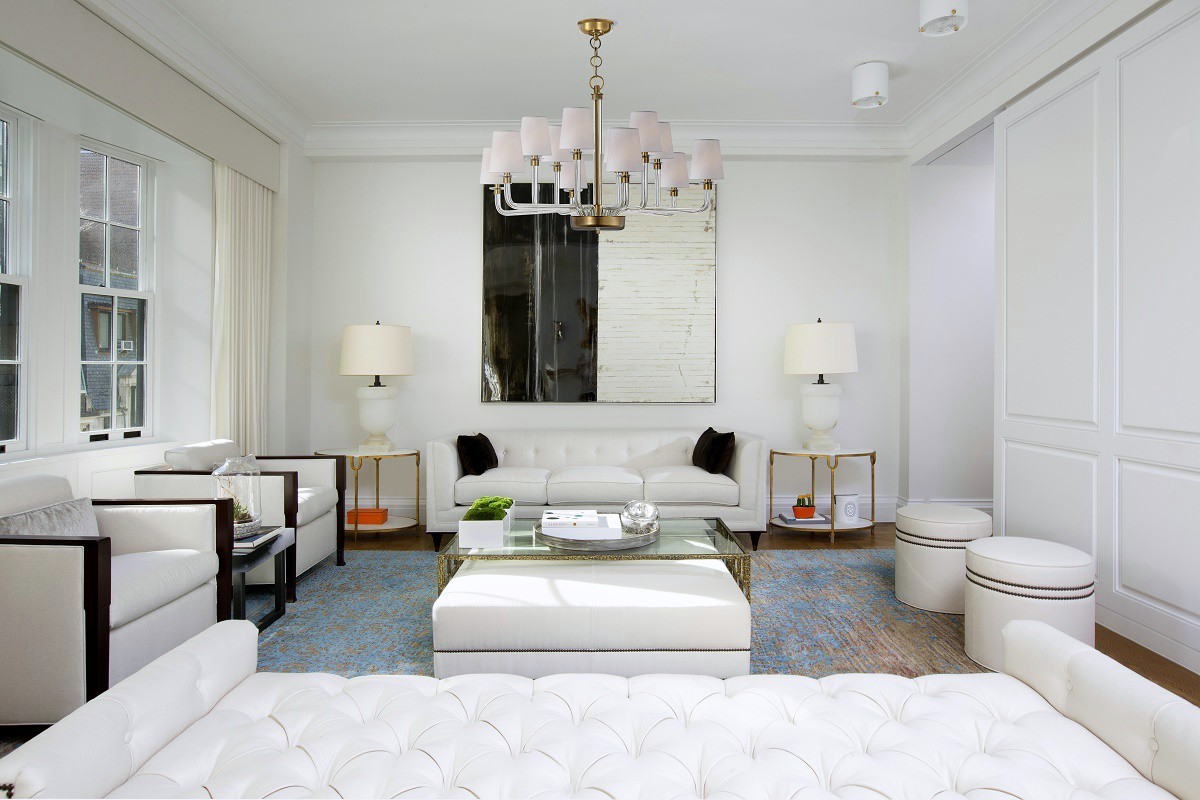 Refined Contemporary Design: Public Spaces
A monotone color palette accented with soft blue and copper achieved the owners desire for refined contemporary design. The expansive double volume living room arranges into two seating areas. Specially commissioned fabrics upholster the furnishings from Baker. The round coffee table is by Minotti from Domus Design Collection. The chandeliers above are from Ralph Lauren, while the rugs below are by Jan Kaph. The print is by Michael Dawkins. A sculptural bronze fireplace screen by John Lyle stands before the sculpted travertine marble fireplace surround.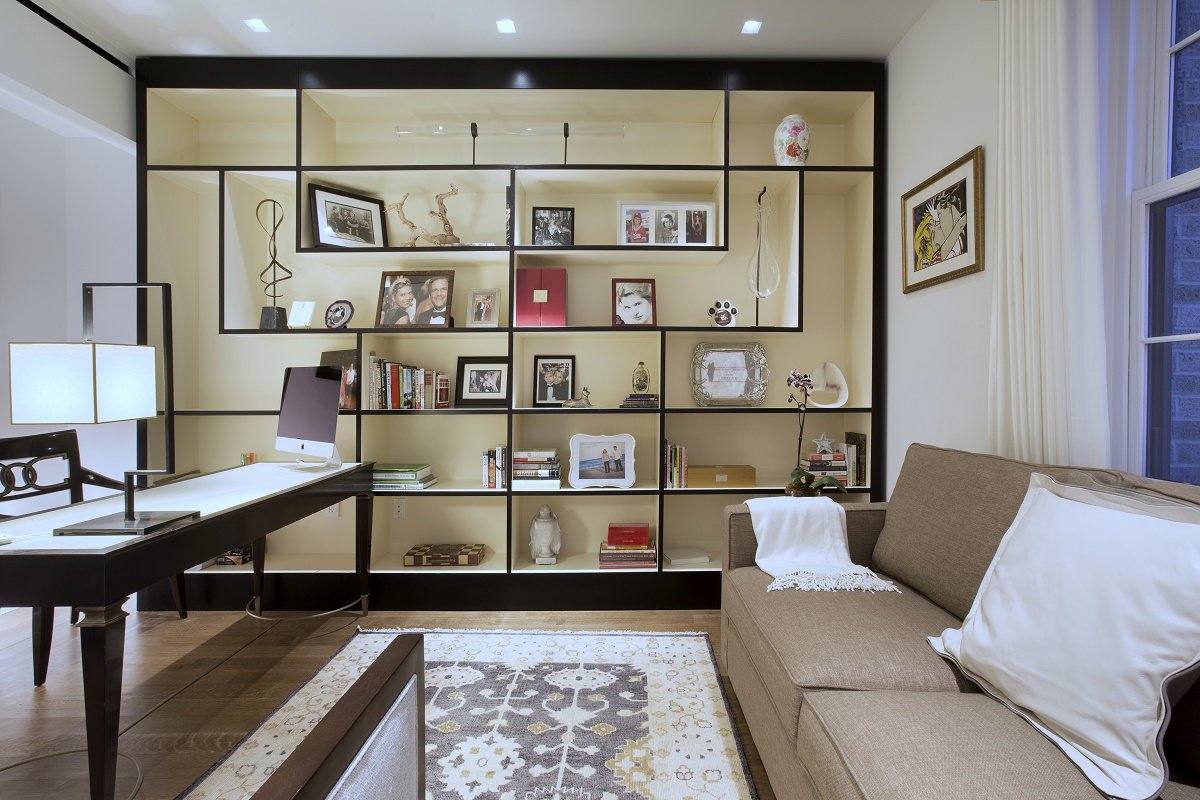 In the library/study, Britto Charette custom created the wall of built-in shelves for the owners to display their photos and personal collectibles. The leather top desk is by Baker.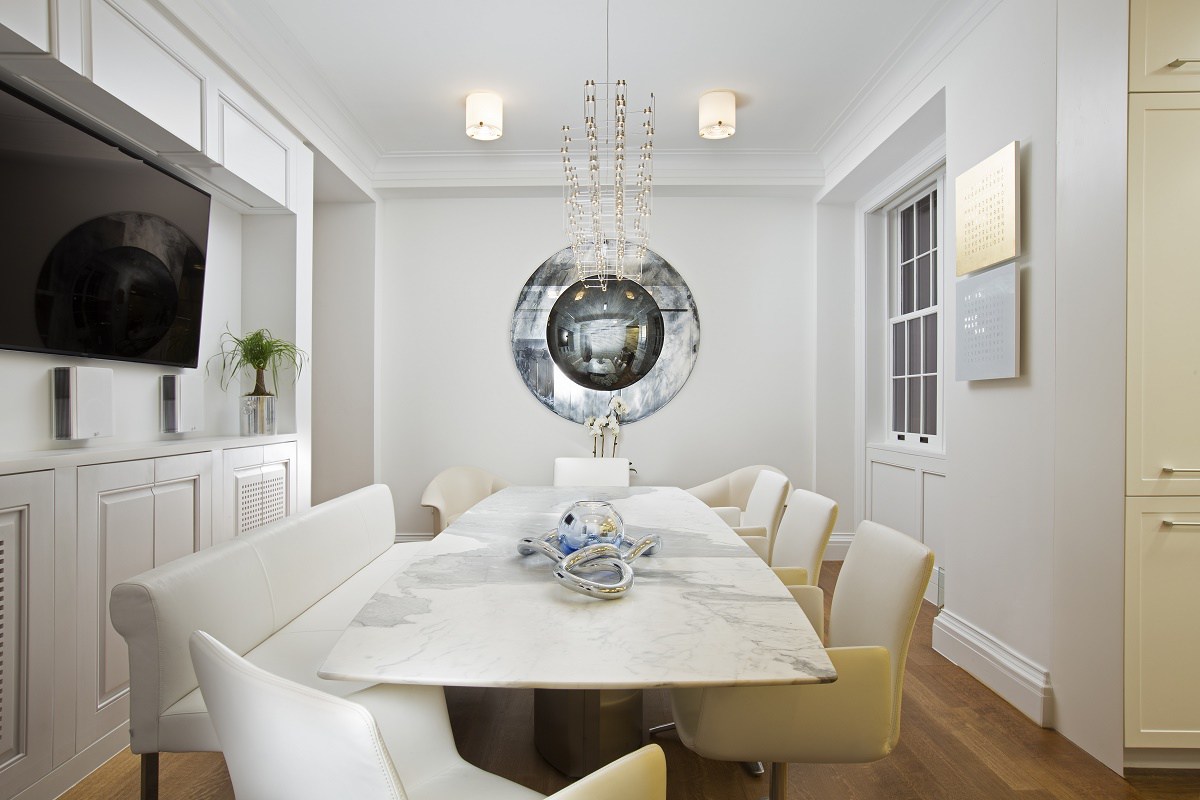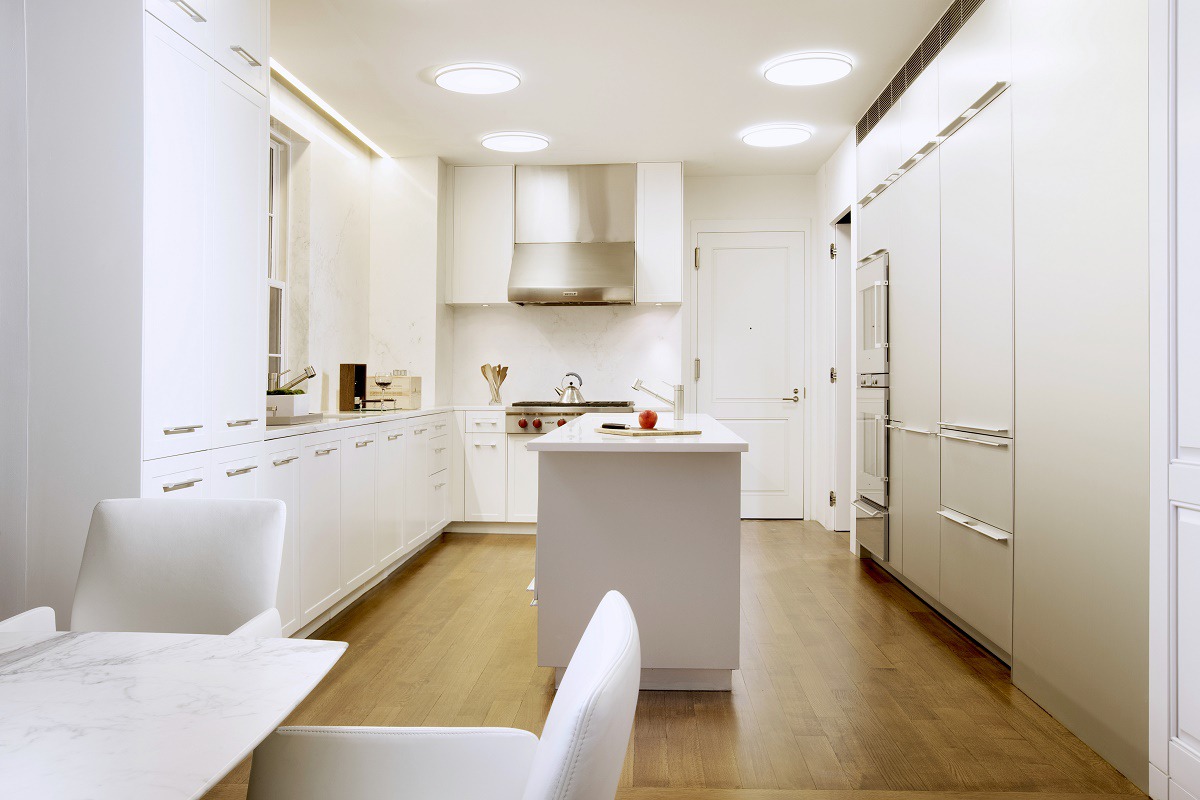 The look is crisp and clean in the dining room which is open to the sleek custom kitchen complete with Gaggenau appliances. The long, horizontal marble top table reflects the design of the LED chandelier by Jean Prezel suspended above it. A bench on one side and modern style chairs provide seating for the table, all from Domus Design Collection in New York. The mirror and art are from Michael Dawkins.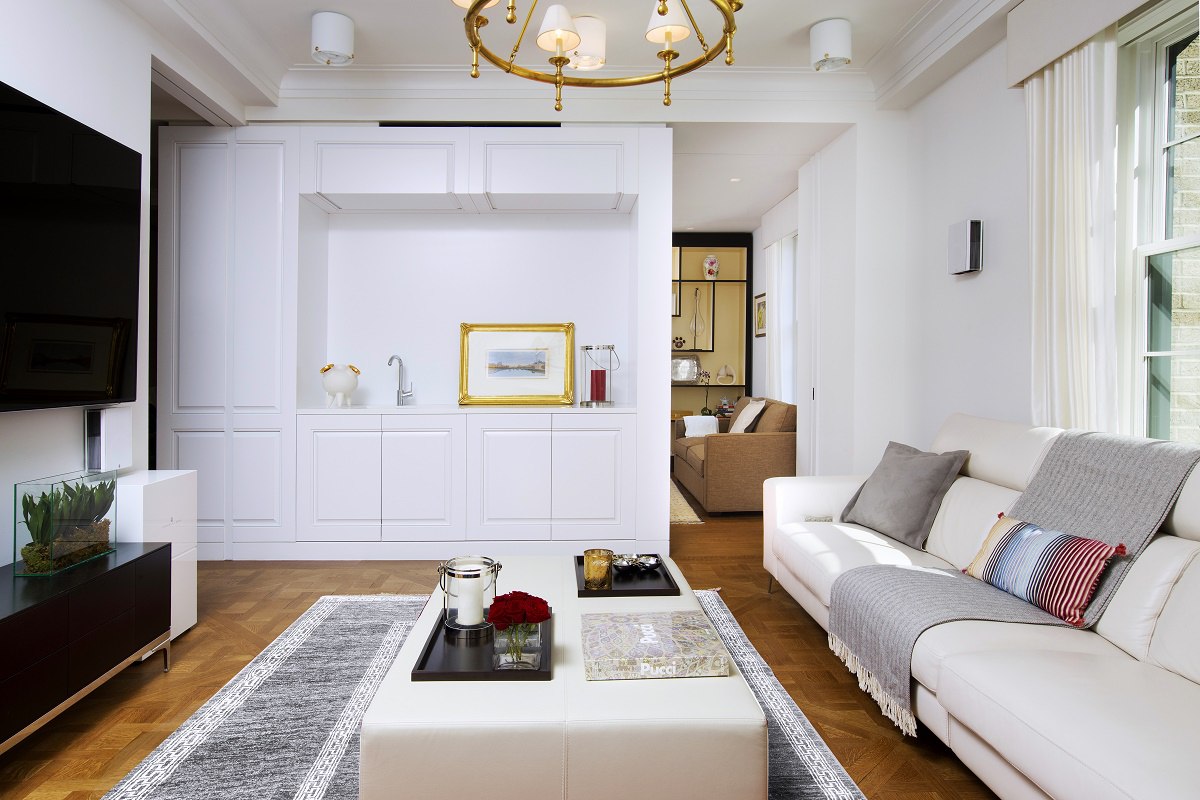 The home's family room articulates the livable ease and serenity behind refined contemporary design. The room is visually calm and edited and still super functional making it the perfect escape from the busy city. A large leather sofa includes auto/electrical reclining functions. Britto Charette custom designed the sleek and sophisticated black credenza beneath the wall mounted television which elevates the room's overall look. Britto Charette KINSA porcelain shines on the bar.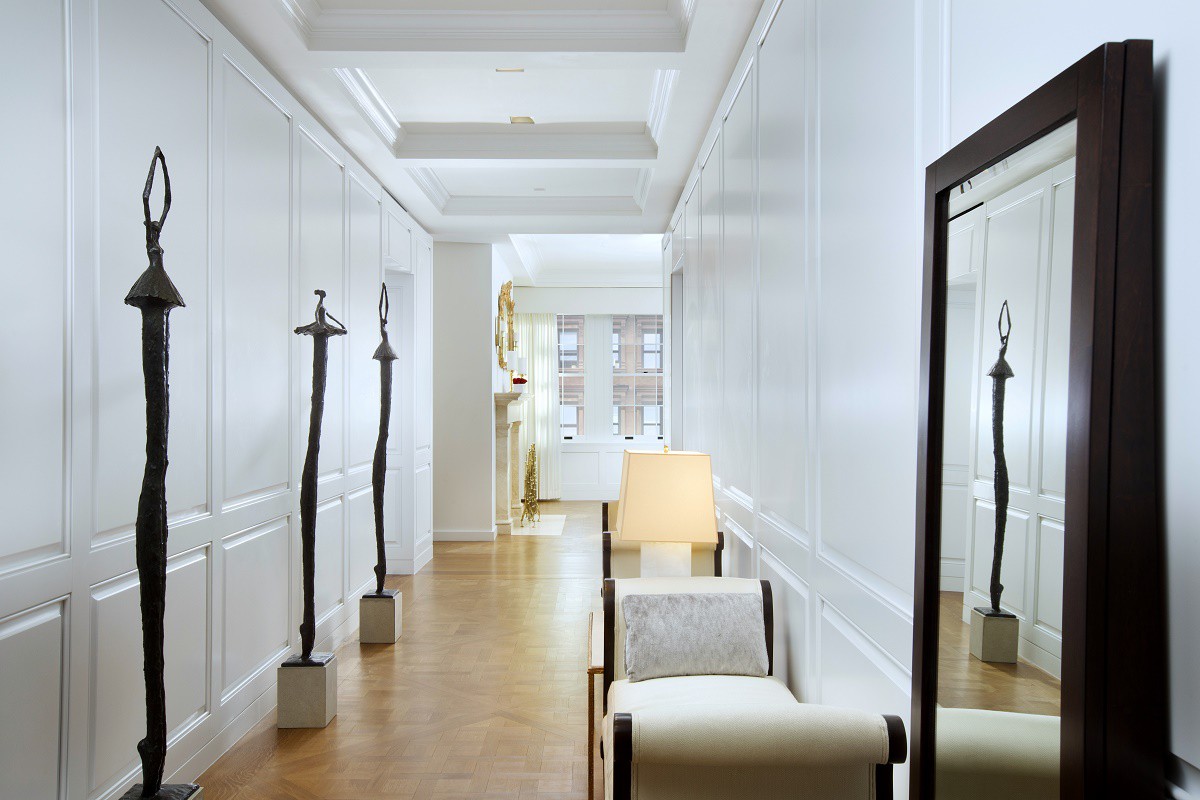 A central gallery hallway connects the public and private spaces. A series of contemporary Corbin Bronze Ballerinas gloriously punctuate the classic design of the white oak paneled walls, ornate ceilings, and Parquet de Versailles finished floors.
Refined Contemporary Design: Private Spaces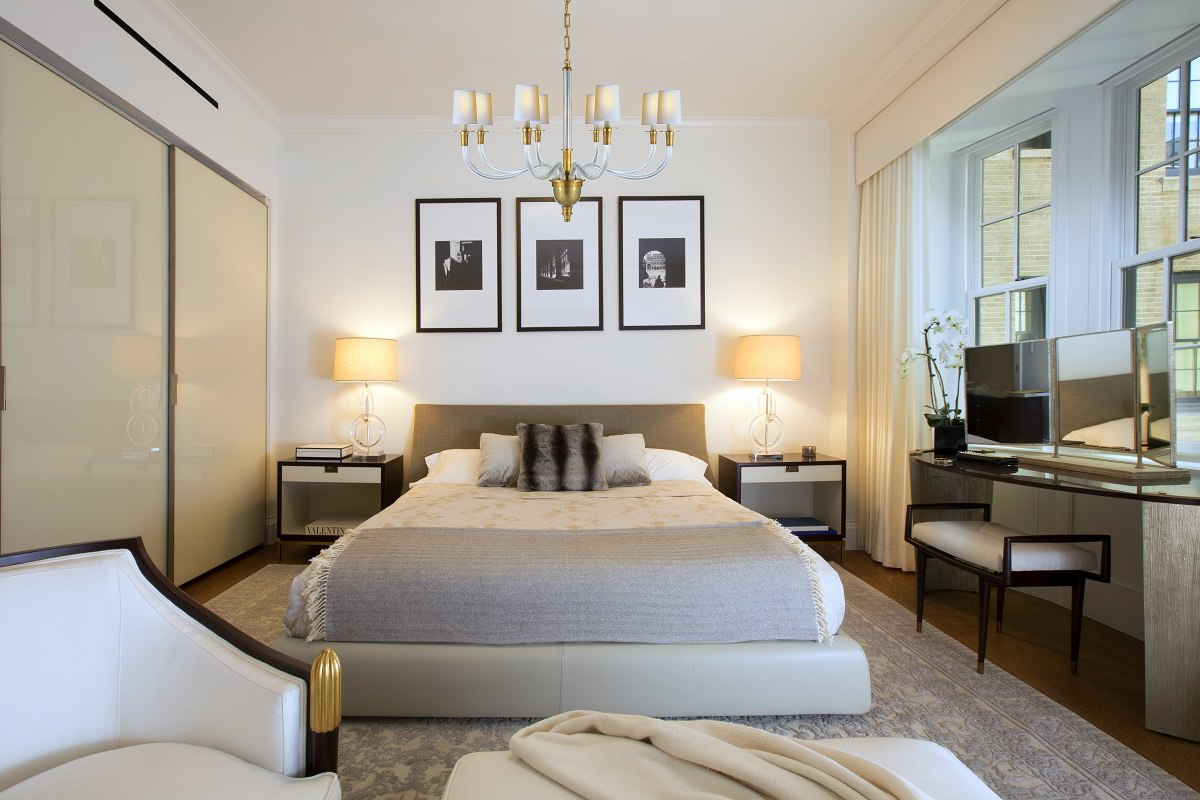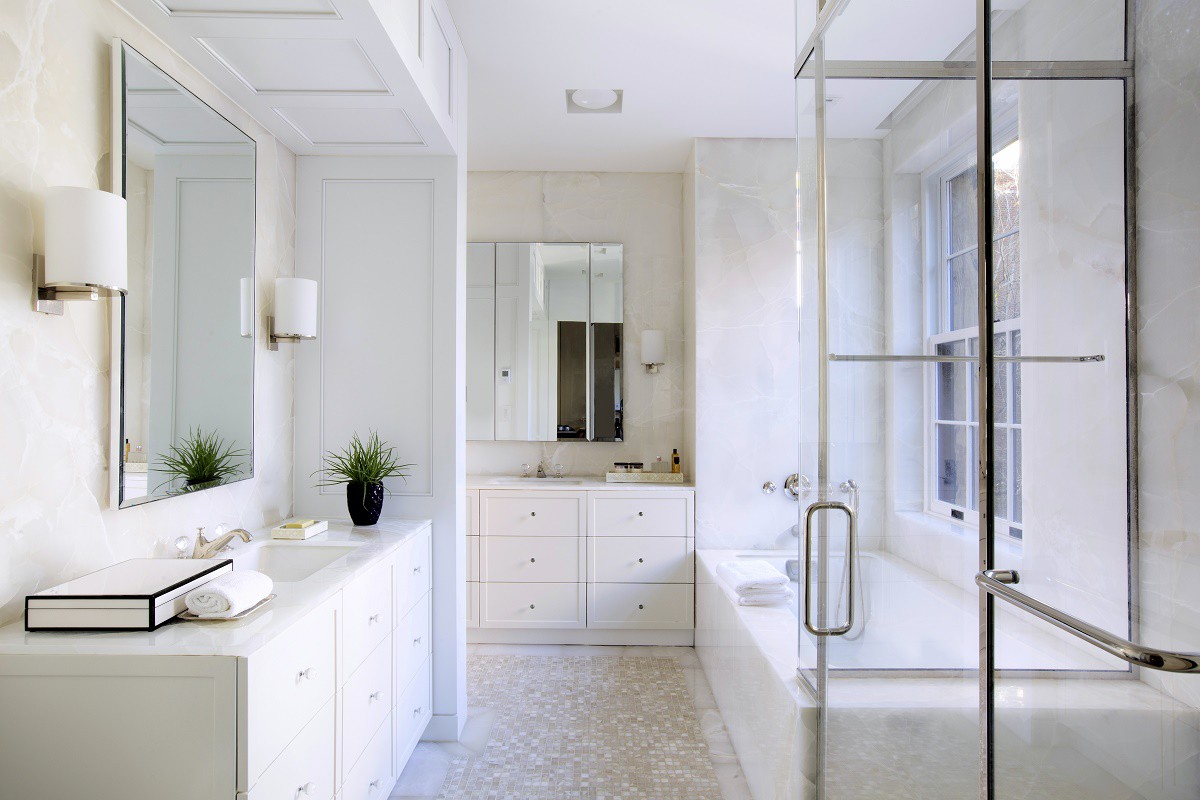 The master bedroom suite is a dream offering loads of neutral, understated elegance. The upholstered bed is by Giorgetti with nightstands by Baker. Framed photography by David Charette hangs above the bed. A chandelier by Visual Comfort hangs above, with a rug from John Kaph below.  Marble and onyx complete the master bathroom.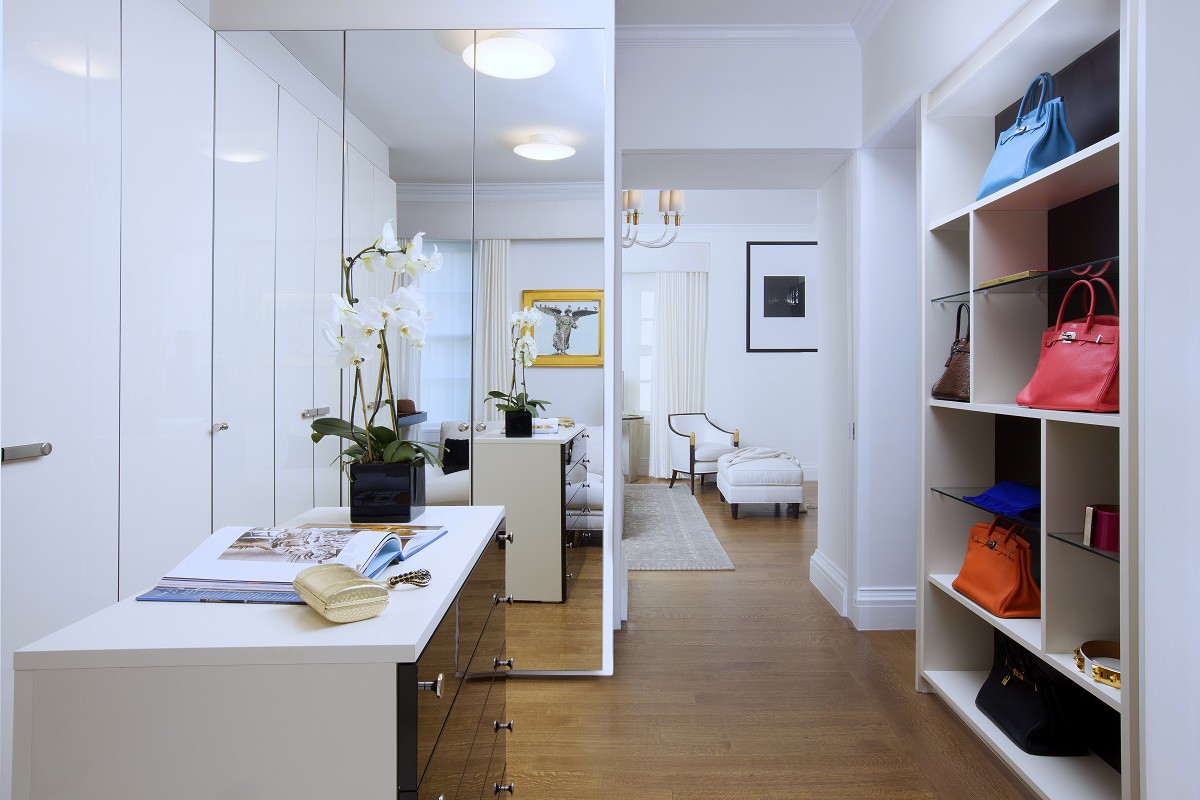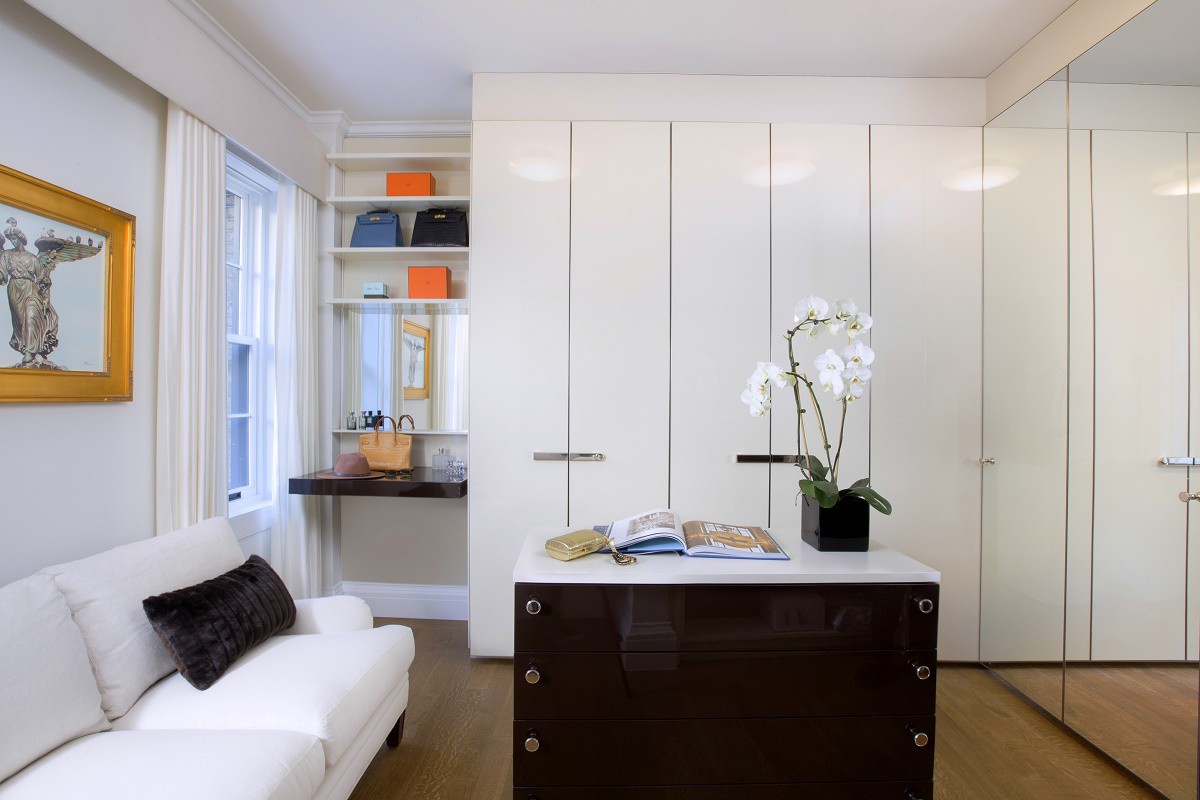 The master suite also includes a gorgeous walk-in closet/dressing room custom finished with white and mirrored walls by Ornare. An island provides storage for jewelry and accessories while a high-top desk serves as an organizational area.
That concludes our photo tour of this lovely city residence. There is a total of four bedrooms, and four bathrooms, plus a powder room. The building includes white glove doormen and concierge services, as well as a fitness center among their amenities. Britto Charette's refined contemporary design has made this pied-a-terre the peaceful escape the owners were seeking.
Interior Design:  Britto Charette
Photography: Alexia Fodere
All photos and info courtesy of Britto Charette.
Exciting News From Britto Charette
Take a look at these!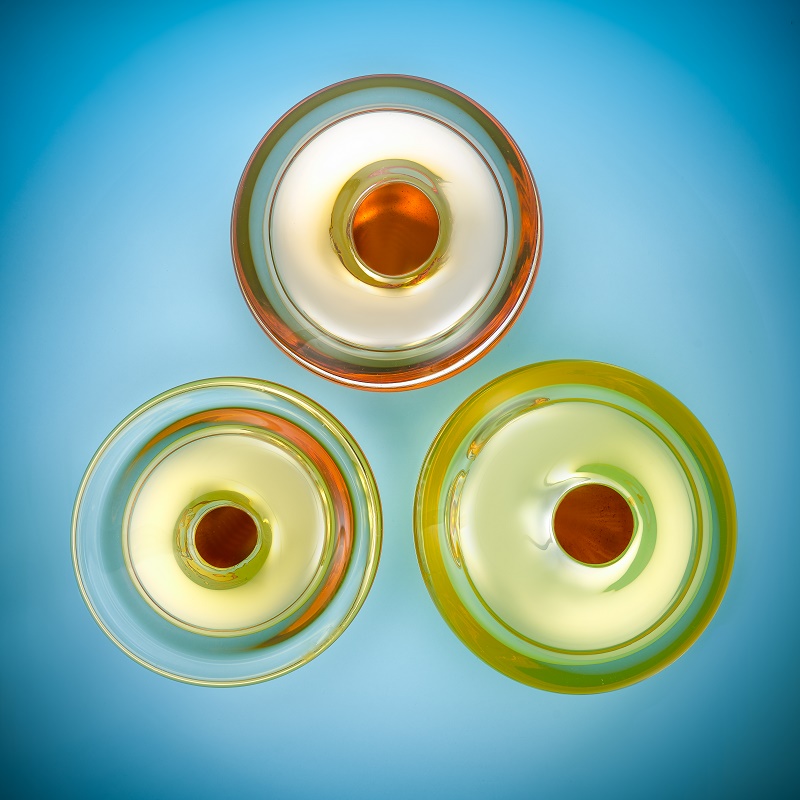 Miami designers Jay Britto and David Charette, of Britto Charette, have won Interior Design magazine's 2016 Best of Year award for their revelation in glass called PUQUIOS. Britto Charette, along with more than 2000 entrants from 38 countries, vied for the coveted title awarded in 130 product and interior design project categories.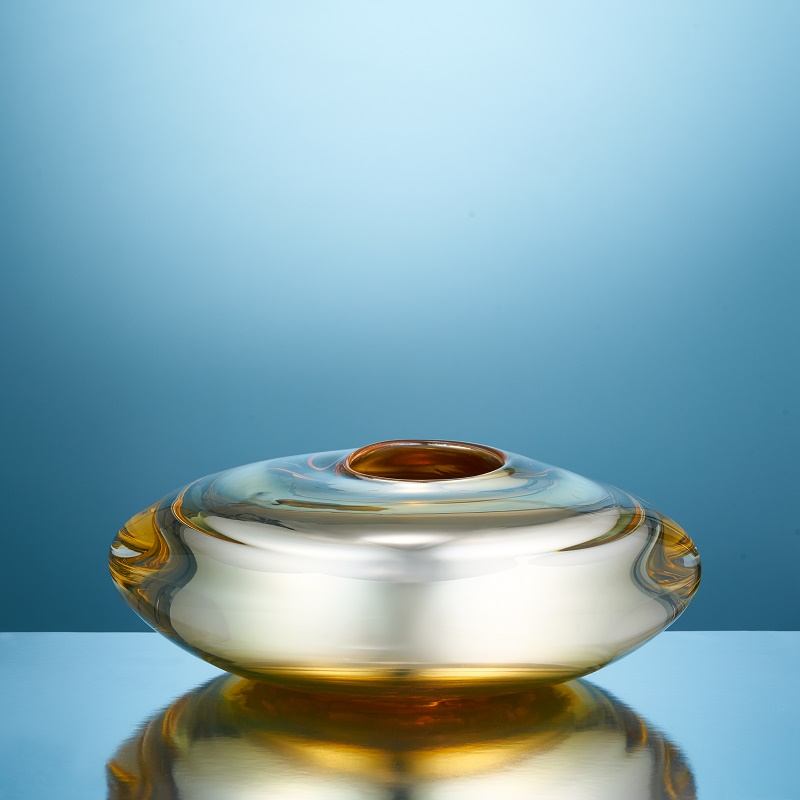 The designers captured shimmering light in PUQUIOS, their stunning new glass accessory inspired by Nasca wells—ancient rock-lined spirals that adorn Peru's most mythic landscape. Scientists believe the funnel-shaped wells created pressure to move water. The designers chose glass as the perfect vehicle to evoke a feeling of "pressure" when viewing PUQUOIS. Pressure to move toward it, to touch, and to enjoy the piece from every angle. From a distance, mercury appears to float within the glass, but as your proximity to the vessel changes, so does the vessel's exquisite coloration.  The amorphous solid is available in ethereal hues of rose and phosphorescent yellow. 12"X5" Dimensions are approximate. Each handcrafted piece contains subtle differences.  For more information please contact Margaret Charette at Margaret@brittocharette.com. (link above)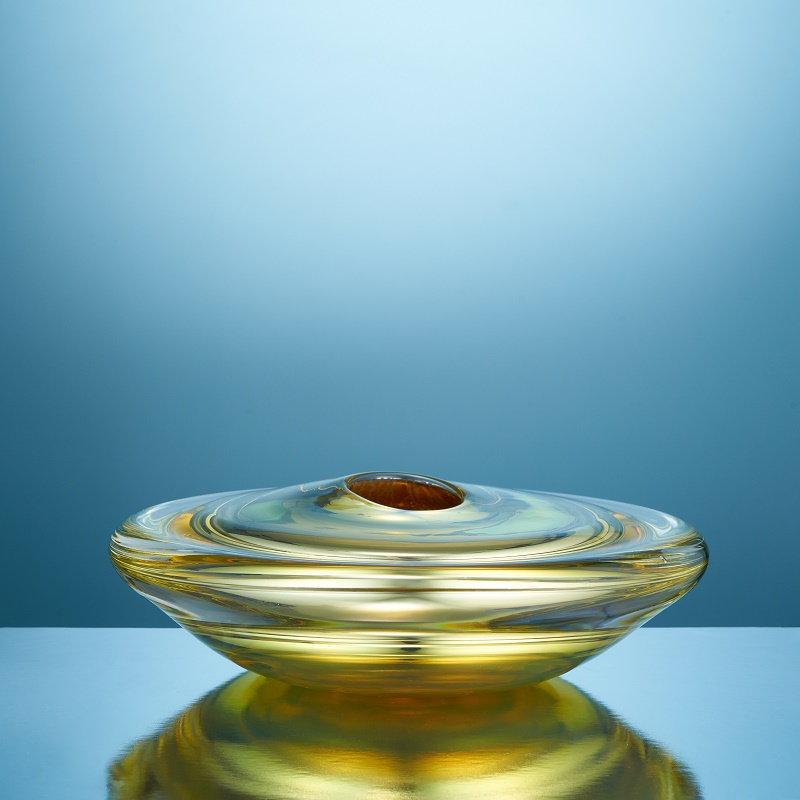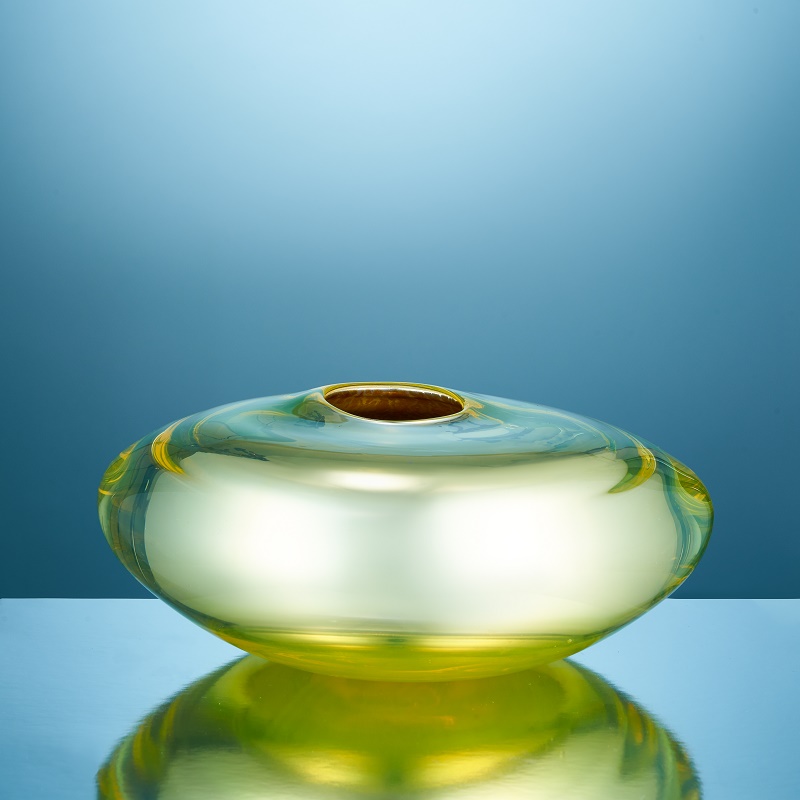 Britto Charette's Refined Contemporary Design Conclusion
That concludes our design inspiration for today, my friends!  I hope that you all have enjoyed the refined contemporary design of this residence on Manhattan's Upper East Side.
We are so excited and happy for Britto Charette and congratulate them for their win of 2016 Best of Year award for PUQUOIS.  They really are stunning.  The designer's artful and unique home accessories have garnered multiple awards through the years.  Be sure to check out the website to see their other items as well.  You can use the link provided above.
To see more projects completed by Britto Charette be sure to check out:
Luxury Interior Design in the Golden Mile
Firethorn: Contemporary Mountain Rustic
Let me hear from you all in the comments!  I want to know what you all think.
If you have enjoyed today's post of Marquand: Refined Contemporary Design, please share it on social media!
We thank you so much for reading along with us and want you to know how very much we appreciate you all.  Thank you!!
Have a great day!
Please like us and share: