Jamie Drake's Ultra Chic West Chelsea Apartment
Jamie Drake is one of the brightest lights in the world of interior design today.  The New York based superstar designer believes that the best décor expresses personality and place.  He has created some of the country's most glamorous interiors and distinctive spaces and has garnered the industry's highest accolades.  The designer is renowned for his exuberant and sophisticated use of color.  With his fresh inventive style and his attention to detail, Drake creates inviting luxurious interiors that are pleasing and livable.
Since launching his namesake multi-discipline firm, Drake Design Associates, immediately after graduation in 1978, he has completed countless interiors for an impressive roster of clients.  Notable residences include an LA luxury home for the Queen of Pop- Madonna, and multiple projects for his longtime client, former New York City Mayor and billionaire Michael Bloomberg, including the renovation of Gracie Mansion, the mayor's ceremonial residence.  The interior designer and his firm create residential and commercial interiors that are known for their urbane, stylish and dazzling aesthetic.  Drake also designs a diverse range of products for some of the world's most renowned manufacturers including home furniture, fabrics, rugs, faucets, and fixtures.
Today though, our inspiring interior design is coming from one of Drake's specific projects, his own 3,000-square-foot Manhattan apartment within the Annabelle Selldorf designed, 200 Eleventh Avenue residential building.  An exquisitely appointed two-bedroom corner unit, with a large square open living space, located in the heart of the gallery district in West Chelsea, with unobstructed views of the Hudson River.  The home is described as "the realization of his personal vision."  It is located within an unprecedented, stainless steel clad residential architecture tower designed by Selldorf Architects and represents the best of Downtown chic, with the first En-Suite-Sky-Garage allowing each of the unit owners to park on their own floor.  An elevator, programmed to recognize your car, takes you up to your private garage.  The building's sophisticated design has been a hit with celebrities with the privacy the feature provides.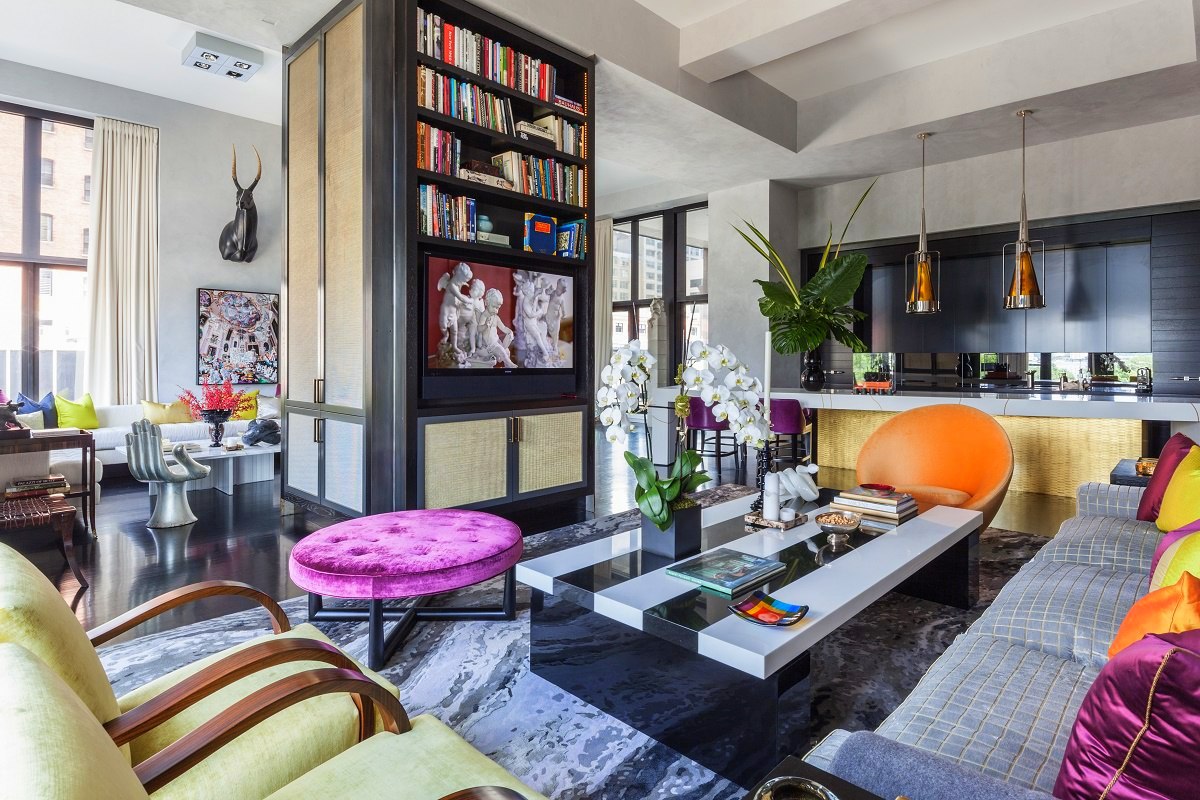 The home's glamorous interiors include 16-foot ceilings, and full height Wausau windows that completely mute all street noise.  The spacious open living area has been arranged around a central six-and-a-half-foot-square custom cabinet of bespoke design by Drake, which divides the space in two and creates two seating zones.  The cabinet is masterfully crafted with ebonized wood, lacquer, steel-and-brass-mesh door fronts, and patinated steel, inspired by the building's exterior.  One side is designed for watching the television which is encased in the unit.  This side has been furnished with a 13-foot-long contemporary design sofa upholstered in a silk blend from the Jamie Drake collection for Schumacher, a pumpkin mohair Milo Baughman lounge chair, a pair of Rubelli velvet covered club chairs, and a Rubelli velvet covered Madame X ottoman, all gathered on a Haldis I rug from the Alpha Workshops Collection by Edward Fields.   Vivid art is displayed throughout the home including Thomas Ruff's Substrat 24 I, which is featured above the sofa in this area.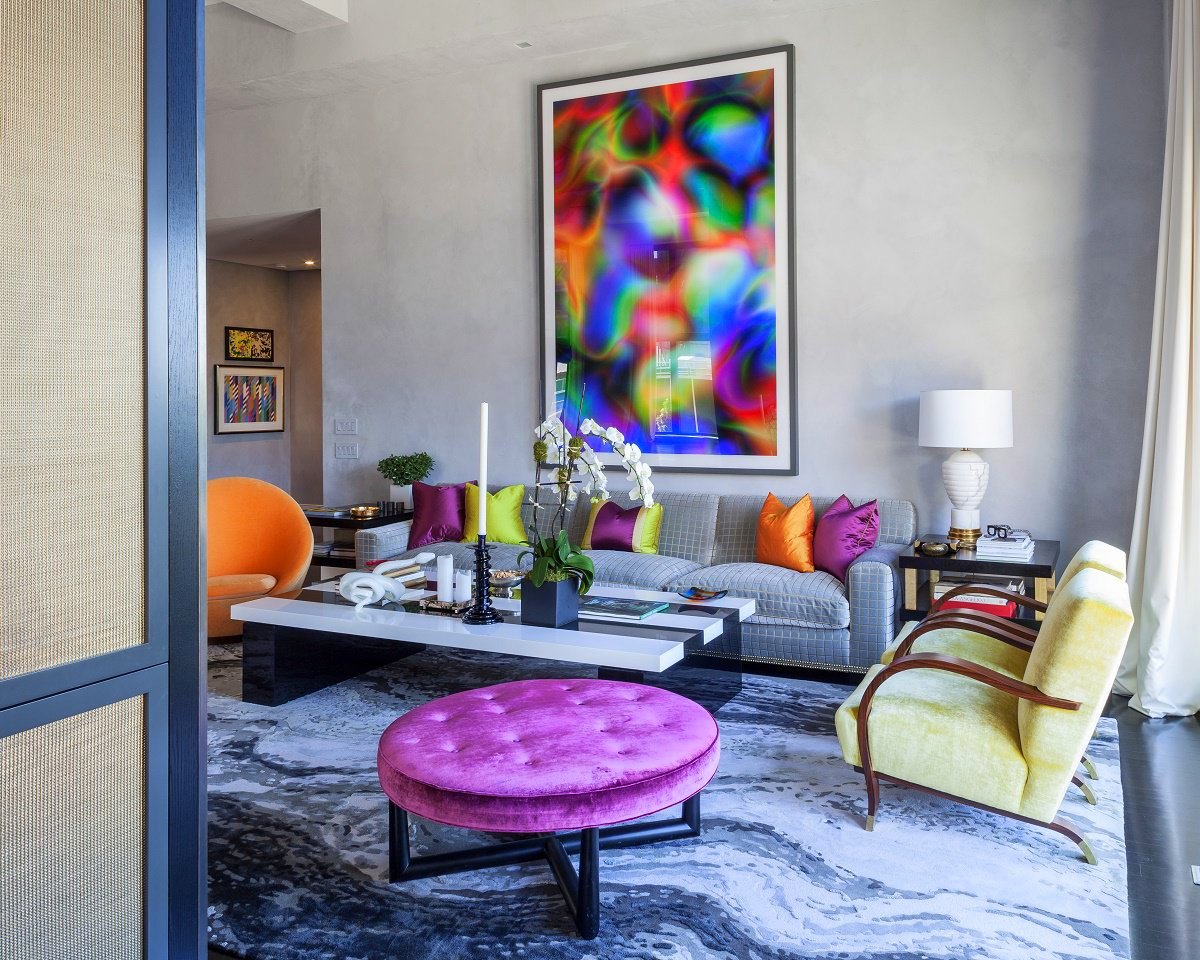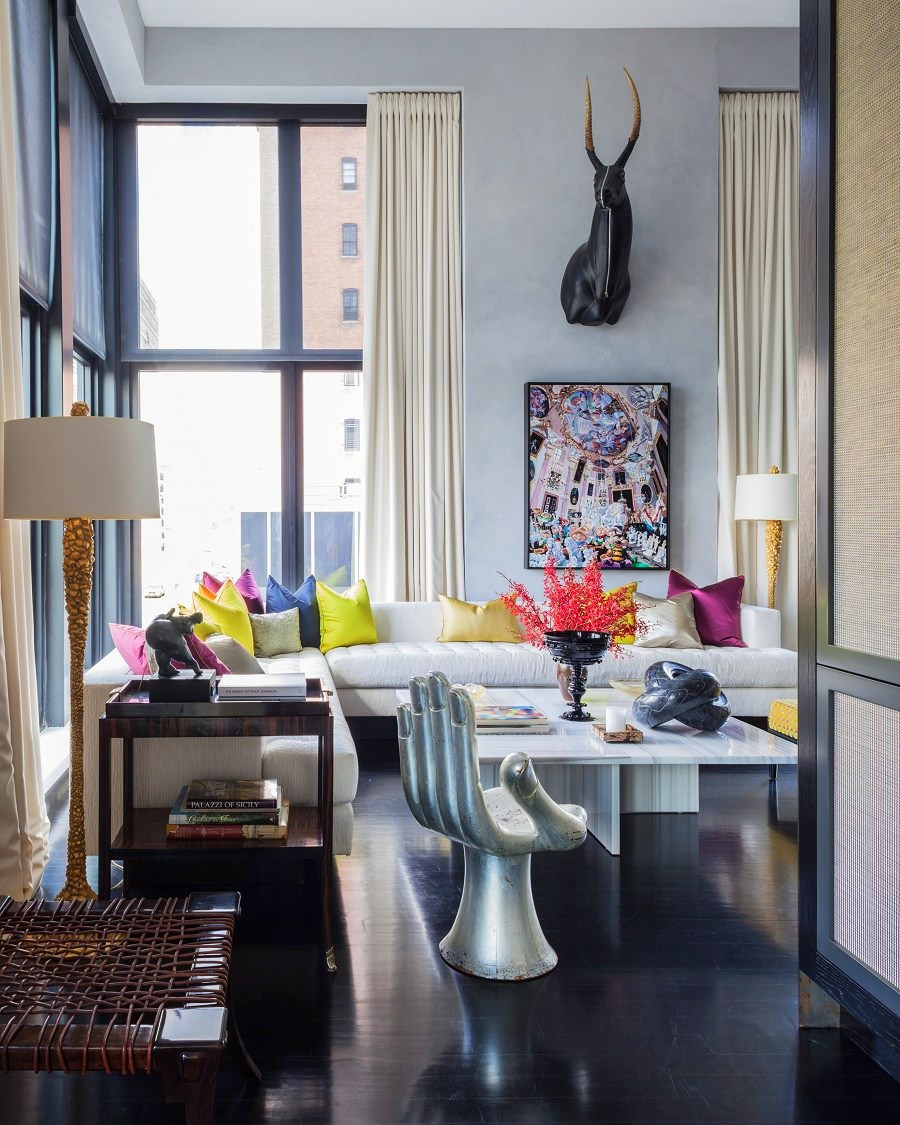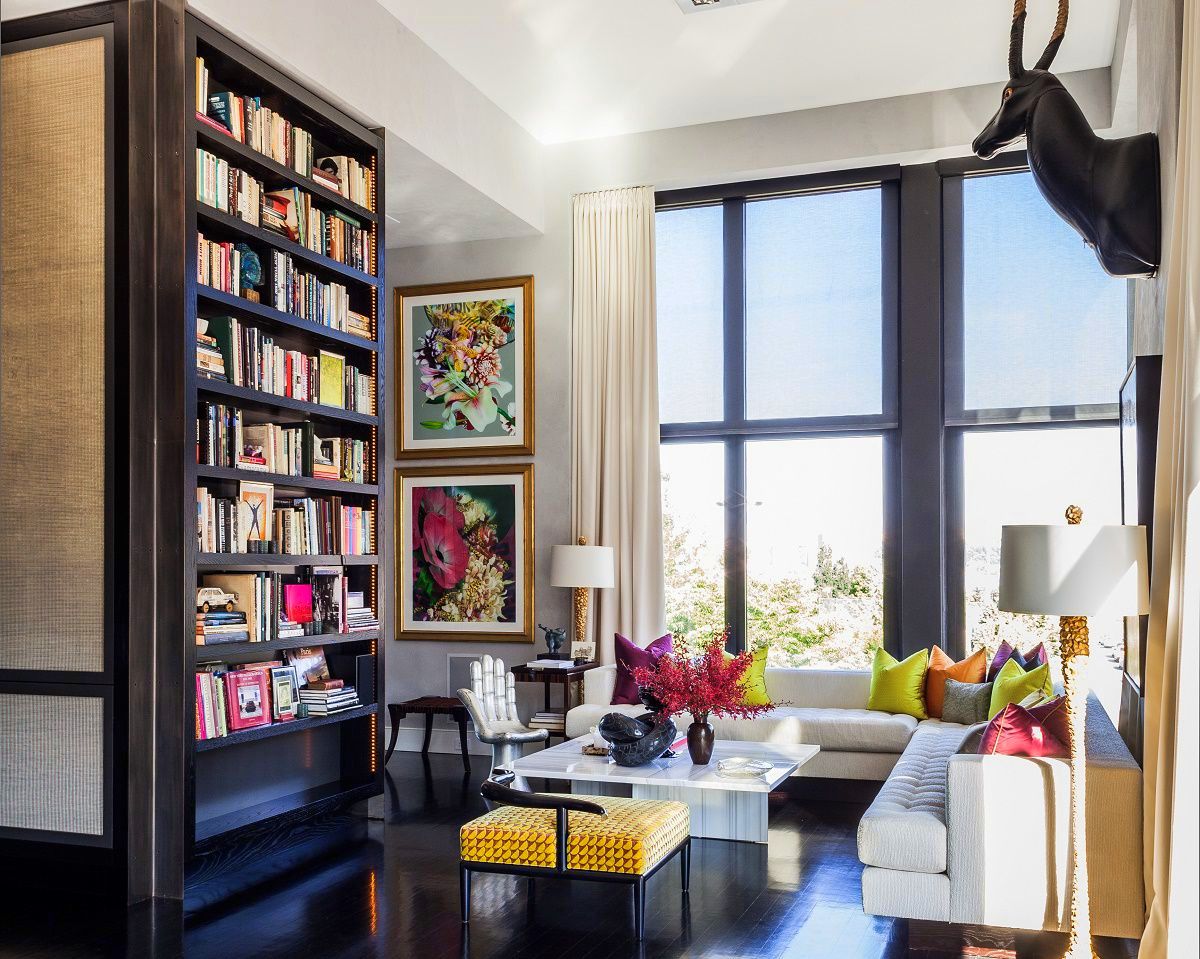 On the opposite side, the cabinet houses a floor-to-ceiling bookshelf, and this side has been furnished with an L-shaped sofa which provides seating for cocktails and conversation.  Also, to stimulate conversation, a faux antelope head with bondage-style black leather mask by Michael Combs is mounted on the wall.  The space includes other art and special pieces as well, such as the 1960's Hand Chair by Pedro Friedeberg.  Jamie loves to have guests over for cocktails and often entertains large crowds.  With this in mind, a generous space to the side of this seating area has been left intentionally open.  One needs a place for dancing when entertaining a crowd.  The area opens onto the loggia, which can hold even more guests.  The walls of this entire living area are finished with Venetian-plaster in a sidewalk gray color, and the floors are ebonized teak.  The designer dressed the windows with Gabardine Della Lana lamb's wool satin by Clarence House.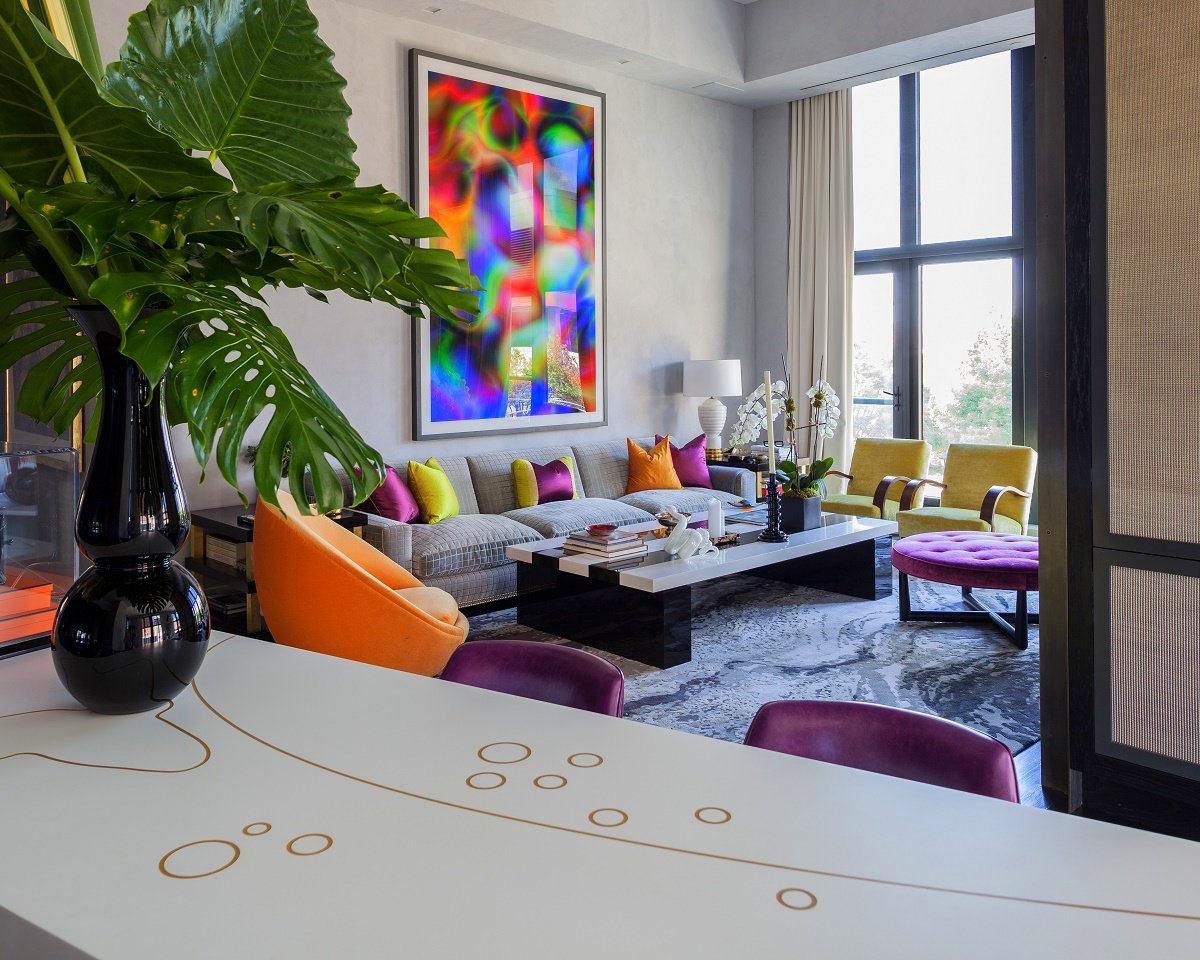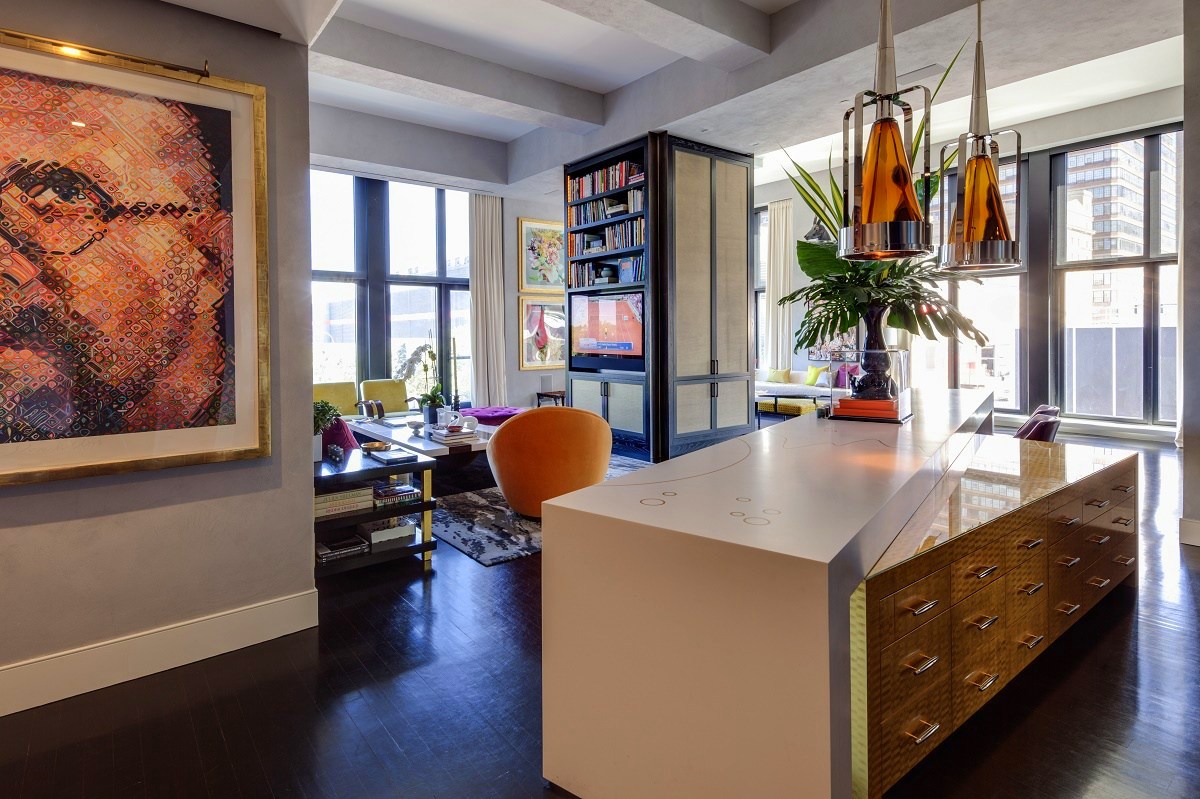 The open kitchen is defined by a two-tiered island, comprising a 22k gold-leafed cabinet that runs parallel to a dark-gray-lacquer appliance wall, and a 17-foot-long white Corian counter with inlaid-gold-leaf-designs, that overlaps it at an angle.  A pair of pendent lights in hand-blown amber glass and steel frames are suspended from above.  This is the view one sees upon entering the apartment,  including the large, framed portrait by Chuck Close.  Several of the design details throughout, such as the gold-leafing here, the gray plaster finish on the walls, and the gilded floor lamps in the living area were carried out by the Alpha Workshops, a non-profit organization that provides training and employment in the decorative arts to people with HIV/AIDS.  Drake serves as chairman of the organization's board.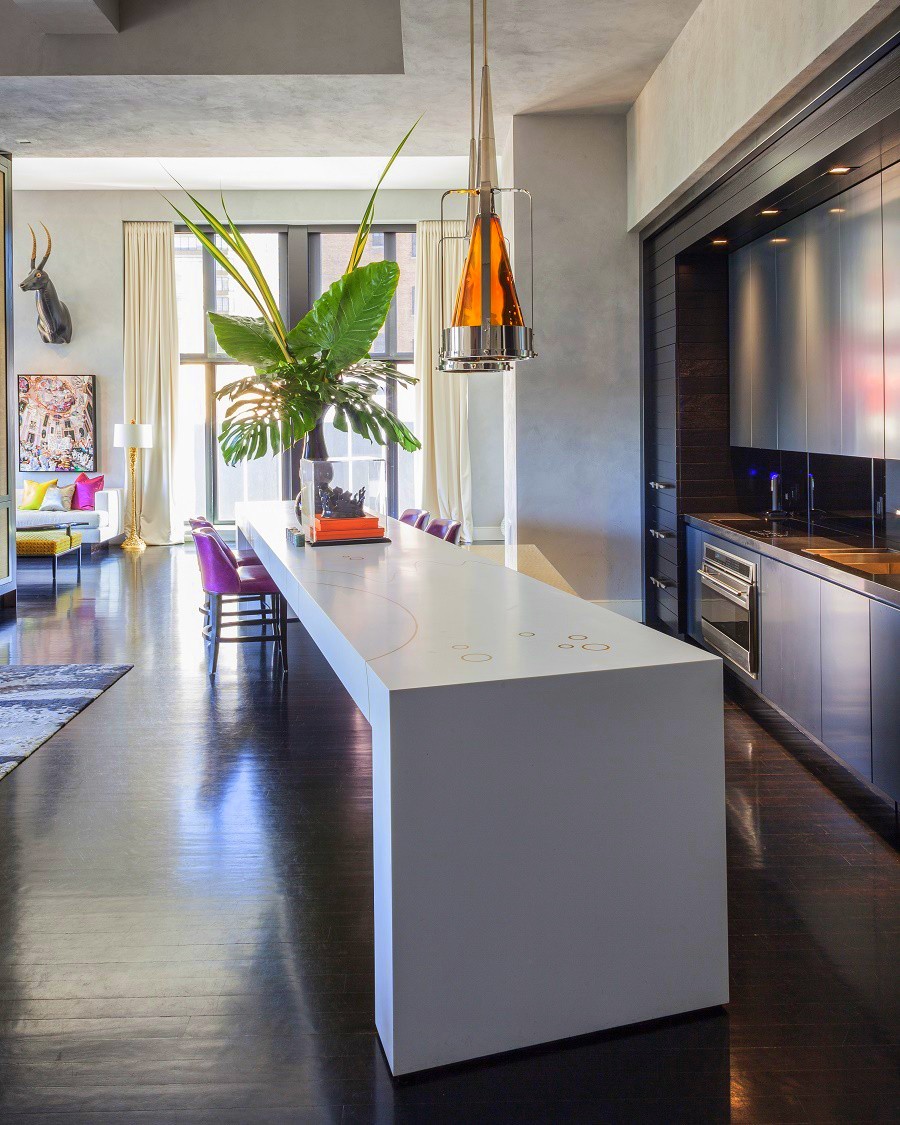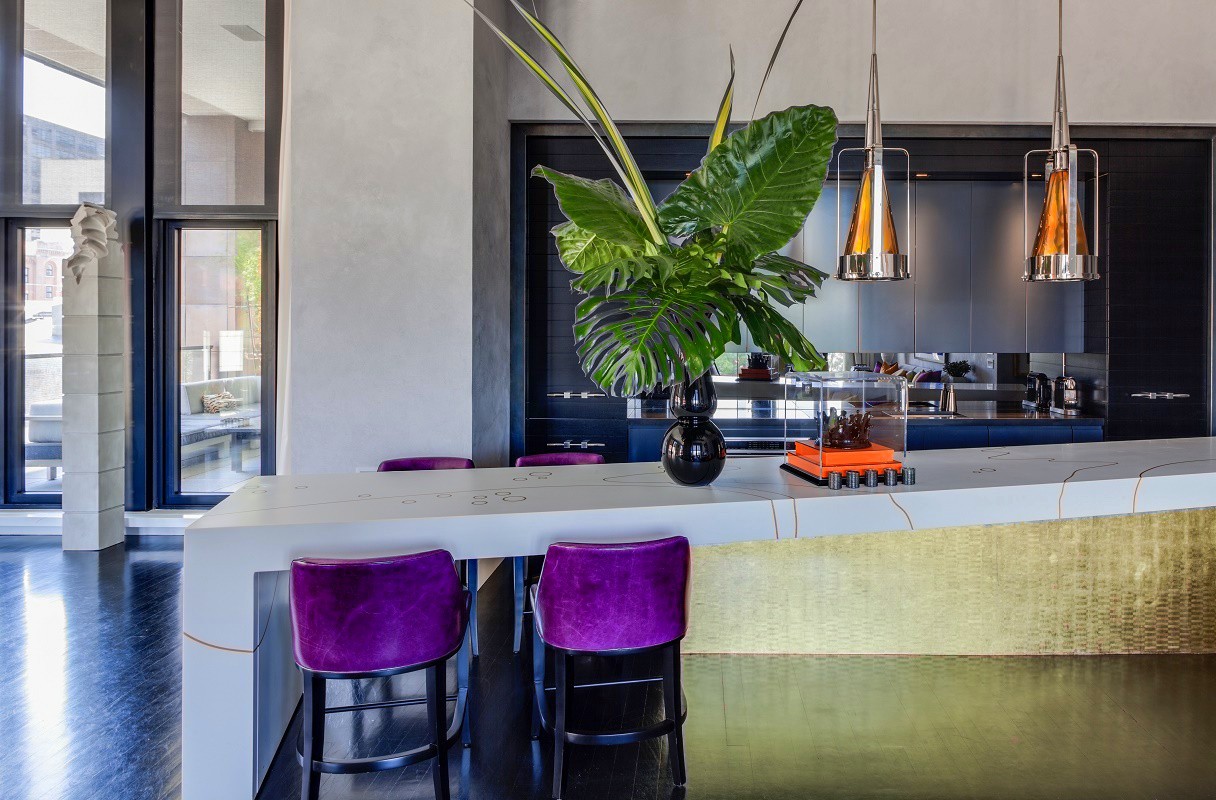 Jamie Drake Kitchen Design
The angled end of the Corian counter is surrounded by leather counter stools from the Bright Group, creating an eat-in area.  The home does not include a formal dining area or dining table.  Drake does not cook and doesn't entertain that way.  The whole idea behind the kitchen design is to serve more as a glamorous design wet bar versus common utilitarian kitchen functions.  Drake designed the home to be a reflection of him and his urbane lifestyle.  The space is to function a bit like a chic cocktail lounge really.  Let me state here, concerning the kitchen function- this is exactly how I feel as well.  I never cook and only use the refrigerator and microwave in my kitchen.  When I have lived alone and/or had separate places from my shared home with my partner, I always placed a silver tea set on my range to mask it.  My partner does cook and use the kitchen (a lot) in our shared home though, and I rarely ever go in it except to get something to drink.  Anytime he is gone for any length of time, I do get to go in there and edit the counters and put everything away, for my ideal kitchen is an unused kitchen with nothing at all on the counters except an occasional decorative item.  So I totally understand and appreciate Drake's interior design ideas for kitchens.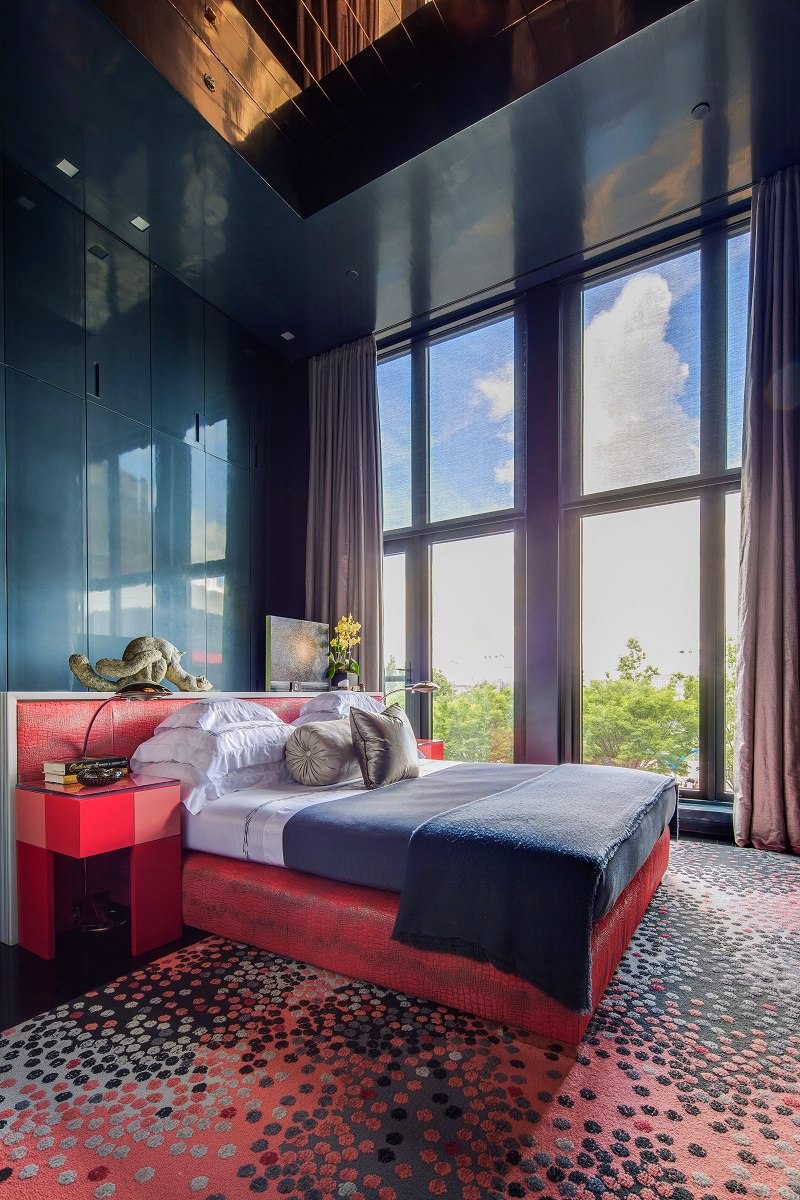 The master bedroom is the designer's sexy interpretation of the gentrified neighborhood's once gritty streets made glamorous.   The walls are lacquered high gloss gray.  Drake had the custom bed upholstered in vibrant coral color, crocodile patterned, hair-on hide, with coordinating coral color, lacquered nightstands.  High above the bed, recessed into a coffer, the ceiling is mirrored.  The room includes a custom colored abstract rug from the Archive Collection by Edward Fields, and plum Linen Celophane Boucle drapes.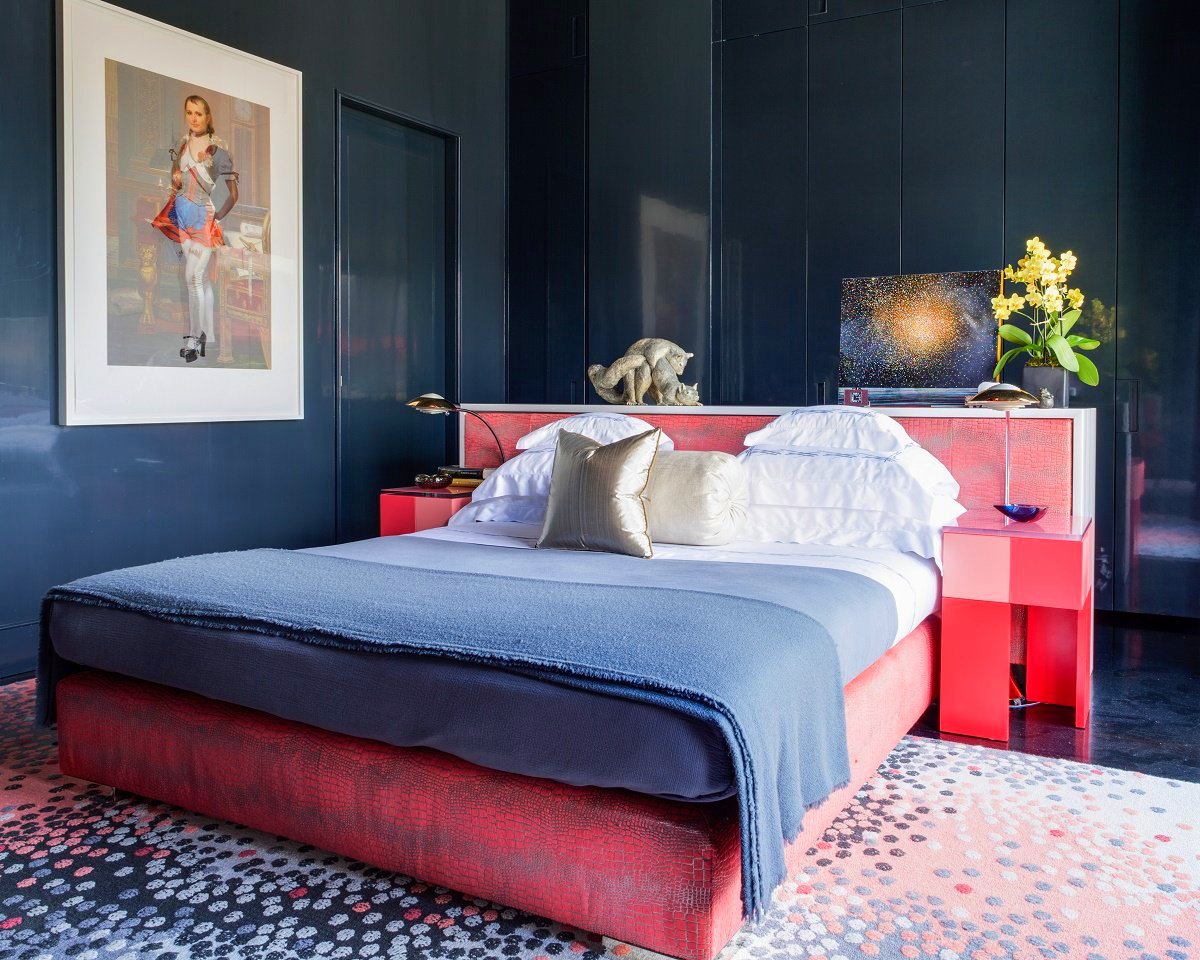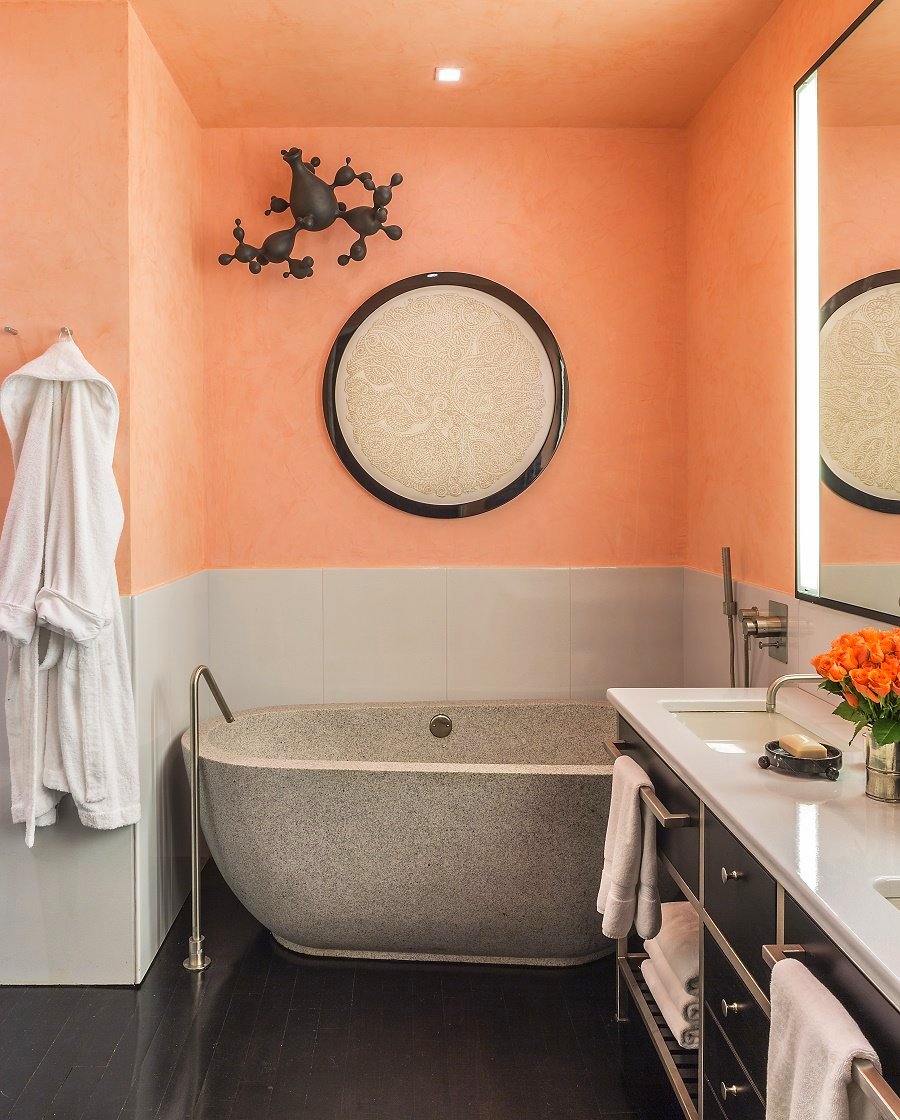 The bathroom walls are finished in perky peach Venetian plaster, while the drawer fronts of the vanity have been ebonized.  The minimalist design fixtures are by Boffi, and completing the space is my favorite feature, the granite soaking tub.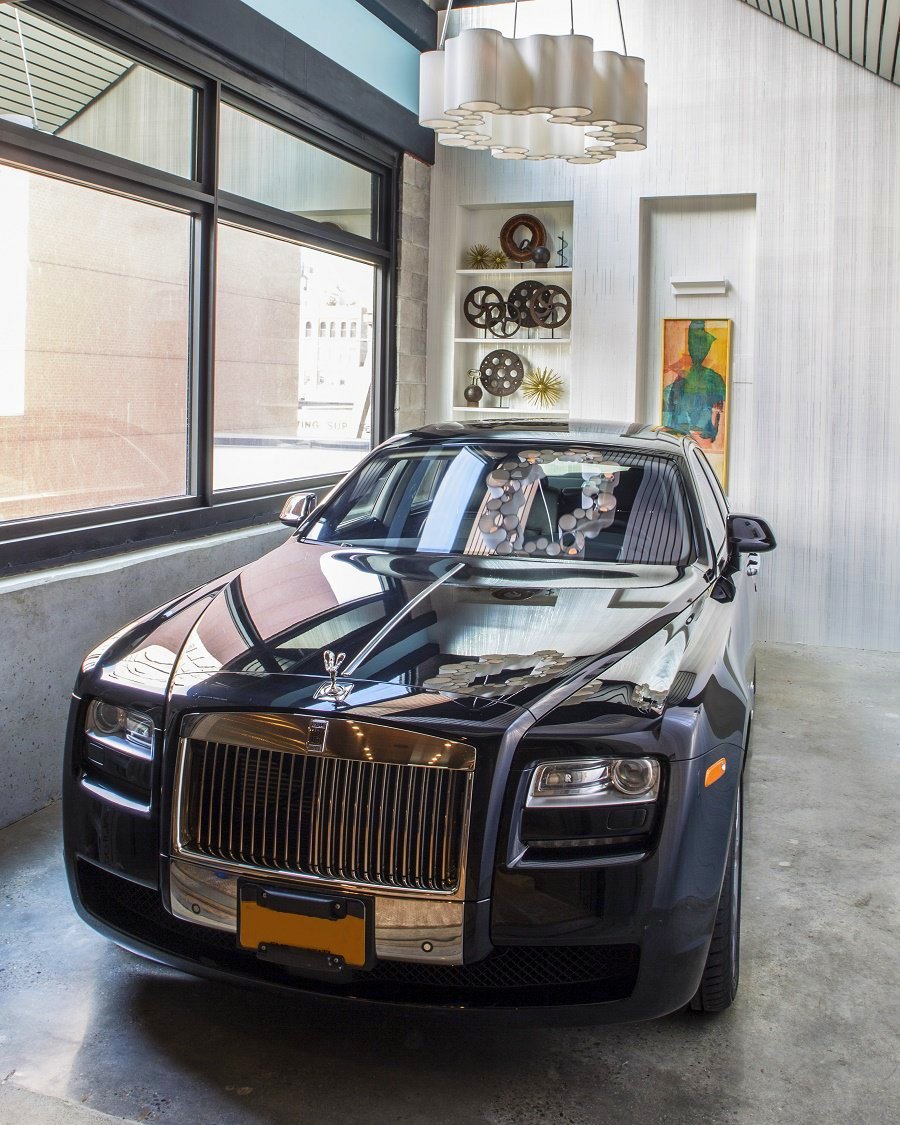 And here we have the signature en suite garage.  This is Manhattan, where having a designated parking space is a super luxury.  Having one right outside your high floor apartment was unheard of and the news of it being created in this building had the city buzzing.  Naturally, Drake decorated this double height space as well, installing an aluminum slatted ceiling at an angle, and suspending from it a sculptural chandelier designed by Ted Abramczyk for Ralph Pucci.  One can't park their Rolls Royce just anywhere.  Beyond that, when the designer host big parties, he parks his car elsewhere and the space serves as a lounge, again for more guest space.  The designer is said to entertain between 30 to 50 guests several times each month, and has hosted as many as 250-300 and more on several occasions.  The apartment suits his entertaining style perfectly.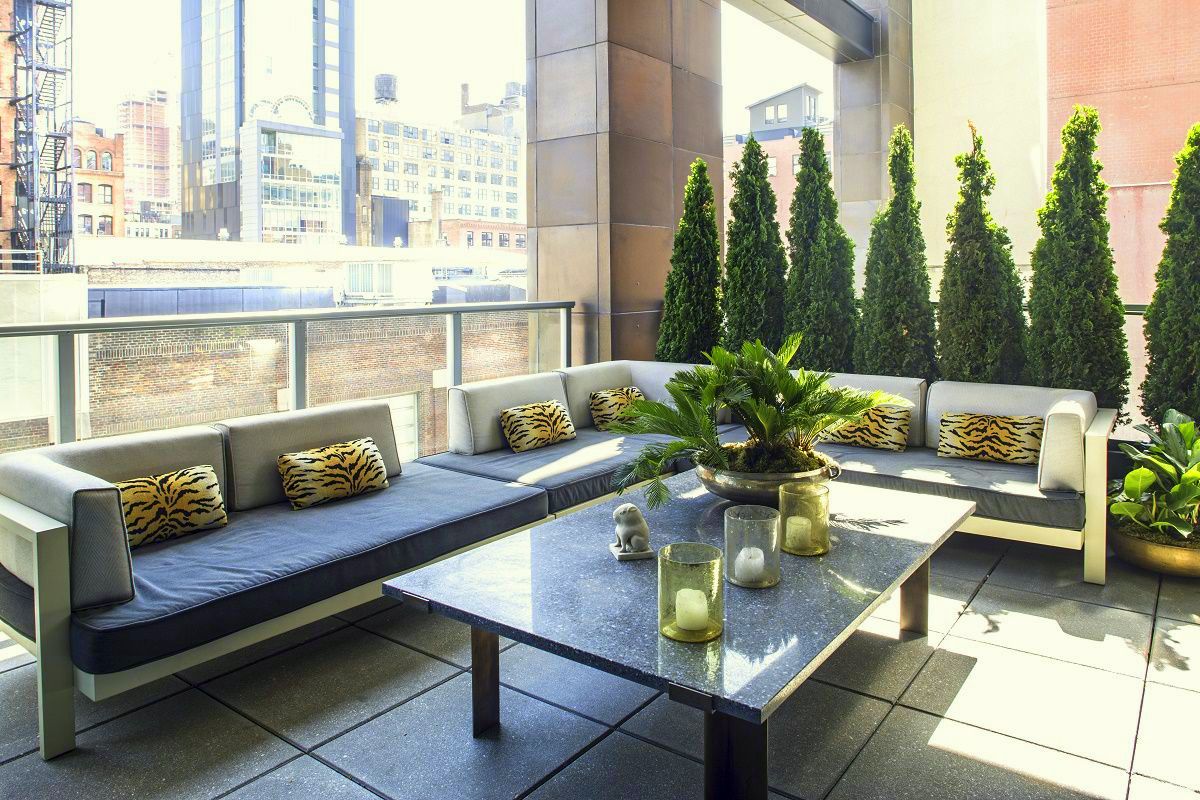 And lastly for our tour, here is the furnished loggia-terrace.  The apartment also has another bedroom with en suite bath and a guest powder room.  The residence is fully automated with a Crestron system, everything at the touch of a button.  The place is brilliant, and so personal.  The residence fully embraces all that modern design offers and is perfectly gracious and inviting with a style that is witty and engaging.
I hope you all have enjoyed today's inspiring interior design!  I'm sure everyone will be able to get some interior design ideas from this post which was a delight to put together.
Photos and info courtesy of and with very special thanks to Jamie Drake (and Whitney)..@ Drake Design Associates- New York
Drake Design Associates @  www.drakedesignassociates.com
Photography by Marco Ricca @  www.marcoriccastudio.com
Additional sources:
Please like us and share: