Contemporary Classical Interiors: San Francisco
Our design inspiration for today comes from an elegant contemporary classical apartment located in one of San Francisco's most desirable residential addresses. Architect Andrew Skurman and interior designer Suzanne Tucker transformed a full floor, 6,000-square-foot apartment into a contemporary home rich with classical architectural details and modern luxury. The residence is within an exclusive 1924 Beaux-Arts luxury co-op apartment building often called the "crown jewel" of prestigious Pacific Heights. It is set among a beautifully landscaped garden and positioned to provide stunning unobstructed views of the city and San Francisco Bay.
The apartment was a dream find for the new owners, a married couple who were long-time clients of the designer, though the 1970s-interior design was not. The architect reconfigured the floor plan to provide a more open, circular flow ideal for elegant entertaining and comfortable modern day city living. He gutted the original five-bedroom space and created a single master bedroom suite complete with separate his-and-her studies, bathrooms, and dressing rooms.
The well-proportioned public rooms feature high ceilings, beautiful Parquet de Versailles floors, and Neoclassical-style architectural details including deep crown molding, fluted pilasters, and Doric columns. The classical elements combine with an edited curation of English furnishings, European antiques, new bespoke pieces, and contemporary art. The results are highly personal, richly layered, luxurious contemporary classical interiors designed for the owner's lifestyle.
In the opening photo, we see the living room where linen damask by Rose Tarlow Melrose House adds a soft, subtle texture to the walls. Nathan Oliveira's Stele/Head painting hangs above a custom cinnamon-colored, silk velvet upholstered sofa. The table lamp is a re-purposed Han-dynasty jar. The designer artfully mixes antiques from all periods alongside contemporary works creating a look that is timeless and original.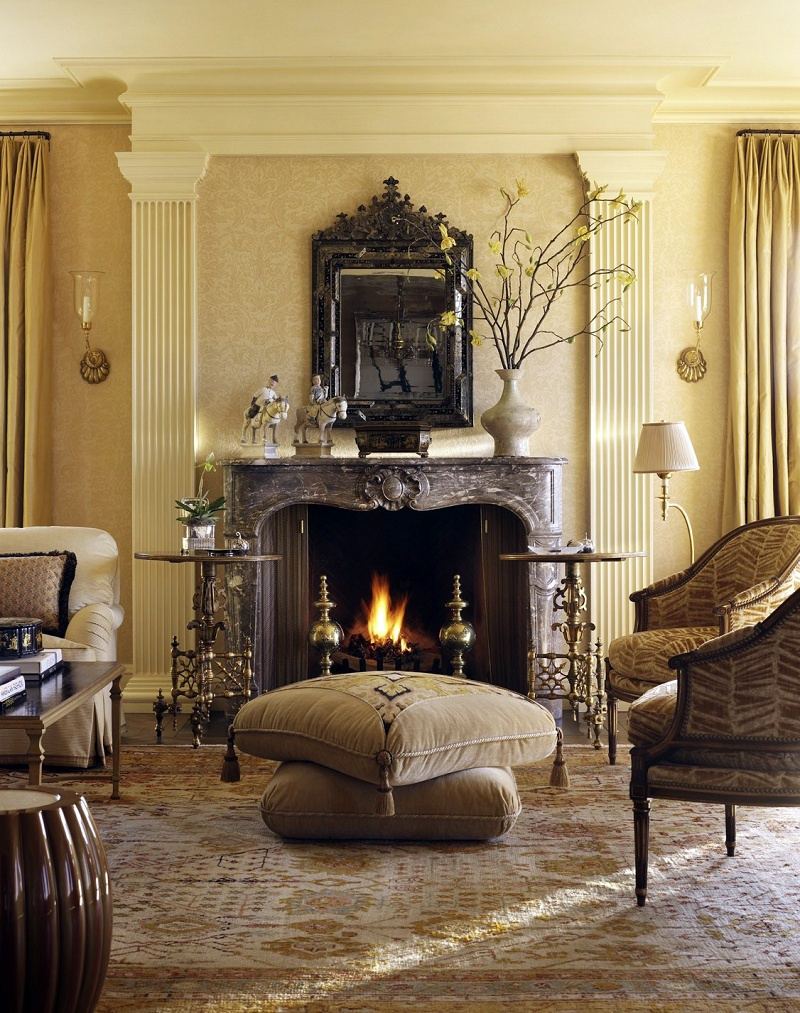 An 18th-century Spanish mirror hangs above a Louis XV marble fireplace mantle, while a pair of Napoleon III side tables sits on either side. A custom ottoman inset with an 18th-century Italian textile centers the room which gathers on a 19th-century Oushak rug. Brunschwig and Fils velvet on the tub chairs adds a bit of edge to the setting.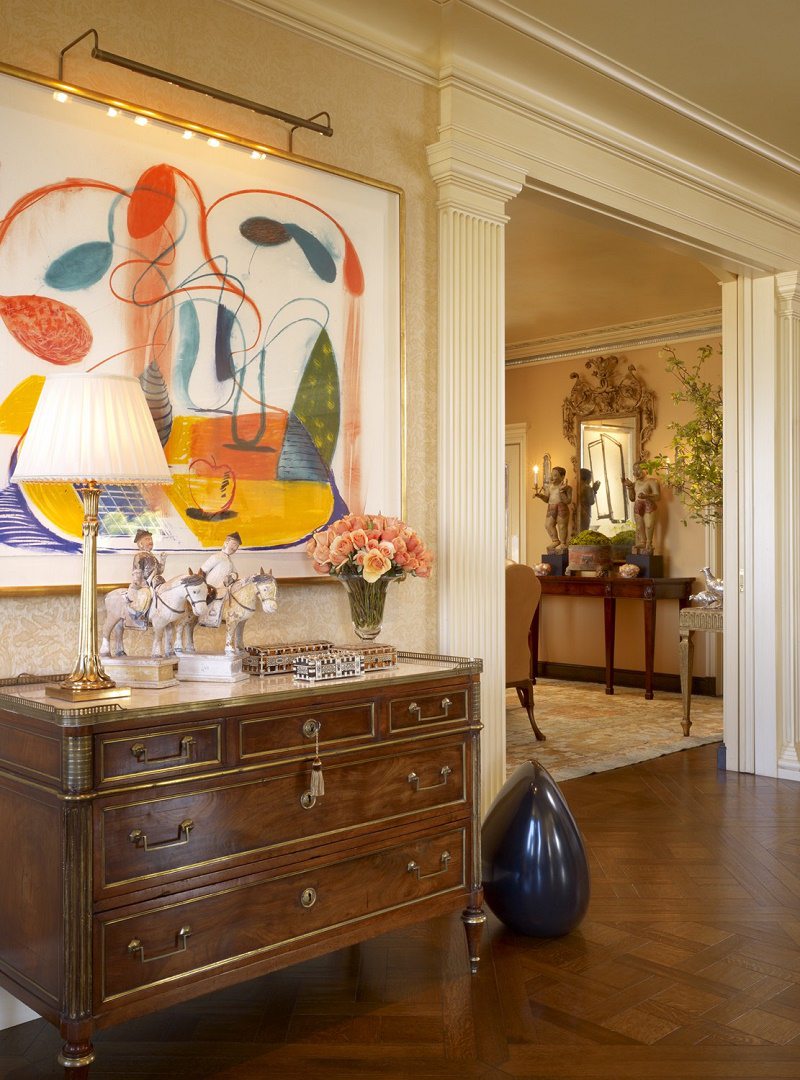 David Hockney's Table Flowable hangs above an antique French commode. Juan Hamilton's For Annie sculpture stands to the side.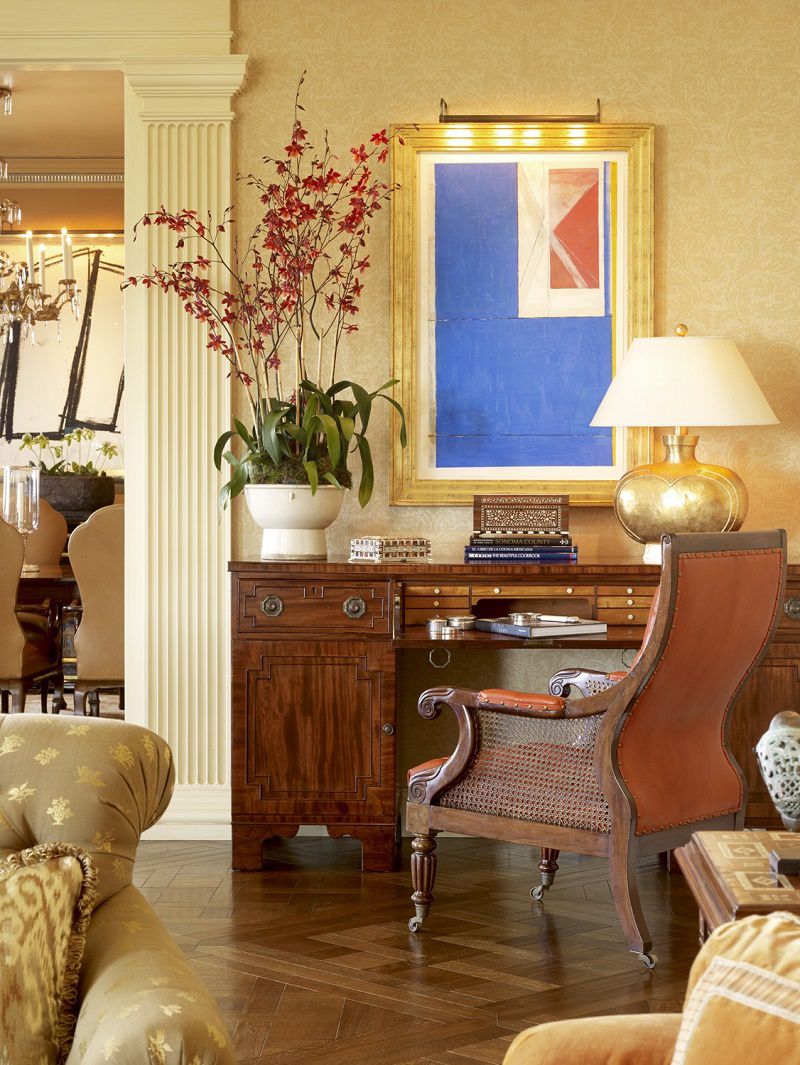 Richard Diebenkorn's Blue injects a bit of color above a 19th-century English desk and armchair. The gourd lamp is vintage by Robert Kuo.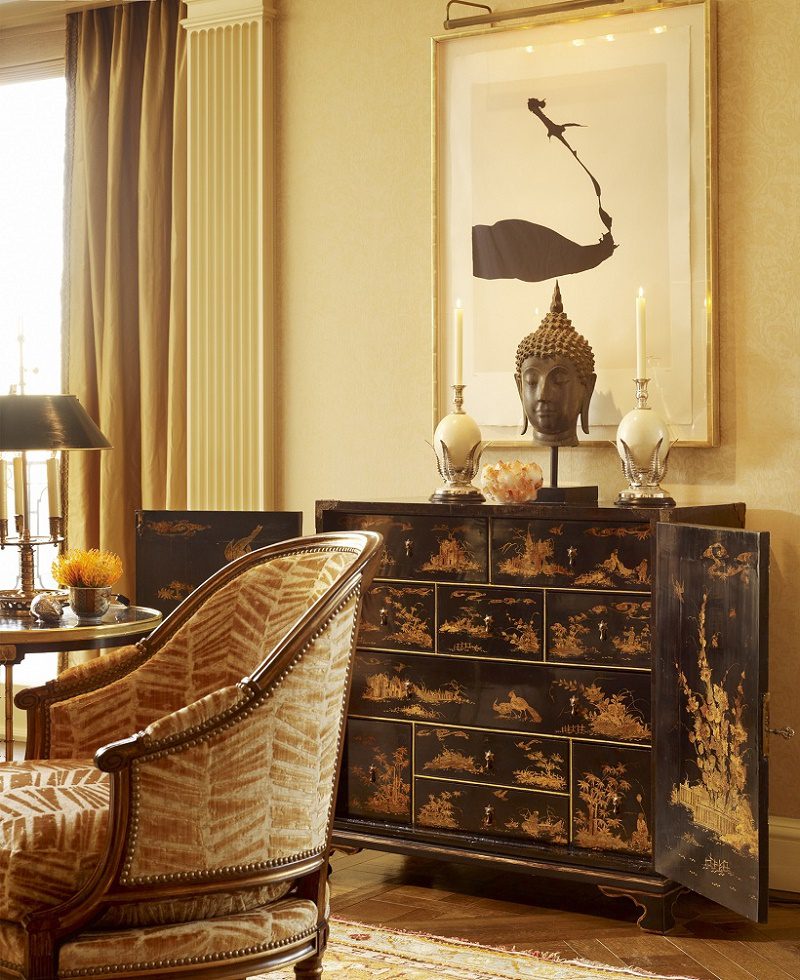 Robert Motherwell's Africa Suite #6 creates a worldly sophistication paired with an 18th-century Chinoiserie cabinet holding an antique bronze Buddha head.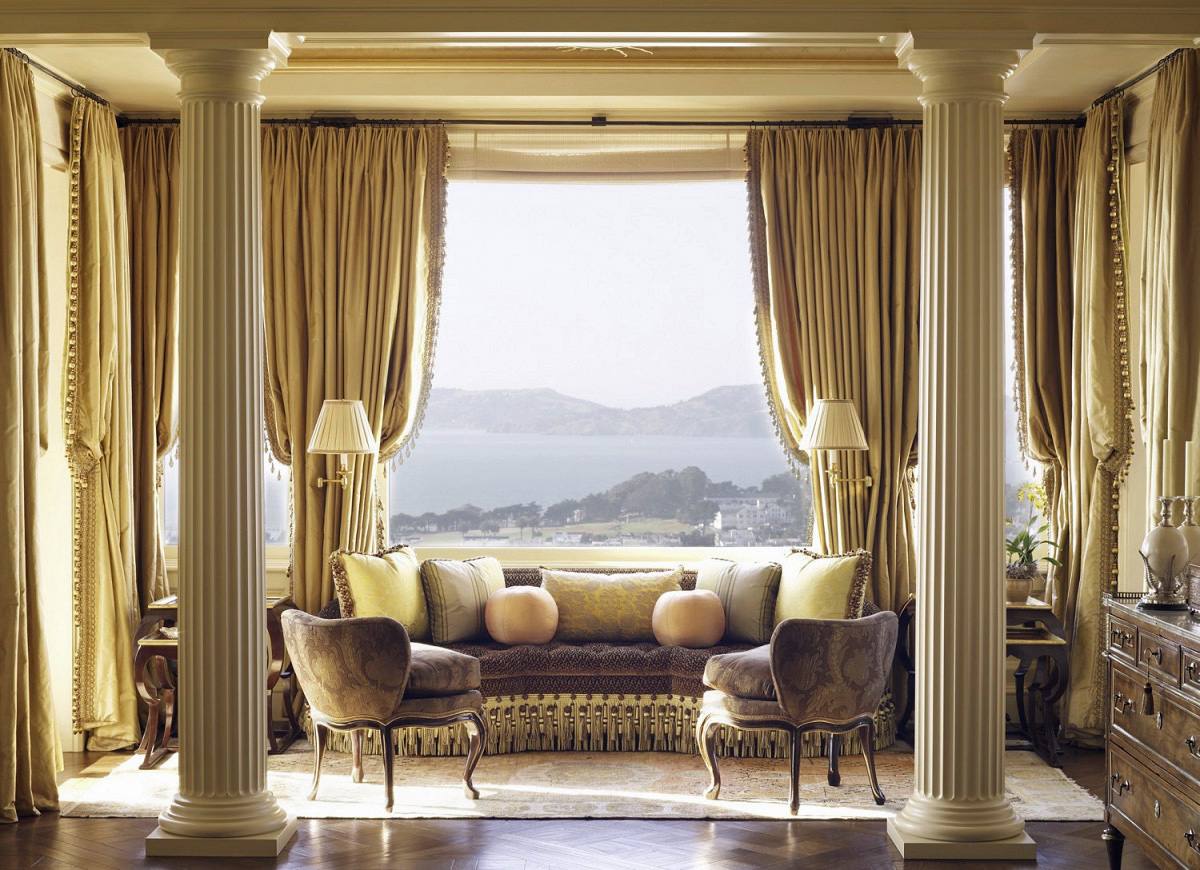 A sumptuously decorated, window framed alcove provides scenic views of the San Francisco Bay.  The decadent alcove, highlighted with a stately pair of Doric columns, also gives access to the terrace. A custom sofa upholstered in a Clarence House fabric and a pair of silk damask upholstered Michael Taylor "frog" chairs gather on an antique Khotan rug.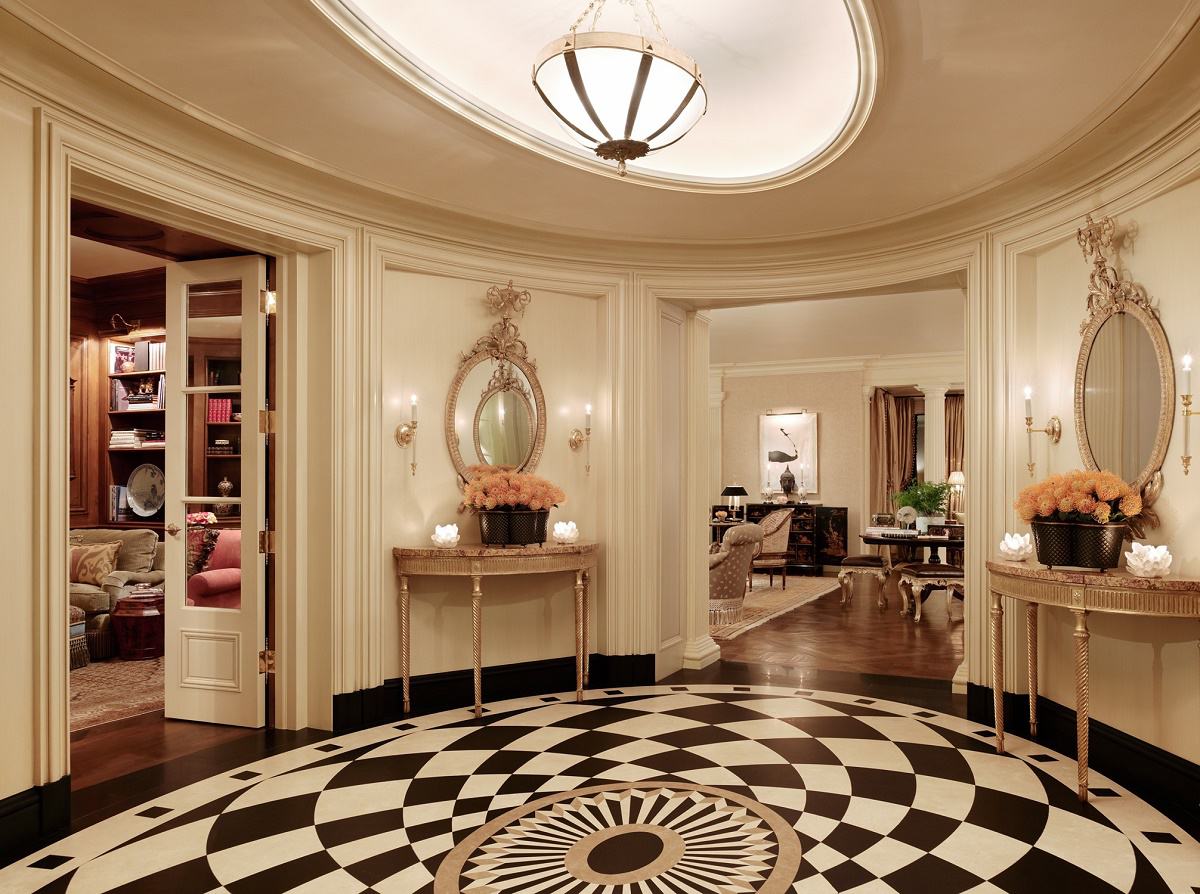 A domed ceiling crowns the statement-making oval entrance hall above, while a dramatic inlaid Belgian marble floor completes it below creating an exemplary contemporary classical scene. A pair of George III mirrors and Demilune tables flank the entry to the living room.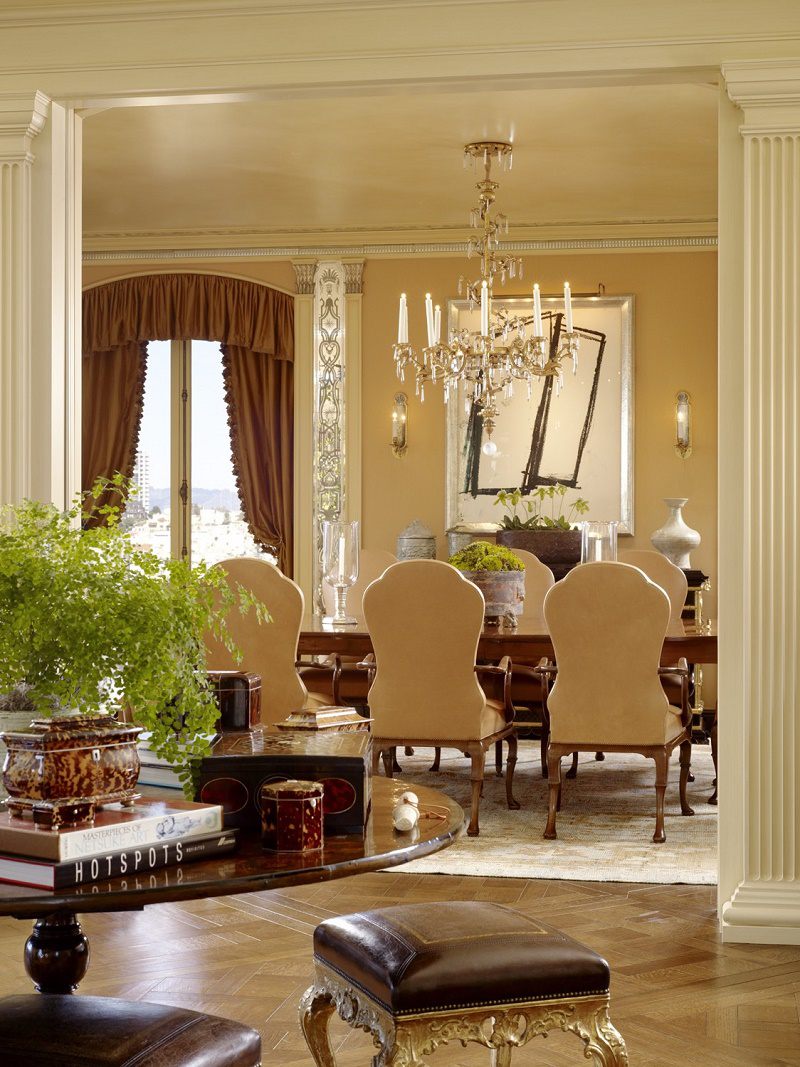 The formal dining room includes the only details that remain from the previous design; etched mirror moldings, inlays and door panels. A Directoire dining table groups with a suite of Queen Anne-style armchairs by Gregorius Pineo beneath a Biedermeier chandelier from Therien & Co. The drawing is by Richard Serra.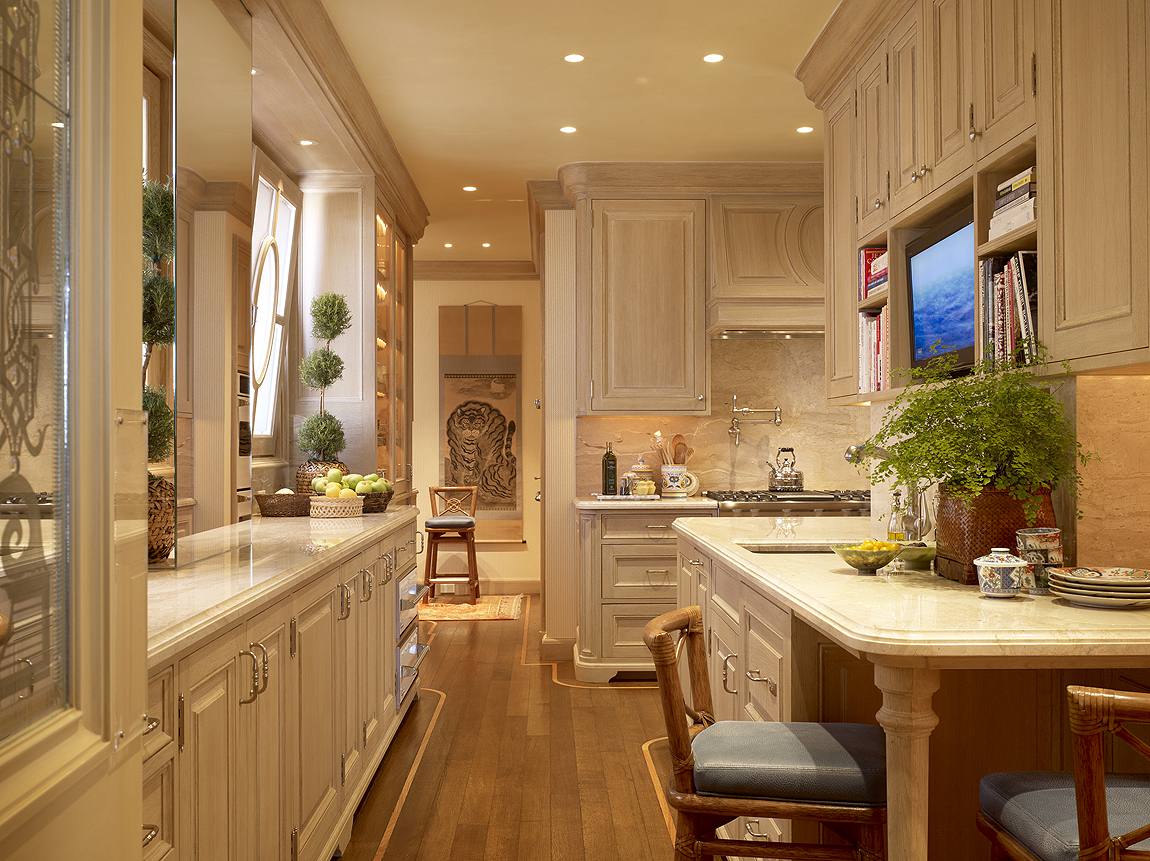 The spacious kitchen includes bleached white oak cabinetry, cafe au lait marble counter-tops, honey oak floors, glass-fronted china cabinets, and Viking appliances.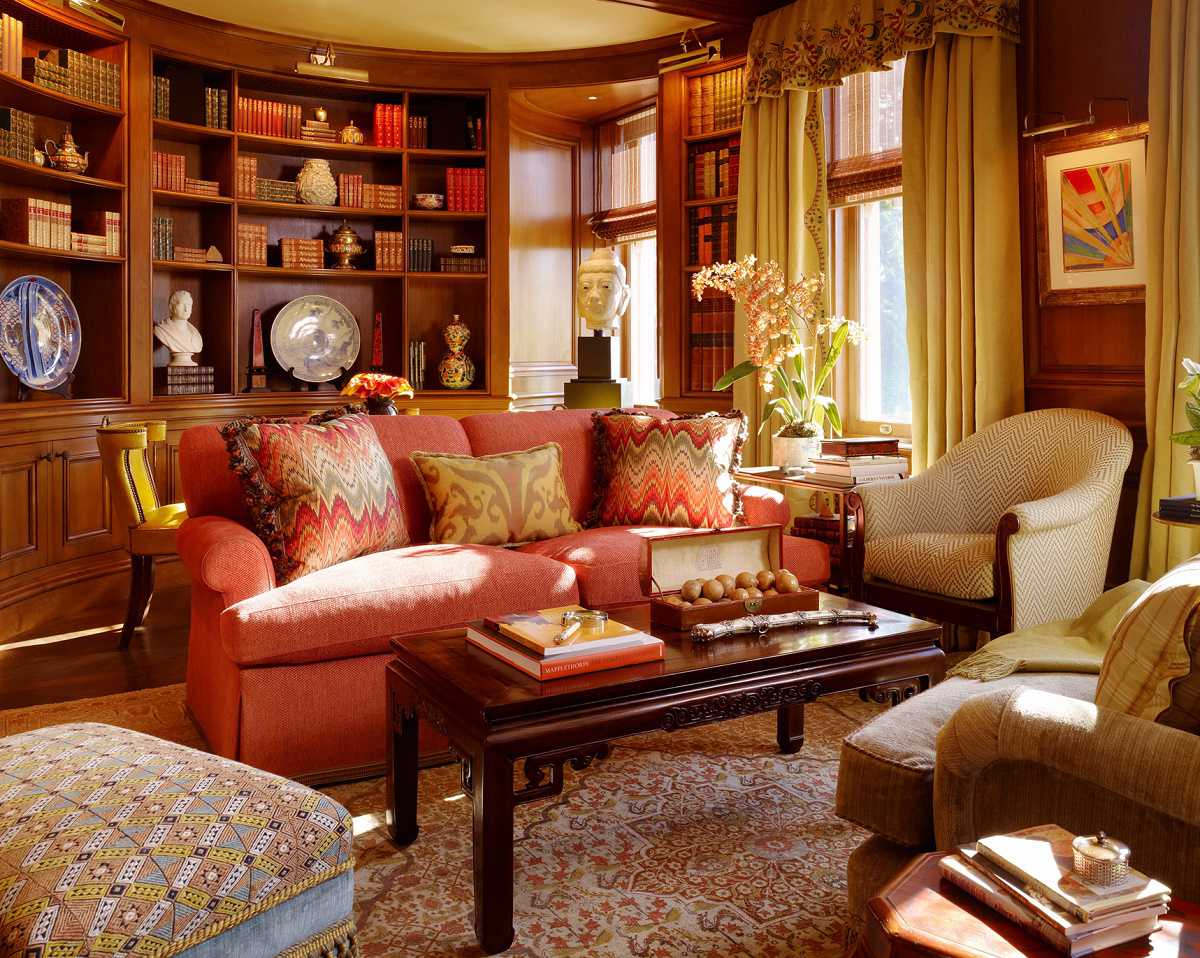 In the walnut-paneled library, custom embroidered citron-hued draperies frame the windows. A 19th-century English center table from Florian Papp groups with chairs by Soane Britain upholstered in chartreuse calfskin. Frank Stella's Study for New York Interpreted centers the room.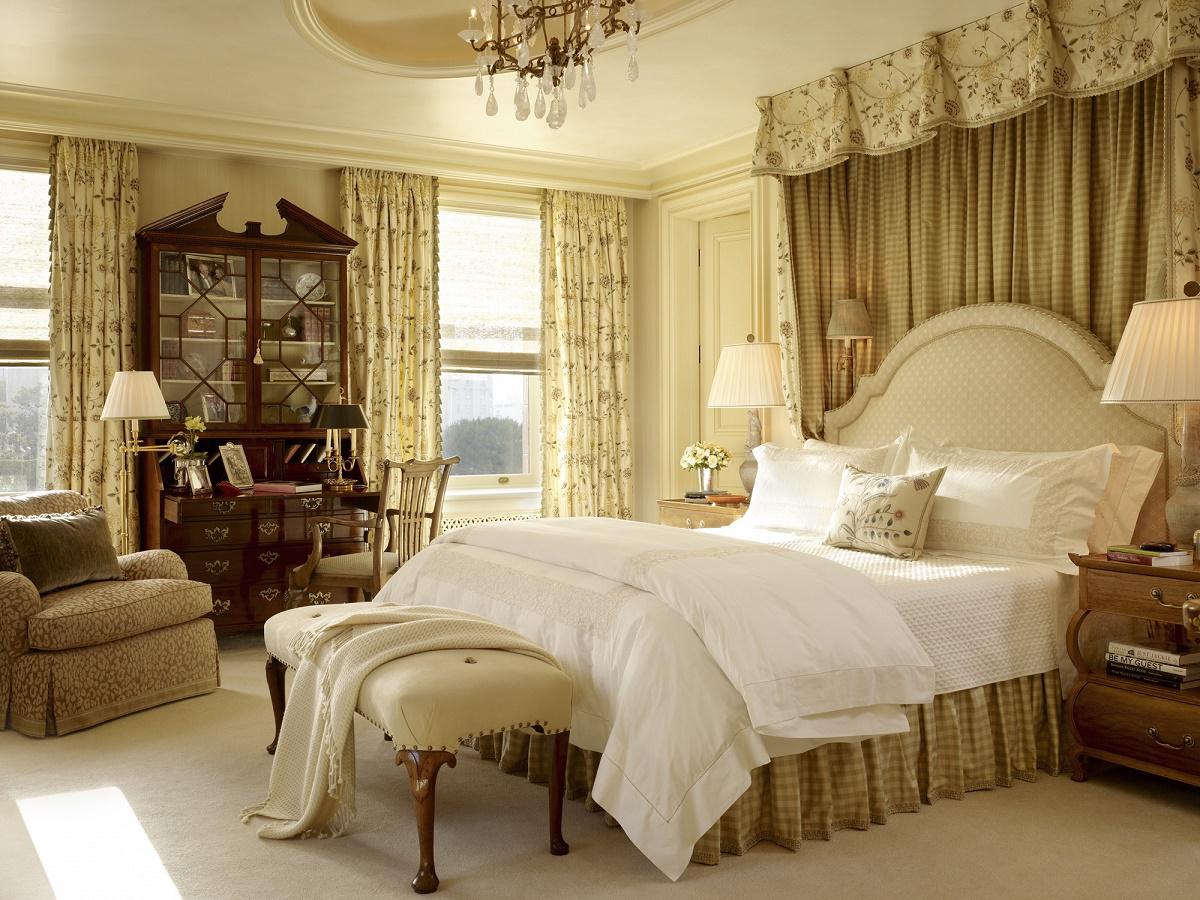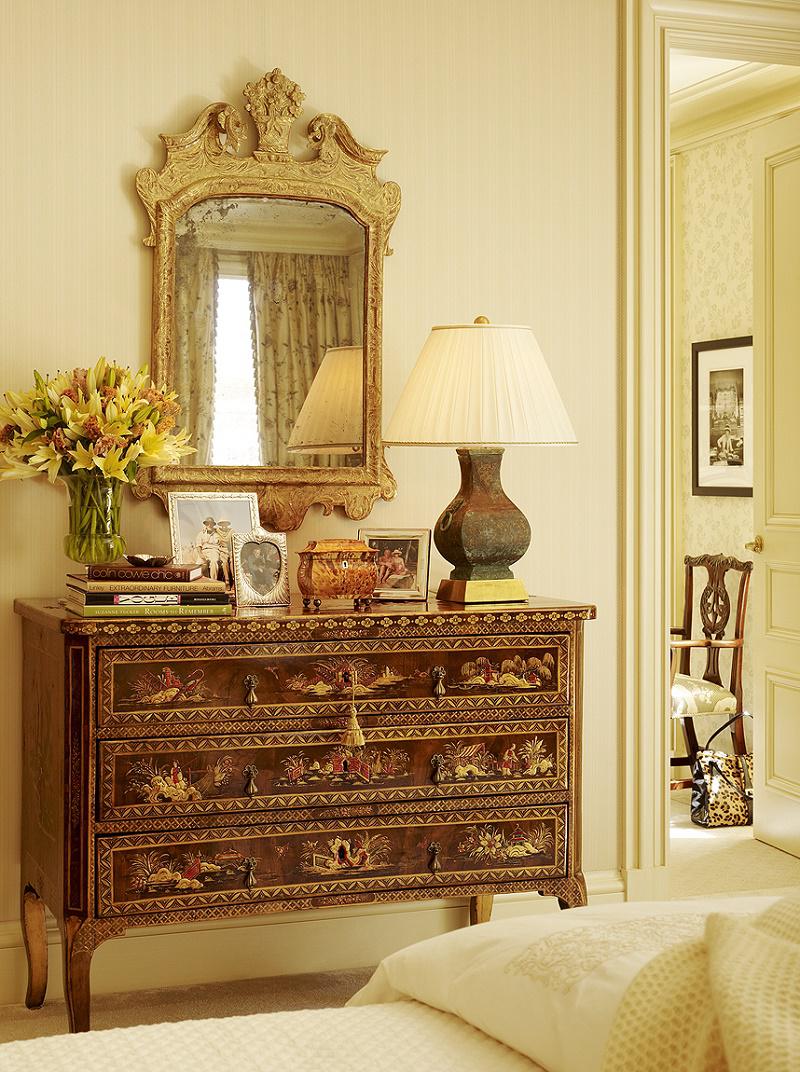 Traditional elegance defines the soothing master bedroom which serves as a true sanctuary for the owners. A recessed oval dome illuminated by a rock crystal chandelier continues the contemporary classical styling. Layers of textured fabric create the feeling of being ensconced in a cocoon. Strie silk upholstered walls set the luxurious tone. Embroidered fabric from Colefax and Fowler make up the window and outer bed draperies. Schumacher silk makes the bed skirt and lines the inner side of the bed drapes. A Chippendale Secretary anchors the wall between the windows. On another wall leading into the wife's study, an antique English giltwood mirror hangs above an 18th-century Italian Chinoiserie commode.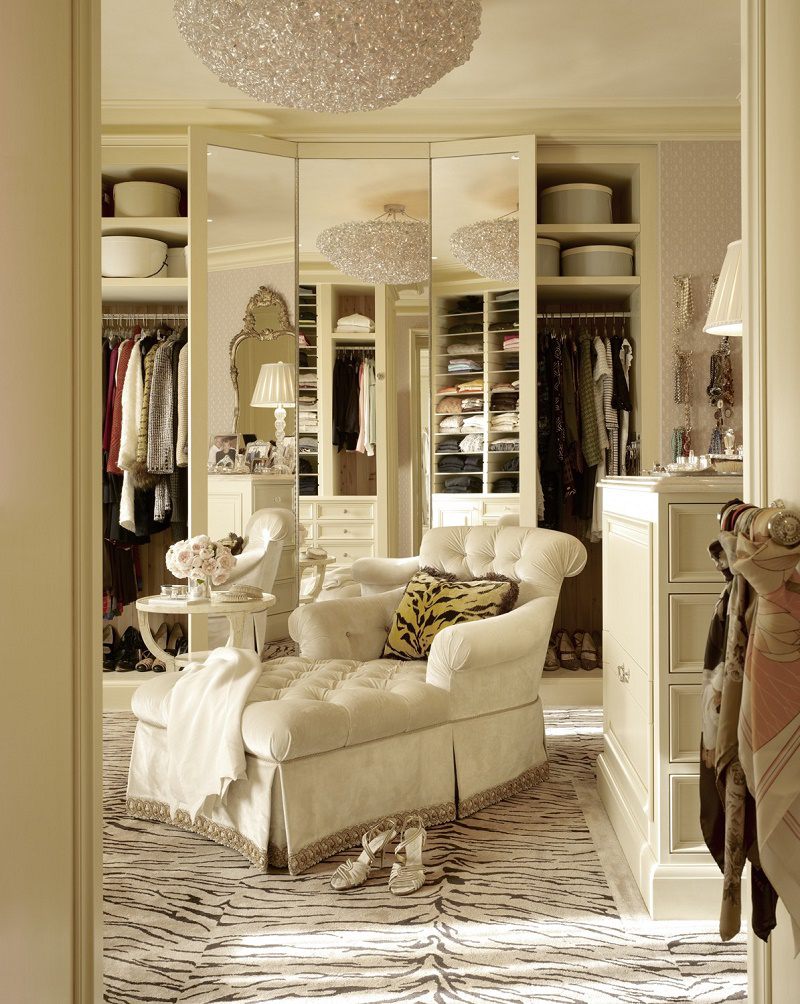 In the wife's dressing room, a custom created tiger-patterned wool and silk carpet covers the floor. An Ironies light fixture sparkles above. Christopher Hyland silk velvet covers the chaise giving the room a glamorous appeal.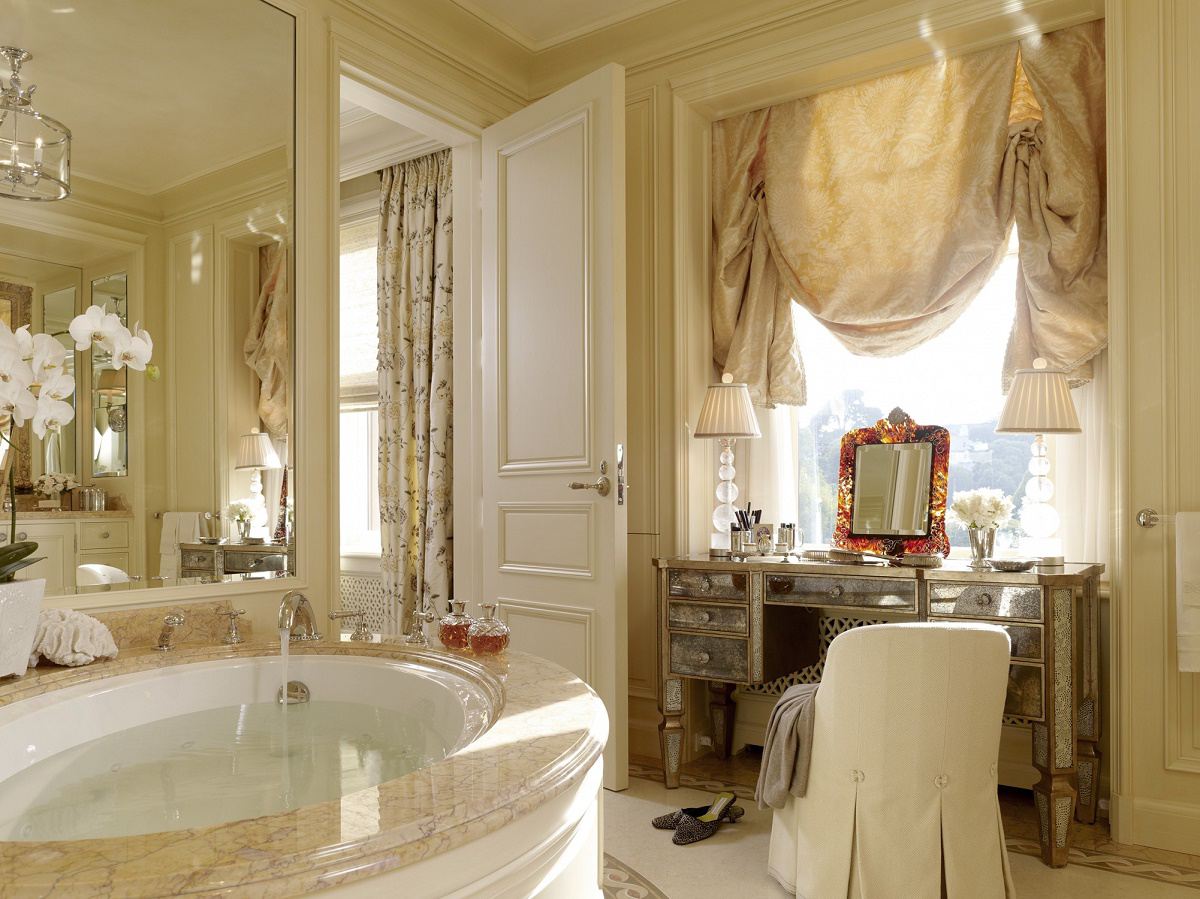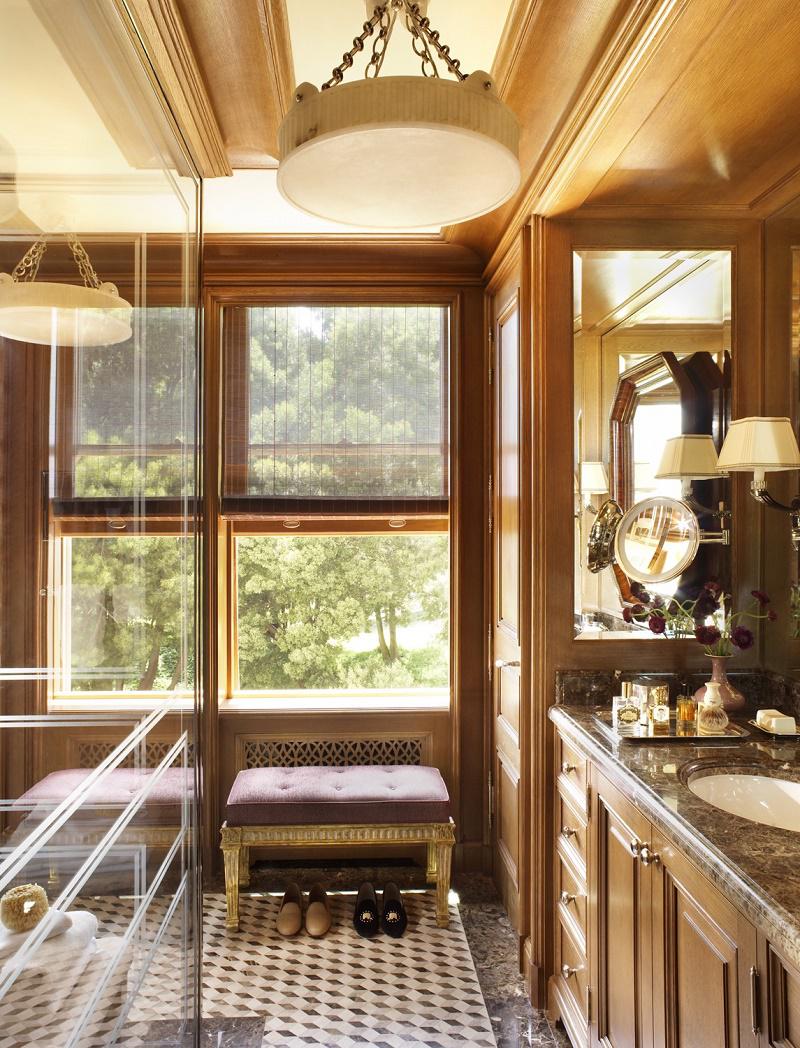 Her bathroom includes a custom vanity in a white gold finish faced with antiqued mirror and restoration glass. A tortoiseshell mirror and a pair of rock crystal lamps create an ideal dressing table. An inlaid mosaic design on the floor traces the perimeter of the room highlighting the soft apricot marble surfaces. Stained walnut envelops his bathroom which completes with cocoa marble surfaces. The lighting pendant is from Marvin Alexander.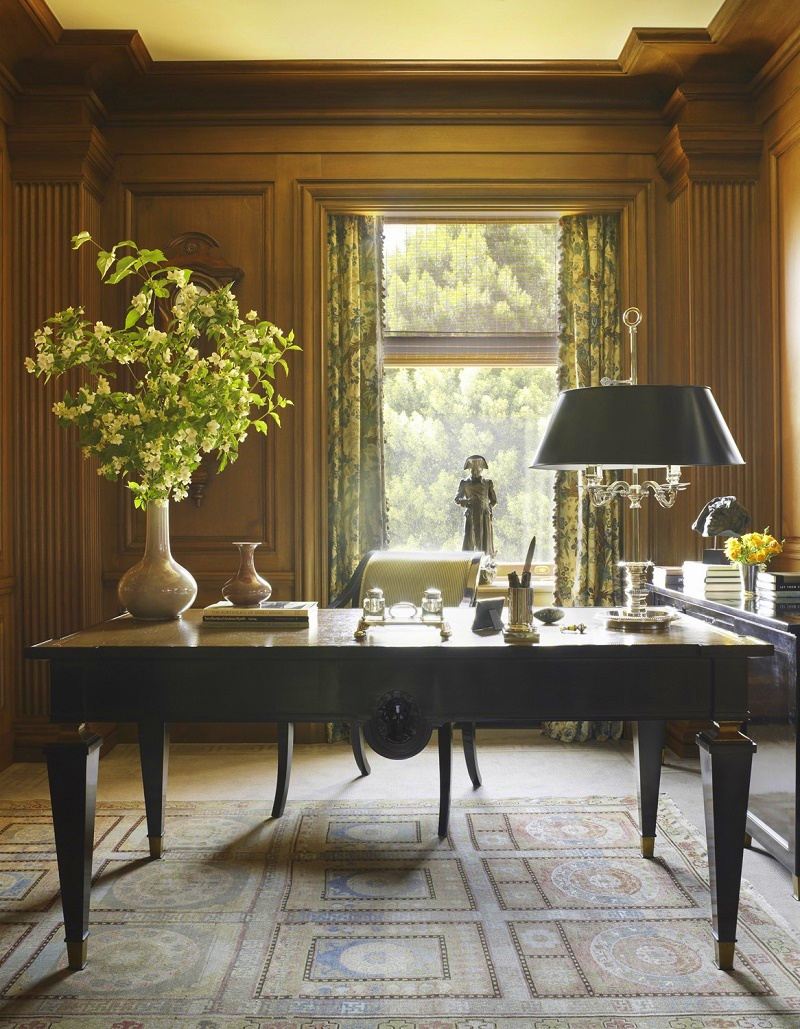 The husband's study is paneled in rift-sawn oak. Draperies made with a fabric by Cowtan & Tout dress the windows while a vintage Khotan rug covers the floor. The desk is a custom design in the style of Andre Arbus.
Andrew Skurman Architects, based in San Francisco, specializes in residences inspired by the Classical architectural traditions of French chateaux, Mediterranean villas, and Georgian country houses. The firm's goal is to create homes of quality and substance that embrace the spirit of homes built generations ago. They specialize in the discreet integration of modern comfort and conveniences into traditional settings.
Mr. Skurman has served as President of the Institute of Classical Architecture & Art, Northern California, and is on its Board of Directors nationally. He has published a book of his work, Contemporary Classical: The Architecture of Andrew Skurman. He resides in both San Francisco and Paris. Be sure to check out his website for more info.
Suzanne Tucker's Contemporary Classical Interior Design
Suzanne Tucker, also based in San Francisco, is one of the country's leading interior designers. She is a founding partner at the design firm Tucker & Marks, which has long been considered one of the most respected and successful interior design companies in the country. The designer has an extraordinary line of beautiful home furnishings, an exquisite fabric collection, a collection of dinnerware, and more. She has published two books, Rooms to Remember: The Classic Interiors of Suzanne Tucker and Suzanne Tucker Interiors – The Romance of Design.  This project features in the second.  I have both and they are wonderful and very inspiring. Be sure to check out her website for more info.
Architecture: Andrew Skurman
Interior Design: Suzanne Tucker
Photography: Matthew Millman
Additional: AD Magazine
That concludes our design inspiration, my friends.
What do you all think of the Contemporary Classical Interiors in San Francisco?  Let me hear from you in the comments.
Thanks so much for reading along.  Have a great day!
Please like us and share: