Venetian Waterfront Residence: Cullman & Kravis
This classic 1930s Mediterranean-style waterfront residence near Palm Beach, Florida has undergone an extensive renovation and expansion from a summer vacation retreat to a comforting full-time family home. The transformation was completed by leading interior design firm, New York-based Cullman & Kravis.
To the designer's delight, the existing vacation house already held an impressive collection of the owner's Italianate furniture and fine art. These treasured pieces would serve as the heart of the home's newly designed modern traditional interiors.
Italian interior architectural details and materials combine with a careful mix of the existing Italianate furniture, art, antiques, and new custom pieces the designers brought in to create a warm Venetian ambiance.  Newly designed floor-to-ceiling windows open up the principal rooms. Nearly every room now provides access to the outdoors. Gorgeous shades of sunflower yellow, vermilion red, grass green and ocean blue bring in the beauty of the outdoors.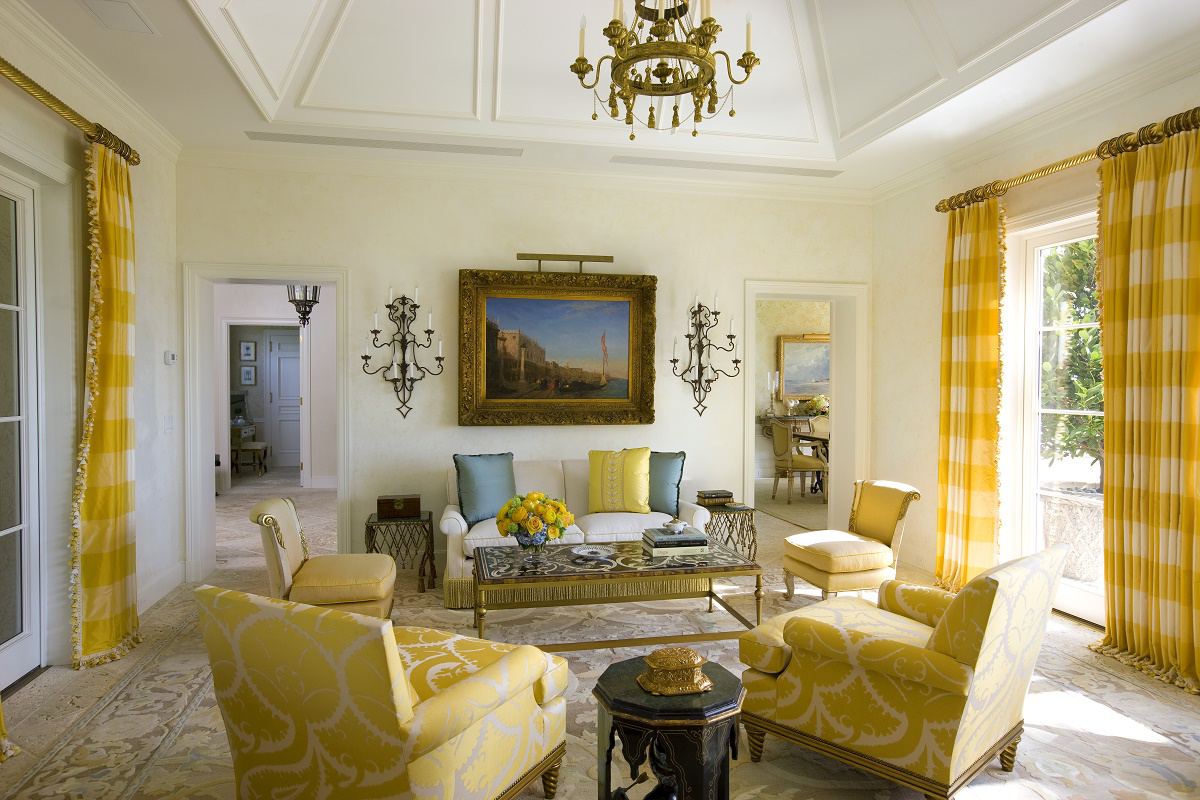 In the living room, the designer raised the to give the slightly narrow space a more open feel. A pair of custom giltwood chandeliers define the two separate seating areas. A custom hand-woven carpet in a Polonaise design with large scroll pattern and tonal color palette gives the space a wider effect. Delightful Christopher Norman plaid silk taffeta draperies frame the expansive windows and beautiful ocean views. Custom sofas and Jansen armchairs were bespoke created and upholstered by Cullman & Kravis. A large Venetian mirror hangs over the fireplace while a pair of antique wrought-iron sconces flanks an 18th-century painting of Venice's Grand Canal. An heirloom Italian pietra dura coffee table given a new lighter base groups with a pair of 1940s French side tables with Verde marble tops.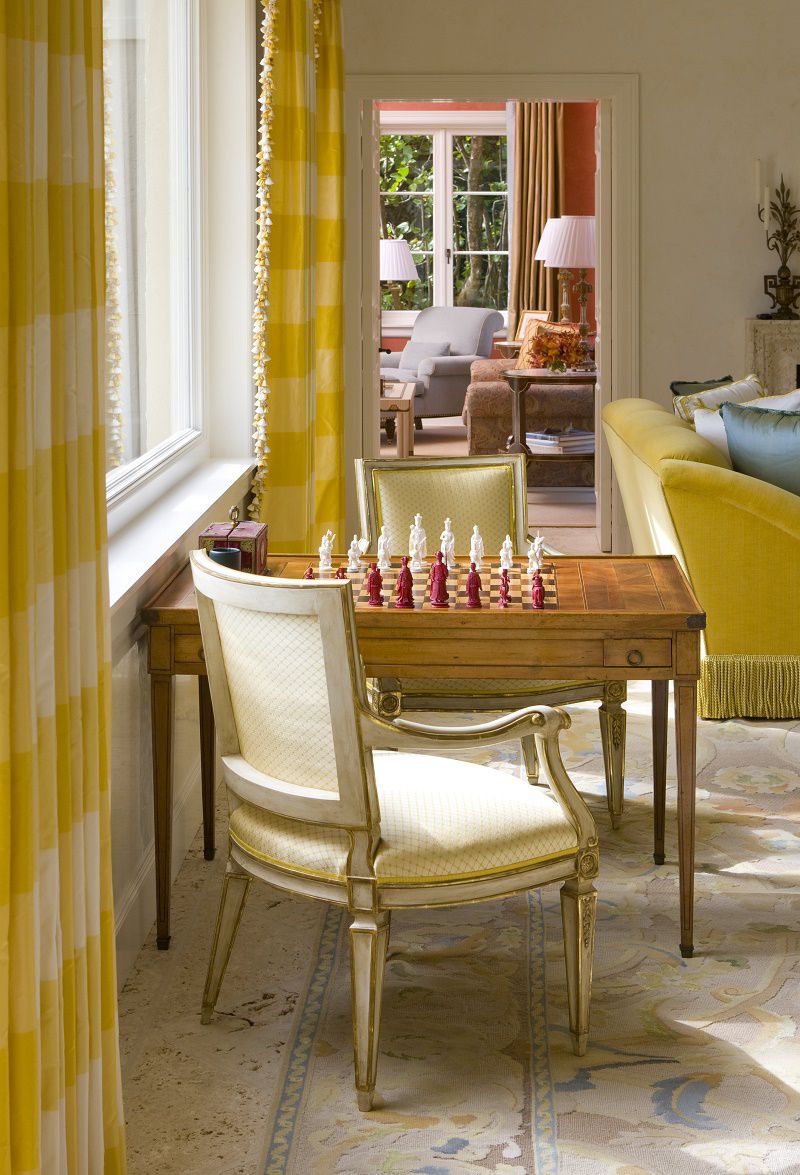 The owners early 19th-century French tric-trac table – a game table made of fruitwood with a light finish that reverses to a leather surface – shines beautifully here in the center of the living room. Gold bullion trims the skirts of the sofas to create a formal classic tailored touch.
The classic tones continue here in the dining room of the Venetian-style waterfront residence. The designer had the walls hand-painted with a multicolored damask stencil overlaid with gold and copper which creates shimmer and depth. Richly embroidered silk draperies formally dress the windows. The Coquina stone floors keep the room from becoming too formal.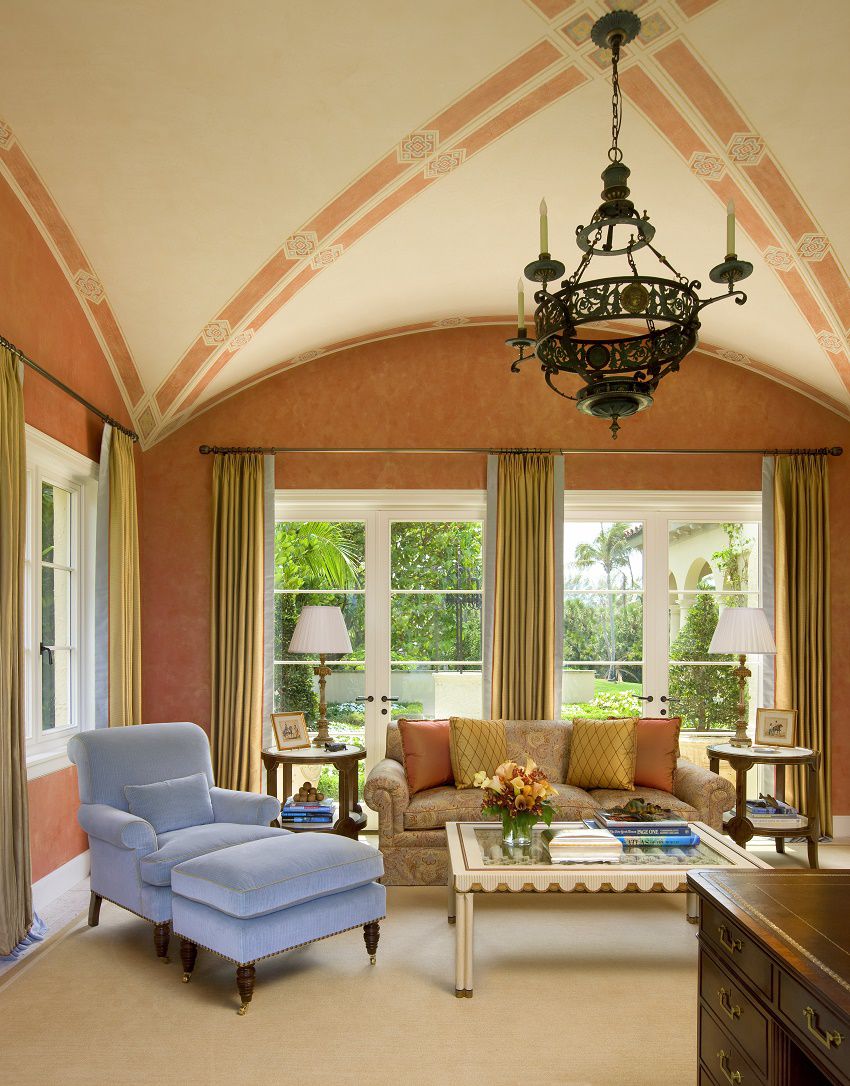 In the library, vermilion Venetian stucco walls support the groin-vaulted, stenciled ceiling. A vintage tole-painted light fixture punctuates the room. Tailored gold silk draperies with blue cuffs and inset red flange hang before the blue Roman shades on the windows. A bright paisley sofa with custom coordinating pillows group with a powder blue velvet chair and ottoman to perfectly complete the room in harmonious unity.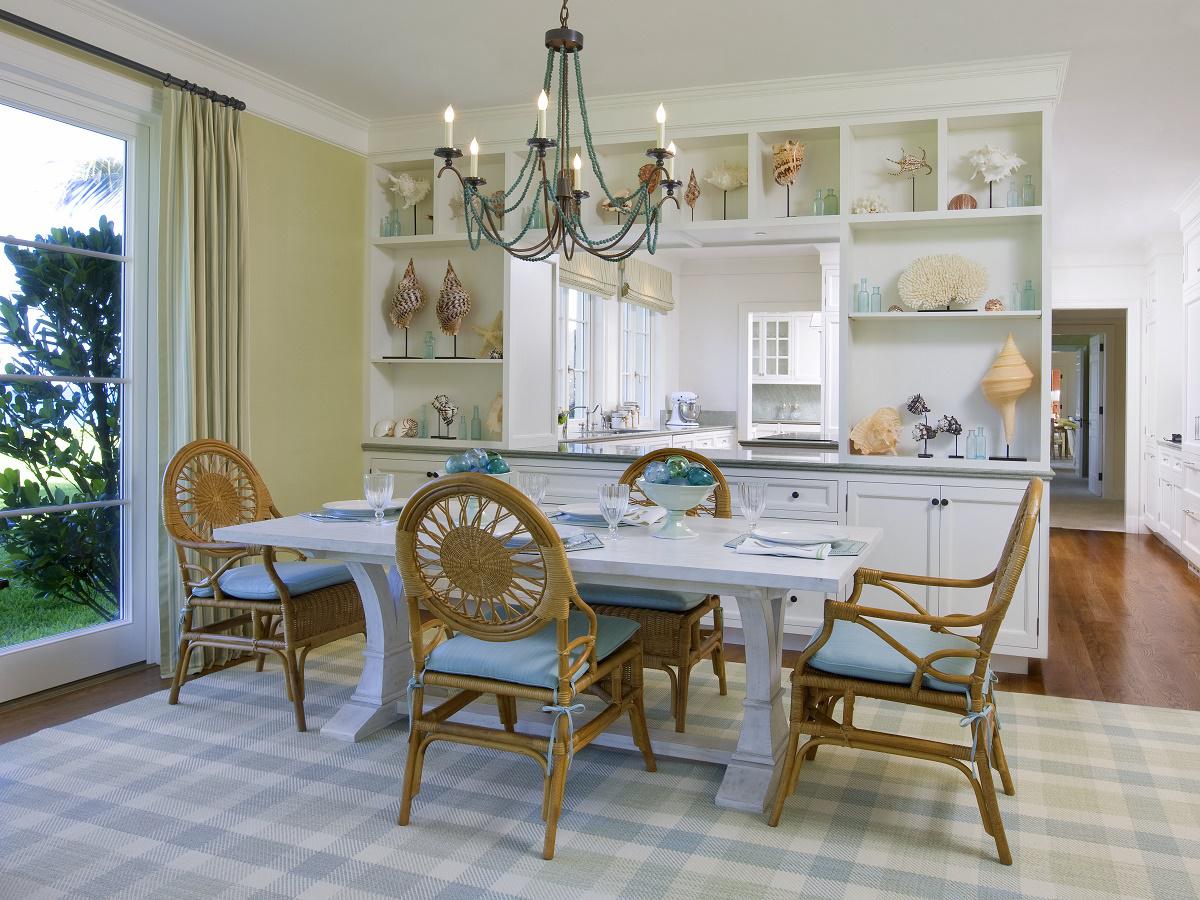 A less formal, coastal inspired family and breakfast area share a light-filled space that gives way to the kitchen. The ocean view, the room's greatest asset, reflects in the décor. A custom plaid wool rug in aquamarine and apple green covers the floors and mirrors the color palette outside. Comfortable traditional furnishings reflecting the same hues create the sitting area. A whitewashed oak dining table surrounded by custom rattan chairs with sunburst back designs stand beneath a customized chandelier.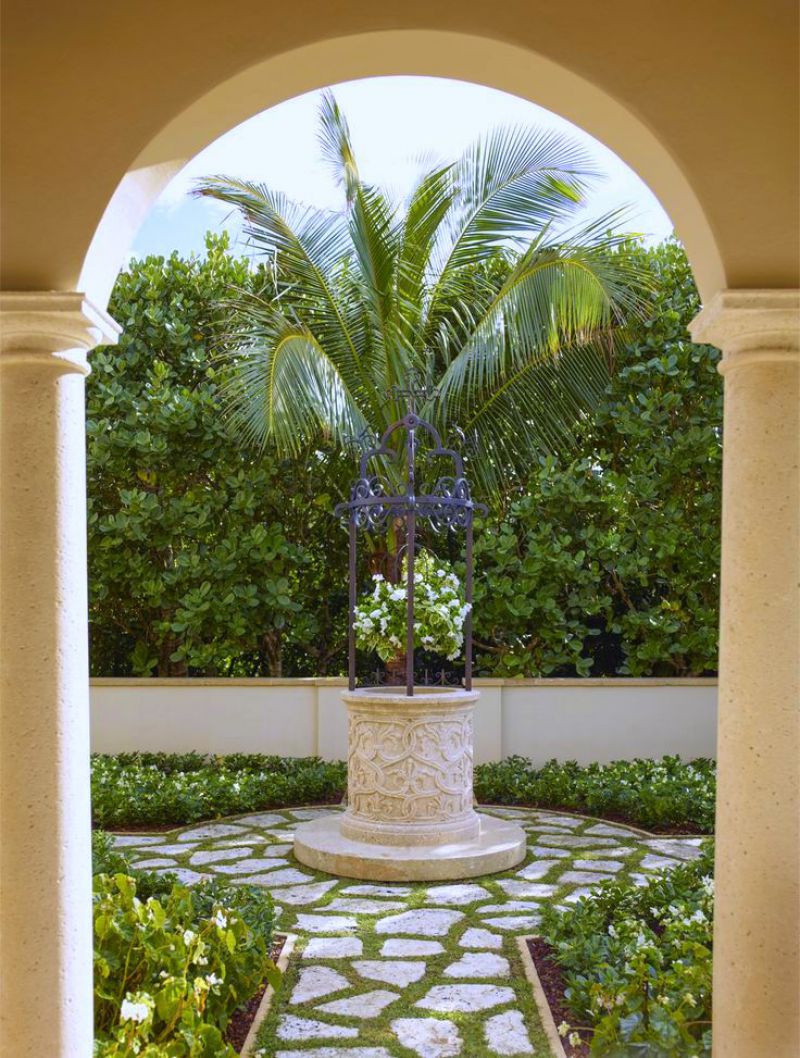 This Veneto-style garden well made of Vicenza stone serves as the focal point of view from the pool loggia.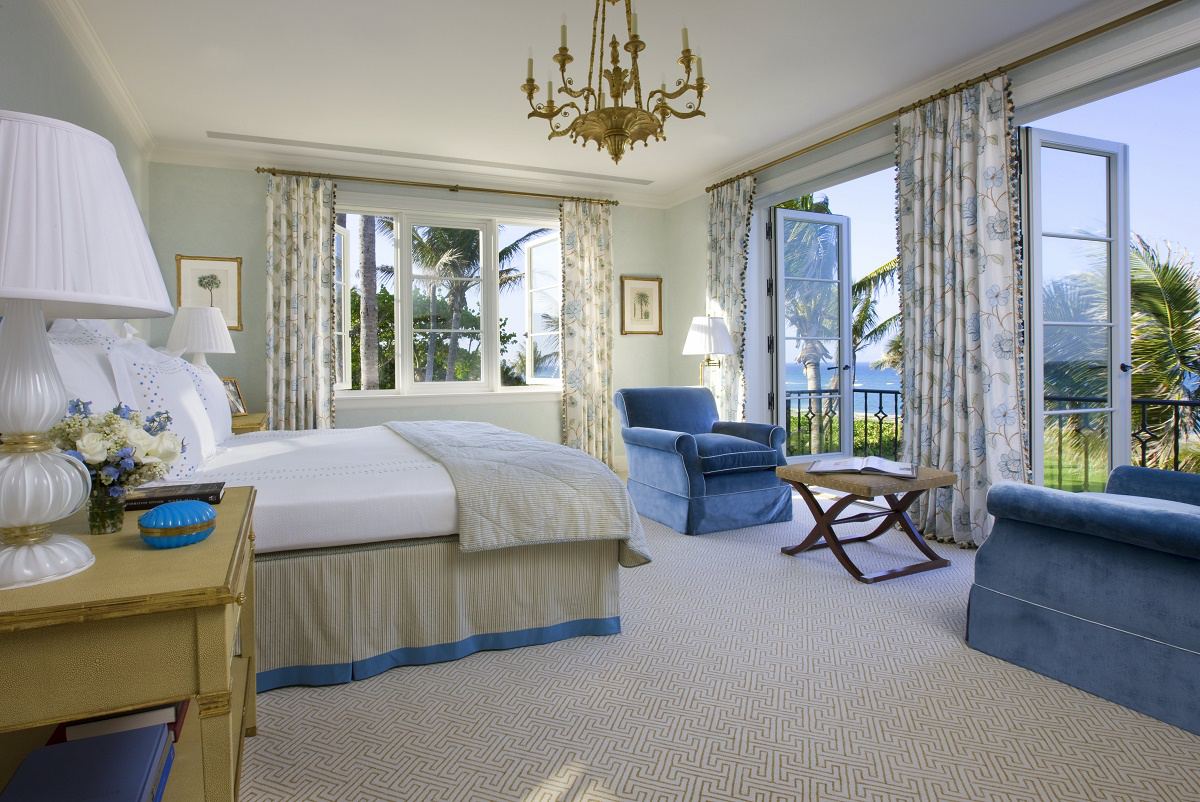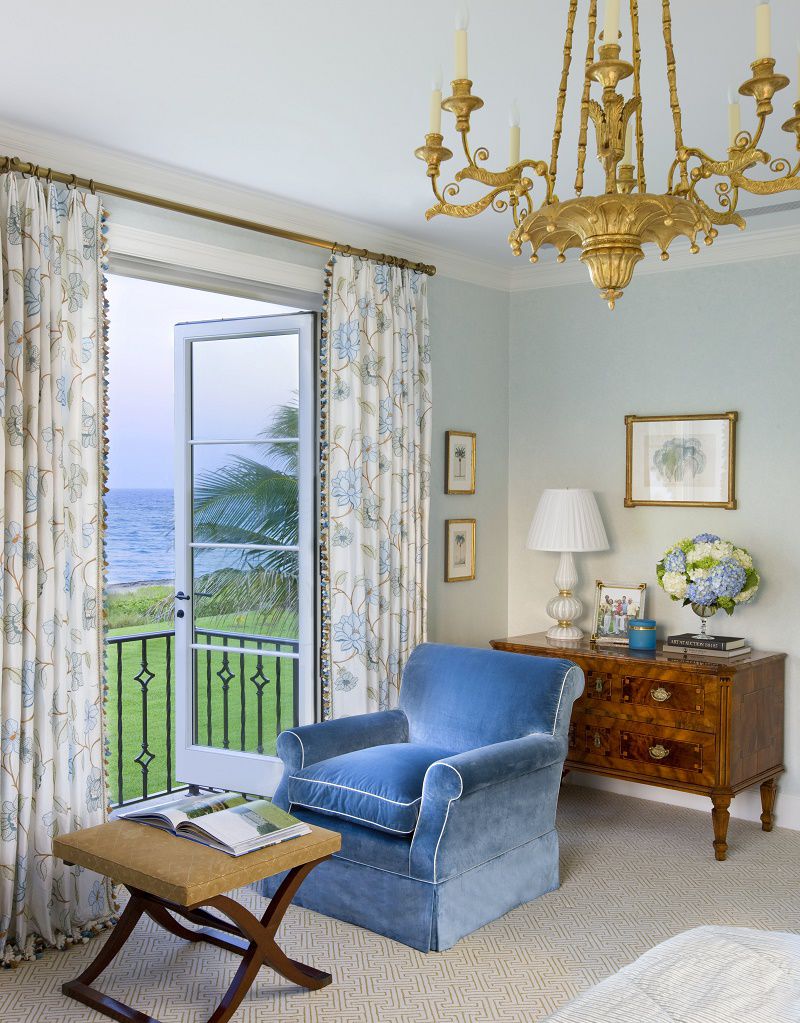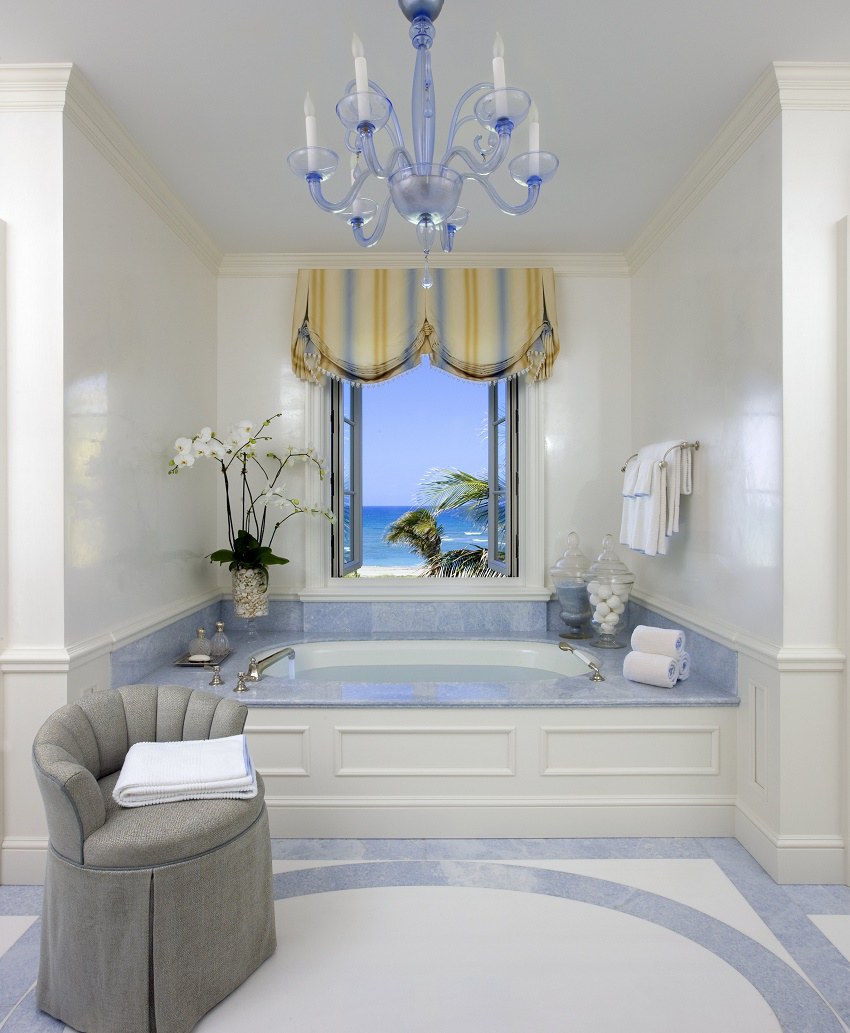 The master bedroom suite evokes the sky and sea with its watery blue tones. Embroidered silk draperies convey a light and airy feeling of transparency. Venetian stucco walls, Murano glass, and a gilt-wood chandelier are in keeping with the Italianate feel.  The style in all the bedrooms reflects the ocean and tropical greenery outside while creating a calm and welcoming mood inside this transformed waterfront residence.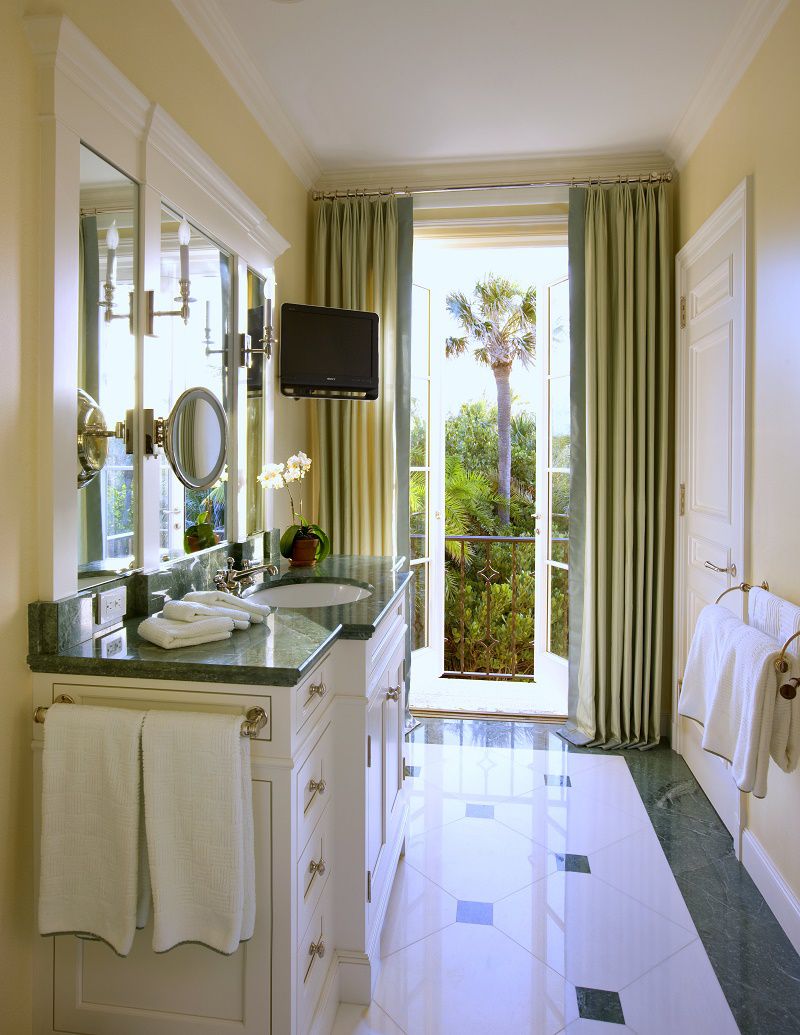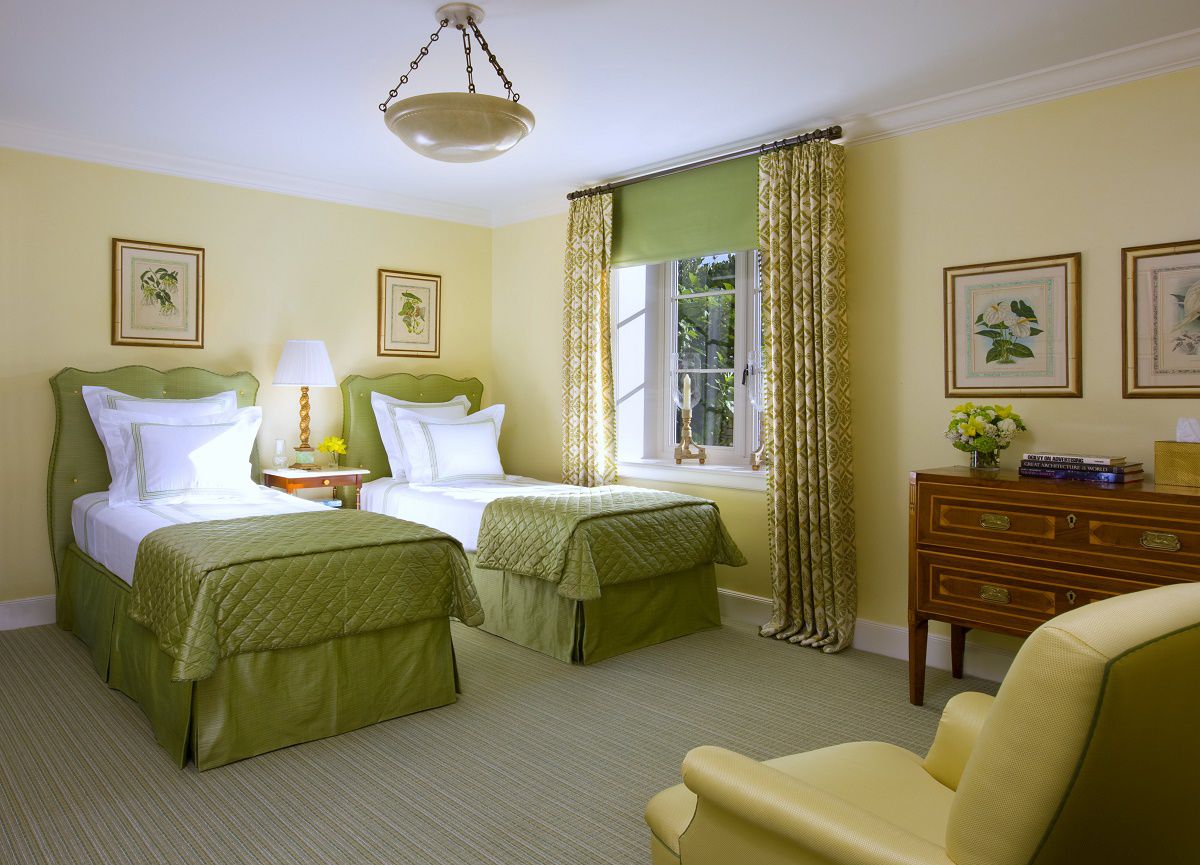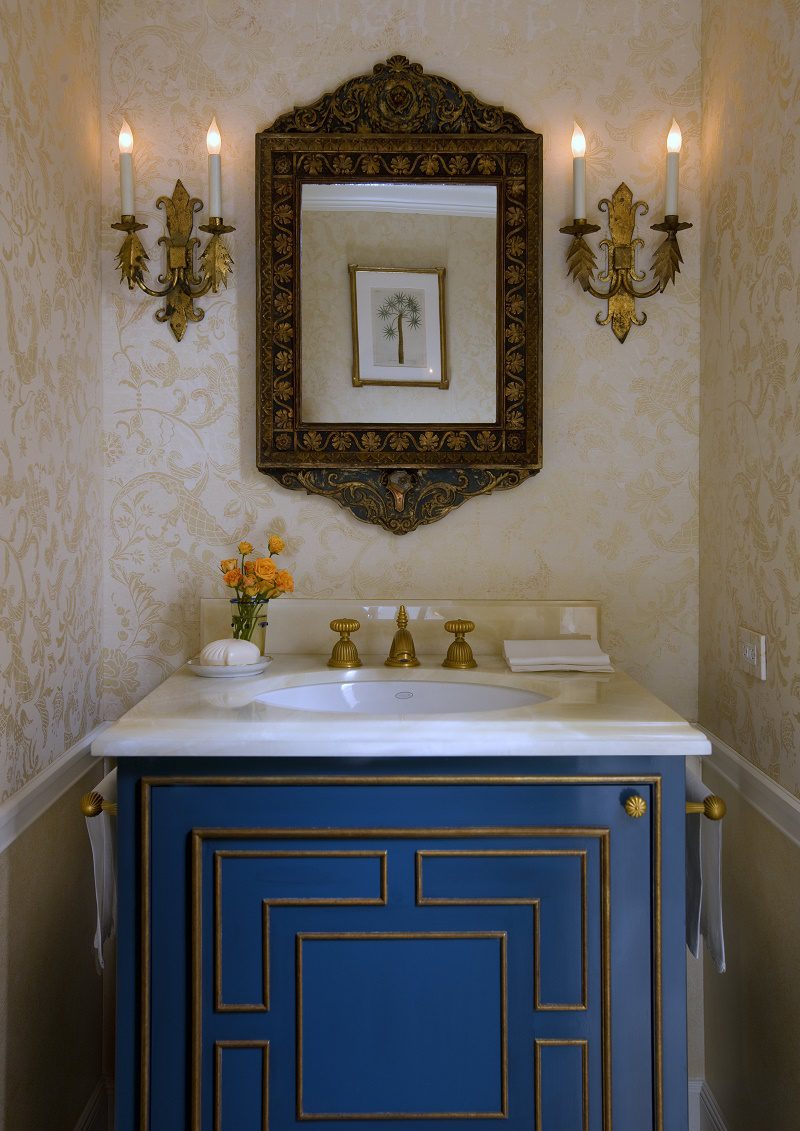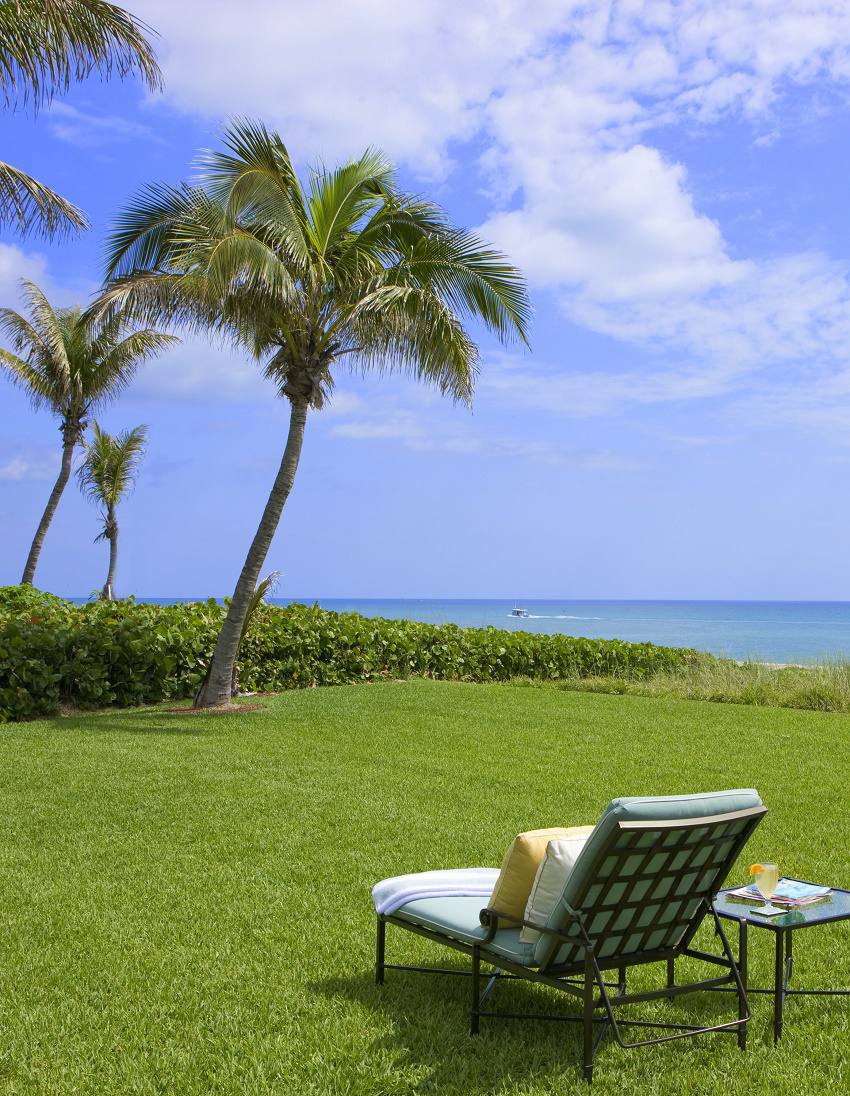 Cullman & Kravis provides the highest quality of design excellence and personal service. The award-winning firm, headed up by Ellie Cullman, collaborates closely with their clients to realize their ideas and needs. Ellie Cullman collaborated with architect Jeffery Smith, of Smith Architectural Group in Palm Beach to complete this residence, her third for these owners.
Ellie Cullman is a distinguished interior designer and founding partner at Cullman & Kravis.  The designer has been honored with many of the industry's highest accolades.  She has been on the Architectural Digest AD100 list since 2000.  This year she was bestowed with the Albert Hadley Lifetime Achievement Award.
Cullman has coauthored two beautiful and insightful books on design; Decorating Master Class, and The Detailed Interior. The latter wonderfully features this project. For more info on these publications and to obtain your copies, as well as to see more interior projects completed by Cullman & Kravis, be sure to check out their website.
For more of the perfectly harmonious interiors created by Cullman & Kravis, be sure to see:
Fifth Avenue Classical Design, an elegant apartment on New York's Upper East side.
Georgian Modern Traditional Elegance, a Georgian style mansion in New Jersey's horse country.
Cullman & Kravis Waterfront Residence Conclusion
That concludes our design inspiration for today, my friend. I hope you enjoyed this beautiful Florida waterfront residence.  What do you think of the wonderful layering of details, with every room so effortlessly graceful and balanced?  I look forward to hearing from you in the comments.
Interior Design:  Cullman & Kravis
photography:  Eric Piasecki
Thank you so much for reading along with me today, my friend!
If you have enjoyed reading today's Venetian Waterfront Residence: Cullman & Kravis, please be sure to share it on social media!
Have a great day!
Please like us and share: