Understated Glamour: Jan Showers
Jan Showers is one of the most elegant figures in the world of interior design today. The celebrated taste-maker's innate elegance and sense of style translate into her design work with a signature understated glamour that is at once both highly visual and tastefully restrained. For our design inspiration today, we look at some seriously chic interiors created by the Dallas, Texas based designer.
At the heart of Jan's designs is the mixing and combining of various periods and styles, striking a perfect timeless balance. Her studied eclecticism often includes a mix of glossy mid-century modern, classic to modern French and Hollywood Regency, created with an artful blending of antiques and bespoke designs. The interiors that the designer creates are highly attractive and quite luxurious while also remaining relaxed and supremely comfortable. This collection of rooms that I have gathered from multiple homes completed by Jan demonstrate her design's Understated Glamour, which is, as the designer notes "the most glamorous statement of all."
Jan believes the living room should be both formal and comfortable. In larger rooms, one should create smaller, more intimate and inviting seating zones. The opening photo above exemplifies just that. The large antiqued mirror gives the room instant glamour. The "New York Sofa" from the designer's home collection with silk pillows added for color anchors the setting. The center gold-leaf Sabine Coffee Table, also from the designer's collection, with antique mirror top and shelf, holds stacks of books to make the gathering more welcoming. The line drawings are by Don Bodine. Jan included colored Murano glass lamps and accessories in the way one adds jewelry. To me, this space feels like a modern version of Coco Chanel's private salon in Paris.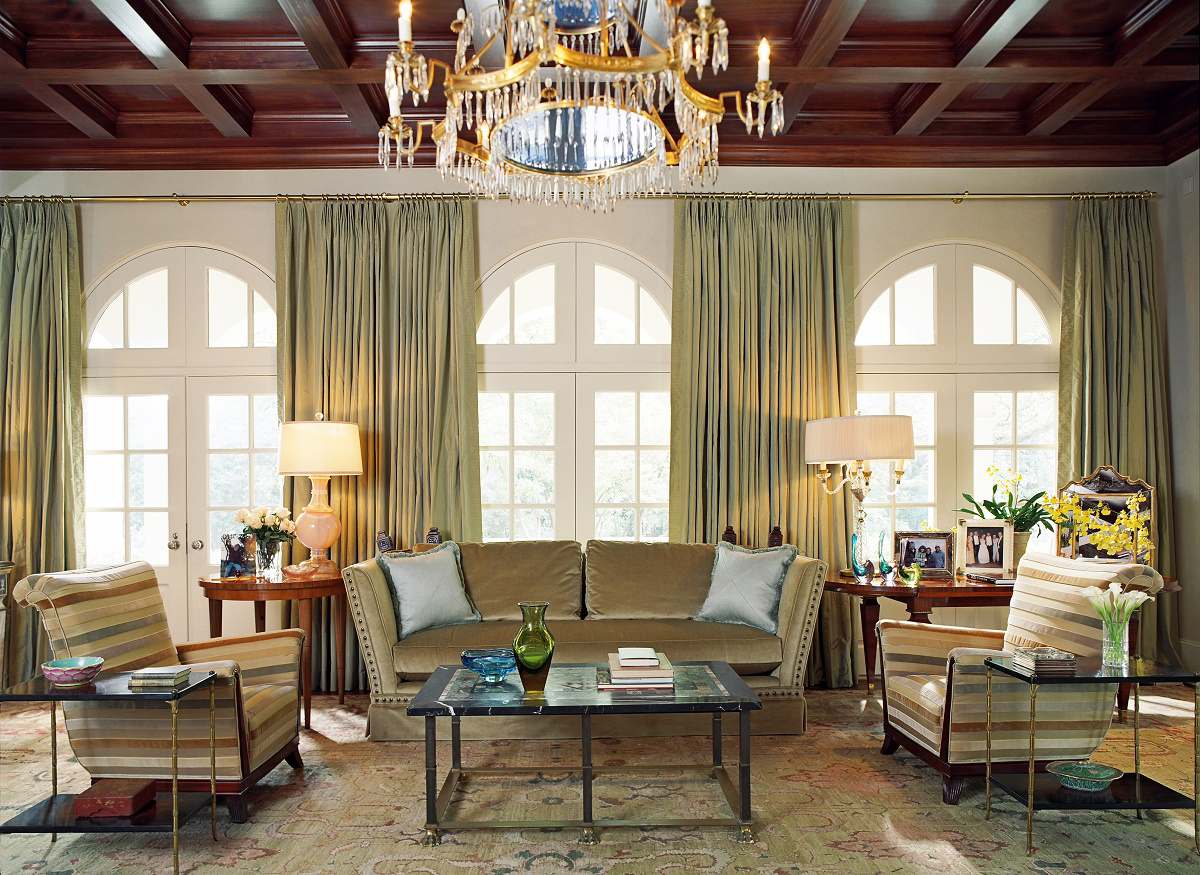 In this grand formal living room, a Swedish Empire style chandelier suspends from the coffered ceilings. Every detail observes and balances scale here. Jan believes in keeping draperies simple in their design while using fine fabrics that look and feel luxurious. She always includes a table next to every sofa and chair for placing one's glass or book. Make the style grand but livable.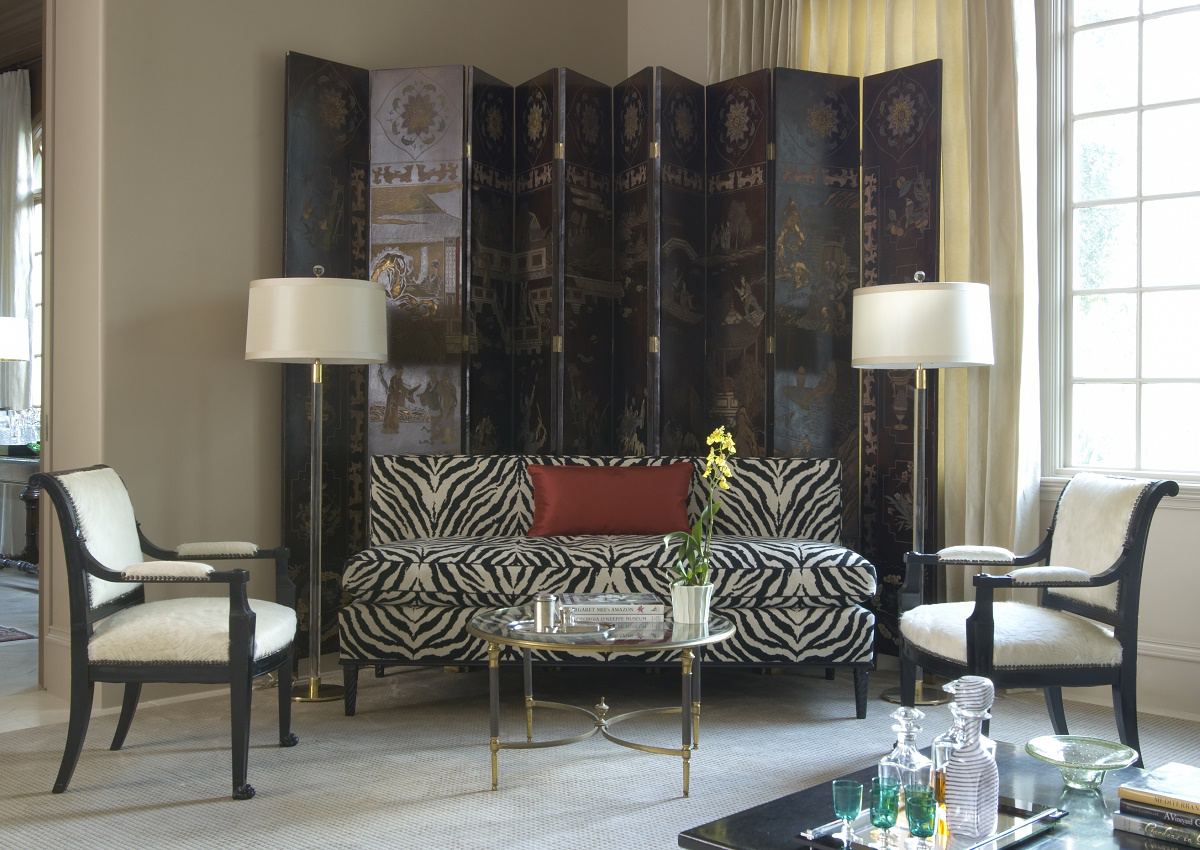 Here we have another intimate gathering within a larger room. A perfect way to dress up a corner with understated glamour. An antique Chinese coromandel screen establishes the space while giving it a worldly sophistication. A Clarence House zebra tapestry covers the Palm Beach Banquette from the designer's collection. An ivory hairy hide covers the pair of 1940's ebonized fauteuils. A Maison Jensen coffee table and a pair of Hinson floor lamps complete the scene.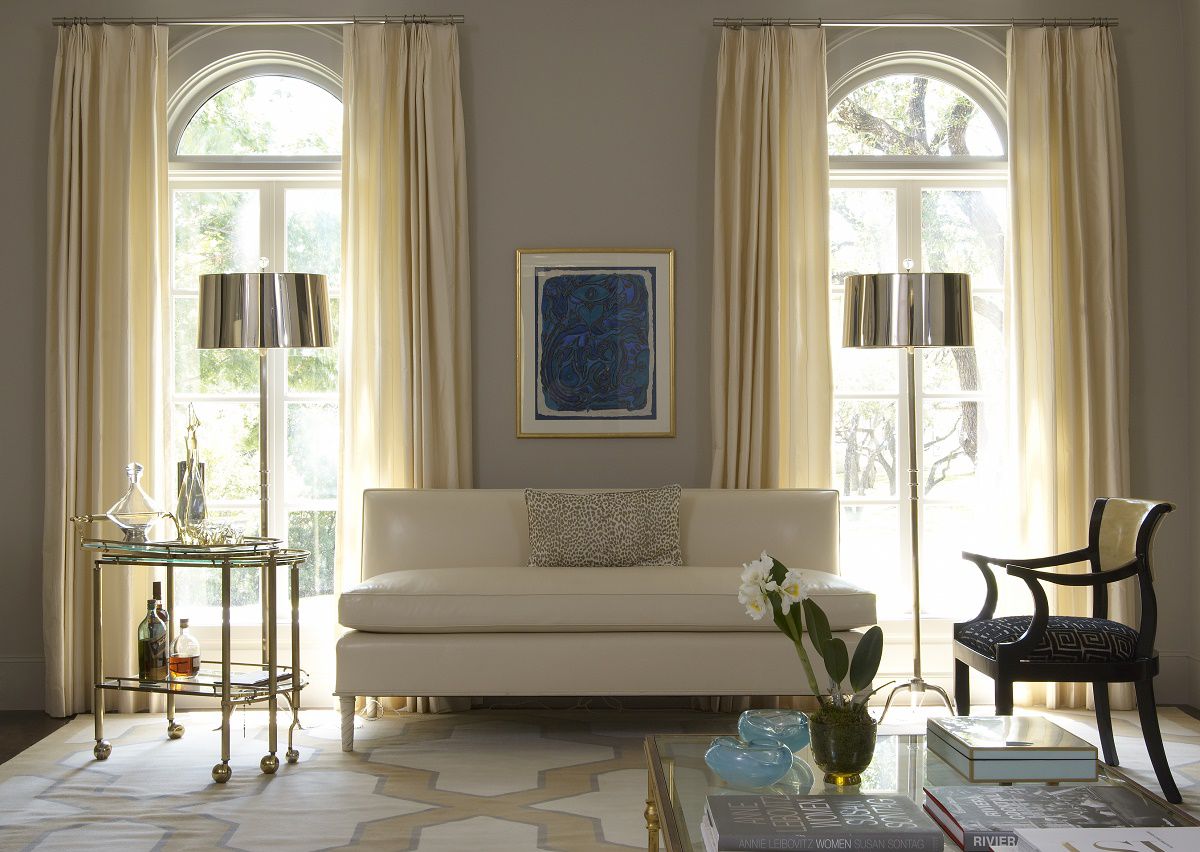 Jan created this smart conversation area using her Palm Beach Banquet upholstered with buttery leather paired with a sophisticated Biedermeier-style chair. A pair of vermeil floor lamps from Maison Jansen imparts pure glamour. The bar cart rounds out the scene and is one of the designer's trademark design features. Would you care for a drink dear?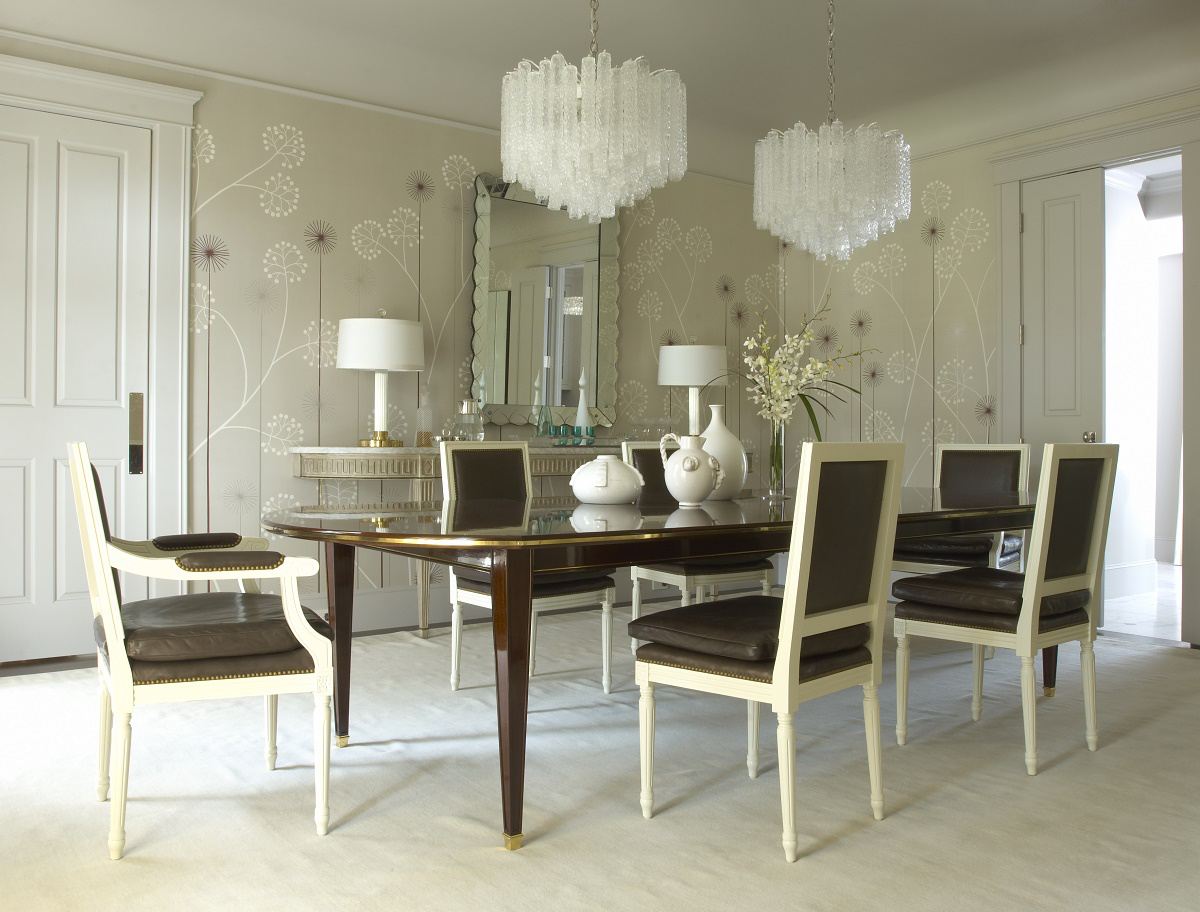 In the dining room, Jan always uses two lighting elements: chandeliers with dimmers and lamps. Here the designer placed a pair of 1940s glass rod lamps on the Louis XVI-style painted console with marble top. A pair of frosted Venini chandeliers suspends above a custom mahogany table with bronze details. The designer upholstered the "Antibes" chairs and host chairs from her collection with Bittersweet chocolate leather.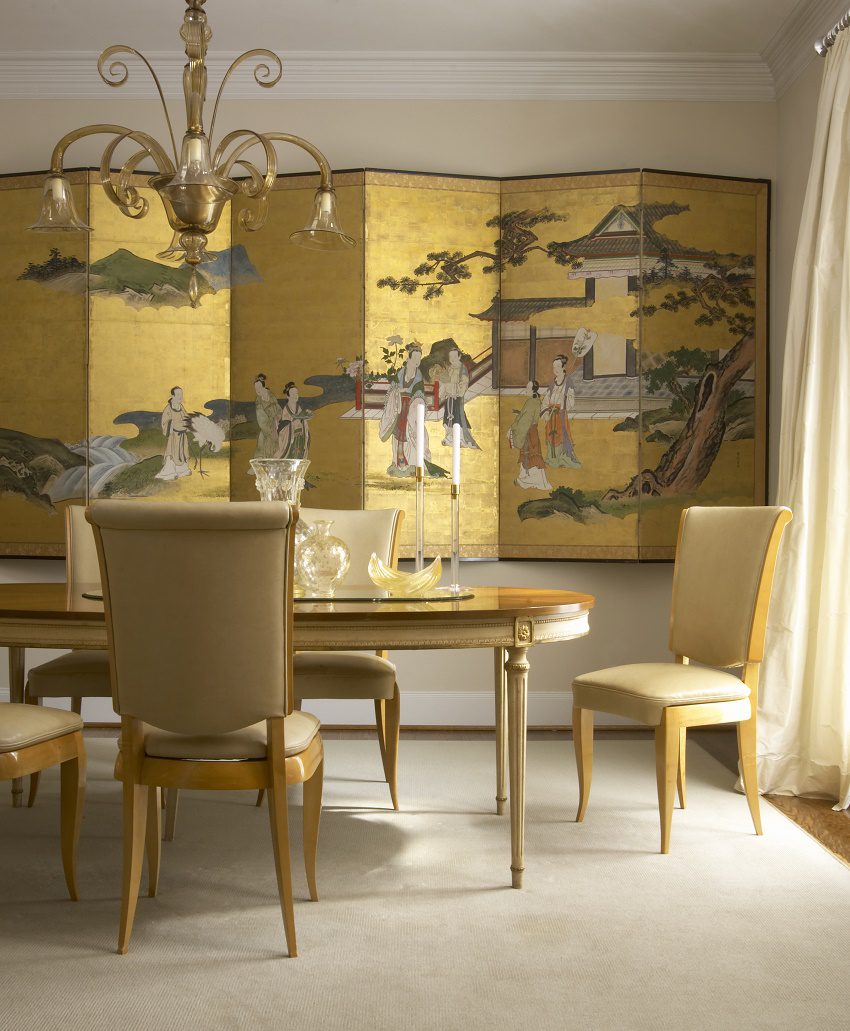 Since guests will likely remain in the same place for a period, it is important to mind the view from all perspectives. In this dining room, the designer used a gold-leaf Japanese screen painted in the Chinese manner, which must surely glow beautifully in the light from the Venini fume chandelier and candles. The Louis XVI style dining table groups with French Ruhlmann-style chairs from the 1930s.
This dining room is all about classic design glamour. The Barovier chandelier designed by Andre Arbus reflects in the Venetian mirror from the 1940s, flanked by plaster torchieres which add style and drama. A French dining table from the 1940s gathers with Louis XVI style dining chairs upholstered in leather.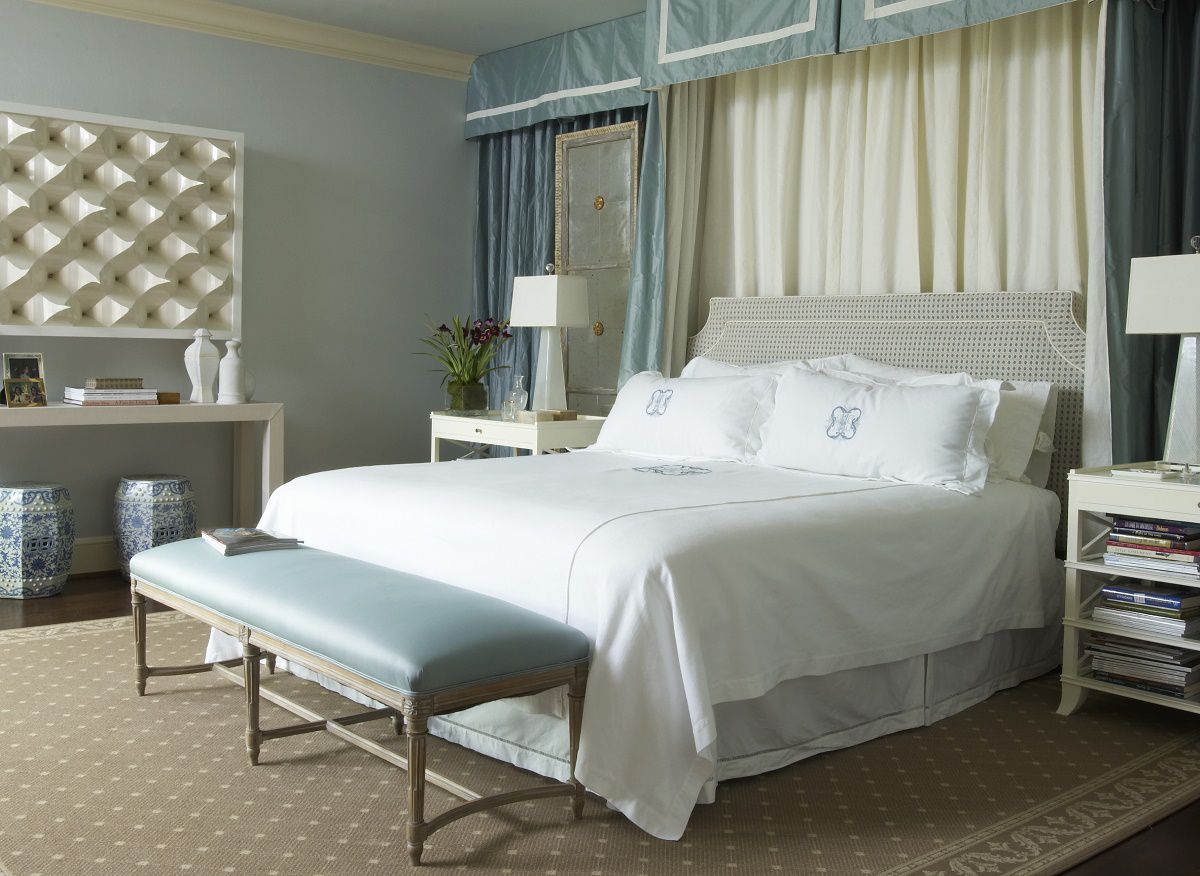 I love and completely agree with Jan's design ideas for bedrooms. This really should be the most luxurious room in the house. It is our sanctuary where we both begin and end the day. You should tailor it to your comfort. The color selection is essential, for you want calm here. In this bedroom, Jan used custom drapery to give the bed a grand presence when looking at it, and a more secluded feel while in it. Matching tables on either side create balance and symmetry, in addition to providing surface space and storage. A Louis XVI style bench at the foot of the bed completes the composition in understated glamour.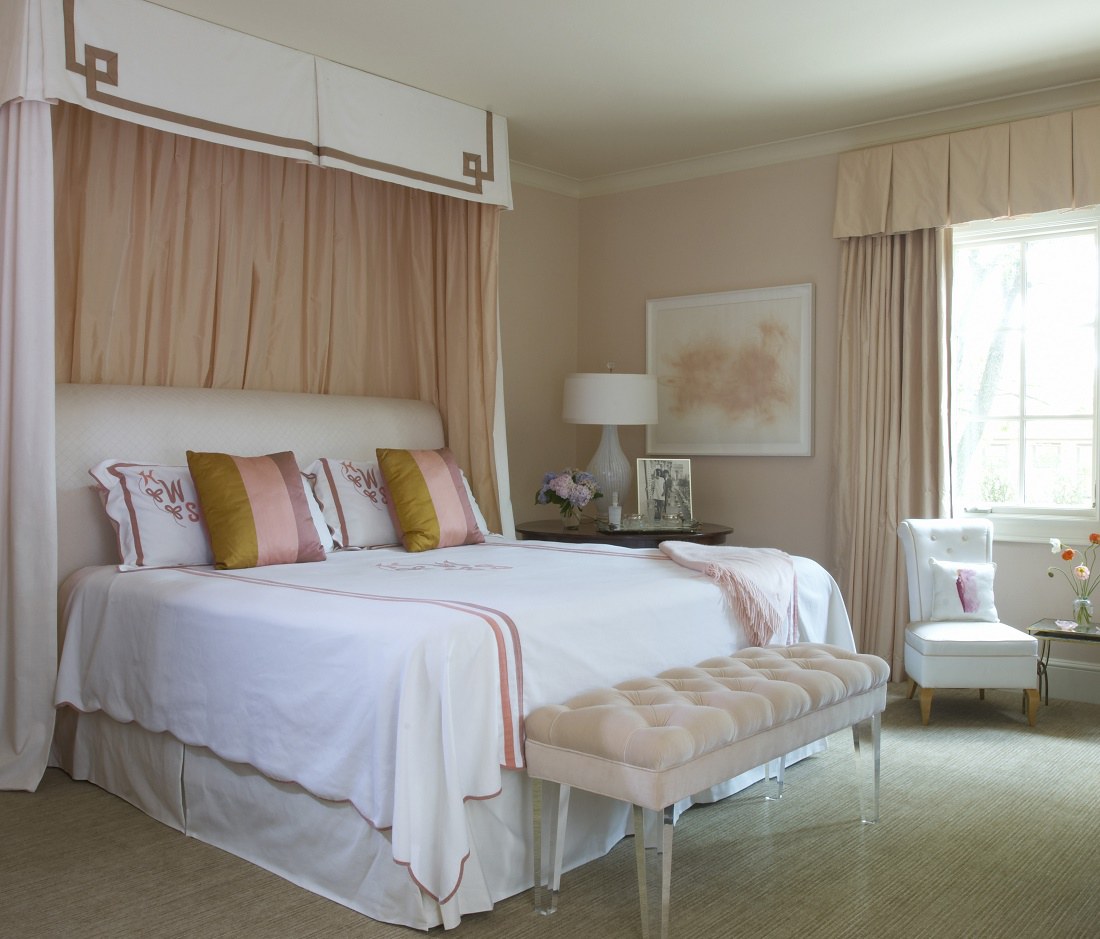 Naturally, the bedroom should reflect the spirit of its owner. Jan designed this bedroom for a debutante, and the application of traditional and feminine identified qualities reflects that. Custom bed treatments crown the upholstered headboard and ennoble the bed. The button tufted "Mercer Bench" from Jan's collection stands at the foot of the bed. The room includes a pair of French slipper chairs in the style of Andre Arbus from the 1940s.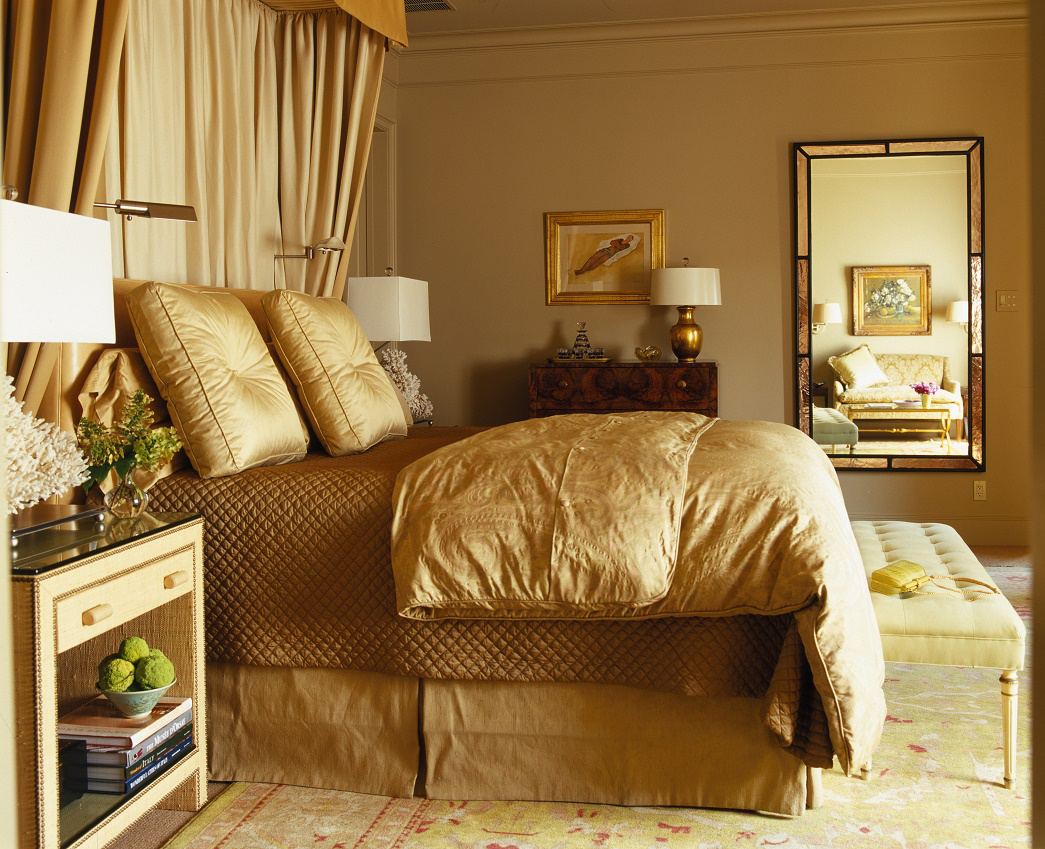 Here again, the designer used custom bed drapery to ennoble the bed. Another thing to consider when selecting the colors for a room is how well you will look in it. Choose colors that will complement your skin tones in the same way the style fits your personality. In this room, the bedding includes a sumptuous mix of linen, silk, and suede textures. Jan's "Manhattan Side Tables" flank the bed and maintain balance while a Louis XVI style bench stands at the foot. The large mirror is a bonus for me personally, for any available space is a good place for a mirror, the bigger, the better.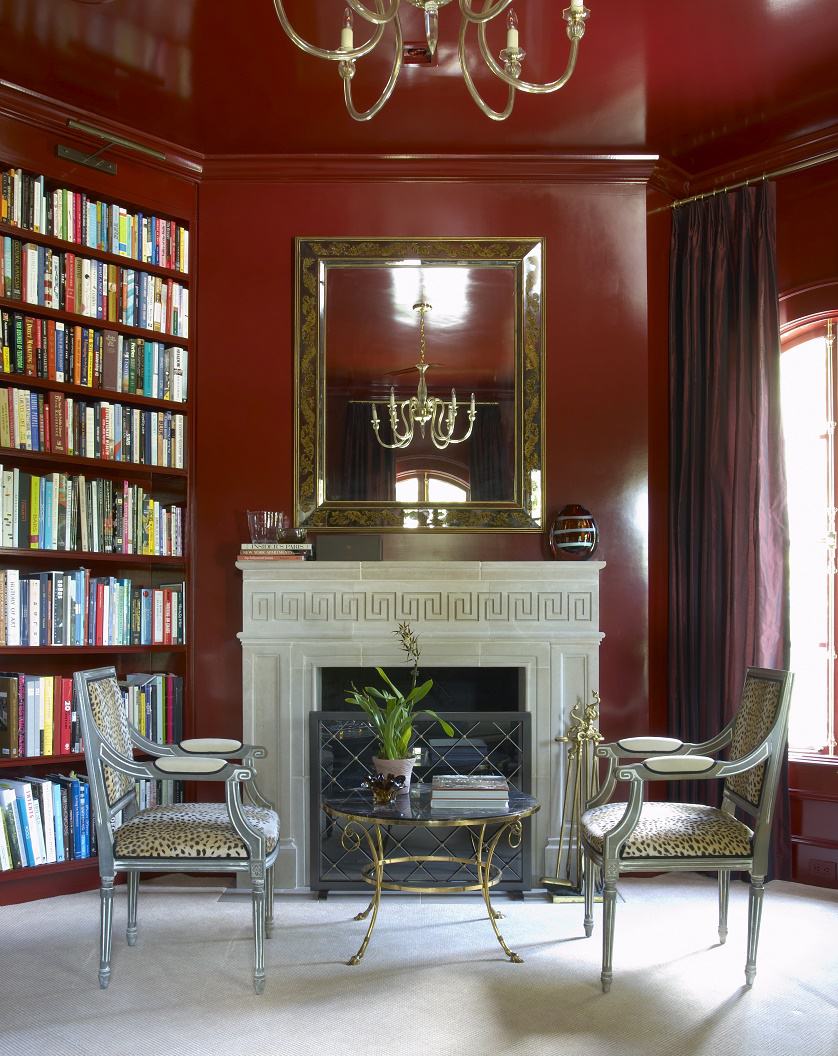 In this private library, the designer takes the glamour up another level. Rouge lacquer envelops the room in its entirety: the walls, trim, ceilings, window frames- and the effect is stunning. Every other color used within just pops. Here a pair of 1940s fauteuils in faux leopard flank a Portoro marble topped coffee table.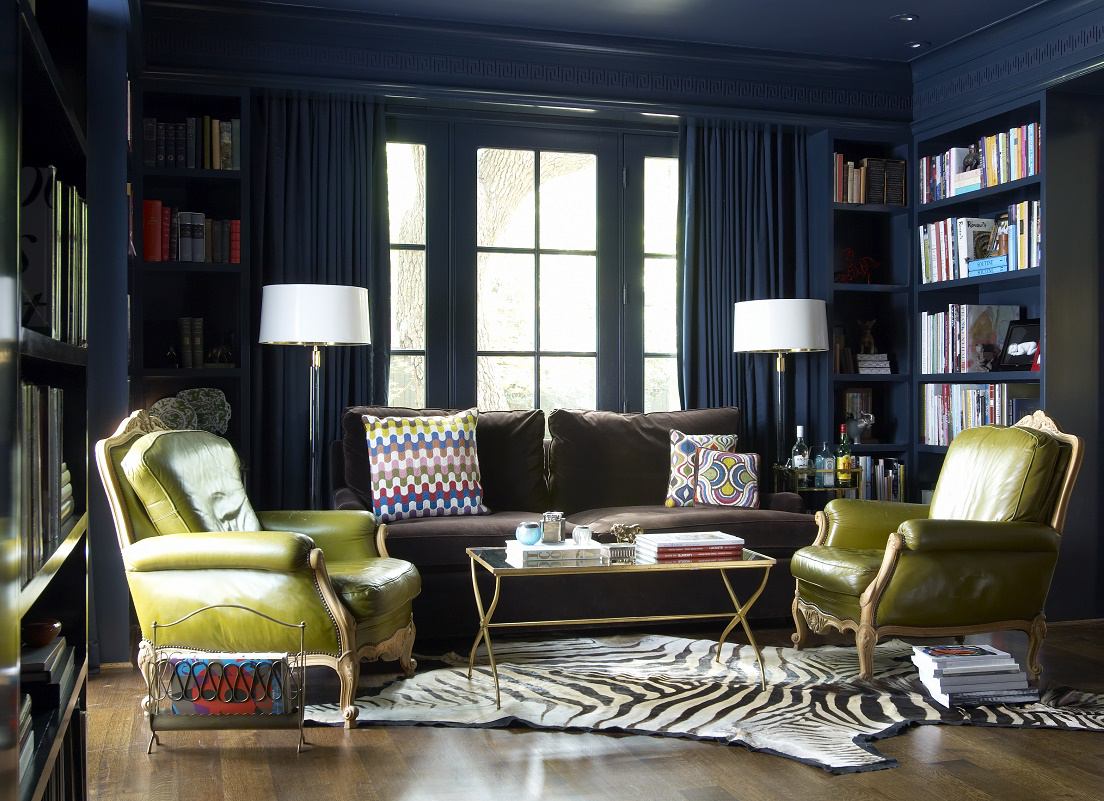 Here we have another private library in which Jan used a single deep shade to encase the room. She even custom color matched the drapery, to dramatic effect. Jan's "Hadley Sofa" anchors this end of the library, flanked by a pair of signature style floor lamps and a pair of 1940s Louis XV Bergeres in their original acid green leather. A gilded iron with mirrored top French coffee table centers the gathering on a zebra print hairy-hide rug.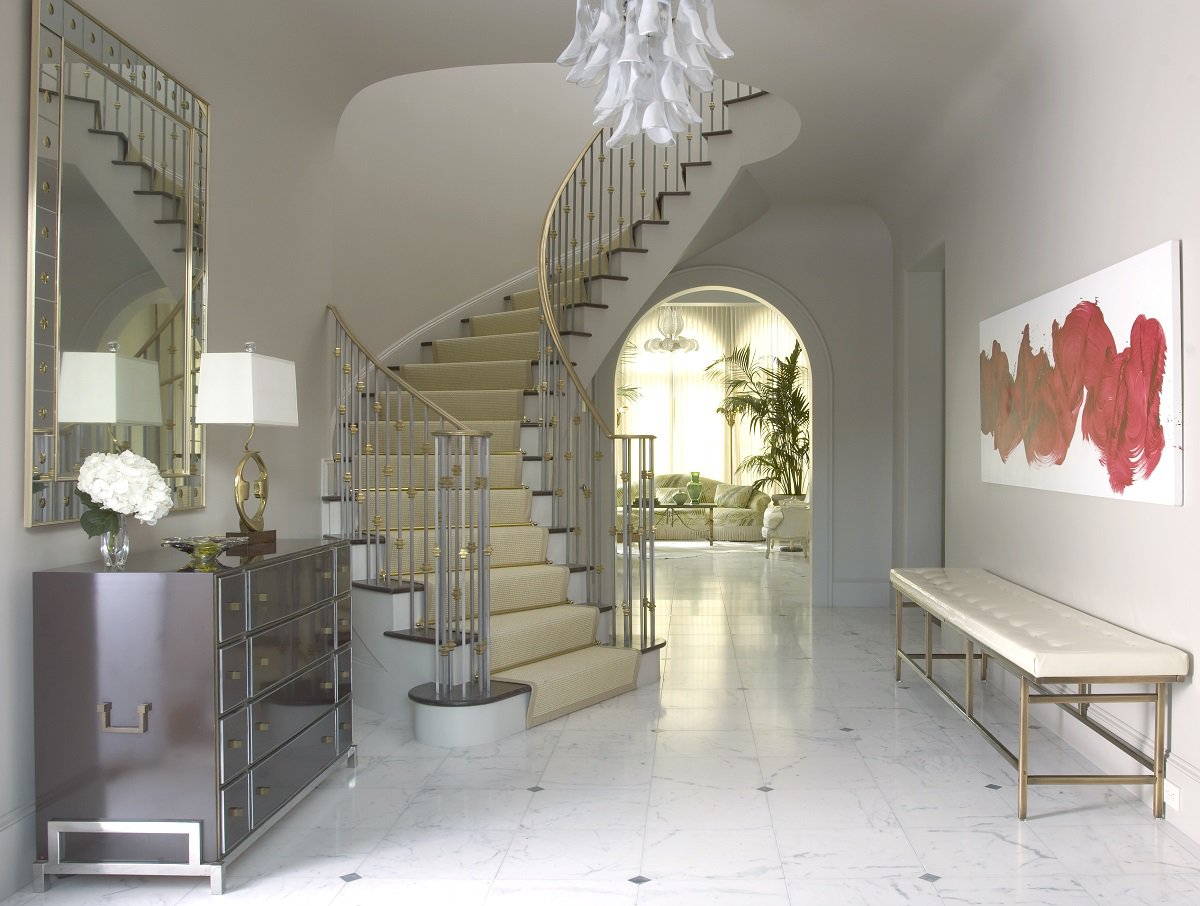 Jan believes the entrance of a home should be statement making. The entrance should set the tone for the rest of the interiors. In this entry, we have a 1950s Vistosi Murano chandelier whose fluid shapes echo those of the space itself. A James Nares painting hangs over a tufted upholstered bronze bench, which is always perfect for such spaces. A bronze framed mirror by Maison Jansen hangs over a lacquered commode holding a sculptural lamp by Wily Daro.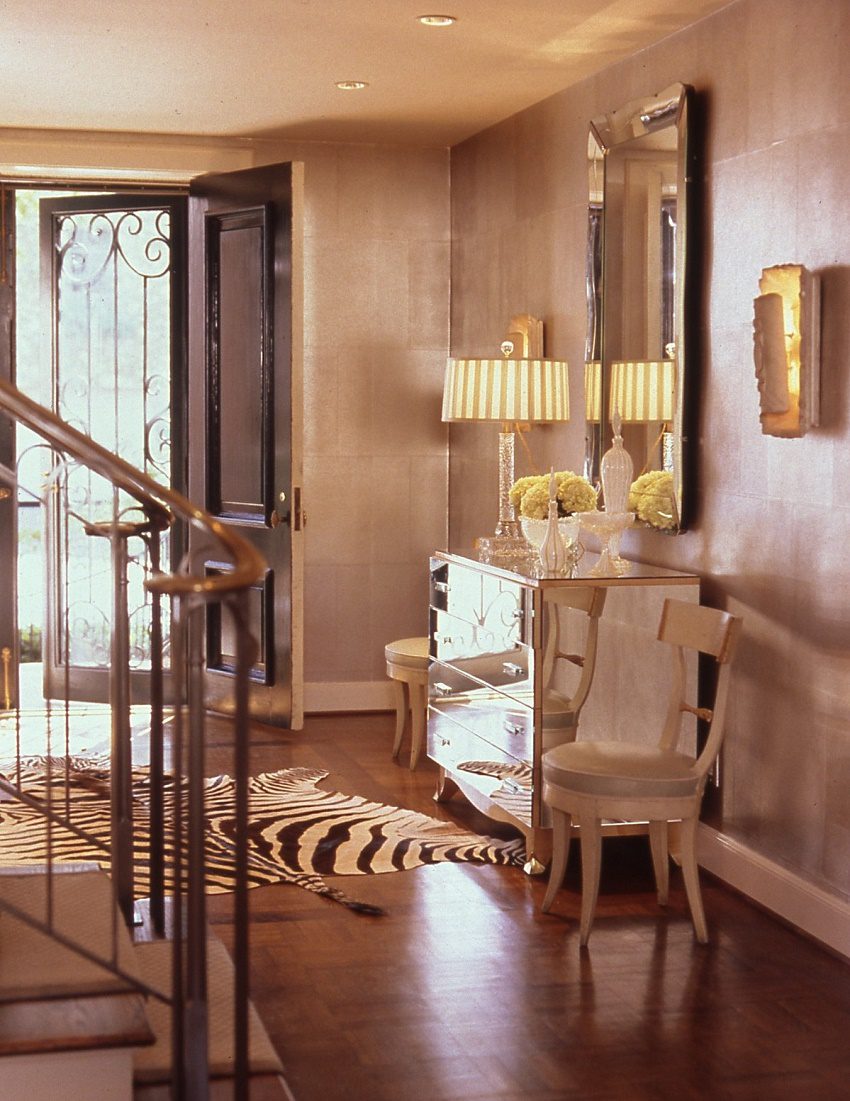 For our final photo, we have this entry hall which perfectly demonstrates understated glamour. Warm silver-leaf tea paper covers the walls. A mirror framed mirror hangs above Jan's mirrored commode, flanked by a pair of eighteenth-century Italian slipper chairs. A Murano glass lamp and other accessories on display enhance the rooms sparkle.
For interior designer Jan Showers, glamorous interiors are fundamental to all of her work. Though glamour is difficult to define, the designer is certain of what it is not. "Glamour is not a fad, and it is never over the top." I think that sums it up brilliantly!
For more great articles featuring Glamorous Interiors be sure to see:
Eclectic Luxury Design: Lori Morris
Glamorous Luxury Design: Elicyon
Jan Shower's Understated Glamour Conclusion
Jan Shower's Home Collection and her antiques, as well as info on her two published books: Glamorous Rooms and Glamorous Retreats, are all on her website so be sure to visit. Her books display a cross section of the styles and decorative preferences that make Jan and her firm one of the most important in the country. Jan's furniture and lighting collection—first created almost 20 years ago—is available at showrooms throughout the U.S.
Jan Showers possesses a rare fusion of elegance, class, sophistication, warmth, poise and a good sense of humor. When asked why she's so good at what she does, her reply is always that same; she truly loves her work. She is also one of the sweetest, most personable individuals in the industry.
Special thanks to Jan and her delightful office for being so gracious with us when we were still brand new at this!
Photography: Jeff McNamara * Brian McWeeney * Steve Karlisch
That concludes our design inspiration for today, my friend. Thank you so much for reading along with me. I hope you enjoyed these beautiful rooms. What do you think? I look forward to hearing from you in the comments.
If you have enjoyed reading Understated Glamour: Jan Showers, please be sure to share it on social media.
Have a great day!
Please like us and share: