Ritz Carlton Penthouse in Dallas by SoJo Design
Our inspiring interior design today comes from the 21st floor Penthouse at The Tower Residences at The Ritz Carlton in Dallas, Texas.  This outstanding luxury home of contemporary design has on occasions been described as one of the finest penthouses created in the country.  The unit boasts a stunning 360 degree view of the downtown city skyline.  It is located within an exclusive, award winning Regency style residential tower that is connected by a skyway to The Ritz-Carlton Hotel, as well as to its signature restaurant, and the hotel's full service spa.  The Tower provides an extensive list of highly desirable services and amenities for its home owners, including full Ritz-Carlton a la carte service.
This penthouse, a full floor unit comprising 8000+ square-feet of exemplary interior architecture configuration, was created when the owner bought and combined two original penthouse condos.  To complete this project, he enlisted the Miami based designer Sofia Joelsson and her boutique interior design firm SoJo Design, for whom luxury Penthouses have become a niche.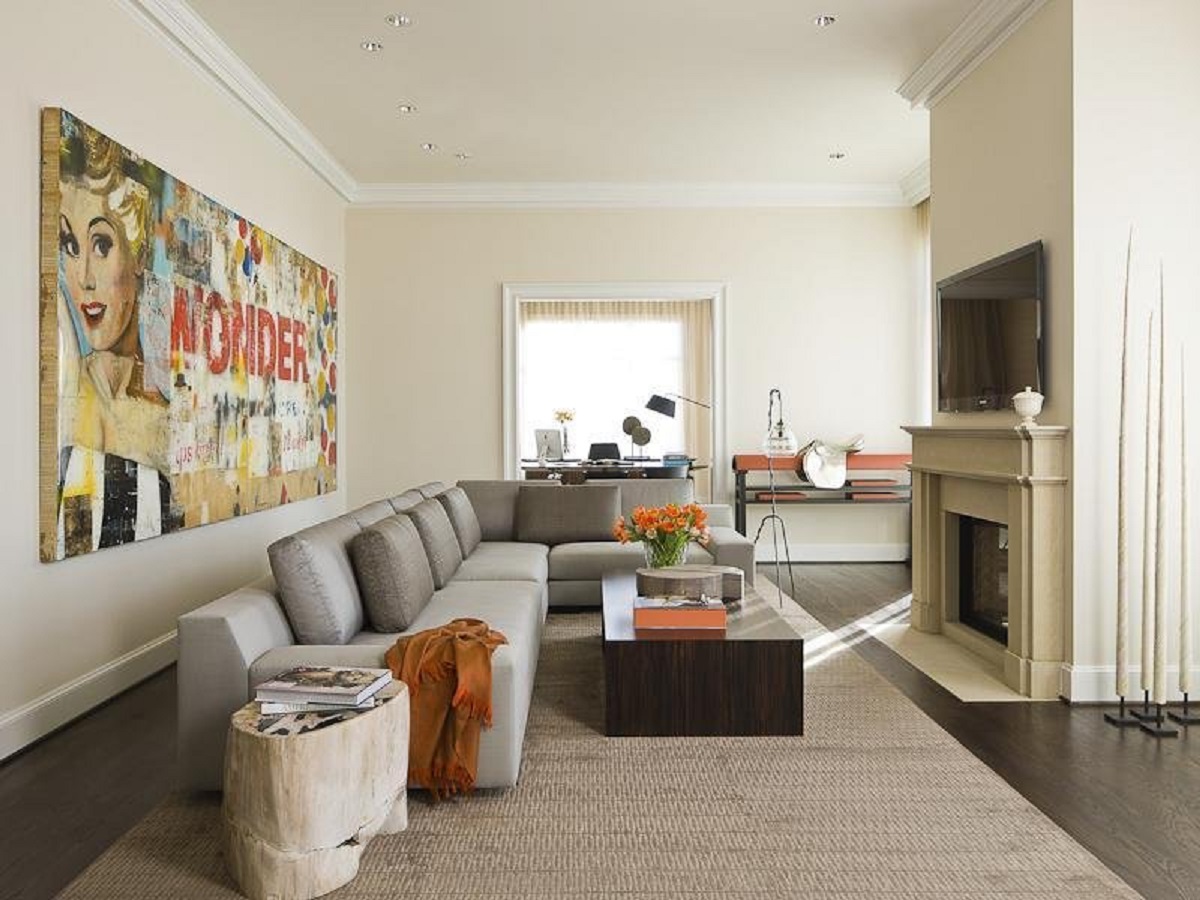 Sojo Design is a full service Interior Design firm that specializes in high-end residential and commercial build-outs and renovation.  Their portfolio includes everything from high-rise condos to spectacular single family homes, and even private jets.  The Sojo team spared no expense on creating the clean lines of the modern design with luxurious interiors, creating a smart and super functional home.  The neutral color palette, natural materials, and contemporary furnishings create a tailored, sophisticated design.  The results being sleek and gallery chic; the perfect backdrop for the owner's museum quality collection of art.
The completed penthouse now includes four bedrooms with en suite baths, plus two powder rooms.  In addition, the home includes three large private outdoor terrace and entertaining spaces, totaling over 5000 square-feet which were designed and built in conjunction with Harold Leidner Landscape Architects, and are almost as noteworthy as the luxurious interiors.  The residence has two elevators, a vestibule hallway, and a private entrance, so there are no public hallways to have to deal with, and with having the entire floor, there are no privacy issues.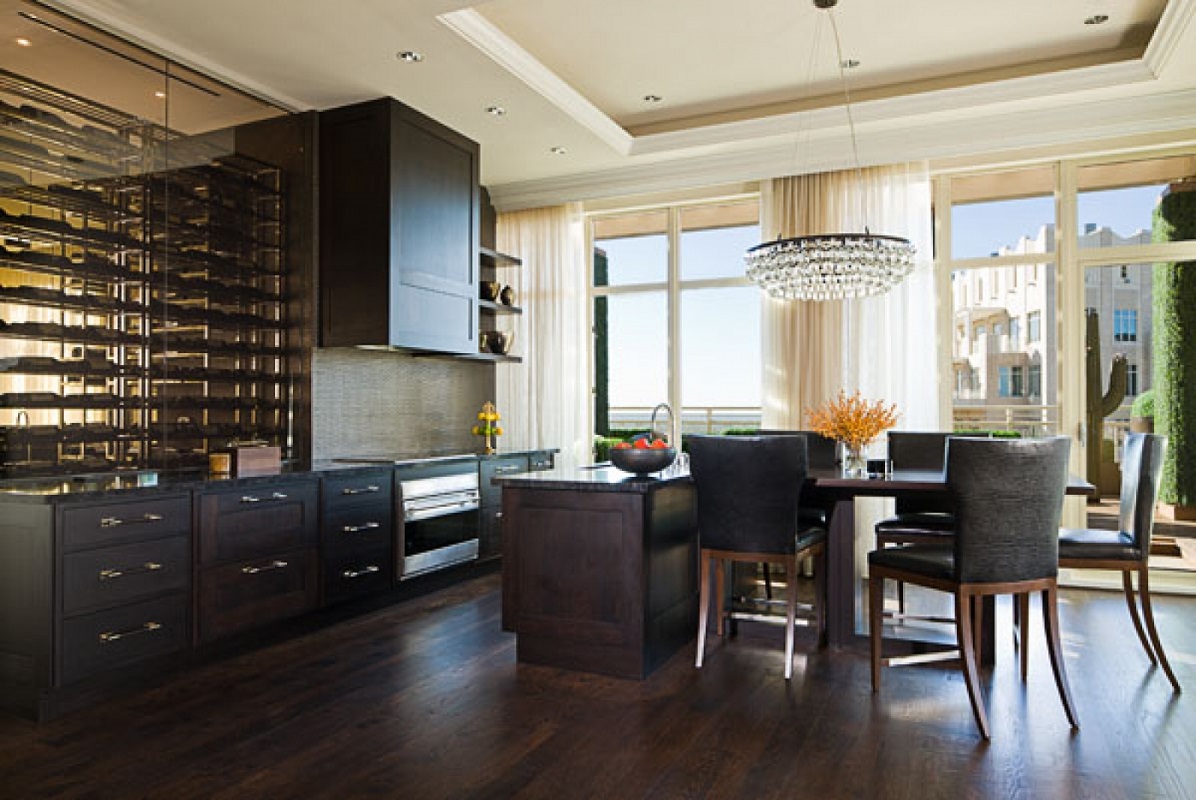 The contemporary design open kitchen flaunts rich dark woods, stainless steel designer appliances, and sleek finishes, as well as an eat-in breakfast bar with custom bar stools of bespoke design.  The owner may not ultimately have to use these beautiful accommodations though with room service and access to fine dining just a call away.  Having lived in Dallas for several years myself, I can say for sure that there are so many places to go and people to see that staying home to dine is only one of many really great options.  The home includes access to a huge service elevator which brings up your room service, and whatever else your heart may desire and wish to order up.  The high ceilings, floor to ceiling windows, and abundance of natural light shown here in this photo continue throughout the home.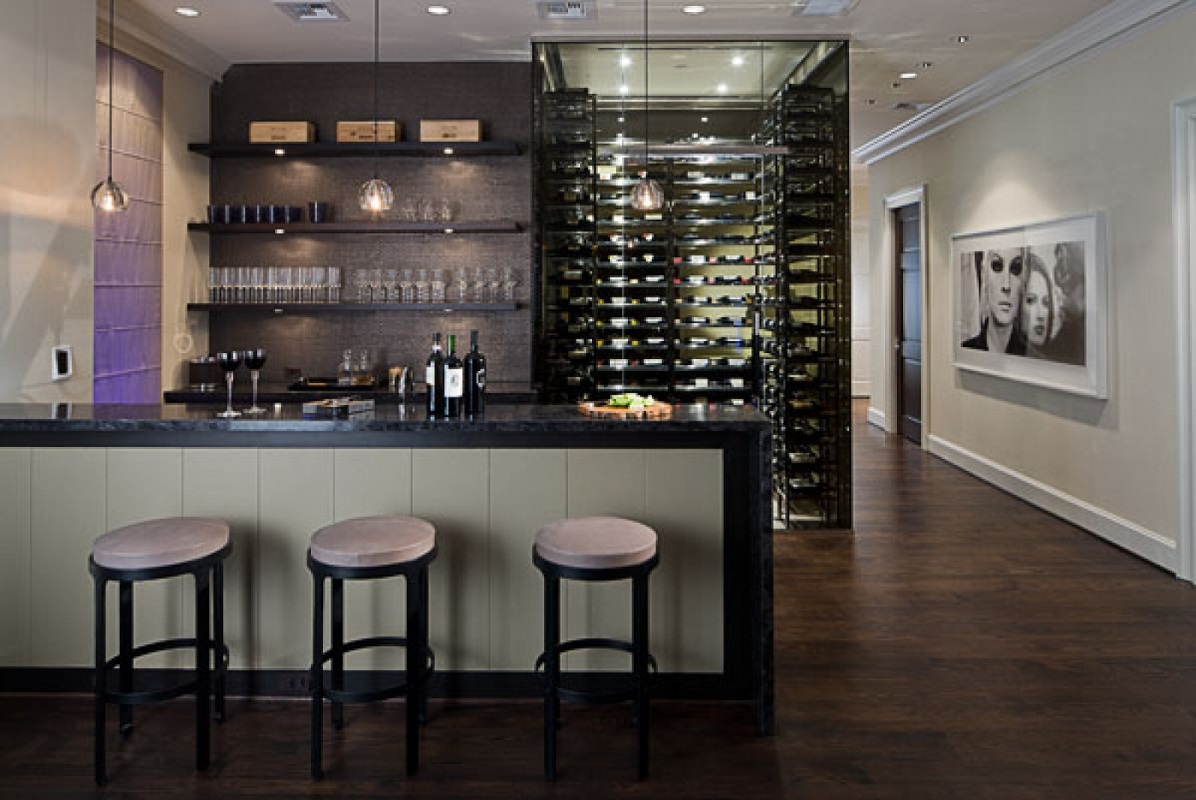 Beyond the kitchen, and placed next to the large glass-enclosed, temperature controlled wine storage room, is the home's main bar which includes all of the standard features of a high-end home bar.  This penthouse includes two, as well as an additional bar area that services the terrace.  This home was designed for entertaining on a grand scale, as it has done many times since its completion.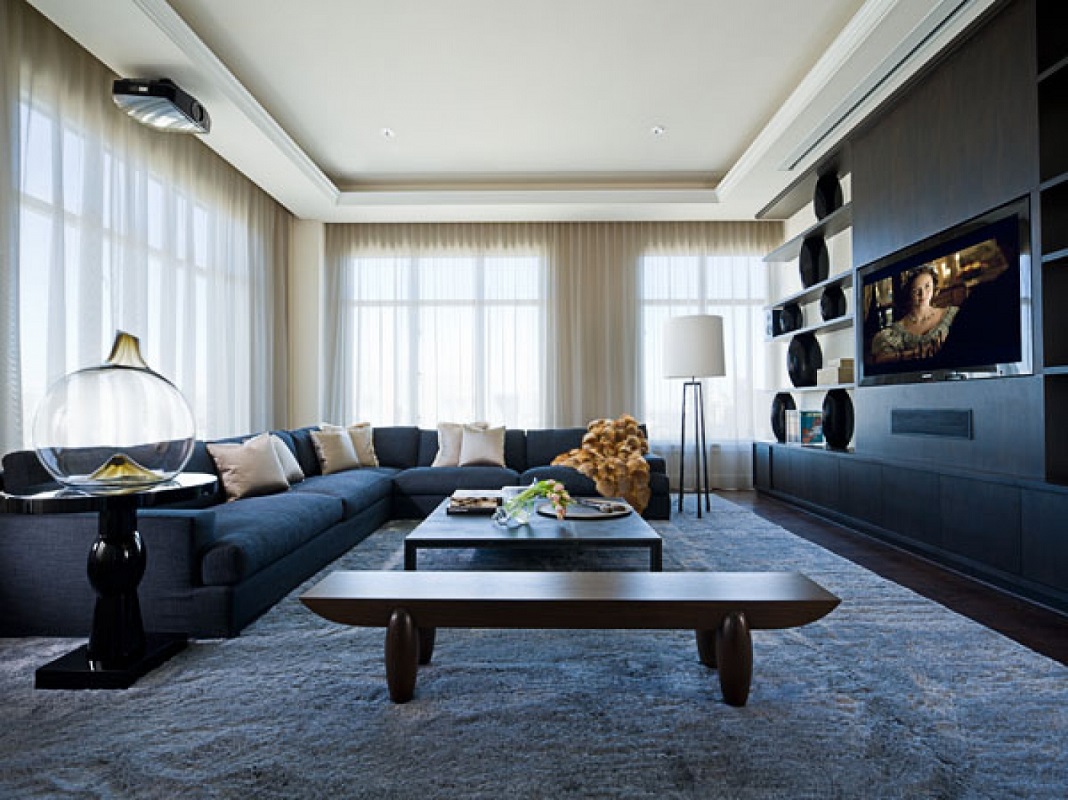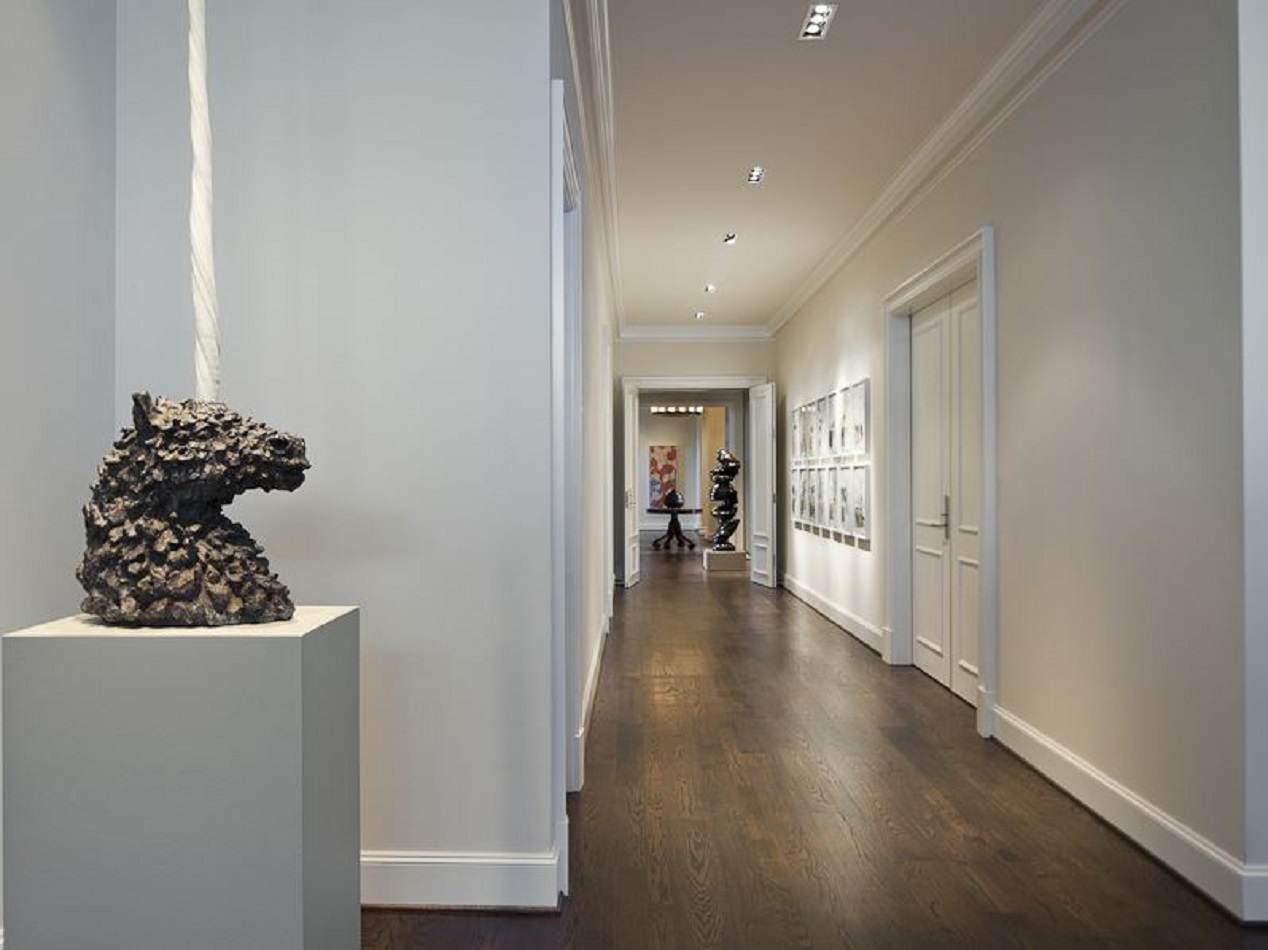 I did mention the gallery like inspiring interior design right?  Isnt it fabulous?  Understated elegant interior architecture details and a world class art collection.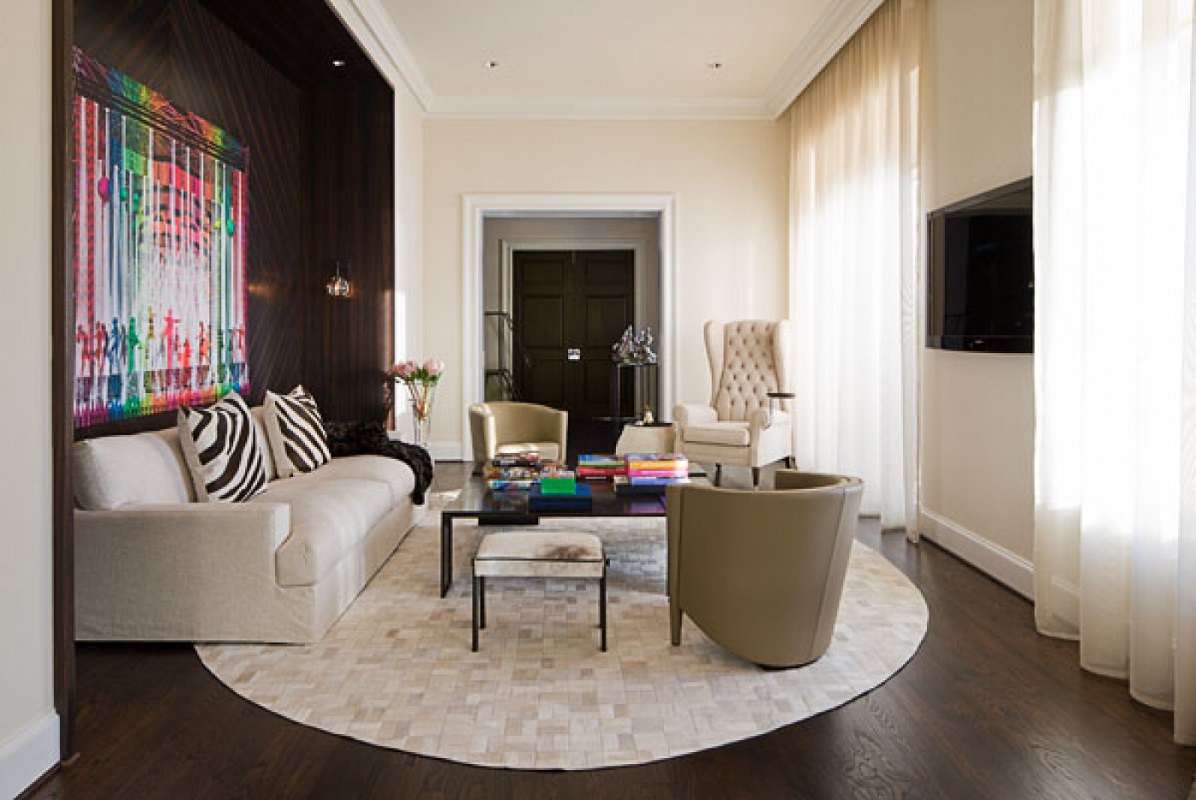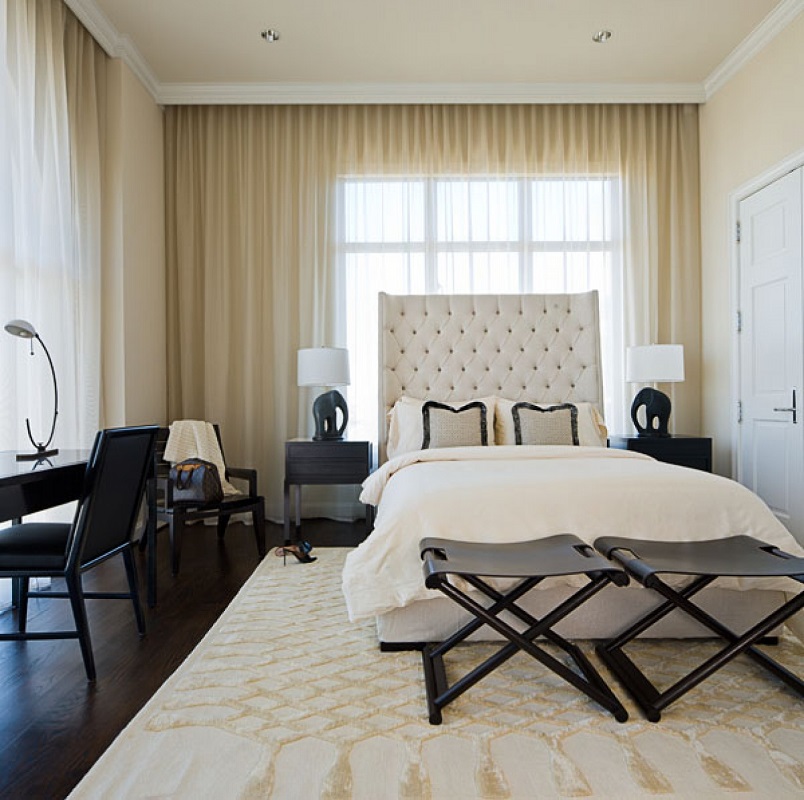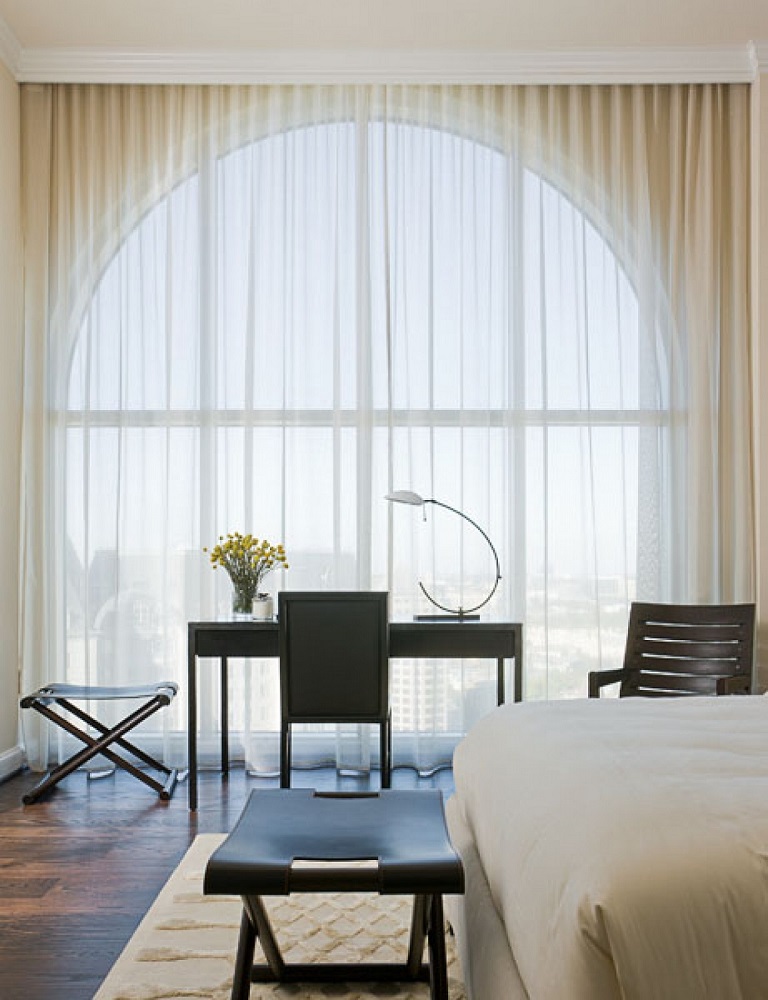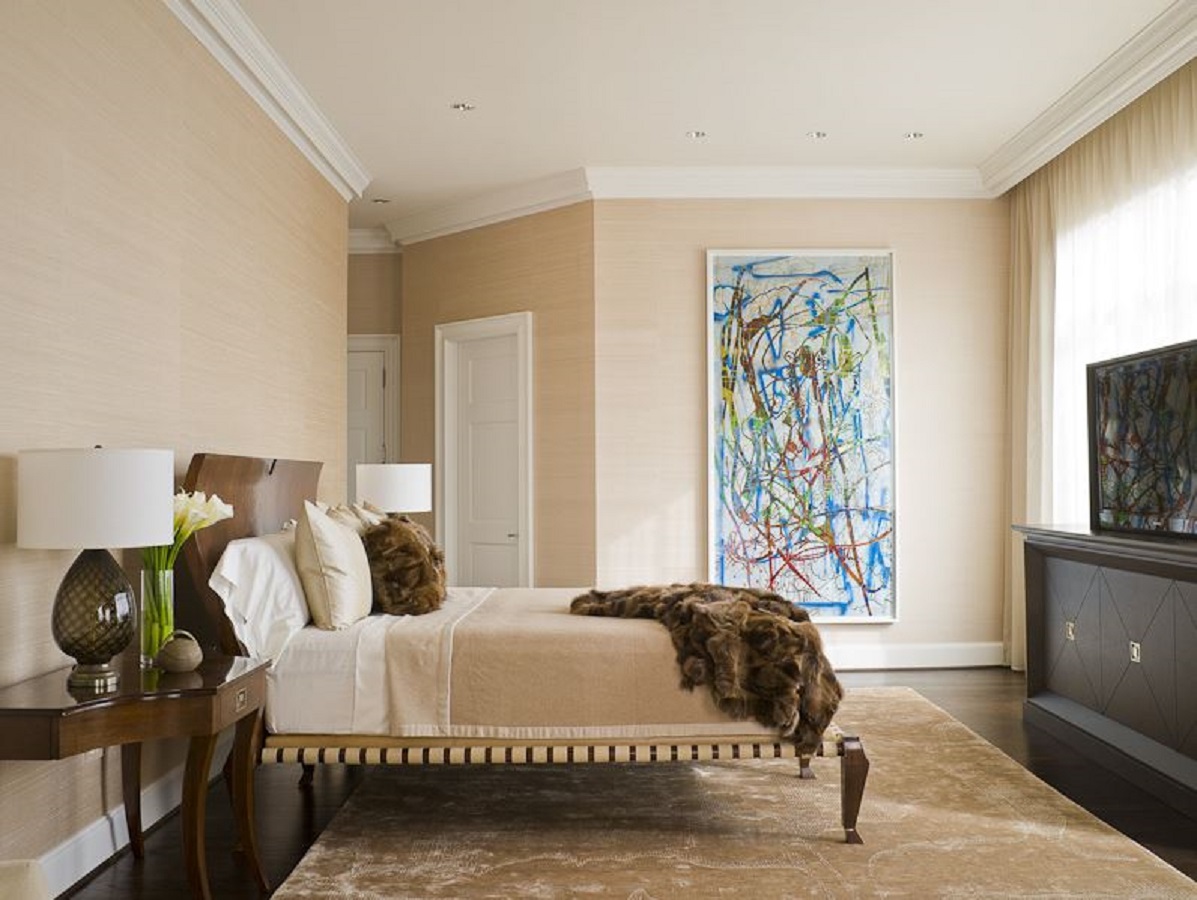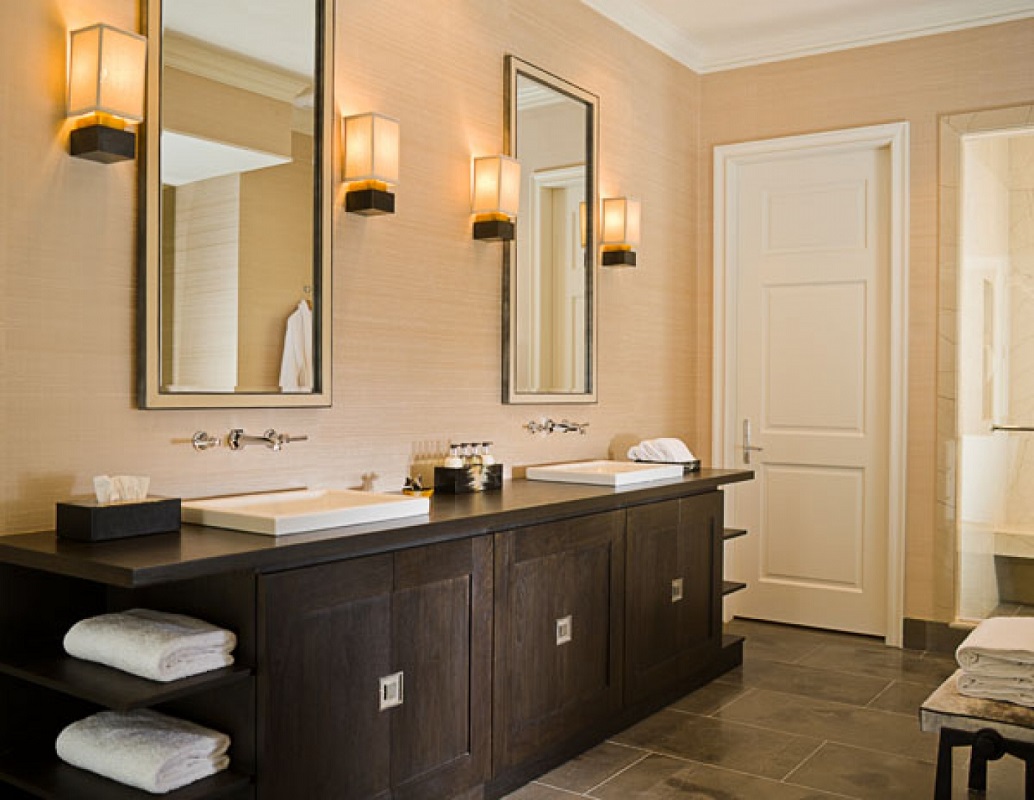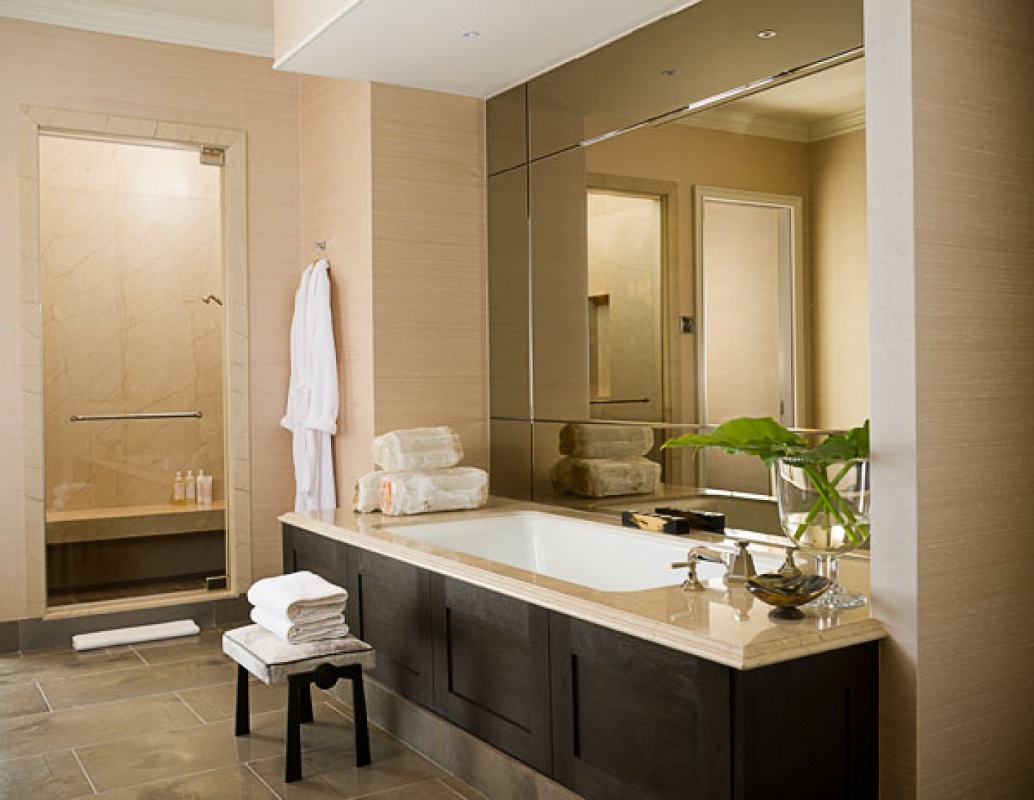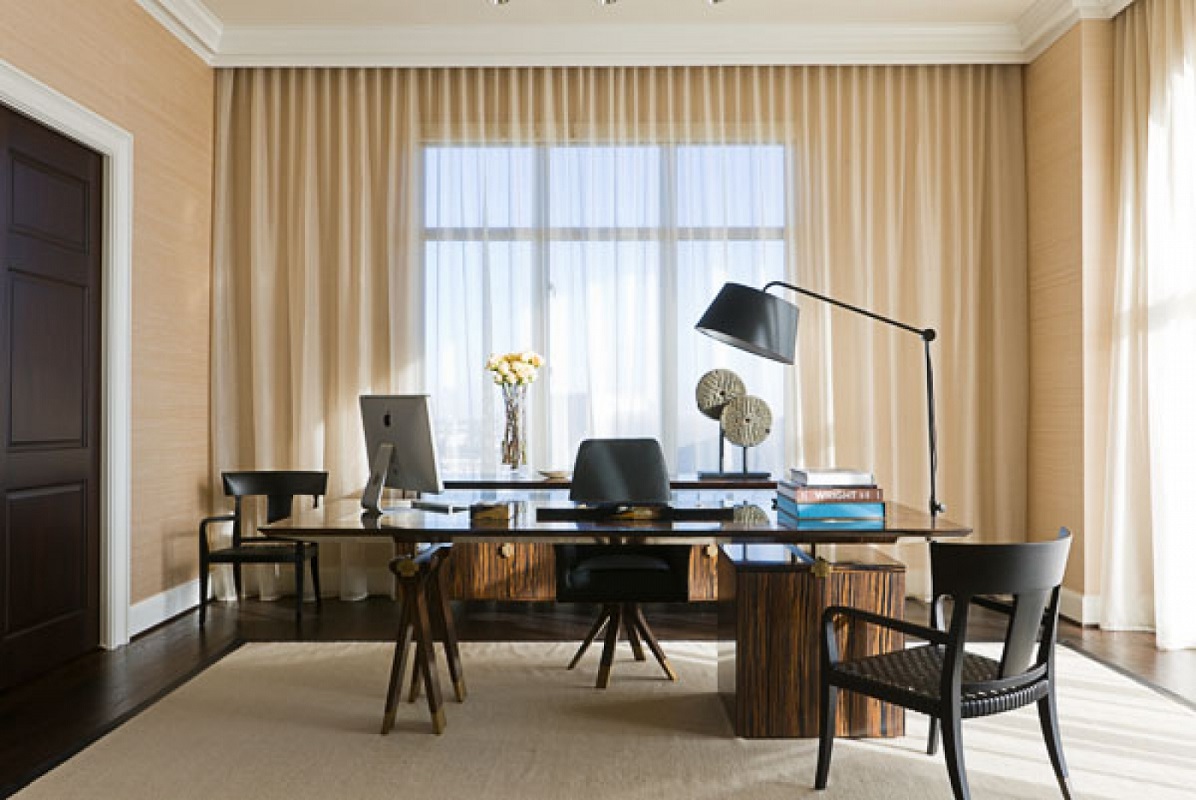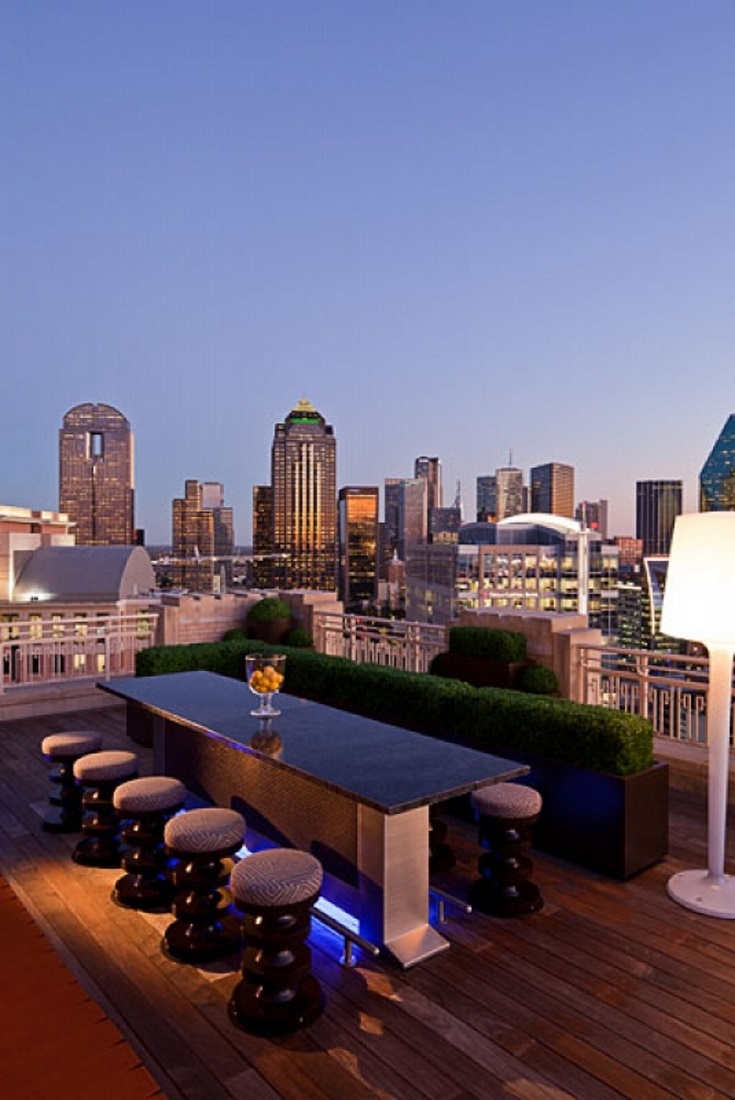 This Dallas contemporary design penthouse, with its exceptional views, exquisite interior design, and abundance of outdoor space, along with all of the Ritz-Carlton amenities, perfectly exemplifies the comfort and convenience of today's finest urban lifestyle.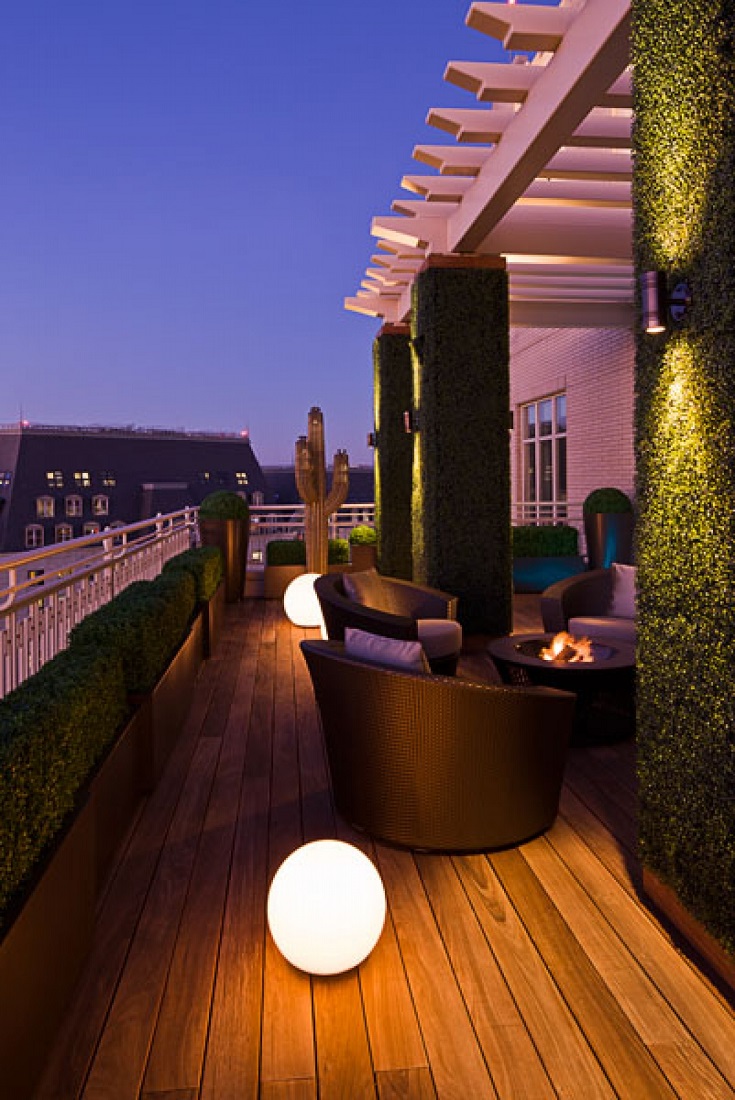 That concludes today's inspiring interior design from the 21st floor Ritz Carlton penthouse in Dallas, Texas.  I hope you all have enjoyed and been inspired!  Thanks so much for reading along my friends!  Have a great day!
Interior Design by Sofia Joelsson and her company SoJo Design, LLC  @ www.sojodesign.com – headquartered in trendy South Beach (Miami, FL) with exclusive clientele in New York, Los Angeles, Chicago, Monte Carlo, and St. Tropez.
Photos via www.sojodesign.com.
Landscape architecture by Harold Leidner Landscape Architects @ www.haroldleidner.com.
sources:
If you have enjoyed today's post, and we hope you have, please share it along below.  Also, please let me hear from you guys in the comments!
Please like us and share: