Park Avenue Contemporary Classic
New York-based architect and interior designer Garrow Kedigian had spent five years searching for the right apartment, and the moment he saw this one he knew it was the one.  A "classic seven" on Park Avenue on the fashionable Upper East Side.  It wasn't immediate.  It needed much work, but its potential was clear.  For our design inspiration today, we're taking a look at the home the architect and designer created after six months of renovations and just in time to host 125 guests for a black-tie affair to celebrate his 40th birthday.  This is his personal residence which has been featured in House Beautiful Magazine and others and received much praise for its classic designs interpreted with contemporary style.
New York Architect and Interior Designer Garrow Kedigian finally has his perfect "forever" apartment in the city.
Kedigian was born and grew up in Montreal, Canada.  After completing his formal education at the McGill School of Architecture, he moved to Boston, MA where he worked for the renowned interior designer William Hodgins for six years.  In 2000, he relocated to New York City and started his firm soon after that.  His classically trained architectural background and time spent working with Hodgins, one of the Deans of American Interior Design, have shaped his personal style which he describes as "Streamlined Classic."
The apartment is located within one of the oldest remaining luxury residential buildings on Park Avenue, built in 1908.   The Neoclassical building with Beaux-Arts detailing is full of prewar charm and includes gracious windows and high ceilings.  It is a well maintained, full-service co-op with a total of twelve floors, his being on the ninth.  An additional detail of note, his L-shaped, corner unit was occupied by Fred Astaire for twelve years during the late 1940s and early 1950s.  What he liked most about the apartment were its balance and proper proportions.  What he liked least was the fact that the place hadn't been renovated since the 1950s and was in poor condition.  He decided that was OK, though.  He could envision what he wanted to do with the place, so he bought it and began the process of executing his vision.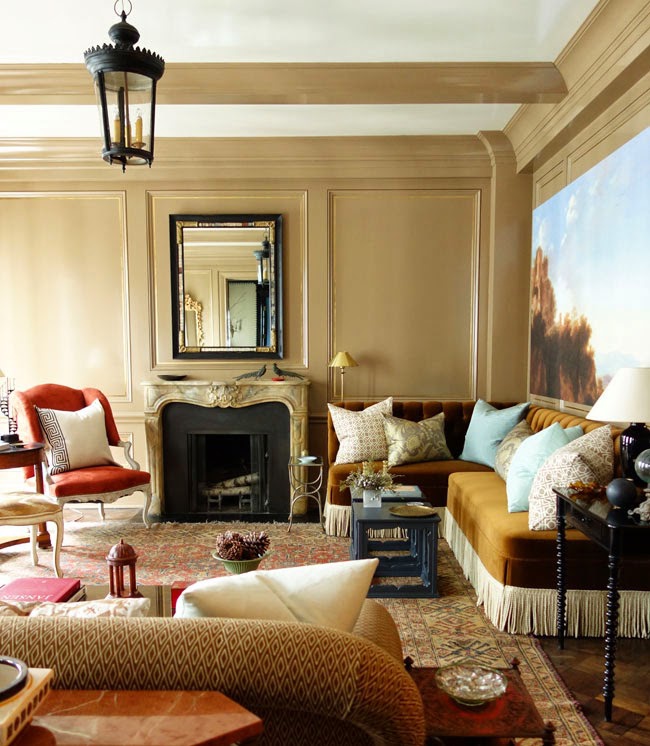 Kedigian reconfigured some of the rooms a bit to create an entertaining enfilade along the south side of the apartment consisting of the living room, the dining/music room, and a library, each opening one to another for an open flow punctuated at each end with the fireplace in the living room and the fireplace in the library.  The designer has paneled the walls here in the living room and added deep cove crown molding to accentuate the ceilings heights.  The ceiling beams were also clad with the moldings.  The walls were then finished with a high-gloss and each panel highlighted with a single gilded line around its perimeter.  The fireplace mantle is French antique marble.  The rug is a Persian rug that Kedigian decided to use up-side-down to mute the tones.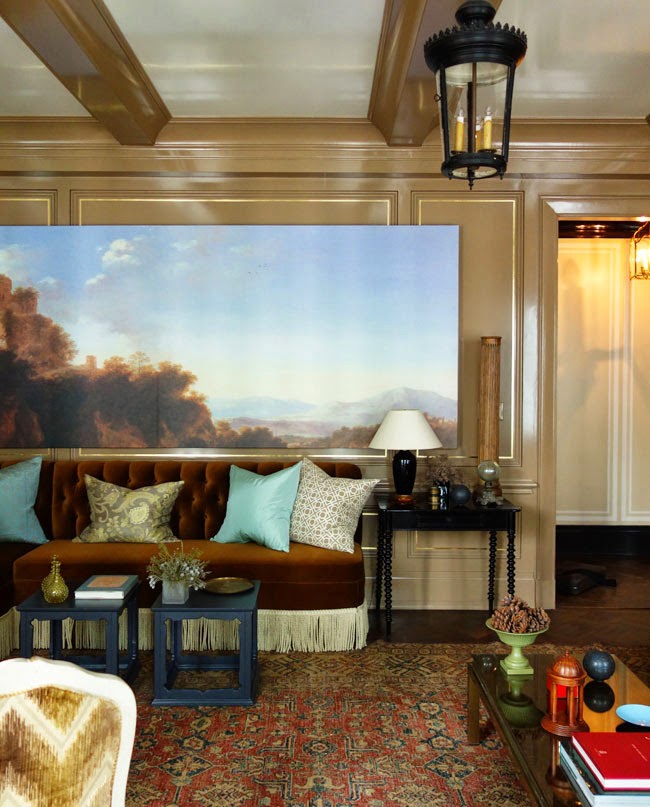 An exceptional custom tufted banquet upholstered in Lee Jofa's Spectrum Velvet with bullion trim fills one corner.
The pillows on the custom banquet are of bespoke design and made using a collection of fabrics from Holland and Sherry and Clarence House.  The large art above the banquet is a digital blow-up of an Old Masters Renaissance fresco painting. Kedigian took it to a print shop and had them print it on canvas for him.  A small set of side tables are paired together to act as a coffee table, while at the end of the banquet, an 18th century Dutch table holds a carefully curated and displayed collection of mementos.  The hanging lantern was purchased at Marche' aux Puces.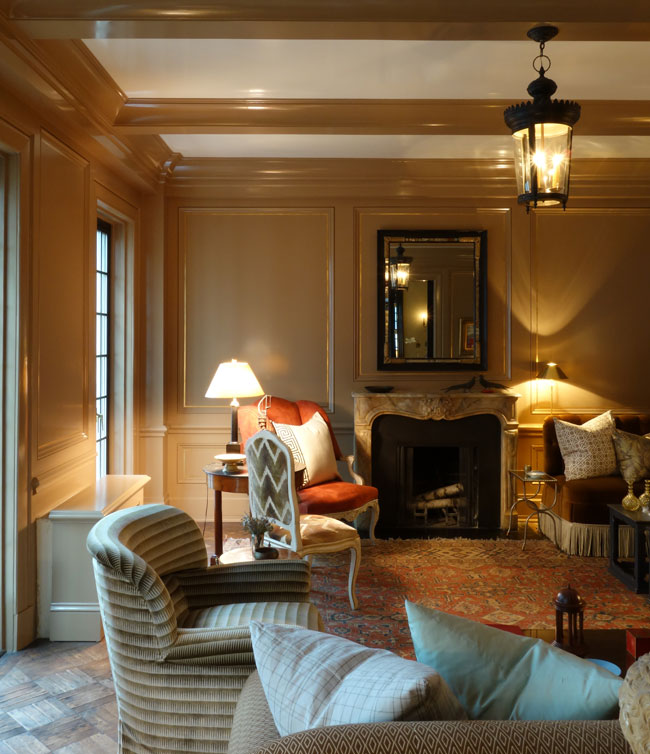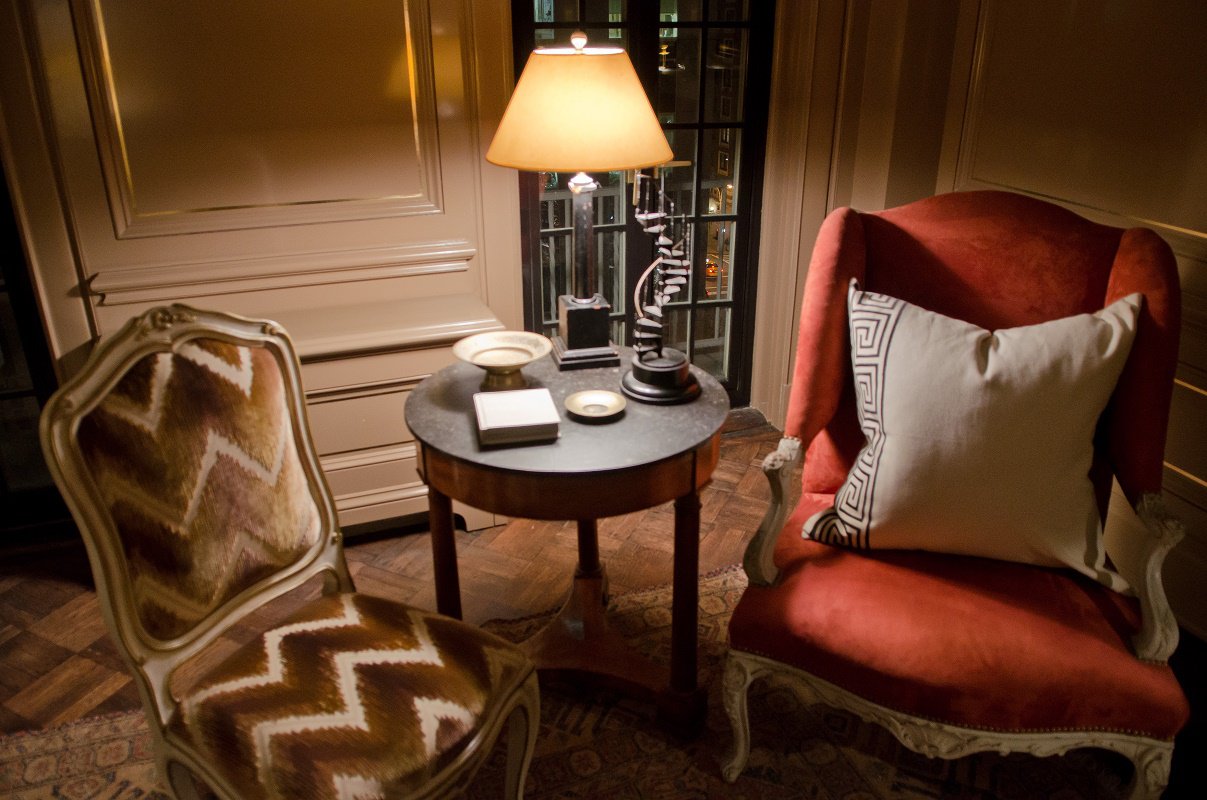 An antique chair upholstered with a Hinson and Company Suede, along with one of the 19th century dining chairs from the group that surround the table in the dining room have been grouped with an English 19th century pedestal table topped with an ebonized column lamp and other collectibles.  The antique mirror above the mantel was enlarged by adding an additional black frame beyond its original frame, which is a pretty clever idea!  *Note- Design idea for living rooms* to try!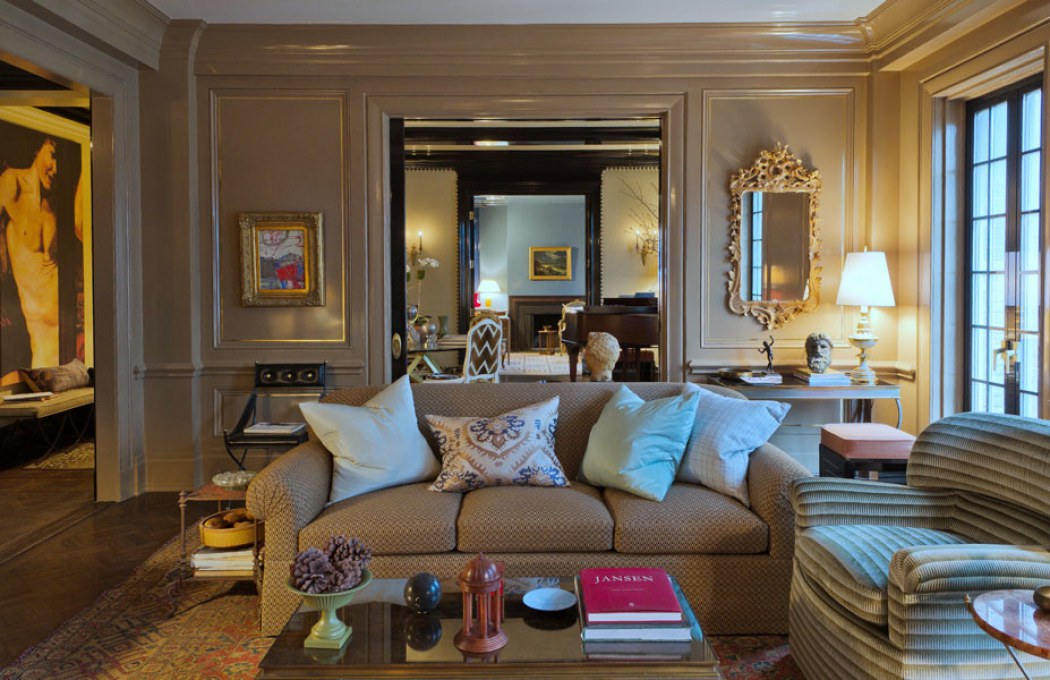 The floating sofa of bespoke design by Kedigian anchors the room opposite the fireplace and was made by Albert Vitiello Decorators and upholstered in Chelsea Edition's Diamonds.  The club chair is upholstered in Clarence House's Neisha Crosland Fleuret Chevron.  Both the living and adjoining music/dining room feature two and three sets of French doors that open onto the buildings one and only Juliet Balcony that was placed here when constructed as part of the exterior facades decoration.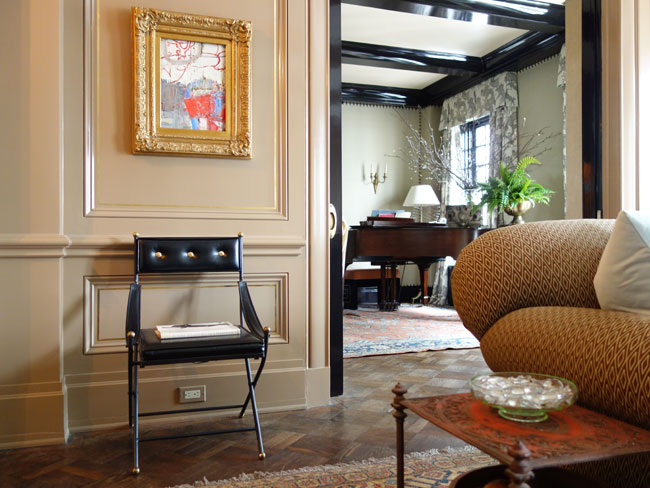 A framed art project painted by Kedigian himself while in architecture school is displayed above a vintage Tommy Parzinger campaign chair.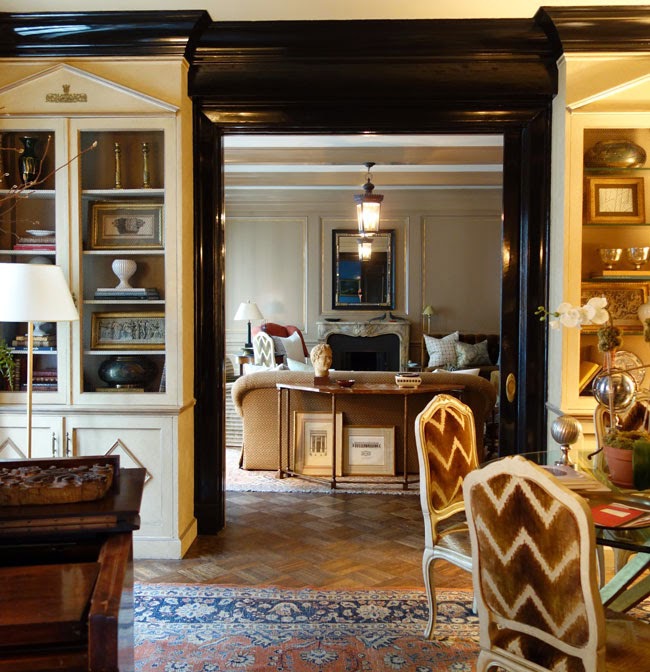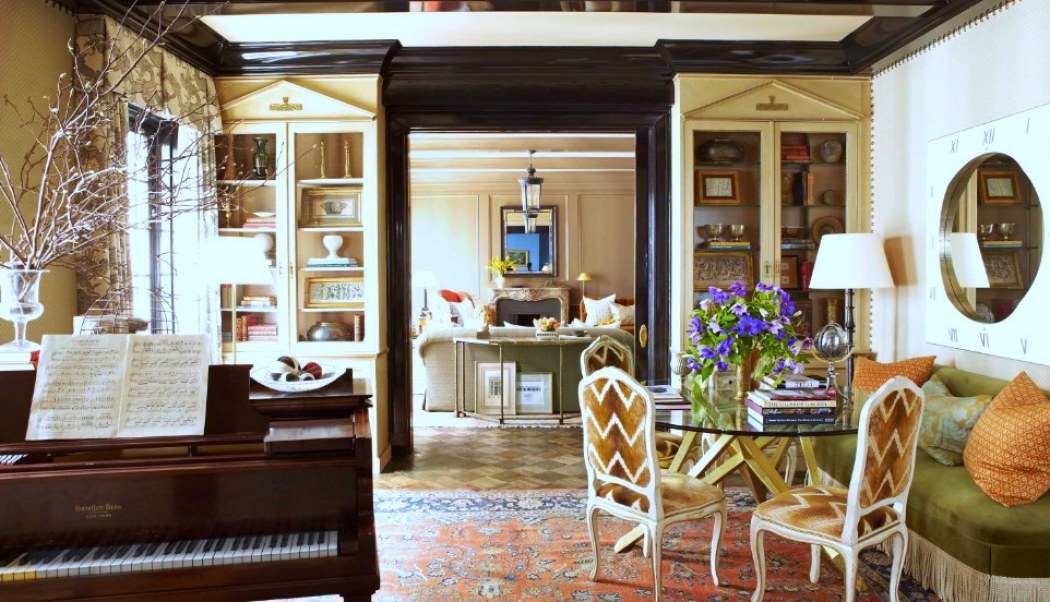 The dining/music room's walls are upholstered with fabric from Chelsea Editions, with large-scale nail head trimming.  The molding and wood trim is finished in ebony with a bit of brown.  The display cabinets were original to the apartment.  A velvet banquet trimmed with bullion fringe creates one side of the dining area.  The dining table is from Mecox with its wooden base finished in gold and the set of 19th century chairs surrounding it have been upholstered in Schumacher's Shock Wave.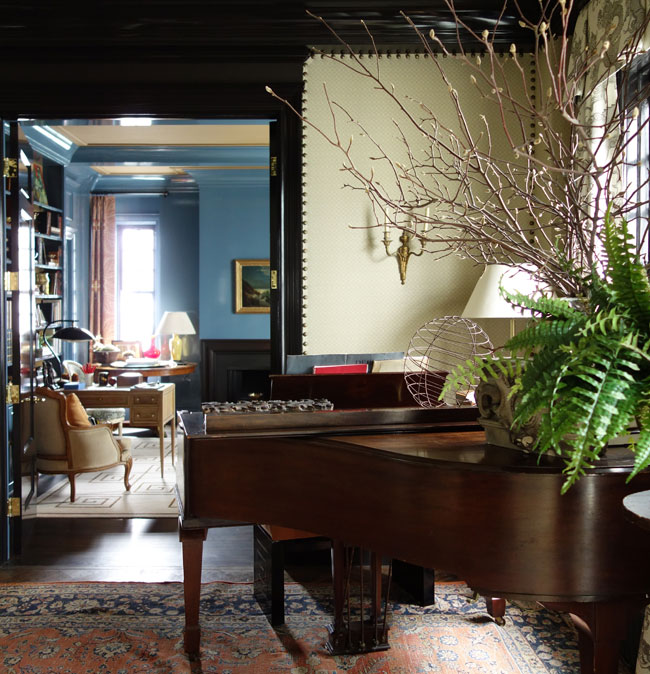 The grand piano, a gift from Kedigian's parents when he was young, has been placed on the opposite side of the room to leave a clear passage through.  Its central location allows the music to filter through the entire enfilade of entertaining rooms.  The passage way into the library was made a foot smaller than the passage from the living room.  The difference creates a perspective and tricks the eye making the dining/music room appear deeper and the library appear further away.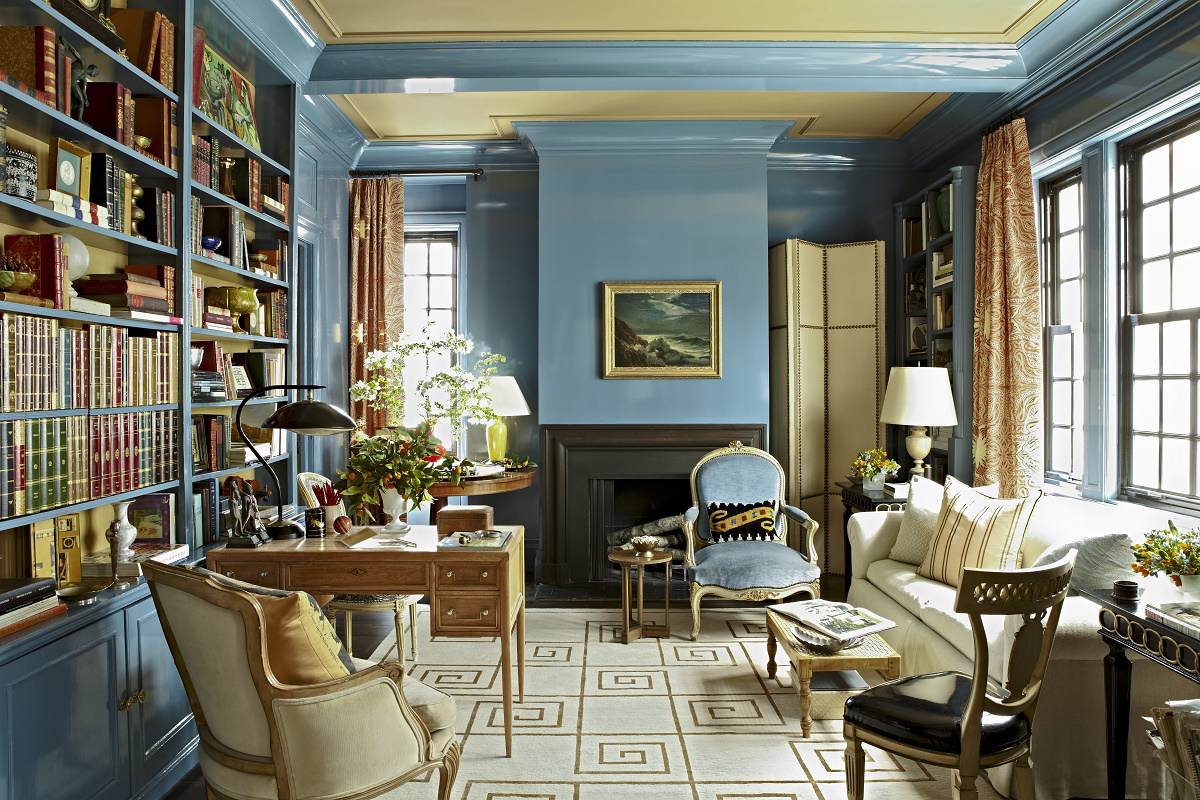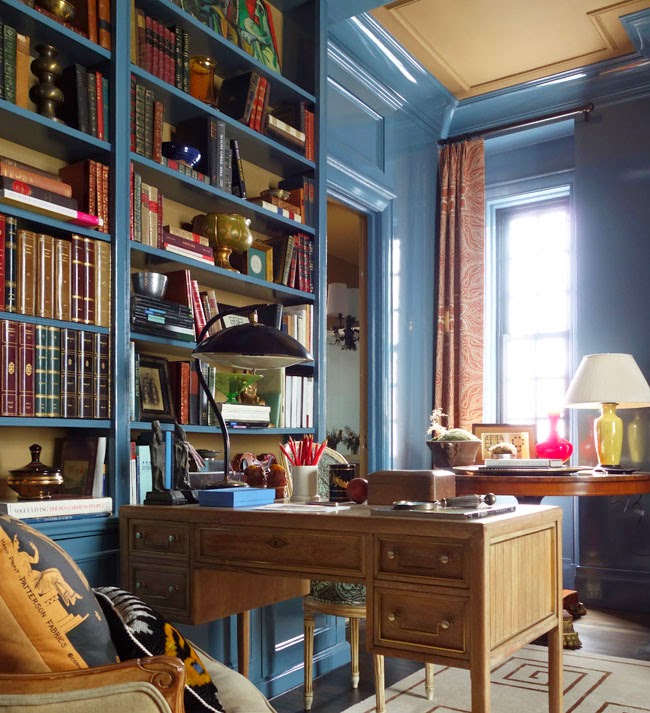 The library was originally a bedroom, but in order to create the entertaining enfilade, it had to be reconfigured for this new purpose.  Kedigian had always wanted one.  He just wanted to make sure it felt of contemporary design and vibrant.  After days of analyzing samples in the sunlight at various times of day, a custom palette of blues for the walls and a caramel/orange shade for the ceiling were created in a Fine Paints of Europe Brilliant finish.  The draperies were made with an embroidered fabric from Etro.   A bergere covered in Pierre Frey's Dune is placed before the Mid-Century Modern desk.  The lovely Louis XV fauteuil is dressed in its original blue velvet.  The rug is custom from Stark.   The painting above the fireplace is by Kedigian of an ocean scene in Maine.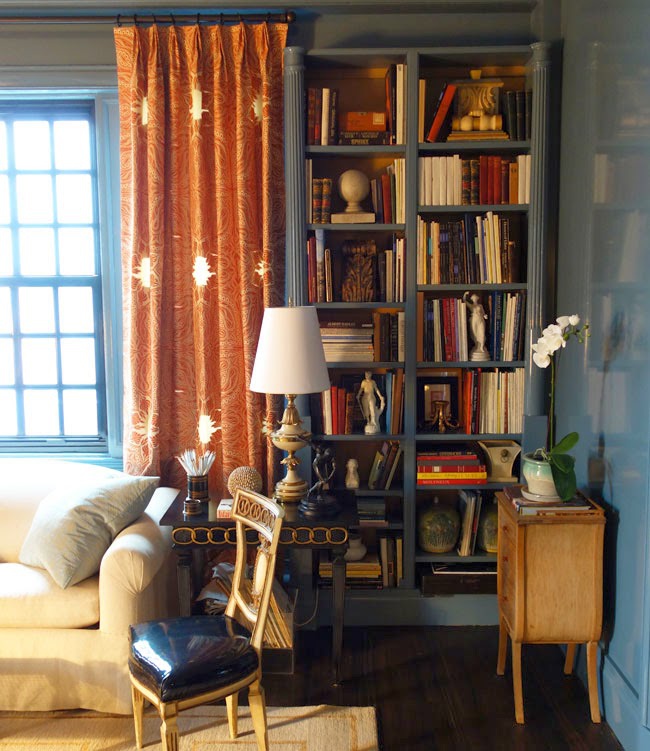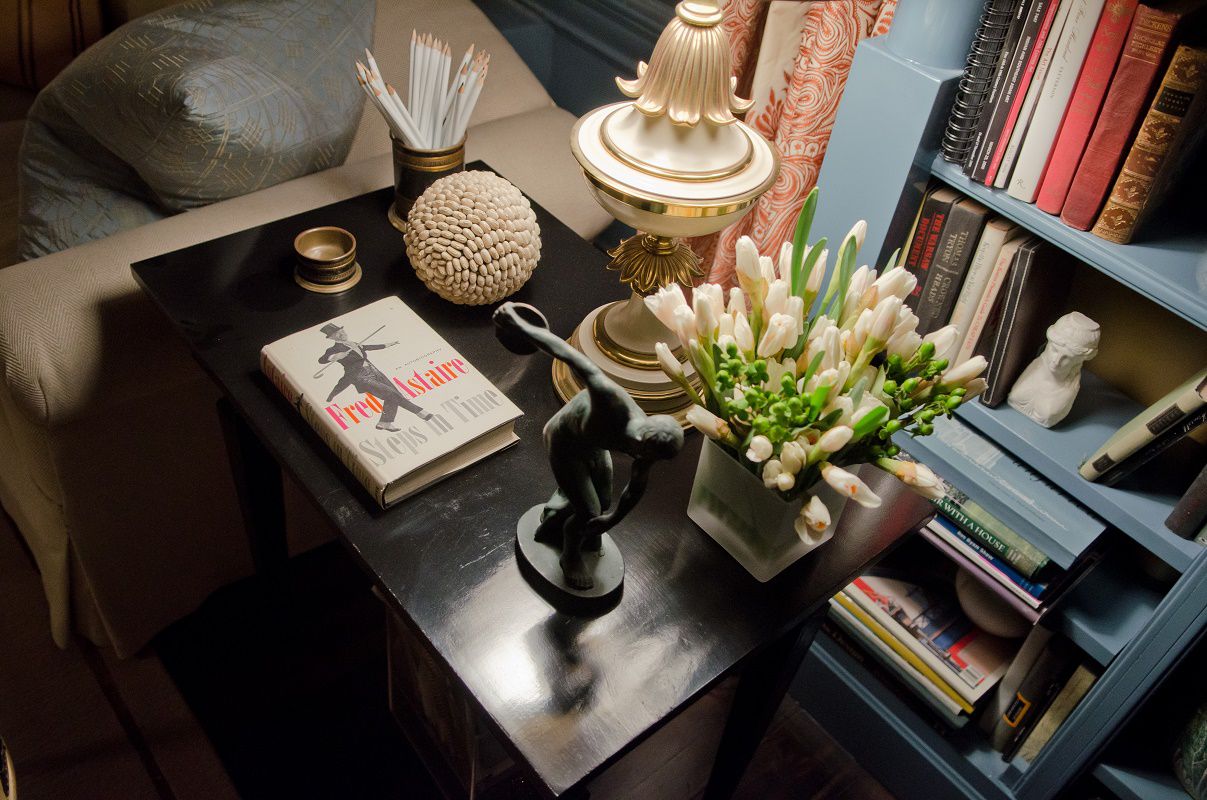 The sofa is upholstered in Scalamandre's Variegation Herringbone, while the Neoclassical side chair has been given a fresh look with Glant's Liquid Leather.  Collections of old books and collectibles fill the library shelves except for one area where the books are faux and mask a cabinet that holds a television behind it.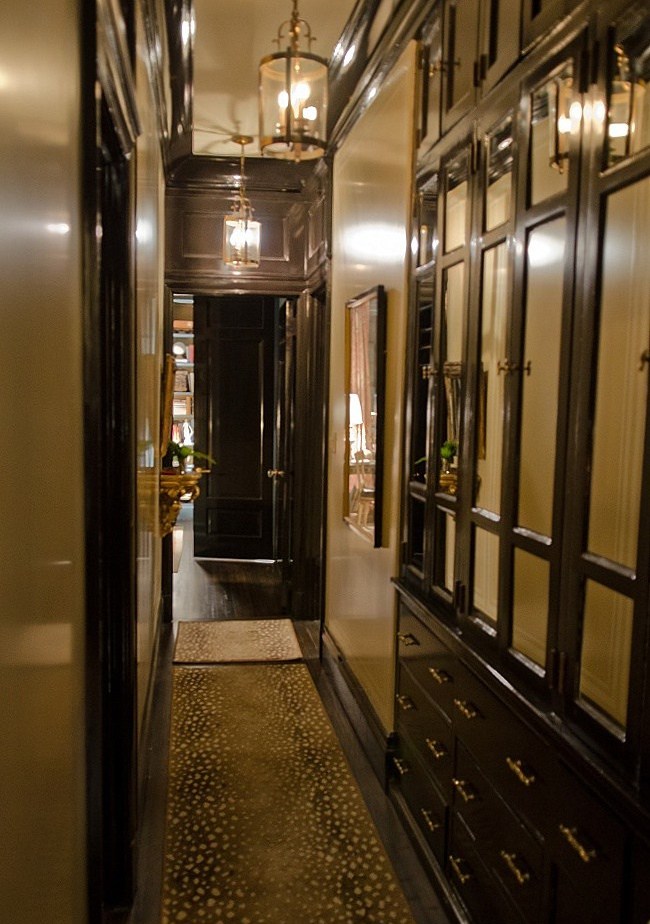 The main gallery hall has been completed with new crown and foot moldings along with custom storage areas, all of which have been painted in a high-gloss black finish.  The floors are covered in an antelope-pattered carpet from Stark.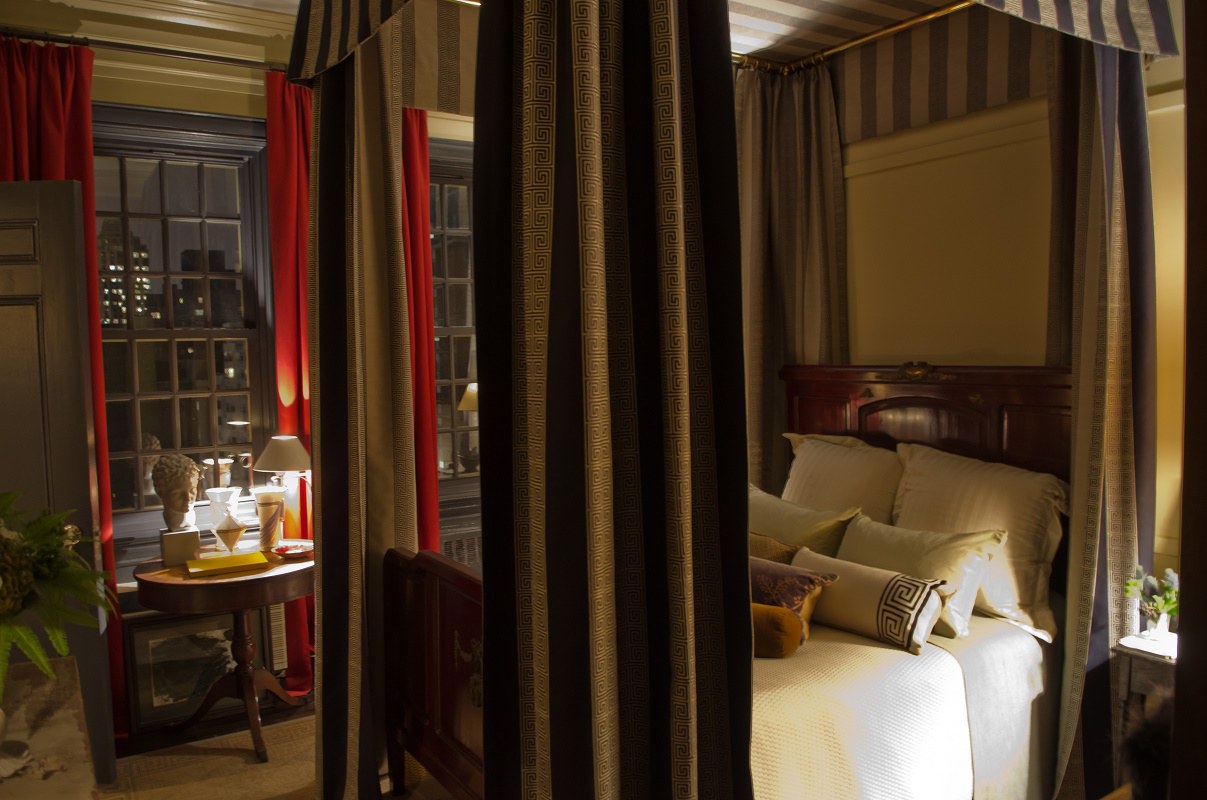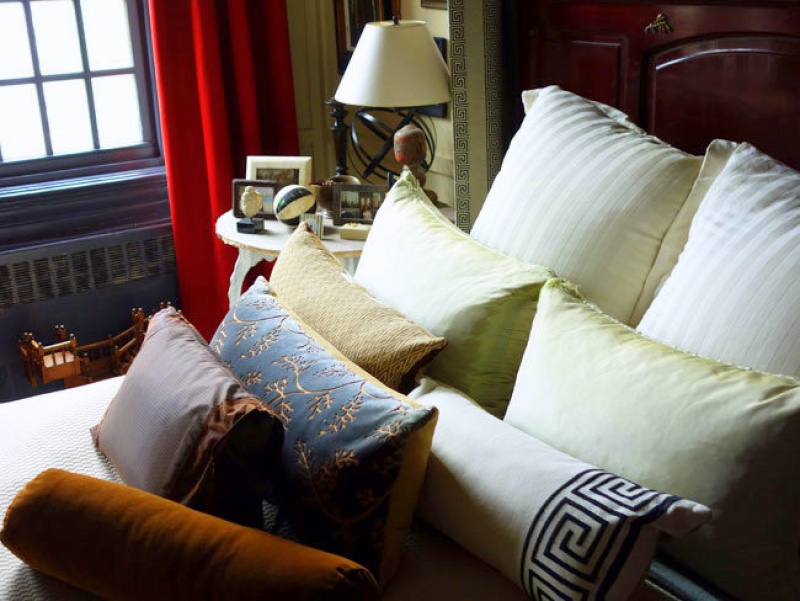 In the master bedroom, a canopy bed has been created.  To create a greater sense of height, the bed draperies in Schumacher's Malandros Stripe, were attached directly to the bedroom ceiling.  The bed is a French 19th century antique.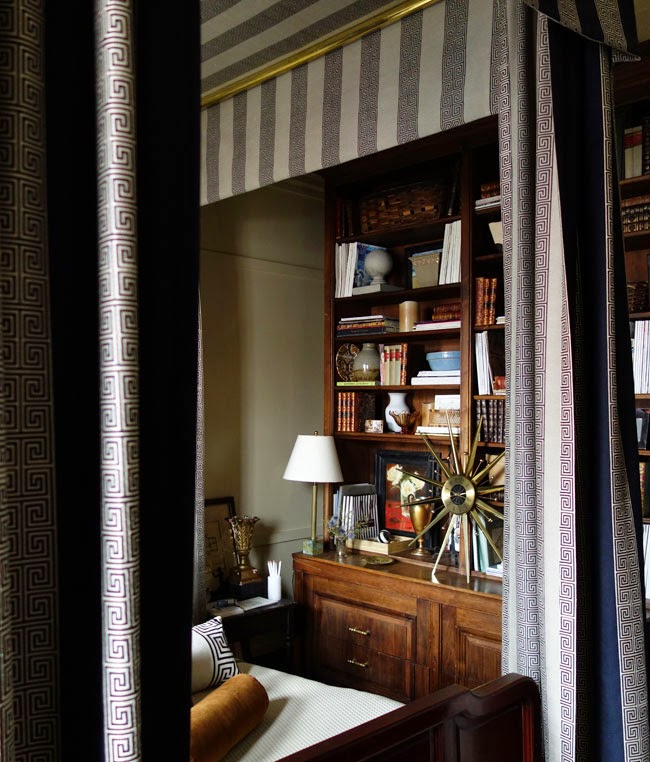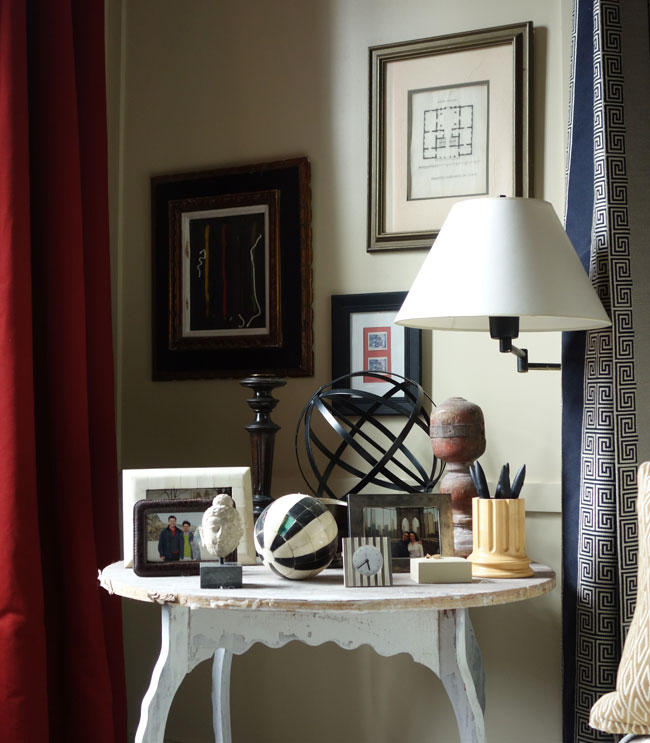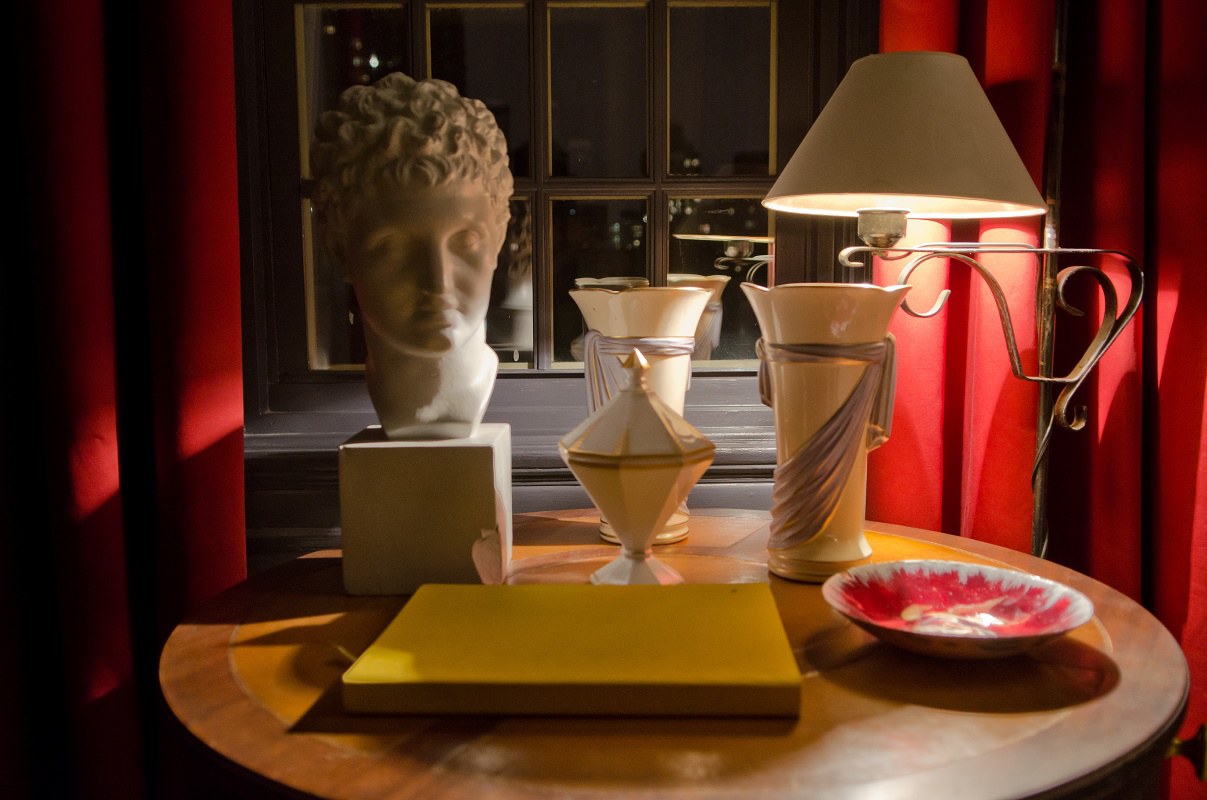 The bedroom feels very much like New Orleans to me.  This entire apartment actually feels familiar to me in that sense, being from the great Southern city originally myself.  It's very much like an apartment one would find in the French Quarter.  Kedigian is of French descent in fact, and he sites his grandmother's home in Paris as inspiration when putting together his apartment.  So, of course they are similar and seem familiar.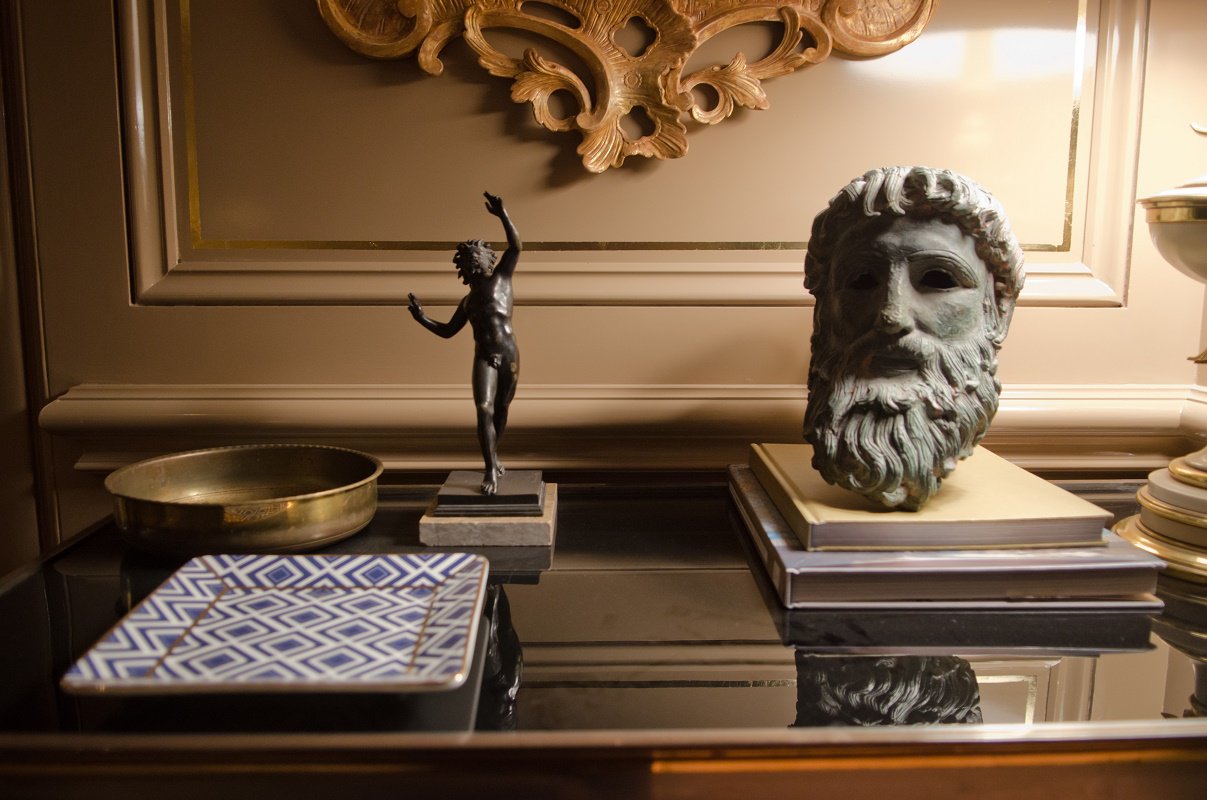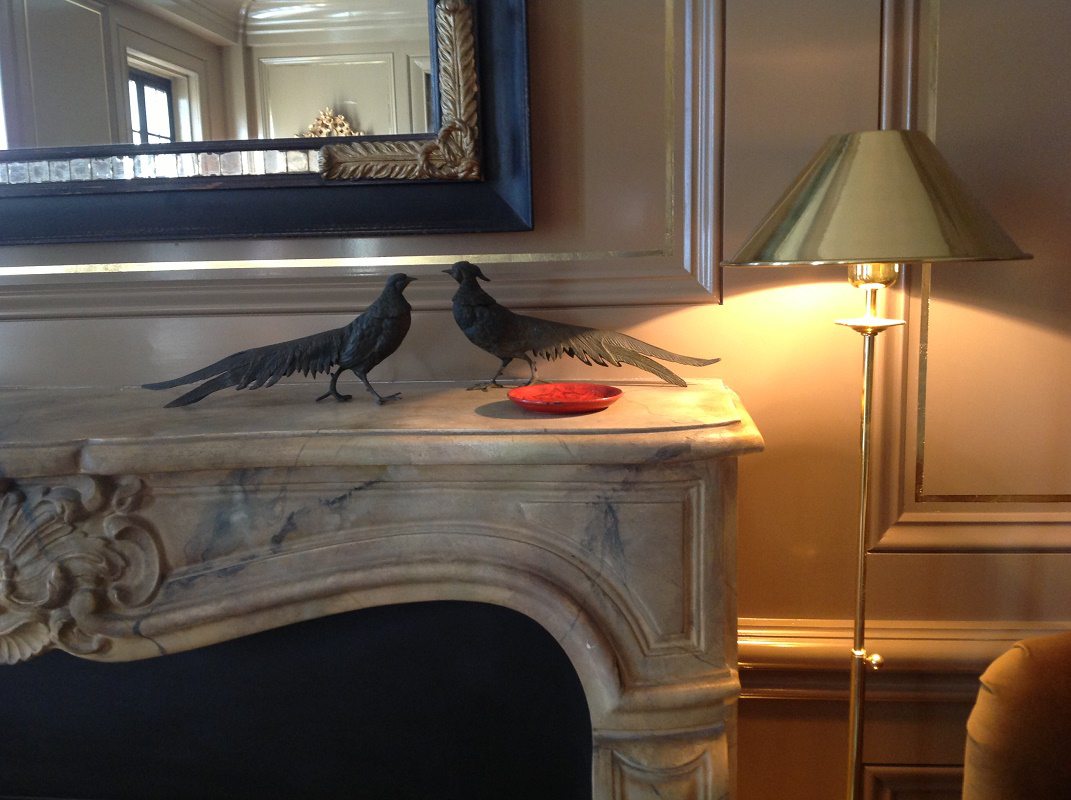 A few more pics of the curated table tops and curiosities about this most personal home.
That completes our design inspiration for today my friends.  I hope you all have enjoyed this tour of Garrow Kedigian's personal Park Avenue residence which he renovated and personalized so beautifully!
Architect and Interior Design:  Garrow Kedigian 
The company's vast portfolio of work has been extensively featured in national and international magazines such as House Beautiful, Traditional Home, New York Spaces, and Architectural Digest, with Kedigian's own apartment (the one featured here today) being in the New York Times, House Beautiful and on television with Bill Stubb's 'A Moment of Luxury', and NYC Open House….
Thank you so much!! to Garrow Kedigian and all his people who were so helpful with today's post and with providing the photos… and special thanks to you all for being so nice.
photography provided by Garrow Kedigian…  an assortment of photos by Fred Hatt, Christopher Sturman, and others…
additional sources:
Thank you so much for reading along everyone!
Let me hear from you all in the comments! If you have enjoyed reading today's post, please share it on social media!
Have a great day!
Please like us and share: