Modern Luxury Bathrooms
For much of history, bathrooms have been all about function with little to no emphasis on form.  When modern technology was in its infancy, this approach made sense – after all, besides bathroom specific activities, there was no reason to be there – but as home design evolves, so does how we use our bathrooms.  Today's better designed bathrooms include a well-developed blend of style, automation, and user-friendly features offering an enjoyable experience that goes beyond a quick shower in the morning.  The opening photo is by Taylor Howes and is featured in my post St Saviors Private Mansion.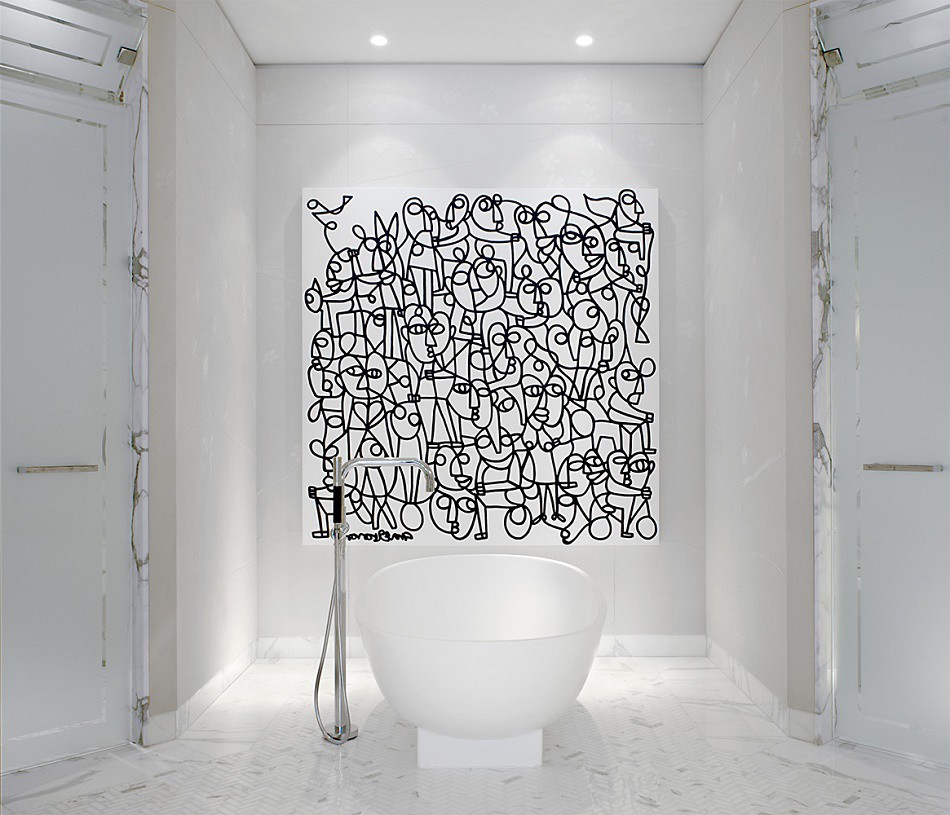 Design by Studio Munge, www.studiomunge.com
High Tech Solutions
Technology is everywhere, and that includes your bathroom.  Modern (present-day/current) bathrooms are focused on a balance between tech savvy solutions and useful amenities intended to heighten overall experience.  Tired of missing your favorite shows while dressing in the bathroom?  A vanity mirror television ingeniously hides a television screen within a mirror that looks and operates normally, providing an easy way to catch up on what's on while showering or getting ready.  You can even sync them to your smartphone so they can display important information like calendar details, current weather, and even notifications in real time.
High-tech solutions don't stop at the mirror.  We now also have smart toilets, touchless fixtures, chromotherapy tubs, and digital showers that take advantage of cutting edge technology to redefine the experience of bathroom use.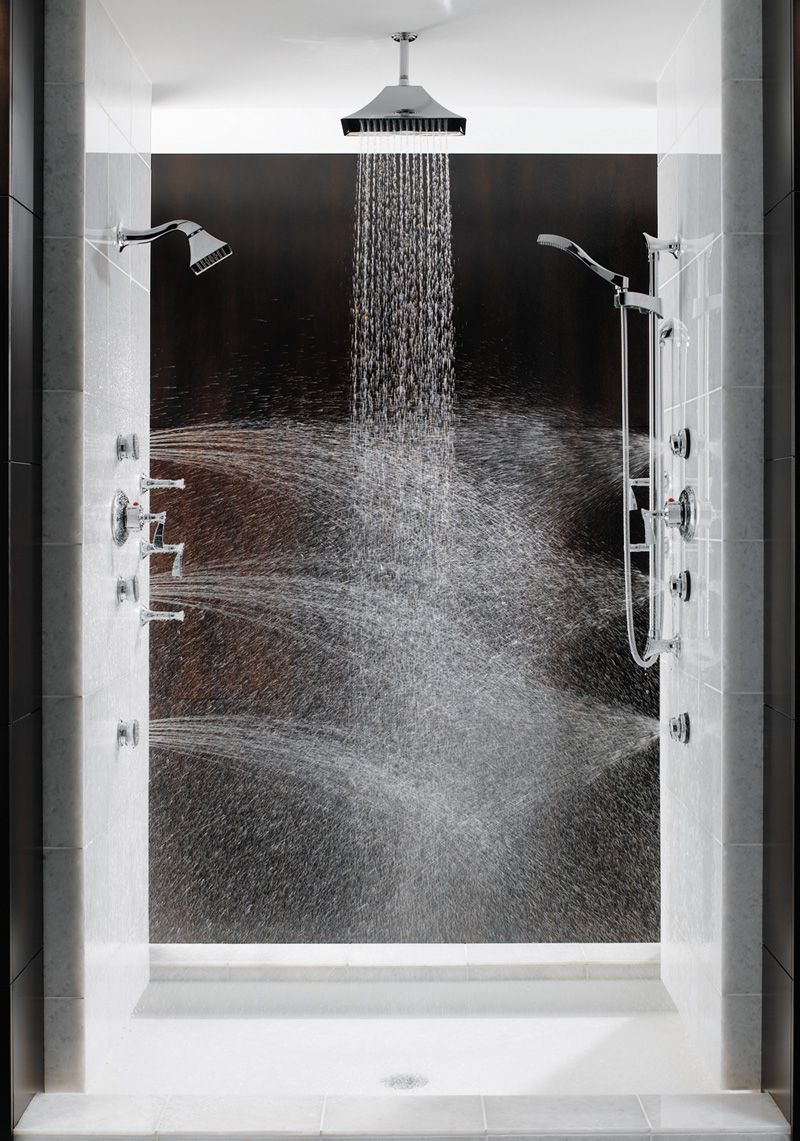 Brizo Sensori Shower System, www.brizo.com
Ultimate Relaxation
Since you have to spend time in the bathroom, shouldn't it be as comfortable and efficient as possible, and shouldn't you make it a place where you want to spend more time?  Today's modern bathrooms take into account sensation, going above and beyond to create a relaxing atmosphere.  A standard shower isn't enough; instead, the experience should be luxurious, controlled and relaxing.  Walk-in/through showers with multiple heads and hand-held wands offer the freedom to customize pressure to your specific preferences, while rain shower-heads can provide a feeling reminiscent of the natural world.
..the experience should be luxurious, controlled and relaxing.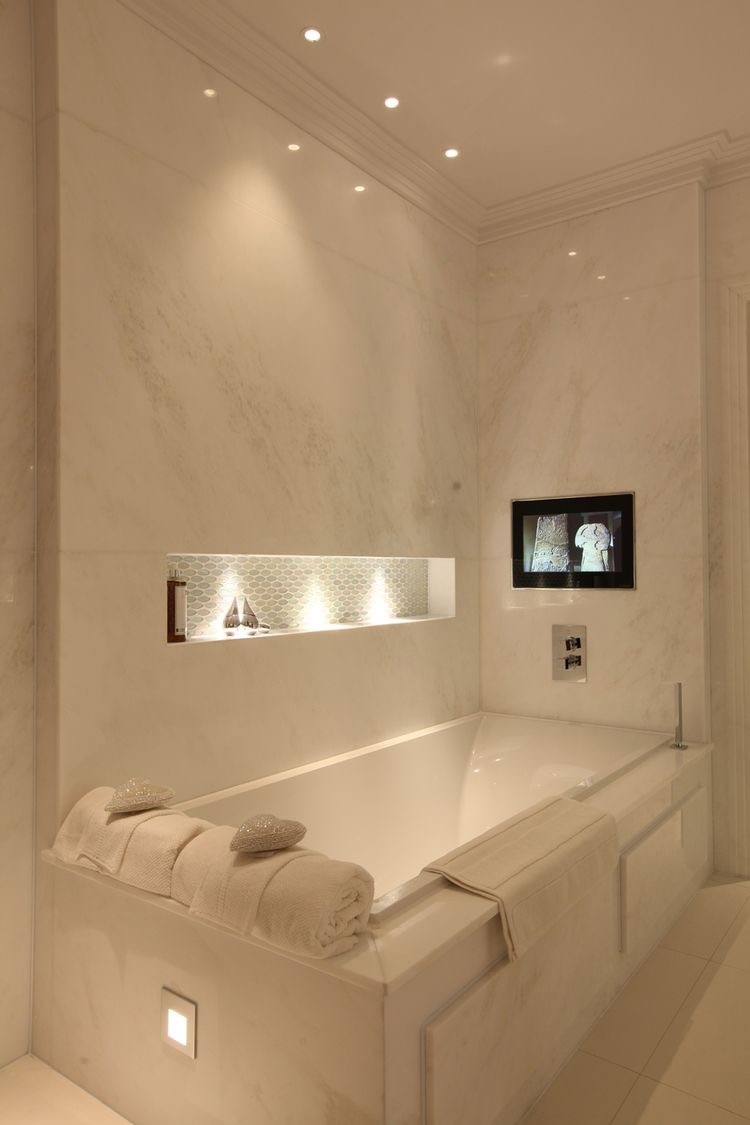 John Cullen, www.homebuilding.co.uk
Luxury tubs have redefined bathing as well, offering everything from soaking tubs; which can even include overflow rims to allow for complete submersion for some much-needed personal time, to massaging air baths to relax tense muscles and create a Jacuzzi-like feel in your home without the noise and hassle of older versions.  Through hydrotherapy, you can transform the simple process of bathing into a highly desirable experience ideal for any time of day.  Many homeowners are knocking down walls to enlarge and transform their standard bathrooms into wellness retreats complete with all the best the home spa industry has to offer.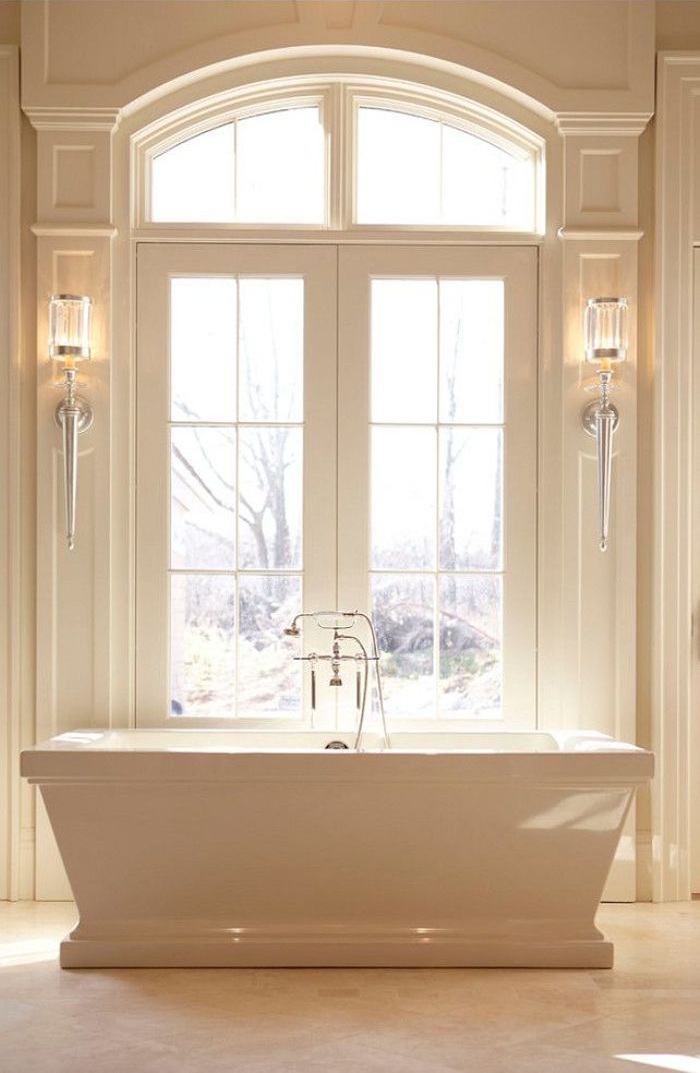 Parkyn Design, www.parkyndesign.com
Spa Qualities
Why go to the spa when you can put your favorite features in your own bathroom?  A steam shower, for example, can recreate the look and feel of your Spa's steam room, producing high quantities of steam at a safe temperature so that you can sit back, relax, and enjoy.  These can be created without a need for a lot of extra space which is ideal.
Design by Richard Landry with photo by Erhard Pfeifer, www.landrydesigngroup.com
If you miss the soothing sensation of the dry heat on your skin, an in-home sauna may be the addition your bathroom needs. Offering health benefits from reducing stress to eliminating toxins, a sauna can be the perfect way to help you unwind without leaving the comforts of home.  The sauna shown in the above photo is from a private home spa in a palatial home by architect Richard Landry and is featured in my post Hillside Luxury Home Design.  You will need a little extra room for this one.
Visualization by Elicyon, www.elicyon.com
Luxury Materials
Sophisticated materials are a big part of creating a luxurious ambiance in any room, bathroom included.  The most elegant classic and contemporary bathrooms today often make use of beautiful natural materials such as marble and granite.  Custom woodwork and specialized tile designs can help make your bathroom unique and personal.  Quartz and back-lit onyx are very popular options.  Of course, if you prefer to keep things edited and minimalist, one can never go wrong with tempered glass, lots of mirrors, and clean shiny surfaces.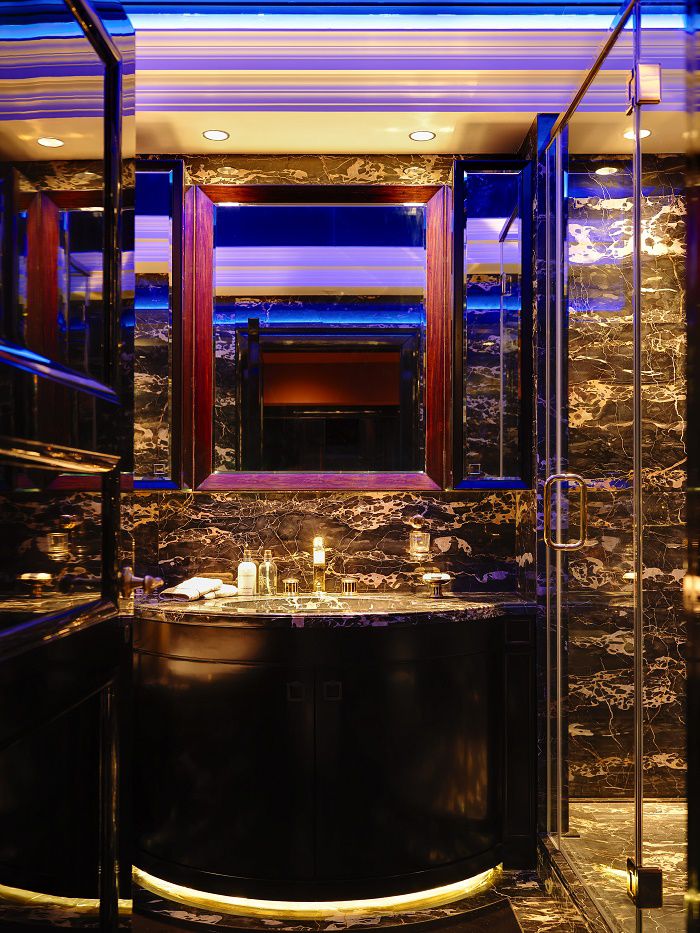 Design by Oro Bianco with photo by Barry Murphy, www.orobiancointeriordesign.com
Luxury fixtures and faucets can go a long way in making a statement as well, offering an opportunity to highlight your grand or sleek aesthetic preferences.  Having an expert plan the lighting is so major and almost too important to still call a luxury.  Not just which lighting fixtures but how many and exactly where they should go and for what purpose.  Designer faucets and fixtures can unify the look and feel of your bathroom, creating a highly stylized effect.  You can take the luxury up another level with gold and platinum plating and/or crystal and semi-precious stone accents.  Just keep it tasteful.  The bathroom above is by Oro Bianco and is featured in my post Classic Mayfair Penthouse.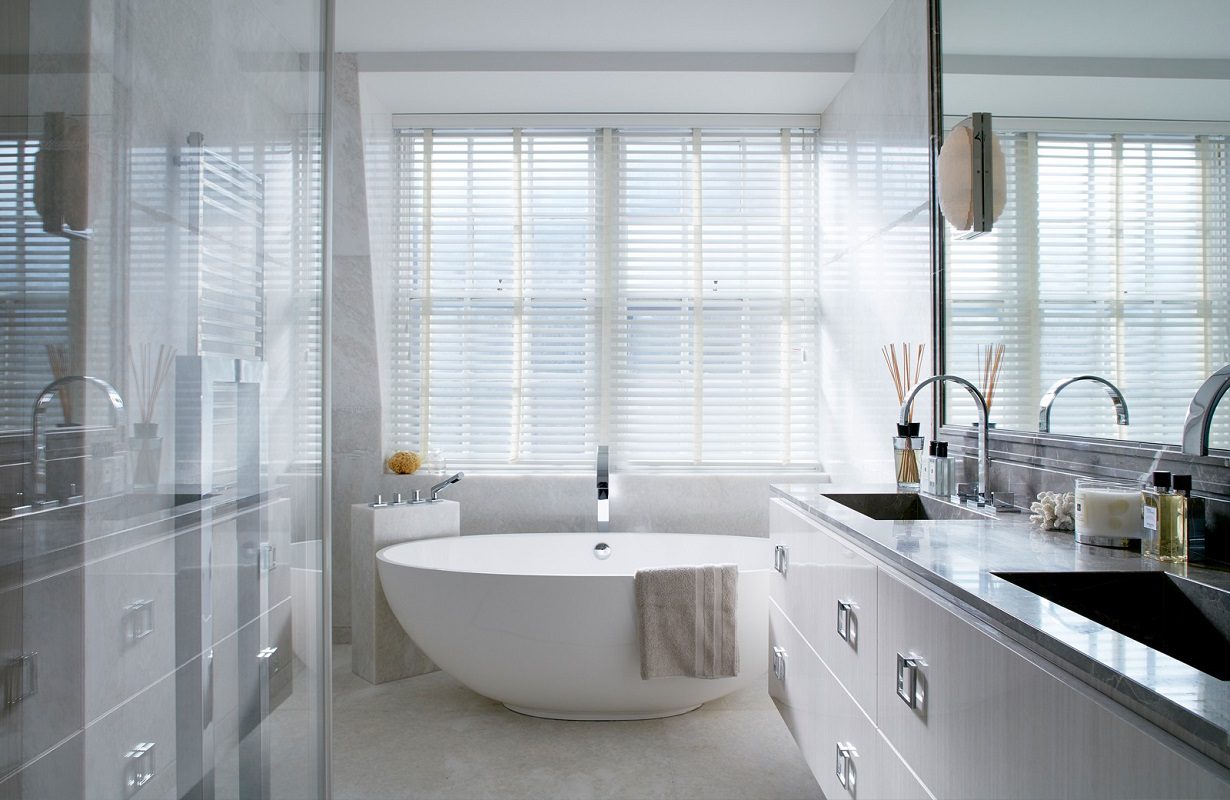 Rigby & Rigby, www.rigbyandrigby.com
Modern Convenience
Inspired interior design should be equal parts beautiful and convenient.  When you want to truly elevate the potential of your bathroom, its little conveniences that set the tone.  Special features such as mirror demisters can make such a difference in your overall experience.  Temperature controlled floors through radiant heating, and temperature controlled everything else selected with your digital keypad, leaves nothing to chance.  The latest ventilation systems are super quiet and feature motion and humidity sensors to keep the air in your bathroom fresh and prevent condensation.  The unseen details perfect your luxurious interiors.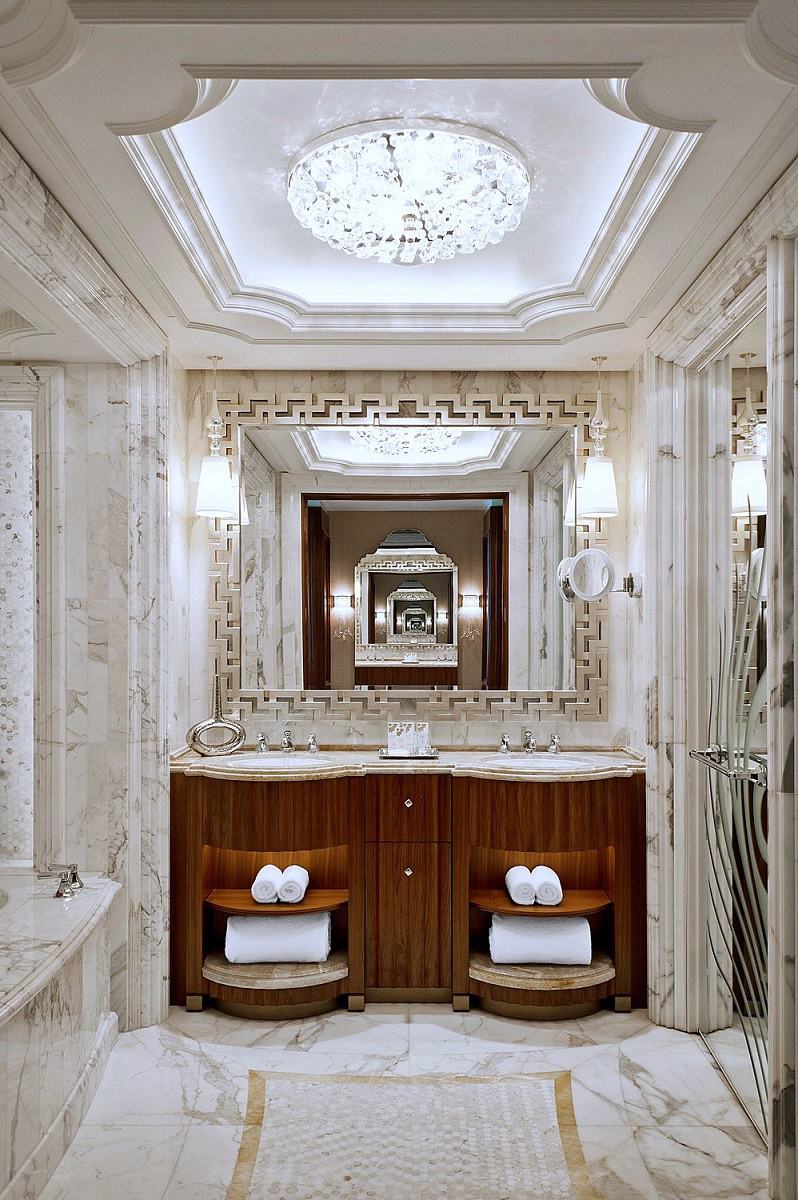 St Regis Hotel, www.stregisabudhabi.com
Modern Luxury Bathroom Conclusion
Be sure your bathroom is keeping up with the rest of your aesthetic choices, and if not, it is time to address that.  A luxury bathroom redesign can be just the thing you need.  A brilliant and inspiring place to prepare for the day, and equally suitable for relaxing when the day is over.  A new luxurious bathroom may be the upgrade your modern home needs, and you deserve.
That concludes our design inspiration for today my friends.  Today's post was designed to introduce an overview of the latest design ideas for bathrooms.  We certainly will be taking a closer look at the different options in multiple, more narrowed posts in the future.  We are looking at the various brands and manufacturers and will be bringing you our findings in more detail.
What about you all?  Do you have some ideas on ways to bring more luxury into the bathroom?  What special touches have you all included in your bathrooms that have made a wonderful difference?  Share your story with us…and let me hear from you in the comments!
Thanks so much for reading along everyone!  We appreciate all of you so much!  If you have enjoyed reading today's post, please share it along the social media below.
Have a great day!
Please like us and share: