Luxury Upholstery: Aiveen Daly
Aiveen Daly is a luxury upholstery specialist who, along with her team of highly-skilled artisans at her London studio, create some of the finest upholstery work I have ever seen. Her intricate couture level work features hand-beading, stitching, and fabric manipulation techniques using the finest fabrics and leathers for which she has become known.
Aiveen's exquisite embellishment and expert tailoring of home goods over the last ten years have made her the most in-demand luxury upholstery specialist in the UK. A global clientele allows her to practice her craft at the highest levels. The studio is constantly innovating to create beautiful bespoke furnishings and interior surfaces and regularly collaborates with the world's top interior designers and architects.
Her work has shown here on this site in multiple projects we have featured on London designers.  We have received loads of questions and feedback. In response, we decided to focus today's design inspiration solely on the luxury upholstery of Aiveen Daly.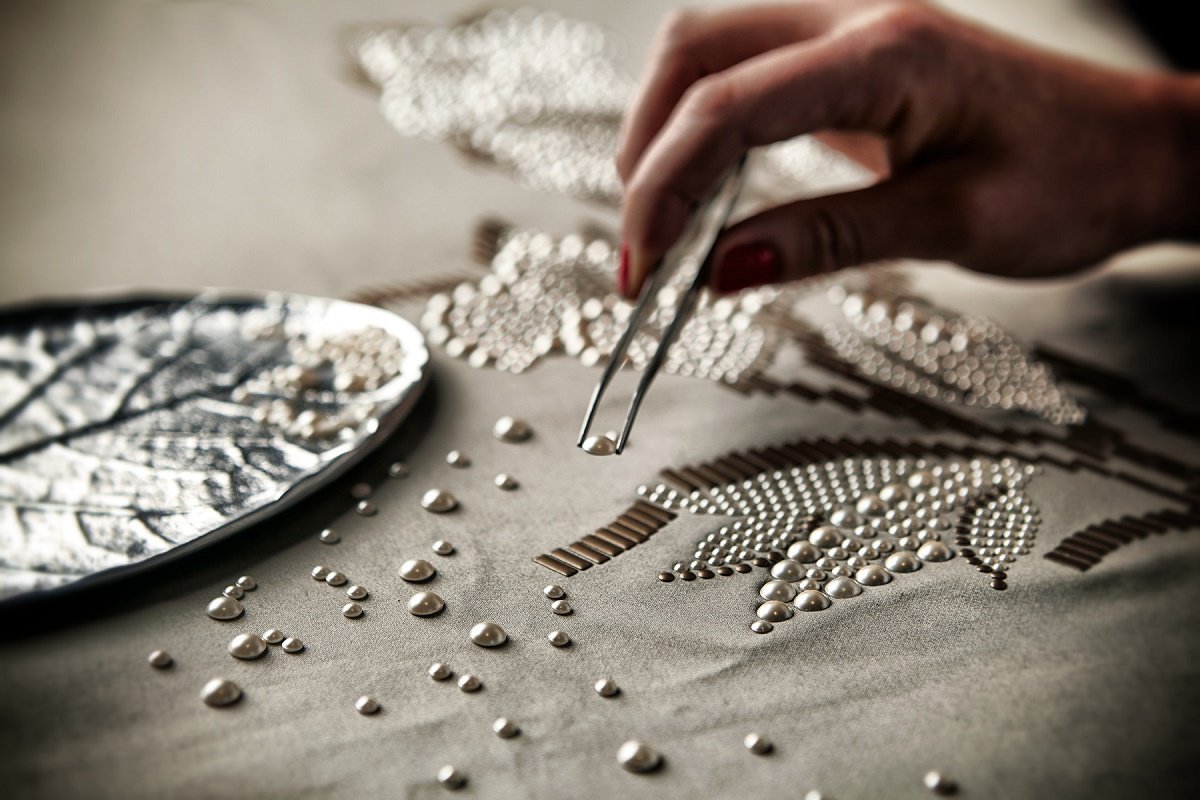 Inspired by the world of fashion's haute couture, Aiveen's hand-upholstered pieces combine meticulous attention to detail and flawless execution applying many of the rules of couturiers. Her artisan team creates everything in the studio and completes each work with acute precision using specialist instruments to position buttons, fabrics and beads one-tenth of a millimeter in place. The quality is of the highest unquestionable caliber. This precise detail is what sets the work of Aiveen Daly apart from the mass produced goods on offer today.
Let's take a look at some of her items!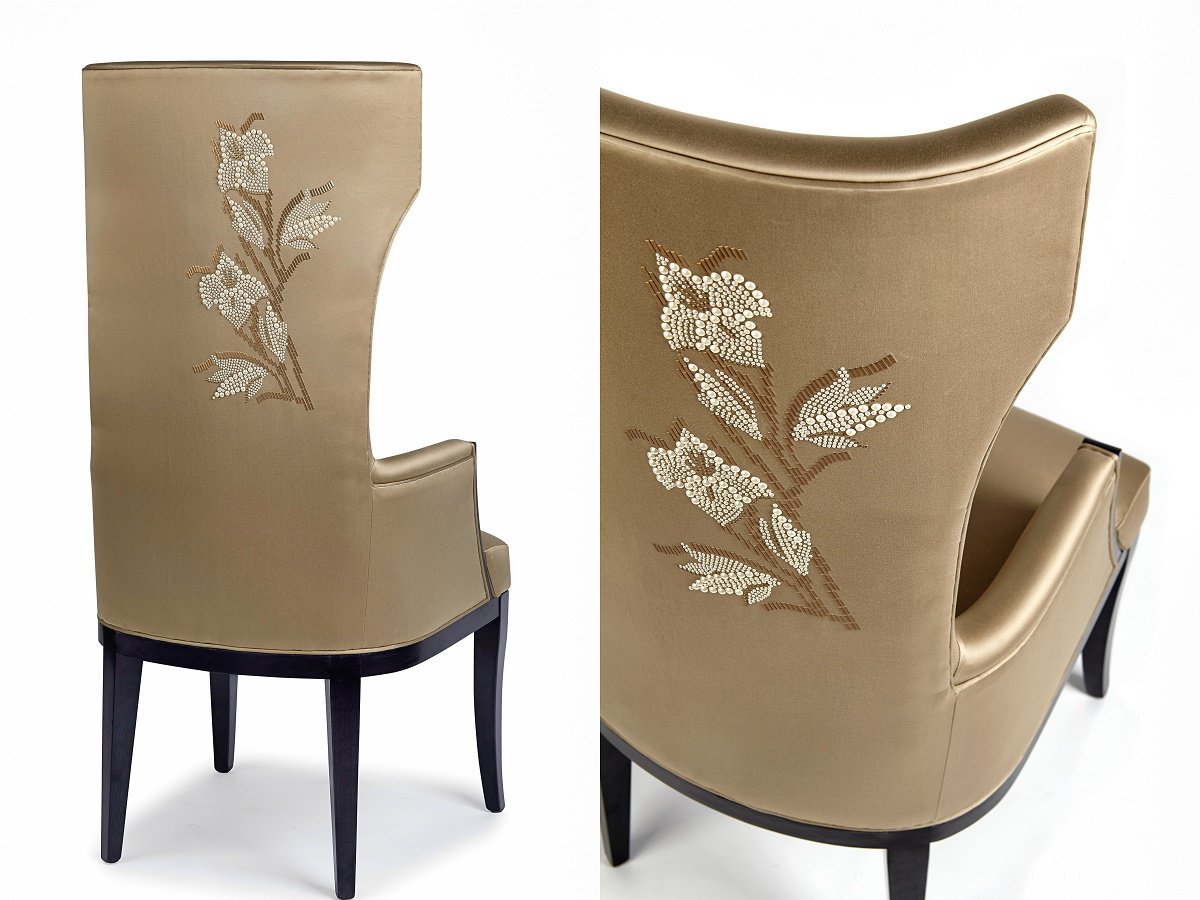 The Flourish chair is a majestic high backed chair with pearl & bronze floral beadwork applied by hand. The design is inspired by the exquisite Lesage embroidery of the 1940's. It is shown here with black gloss legs though other finishes are available.  Aiveen works with clients to create bespoke luxury upholstery commissions, all produced in a range of color palettes.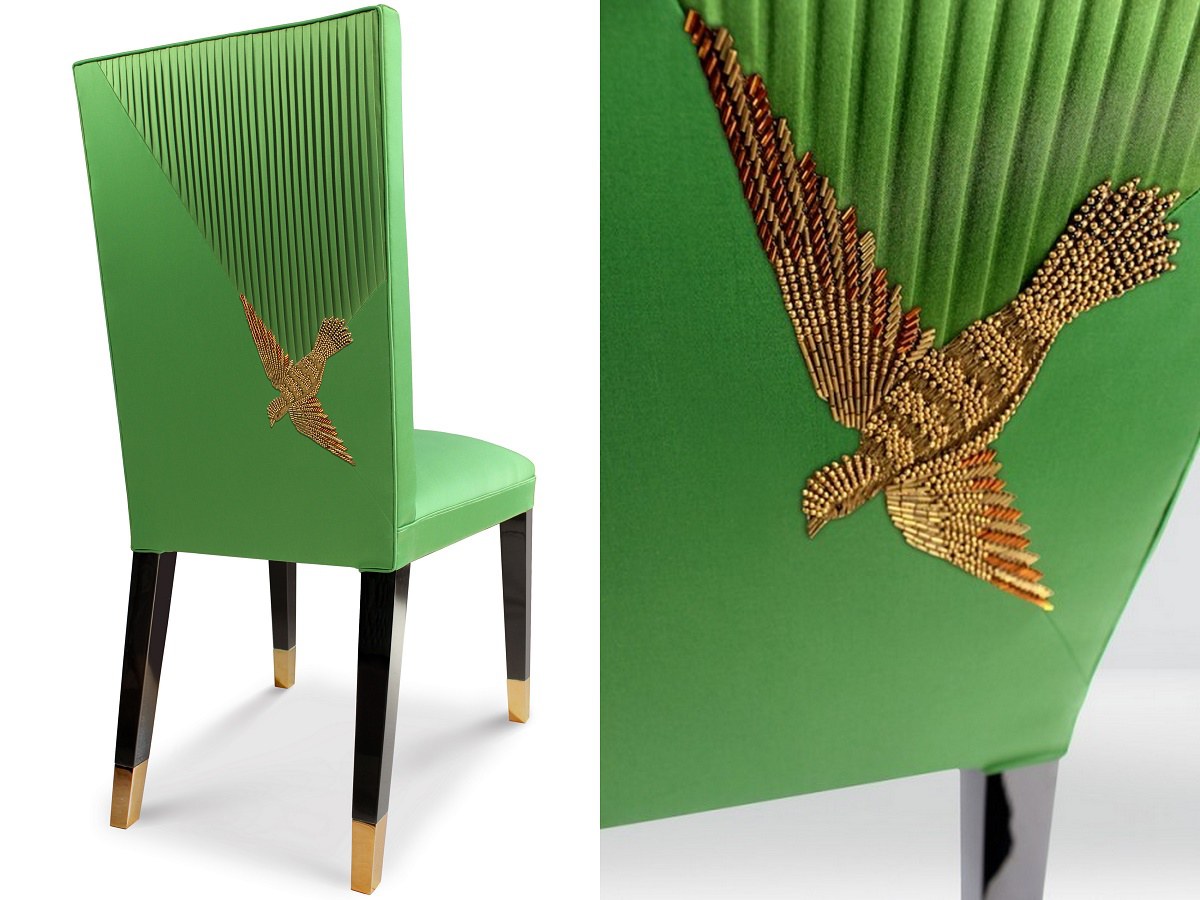 The Paradise chair is inspired by the vibrantly embroidered creations by Gucci's new design director, Alessandro Michele. It is strikingly upholstered in emerald green Tabularasa by Dedar and a pleated gloss satin. The contrasting fabrics are stitched on the bias, and the gliding bird is beaded and embroidered entirely by hand with tiny bronze, black and gold beads and gold thread. It is shown here with lacquered black gloss legs with bespoke brass sabots.  Many other finishes are available on request.  The chair requires seven specialist craftspeople four months to finish by hand.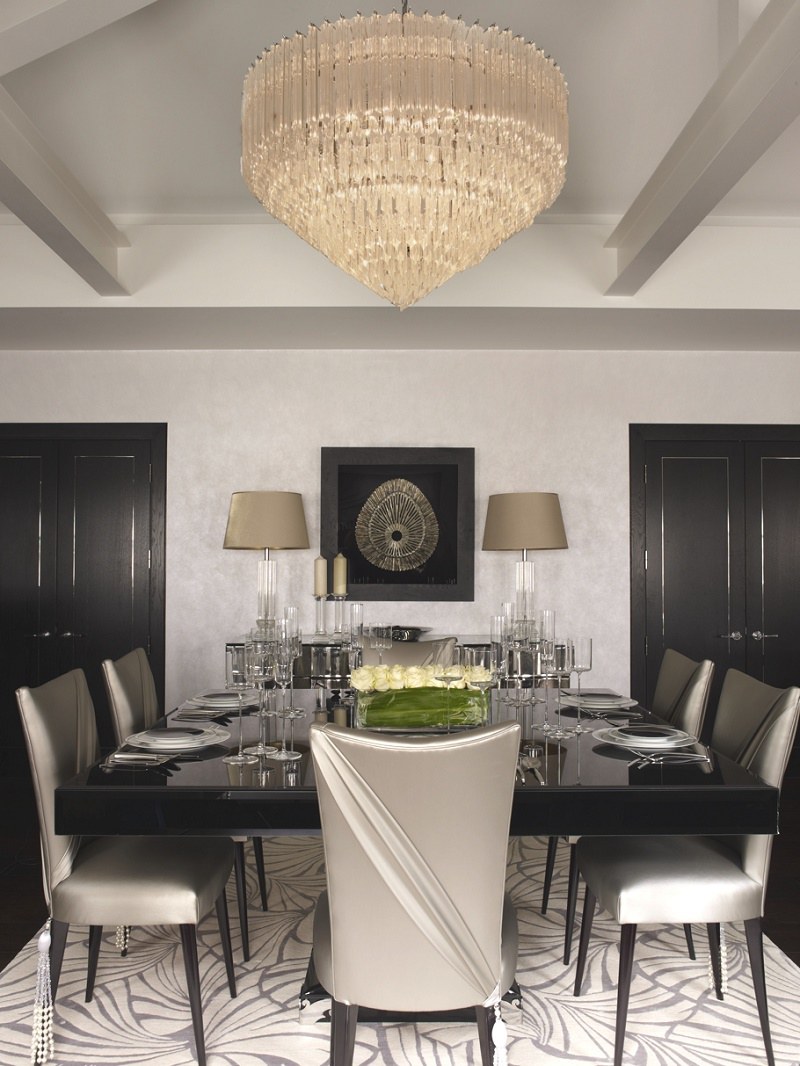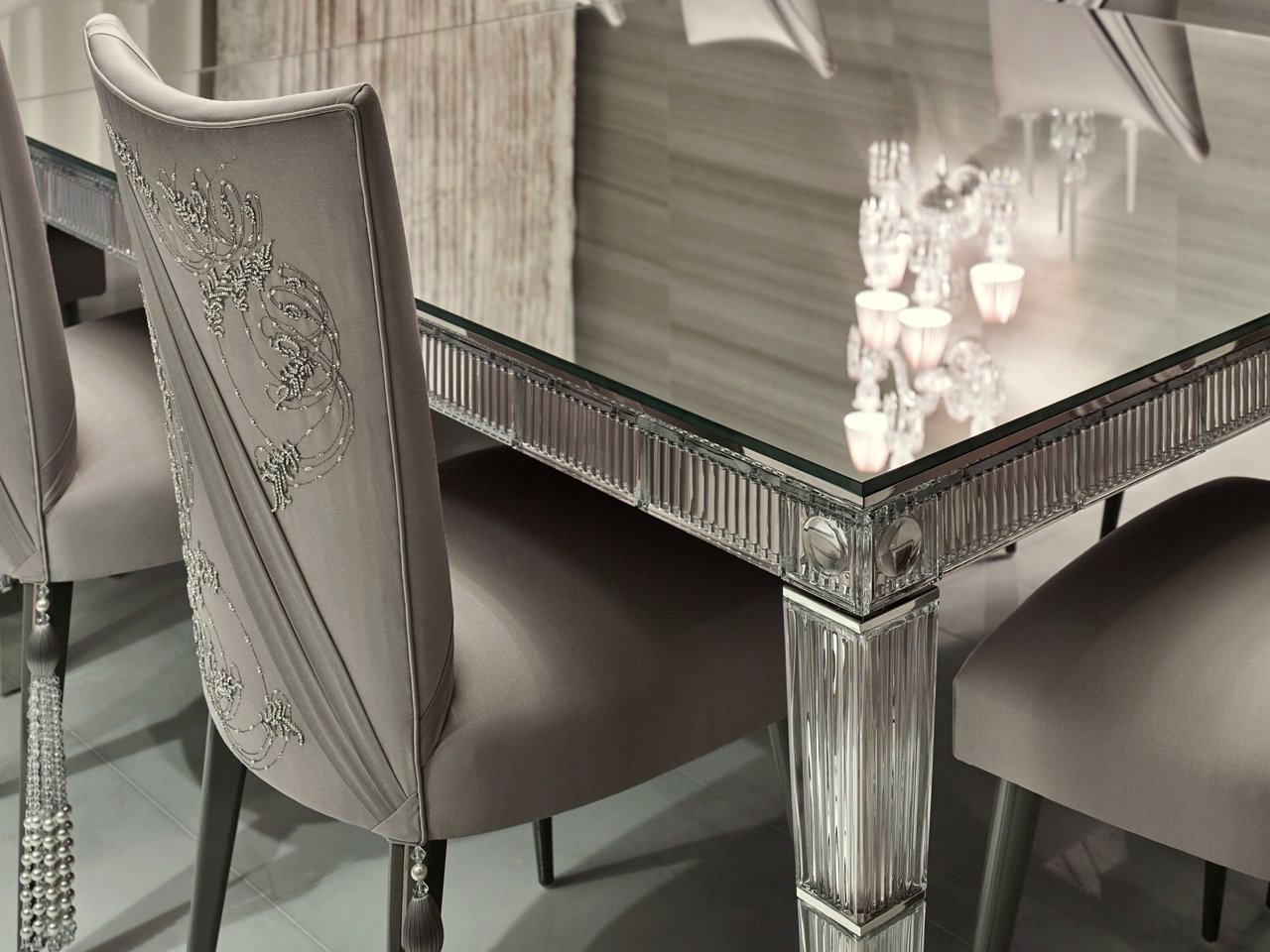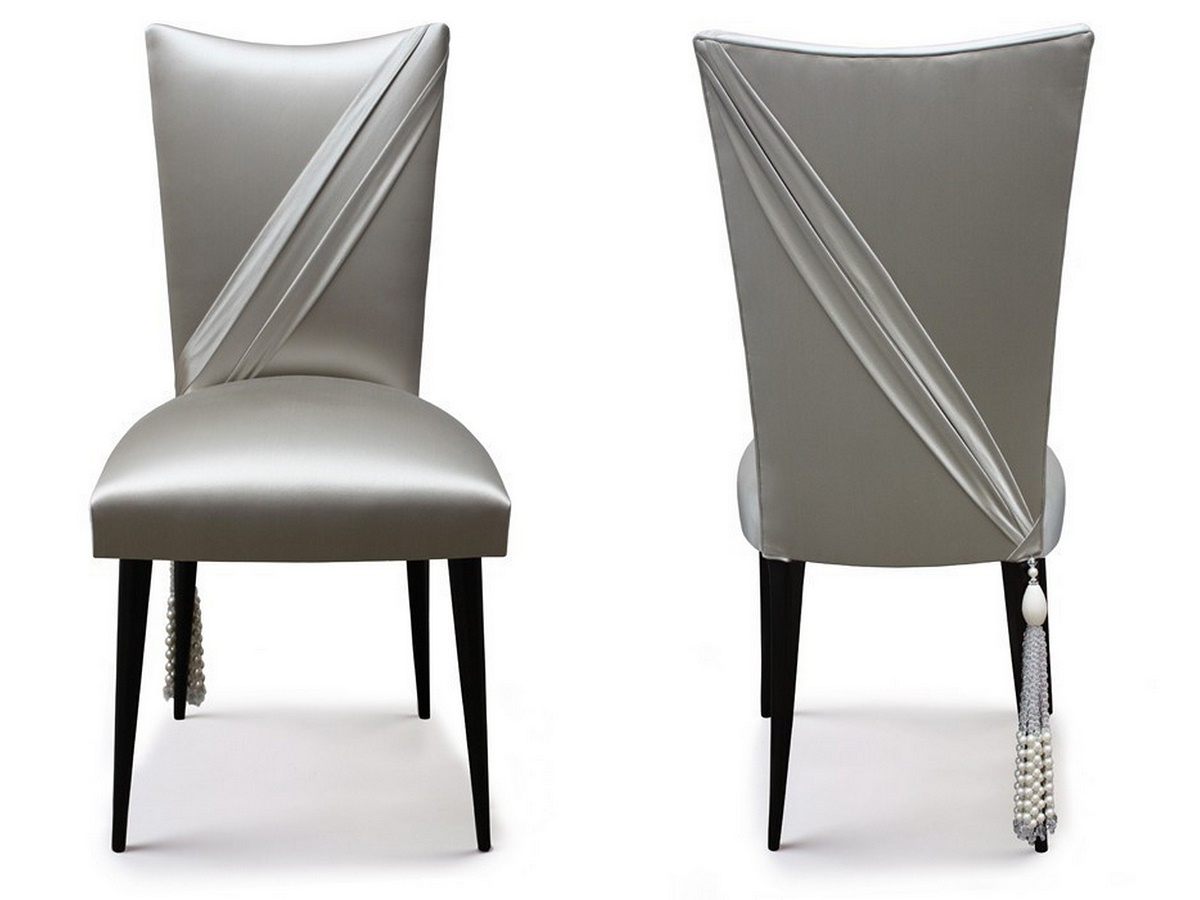 The Swathe Stiletto chair is shown first in a formal dining room completed by London luxury developer Oliver Burns. The feminine silhouette is swathed in suede or satin meticulously upholstered by hand with skinny tapered legs. It is shown here with a Spina pearl and crystal tassel.  The chair was also used by luxury design firm Elicyon in the dining room with additional hand-beading and embroidery applied. You can see it featured in Glamorous Luxury Design here.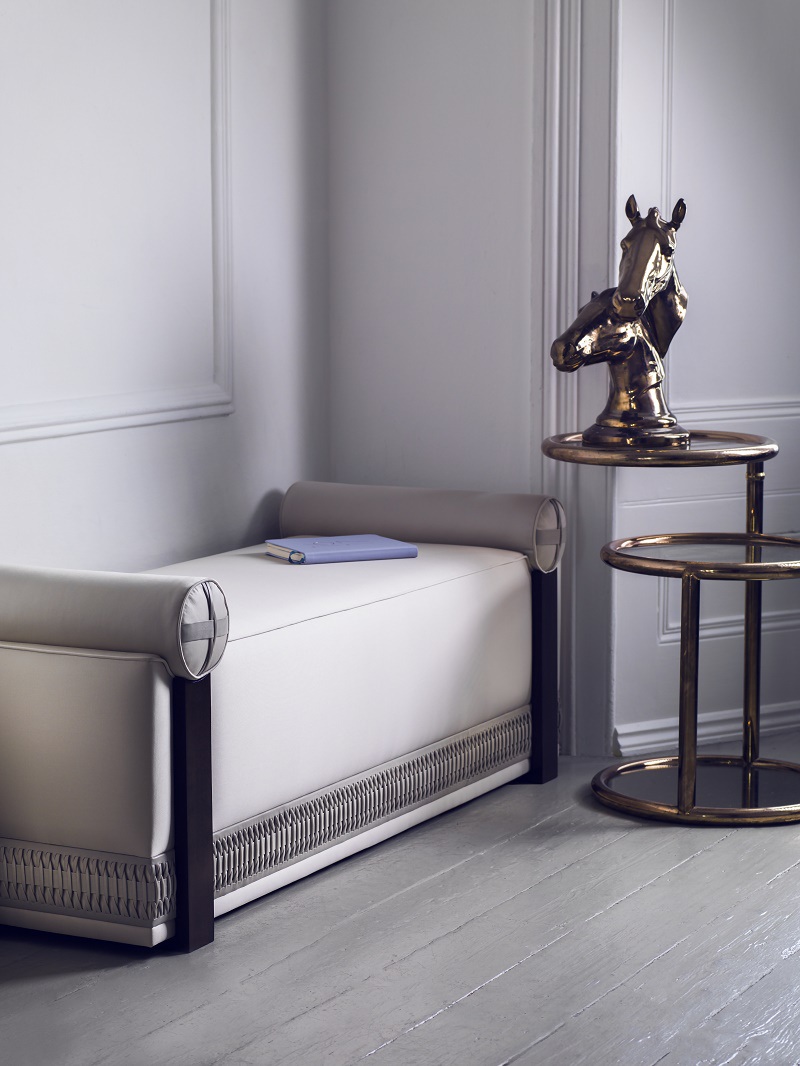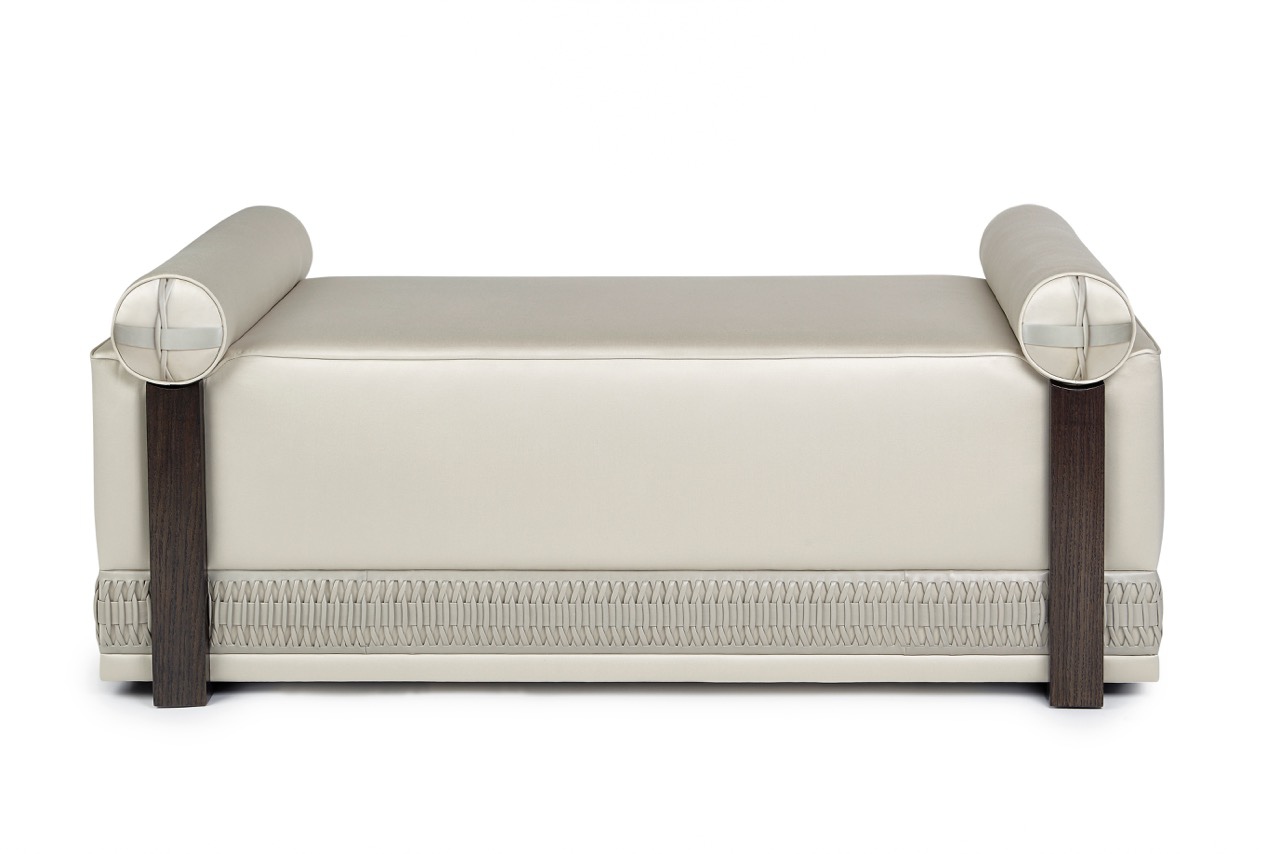 The Concertina bench is upholstered in smooth Dedar Tabularasa 100% cotton satin and Italian lambskin leather.  The leather is twisted and woven to create wonderful concertina folds. The Bolsters are decorated with hand stitched leather tabs and nestled into the upholstery.  They rest perfectly on the carved dark oak satin stained plinths. Custom sizes and finishes as always are available.
The Ice Diamond Bench is inspired by the iconic Chanel handbag. It is hand quilted with over 250 symmetrical and meticulously placed diamonds using the softest leathers. A process that requires time and absolute precision. It is shown here with gray gloss legs but can be customized as needed with a variety of finishes for the legs and fabric or leathers for the luxury upholstery.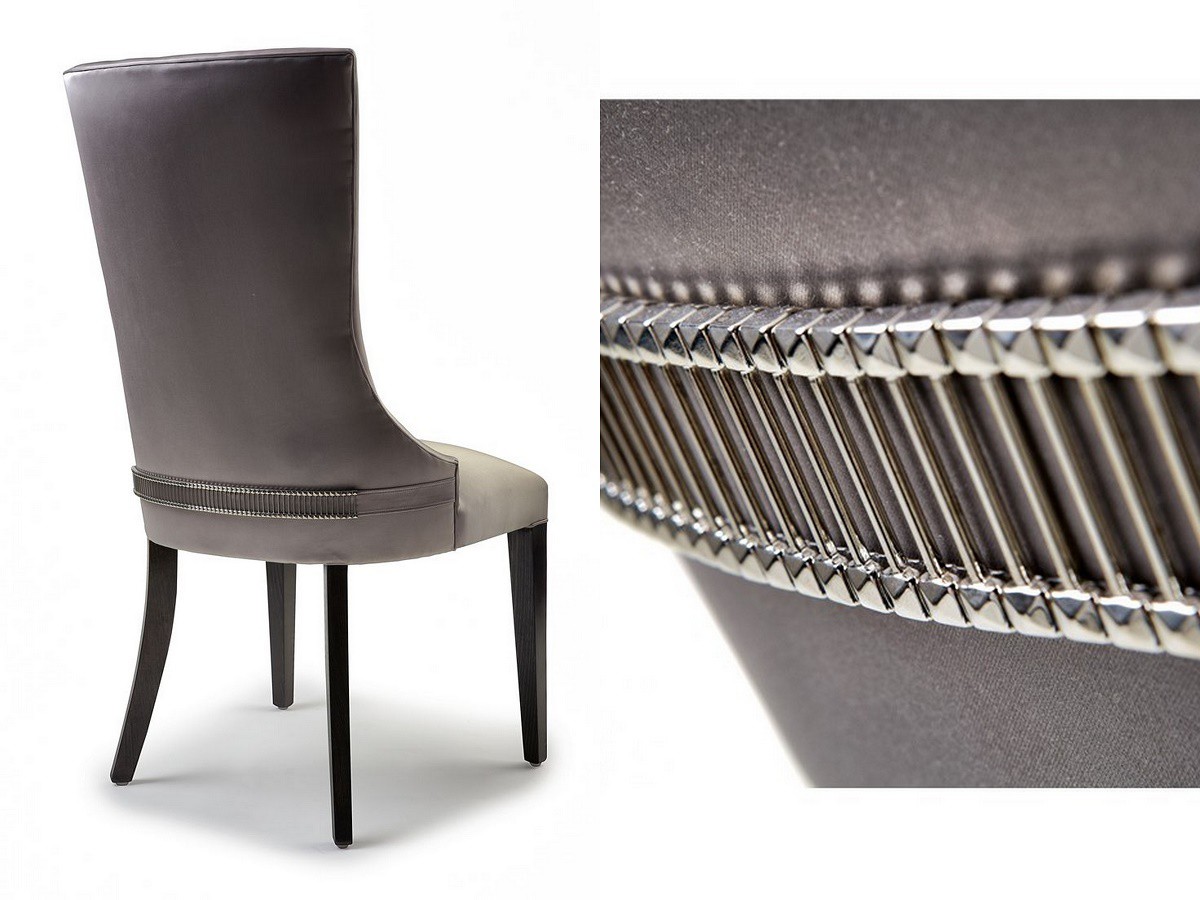 The Electra Chair can be used as a dressing or dining chair. It is shown in silver satin with weighty metal belt detail across the back which is available in silver or gold metal finish, with black gloss legs. I think it would be fabulous in suede or a supple leather. I am very into details and could have every item in my house completed with luxury upholstery. She even does upholstered doors, wall panels, headboards, and even full canopy beds.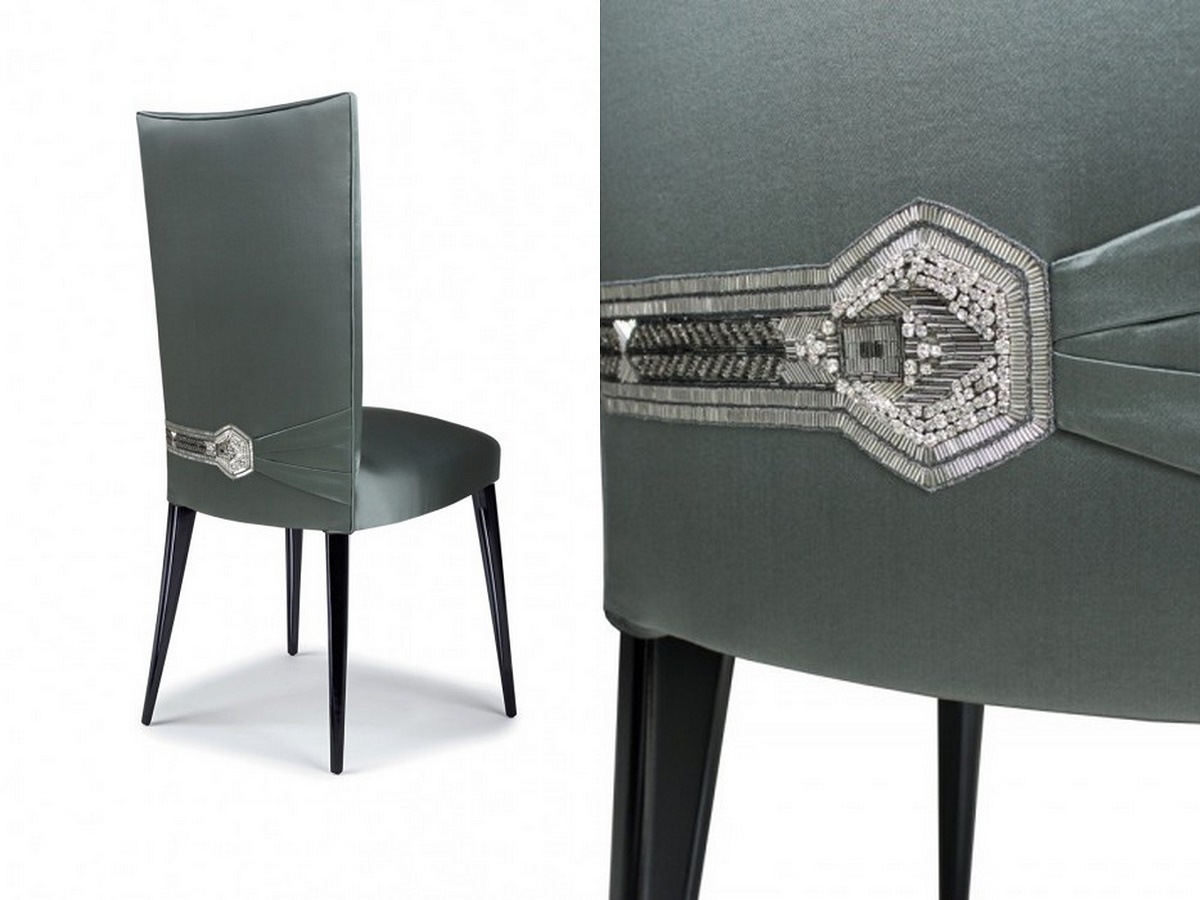 The art deco inspired Liberty Stiletto chair is beaded and embroidered by hand with crystal and metallic beads. It is meticulously upholstered with pleats in satin with gloss stiletto spike black legs.   Bejeweled glamor is everything!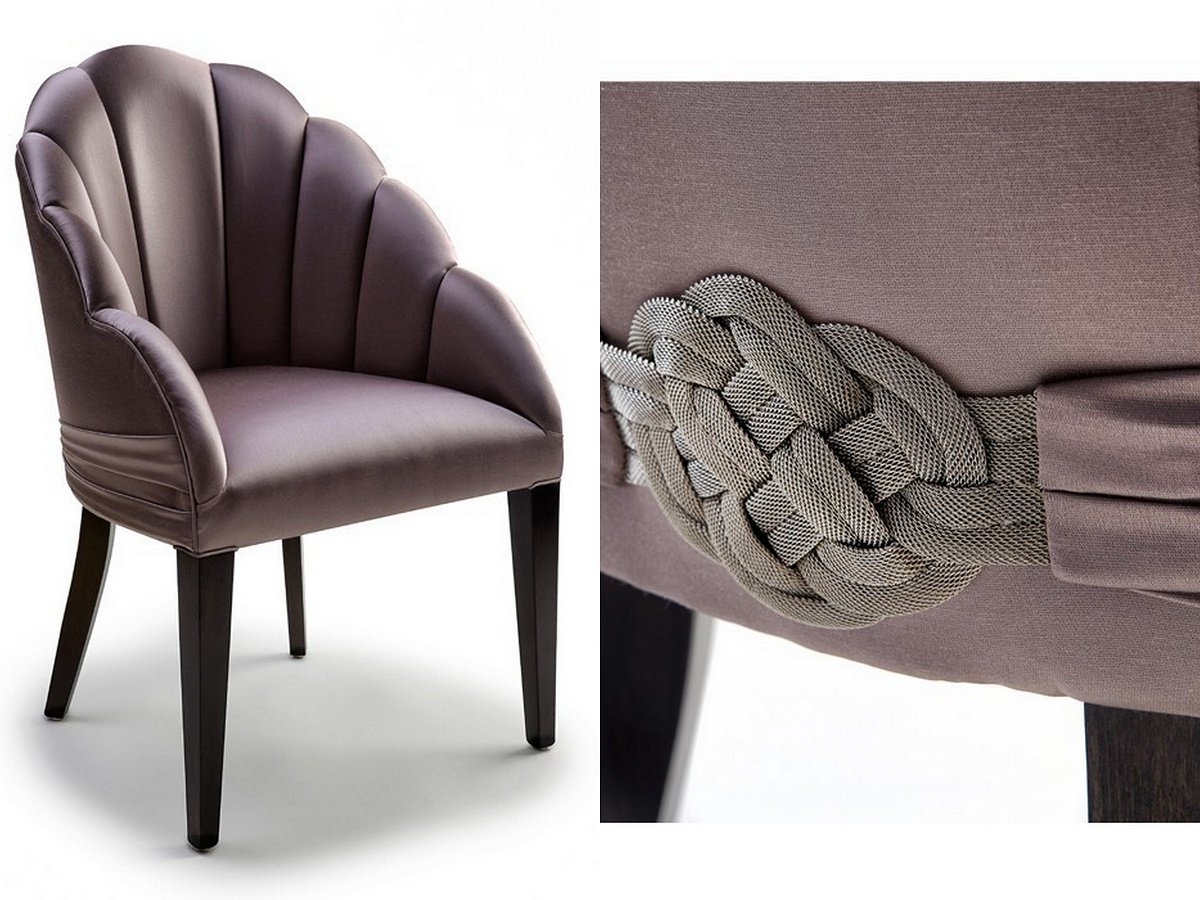 The Olympus chair is a hand sculpted and fluted chair shown in a dark pink satin with pleated details and a silver metal knot design, which is also available in gold metal finish.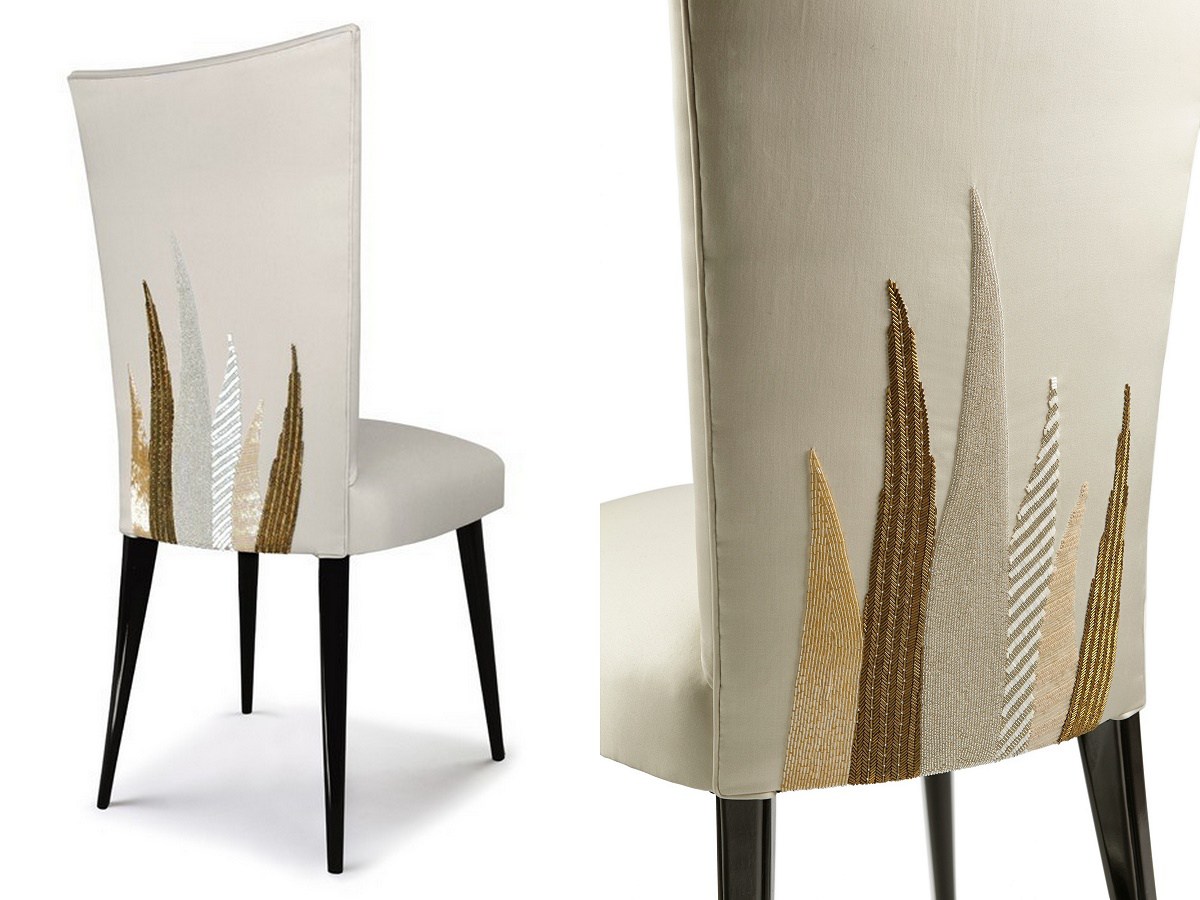 The Agave Stiletto chair's design is painstakingly beaded by hand with antique bronze, silver, and pearlescent beads. It is meticulously upholstered in cream cotton satin on glossy black legs.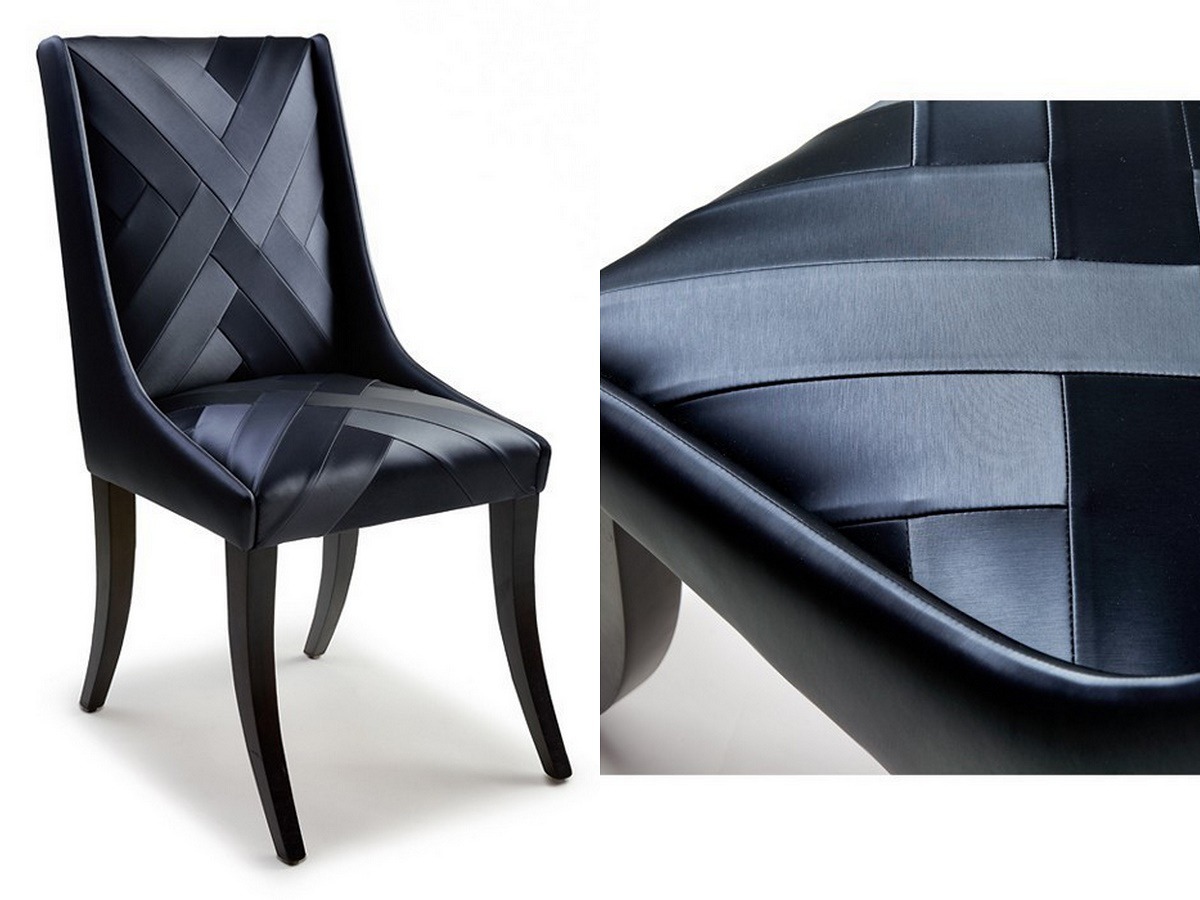 The Chevron chair is a stunning dressing or dining chair shown in deep blue metallic vinyl with precision cut and stitched seams upholstered by hand. It is inspired by the work of Azzedine Alaia.
Aiveen Daly
Aiveen Daly: "Every day I am inspired by couture, jewel setting, and other haute crafts which become so personal to their owner. I have tried to relay that with upholstery at the centerpiece as it has a very tactile and aesthetic quality. I hope the craftsmanship in each piece will sing out to match the technical ingenuity and conjure up a genuine sense of delight."
Aiveen sees her work as the couture of the upholstery design industry, and she uses many of the same suppliers as the fashion houses. For that reason, her work tends to follow fashion trends more than interior decorating ones. Her pieces have increasingly come to be viewed as art.
The business is not without its challenges. Because everything is unique, it's tough to plan a timetable because you just don't know how long things will take. While many of Aiveen's commissions are themed piece personalized for each client, she regularly debuts new and groundbreaking designs. Often, the studio has to have several attempts at something before it is perfect. Aiveen admits that this can be incredibly frustrating but the reactions of her clients when they see the result is worth it.
For the most part, Aiveen works with interior designers on behalf of high net-worth individuals rather than the clients themselves. One of the things asked for most is dining chairs. The dining room is one of the most important rooms in the house for many of her clients. Glamourous entertaining is essential. Statement dining chairs are extremely popular.
I'll wrap up this post with a collection of Aiveen Daly's very popular couture cushions.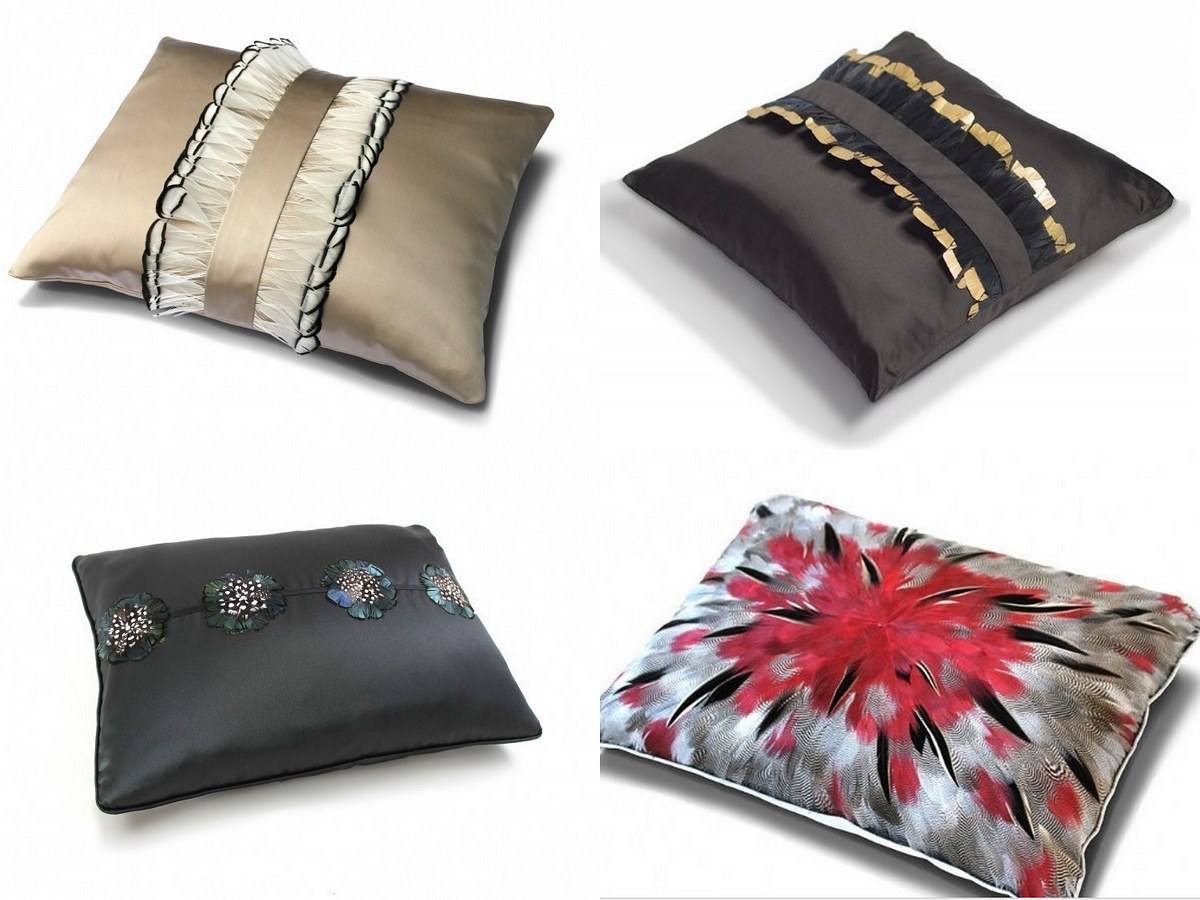 Here we have from left to right: Dip-dyed feather cushion, Feather golden-tip cushion, Speckled flower feather cushion, and Feather flower pink cushion.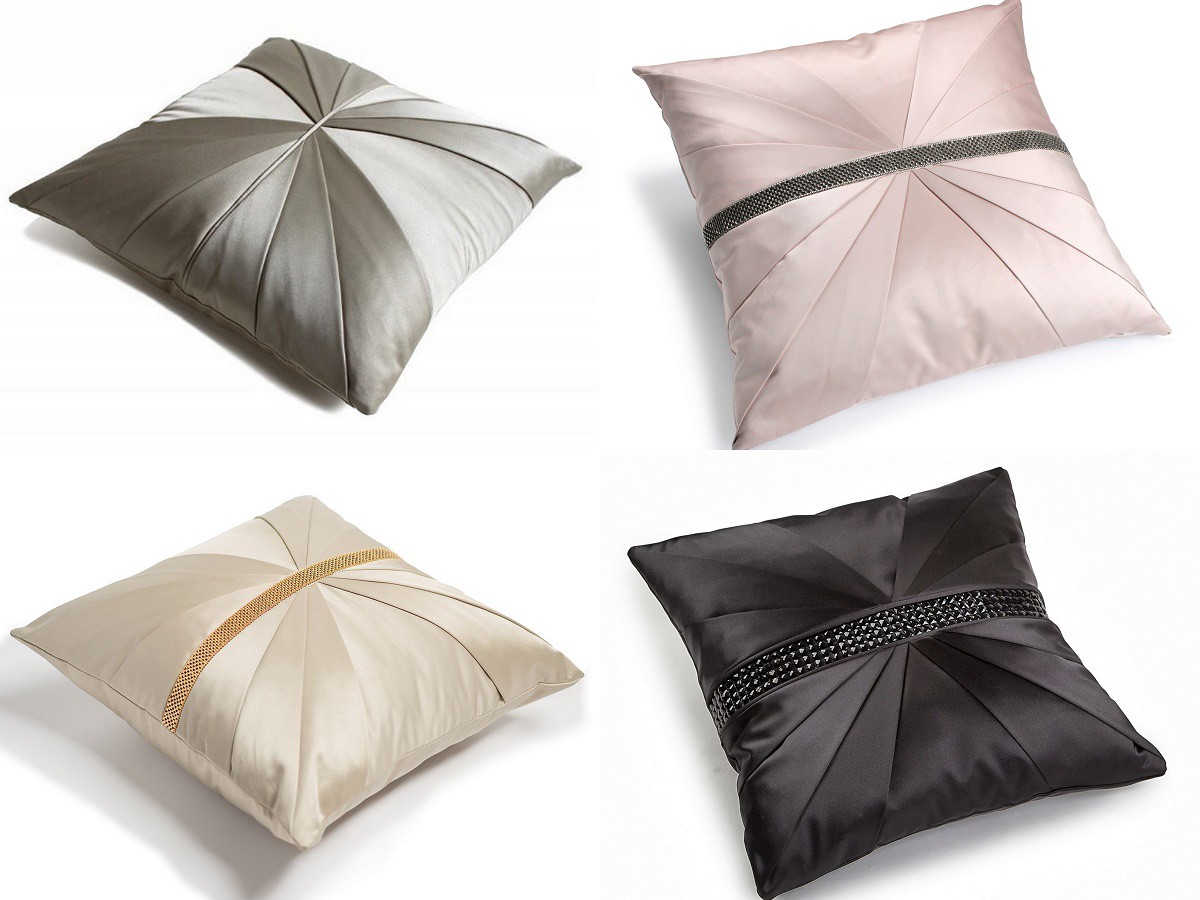 Here we have various takes on her Empress cushion.
Crystal drop cushion, Silver bow cushion, Embroidered chevron cushion, and Silver belt cushion.
Aiveen Daly's Luxury Upholstery Conclusion
That concludes our design inspiration for today, my friend. We will be featuring many such artist/artisans, craftspeople, furniture makers and the like in our future posts so be sure to stay tuned. I hope you enjoyed today's luxury upholstery creations.
To see more of Aiveen's work displayed in a residence, be sure to see:  Tailored Interior Design Overlooking Hyde Park as well.
On her website, Aiveen also has a small collection of some of her most popular cushion designs available immediately, including some of the one's shown above. You definitely want to check it out!
Aiveen Daly @ www.aiveendaly.com
Photos and info via, courtesy of, and with special thanks to Aiveen Daly.
Thanks so much for reading along with me today!
Remember, if you are a creator and would like your work featured, or if you know someone who's exceptional work should be featured here on DK-decor, please be sure to submit it for consideration.
Let me hear from you in the comments!  What did you all think of today's post?  I love hearing from you!
If you have enjoyed reading today's post, please be sure to share it on social media. We thank you so much for this!!
Have a great day my friends!
Please like us and share: