Koket- Luxury For The Home
For today's design inspiration we are featuring one of my favored sexy, exotic, luxury home brands… Koket.  Launched in 2010, under the creative direction of interior designer Janet Morais, the brand offers up a highly edited collection of head turning and attention commanding statement pieces for the home.  The collection includes dramatic case goods, luscious upholstery, exquisite lighting, and decadent furs- all manufactured by master artisans and jewelers who leave no detail or element forgotten.
These photos are from various campaigns and feature a selection of some of the delights obtainable from Koket.  All pieces are hand made with a variety of techniques which allows for changes and customization in texture, colors, and dimensions to suit your decor needs, and are available worldwide through a select network  of interior designers and luxury home retail stores.
The photo above features the Orchidea Console, whose sensuous curves and subtle gold gilt make it an irresistible choice.  It has an oval top in ebony veneer, structured in high gloss black lacquer with two drawers lined in black velvet and adorned with cast bronze orchid handles, supported by a polished brass base.  The mirror shown is the Guilt Mirror composed of sculptured gold tones of hammered and textured brass surrounding a perfectly cut convex mirror.  Also shown is the Mandy Stool, inspired by a cuff bracelet, with a twisted high-gloss brass base, and upholstered seat.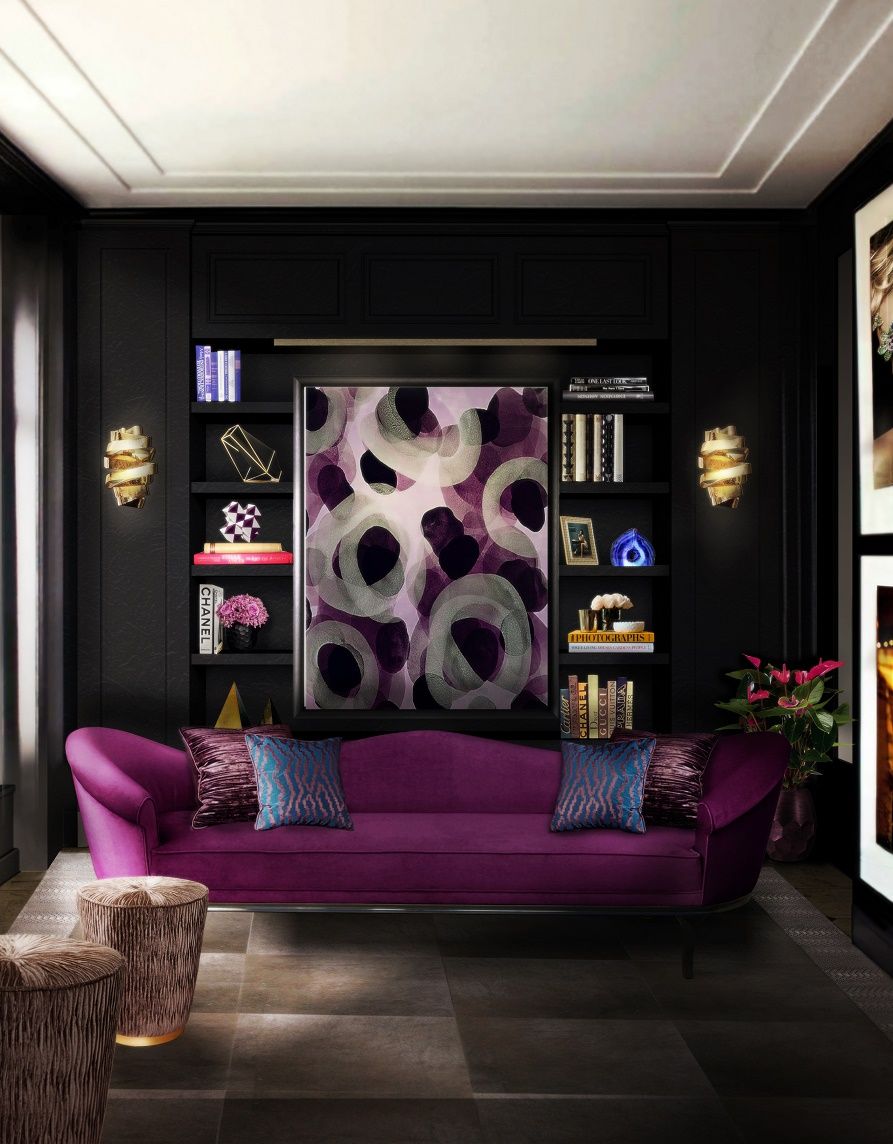 In this photo we have the flirty Colette Sofa, which is a fully upholstered tight back sofa with an elegant lacquered band leading to sleek feet.  A pair of Tresor Stools are also shown which are upholstered in luscious velvet, with a polished cast brass base.  The pair of Chloe Sconces shown are wall mounted lights within an evocative ribbon of gilded bronze with leaf detailing.  The rug is the Black Cobra Rug, which is a cowhide rug with an embossed bovine leather cobra print border.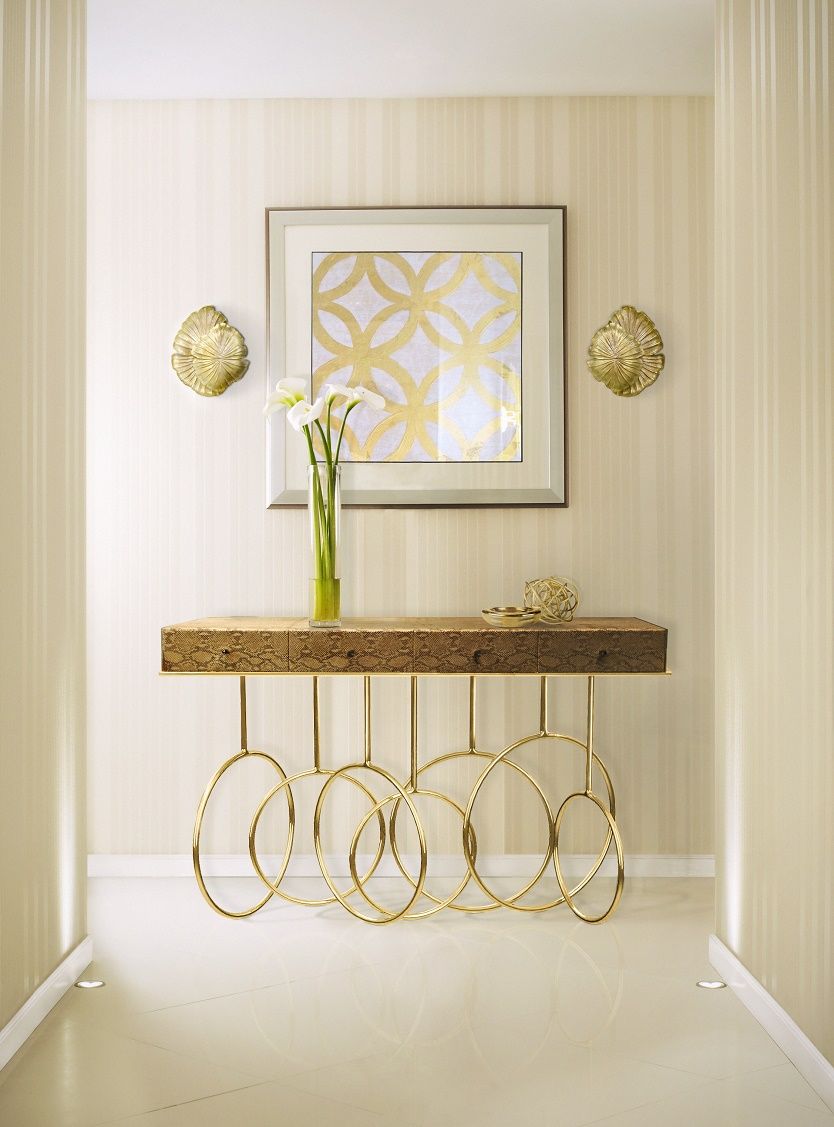 Here we have my personal favorite, the Burlesque Console, whose contemporary design is inspired by the dazzling world of French Cabaret in its day.  The base of loops and spins is polished brass, with the top covered in embossed- exotic cobra, low pile velvet, with a crystal pull on each of the 4 drawers.   Also shown are a pair of Passion Sconce- lighting inspired by nature and glowing from within- made of cast bronze with exquisite leaf detailing.
In this photo we have the Obssedia Console, whose gold plated aluminium base- topped with smoked, bronze glass- is a work of contemporary design art.  The Addicta Mirror- inspired by the richness of traditional design Venetian mirrors- makes for an opulent statement.  The pair of Flora Sconce are tantalizing polished brass, intricately sculpted light fixtures.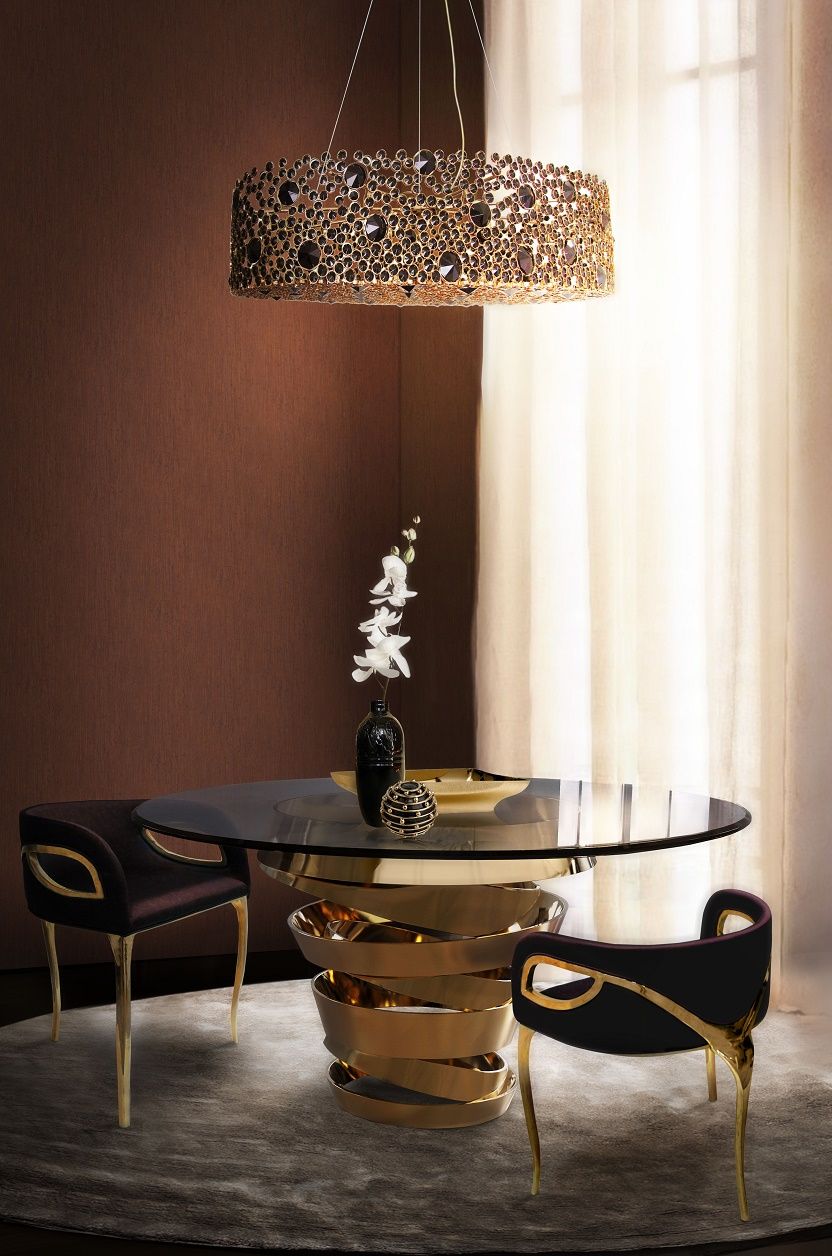 The two tone gold metal ribbon base of the Intuition Dining Table symbolizes the unexpected swirls of emotions and desires, and is complete with a beveled smoked glass top.  The Chandra Dining Chairs consist of polished brass bands delicately binding the sculpted fluidity of the tight back upholstery.   Suspended above is the Eternity Chandelier, whose elegant silhouette takes its brilliance from the skillful application of the crystal.  The eternal circles are individually wrapped in brass and placed with astonishing attention to detail resulting in an extraordinary source of light.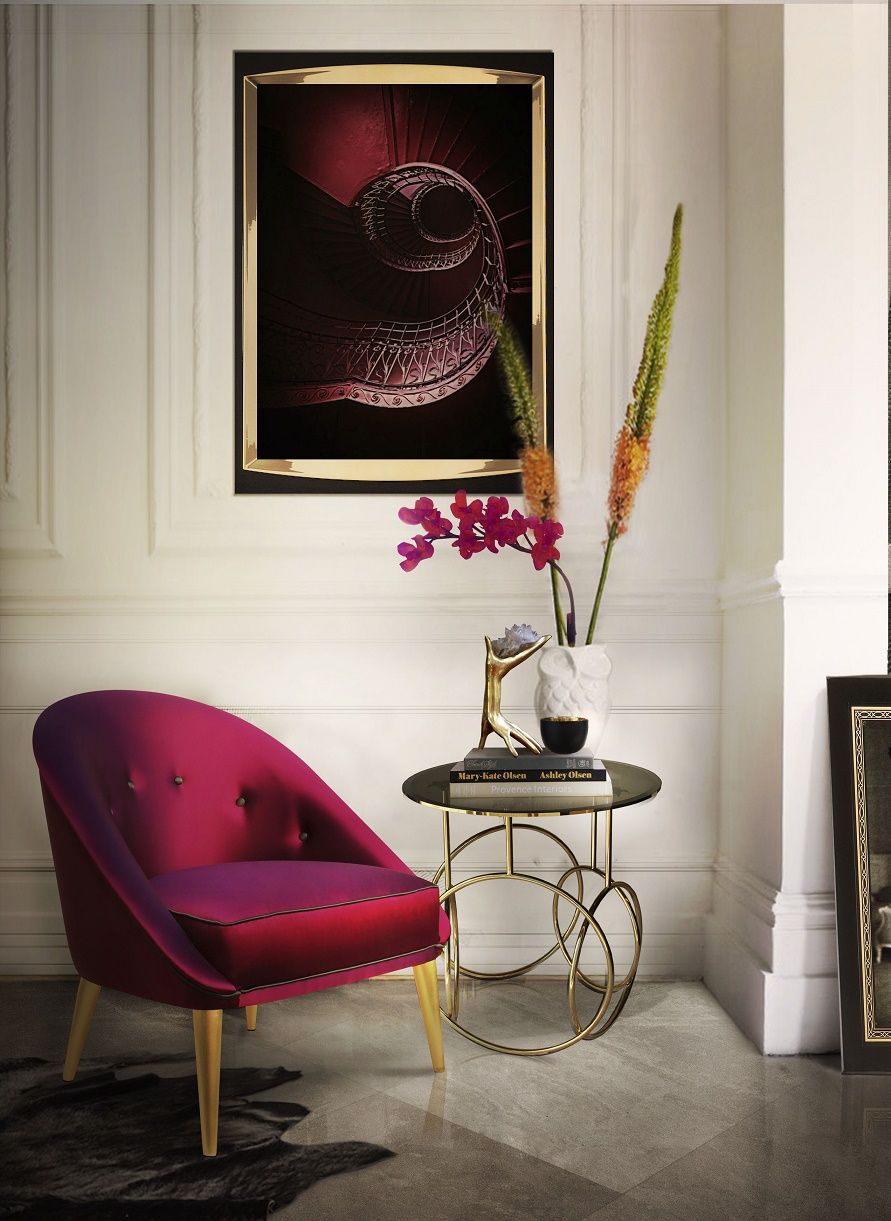 The lustrous curves of the Nessa Chair are designed to complement those of the modern day woman.  Here it is upholstered in sultry satin with detailed stitching trailing along the edges down to the wooden legs which have been elegantly finished in gold leaf.  The Kiki Side Table is another piece inspired by the romantic and seductive beauty of Parisian cabaret life.  It's polished brass hoops have delicate iris floral as tips supporting a bronze glass top embraced by a polished brass frame.
All of these items would make excellent additions to the glamorous interiors of your home.  To read more on how to decorate with these luxury design statement pieces, check out the brand's Love Happens Blog.  For more info on Koket you can visit their site at www.bykoket.com.
Hope you enjoyed the collection!  Be inspired!
Thanks… You all have a great holiday weekend!!
Please like us and share: