Grand Entrances – 15 Designer Foyers
Today we have a collection showcasing 15 entryway-halls-foyers for your interior design inspiration, all completed by top interior designers and architects.  This collection includes classic design to modern design styling in both large and small spaces.
The foyer is your home's first impression and should speak of what is to come.  Use these images of inspiring interior design to help you make that lasting impression you really wish to make.
15 Designer Foyers
The above photo is from an exceptional villa in Qatar by London based interior designer Katharine Pooley, and features a bespoke design Swarovski chandelier cascading the full height of the solid brass and glass balustrade.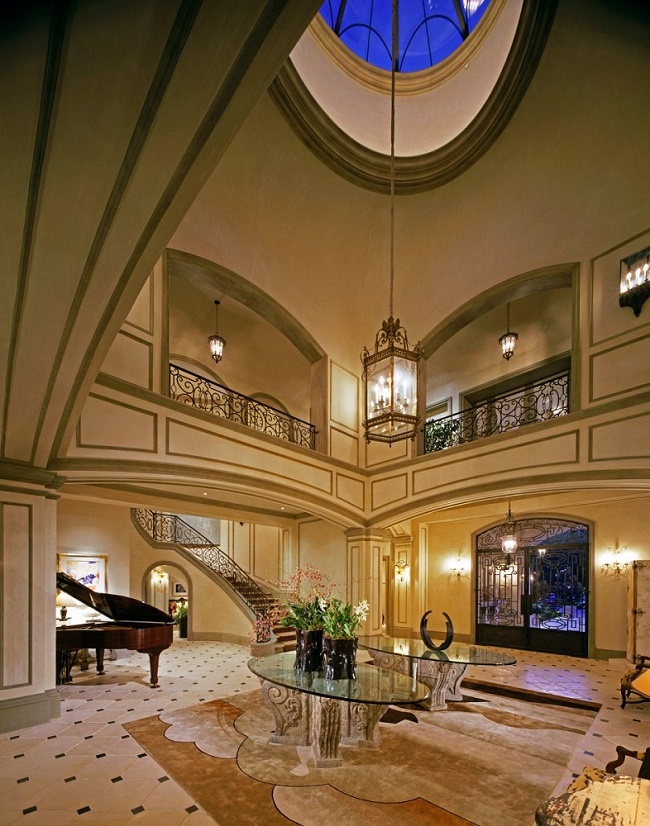 Here we have a soaring entry from a grand French inspired estate by architect Richard Landry and designer Joan Behnke, crowned with a dome skylight, from which a 19th century lantern is suspended.  The wrought-iron double doors are fronted with glass found in a French antique shop.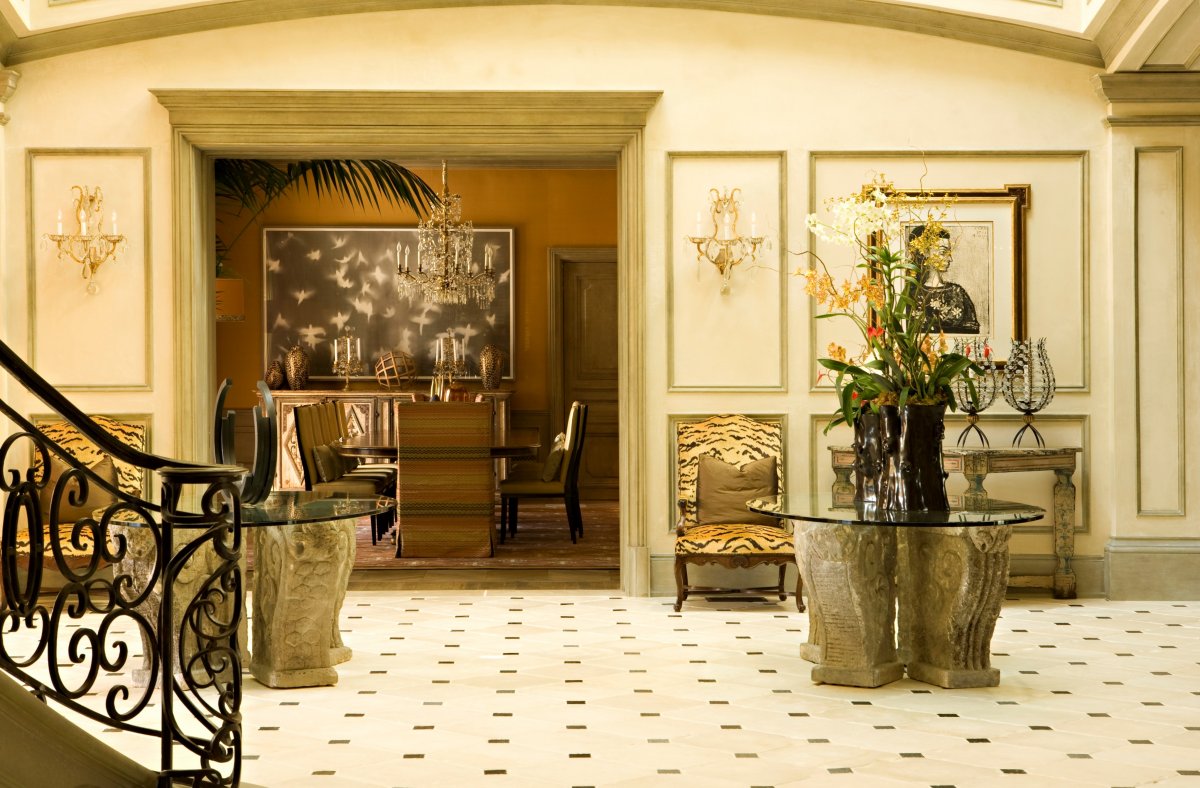 This close view from the foyer above shows a pair of vases by Herve van der Straeten and a Bernar Venet sculpture displayed on two glass-topped tables with 18th-century French bases.  Photo here, above, and below by Erhard Pfeiffer.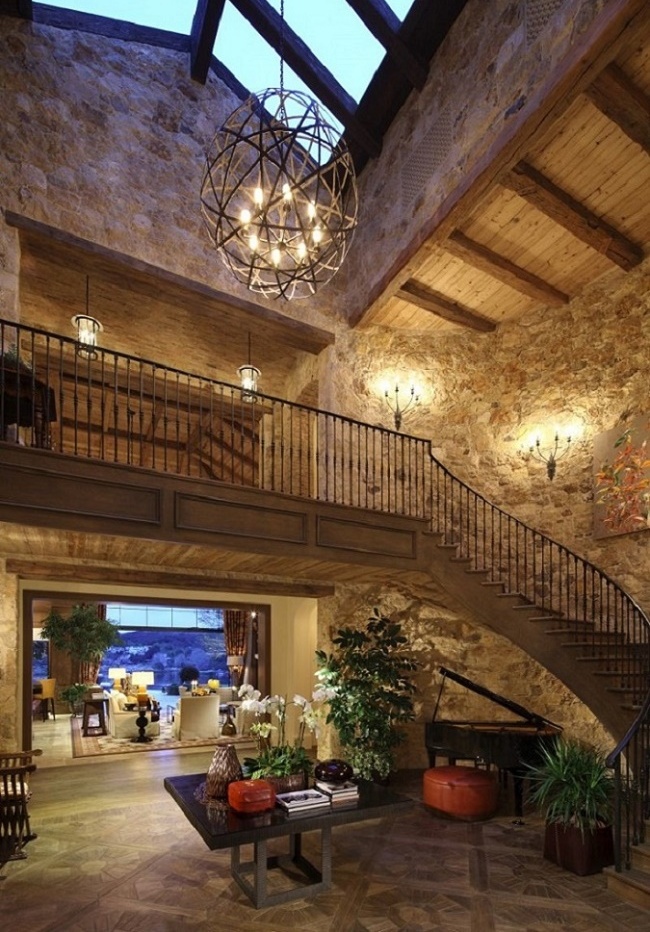 In this rustic stone, Italian-influenced estate, also by architect Richard Landry and designer Joan Behnke, we have a 28-foot-high entrance hall with a skylight.  A hand forged chandelier by Gregorius Pineo has been used along with multiple other wall sconces and lanterns for illumination.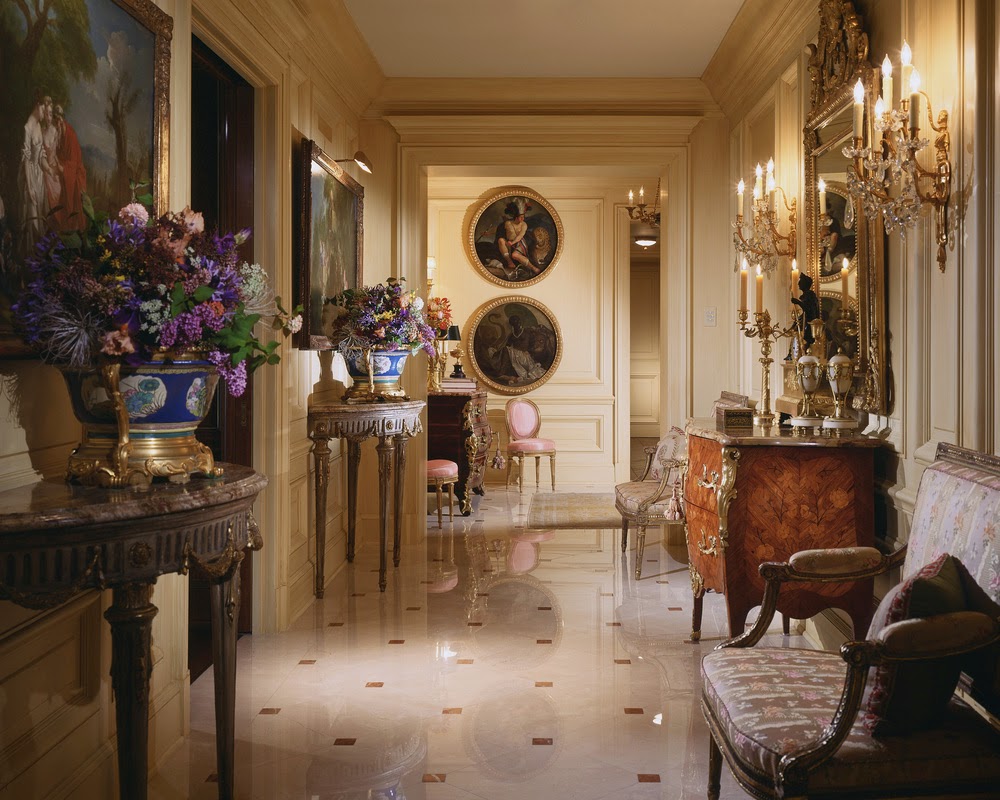 Here we have the classic design of an elegant foyer in an 18th-century-French-designed Palm Beach residence by designer William R Eubanks– a favored classicist- filled with fine period antiques: gilded mirrors, oriental porcelains, bronze-dore and crystal sconces.. Exquisite!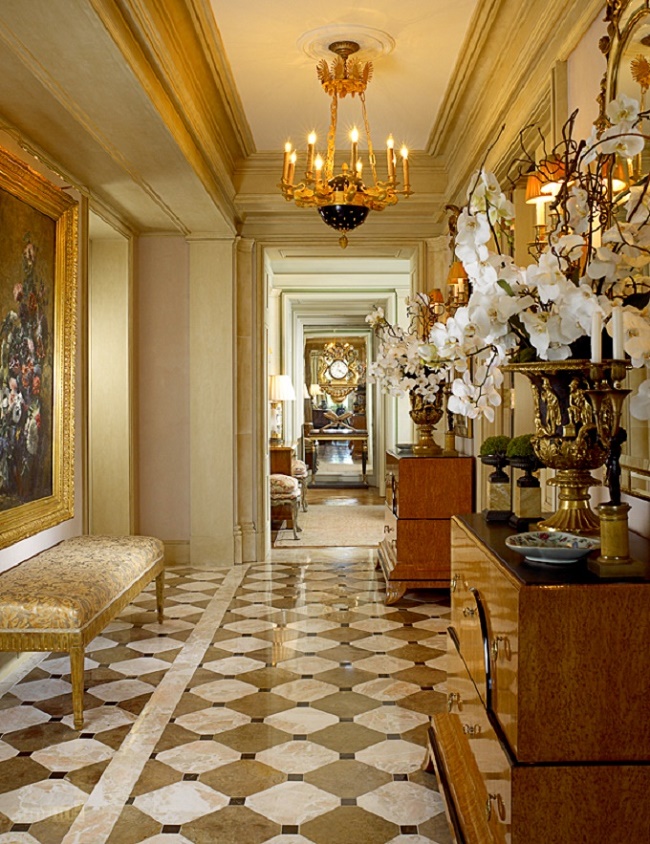 In this dramatic foyer from a Fifth-Avenue residence by William R Eubanks and David Mitchell Brown, with inlaid marble floors and painstakingly crafted millwork- refined eclecticism reigns.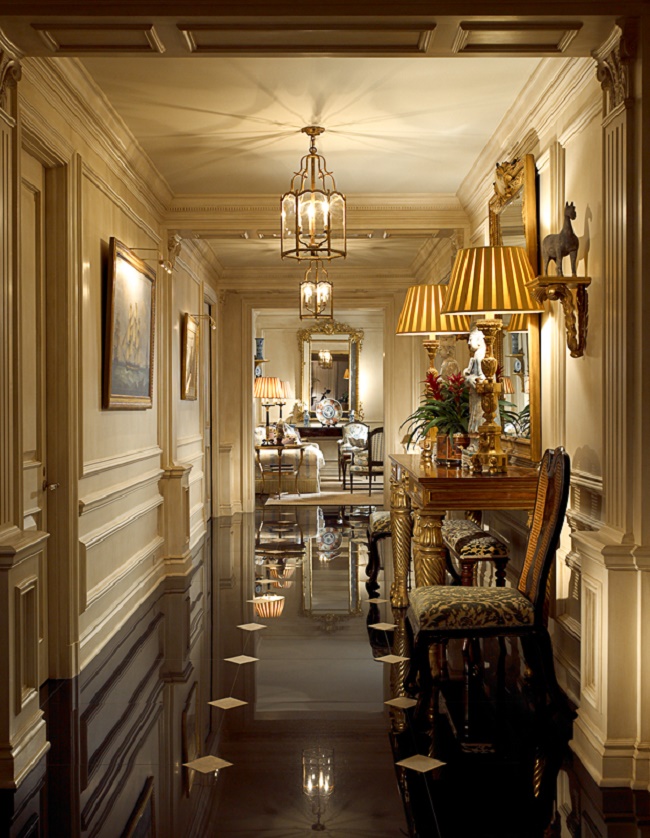 In this foyer from a Palm Beach home again by William R Eubanks and David Mitchell Brown, interior architecture millwork, soft wall glazing, and glossy marble floors are highlighted with their signature vignette styling.  This photo, and the 2 before it from Eubanks by Kim Sargent.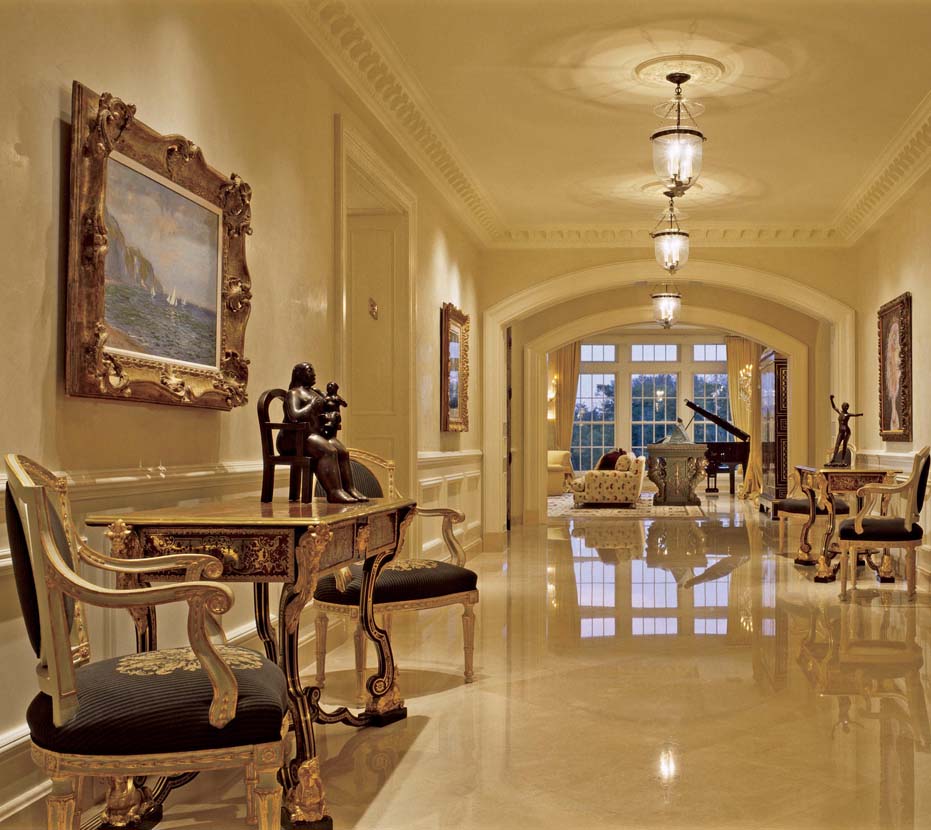 Here we have a formal entrance hall from the luxurious interiors of an  Ohio estate by Geoffrey Bradfield, filled with antiques and fine art, including Monet's Falaises et Voiliers Pourville, and sculptures by Fernando Botero and Edgar Degas.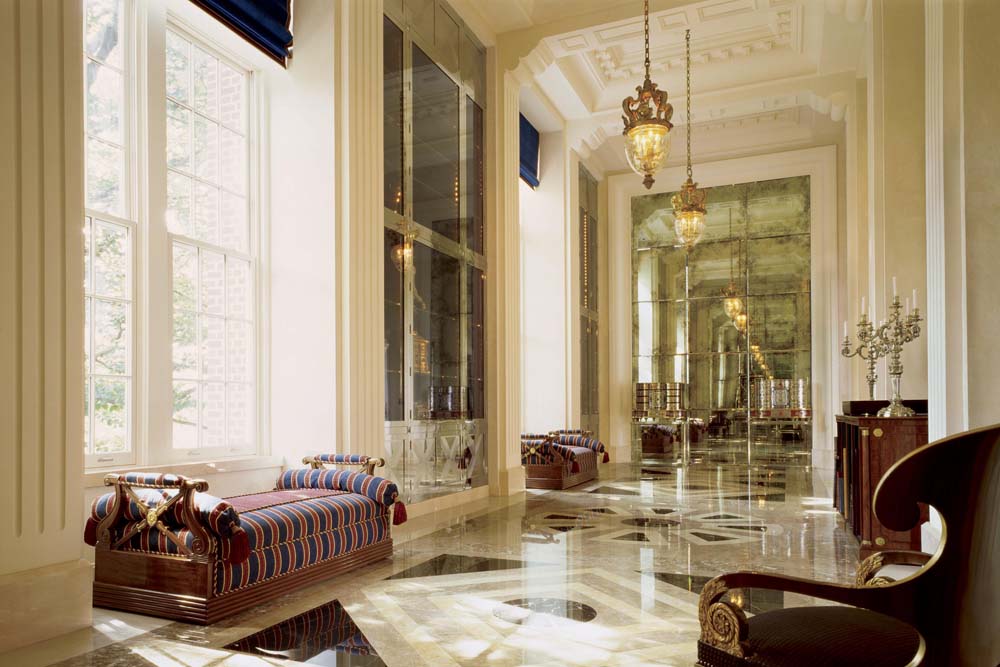 From the same Ohio estate, a pair of 19th-century mahogany daybeds line the walls of this gallery built to house the owner's objects d'art.  Though the owners were important collectors, they still wanted their estate to be a luxury home and not a museum.  This photo and the one above by Scott Frances.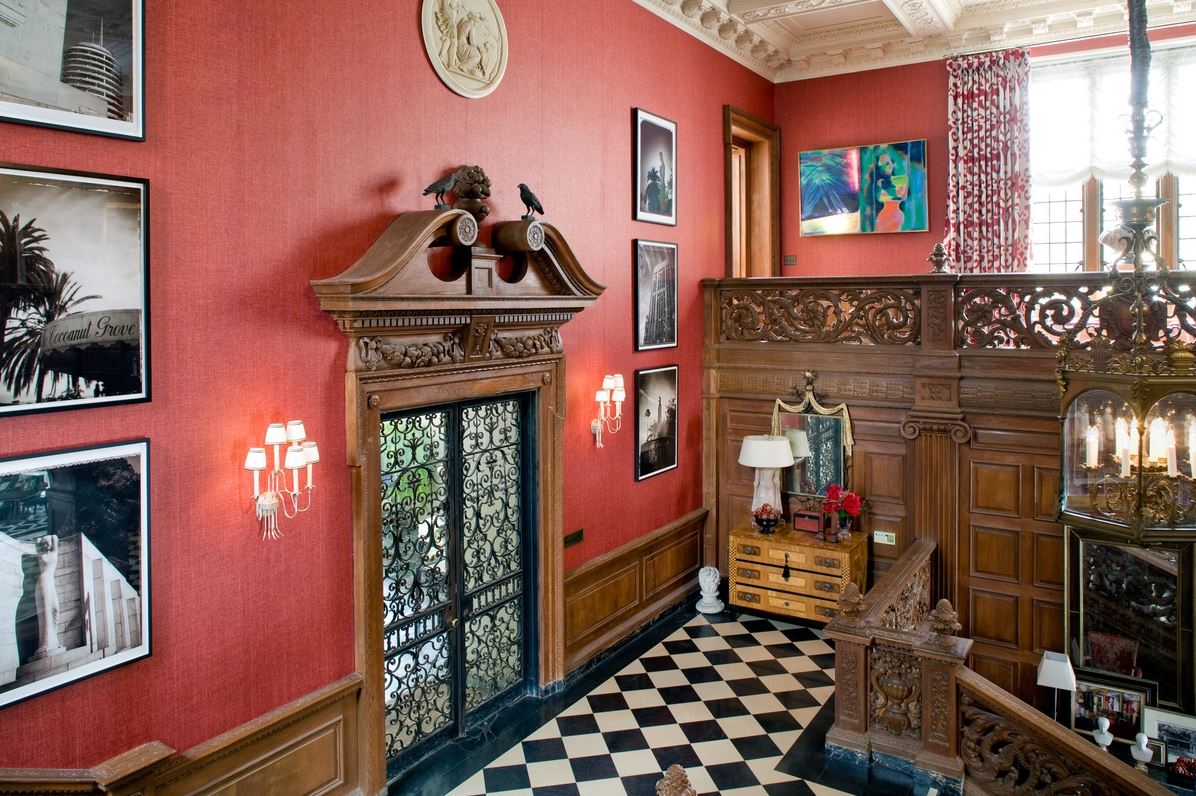 The grand entry hall of historic "Greystone Mansion" in Beverly Hills by Timothy Corrigan– a master with historic properties and traditional design- is a sweeping 3-level space composed of rich, dark wood paneling, red Phillip Jeffries grass cloth wallcovering, and classic styled marble flooring, juxtaposed with modern art and effects.  Photo by Grey Crawford.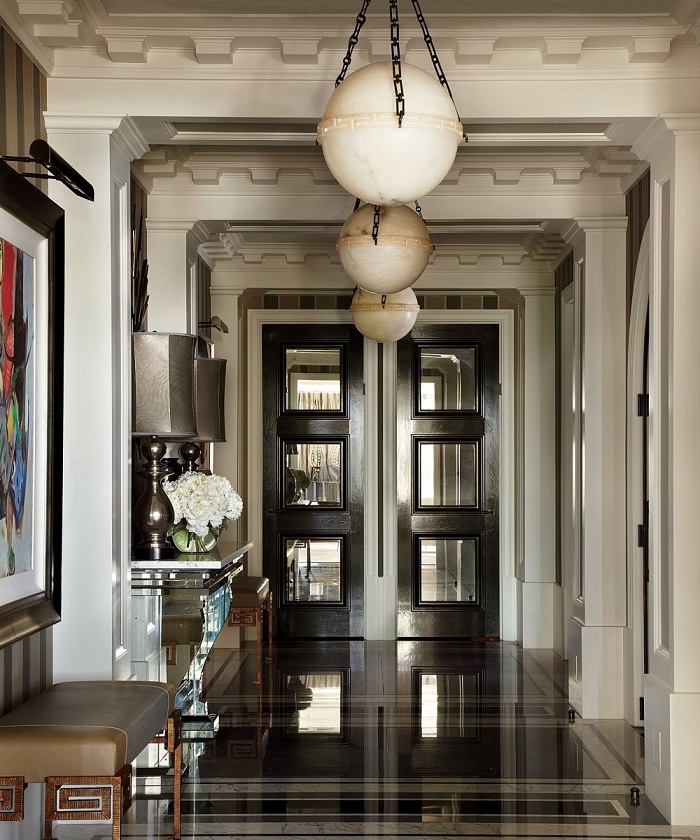 This entry hall is from a Contemporary design Chicago apartment by the French designer Jean-Louis Deniot.  The oak doors are inset with antiqued mirror.  The pendant lights are by Vaughan and the leather-and-forged-iron benches are of bespoke design.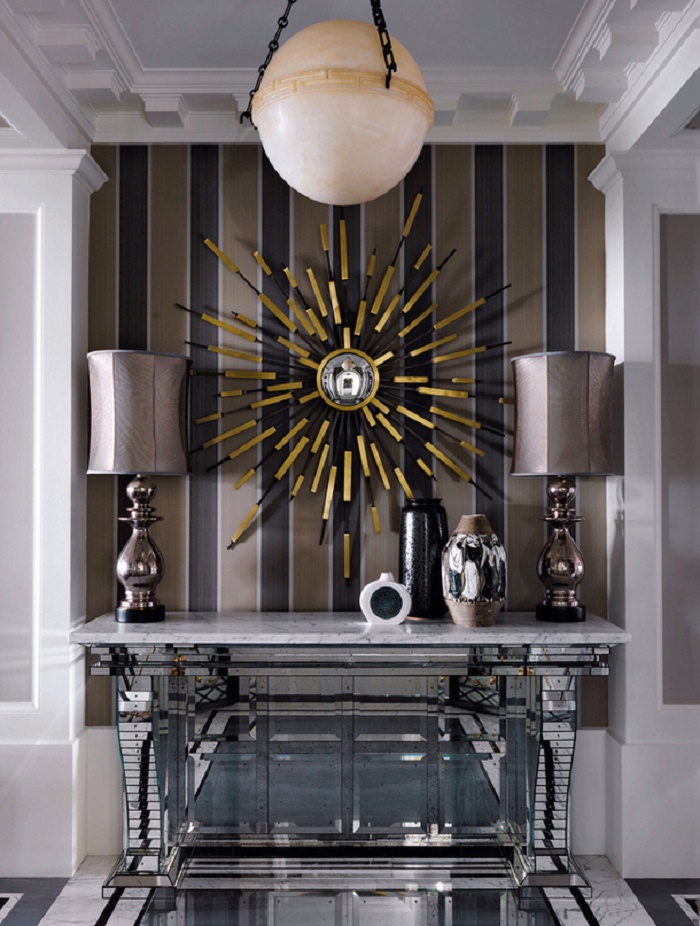 A close up from the same hall above shows a Serge Roche-inspired, mirrored marble-top console by Deniot.  This photo and one above by Miguel Flores-Vianna.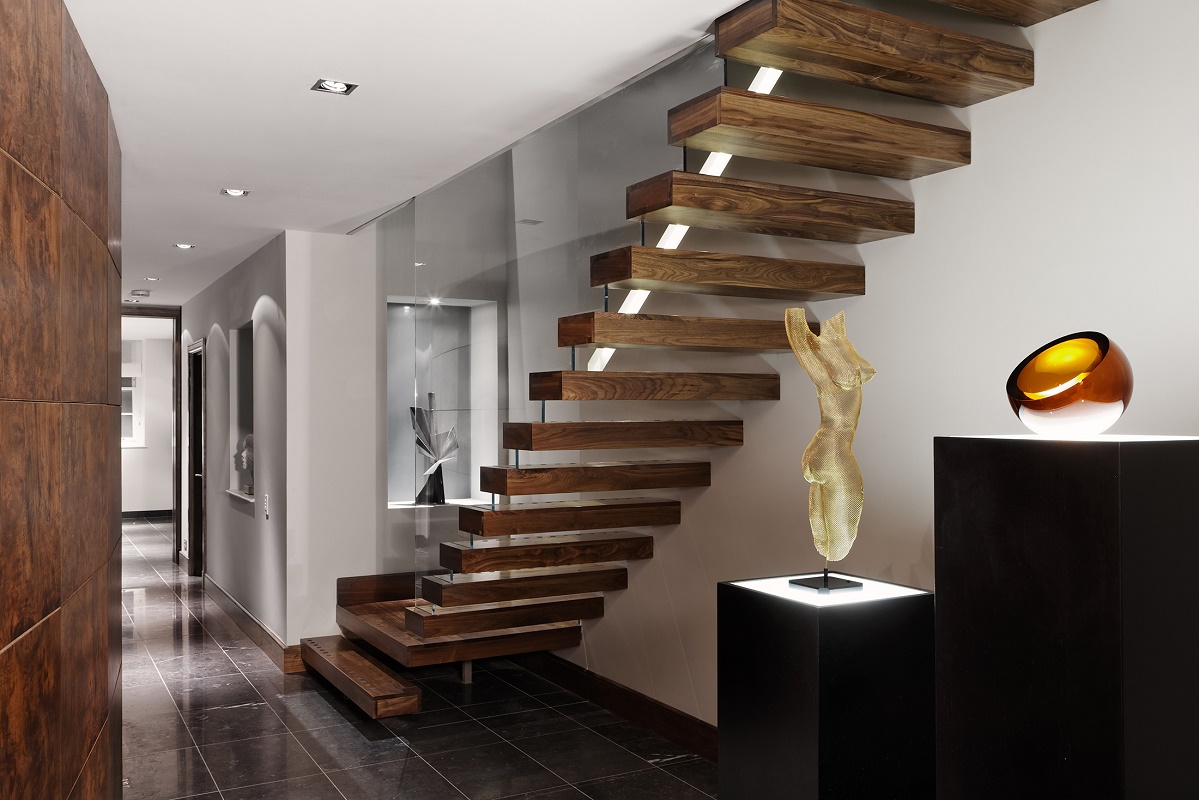 In this Kensington Penthouse in London, we have a sophisticated design approach on decorating the hall with modern art by designer Staffan Tollgard.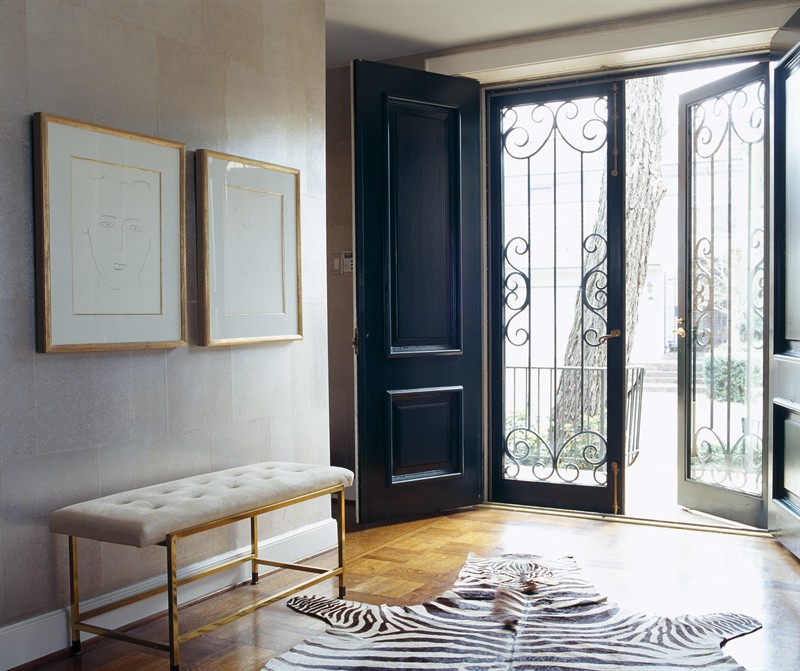 Here we have a signature glamorous design styled entry from the Dallas based designer Jan Showers with silver leaf wallcoverings, and an Edward Wormley bench topped by a pair of line drawings.  Photo by Jeff McNamara.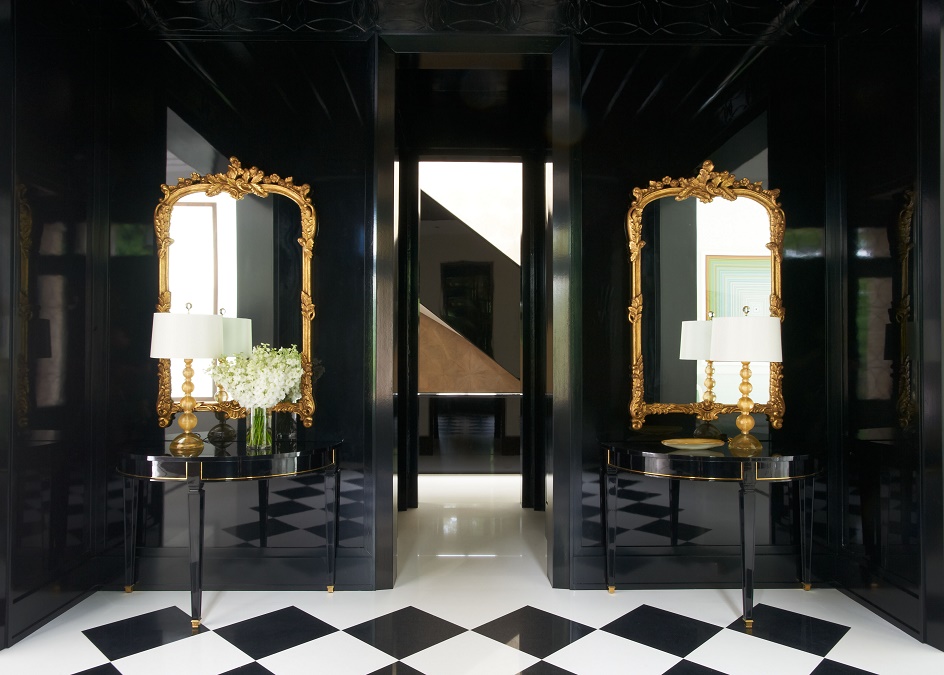 Here we have another foyer from a Toronto home by Jan Showers with high gloss and high drama.  Included here are a pair of demilune consoles from the designers collection, along with custom mirrors and murano glass lamps.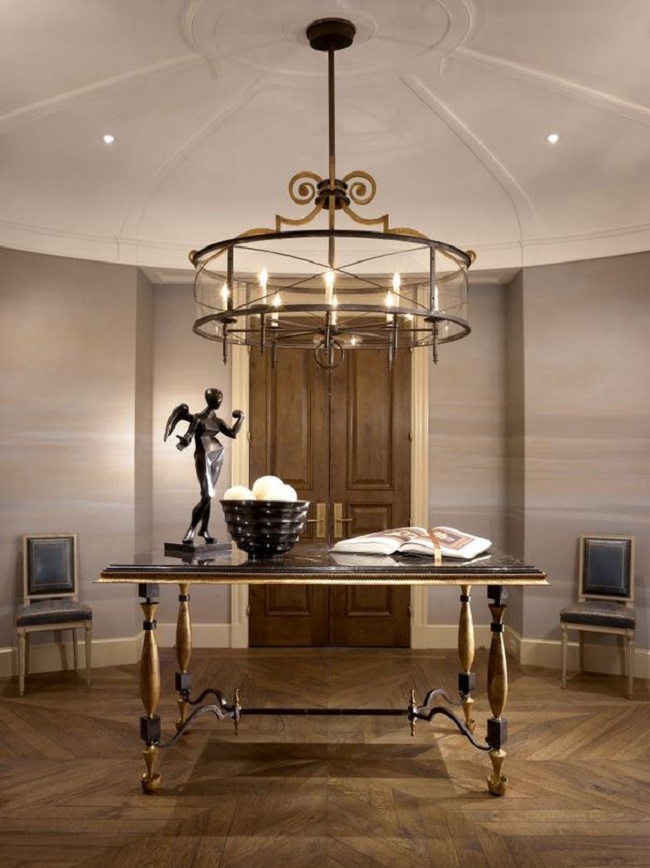 This foyer is from a penthouse apartment on Chicago's Lakeshore drive by designer Jessica LaGrange.  The table and chandelier were custom bespoke design specific for the space by the designer.  Photo by Tony Soluri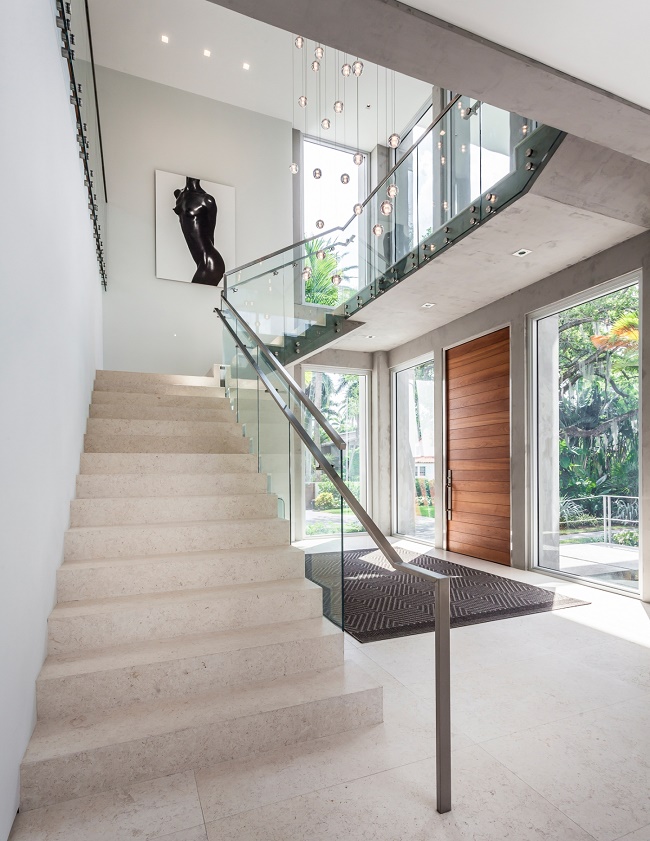 Here we have the contemporary design foyer from a home in South Beach by the Miami based Sojo Design.  The space is bright and open with the chandelier suspending down through the center of the staircase from the upper floor.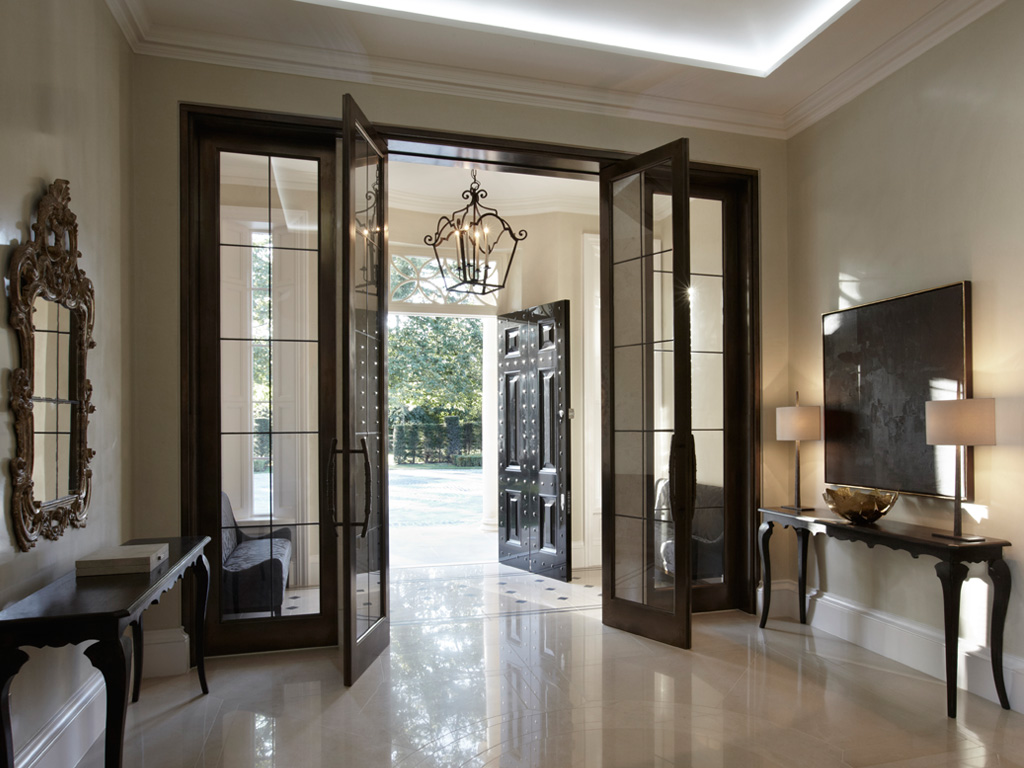 This traditional design hall is from a Windsor country house by London based designer Louise Bradley, showing a pair of the designers distressed black paint finished "Veronese" consoles.
This concludes our interior design inspirations for today my friends!  foyers.  I hope you enjoyed and have found my design inspiration for your next project.  Be sure to check out all of the award winning pros listed here for more info on their work.
Thanks so much for reading along everyone.  I sincerely appreciate each and everyone of you!  Please let me hear from you all in the comments!..or you can even drop me an email if you like.  Come see me again soon on here.  If you have enjoyed this post, please share it on along below.
THANKS….Have a great day!
Oh…if there are any topics that you would like to see covered here on this website…please let us know.  I write these for you all and want them to be useful and entertaining.
Please like us and share: