Ultimate Kitchen Design
Whether cooking is a personal passion of yours or you are simply interested in preparing meals for you, your family and/or you like to entertain guests, a well equipped kitchen can be the upgrade your home so greatly needs and that you deserve.  A kitchen at its best is both fashionable and functional, giving you the ability to facilitate what you need to make a wide variety of meal preparations, while also making entertaining as simple and convenient as possible.
While many people enjoy dining out, there are also many of you who like creating mouthwatering gourmet meals right at home.  The kitchen has come a long way in a short time and the latest options available for your personal home kitchen can help even a novice cook turn out great dishes.  As technology continues to improve, so does your ability to create a stunning space filled with very smart features perfectly suited for preparing anything you can imagine.
Metro Deco- www.clivechristianinteriors.com
Even if you don't care to cook yourself, it is becoming increasingly popular in some circles to have local chef's and food experts come in to prepare a special meal for you and your guests.  Having the right commercial grade equipment for them makes all the difference in such cases, plus it just looks really good.  Those of you who entertain very much know how important it is to have what your caterers are accustomed to using when making their preparations in your own home.  Whether it's someone else or you will be doing the cooking yourself, think about the delicious dishes served with impeccable style that everyone will love.
www.thermador.com
Ranges, Cook-tops and Pizza Ovens
Today's ranges and cook-tops come in a wide variety of brands, colors, and sizes, with lots of custom features, giving you the freedom to find the right fit for your needs.  Many elite models offer stunning high-tech looks and efficiency.  While they share many common qualities, they also have distinctive features that set them apart.  Features such as high capacity BTU burners where you can produce enough heat to make a great dinner in a Wok, and ovens with steam heat features so that foods can stay moist while cooking and you can develop a nice hard crust on things like artisan breads.
A good example would be Thermador's 48-inch Professional Series Pro Grand Commercial Depth Dual Fuel Steam Range, which is described as the "Ultimate Culinary Center".  It features seven cooking options, including an extra low simmering burner, their exclusive 3-in-1 star burners, and a high capacity 22,000 BTU burner, which is the hottest flame available for a residential appliance.  Thermador created the industry's first high performance range with a built in steam heat and convection oven.  The range also has a grill, griddle, and warming drawer.
www.agamarvel.com
Another great multi-functional range is AGA's 44-inch Legacy Dual Fuel Range with Convection oven, which has 4 compartments.  The top is equipped with six gas burners of varying sizes, including a WOK burner.  The range has a conventional oven, a dedicated broiling oven, a 7 mode multi-functional oven, and a storage drawer.  The 7 mode multi-functional oven includes a convection defrost setting, a convection bake, convection broil, fan assisted bake, conventional bake, a top browning setting, using the top element only, and a base heat setting which uses the bottom element only.  This model is well equipped for any task.
www.candelariadesign.com
Another hot new feature showing up in modern kitchens is a pizza oven installed right into the wall with proper ventilation.  Besides pizzas, you can make custom breads, perfect pies, and roast meats and vegetables.
These and other such features can provide the options that can make preparation of your favorite foods fun, fast, delicious, and easier than ever.
Samsung Family Hub www.samsung.com
Smart Appliances
We are all used to the convenience of smartphones, so why wouldn't that extend to smart appliances?  The new Samsung "Family Hub" refrigerator helps you manage your home and your life.  It has three built-in cameras for food management, plus direct grocery ordering. You can also share multiple calendars, photos, notes, and stream music and videos all from a front panel touchscreen with Wi-Fi which can also be accessed with your smartphone.
www.boscolo.co.uk
Remote controlled ceramic cookers such as the Crockpot Wi-Fi enabled WeMo model can be very useful, allowing you to monitor and control the cooking from anywhere with your phone.  Another handy gadget is the Thermpro Model TP07 meat thermometer which alerts your smartphone when your dish is done.
www.brittocharette.com
There are a whole range of appliances that provide you with remote access to all your controls via your phone.  Some of the latest ranges offer touch screen gourmet recipe instructions on the front panel.  No need to leaf through those old dusty cookbooks anymore.
Fendi Casa- www.fendi.com
Counters, Surfaces and Sinks
The counters and surfaces in your kitchen, can make a big difference in both functionality and appearance. Quartz is the most durable of all surfaces. It is stain, scratch, and crack resistant, non-porous, and thus low maintenance.  The most fashionable options are, of course, granite and marble.  They are not quite as stain and scratch resistant as quartz, but they have a great look and very popular.  Today, we see a lot of mixing of the materials used for the counters instead of just sticking with a single selection.  The choices and combinations are endless.
www.joanbehnke.com
The sink choices for your kitchen these days are also endless.  Sinks come in a wide variety of different sizes and materials for their various functions.   Some people enjoy the convenience of a large double sink.  A deep stainless steel basin can look sharp while simplifying clean-up.  The deep barn style sinks are very popular too.  Professional-style prep sinks can make mise en place a snap.  Many sinks offer hands free faucets while others have the high reaching pull down professional-style sprayers.   As you can see in the photo above, there are good reasons for sinks and various faucets all around the kitchen.
www.boscolo.co.uk
Kitchen Accessories and Small Appliances
A great kitchen is not complete without the perfect assortment of accessories and small appliances.  An espresso machine can move your morning along without a Starbucks stop on the way to work.  If you love to cook, a large capacity stand mixer like the one Kitchen Aid makes can do quick work of many preparations.  A nice juicer can help you customize healthy beverages from scratch.  An electric pasta maker will give you fresh offerings of any shape and texture that can taste better than you can buy.  From one-pot coffee makers, to motion detector automatic trash cans, there are so many ways to help your kitchen meet your personal needs.  What is even better though I must add, is the ability to quickly and easily put them away when not in use.  The invisible kitchen is the true kitchen of the future.
www.sophiepatersoninteriors.com
www.subzero-wolf.com
A Customized Island Can Be Your Best Friend
An island is a convenient extension of counter-top space, but when done right, it can be so much more.  You may as well make the most every bit of available space, including the area under the island.  Sub-Zero, in addition to great full size versions, also makes some very good under-counter models.  Some have dual drawers for refrigeration or freezing, while other models have glass fronts designed for beverages.  Gaggenau makes great full size and under-counter wine refrigerators with independently controlled temperature zones.  Bosch is well known for their nearly silent dishwashers, the quietest in the industry.  Many people are finding that two dishwashers are better than just one, especially when entertaining.  These and so much more can all be configured in under this central space.  When you add bar-stools, islands can also be great for breakfast bars, as well as for entertaining purposes, providing a way to keep engaged with your guests while you're preparing all the foods or while watching your hired chef demonstrate his cooking skills while you look on.
www.designlinekitchens.com
Beverage Stations and Bars
A fan of cocktails, wines, and custom drinks?  Rather than try to prepare those in the main kitchen area, why not have a dedicated space like a beverage station that's out of the way? This can be the perfect place for housing liquor, wine, mixers, specialty glasses and stemware, and a small fridge.  A beverage station can upgrade your kitchen while creating that perfect place for every kind of drink without interrupting the main flow.  You can place your espresso machine, juicer, coffee maker and condiments and whatever else you may use in this space to give you the freedom to create the right drink for any occasion.
Butlers Pantry- www.terratelms.com
Storage Spaces and Pantries
Without proper storage space, it can be a challenge to take advantage of your kitchen's potential.  A spacious pantry can make organizing your kitchen much easier.  Making the most of your cabinet space can do wonders.  You can have an open shelf design or one with enclosed glass fronts for your favorite cookware, glassware, china and small accessories.
Pantries are an excellent place to store dry foods, extra china, crystal, silver, table top and decorative items, holiday table decorations and those occasionally used accessories. Pantries are also a good place to house bulky snacks, beverages, and backup cooking ingredients.  Old fashioned Butlers Pantries are making a comeback in modern homes as people want to have their main kitchens uncluttered.  These spaces are also being used as back up space when entertaining, while others are using them as their private kitchens and leaving the bigger kitchens for bigger occasions.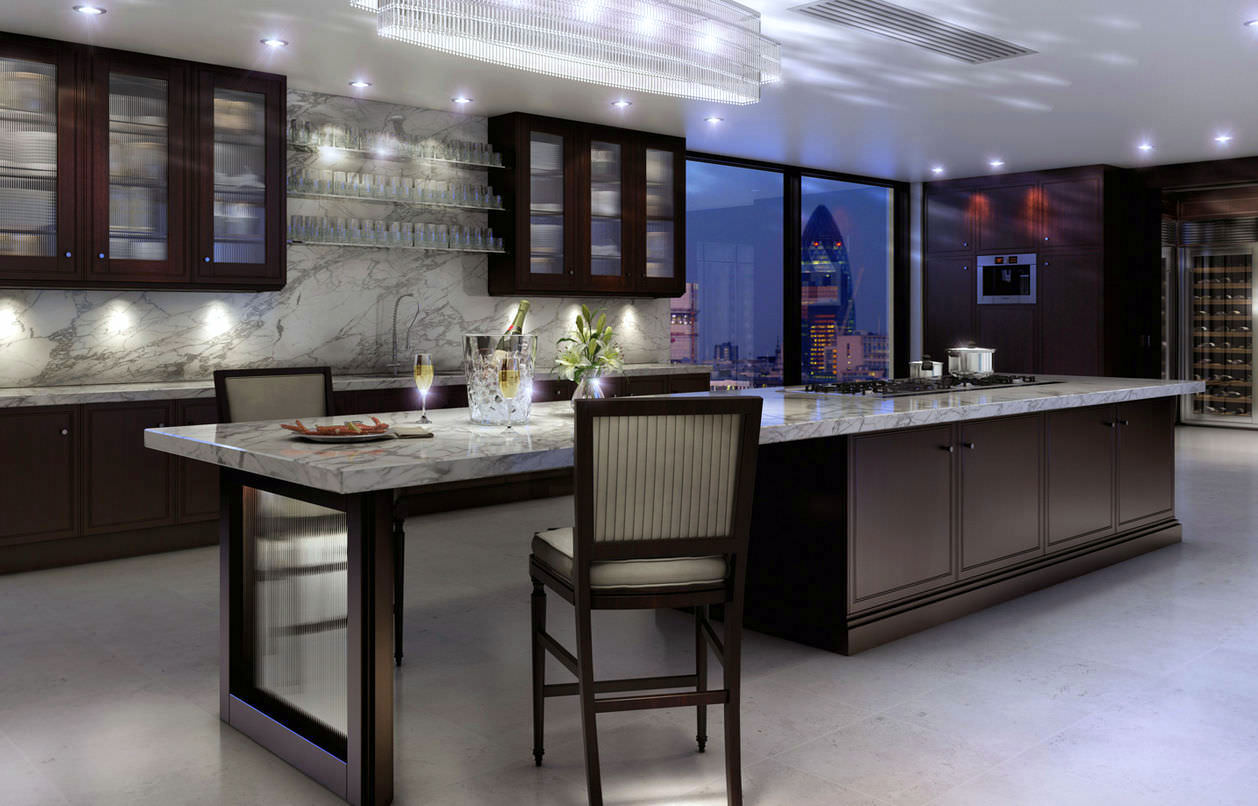 www.clivechristianinteriors.com
Kitchen Design Conclusions
Gone are the days when kitchens were just utilitarian spaces; now they are often the social center of the home and so they should be as attractive as any room in the house.  With a wide open world of possibilities, only one question remains: What will you do to outfit the ultimate kitchen of your dreams?
That concludes our design inspiration for today my friends.  I hope you all have enjoyed today's post on the latest in Ultimate Kitchen Design.  Let me from you all in the comments!  What do you all think?    Thank you so much for reading along everyone!
If you have enjoyed reading today's post…please share it along social media!  We appreciate you so much for this.
Have a great day!
Please like us and share: