Contemporary Lakeside Villa: Eric Kuster
This sophisticated contemporary lakeside villa is located within Domaine du Lac, on the banks of Lake Geneva in Switzerland. The high-style villa serves as a family residence created with sleek and comforting interiors by the Netherlands-based, international interior designer and luxury lifestyle purveyor Eric Kuster. The home is custom finished to the highest of standards, with over 10,000 square feet spread over three levels.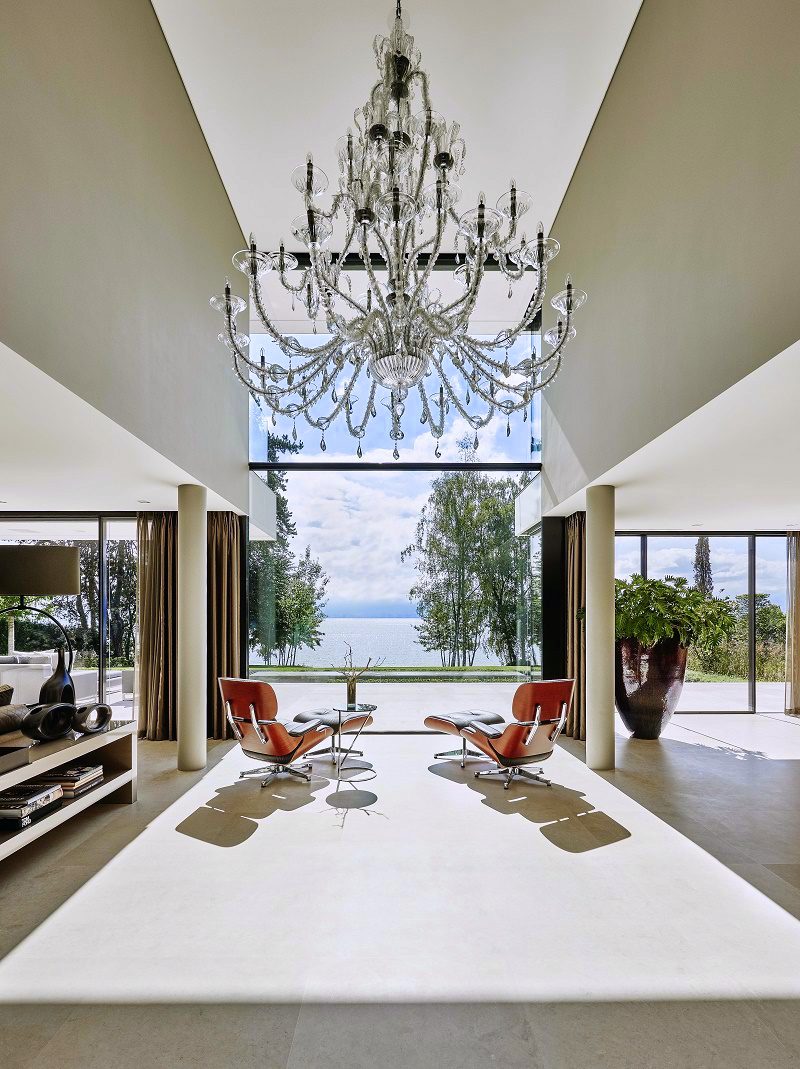 Large floor-to-ceiling windows and high ceilings merge the indoors with the outdoors, bathing the interiors with natural sunlight and providing unending views of the lake. The emphasis in the design of this contemporary lakeside villa was comfort combined with high energy. Every element considers the preferences of the owner with the finest details personalized to create an exact fit for the family.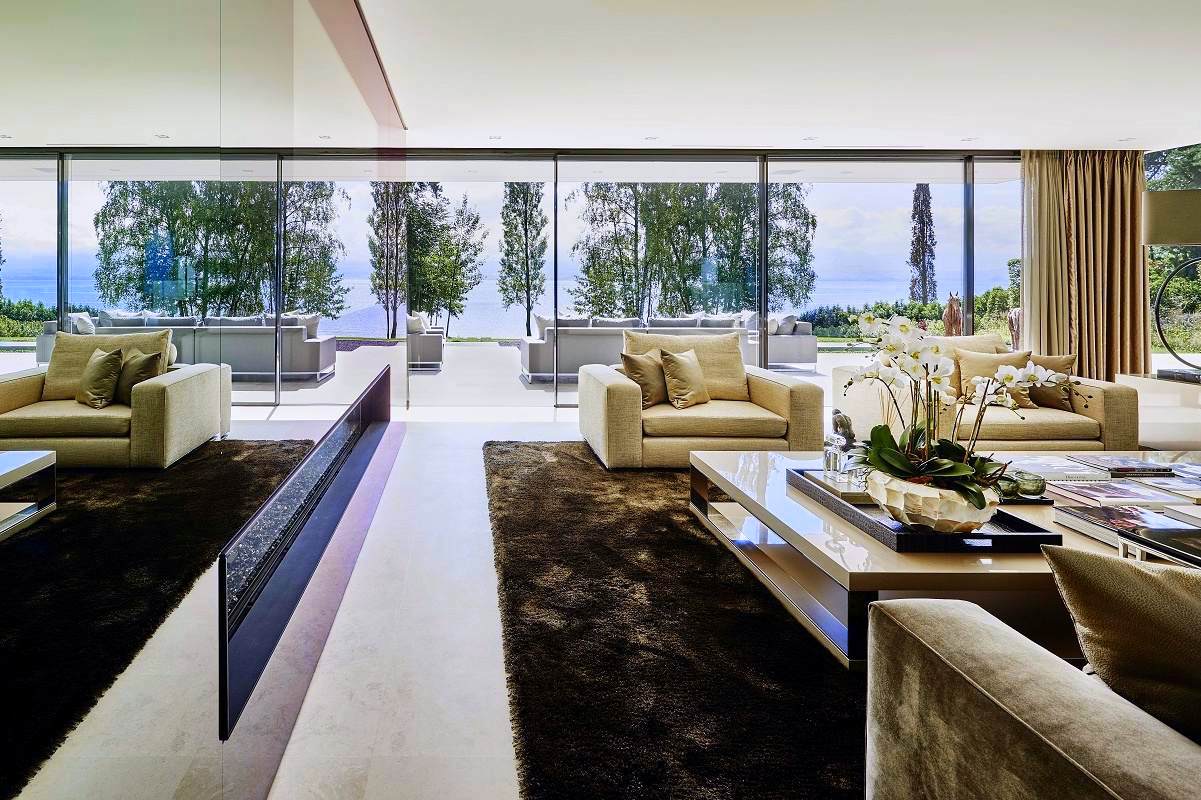 The owners of this contemporary lakeside villa are repeat clients of Eric Kuster, who designed another home for them nearby. The luxury lifestyle provided by the villa, with its five bedrooms, generous entertaining space, extensive leisure facilities and additional space for domestic help is superior even to a five-star hotel. The designer's signature laid-back luxurious design elements soften the architecture's straight lines and acute angles.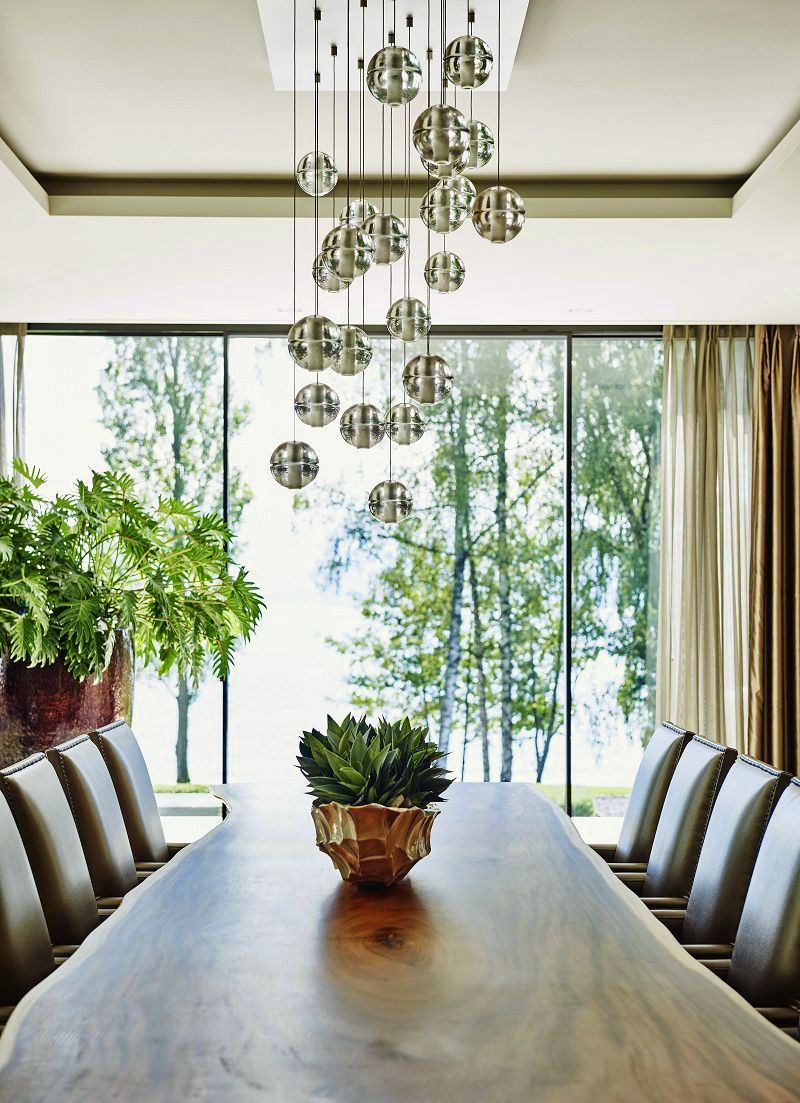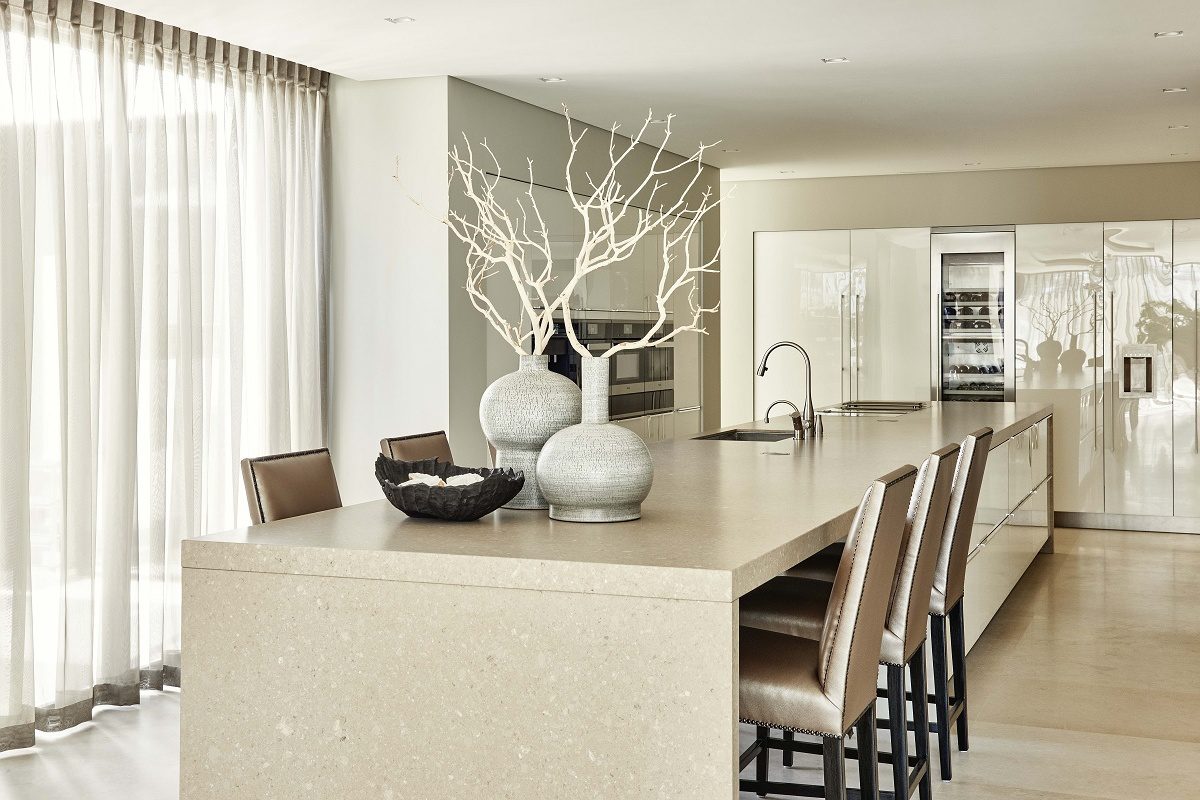 To emphasize the villa's beautiful location right on the waterfront, Eric Kuster used a lot of natural materials and a neutral palette throughout to help bring the outdoors in. The designer seamlessly combines and contrasts the earthy and glossy, raw and refined, sober and sexy.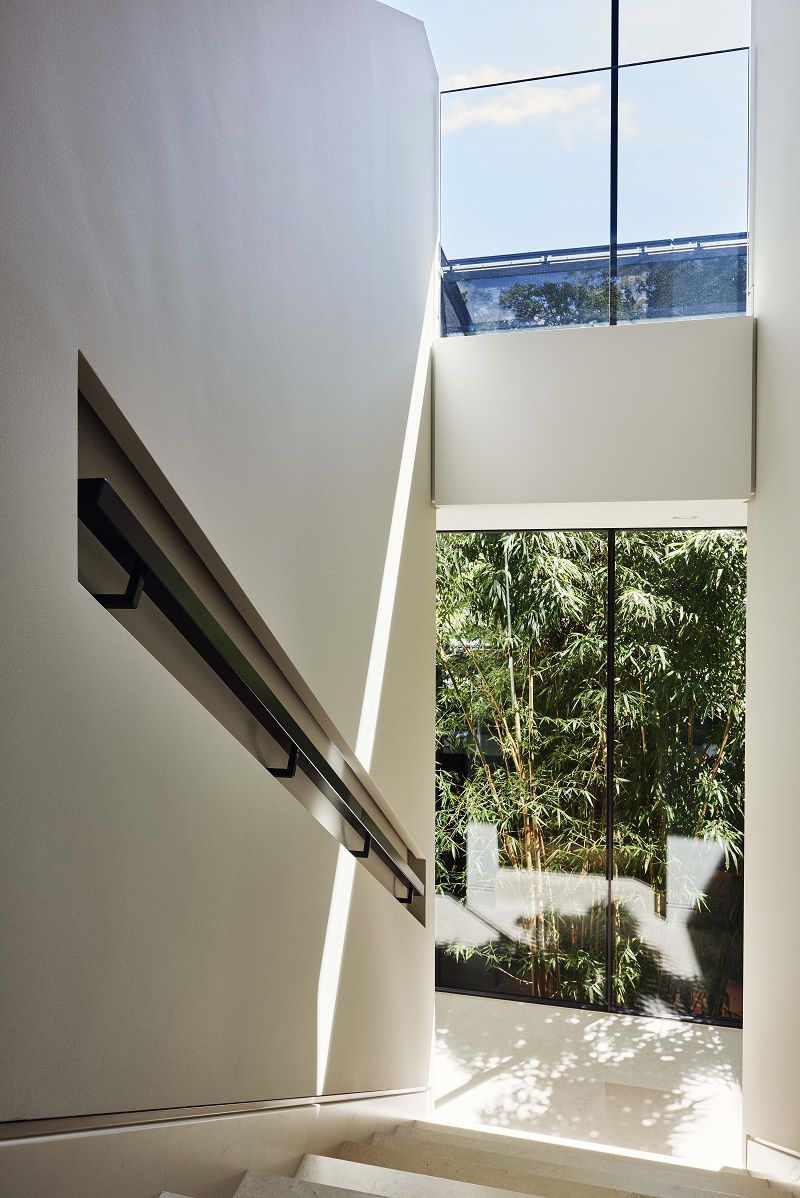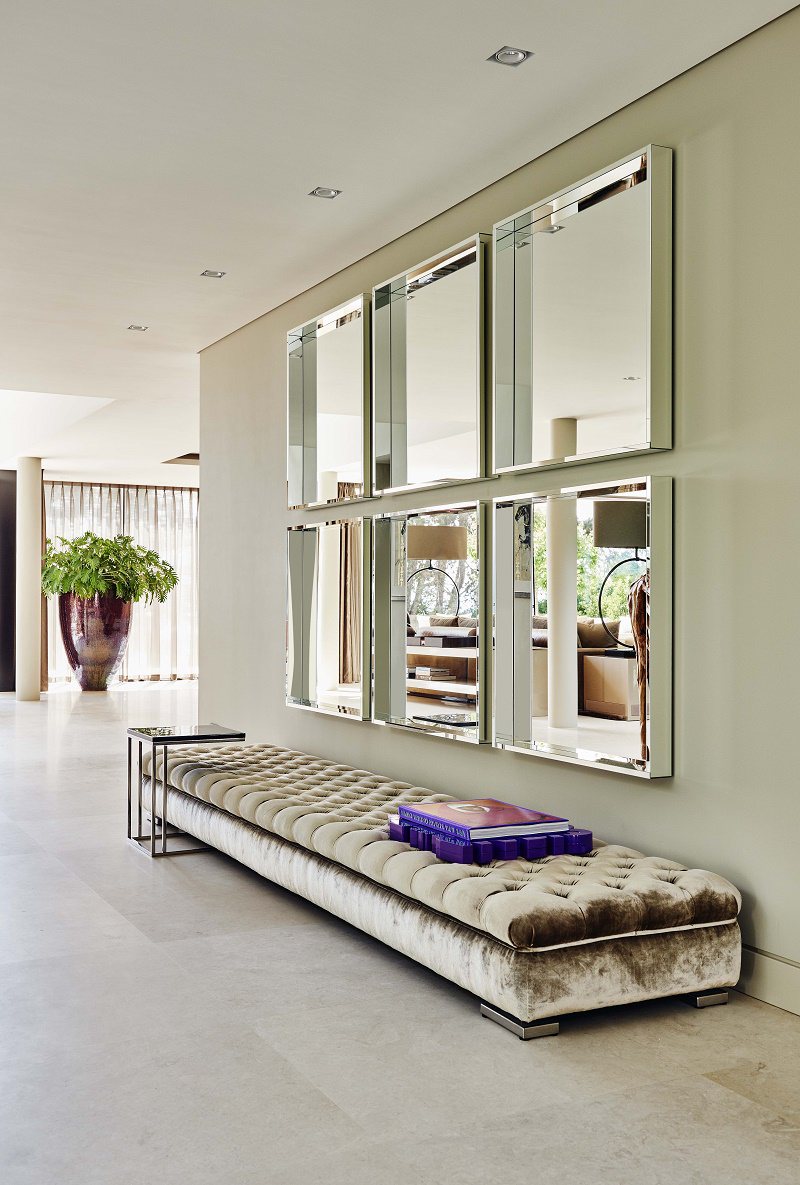 The lakeside villa features only the most elegant and sophisticated materials, highest quality fixtures and fittings, superior electronics, and intelligent technology. The ability to always find the perfect balance between classic and modern is a design cornerstone for Eric Kuster.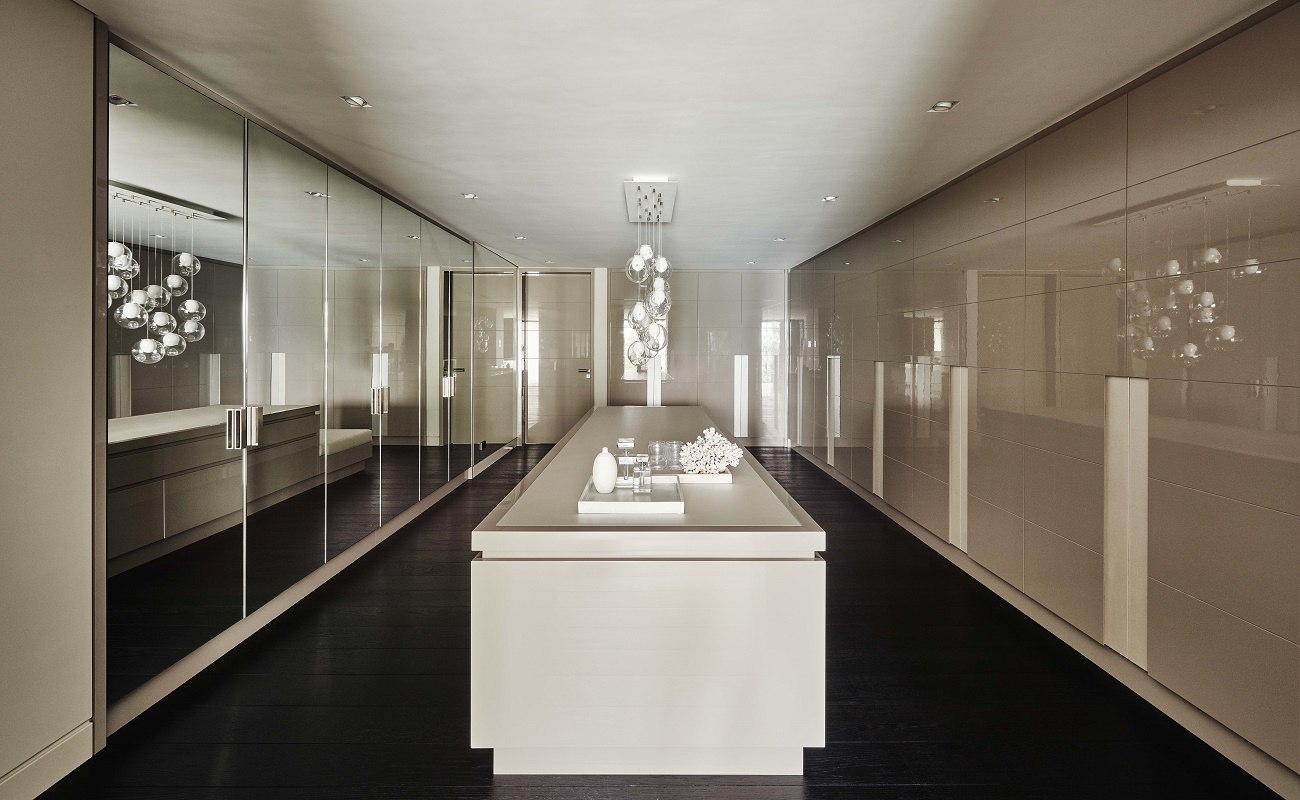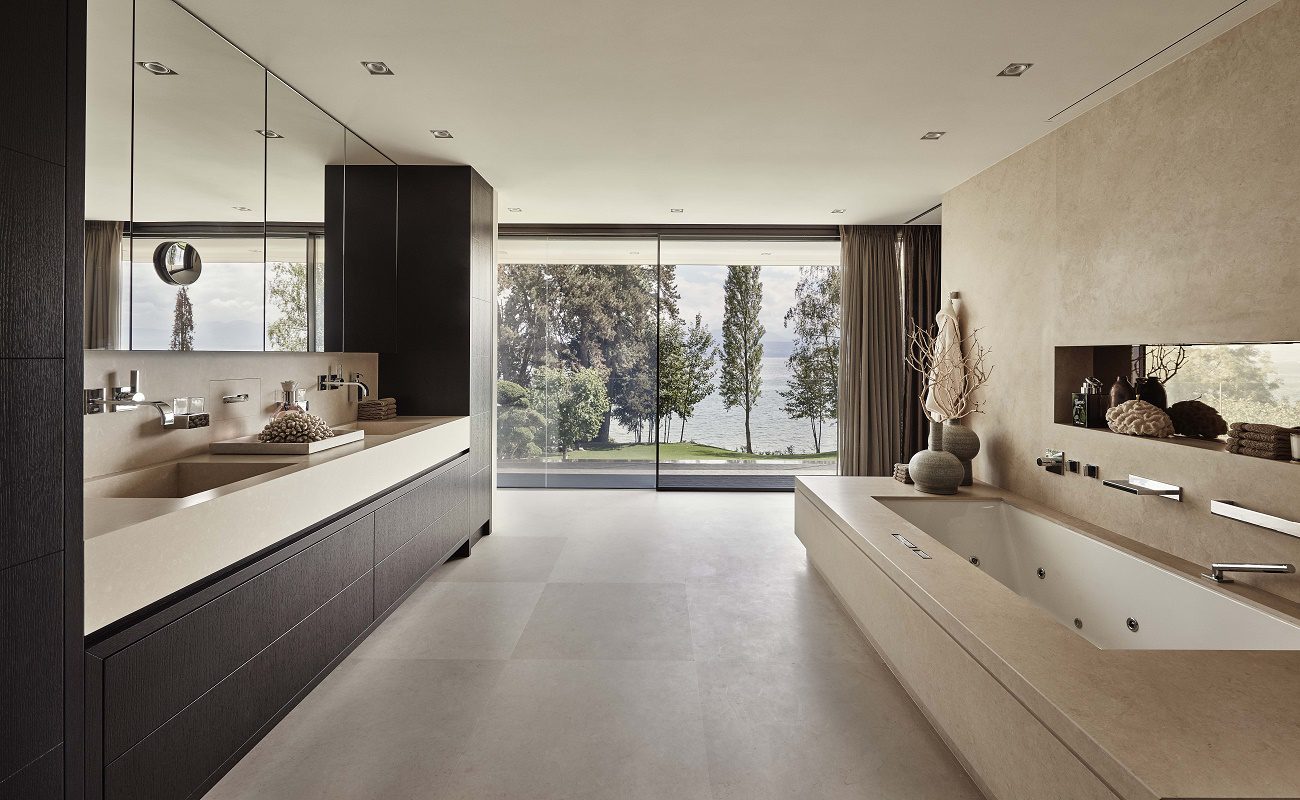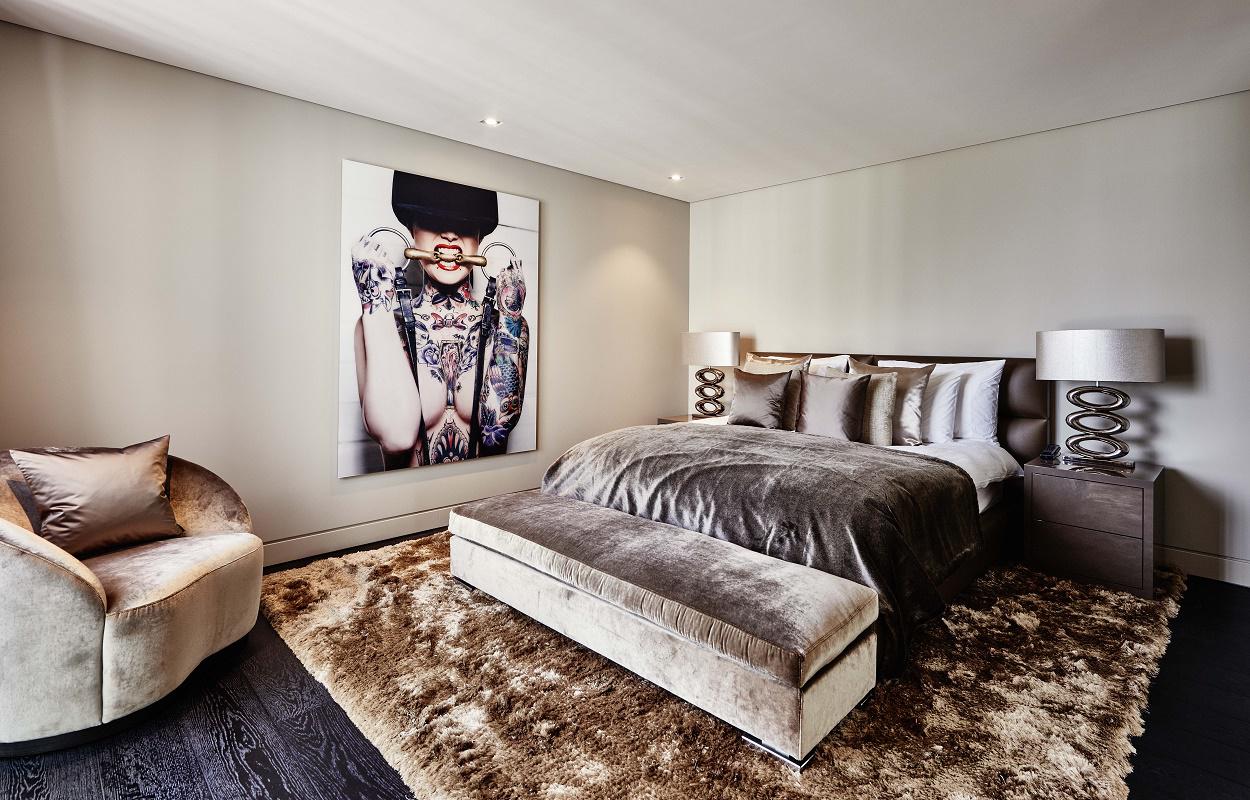 Comfort is enhanced throughout the contemporary lakeside villa with the use of soft, luxurious textures applied to the walls, floors, and furniture. Eric Kuster understands the importance of fabrics and materials. He has layered various textiles that demand to be touched. Naturally, all are from his Metropolitan Luxury Collection which includes everything: custom furnishings, floors, doors, carpets, fabrics, leathers, lighting, and more. The collection captures a contemporary style that expresses itself in glamor, luxury, and sensuality.
In the master bedroom, a palette of metallic grays and golds bring the luster of the lake indoors.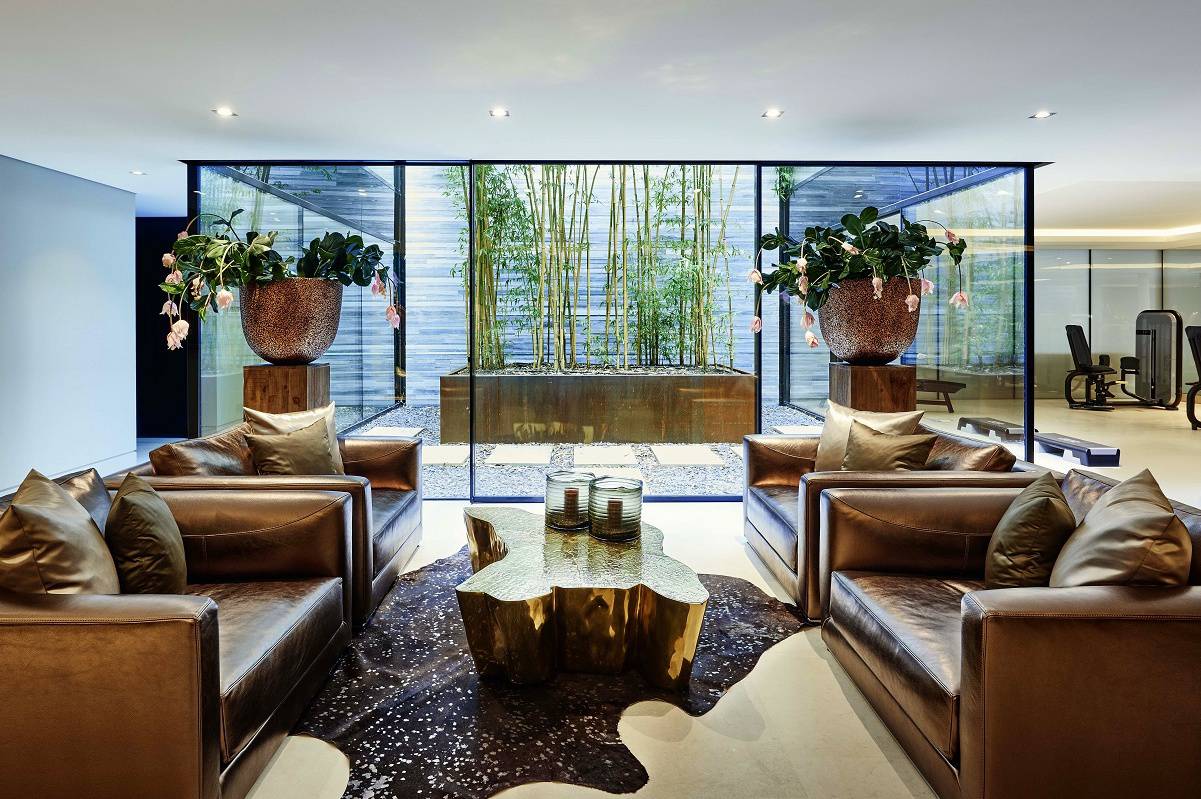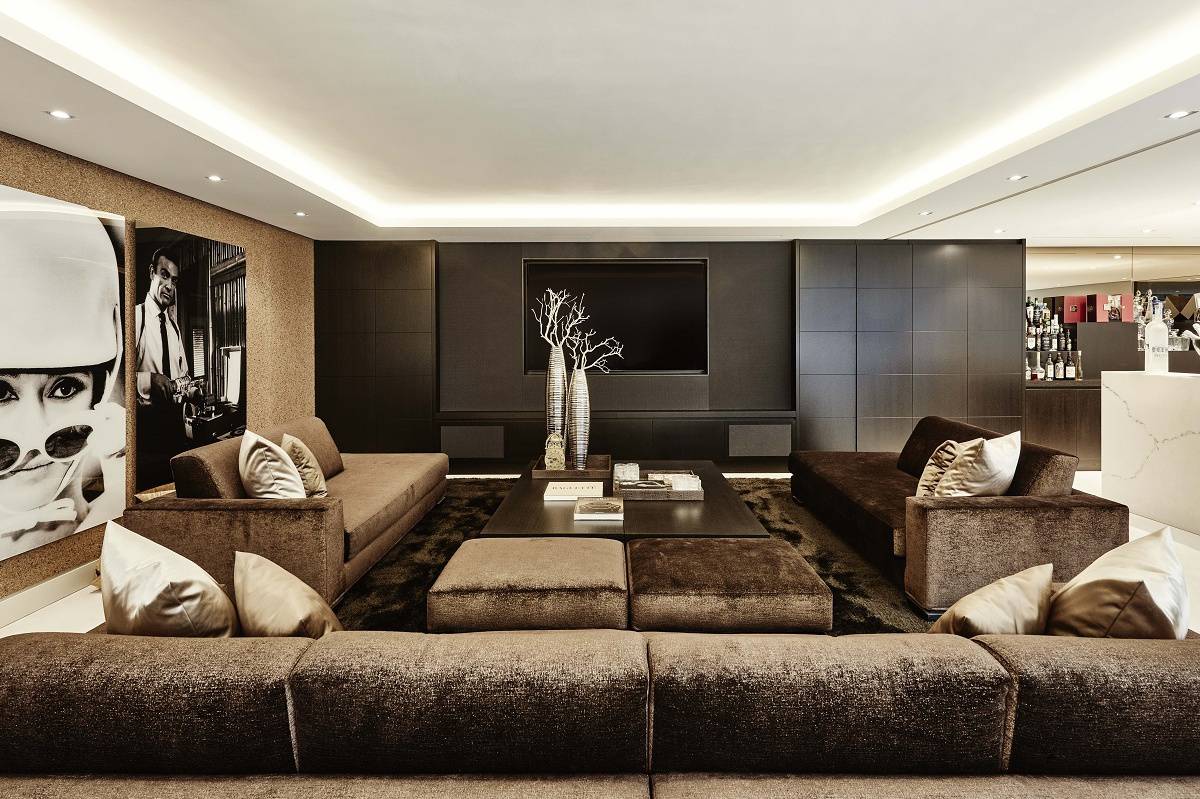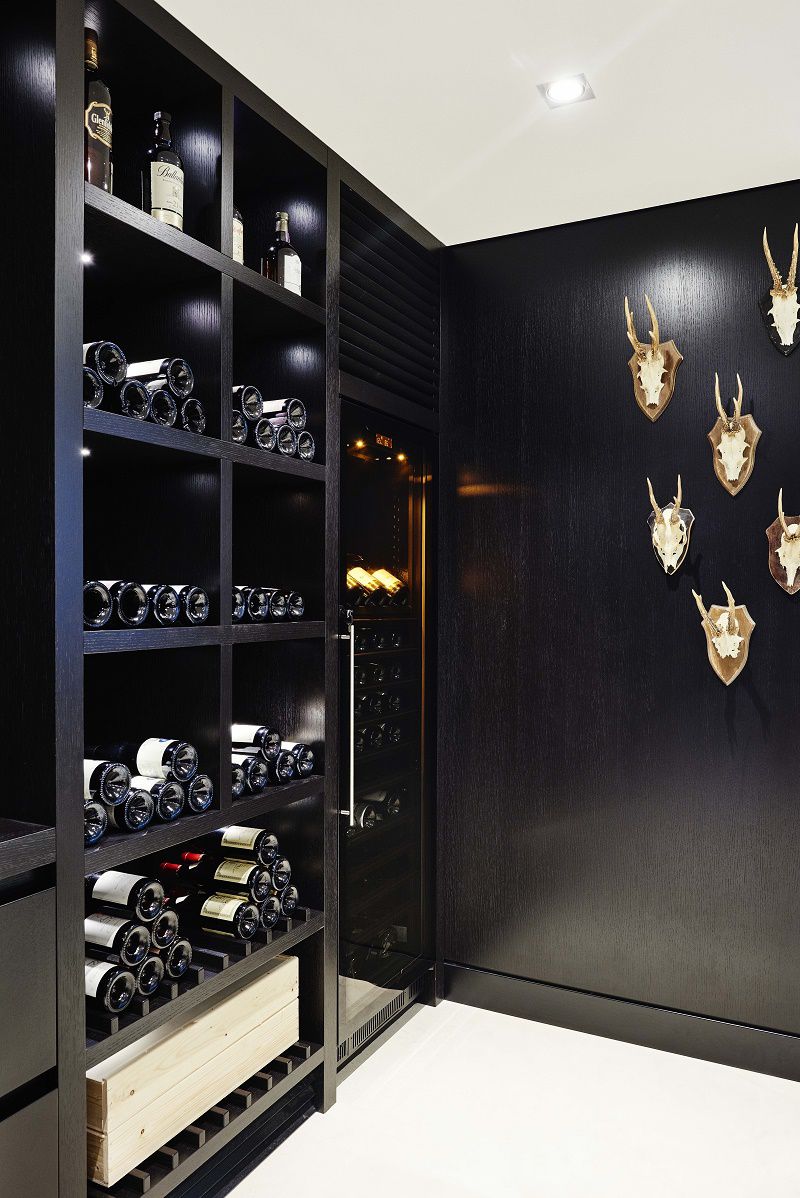 The basement level holds the home's entire leisure area. The spa, fitness center, pool, private cinema, and temperature controlled wine storage all share the space down here.  Also, some of the biggest design statements are down on this level.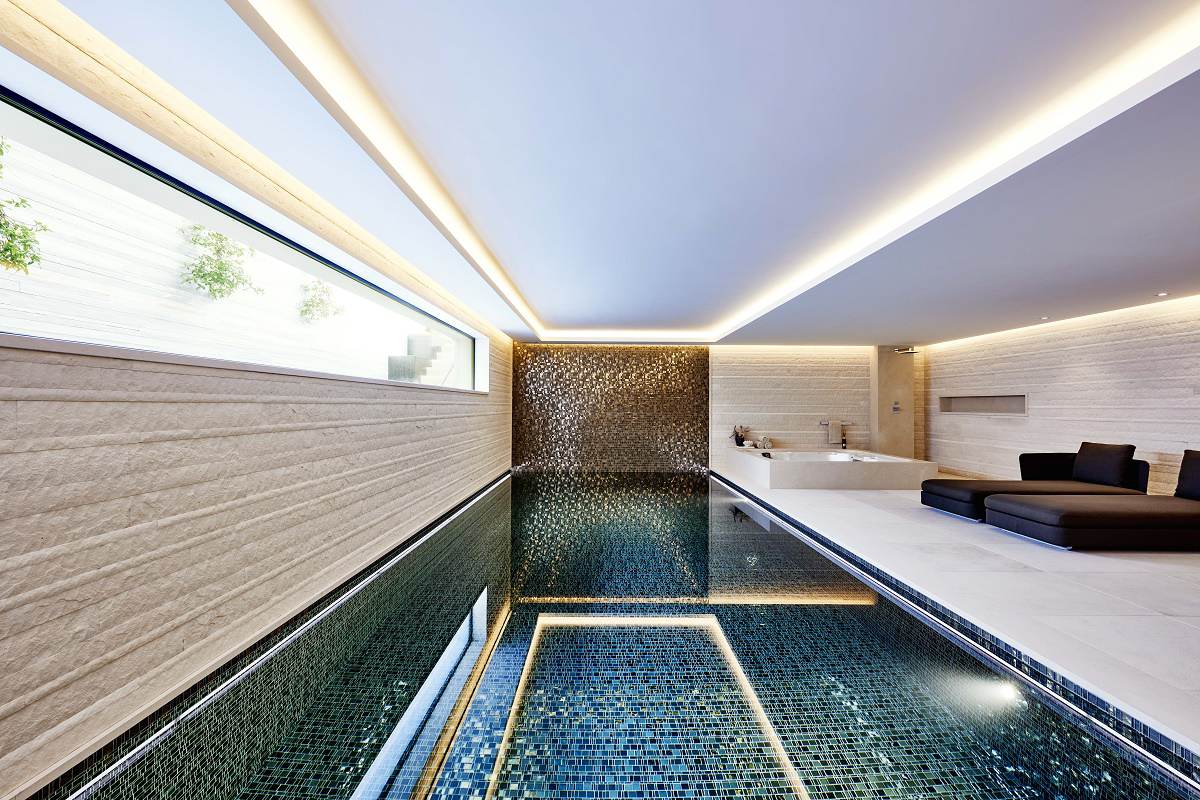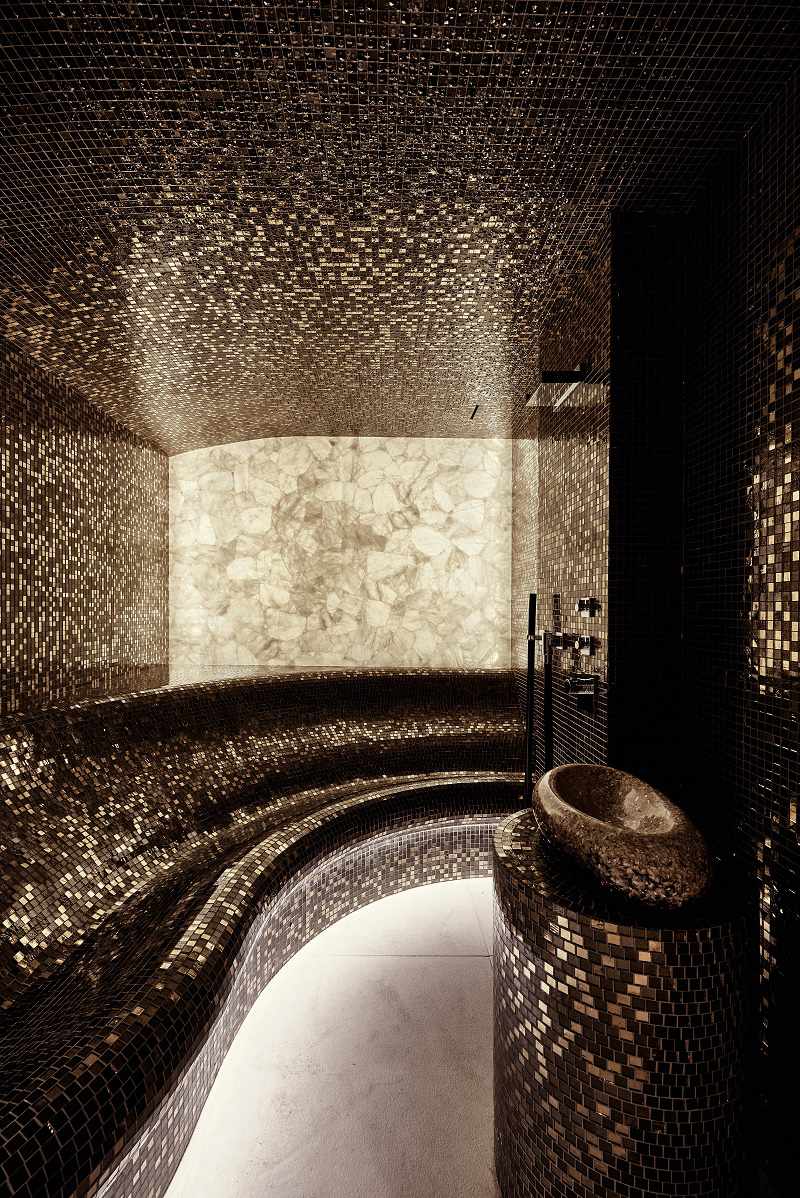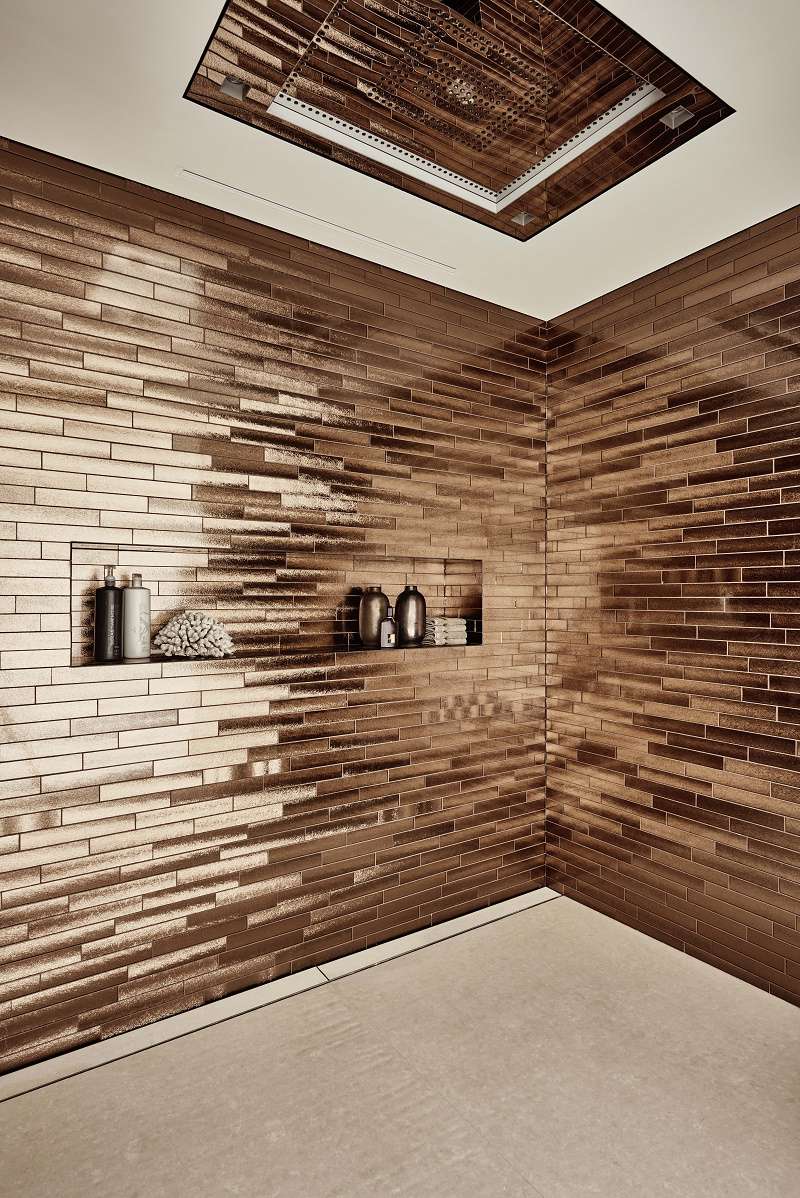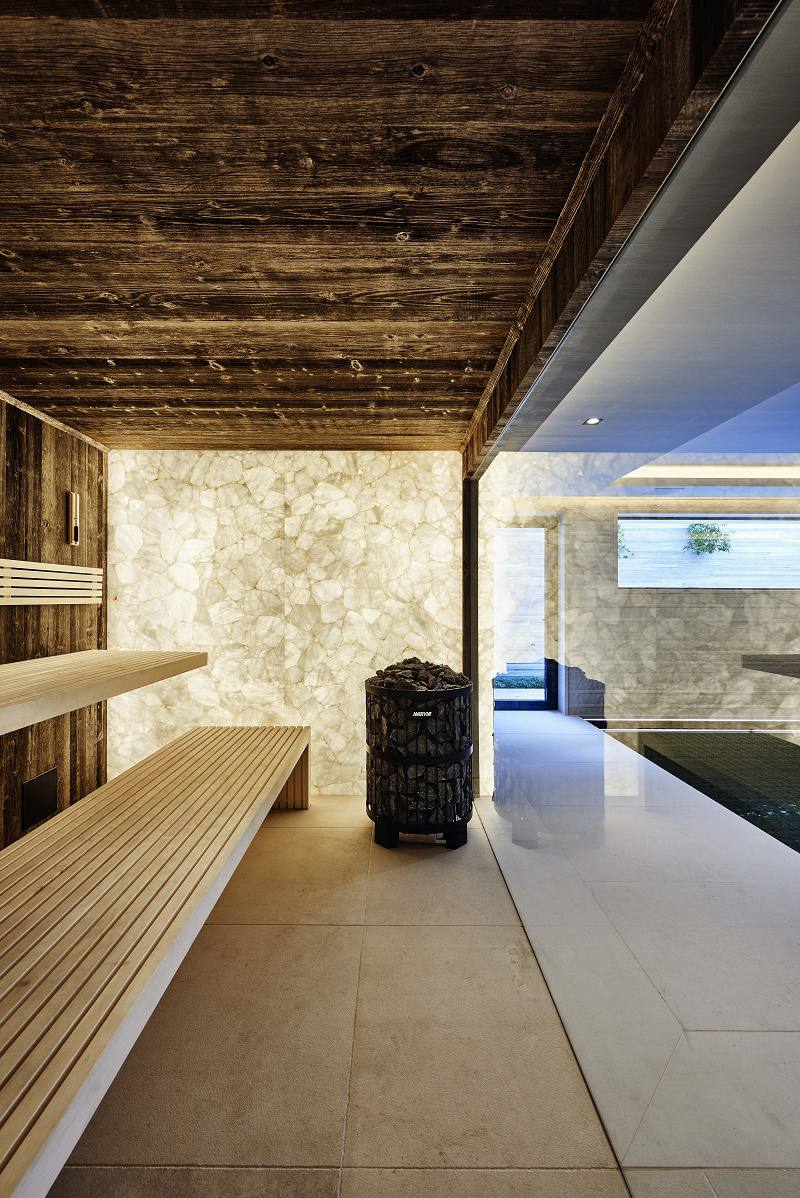 In the hammam, an onyx wall combines with rich gold and bronze mosaic tiles to create an exotic feel. The sauna combines an onyx wall with a mix of woods to create the sense of a Swiss mountain retreat.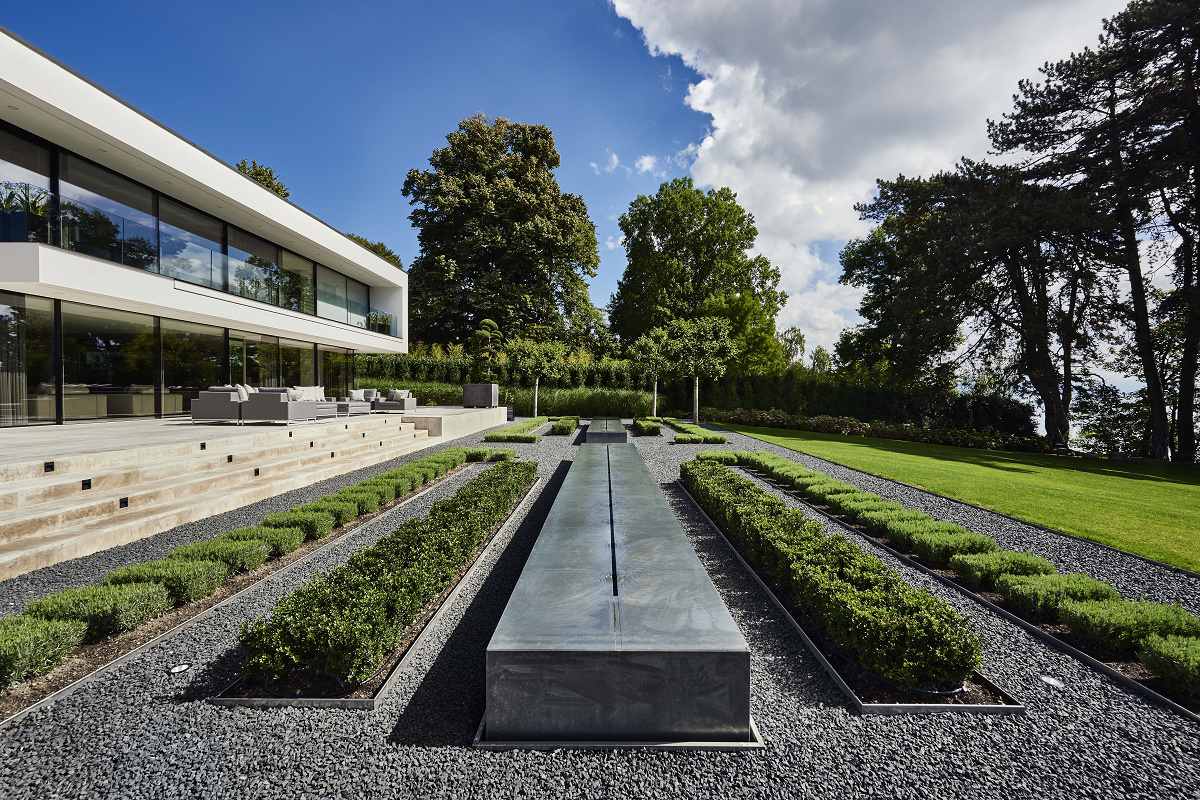 Eric Kuster Contemporary Lakeside Villa Conclusion
That concludes our design inspiration for today, my friend. I hope enjoyed this inspiring contemporary lakeside villa and its fabulous interiors.
To see more fabulous homes completed by Eric Kuster, be sure to see my post:
Sexy Bachelor Pad Luxury Design
Contemporary Design: Eric Kuster
For over a decade, Eric Kuster Interior Design Studio has proven to be highly successful. Eric Kuster develops and delivers luxurious turnkey interior design projects worldwide for high-profile clients. The studio has the skills, suppliers, and connections to execute these projects with speed and precision. The logistics team is experienced in overcoming significant challenges and delivering every element on time and to any location across the globe.
Eric Kuster's Metropolitan Luxury Collections are inspired by the designer's extensive travels. His craftsmanship, eye for beauty and creative vision combine to create dynamic pieces of furniture, luxury home accessories, and beautiful textiles. Each Metropolitan Luxury interior design collection conjures up the warm embrace of a high-end hotel room. They invite everyone who experiences them to indulge in the most pleasurable aspects of life.
Kuster's guiding principles, as his work testifies, mean that he only works on that which he feels passionate. 'In the end,' he says, 'it's all about quality and detail – and for my clients and me, only the superlative is acceptable.'
Interior design by Eric Kuster Metropolitan Luxury
Thank you so much for reading along with me today. What do you all think of this villa?  I look forward to hearing from you in the comments.
If you have enjoyed reading today's post, please share it on social media!  Come back again soon!!
Have a great day!
Please like us and share: