Chinoiserie: Allure of the Exotic Orient
Today for our inspiration we are exploring Chinoiserie in interior design. The intoxicating allure of the exotic Orient is once again a prominent feature showing up all over Western design. Since its beginning, the style has never really gone far for long before being rediscovered and presented fresh and anew. So, what is the appeal that allows this decorative style to keep coming back to the forefront of our taste? What's the story behind Chinoiserie in interior design? Let us take a deeper look.
Of course, with exquisite Chinoiserie design hand-painted on luxury wall-coverings from de Gournay, the appeal is immediately evident. The first photo shows the company's St. Laurent design hand-painted on tea paper. The second photo above shows their Portobello design in standard colors on blue-gray silk.   The opening photo shows the living room of a Pasadena residence completed by Charmean Neithart Interiors featuring an antique, 12-panel Coromandel screen from the 1920's.
In the guest bedroom of a lavishly decorated Parisian pied-a-terre, London-based interior designer Alidad created a Chinese-style boudoir. Red lacquer panels depicting Asiatic narrative scenes in gold line the walls. A custom daybed, lacquered, aged, and covered with rich silk brocade accented with cushions made from a 17th-century needlepoint valance, acts as the room's centerpiece.
Chinoiserie Design: The beginning
Chinoiserie is the collective term used to describe the European stylistic interpretation of Chinese and East Asian art and design. In the 17th century, Europeans had a great fascination with the Far East. Very few had been, but the study of Orientalism had piqued their interest which only heightened when the trading companies began to supply them with lacquer, silks, and porcelains helping to establish a new taste for all things exotic.
The style first started to appear in the countries with active East India Companies. Imports from the Orient were hugely popular, very costly and affordable only by the wealthy. The demand for these goods from the East was so great that European designers and artisans began to imitate their styles and techniques as closely as possible. Eventually, though, while retaining the exotic mood, the style moved further and further from the originals and adapted to local abilities and taste, and this was the beginning of Chinoiserie, which is French for "Chinese-like."
Jean-Baptiste Pillement (1728–1808): A Chinoiserie Procession of Figures Riding on Elephants with Temples Beyond.
Because Western knowledge of the Far East was rather limited, the designers had to use their imagination when it came to subject matter. This naivety led to greater freedom of expression, which developed into a fantastical and highly inventive decorative vocabulary which would have a tremendous impact on the arts throughout the 17th and 18th centuries.
18th Century
During the 18th century, Chinoiserie reached the height of its appeal when it became associated with French Rococo during the reign of Louis XV. During the previous long reign of Louis XIV, society was subject to a centralized government that sought to control their thoughts in every way possible including regulating the arts and design. Relieved of this complete domination, interest moved towards relaxation and amusement. A desire for intimacy reflected in smaller apartments with smaller scaled interiors created for conversation and comfort rather than pomp and formality. Designs became more light, organic and curvilinear with elaborate but graceful ornamentation, often containing asymmetrical motifs. Eastern exoticism introduced elements of fantasy deemed suitable for private rooms.
A notable example of Chinoiserie in the early days: the painting entitled "The Chinese Garden" (Le Jardin Chinois) (1742, Museum of Fine Arts, Besancon) by Francois Boucher.
Designers searched for more imaginative, gay, animated, and entertaining decorative details. Both Rococo and Chinoiserie were open to a high degree of personal interpretation which made them perfectly compatible. French artisans attempted to imitate Eastern imports while adapting them to local taste. During this time, the styles and customs of the French dominated the courts of Europe. Chinoiserie quickly spread from Versailles to the other European palaces adapting along the way. A complete transition from traditional Chinese design to a fanciful, imaginative manufactured one was complete. Porcelain rooms, tea pavilions, garden pagodas and other exotic creations in the Chinese taste could be found in and around the lavishly decorated palaces created by the nobility across Europe.
Proliferation of Chinoiserie
Chinoiserie design included Chinese-style wallpapers and Chinese-style porcelain. Oriental lacquer pieces were cut apart and fit onto the fronts of European furniture frames which the artisans then attempted to match with many layers of their version of lacquer. Europeans also began to manufacture furniture that imitated Chinese furniture. Tea and the desire to create appropriate settings for the feminine ritual of drinking it was an industry all its on. No lady of fashion anywhere was without her Chinoiserie mise en scène.
An exceptional set of three gilt bronze mounted Chinese blue porcelain vases. The porcelain Kangxi (1662-1722), The mounts Louis XV, circa 1755-1760, attributed to Jean-Claude Duplessis.
Different countries came to specialize in various aspects of Chinoiserie. Germany excelled in the creation of porcelain figures. France specialized in creating ormolu mounts to fit onto the porcelain vases and other pieces, and Rococo artists like Jean-Antoine Watteau and Francois Boucher incorporated Chinese themes into their oil paintings. England produced Thomas Chippendale's widely influential Chinese Chippendale furniture which included asymmetrical compositions of colorful birds, flowers, or images of exotic imaginary places.
The Prince Regent of England himself commissioned the Prince Regent Suite at Brocket Hall in Hertfordshire. The guest bedroom suite is furnished in the Chinoiserie style, including hand-painted wallpaper. Renowned architect James Paine built Brocket Hall for Sir Mathew Lamb in 1760. Sir Matthew's son became the first Lord Melbourne, largely through the efforts of his wife who was a mistress of the Prince Regent, later George IV, who was a frequent visitor to Brocket Hall.
Chinoiserie after the 18th Century
The great demand for Chinoiserie declined in Europe by the 1760s when great social and political changes, along with new archaeological findings brought forth the Neoclassical style. It never completely fell out of fashion, though. In England, the style continued under King George IV, who was a fan, but interest declined after his death in 1830. The Opium War and finally China closing its doors to trade brought the matter to a whisper through the end of the 19th century.
Chinoiserie is understood to be a European style, though it spread itself across the entire globe. Local versions of Chinoiserie developed in Japan, Persia, India, Latin America and of course, here in Colonial America.
Chinoiserie in America
While Europeans had direct trade with China, the American colonies were banned from any direct contact with the Orient by the monopoly of the British East India Company over China trade. The Chinoiserie imported from England and France was more the product of European imagination and fantastical Western romanticism. The colonists created their version of Asian design based on these imports. As a result, early American Chinoiserie looked more European than Asian.
Chinese designs incorporated into the Palladian architecture and Chippendale-style interiors with little concern for authenticity. This inclusion of Chinoiserie was a fashion statement that alluded to the homeowner's worldliness. Chinese and classical influences coexisted harmoniously in colonial America with local modifications. The Neoclassical features provided the framework for the subtle inclusion of Chinoiserie with the same emphasis on order.
Europeans who settled in America continued the styles from which they came. This continuance included a taste for things from the Orient. Chinese design elements, both imported and locally made were widespread throughout the English colonies. After becoming an independent nation, China was one of the first nations with which Americans established a trade relationship.
The beginning of commerce with China marked the start of a new heightened American vogue for the Chinese style, which accelerated in the nineteenth and twentieth century. The designs became more escapist and extravagant than before, inspired by both a direct connection with China and the goods they created specifically for America. Eventually, the exotic ideas gave way to the Industrial Revolution and reality. Americans became a little disillusioned after a bit of experience with the less romantic port cities and the commercial aspects of Chinese culture.
Chinoiserie in Modern Times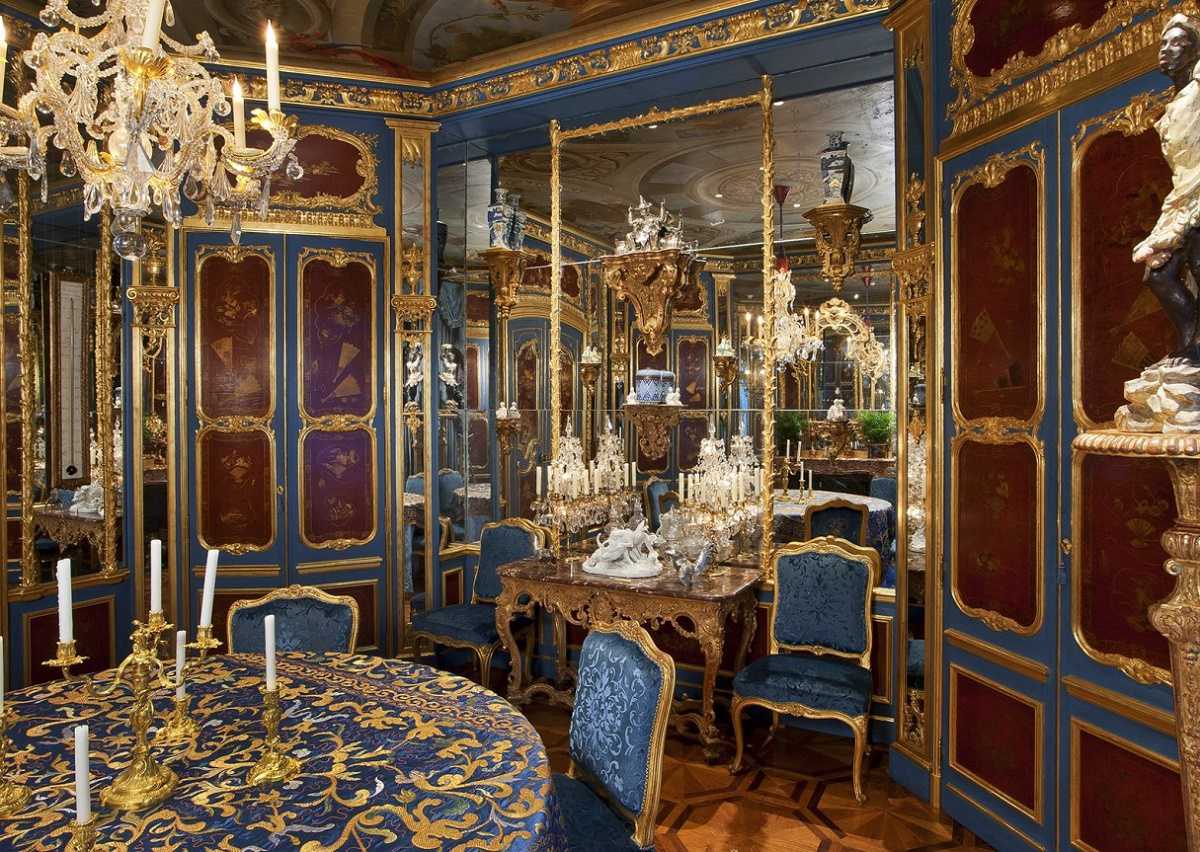 New York interior designer Brian J McCarthy transformed an Atlanta townhouse into an homage to European design. Here we see the Regency-inspired dining room illuminated by a Louis XIV rock crystal chandelier. Each dining chair is embroidered with a different fan inspired by the Chinese lacquer paneled walls.
Interior designer Benjamin Dhong transformed a San Francisco row house, giving every room a personal daring personality. The guest bedroom features walls covered in de Gournay's Early Views of India wallpaper and a Ceylon et Cie Chinoiserie daybed.
Washington, DC interior designer Lauren Liess completed this home in Virginia. Thibault's metallic Chinoiserie wallpaper adorns the walls. Modern dining chairs gather with contemporary host chairs around the table on a Beni Ourain rug.
Here we see de Gournay's Chinoiserie Portobello design in standard colors on blue-gray silk.  This view is from the Peninsula Hotel in Shanghai, China.
Interior designer Joseph Minton created this Chinoiserie-inspired dining room using de Gournay wallpaper and Asian-inspired furnishings.
This scene shows de Gournay's Chinoiserie Badminton design in standard colors on 12k white gold-gilded paper.
Here we have a living room from a London residence by interior designer David Collins. The designer grounds the seating arrangement with an antique gold lacquer screen by Pierre Bobot.
This view shows the living room of the apartment of interior designer Alex Papachristidis. The designer covered the walls in a hand-painted wallpaper custom created by Gracie. Papachristidis mixed pieces of diverse origins to create a rich bohemian atmosphere.
Fashion is in love with exotic opulence too. These two looks show couture in Chinoiserie inspired fabrics.  The left is Gucci, and the right is Alexander McQueen.
L'Objet Pagoda Napkin and Spice Jewels, meticulously handcrafted, plated with 24K gold and accented with Fresh Water Pearls and Swarovski crystals.
Conclusion
In interior design today, Chinoiserie mixes alongside contemporary elements in a juxtaposition of old and new, bridging the West and East.  The allure of the exotic is just as intoxicating now as ever.
That wraps up our design inspiration, dear friend.  Thank you so much for reading along with me today. What do you think of Chinoiserie: Allure of the Exotic Orient?  Let me know your thoughts in the comments. I look forward to hearing from you.
Have a great day!
Please like us and share: