Chandeliers: Traditional Glamour
For our design inspiration today, we are taking a look at glamorous traditional style chandeliers.  Nothing else can so effectively create an air of specialness within a room like the right chandelier.  Since its conception several centuries ago, the chandelier has been associated with royalty, luxury, and grandeur.  Modern times and flat designs have dulled the sparkle on some, but we're not focusing on those here today.  I've put together a collection, both new and very antique, from quite large to petite, that are all certain to give any room grand appeal.
No longer are these statement making works of art resigned to ballrooms and formal living and dining rooms.  They are for every room, including the kitchen and even your closet.  There is an endless selection of styles, colors, and quality to choose from, and I am not trying to show everything here.  This is a collection of some of my personal preferences, which except for a few exclusions, tend to stay pretty clear.  This collection is meant to inspire you, and if you happen to decide to invest in one of these in particular, I've tried to select many that are actually available on the market as of when I post this.  Let's take a look!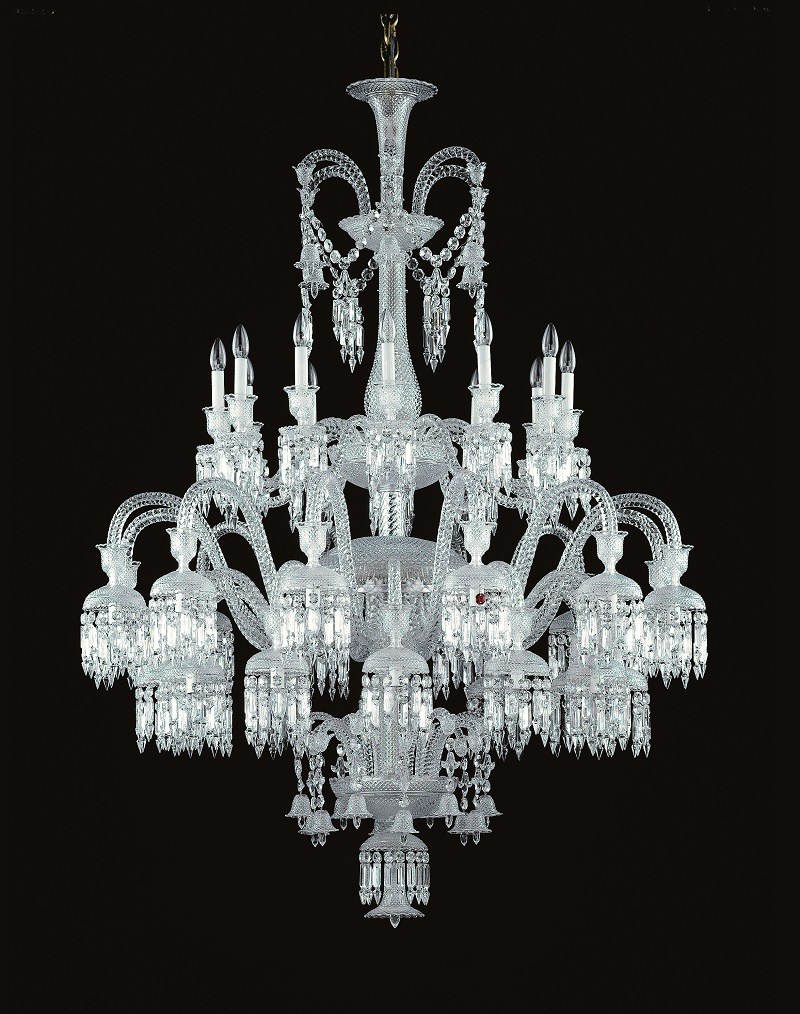 First off, we have Baccarat's Solstice 36-light chandelier.  The Solstice collection builds on Baccarat's iconic lighting design and is crafted in the classical tradition, though this line incorporates downward-curving branches. The innovative silhouette has a vaguely plant-like shape, evocative of a weeping willow. The bellcaps at the ends of the branches imbue a graceful weightlessness. Each chandelier is composed of hollow branches in blown cabled crystal and curved scrolls in crystal, resplendently showcasing Baccarat's masterful craftsmanship. The wealth of decoration is all cut in a diamond-point design.  Among the spiked prisms, Baccarat signature's red octagonal crystal hangs discreetly.  This one is perfect for any grand space and is 74" H and 50" W.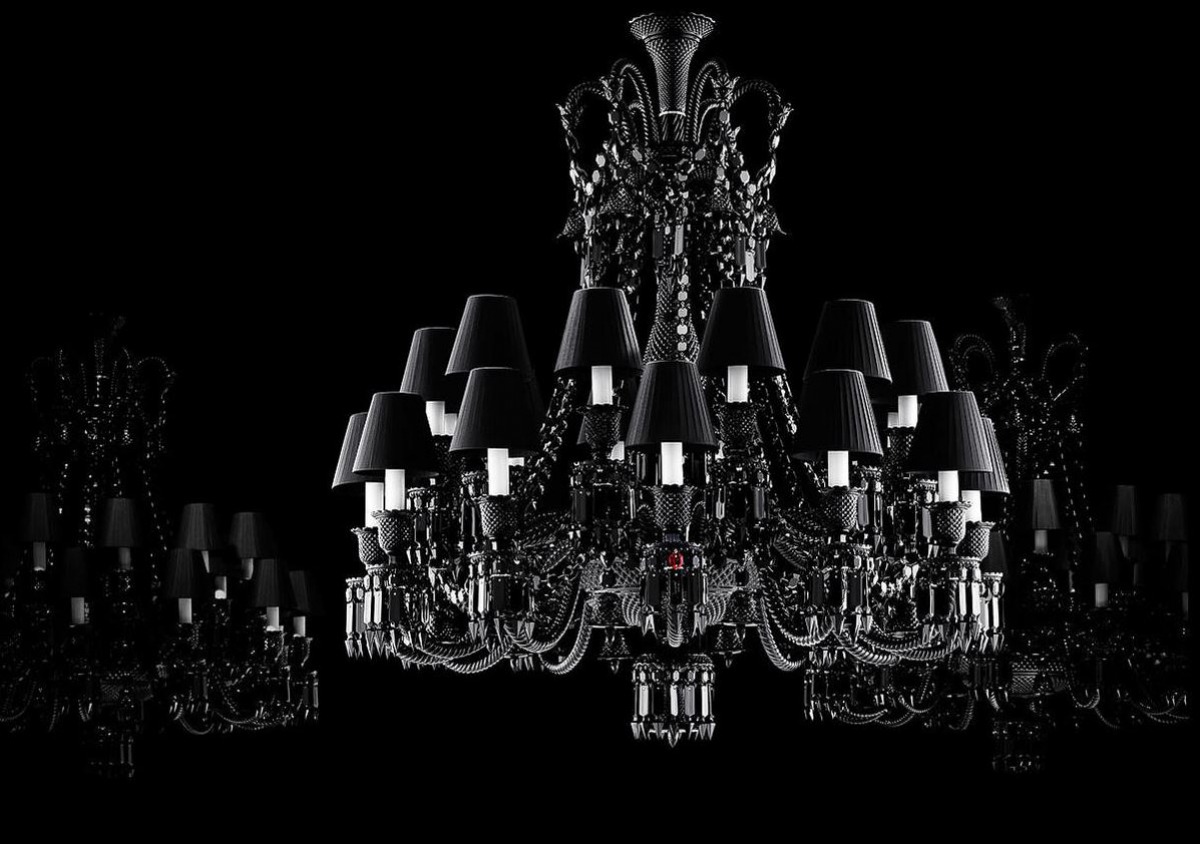 Next we have tradition with a bit of attitude in Baccarat's Zenith Noir 24.  The traditional Zenith collection has been modernized by Philippe Stark who uses smoky black crystal to reinterpret the classic style.  Maintaining the chandelier's original structure and ornamentation, Starck has added black shades lined with aluminum reflectors to magnify the effect of light on the black crystal.  Baccarat's signature red octagonal crystal is shown here linked to a spiked prism, specially designed by Starck.  The 24-light chandelier is a stunning and bountiful showcase of black crystal. The 'anti-chandelier' par excellence, black crystal is the exact antithesis of the translucence of Clear crystal.  Black instead imbues this classical shape with great power, revealing its sculptural dimension in a whole new way.  The chandelier is a truly decorative object, a dazzling sculpture.  Handcrafted full-lead onyx cystal made in France.  It measures 43" H and 42" W for the "short" model.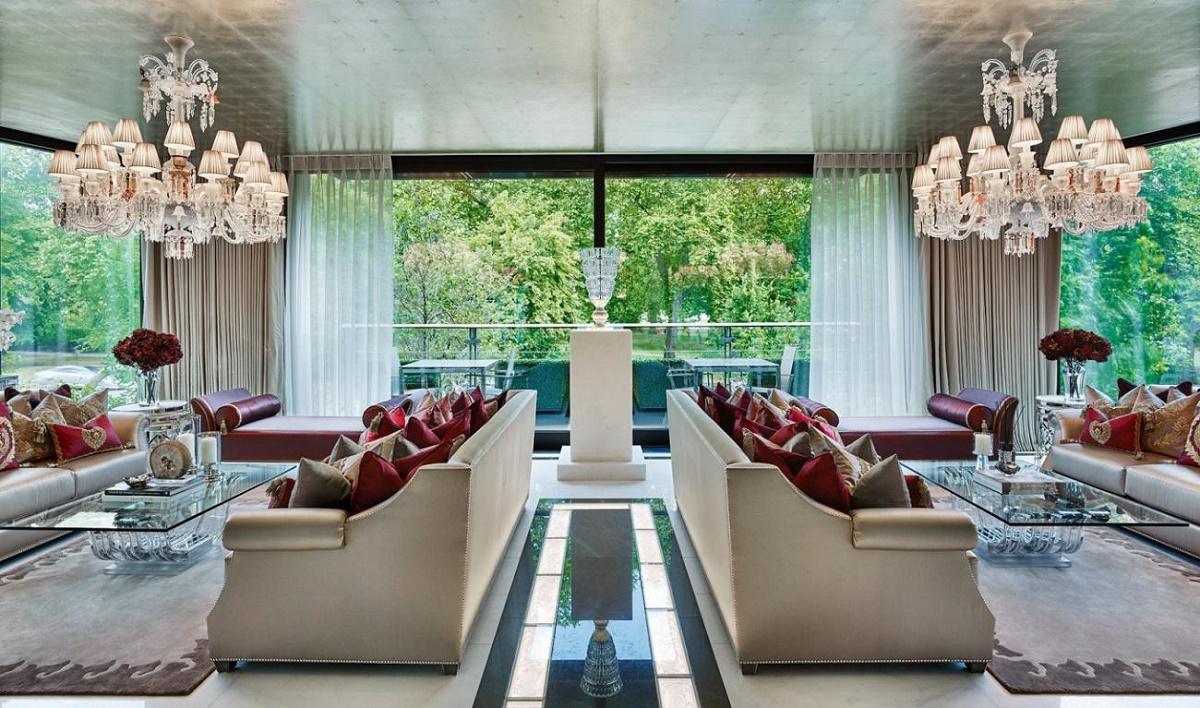 www.elicyon.com London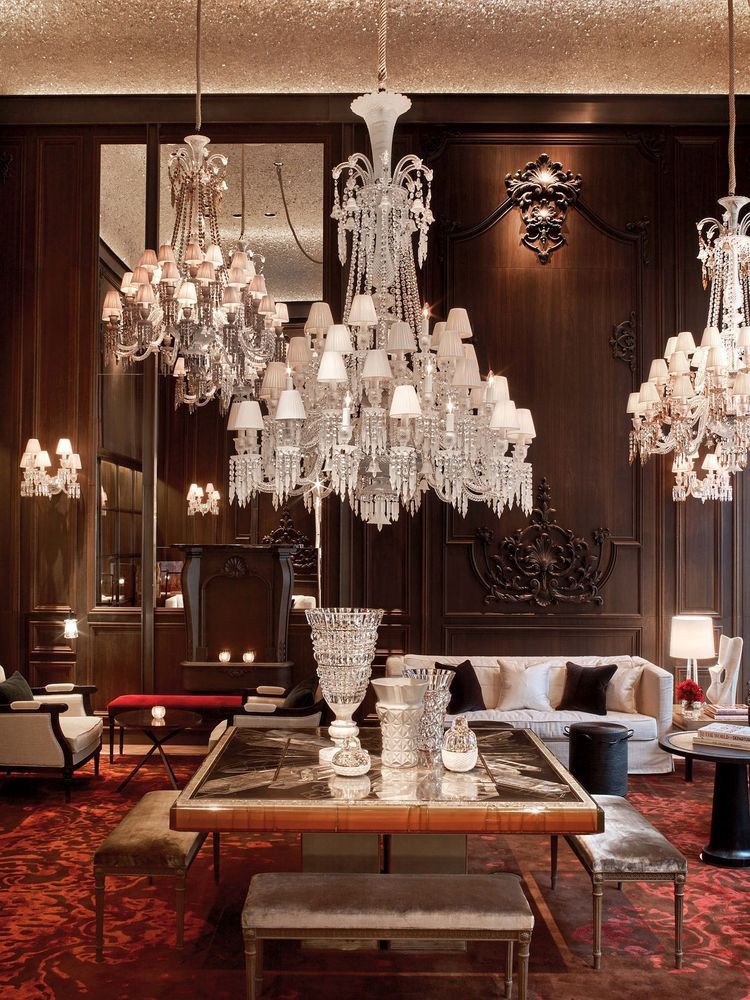 Petite Salon www.baccaratresidencesny.com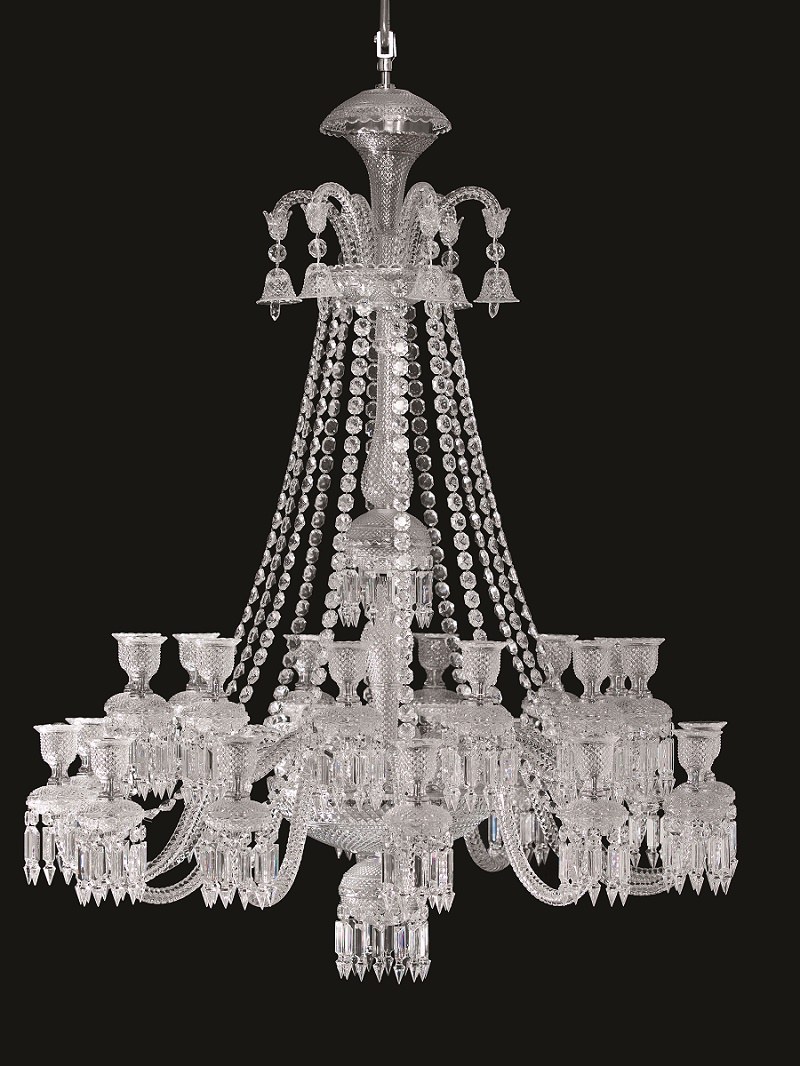 Baccarat's Zenith Comete 24 chandelier unites Baccarat's storied past with the present-day thrill of technology.  The Zenith Comete is a high-tech version of the legendary Zenith model, originally designed for Baccarat during the 19th century in a resplendent, shimmering form. The new 24-light Comete chandelier is, like the earliest incarnation, draped in exquisite geometrically-cut Clear crystal; however, its source of luminosity is updated by using state-of-the-art LED lighting. The glow of the chandelier is poetically radiant and vibrantly bright. From traditional incandescence to contemporary technologically-advanced lighting power, the magnetism of this galaxy of light has been and remains mesmerizing and stellar.  It measures 55" H and 42" W.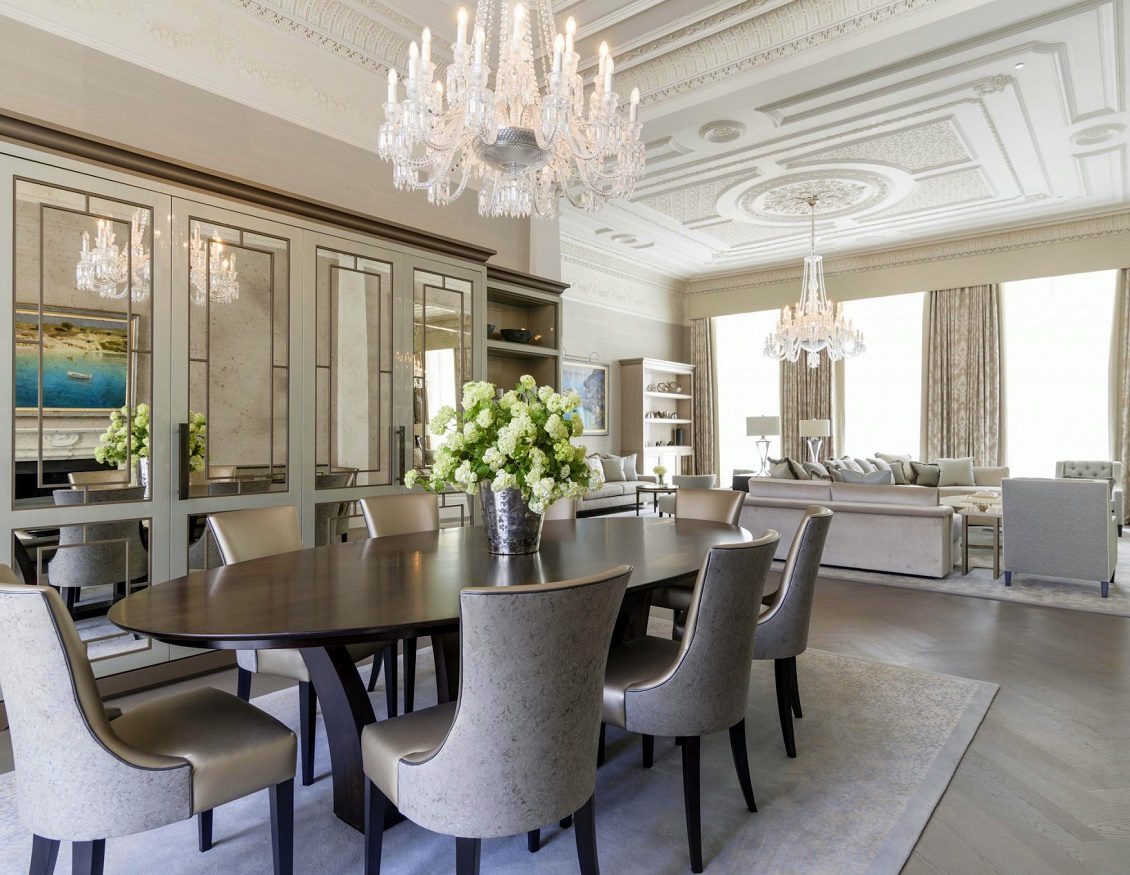 www.morpheuslondon.com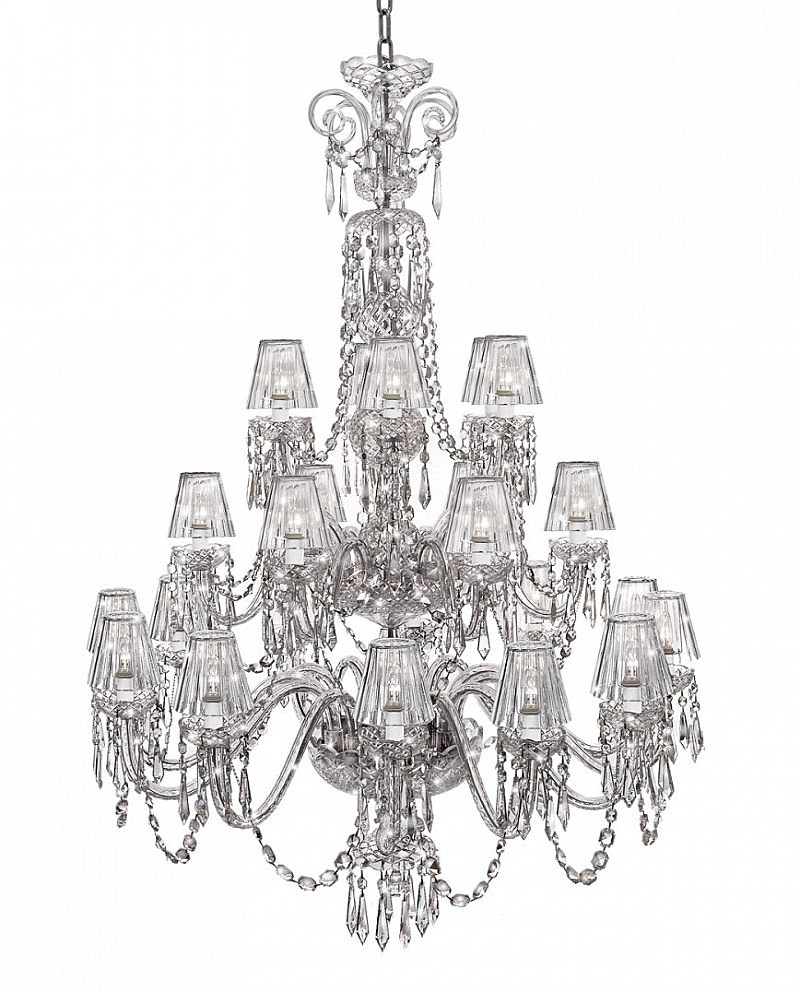 Next, we have another grand scale design in the Waterford Ardmore 24-Arm Chandelier with Crystal Shades.  This chandelier is multi-tiered and features Waterford's Ardmore crystal pattern.  It has an incredible amount of extensively cut and polished crystal cups, spheres, bowls, strands, shades, drops and buttons, which create a brilliant diffusion of light and color.   I love the crystal shades.  This is a classic statement piece for sure.  It measures 69″ H and 47″ W.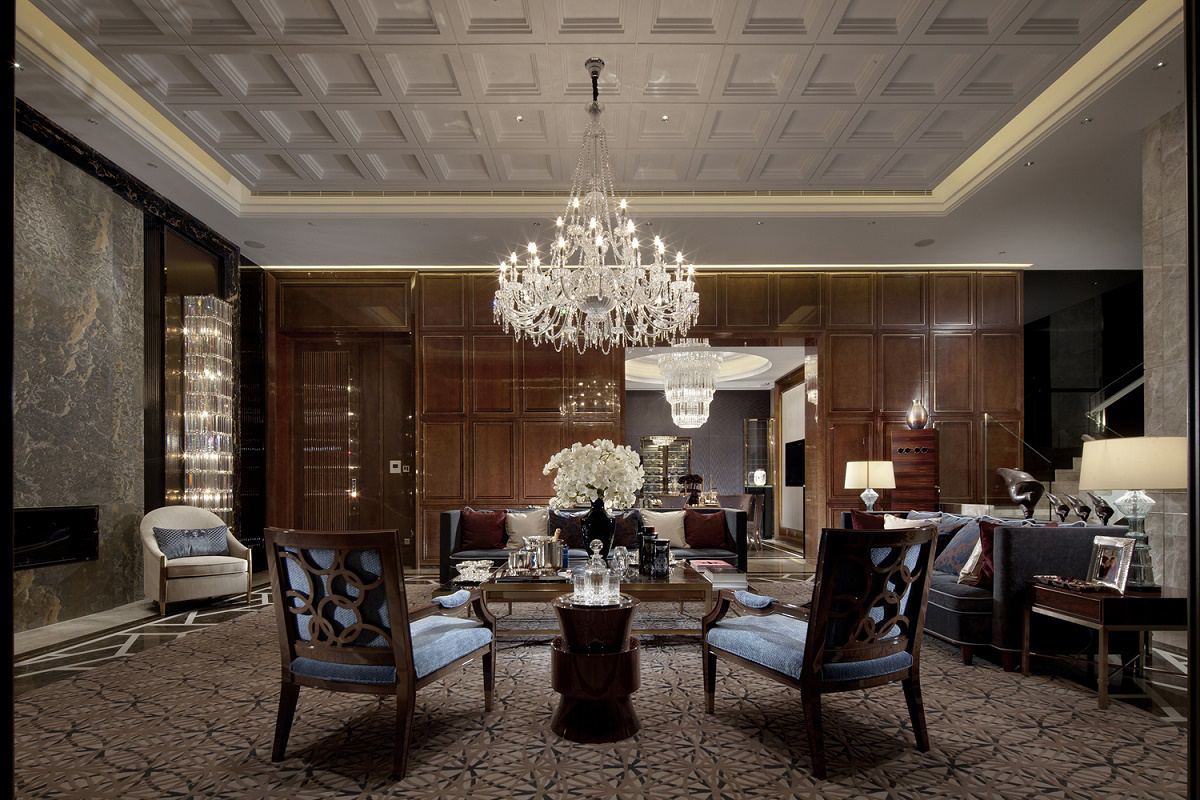 www.steveleung.com Hong Kong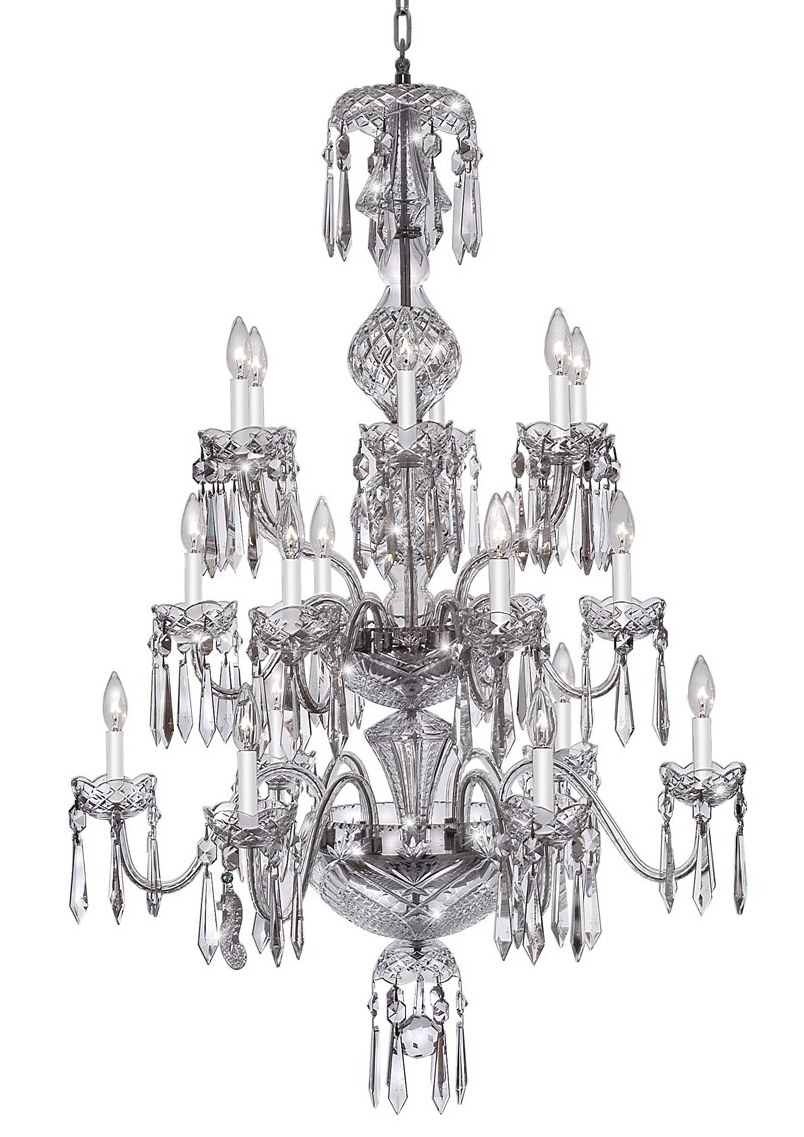 The beautiful Waterford Crystal Cranmore 18-Arm Chandelier is another multi-tiered beauty and features Waterford's Cranmore crystal pattern.  Impressive and elegant, this model is smaller and more simple than the previous one but no less stately.  It measures 49″ H and 31″ W.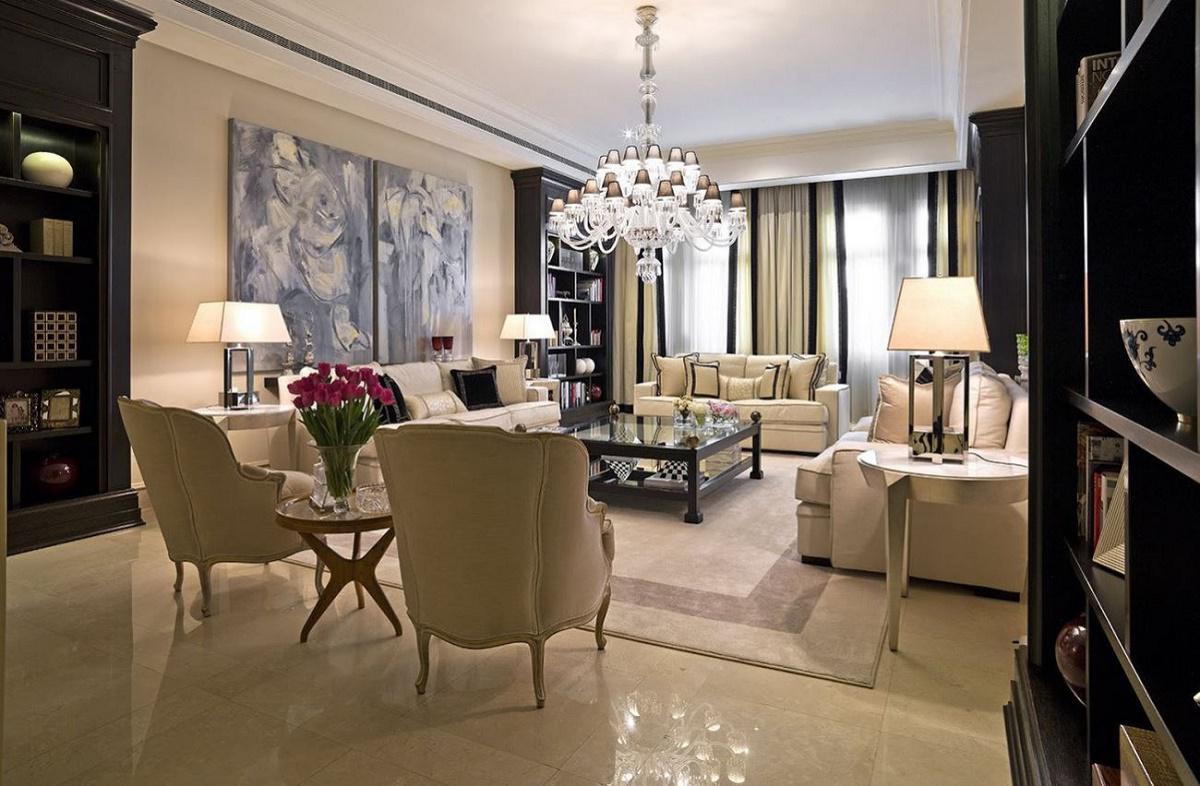 www.chiaraprovasi.com Italy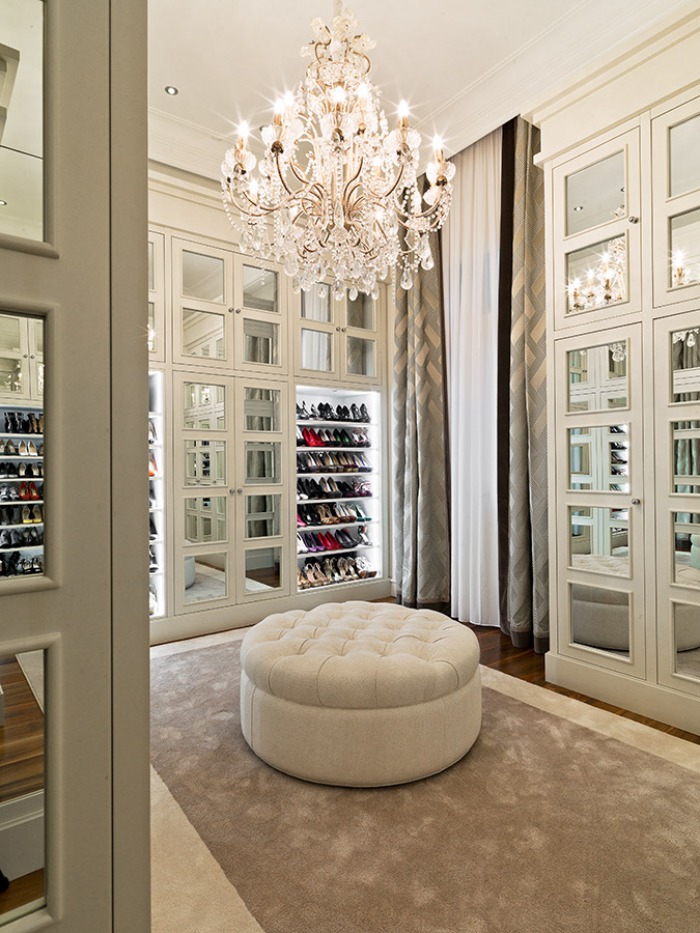 www.chiaraprovasi.com Italy
So, the ones we have looked at so far are all new with the emphasis on crystal and can be obtained from authorized Baccarat and Waterford dealers with more info on their websites ( link provided at the bottom ).  If you like the glamour of classic designs, you can't go wrong with an actual classic antique chandelier.  They are sometimes so extraordinary and exquisite in detail.  Just knowing the amount of time and skill that went into each piece makes them all the more special.  I love the shimmer and sparkle of crystal and gold.  My natural inclinations are towards 18th and 19th century French pieces.  No one knew how to put on a show like the French Monarchs and their circle of that time who defined the fashions and set the standards for royal grandeur across Europe.  I found the ones that follow all listed on 1st dibs and Ill provide a general link there at the end of the post.  They have so many wonderful ones listed on there but I only selected a few.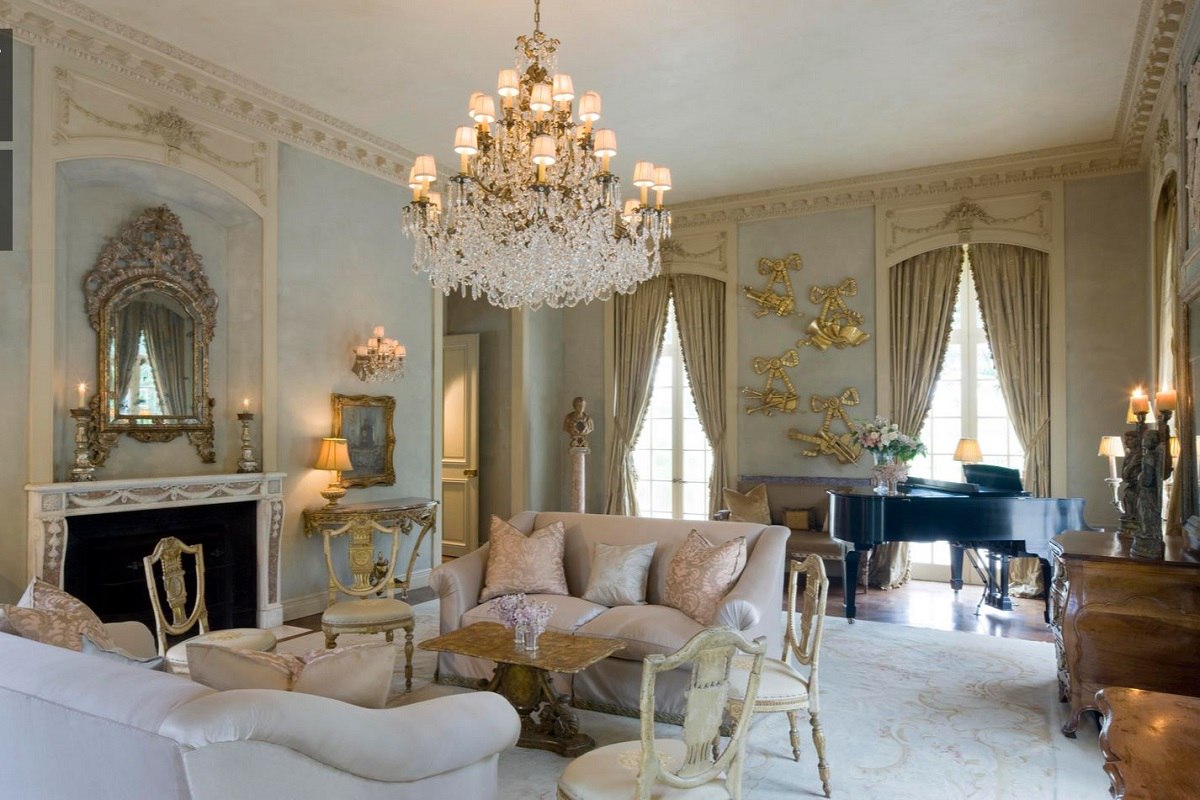 www.karachildress.com Houston, TX
Check out French Chateau in Texas, to see the rest of the beautiful estate.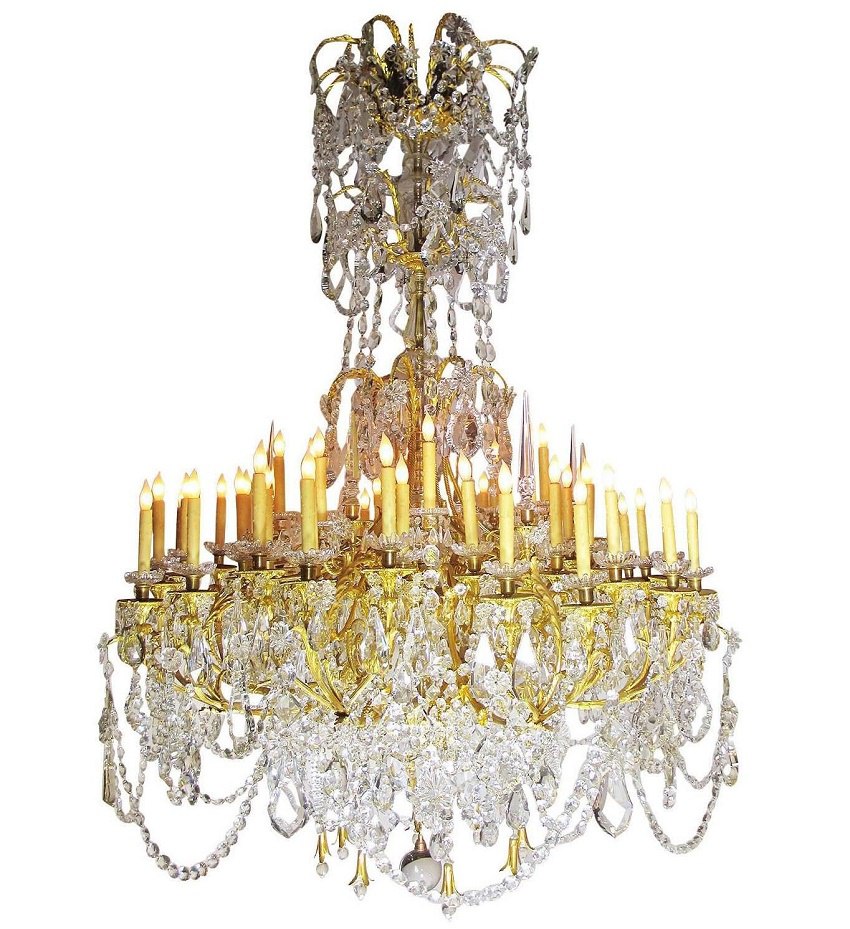 Here we have a very large Louis XV-style gilt-bronze and Baccarat chandelier from Paris, circa 1870-1880.  Most recently it resided in the grand foyer of the "Spelling Manor" in Los Angeles.  It is described as a "Very Fine and Palatial French 19th Century Louis XV Style Figural Gilt-Bronze and Baccarat Crystal Forty-Eight Light Chandelier. The large finely chased gilt-bronze frame with scrolls, flower and foliage designs and with mask figures of Putti, surmounted with cut-glass prisms, pendants and obelisks interlaced with diamond-shaped crystal swags. The upper wax-holders stamped Baccarat."  Fabulous!  It measures 83" H and 60" W and is available through Jans & Company Inc. in Los Angeles and listed on 1st dibs.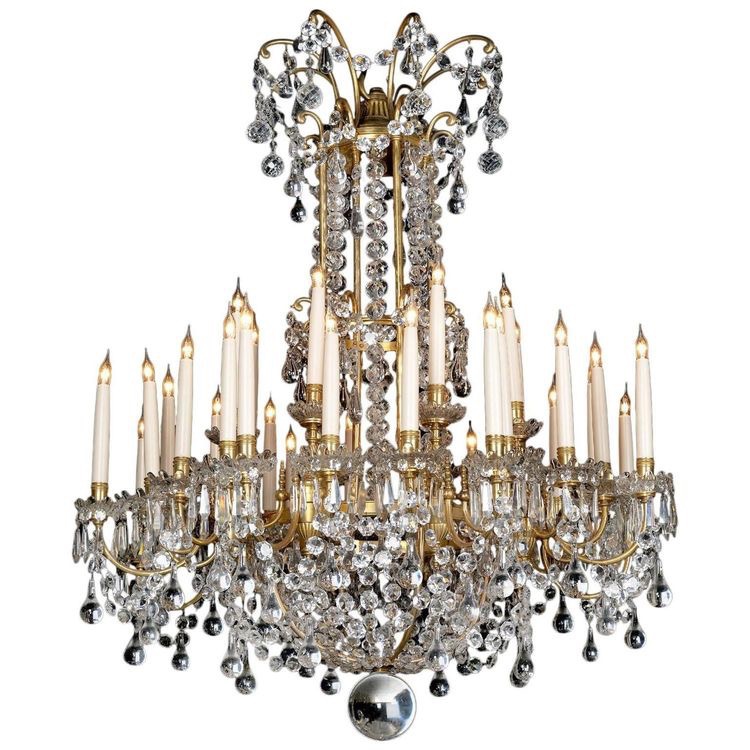 Baccarat Chandelier
A Louis XVI-style "gilt bronze and cut-glass thirty-two-light Chandelier by La Compagnie des Cristalleries De Baccarat, circa 1890.  This fine chandelier has a gilt bronze frame with a tiered stem and circular band issuing scrolling candle arms with glass drip trays. The chandelier is hung all-over with the finest cut-crystal drop-pendants and beads and terminates in a ball finial.  Stamped 'Baccarat' to the thread of the finial.  The design for this Fine chandelier draws direct comparison to the chandelier listed as 'Serie E.452' and is illustrated in Baccarat's 'Tarif des Articles d'Eclairage', published at the beginning of the twentieth century." It measures approximately 49″H and 37″ W and is available from Adrian Alan Fine Art & Antiques in London and listed on 1st dibs.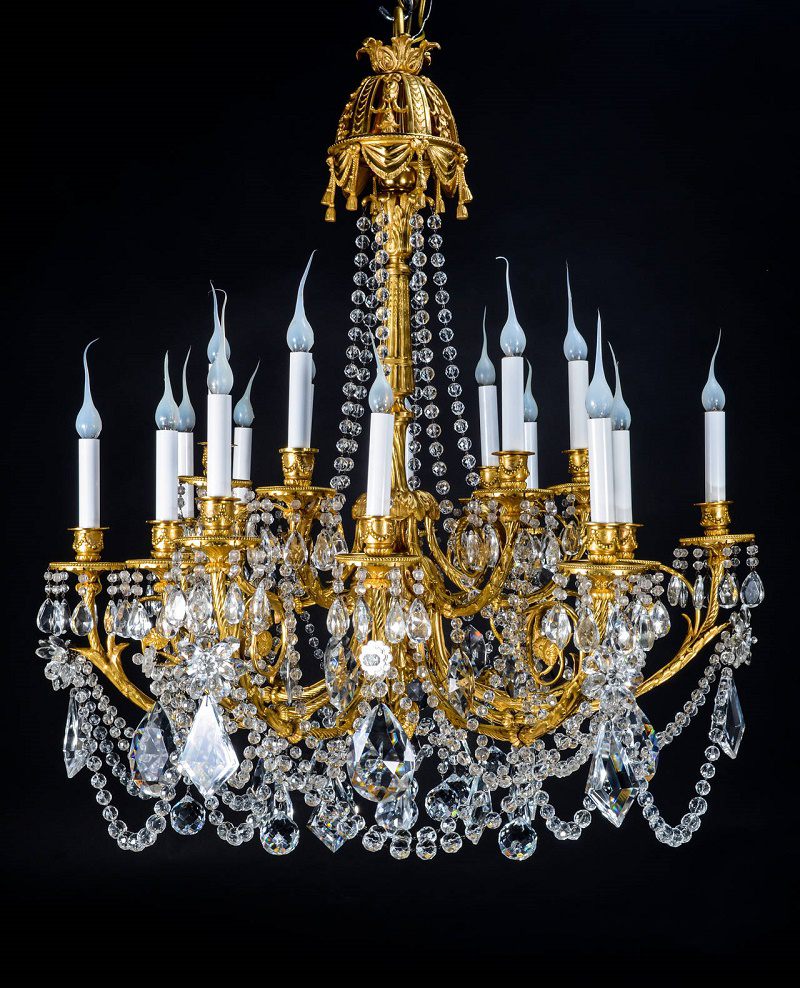 Next we have a superb late 19th century antique "French Louis XVI-style, gilt bronze and cut crystal, triple tier, multi-arm chandelier of exquisite craftsmanship embellished with cut crystal chains and prisms."  It measures approximately 33" H and 34.5" W and is available from D&D Antiques Gallery in New York and listed on 1st dibs.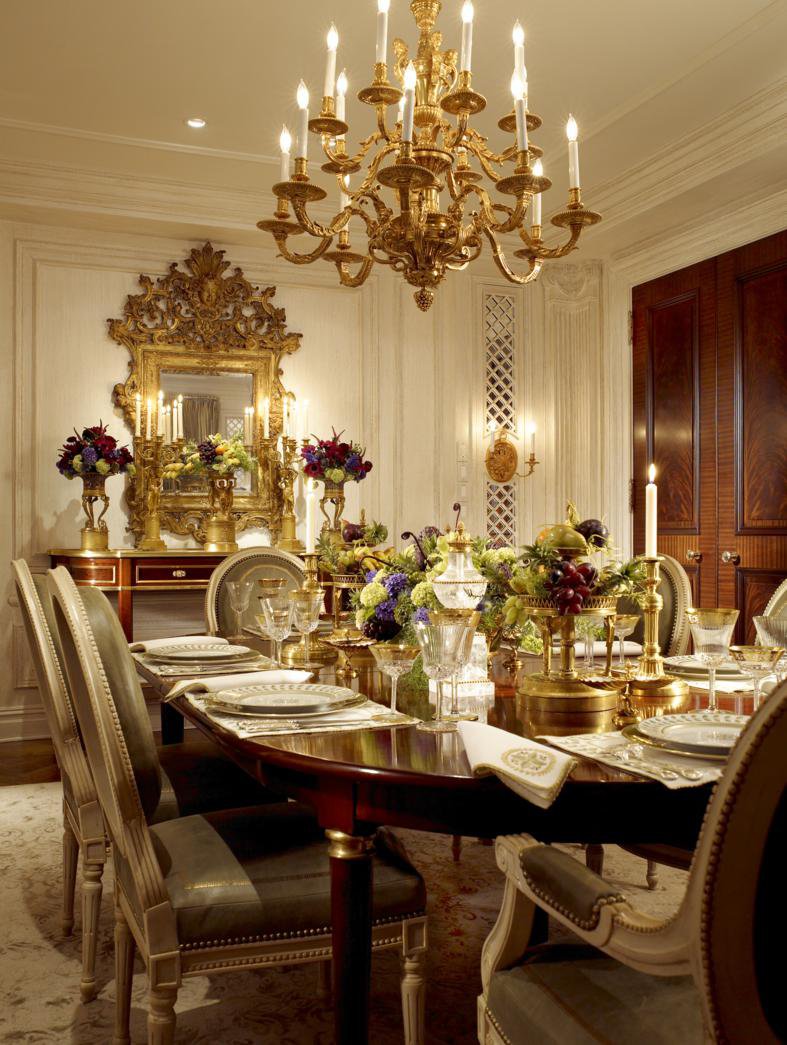 www.scottsnyderinc.com photo by Kim Sargent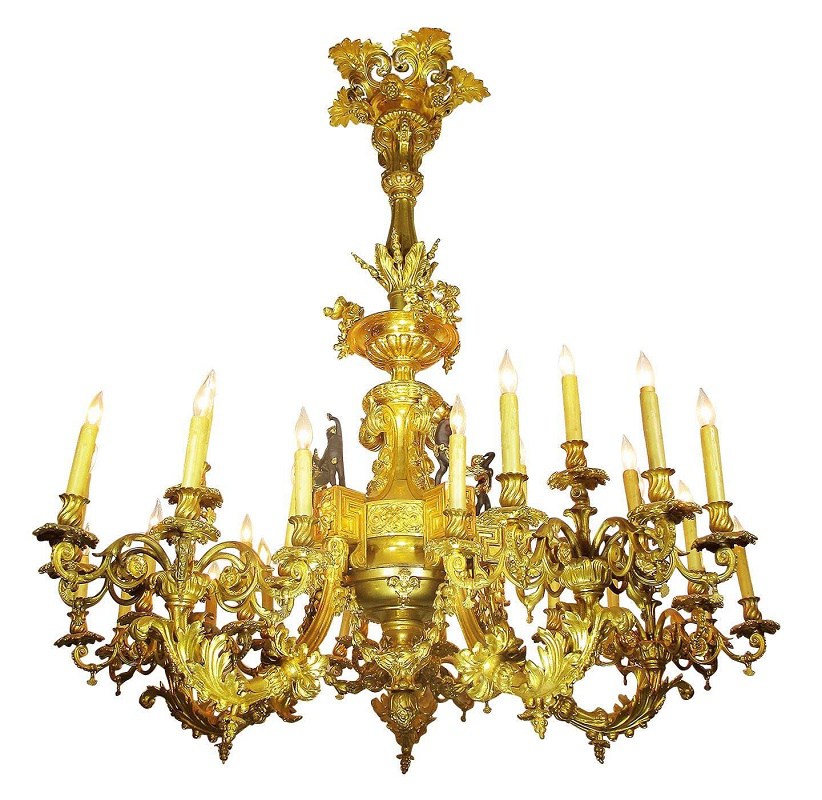 You don't have to have loads of crystals to achieve glamour.  The beauty is in the details of this "palatial antique French 19th century, very finely chased gilt bronze (ormolu), thirty-five-light figural gasolier chandelier with allegorical figures of ebonized putti's playing musical instruments.  All mercury gilt is original and in excellent condition." (Electrified), Paris, circa 1870.  It measures 65" H and 52" W and is also available from Jans & Company Inc. in Los Angeles and listed on 1st dibs.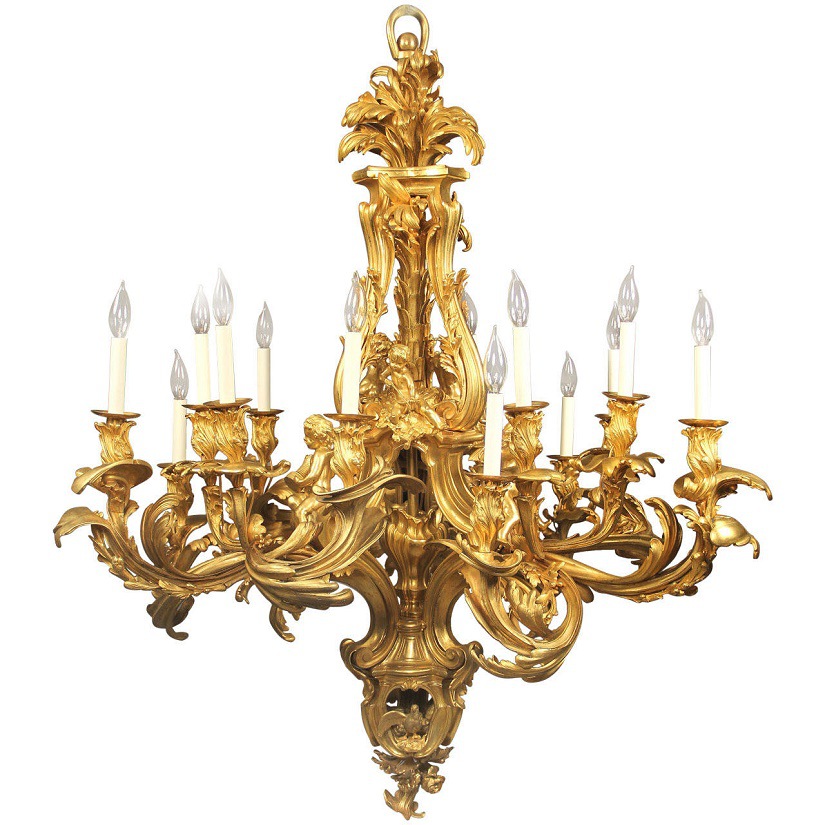 A "magnificent and palatial late 19th -early 20th century gilt bronze, fifteen-light chandelier.  After the famous 18th century model by Jacques Caffiéri.  This wonderful chandelier is centered by a baluster shaped open central stem, surmounted by scrolling foliage, above three putto, one holding a bird, one with a bow and arrow and the third blowing a Horn. Below are three further putto, each holding a turret, two holding a flower wreath, and flanked on all sides by scrolling foliage, above nine foliate branches, each with a conforming nozzle. The pierced base of the chandelier houses three doves. Fifteen tiered perimeter lights.  This chandelier is based on a model made by Jacques Caffiéri between 1750 and 1755. The original was hanging at the Château d'Anet, a French Royal Residence, until it was transferred to the Biblotèque Mazarine, where it remains today."  It measures 52" H and 42" W and is available from Charles Cheriff Galleries in New York and listed on 1st dibs.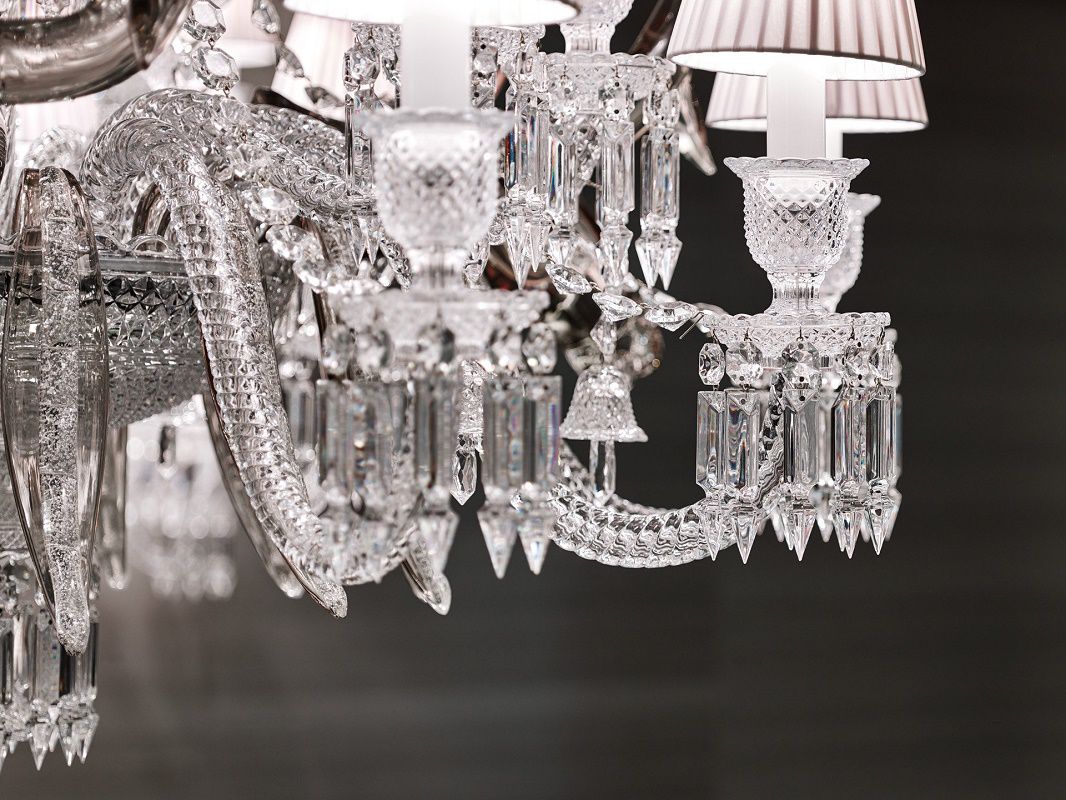 www.elicyon.com London
That concludes our design inspiration for today my friends.  I hope you all have enjoyed and you have been inspired by these elements of traditional design.  What do you think?  Have you been inspired to add some sparkle to your rooms?  Let me hear from you all in the comments.
Baccarat-   http://us.baccarat.com/lighting-chandeliers/
Waterford-   http://www.waterford.com/shop/lighting-interiors/by-type/chandeliers
1st dibs Chandeliers-  https://www.1stdibs.com/furniture/lighting/chandeliers-pendant-lights/
Thank you so much for reading along everyone.  Take care and have a wonderful day!
If you have enjoyed reading today's post, please share it along on social media.
Please like us and share: