Blue Interior Design Inspiration 20 looks
How do you feel about designing with the color blue?  We all know that color can affect our moods and feelings.  Ample research supports the idea that colors can have a psychological effect.  Blue is said to be the most preferred of all the colors generally.  Depending on the shade, the color can be used to great effect for a range of responses.  For our design inspiration today, we are taking a look at twenty rooms featuring blue in their interior design expressed through multiple styles from classic design to contemporary, and in varying degrees from full-room monochromatic to defining accents.  I've ultimately created a mood board of sorts showing the color in various inspiring ways.  Read on for some inspiring interior design ideas!
Blue is said to be the most preferred of all the colors..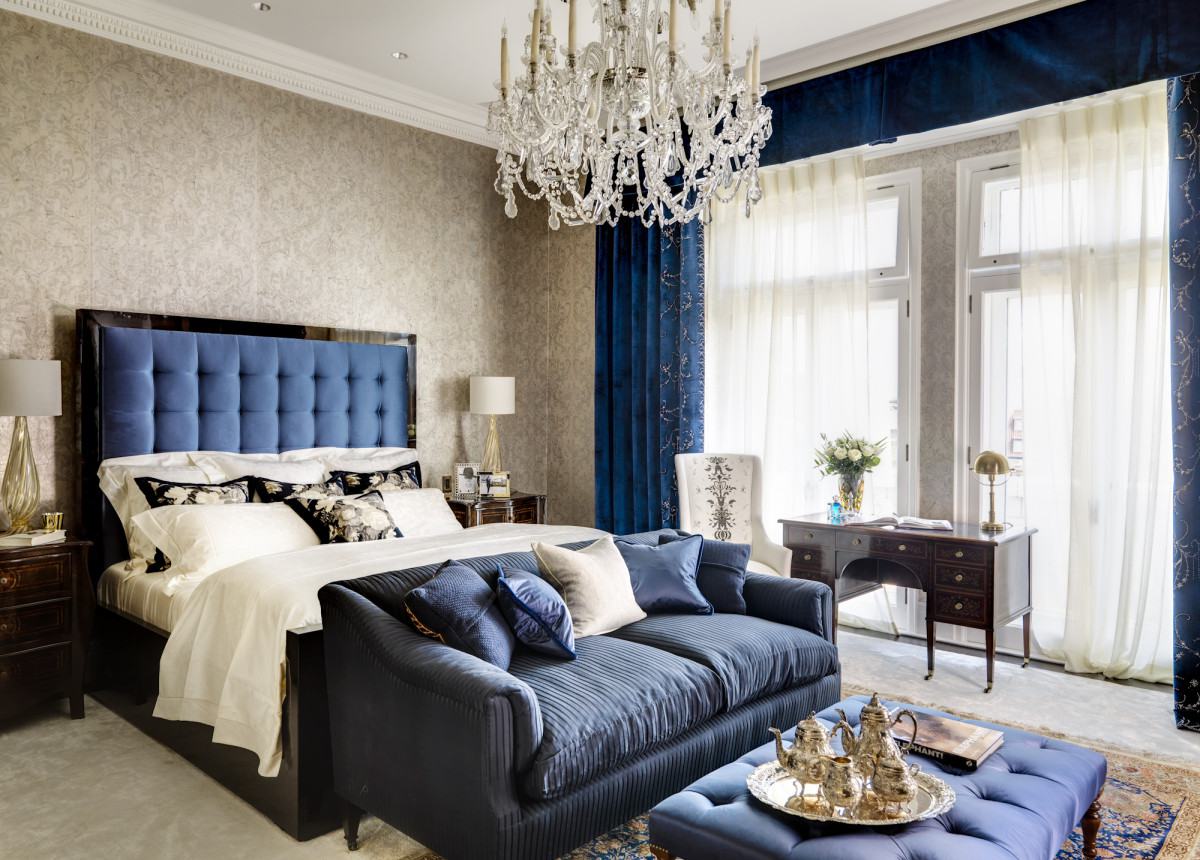 The opening photo and the bedroom above are from an elegant penthouse within a 1904 heritage protected building in London's exclusive Mayfair district renovated and re-designed by Oro Bianco Interior Design-London, for an international family creating a home base in the city.  You can see the full story and the entire residence's luxurious interiors in my post Classic Mayfair Penthouse.
The son in this family, a recent graduate from a prestigious American business school, had the entire upper floor designed specifically for his own use in a somewhat sexy and sophisticated design, with a more masculine mood than the rest of the residence.  The walls were finished with Macassar ebony paneling and specially created eglomise mirror panels finished with Palladian leaf.  The look is complete with bold, rich colors, sleek finishes, and dramatic lighting.  It's a very smart look.  The bedroom (photo above) is from the penthouse's lower main level where the rest of the family resides when they are in town.  Blue is the favorite color of the owner's wife, so it was used as the primary color here in the master bedroom.   Blue silk was used to upholster the Rosewood Simonetto bed. The bespoke design draperies are made with blue silk, threaded with silver and hand-detailed with Swarovski crystals.   Both rooms show blue used to excellent effect in completely different styles.  Photography by Barry Murphy.
Blue transcends styles!
Elie Saab Couture Runway F/W 2014/15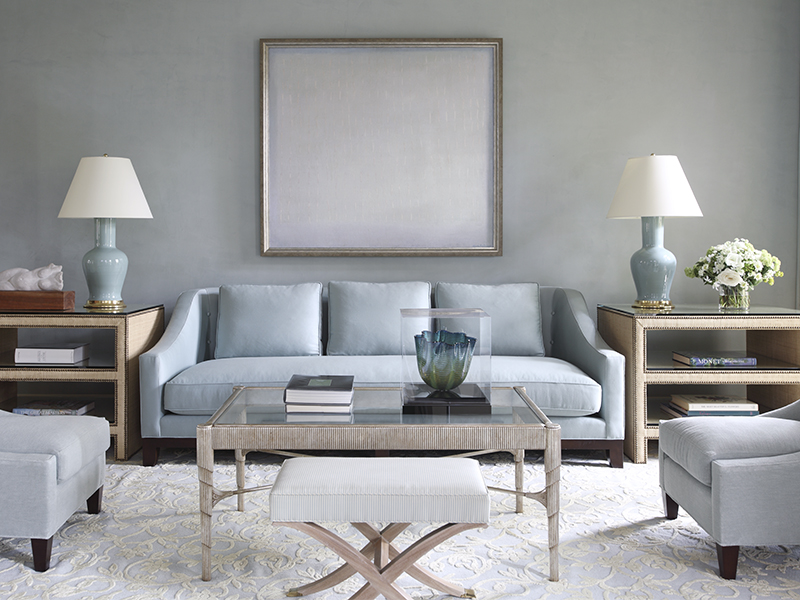 The living room here was completed by Little Rock, Arkansas based interior designer Toby Fairley, and features a calming monochromatic layering of soothing softer blues in varying values.  The Venetian plaster walls are finished in Sherwin Williams Silvermist.  It is the use of various textures to create visual interest along with the combining of multiple color values to create depth that make these tone-on-tone spaces really work so well.
Christian Dior Couture by John Galliano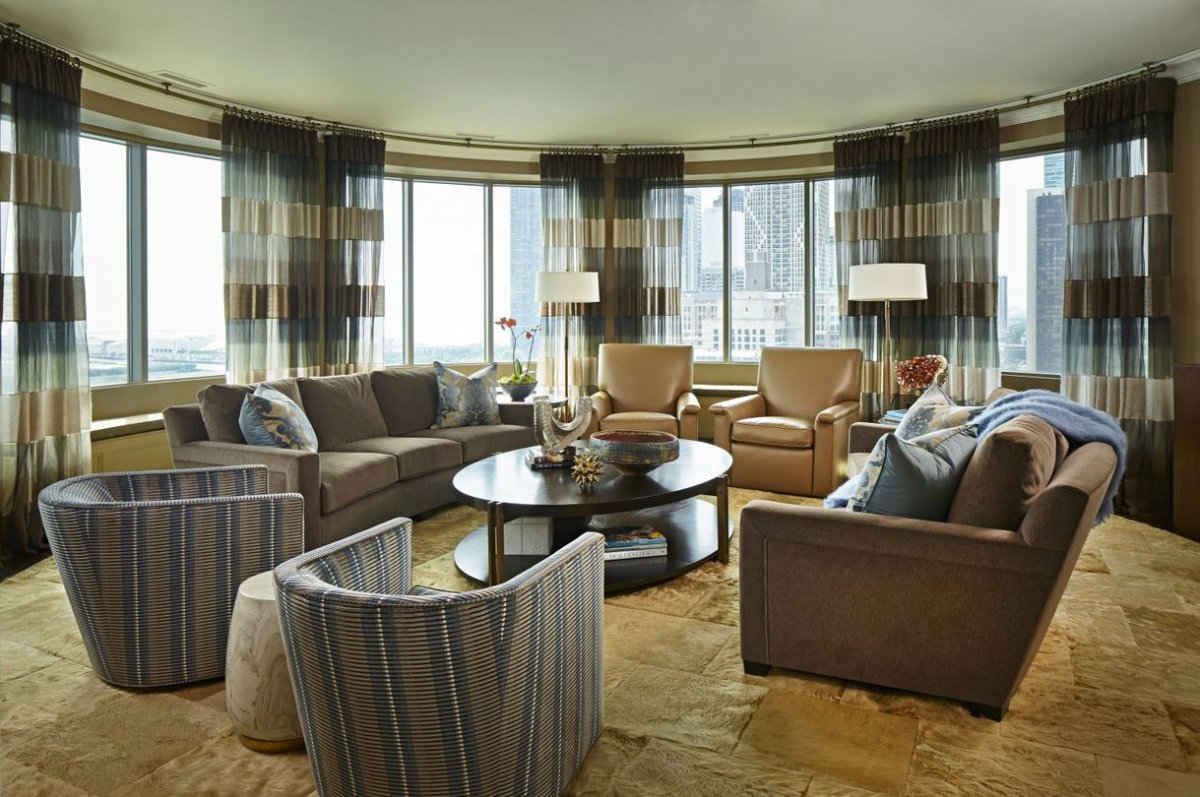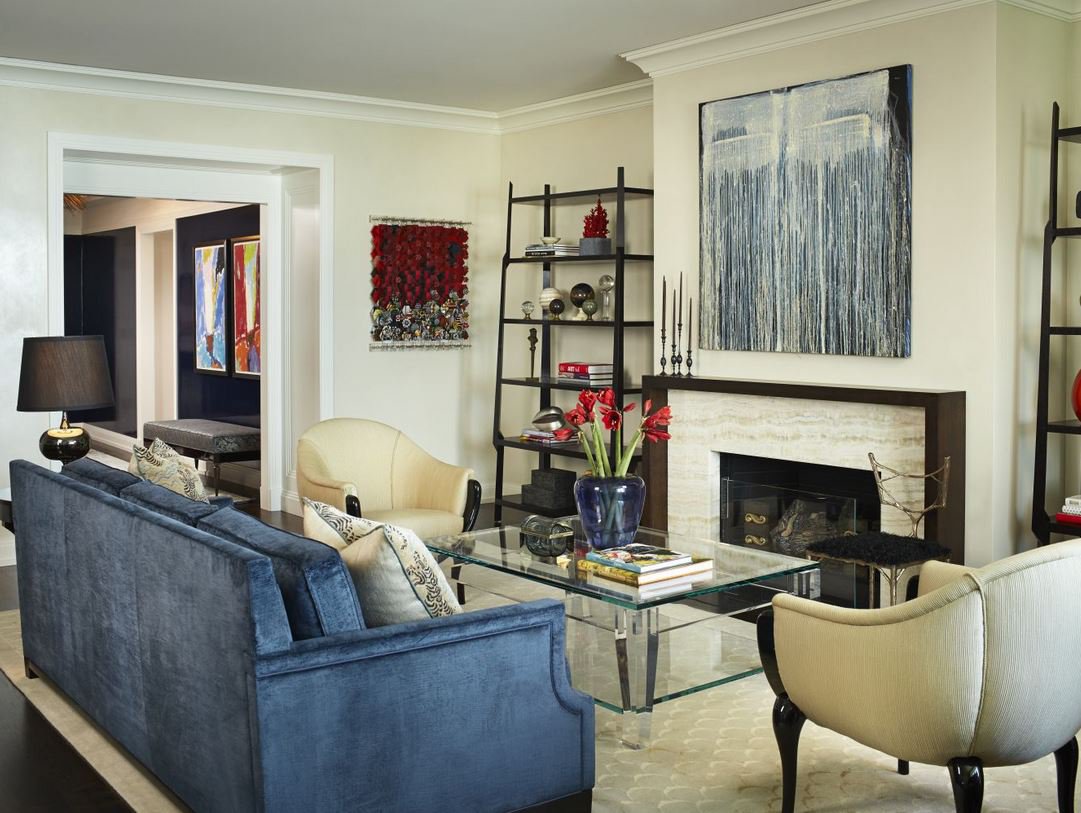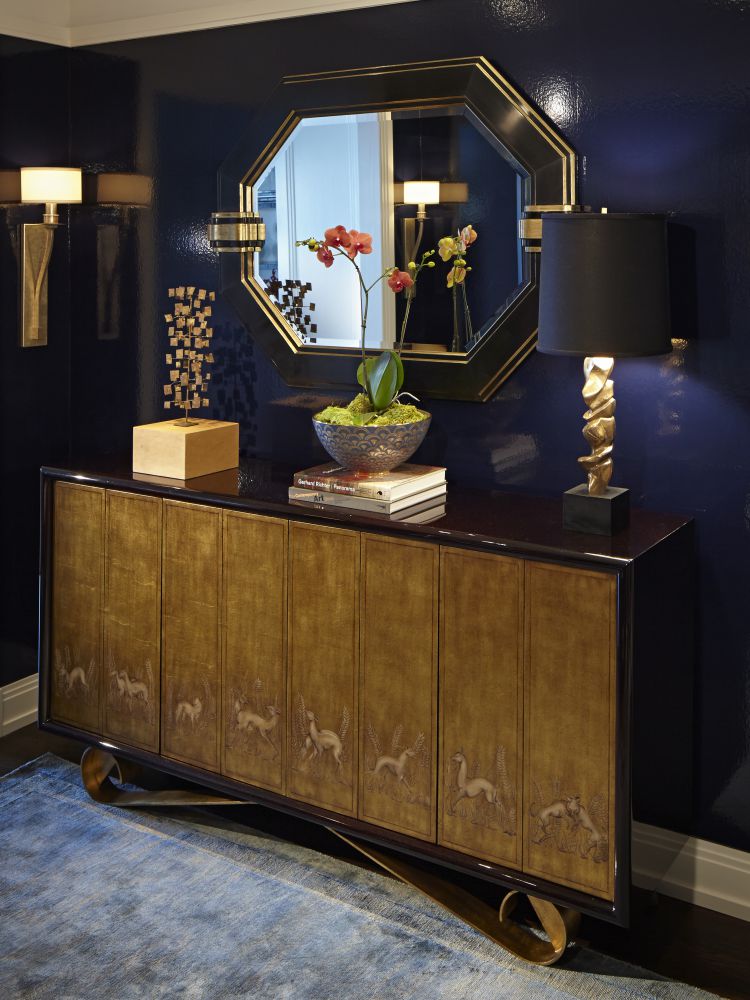 The three photos above are from a luxurious pied-a-terre created by Chicago based interior designer Jessica LaGrange.  The residence provides stunning views over the lake, so the use of the color blue throughout was mostly inspired by the water views.  The first photo shows the semi-circular living room lined with windows. The room has been arranged for conversation using blue as a unifying color, on an impressive hairy hide rug, while maximizing the panoramic views.  The second photo shows a second living area created around the fireplace anchored by a blue George V sofa by Holly Hunt, with blue continued in the art and accessories.   The third photo shows the foyer which sets the tone for the rest of the home with blue lacquered walls and a varied blue rug.  Photography by Nathan Kirkman.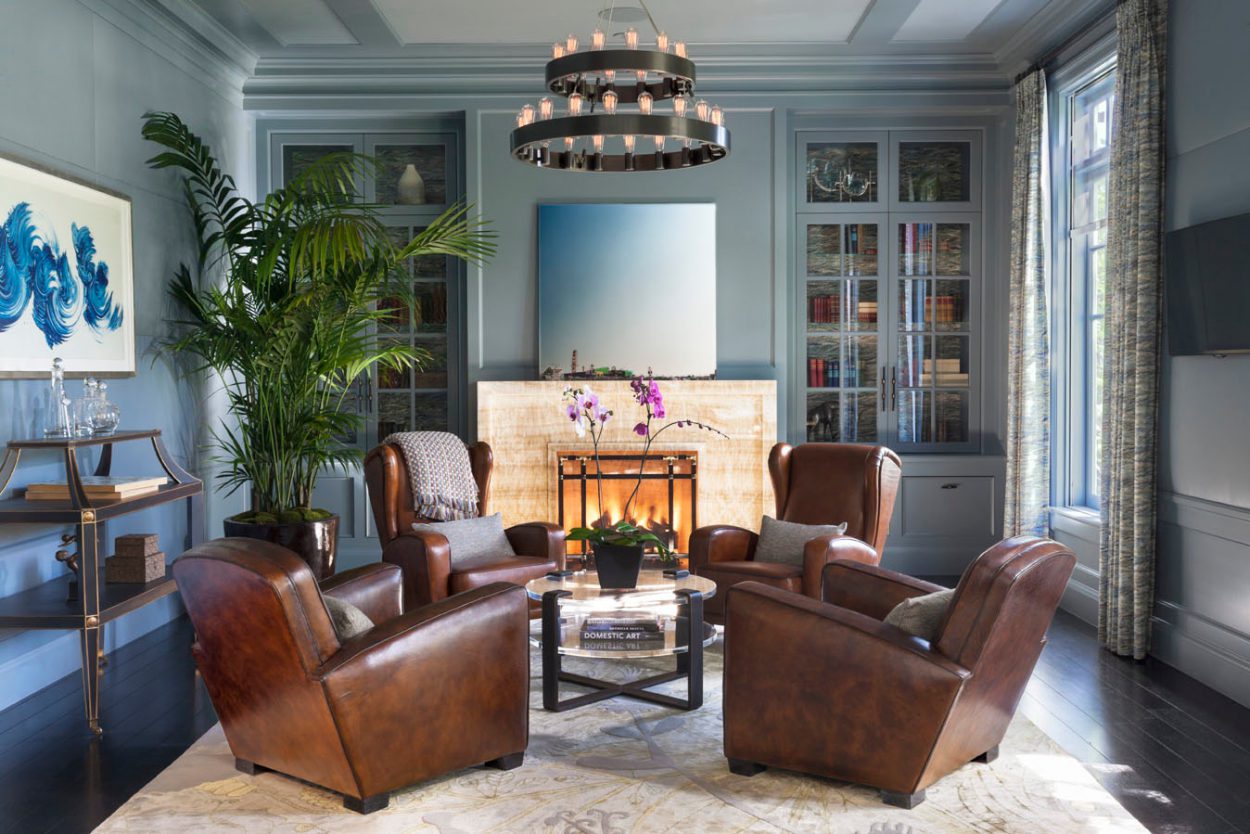 These two photos are from a tailored, East Coast-inspired Residence located in Brentwood, California designed by LA based interior designer Adam Hunter.  The first photo is from the pool house where the designer has used clean shades of blue and white to define the entire space.  Note the Bisazza tile used on the fireplace surround and the Lumiere chandelier by Jean de Merry which provide the room with some sparkle.  The second photo shows the study with its walls painted in a softer shade of blue.  The color is also continued in varied hues in the draperies and in the art.  A very cozy setting.  The white and navy in the pool house is light and bright, whereas the softer shades in the study are calm and soothing, both being excellent examples of how to use the colors appropriately for the rooms intended use.  Photography by James Ray Spahn.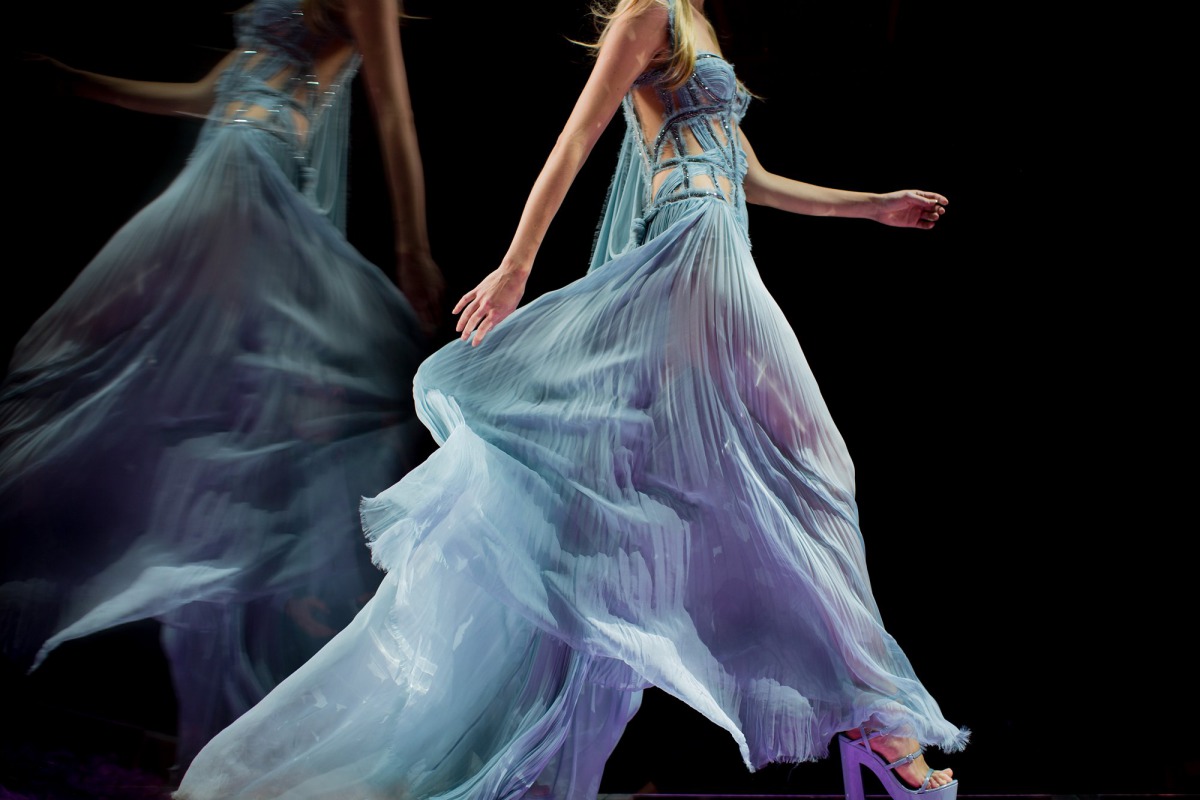 Atelier Versace Couture
West Chelsea II
Bellport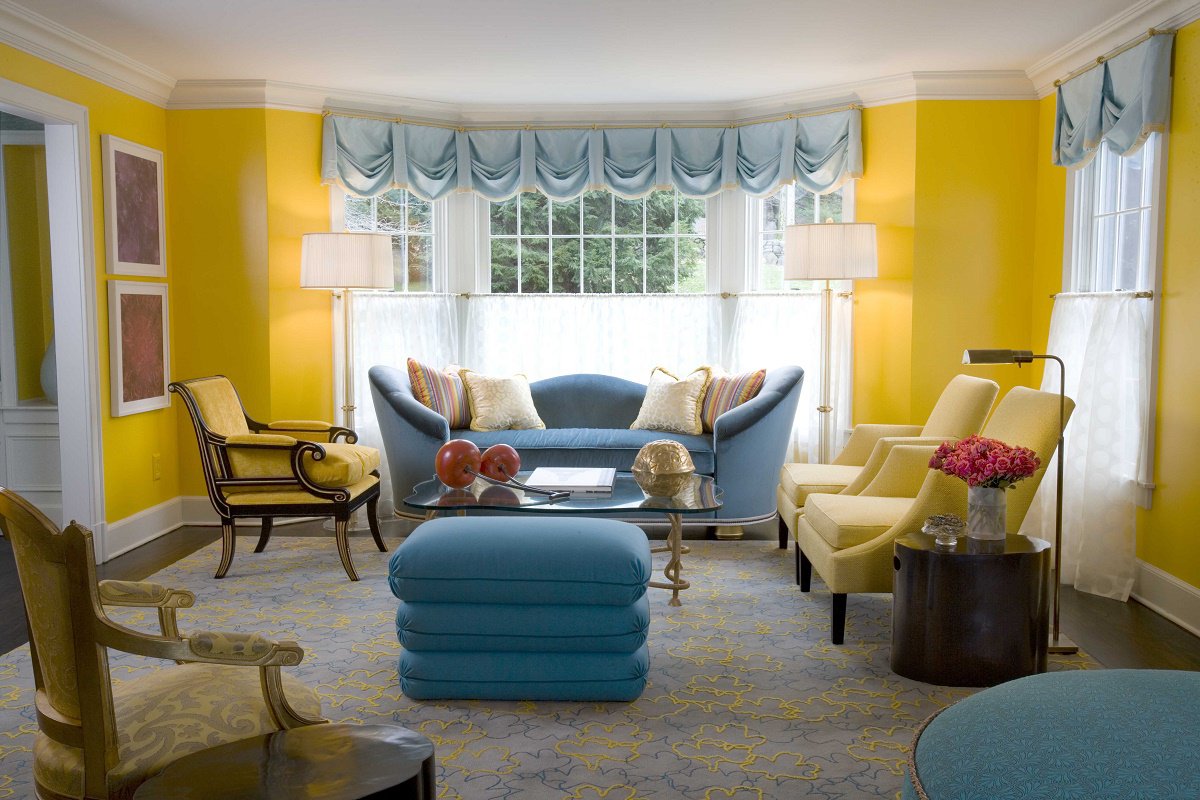 Fairfield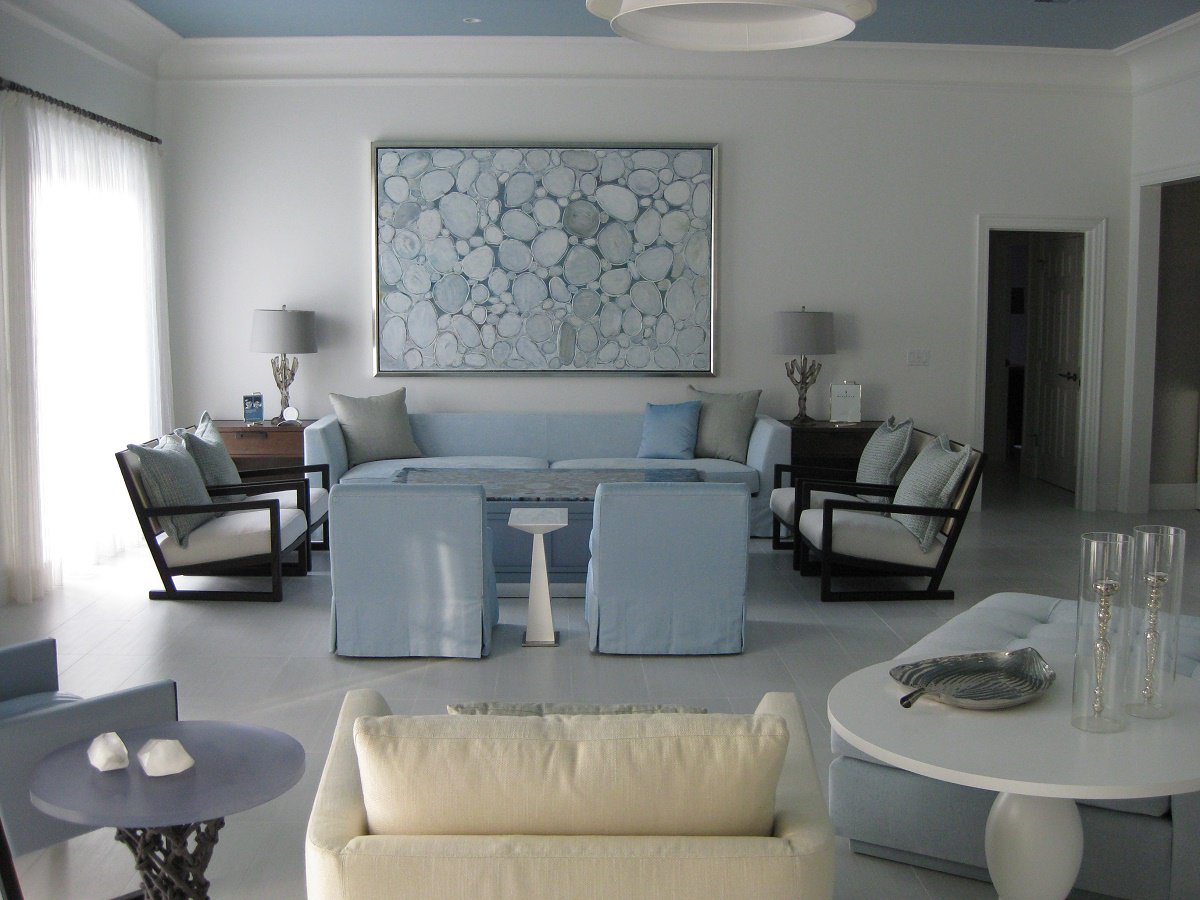 Vero Beach
West Chelsea
Upper West Side
I couldn't possibly do a post on the use of color without using examples from the "king of color" himself, New York based Hall-of-Fame interior designer Jamie Drake, who completed the projects in the six photos above.  The designer creates dynamic and distinctive residences that are comfortably livable and perfectly designed for their particular space and owner.  As demonstrated in these photos, he is a master at fearlessly using color to make traditional design spaces more current and modern design spaces more lively and inviting.  Be sure to check out my post on his Ultra Chic West Chelsea Apartment, to see more of his work and for more details.  These pics speak for themselves!  Photography by Marco Ricca.
Atelier Versace Couture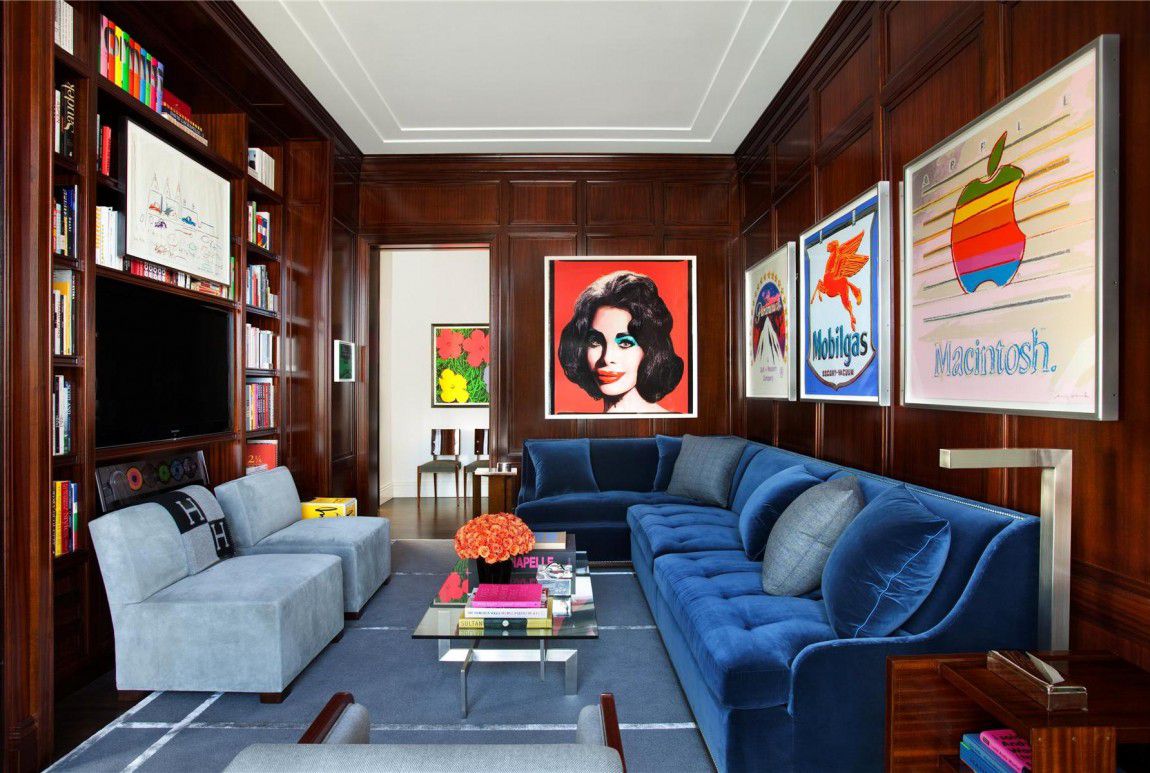 Here we have the media room from within a stunning 77th floor luxury design penthouse in New York completed by architect Michael Gilmore and interior designer Mark Cunningham.  I love this room.  These particular shades of blue are everything within this wood paneled room lined with art by Andy Warhol and others.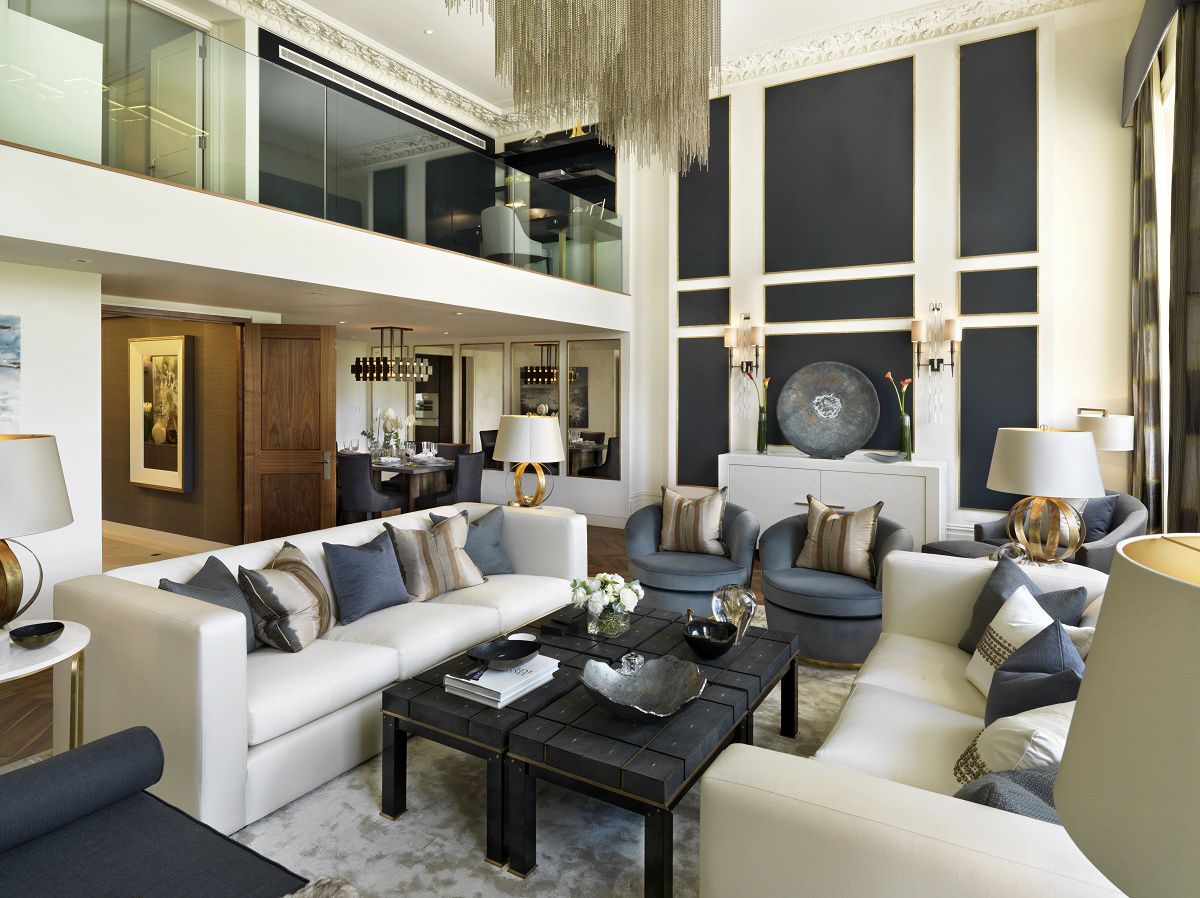 Lancasters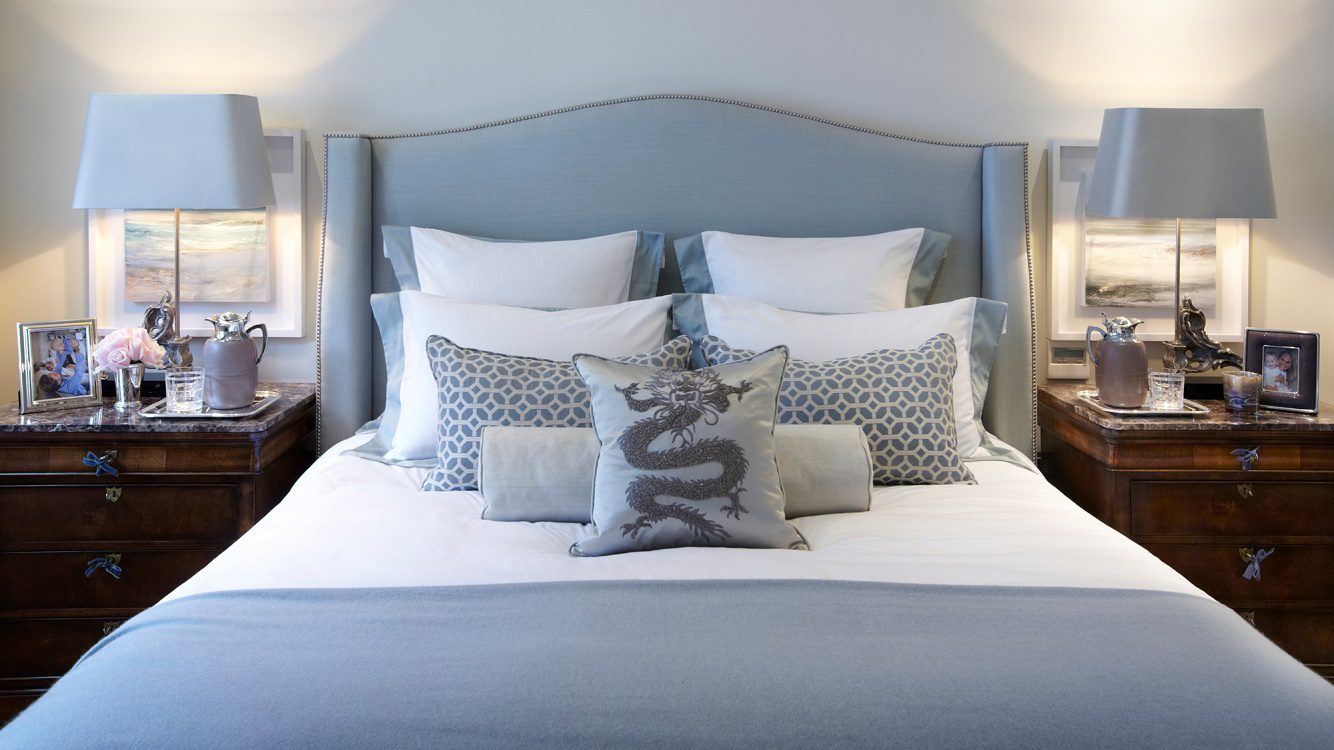 Knightsbridge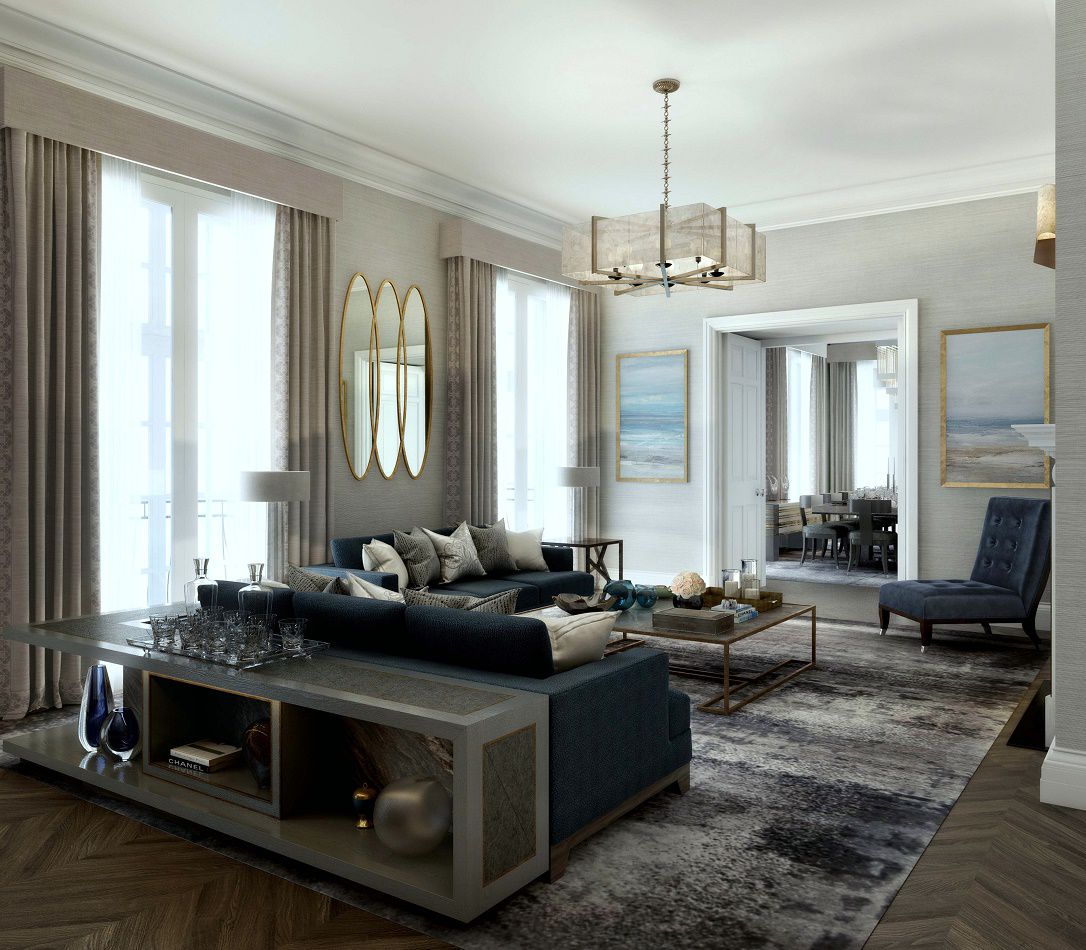 St James
These three photos are from residences completed by London based interior designer Katharine Pooley.  The first shows a drawing room from within a duplex apartment located at The Lancaster in Hyde Park.  The designer combined timeless materials with luxurious detailing and warm metallic finishes with soft grays and this perfect regal blue.  The second photo shows a bedroom from a residence in Knightsbridge in dreamy shades of soft blue in her signature bedroom styling.  The dragon embroidered pillow is very much part of her design vocabulary which takes inspiration from her frequent global travels.  The third photo shows a classic-contemporary design informal living room from with a duplex in St James where shades of blue and gray are paired with neutral tones and metallic finishes to create another sumptuous space.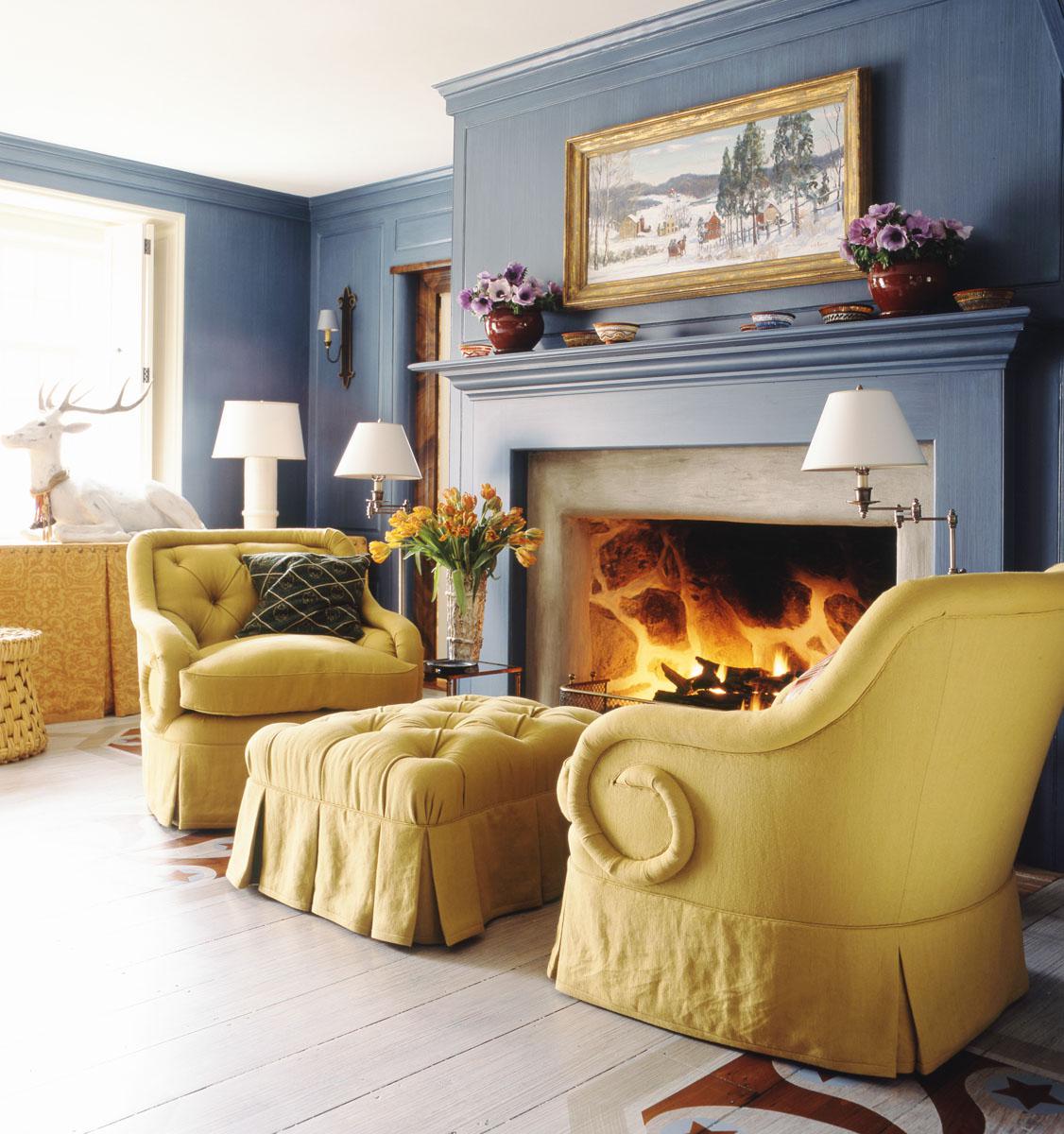 Here we have a delightful room completed by the great "all-American elegance" New York based interior designer Jeffrey Bilhuber who is another designer well known for his use of color.  The cobalt blue walls are said to be a historic nod to the great reception rooms of George Washington's Mt Vernon.  It's always a delight when blues are paired with yellows.  It's very refreshing.  The same for blue with orange.
Christian Dior Couture photo by Patrick Demarchelier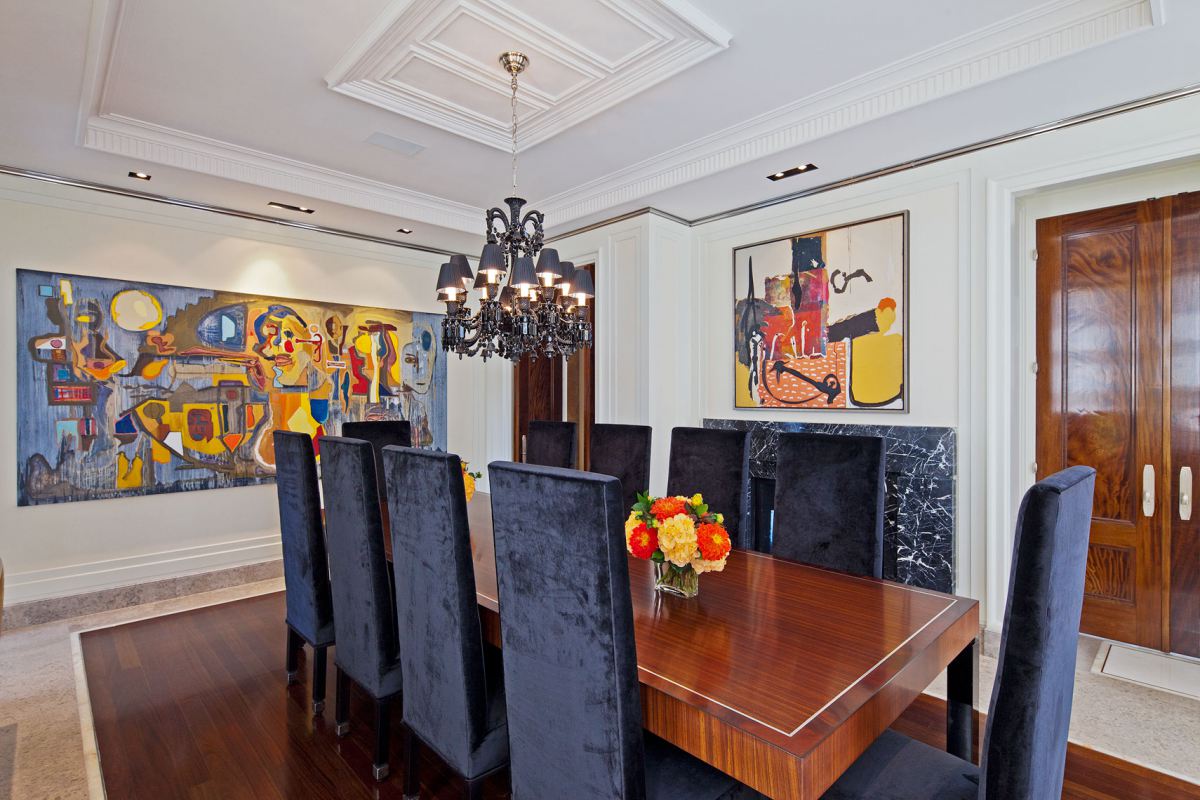 For our final photo, we have a dining room from within a 28th floor penthouse completed by the Canadian firm Taylor Hannah Architects.  The residence was completed with great attention to detail throughout.  The deep blues used here just look correct.  With the marble fireplace and the art from the Painters 11 collection that adorns the entire condo, I just can't imagine a better color for those chairs and the chandelier suspended above.  It's really classic rendered timeless.  Note:  Navy is the perfect alternative for those who do not want to go quite as dark with black.
That concludes our collection my friends.  A few more words on my personal thoughts.  I love the use of darker shades of blue in more public rooms and softer blues in private spaces.  The darker shades feel more formal and dignified, but not overly so.  I probably wouldn't personally do all of the walls completely with either shade of blue for I would likely get tired of it after a while and I like to change up things in my rooms to make them reflect my current moods, which change semi-often.  I could definitely use both for dominant colors within a room though.  In fact, the defining colors in my bedroom now are gold and both darker and softer shades of blue.  So, I guess I am a fan of mixing the entire range of shades.  My window draperies have soft blue silk side panels with ivory center panels while the draperies behind my headboard have gold silk side panels with ivory center panels.  My bedding consist of Versace's Baroque Scroll in a darker shade of blue and gold, mixed with ivory linens with various Medusa pillows in shades of blue and gold.  Then I have a French Bergere upholstered in a silvery-blue silk for balance.  To keep the room from being too any one thing in particular, I also have a Louis XV canape upholstered in a deep burgundy mohair, and a pair of Louis XVI salon chairs upholstered in a deep green mohair.  They are antiques but Im not the type who feels a need to keep them in the state I find them.  They, as with most of my furniture, have been reupholstered a few times to meet whatever my look of the moment has been.  I still have my television in a French Armoir regardless of what the trends say, with no immediate intentions of changing that.  As I have noted many times, I have a love for mirrors and my bedroom is proof.  I have two 48″W x 84″ H floor mirrors, plus a large French Rococo mirror above my bedside chest, and a large oval Italian Baroque mirror on a side wall.  The only "art" really is a framed picture of Marie Antoinette that I found at a small antique shop in New Orleans years ago which ties all of the colors together for it contains both soft and dark shades of blue, as well as the deep burgundy.  I do use antiques, but the trick in keeping things from looking period or dated is simply the mix and treatment.  My bedroom's architecture is very clean and simple.  Clean straight lines with no adornment, and I keep the walls white.  My bed itself also is very simple in style, all straight lines.  My headboard almost has the appearance of an alter and rises a bit high.  Its all a matter of balance.
I've gone off topic I know and am late getting this posted today.
NOTE:  DK-decor is undergoing lots of changes.  We are in the process of creating a whole new site with better design and more functions which we think you will enjoy even more.  My posting has been less frequent of late due to this reason, but very soon hopefully we will be launching a whole new look.  We have brought in new designers and are undergoing lots of changes and I really hope you guys will continue to read along with us.  Thank you so much for your support and for your comments and emails and an extra thank you to everyone who has already signed up for our email updates.  If you haven't yet, please do consider doing so, and becoming part of our extended family.  It's simply a weekly email update letting you know about my latest post and any new info we may have to offer.  From time to time we enter all of the emails into a drawing and send out a thank you gift.  We also do this with our most active participants.  Due to many factors, we can only extend this to those with US mailing addresses at this time.  If you happen to be drawn we email you and let you know and you then provide us with where you would like us to send the gift.  We just want you all to know how much we appreciate you.
I hope you all have enjoyed today's post.  If you have, please be sure to share it along on the social media below so we can reach as many readers as possible.  Thanks so much!  Have a great day!!
Please like us and share: