Bedroom Drama: A look at 18 Canopy Beds
The bedroom is the most personal room in the house.  It is our sanctuary where we begin and end each day.  As such, it should also be the most luxurious and comforting.  Today we are taking a look at 18 bedrooms featuring canopy beds.  If there was ever a way to introduce drama into the bedroom, the canopy bed leads the way.  Be inspired by this full collection showing a full range of styles from classic and traditional design to luxurious and contemporary design.
For centuries the bed has been used as a sign of wealth; the richer the man, the better the bed!
The canopy bed originally came into existence for utilitarian means.  For centuries though, the bed has been used as a sign of wealth; the richer the man, the better the bed.  Canopy beds with curtains that could completely enclose the bed were used by lords and noblemen in medieval Europe for warmth and privacy.  During this period, carved work on the headboard and posts became popular and more ornate canopy beds followed.  In the 16th- and 17th-centuries, canopies were frequently massive in construction and featured elaborate carving.   In the 18th century, the canopies became lighter and purely decorative due to the smaller, more intimate rooms for which they were created in northern European residences.  Fashions came and went evolving the bed along the way.  Eventually, the canopy fell by the way completely.  Fast forward to today, we have no need for a canopy bed and most people's rooms are too small and lives too busy to be bothered with them.  Should you have one, it's because you appreciate its appearance and the psychological effects and have the means to indulge yourself.  They are to a great extent, still a luxury.
The opening photo shows a layered and luxurious master bedroom located within a grand French-inspired Beverly Hills estate with interiors designed by Los Angeles based interior designer Joan Behnke.  The custom created canopy bed offers a cocoon-like haven for sleeping, while the sitting area, which faces a fireplace, creates a cozy enclave for reading complete with comfy upholstered furnishings finished with custom trimmings.  Behnke placed a cabinet behind the sofa which conceals a pop-up television that can be watched from the bed.  The upholstered headboard has been hand embroidered and the bed draperies consist of four layers of sheer fabric to create an ephemeral feeling.  The panels are operable and can be drawn if desired, as they should be in my humble opinion.   The room is complete with fabric upholstered wall panels and silk carpeting.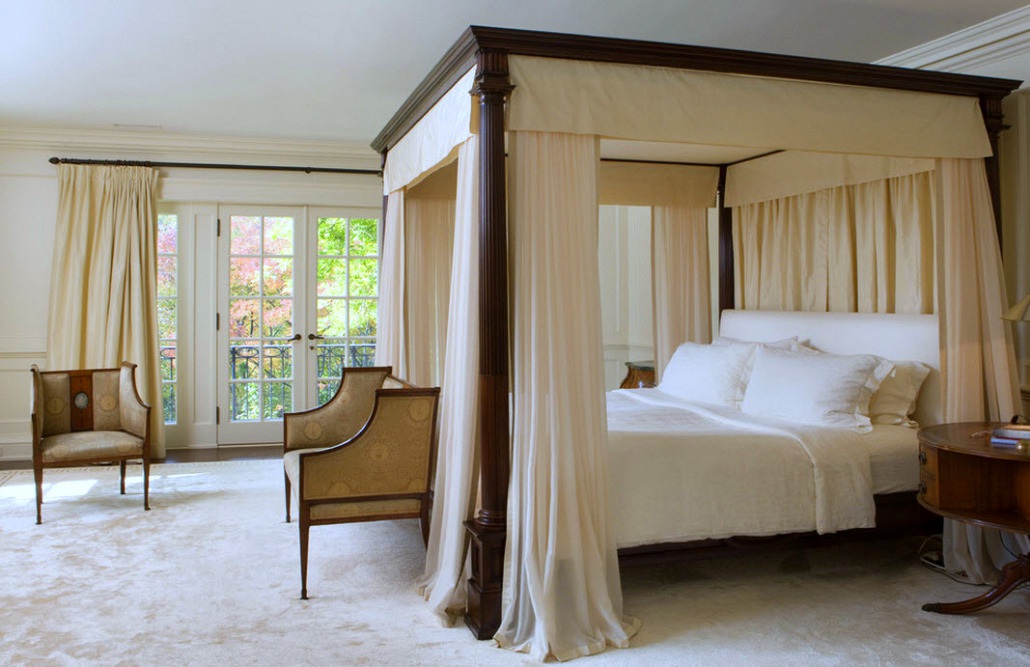 This tranquil setting comes from a Toronto residence designed by Heintzman Sanborn Architecture-Interior Design.  The owners of this home are passionate advocates for the preservation of historic buildings and brought that passion for period authenticity to the restoration of their own circa 1920 Georgian Revival House.  The design team created this elegant canopy bed with creamy silk around the head and for the canopy, while using linen sheers for the operable side drapery.  They concealed a removable (for cleaning) wood rod between two valances (one on the interior side of the bed and one on the exterior) from which to hang the side drapery fabric.  The serene scene was created with Museum White satin finish walls and a custom wool carpet.  The settee and chairs are antiques from Argentina with their original silk upholstery.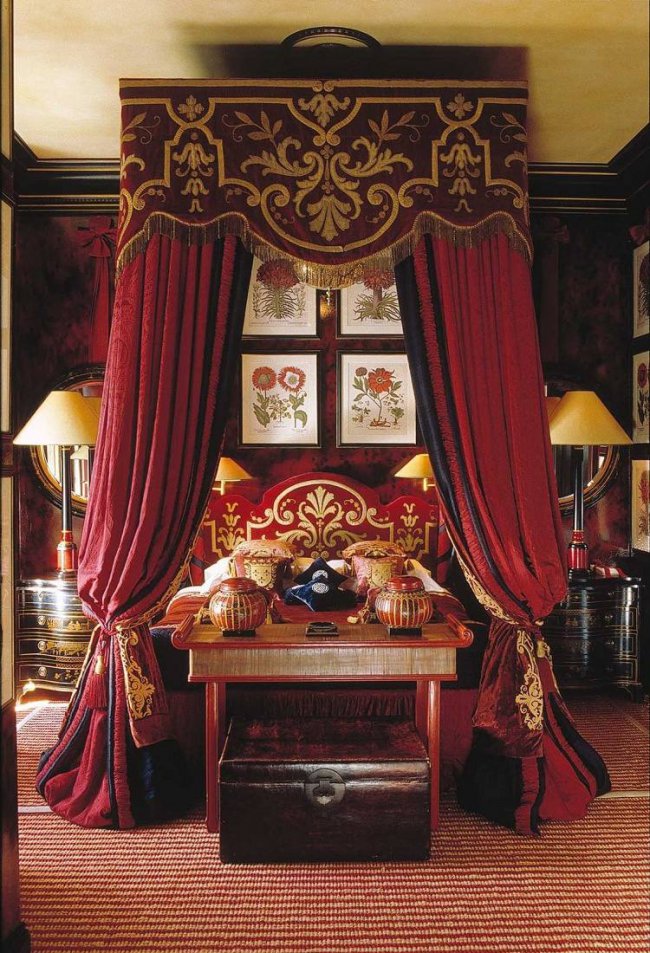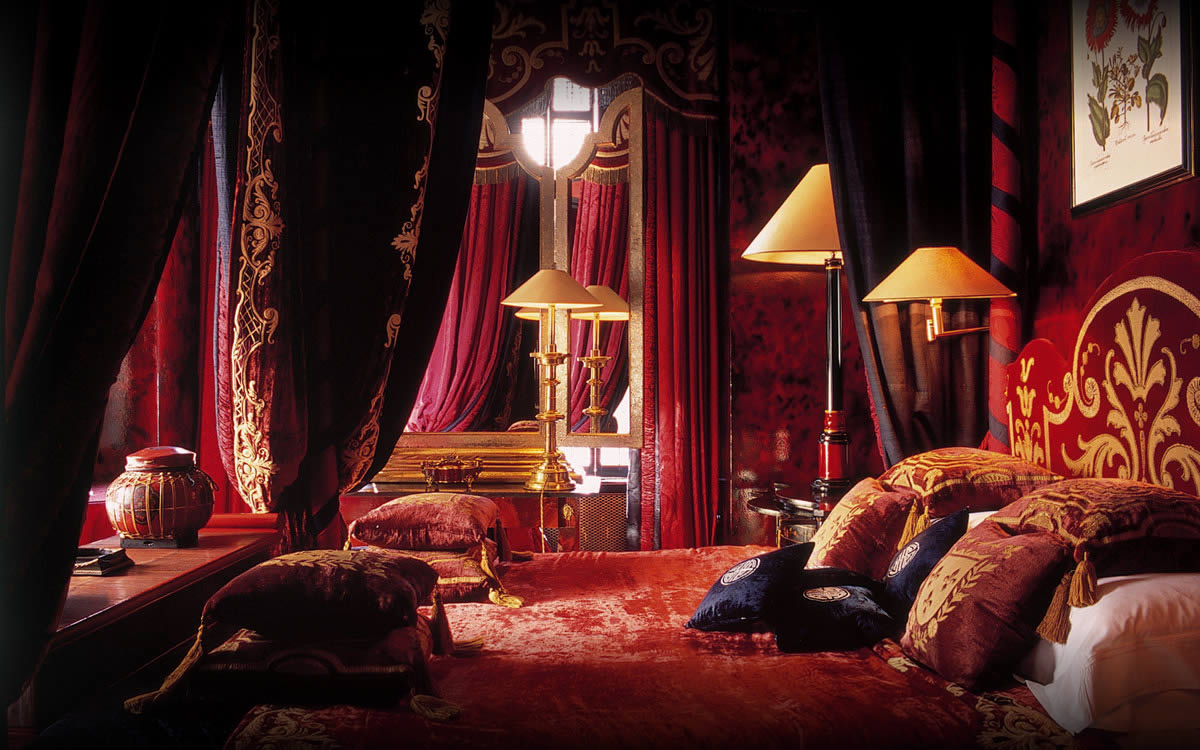 Most impressive is the breathtaking and irresistible canopy bed draped in opulent silks and embroidered velvet, finished with tassels and tie-backs.
This opulent bedroom is from London's Blakes Hotel, an upscale boutique hotel created by acclaimed interior designer, Anouska Hempel.  The luxurious rooms and suites are lavishly packed with rich fabrics and decor from around the world.  Each of the 45 refurbished guest rooms at Blakes takes inspiration from a different far-off land.  The designer weaves a seductive blend with rich Eastern tones and textures that come together in a blaze of warmth.  There are intriguing antiques and artifacts from her travels in Indochina, Africa and the Middle East.  It has been described as the most theatrical and over-the-top hotel in London, and I love it for that.  The hotel offers an antidote to minimalism with its unique eclectic design.  This particular bedroom is from the Cardinal Suite, my personal favorite.  It is totally theatrical and operatic in glorious deep, rich shades of red and gold.  The space is filled with antiques and lacquered surfaces.  Most impressive is the breathtaking and irresistible canopy bed draped in opulent silks and embroidered velvet, finished with tassels and tie-backs.  This is drama for the bedroom!  Perhaps it is a bit fantastical for one's main bedroom, but I would love to have the designer recreate this space in a guest bedroom.  We would substitute the flower pictures and carpet with another option that maintained the mood.  My friends would never want to leave.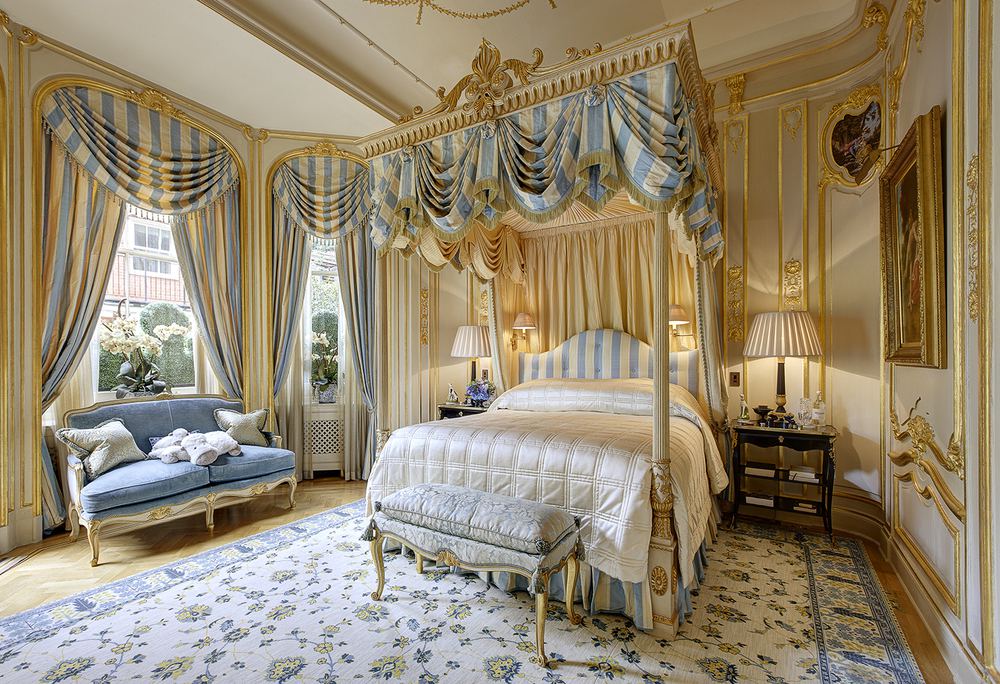 This bedroom is from an early 18th-century terrace house in the fashionable Mayfair district of London which has been restored to its original splendor by restoration specialist Tiggy Butler, who consulted with scholars at the Soane Museum, and worked with a team of 45 craftsmen for almost two years to complete.  For this master bedroom, with its grand proportions, Butler had an ornate four-poster canopy bed designed after an 18th-century pattern.  The bedding and draperies were made with silks from Colefax and Fowler.  The tables flanking the bed are 19th-century French. -via Architectural Digest-Tiggy Butler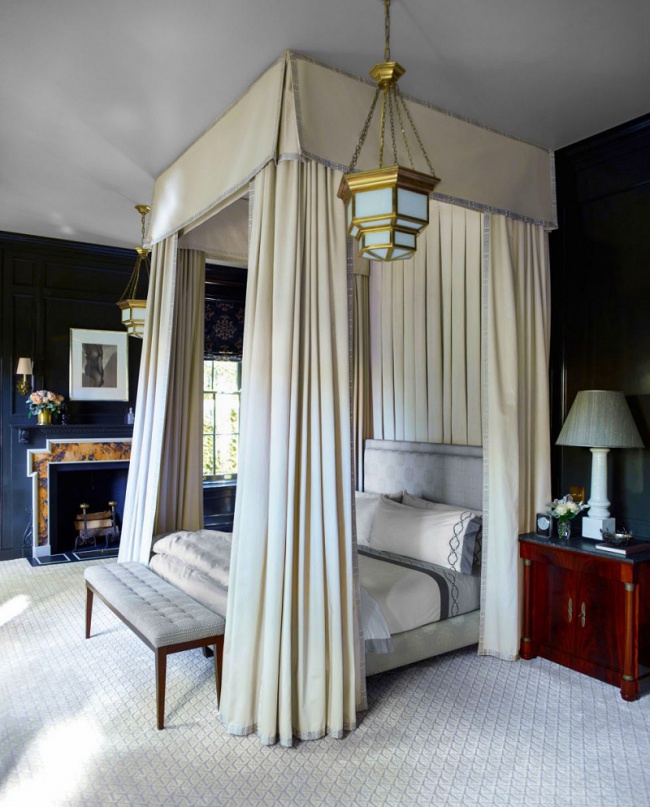 If there was ever a way to introduce drama into the bedroom, the canopy bed leads the way!
Here we have the master bedroom from a grand and colorful Chicago townhouse completed by interior designer Steven Gambrel. The walls are painted in a custom high gloss black.  The contemporary design bed is upholstered in Lockett from Stark while the canopy and draperies are in Corelli cotton from Fabricut with Scalamandre tape trim. The height makes for a stunning effect.  The pair of pendant lanterns are from Circa.  A perfect way to style a canopy bed for a man initially reluctant to the idea.  via House Beautiful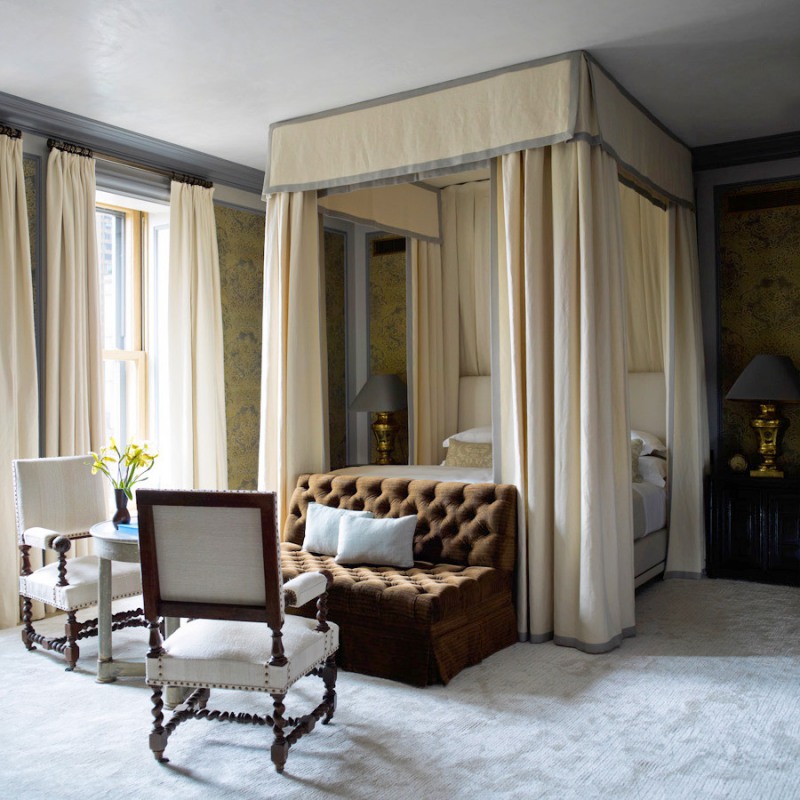 This room was also completed by interior designer Steve Gambrel, this time at the Plaza Hotel.  The Astor Suites were entirely gutted during the renovation of the historic hotel and it was the designers goal to reinterpret period rooms with the mill-work and plaster details reminiscent of the original interiors.  However, artistic license was taken, and Gambrel created a suite of rooms with irreverent character and surfaces that show patina and age. The canopy bed is very similar to the one before with clean, defined lines creating a smooth contemporary design.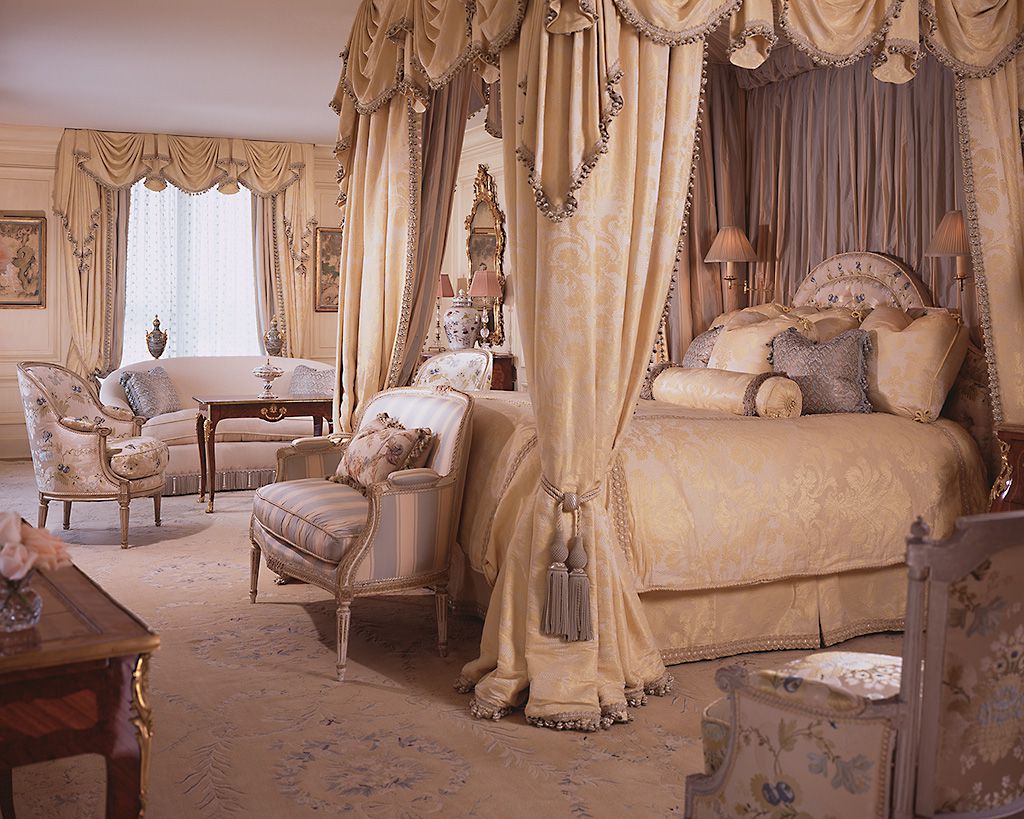 This classic design French bedroom is from a home whose exquisite interiors were completed by the interior designer and antiques purveyor William R Eubanks. The designer and his firm creates designs in many styles, but my favored of his work is his classical designs which are nothing short of exceptional.  With this bedroom, Eubanks combines 18th century France with a fresh, updated palette for a look that is elegant and charming.  The room is complete with glazed paneled walls, fine period antiques, and beautiful silks and damasks trimmed with rich passementerie. The bed is a work of art. Even when it's not your style in particular, you still appreciate the lavish attention to detail.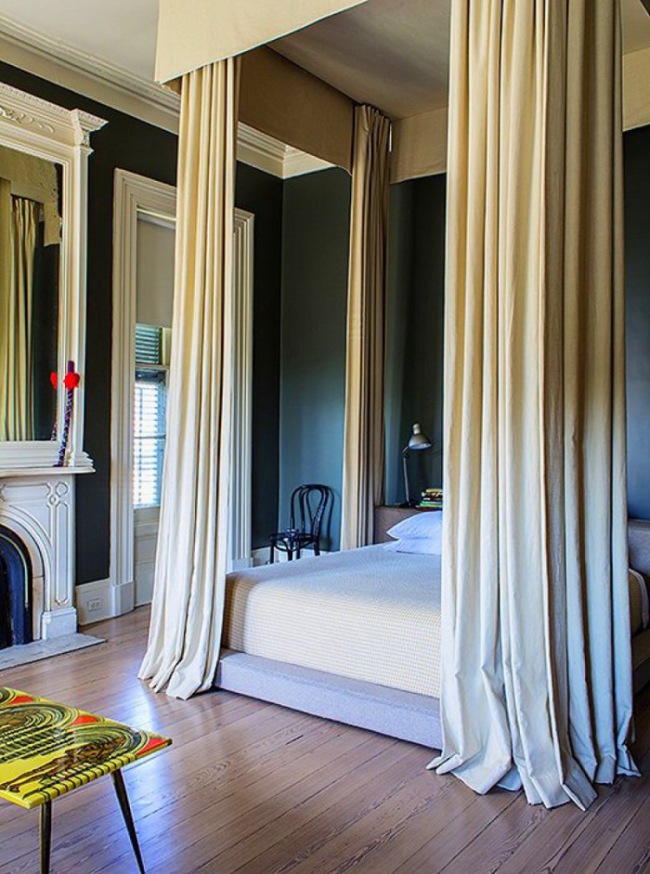 Here we have a bedroom from interior designer and Vogue editor Sara Ruffin Costello's 1868 Italian Gothic home in New Orleans' Garden District.  The canopy has been created over a low profile bed with draperies composed of beige linen that attach to the ceiling. They are described on One Kings Lane as being maximalist in their sweep, (though not really) but minimalist in form since they feature no swags or trimmings.  The room's traditional design architectural details have been maintained, but the space is made very contemporary with color and styling.  The colorful table is by Fornasetti.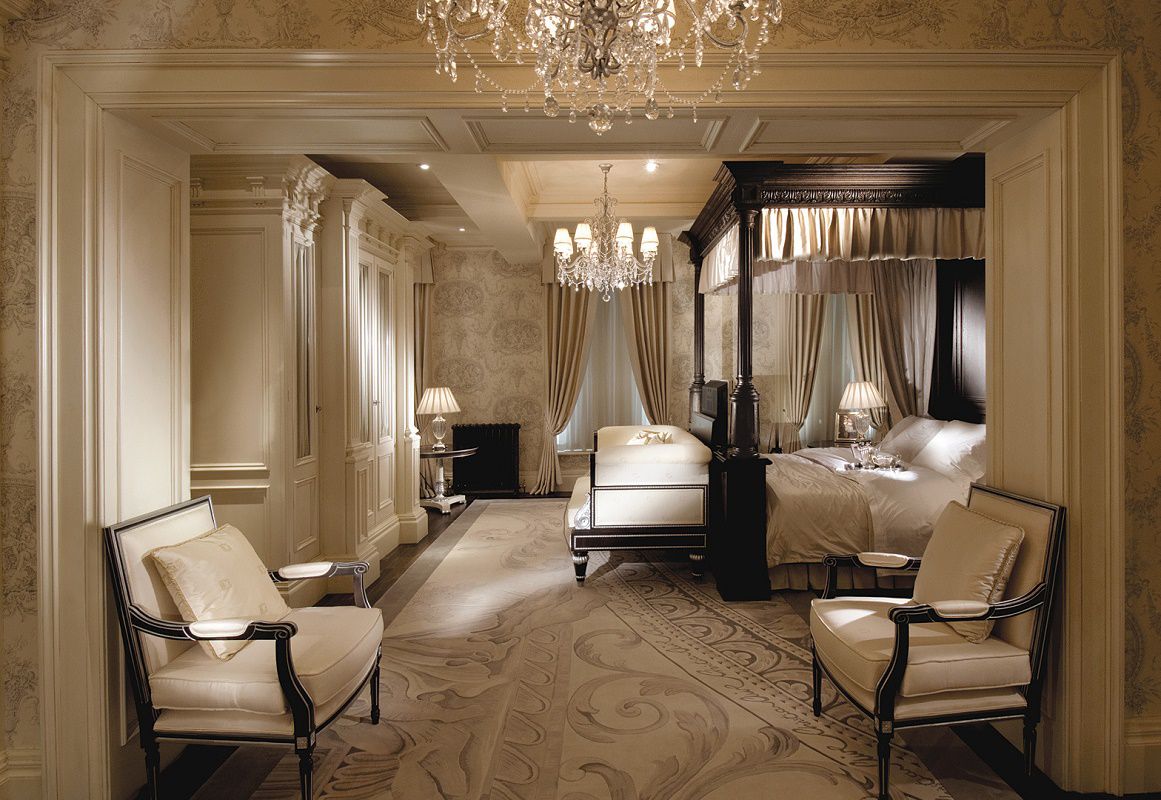 This bedroom is from the Clive Christian Architectural Collection featuring bespoke design furniture and paneling commissioned in Ivory and/or Walnut and tailored with silver leafing to give it an air of modernity. The canopy bed shown here is the Mayfair Four Poster Bed in black walnut with pop-up TV lift in the foot-board. I love pretty much every room ever completed by this British company whose designs feature rich architecture details and excellent craftsmanship.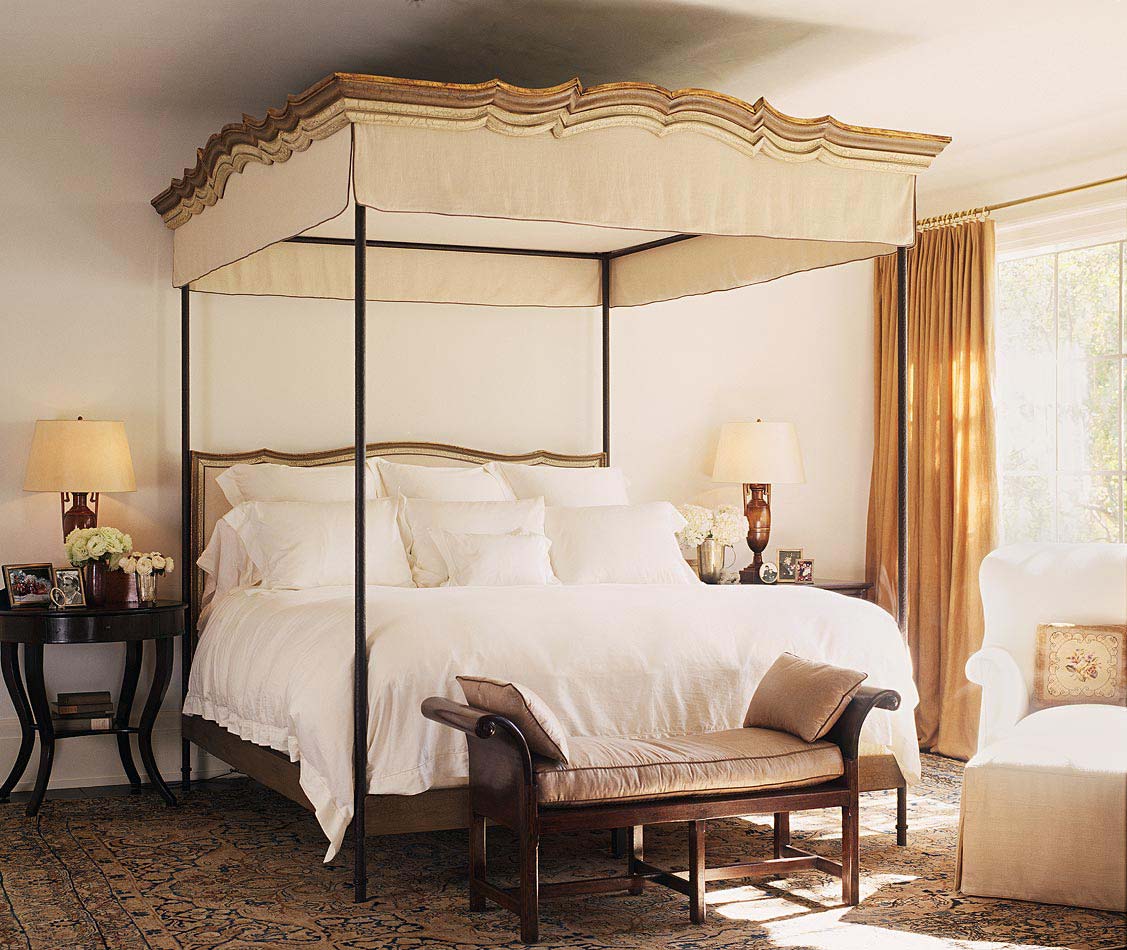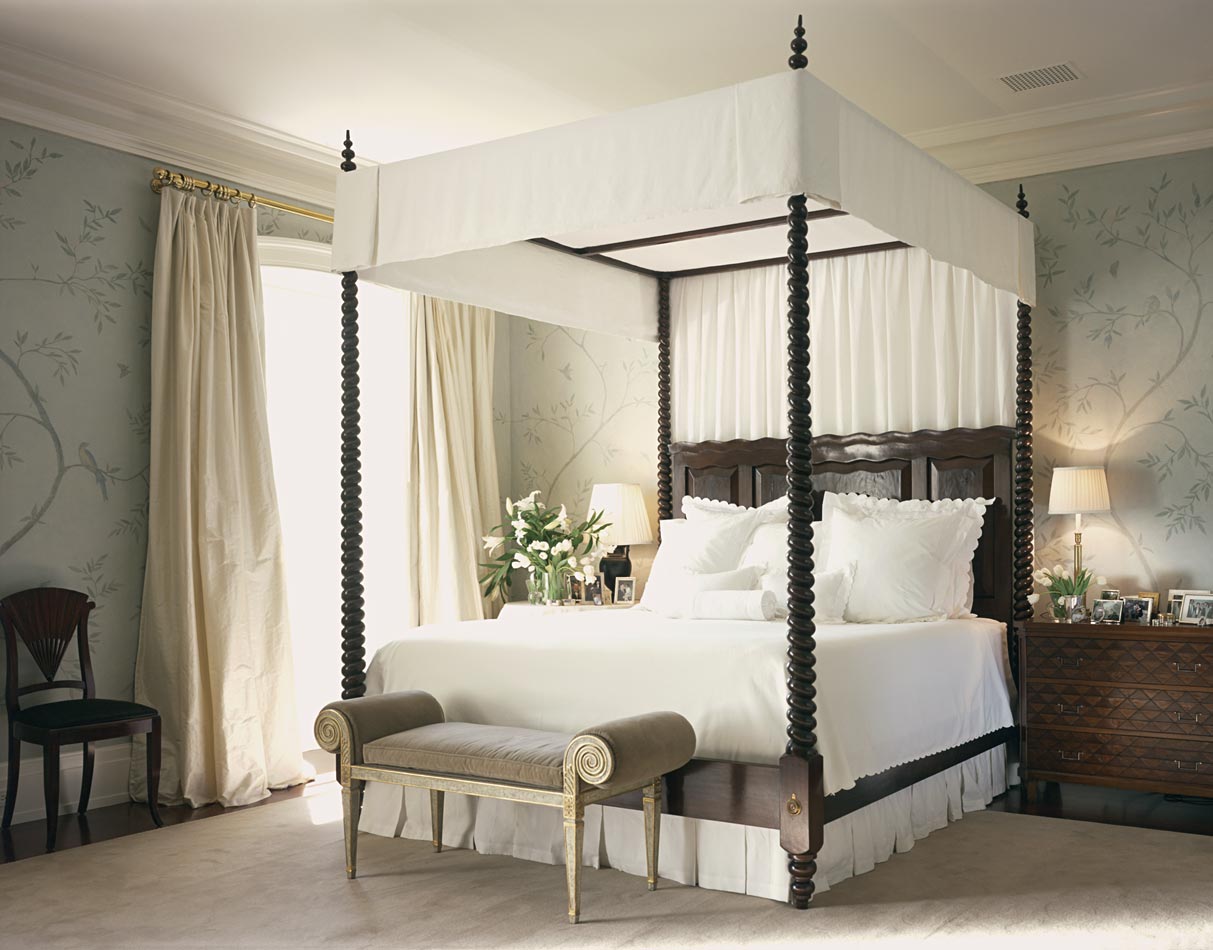 The two bedrooms above were designed by the Los Angeles-based interior design and architecture firm Kerry Joyce Associates.  These rooms demonstrate simply refined spaces. Neither showy nor with a contemporary design edge, these rooms have a classic understated purity that I knew many of you would appreciate.  I know everyone isn't going to love all of the rooms shown, so I am trying to show a collection of rooms with something that everyone can love.  The beauty is in their simplicity, and the canopy beds are quite lovely.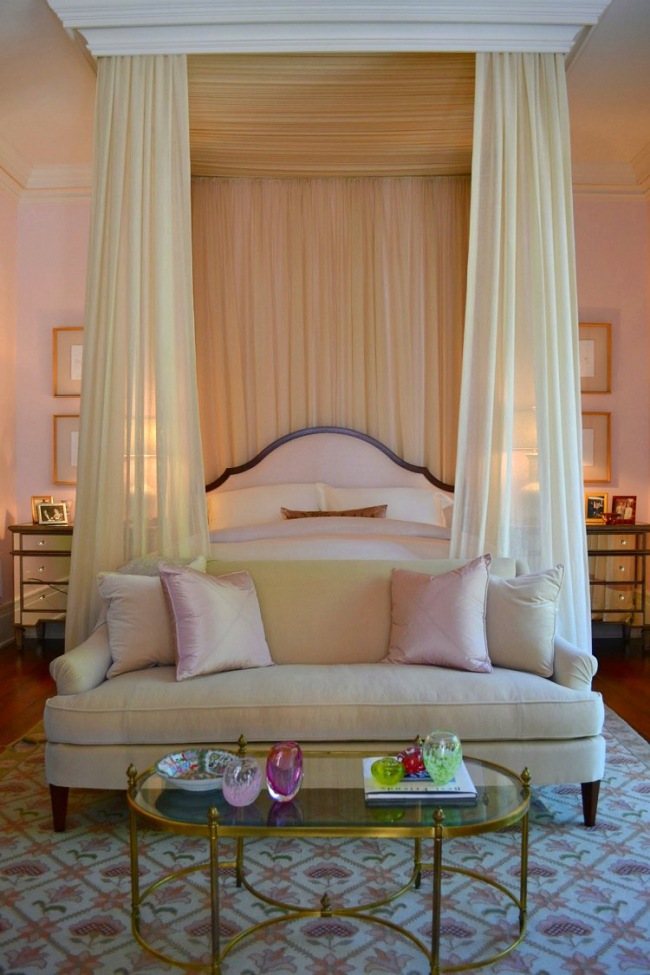 This is a photo I found on Pinterest but simply could not locate its original source.  I wanted to include it because I really like how the canopy has been created against the ceiling with what appears to be layered crown molding.  I really like this idea of creating the canopy exactly how you like it and placing your bed of choice under it.  I also like the canape placed at the end.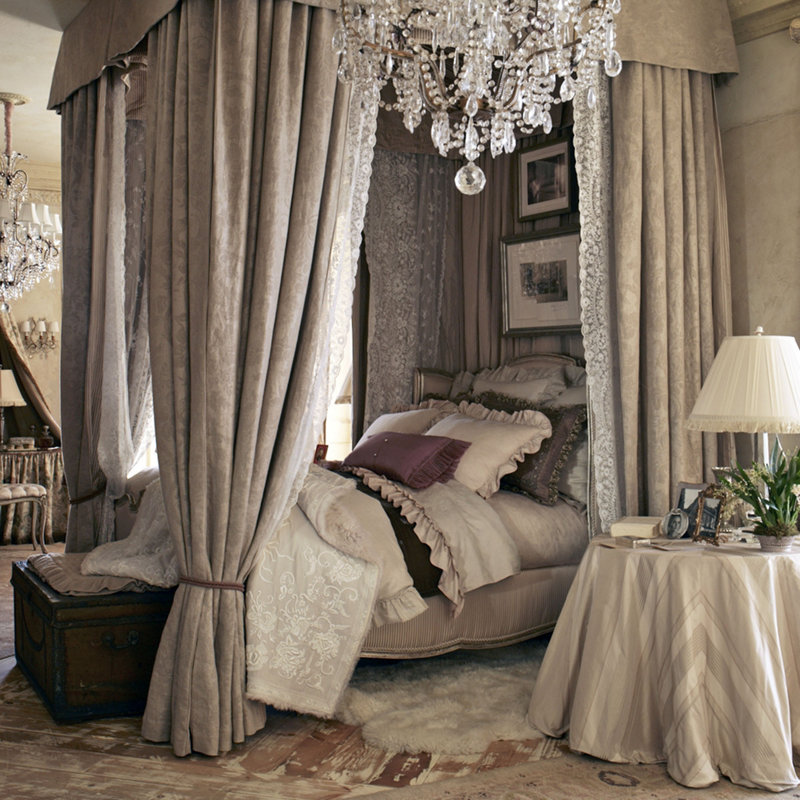 This bedroom is from the Ralph Lauren Home Heiress Collection, which is inspired by Bohemian romance.  Artfully arranged rooms filled with eclectic, gently disheveled furnishings and luxe juxtapositions of rustic and refined.  The heiress bed is upholstered in Norbury Stripe Platinum/Mercury and the canopy is fabricated in embossed linen with lace panels on the inner side.  The bedding is composed of layers of various coverlets, duvets and throws.   I'm sold with this room if for no other reason than it has two large crystal-dripping chandeliers with shades over each bulb, which is just my idea of how they should be done.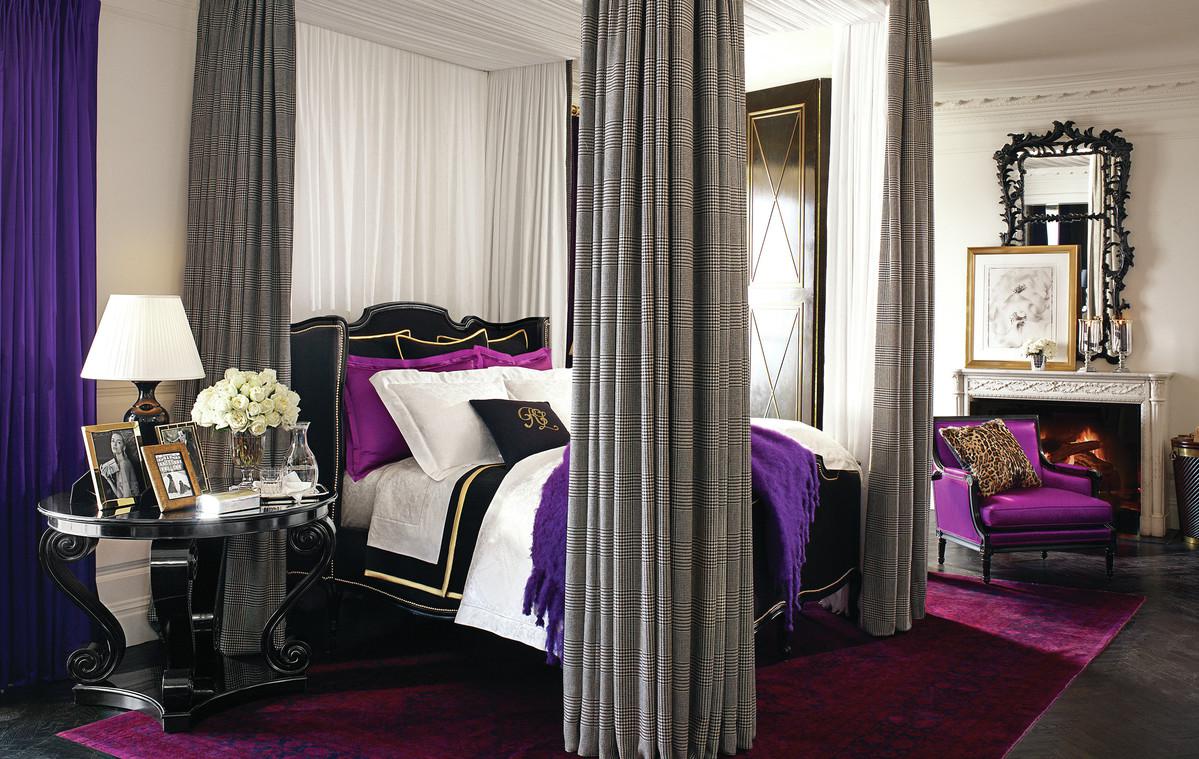 Here we have another bedroom by Ralph Lauren Home, this one from the Apartment No. One Collection.  This collection features classic design furniture shapes and timeless menswear references invigorated by color and sheen, creating a world of sophisticated design and smart style for the modern Duke and Duchess.  The blacks and rich purples are splendid paired with the plaid canopy.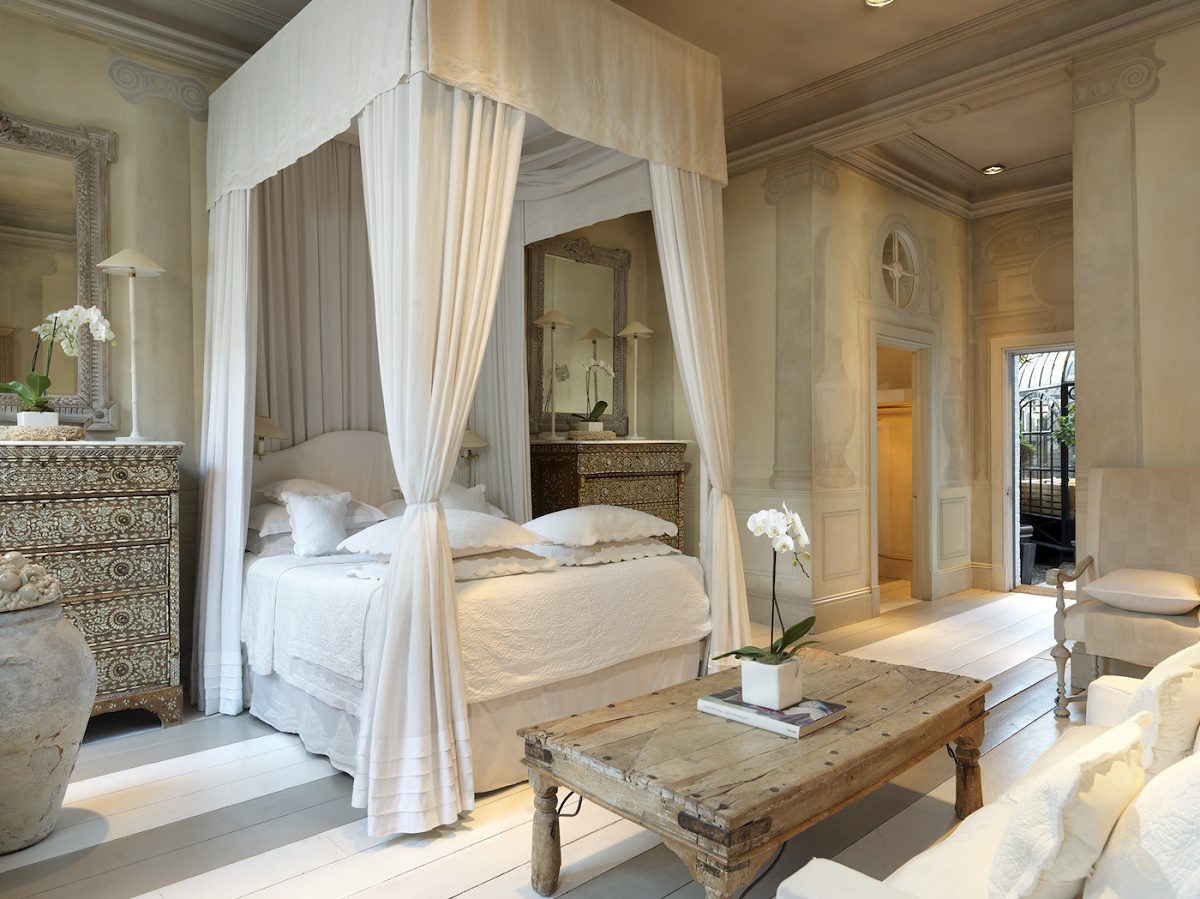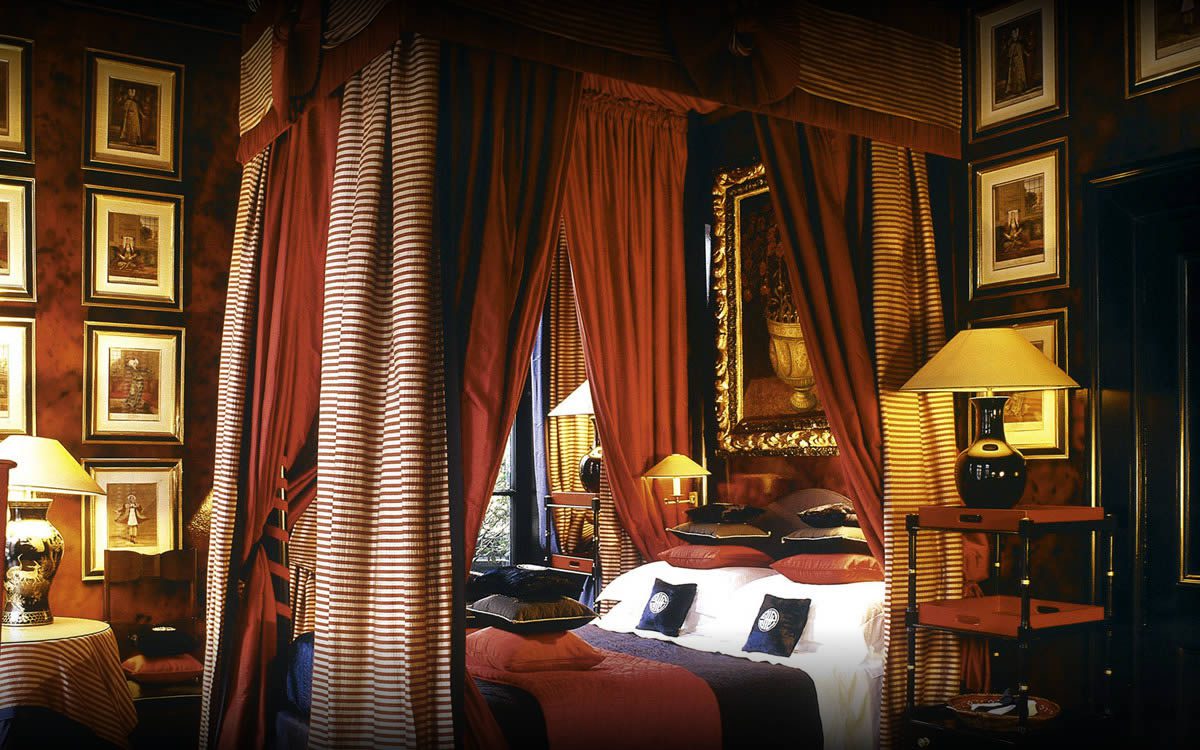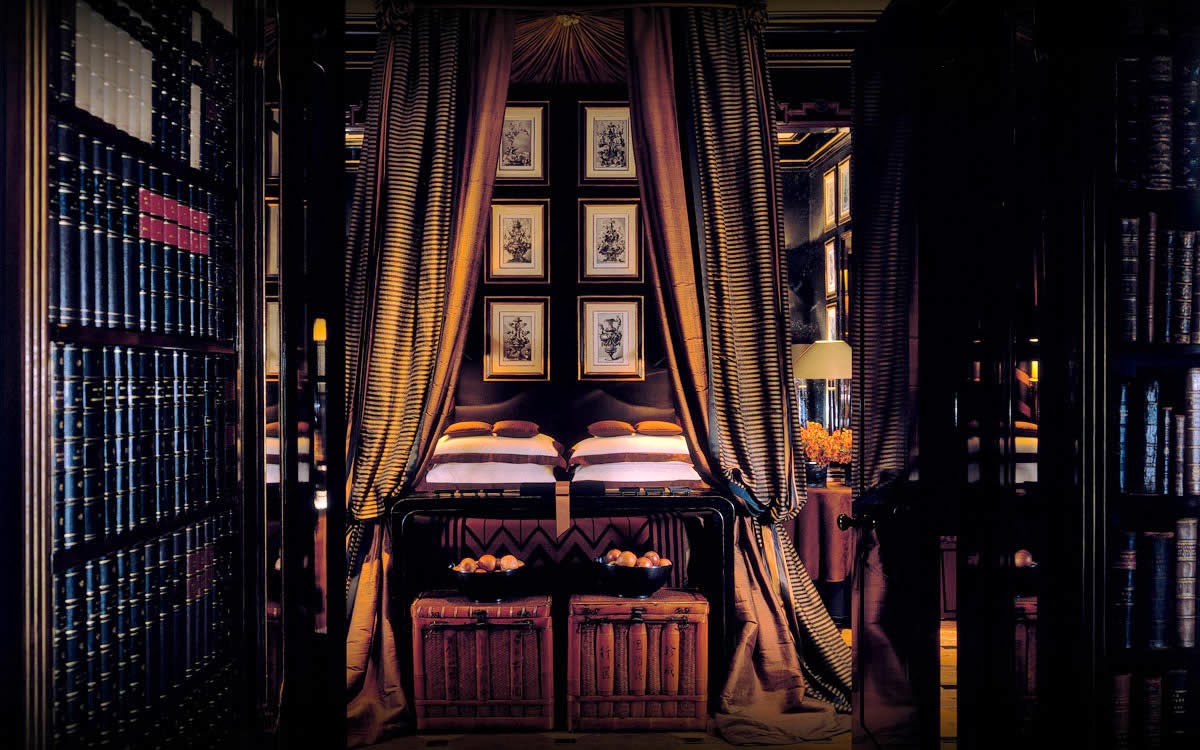 Decadent Bohemian Luxury!
Here we have three more enticing dramatic bedrooms created by designer Anouska Hempel for Blakes Hotel in London.   I couldn't resist, they are so good and the post's title does proclaim drama.  Blakes was created in 1978 as one of the world's first boutique hotels.  Hempel has since designed a number of other iconic hotels around the world including the beautifully simple Hemple Hotel and the exotic Warapuru in Brazil.  Blakes in London has a very signature "worldly" style though which I feel best embodies the designer's personal aesthetic.  The first photo shows the Corfu Suite, which has been designed with an abundance of white fabrics and gossamer nets paired with exquisite mother of pearl furniture and hand painted white floors.  Practicality is not the point here! The second photo shows one of the striped Director's Double Suites which takes its inspiration from Colonial Asia and references an era when travel was a mysterious and elegant privilege.  The third photo shows the dark and sumptuous Library Suite which features bookcases lined with antique leather volumes, hand-stenciled wooden floors, and luxuriously abundant fabrics that cocoon the canopy bed.  These rooms offer a certain kind of luxury for a certain kind of guest.  Decadent Bohemian Luxury!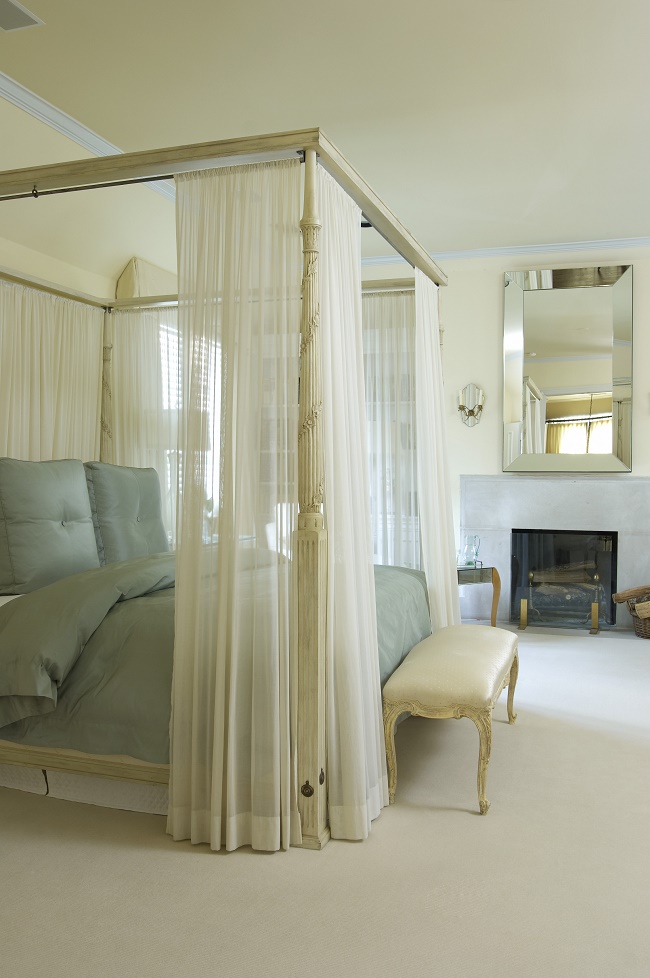 I'll close this collection on a calmer note.  This bedroom is from a Highland Park home completed by the Dallas based interior designer Jan Showers.  The room has been completed in the designer's signature understated glamorous style and includes Italian voile bed hangings, a Louis XV- style bench, and French blue silk duvet and pillows.  It's not quite a true canopy bed since it technically doesn't have a canopy at all, but it is in the same style adapted for our modern times.  The effect is light and airy..  Sweet dreams!
That concludes today's design inspiration my friends!  I hope you all have enjoyed and you have been inspired by these 18 dramatic bedrooms featuring fabulous canopy beds.  What do you all think?  Let me hear from you all in the comments!   Thanks so much for reading along..  Have a great day and a wonderful weekend!
If you have enjoyed reading today's post, please share it along the social media below!
Please like us and share: