Beautiful Interiors: Best of 2016
It has been an incredible year here at DK-décor. We have had the privilege of presenting to you the most beautiful interiors in some of the finest homes around the world created by the industry's leading architects, interior designers, builders, and craftspeople.
To close out 2016, we are looking back at some of the most inspiring rooms from the many luxurious homes we've shown. We selected these rooms and their beautiful interiors based on a combination of how popular they were with you all and editors favorites. The list includes living rooms, dining rooms, bedrooms, libraries, and a few special rooms that we are just grouping under luxury rooms.
Take a look and see if we included your favorites from 2016. I will include a link to the original article with each room. If you missed it or you want to see it again, you can check out the entire residence.
Beautiful Interiors: Living Rooms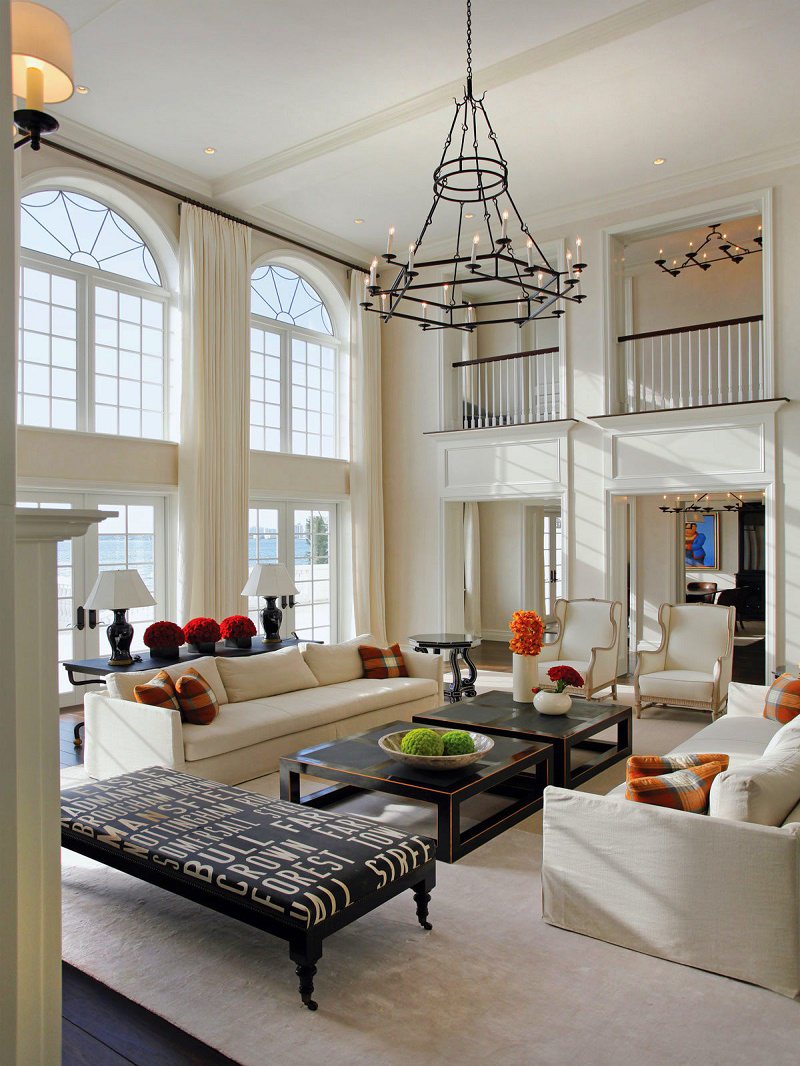 Biscayne Bay Waterfront Homes – This classic contemporary double-height living room is from a waterfront mansion located on Miami's Biscayne Bay. The residence underwent a dramatic redesign and expansion completing it with a clean, contemporary design for modern living. The spacious room is white, bright, and filled with natural light. Double height windows and French doors across the back provide endless views of the water. The home was completed by developer Todd Michael Glaser, architect Ralph Choeff, and interior designer Charlotte Dunagan. Photo: Mark Surloff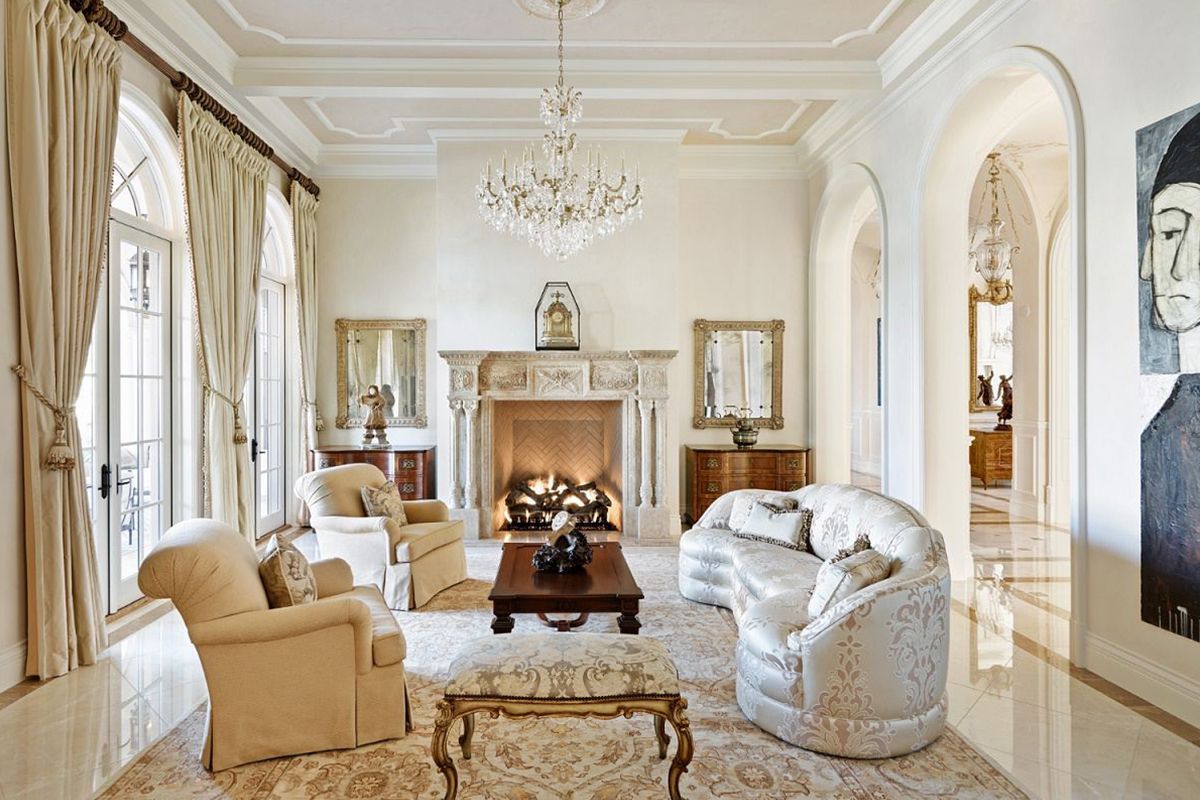 Classic Mediterranean Design in Arizona – This elegant living room is from a 23,000 square foot Mediterranean-style estate located in Scottsdale, Arizona. The home was designed by the luxury residential architectural firm Candelaria Design Associates with interiors by Kimberly Colletti. The room features polished marble floors, decorative ceilings sparkling with a grand crystal chandelier, and an ornately carved limestone fireplace. Photo: Werner Segarra
Iconic Living Rooms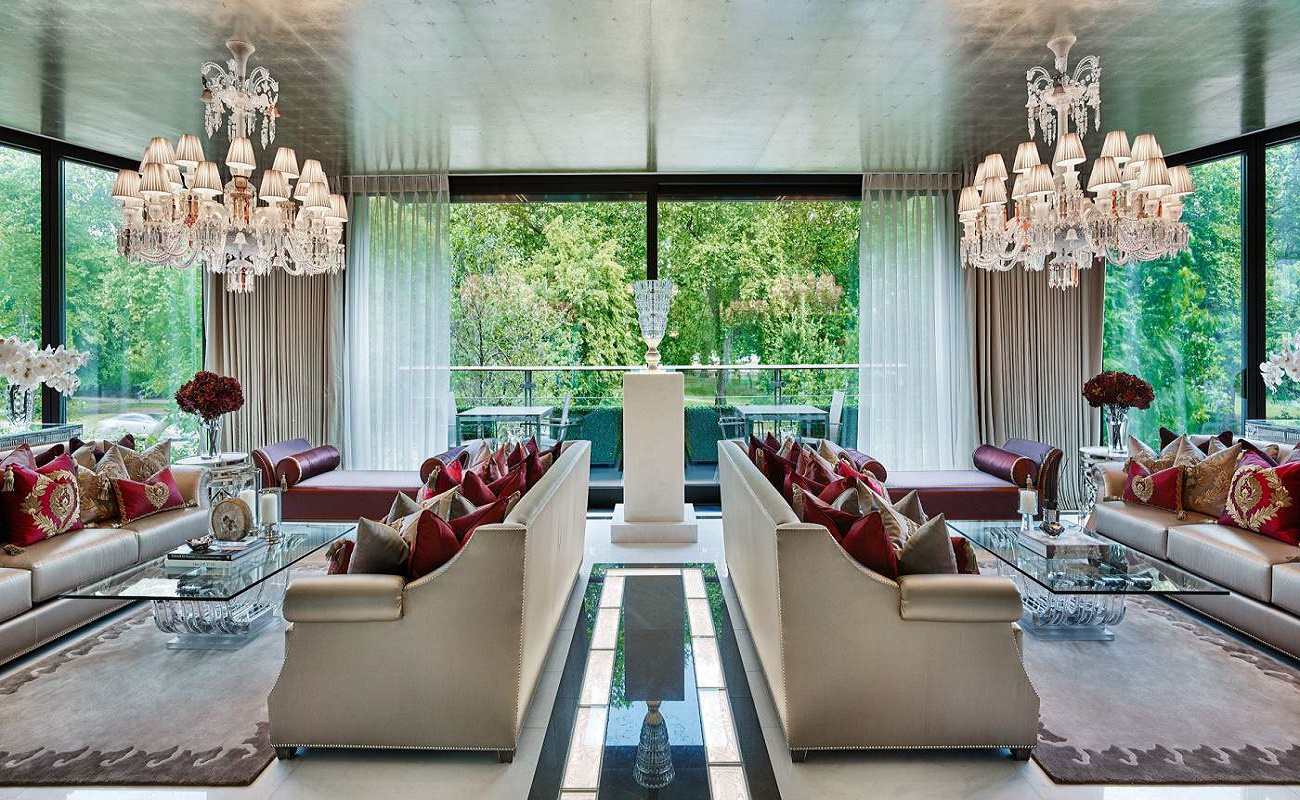 Glamorous Luxury Design – This luxurious double-volume living room is within a magnificent residence in London's prestigious One Hyde Park. The post on this residence and it's beautiful interiors was one of our most popular this year. The flawless contemporary design is lavished with opulent materials and exquisite bespoke designs. The room groups into two seating areas, each crowned by a grand Baccarat chandelier. Metallic leaf ceilings above with Italian marble floors highlighted with under lit sculpted Lalique crystal tiles. The residence was completed by luxury interior design studio Elicyon.
St Saviours Mansion – This vast living area is within a former church converted into a glorious private mansion in the heart of London's Knightsbridge. The room boasts 42' vaulted ceilings with original beams and stone pillars. Marble floors and limestone and polished plaster walls define the lofty open-plan space. This award-winning redesign is the product of super prime developer Rigby & Rigby, with beautiful interiors by luxury designer Taylor Howes.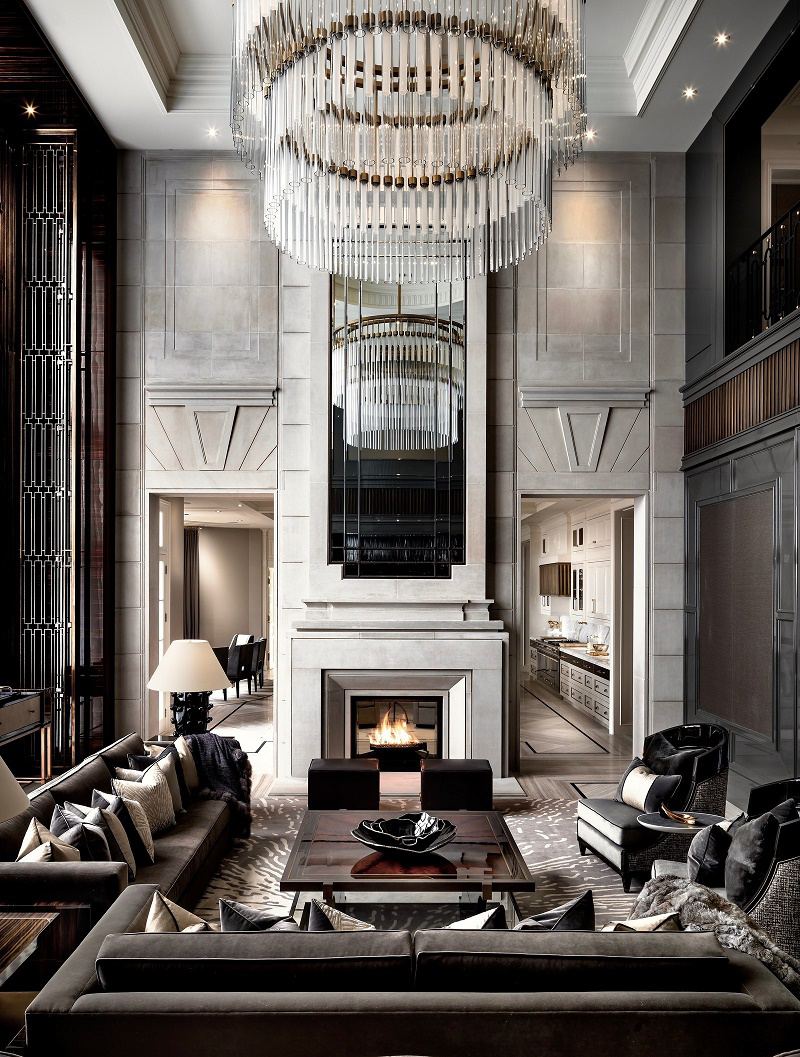 Iconic Luxury Design – This phenomenal drawing room comes from a super luxurious 25,000 square foot mansion located in a Lake Ontario town outside of Toronto. Ferris Rafauli, a leading Canadian architectural designer, and master builder created every breath-taking detail from conception to furnishings. This grand room features a 25-foot wall of windows with views over the lake. Luxurious fabrics, leathers, and hide soften the room's marble walls and floors accented with large bronze screens. The entire residence is visually stunning!
Dining Rooms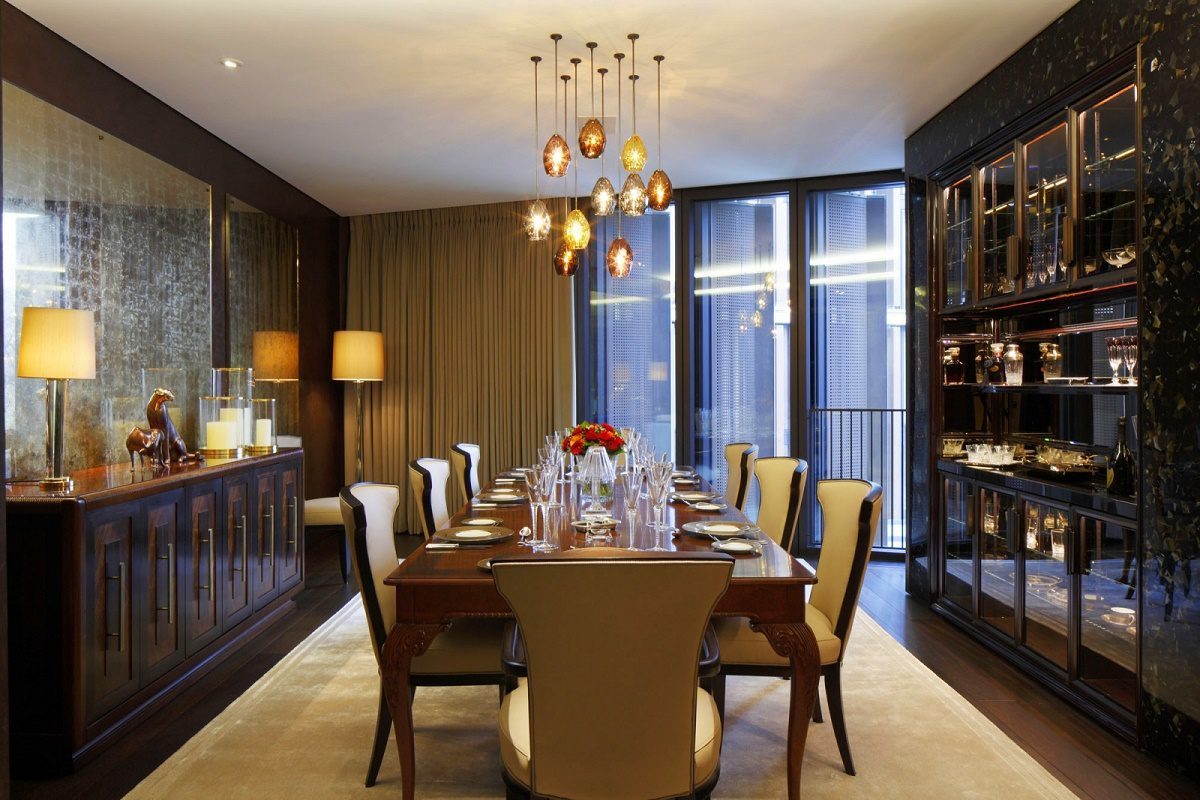 Bespoke Design: Contemporary Luxury – This dining room is within another exceptional residence in London's One Hyde Park. Completed by luxury interior design firm Casa Forma, the home is a perfect example of uncompromising luxurious bespoke design. The dining room's beautiful interiors include a feature wall created with silver and gold leaf panels. On the opposite wall, a mosaic of back-lit tortoise shell and tiger eye frame bronze shelves. The list of specialty finishes developed specifically for this home is unbelievable. The beautiful interiors remain comfortable and inviting.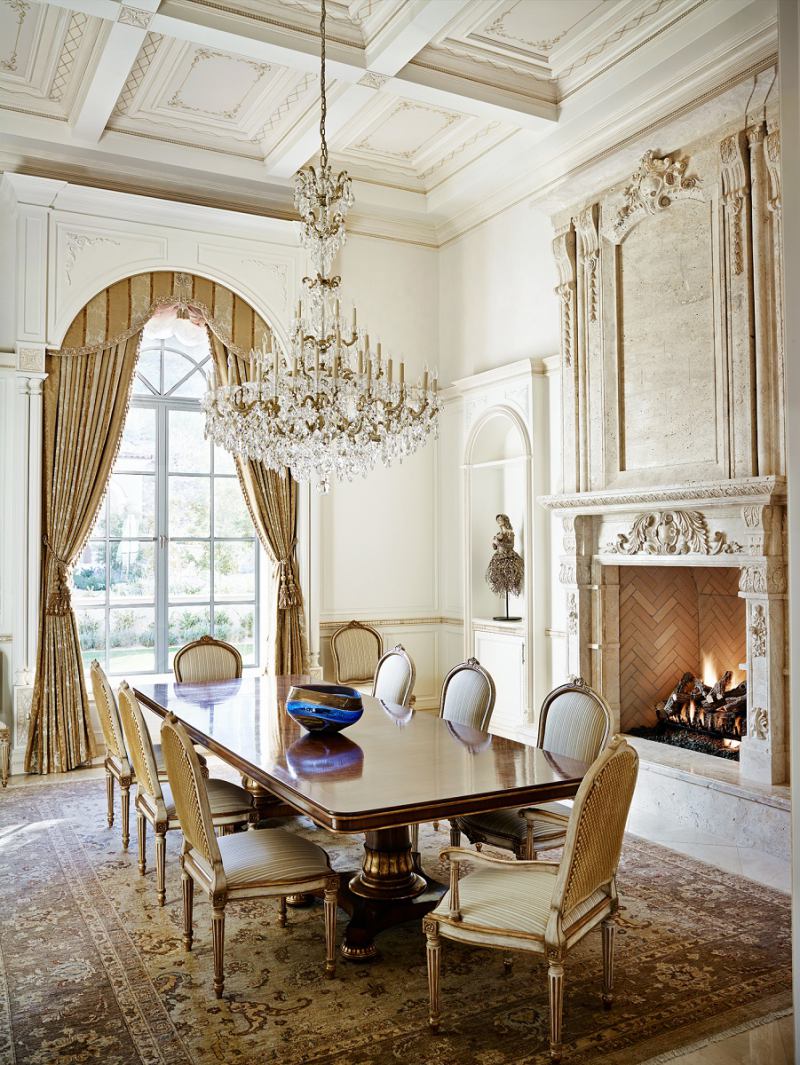 This dining room also comes from the Classic Mediterranean Design in Arizona noted earlier. The home is impressive throughout. The dining room features hand-painted detailing on the coffered ceilings. White gold highlights the wainscoting. The full height limestone fireplace gives the room a feeling of aged grandeur. Beautiful traditional design draperies with stacked passementerie and double-tassel tie-backs dress the large windows and doors, which I love!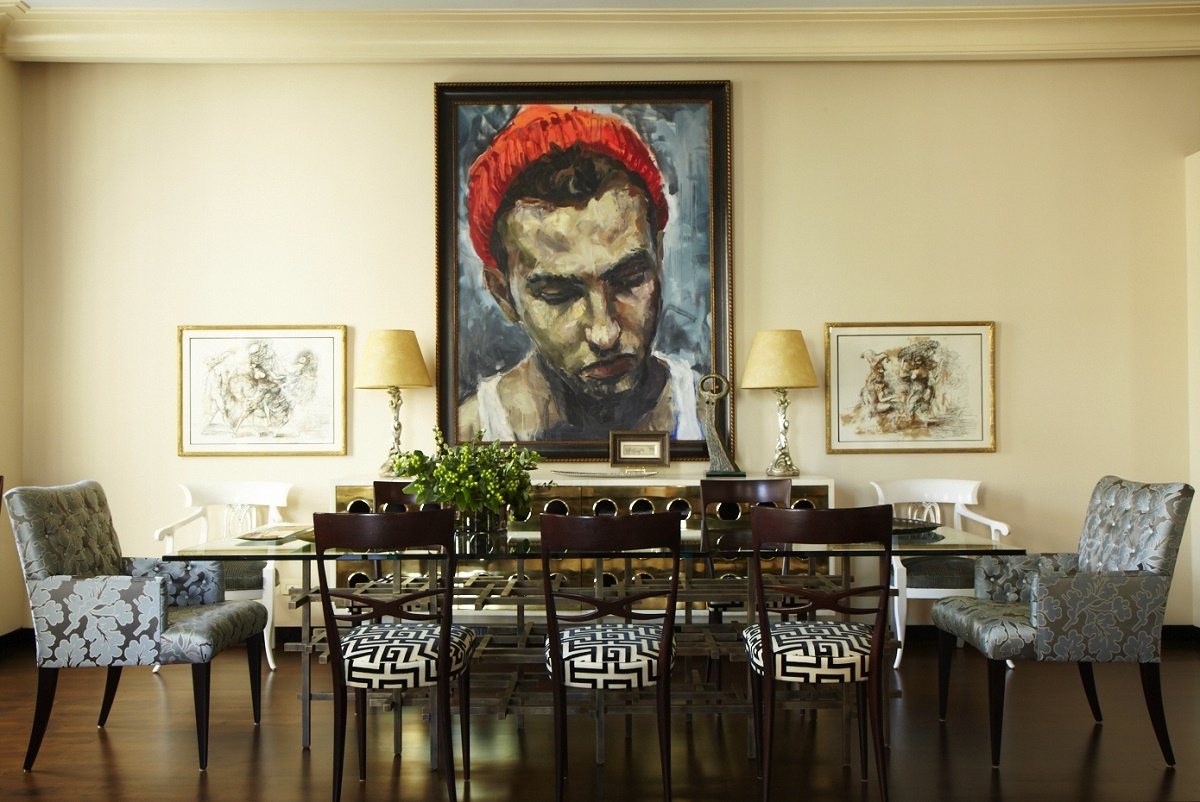 Theatrical Manhattan Loft Design – This residence was created from a full-floor loft space within an 1898 Beaux-Arts building in downtown Manhattan. The beautiful interiors are the work of architect and interior designer Garrow Kedigian. The dining room includes a custom cubist inspired dining table bespoke designed by Kedigian. The Profiles Marseilles Sideboard is virtually a work of art with its polished unlacquered brass and lacquered goat skin bleached parchment composition. The wall art perfectly exemplifies the contrasting of classical and contemporary design throughout.
Bedrooms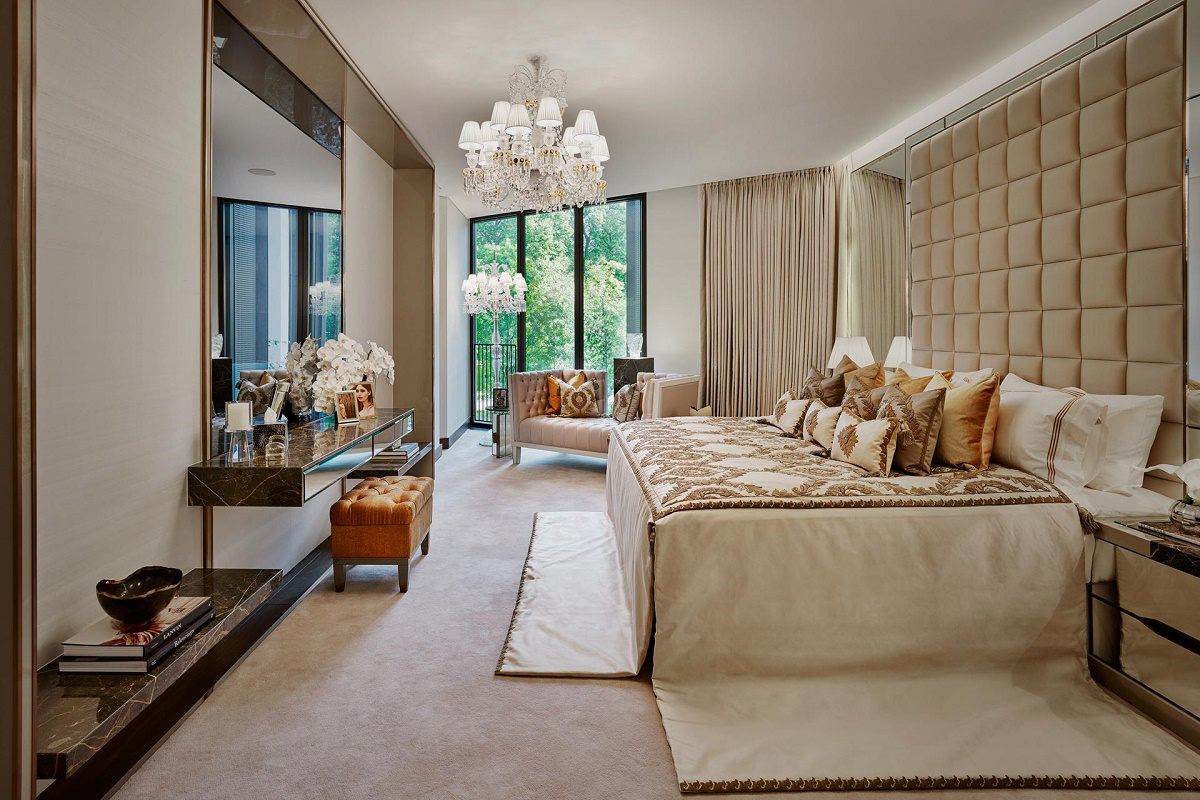 This fabulous bedroom is from Glamorous Luxury Design noted earlier. The bedroom embraces intelligent contemporary design and lavishes on it exquisite bespoke design detailing. Quilted satin covers the upholstered headboard framed with mirror. The bedding and pillows include hand-finished intricate couture-level raised embroidery, beading, and tassels. Baccarat chandeliers and lamps complete the room like jewelry.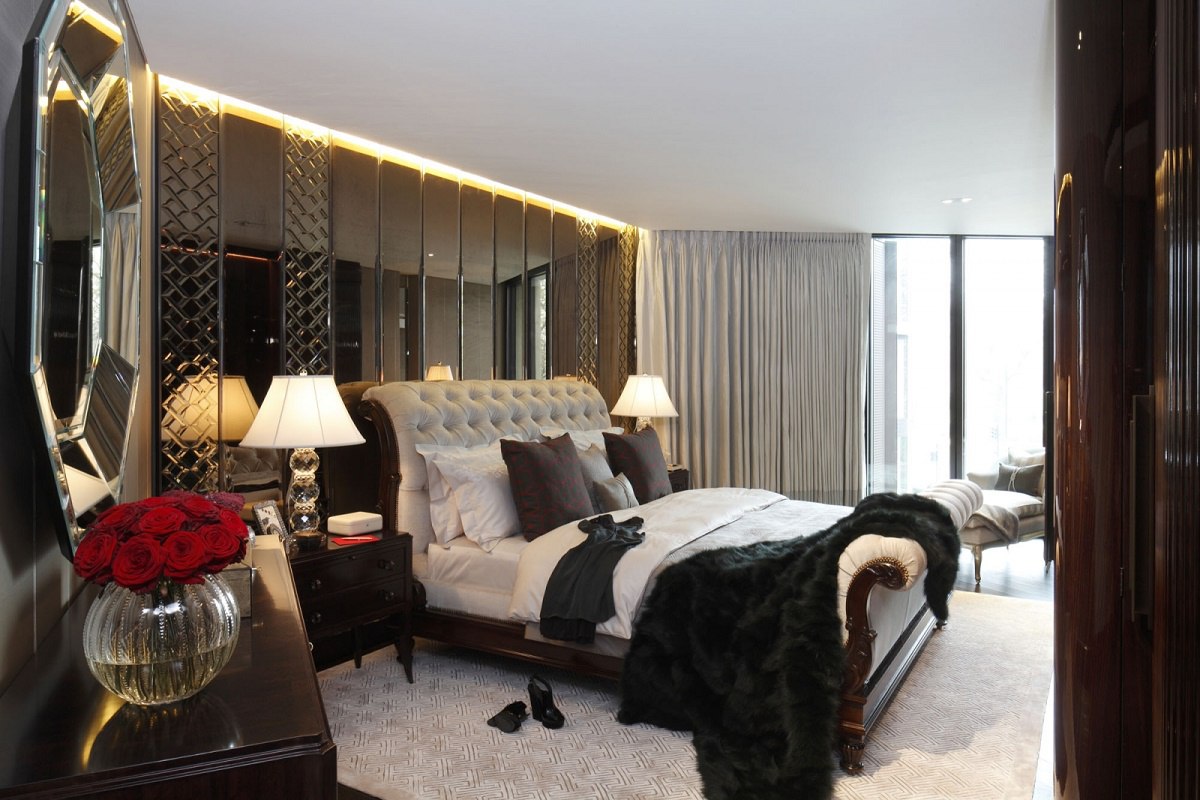 This bedroom comes from Bespoke Design: Contemporary Luxury noted earlier. Both this one and the bedroom above are from One Hyde Park. Hand painted silk wall coverings and beveled glass finished mirror panels line the walls. Custom silk rugs cover the floors.  High-gloss Art Deco-style, bespoke designed cabinetry units line the opposite walls, which you cannot see much in this image, unfortunately.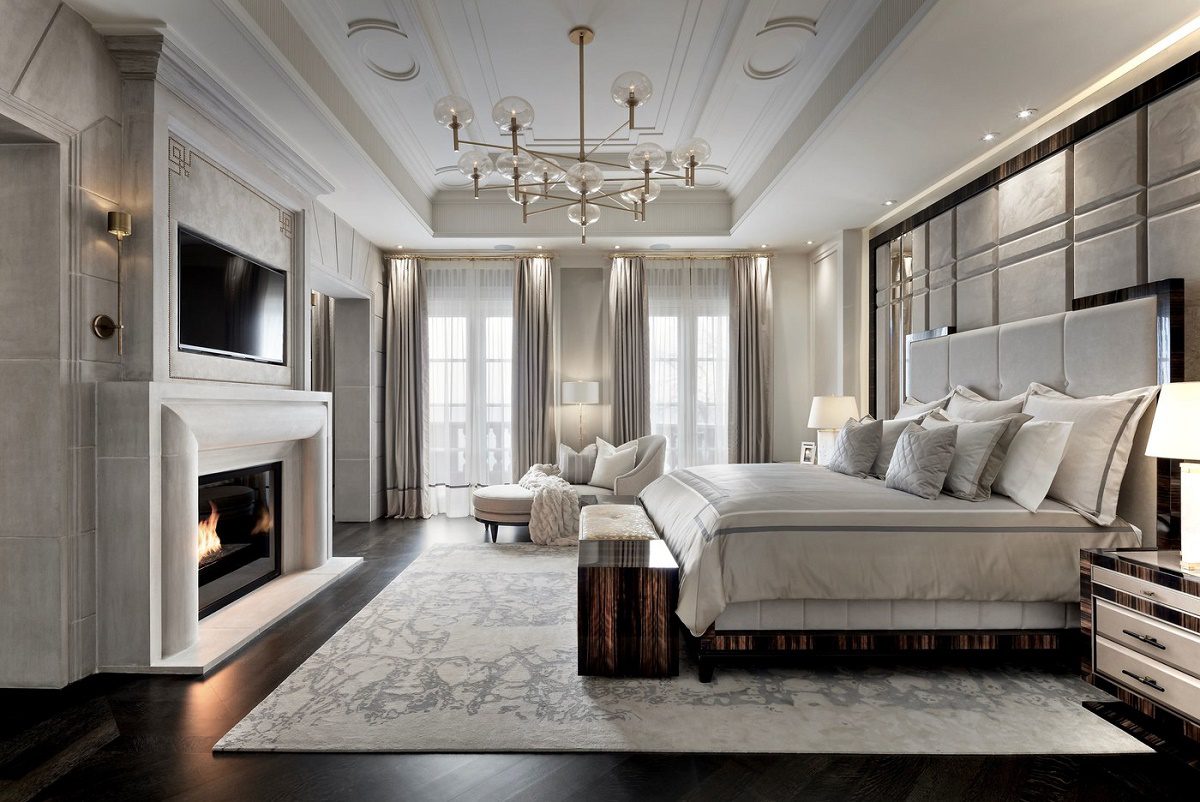 This sophisticated bedroom is from Iconic Luxury Design noted above. The designer blends contemporary details and classic elements with rich finishes. Multiple layers of silk and suede framed with mirrors and Macassar ebony wood cover the wall behind the upholstered bed. Grey Indiana limestone forms the fireplace surround and then continues to cover the entire wall.  Nothing is here by chance.  Every detail inhabits the place carefully intended. It is a picture of strength and calm.
Libraries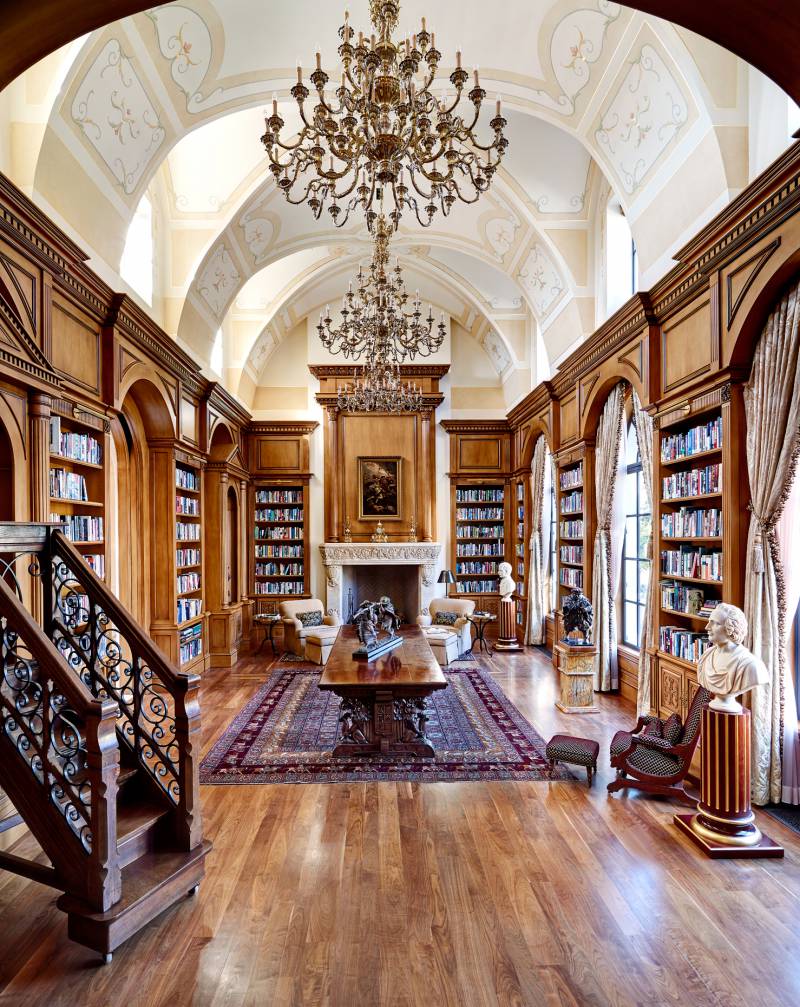 Here we have another room from Classic Mediterranean Design in Arizona noted above. This very handsome library features walnut paneled walls and shelves. The solid walnut floors include an inlaid brass perimeter. Hand-painted design details cover the super vaulted ceilings, from which a series of grand chandeliers suspend. In the center of the library, a 17th-century Italian rectory table proudly stands on an antique rug. Bronze figures and bust complete the formal rarefied air.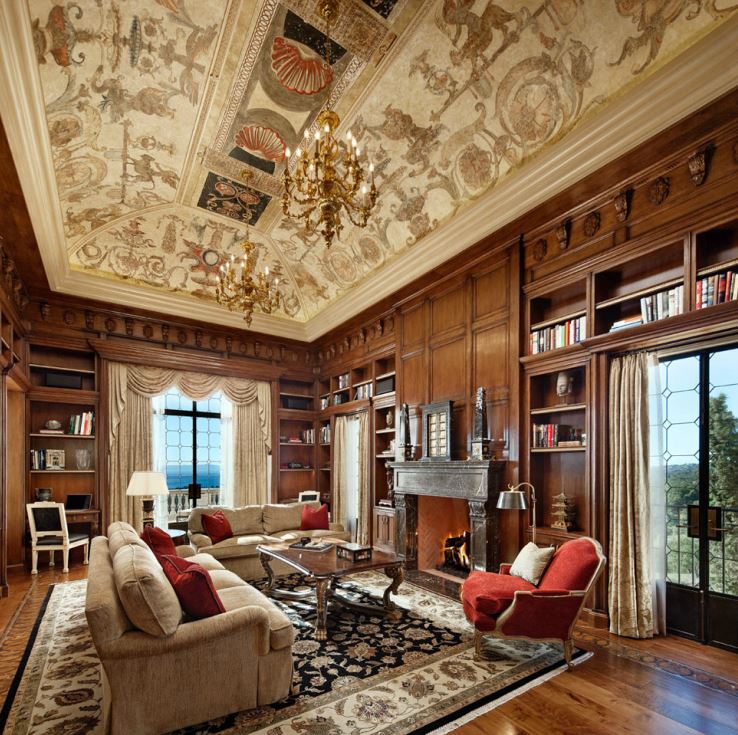 20 Brilliant Home Libraries – This excellent room was included in our post on libraries this year. It first showed here the year before in Italian Palazzo in Montecito by SFA Design. The home's design takes inspiration from classic Venetian Palazzos. It sits high atop a hill with views over Santa Barbara and beyond to the ocean. This polished wood-paneled library features a pitched ceiling covered in hand-painted grotesque frescoes. Great lengths ensured the authentic nature of the designs throughout the home. I just love all the intricate details lavished on everything.
Luxury Rooms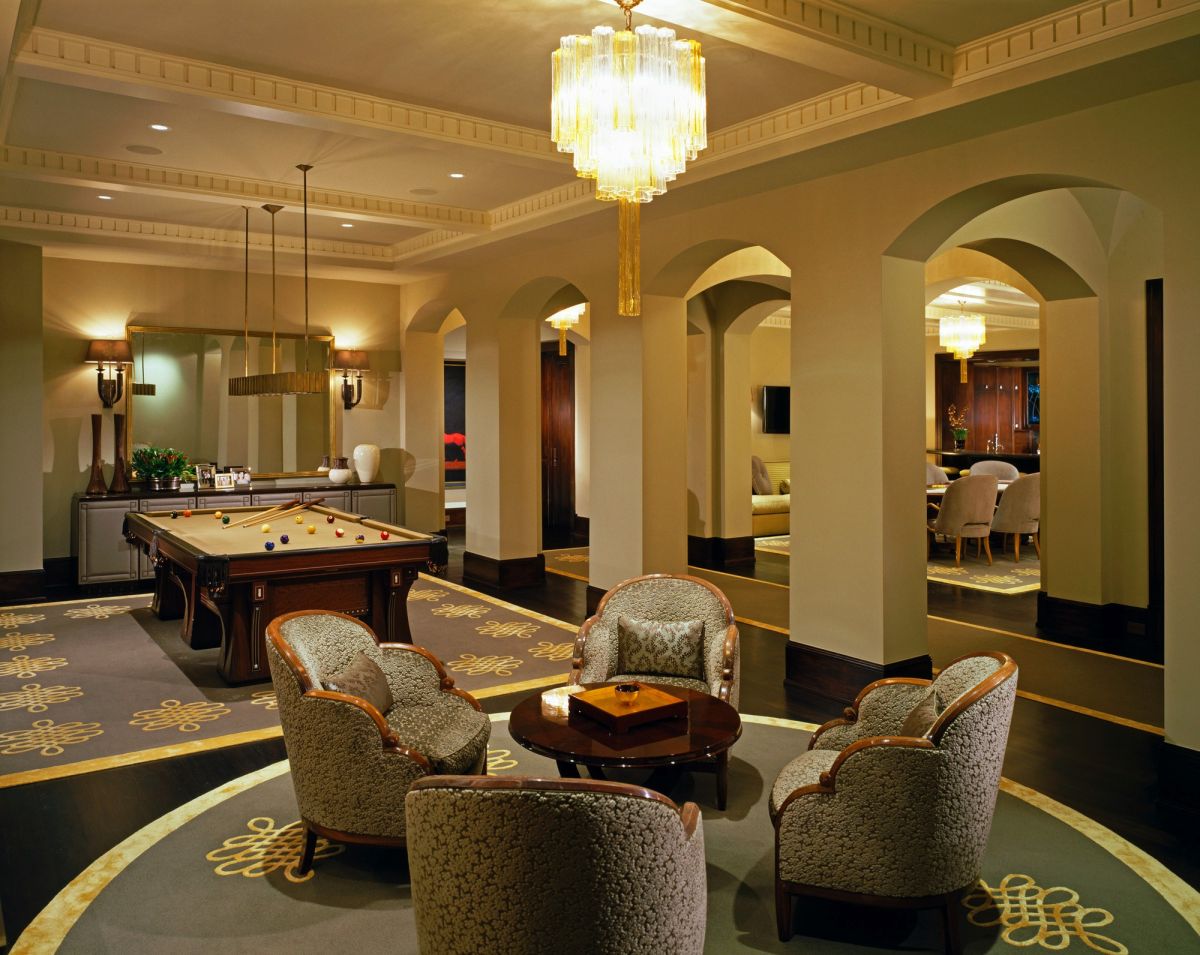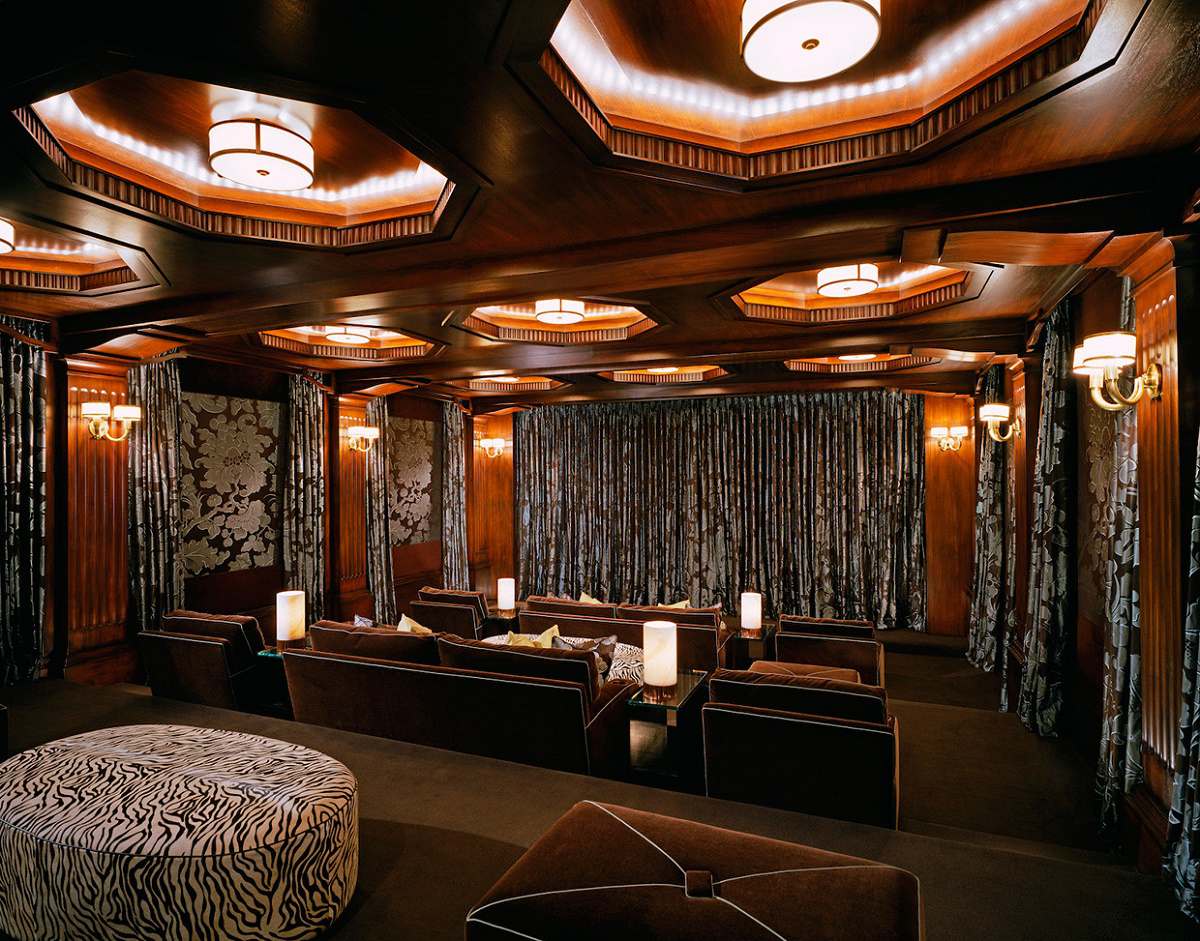 Beverly Park Chateau– Billiards Room & Home Theater
These informal entertaining areas come from a grand 40,000 square-foot chateau inspired residence located in the exclusive Beverly Park community of Los Angeles. The home includes a basement level cluster of rooms designed for leisure and fun. The subterranean level holds a series of billiards/casino style spaces complete with a pool table and card tables. Yes, there is a full bar to enjoy.
The richly finished and furnished home theater is also down here. Naturally, it is complete with the latest in visual and sound equipment. The ceiling features custom millwork designs executed in mahogany. Silk upholsters the walls and forms the draperies while mohair covers the furnishings.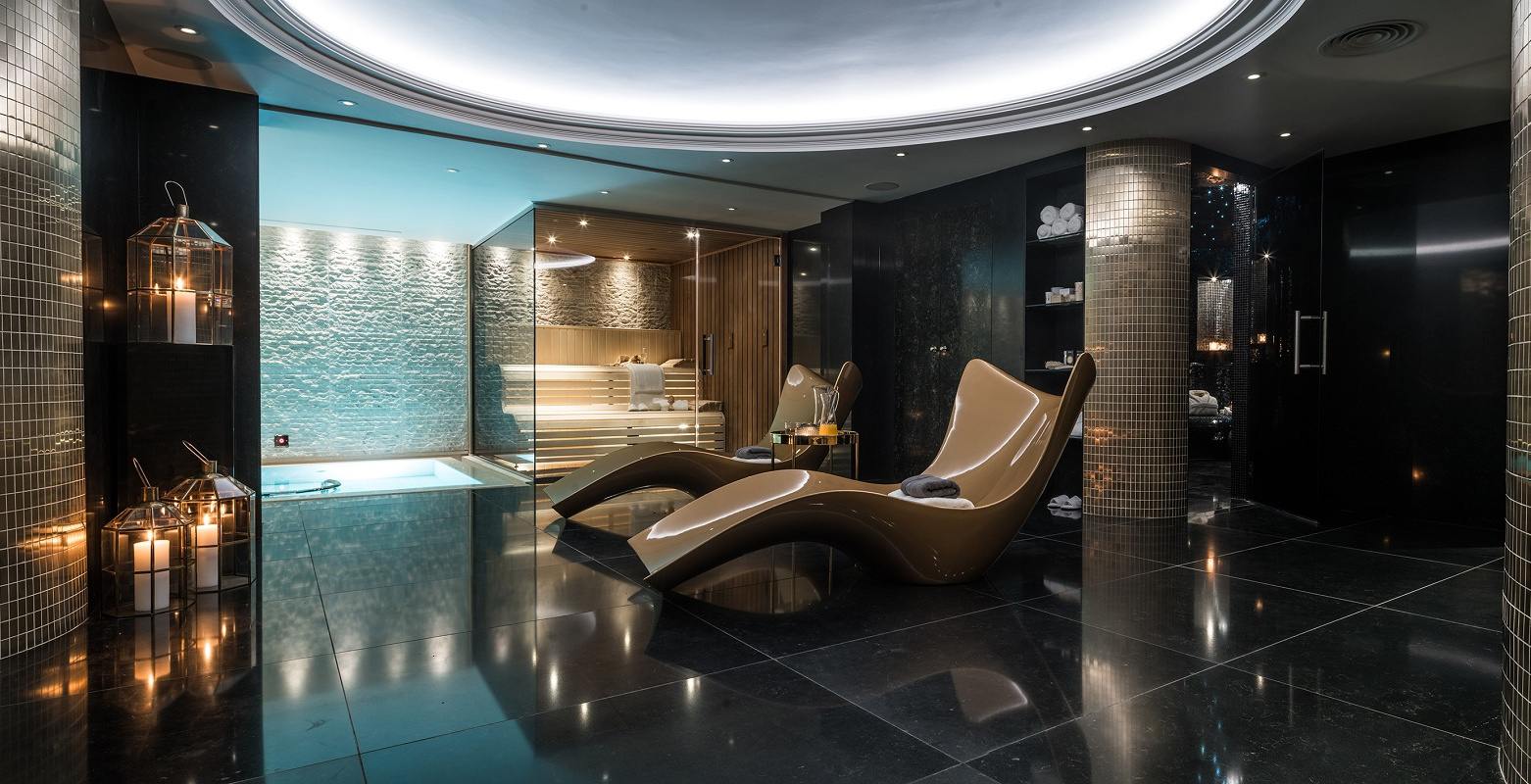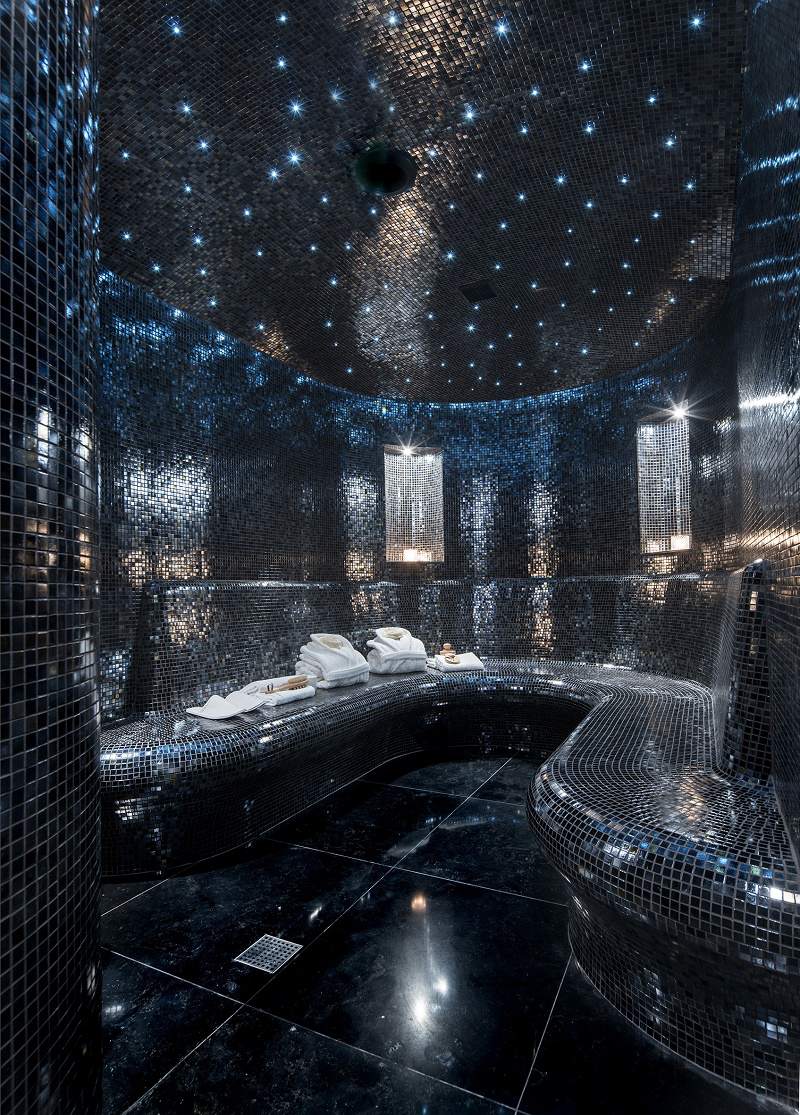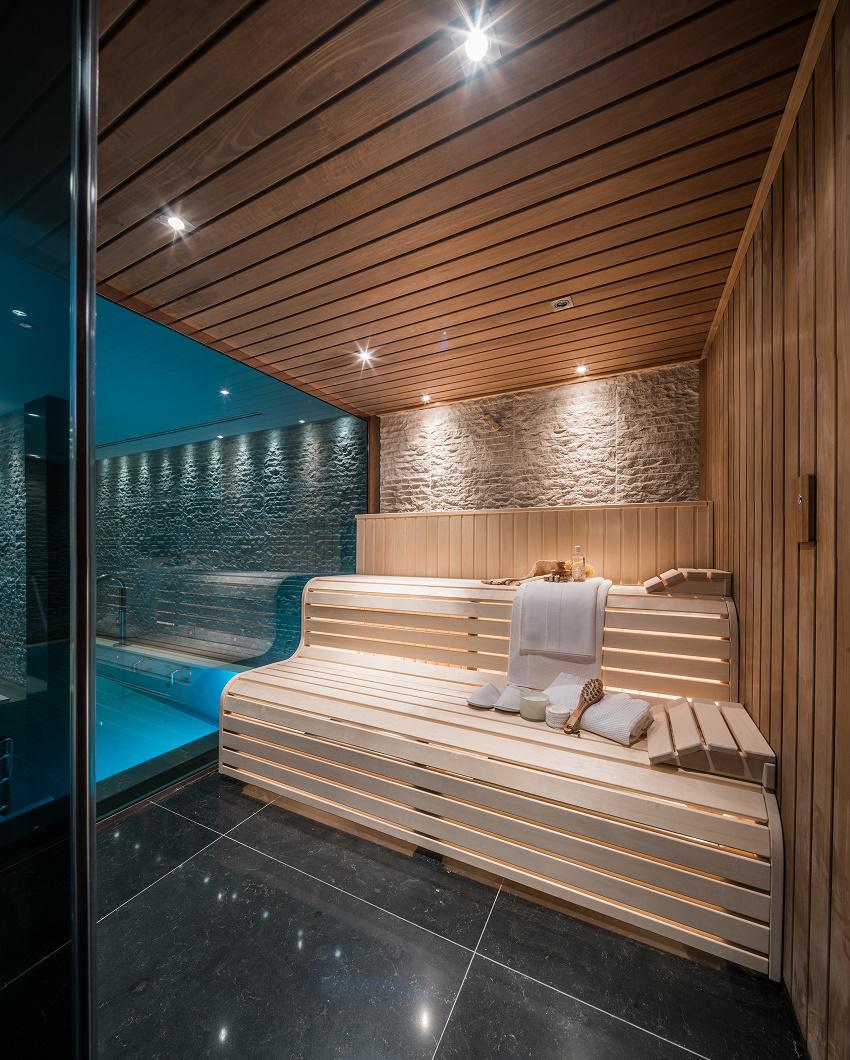 Modern Classic Design – Home Wellness Spa
This wellness spa comes from a newly built neo-Georgian mansion located in a prestigious estate in Surrey, England. The residence is finished to the highest specifications with a super emphasis on luxury and attention to detail. This spa is one of the most luxurious ever installed in a private home in England.  It includes a hydrotherapy pool, a wet steam room lit with thousands of LED lights, an aromatherapy dry sauna, and a central relaxation lounge. There is also a feature shower with three bespoke settings; tropical rain, cold mist, and Caribbean shower. Everyone deserves a choice after all. These in-home facilities aim to offer something utterly unique in this modern classic home. I love it for its unapologetic appeal to one's cravings for excess, and um..wellness.
2016's Beautiful Interiors Conclusion
That concludes our post for today and for the year 2016.  *note- opening photo- Steve Leung Designers
Thank you so much for reading along with me my friend!  I appreciate you so much.  Thanks for a wonderful year. Let's do it again in 2017!
Let me hear from you all in the comments.  Did your favorite room make the list?  It was a little tough to narrow down, for I tend to think all of our projects are good.
If you have enjoyed reading Beautiful Interiors:  Best of 2016, please be sure to share it on social media.
Have a great day and a happy New Year!!
Please like us and share: