20 Outstanding Designer Dining Rooms
Today we have a photo collection of 20 formal dining rooms completed by top Interior Designers for your design inspiration.  The dining room is an ideal place for you to express your personal style.  It should be a reflection of who you are, how you live, and what you love.  Use these images to help you create the ultimate dining experience.  We are showing a range of styles, both modern design  and traditional design, from homes around the world, which are sure to inspire you with interior design ideas for your own dining room.  Entertain with style!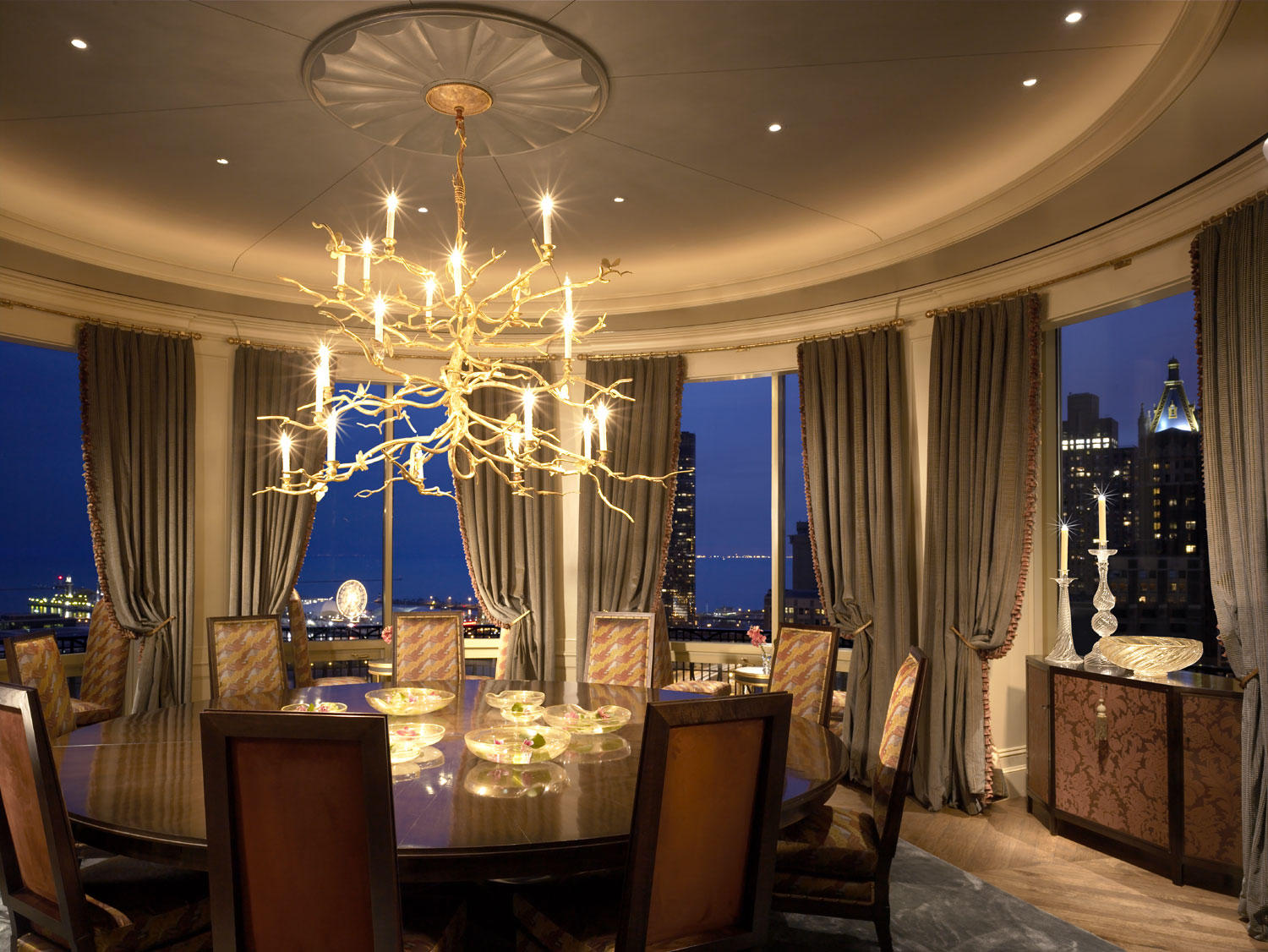 This dining room, from a penthouse apartment by Chicago based Jessica LaGrange , was inspired by the French Beaux Arts apartments of Paris.  Photo by Tony Soluri.
Here we have an Art Deco inspired dining room from Regents Park, completed by London based Louise Bradley.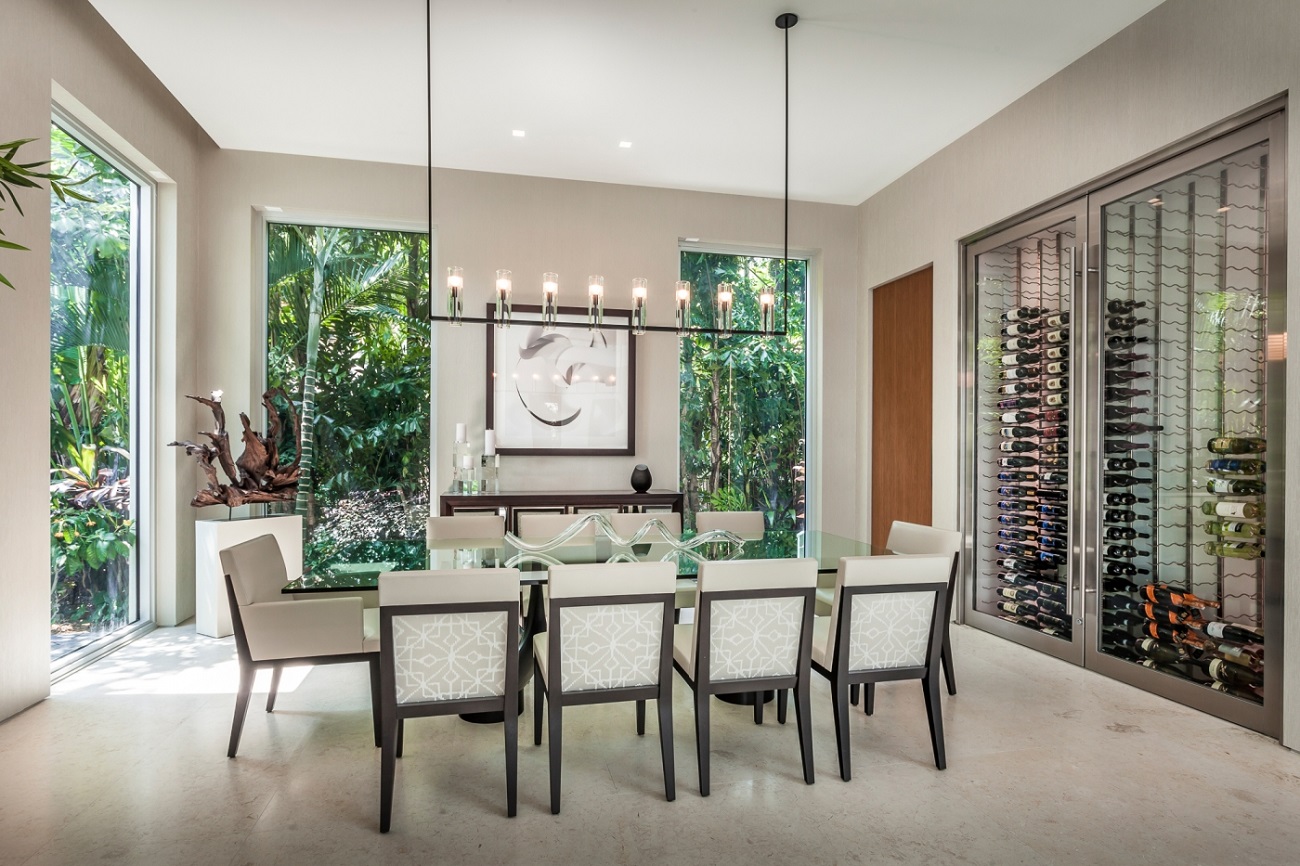 This contemporary design dining room, from a South Beach residence by Miami based Sojo Design, features a glass front wine storage area.  Love the art piece in the corner too!  See my other story on this designer here.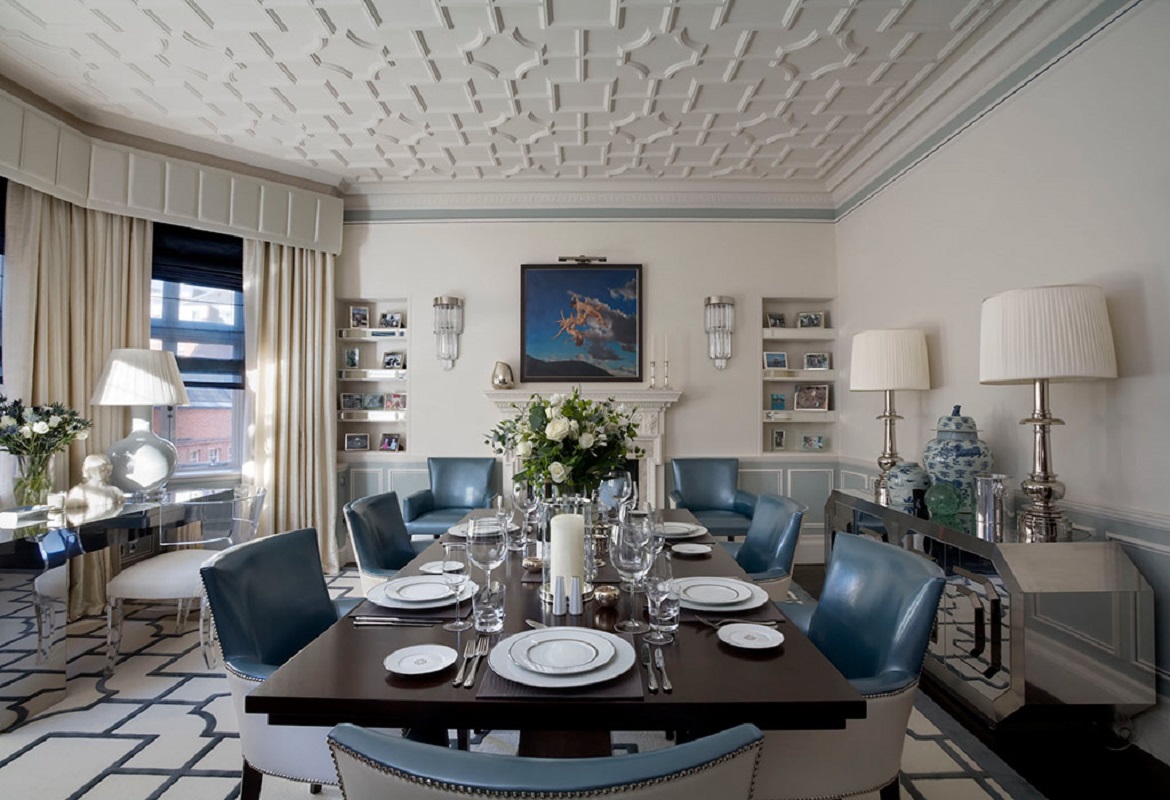 In this dining room by London based Louis Henri, traditional design styling highlights the period features of the space…love that blue too!  As with all of his projects, most every detail is custom bespoke design.  Note how the design of the rug reflects that of the ceiling.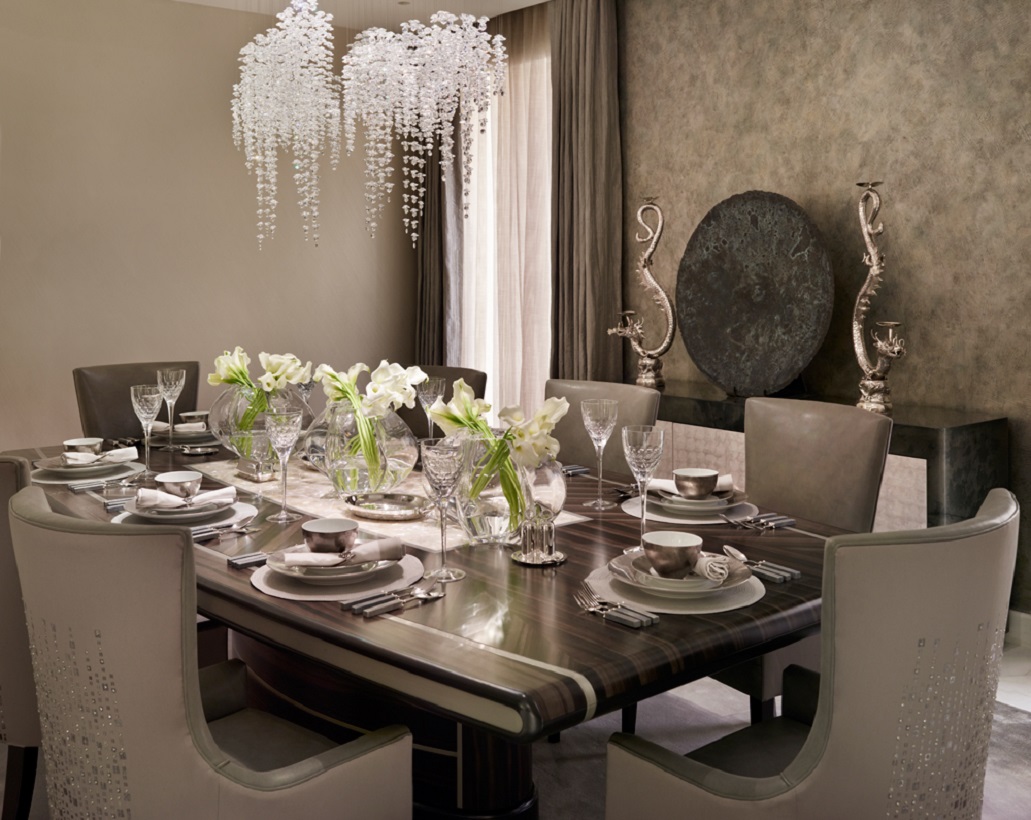 London based Katherine Pooley designed this chic dining room for a residence in Qatar using bespoke design furnishings and Swarovski crystals.  Note the crystal designs on the backs of the chairs.  Very exquisite!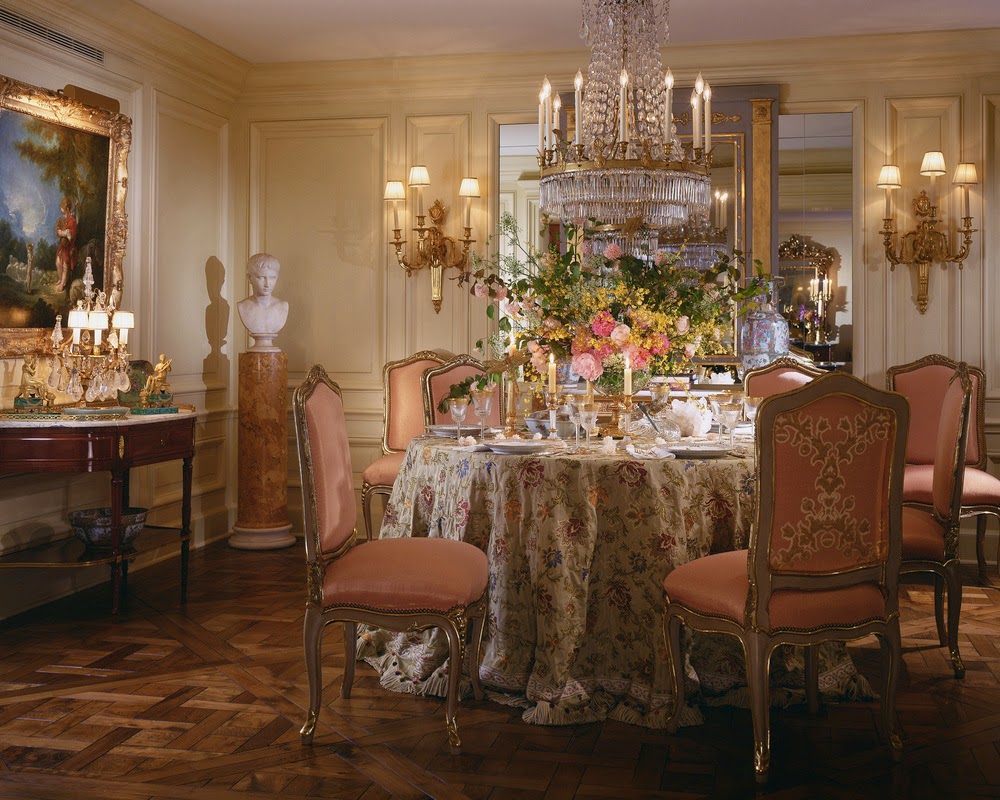 This elegant dining room by Memphis, TN and Palm Beach, FL based William R Eubanks is all about classic design opulence and includes fine period European antiques.  For this grand style, the designer is one of the best.  Very fine indeed! Photo by Kim Sargent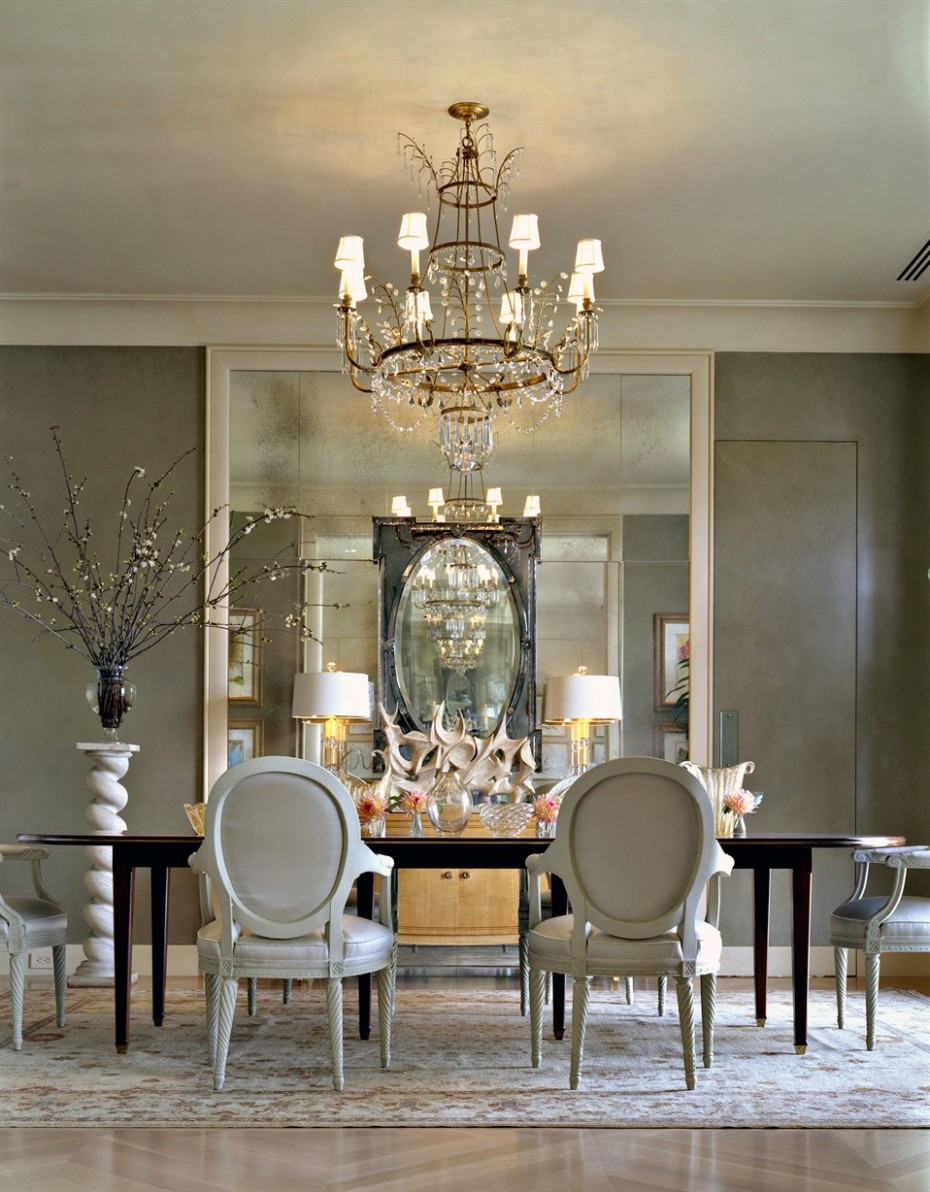 This dining room by Dallas based Jan Showers features a grand scale nineteenth-century Venetian mirror for high visual impact, which along with the chandelier, create the designers instant understated glamour.  Also included are a pair of the designers Venetian candlestick lamps, as the dining room should have both types of lighting.  Photo by Steve Karlisch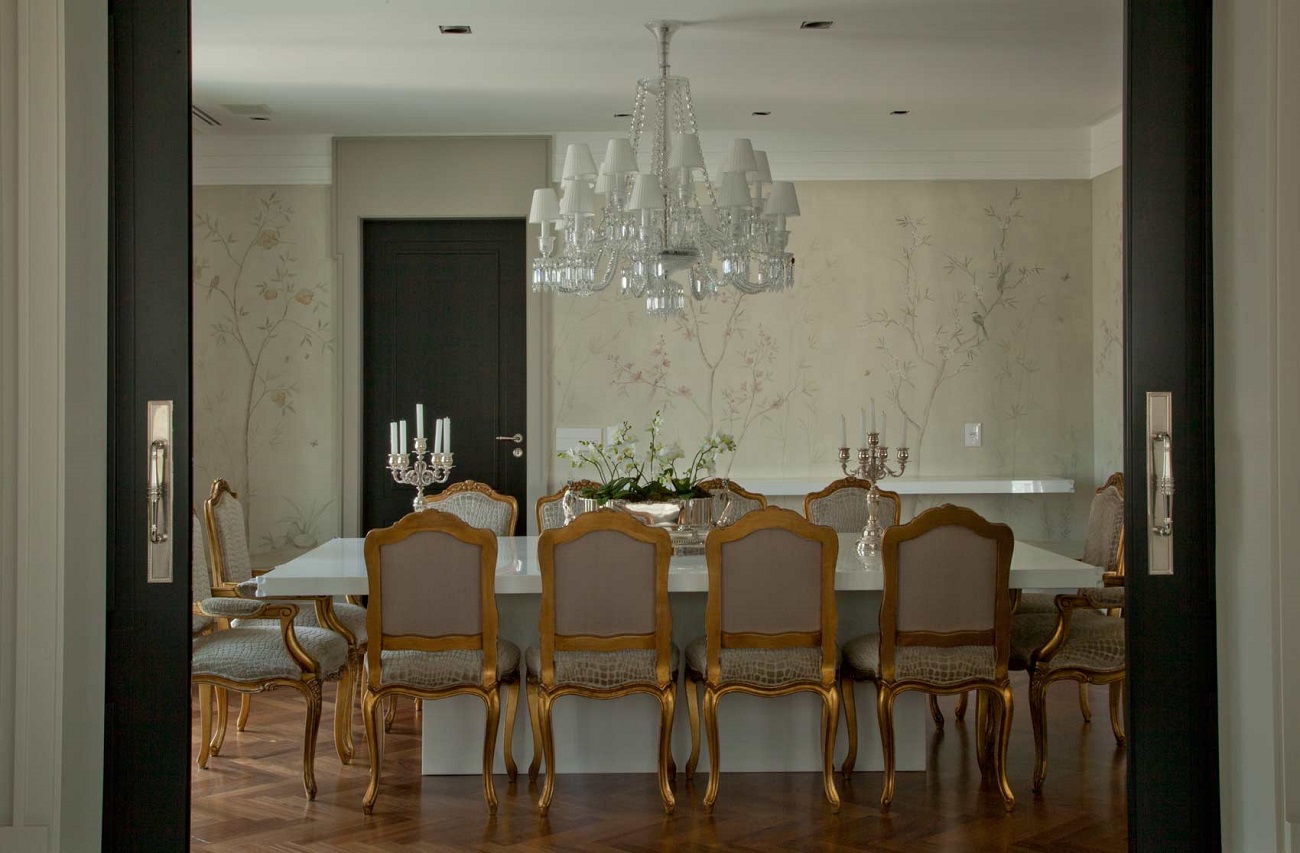 Here we have a dining room by Sao Paulo, Brazil, based Zize Zink that shows the very current trend of combining a contemporary design table with traditional design chairs to great effect.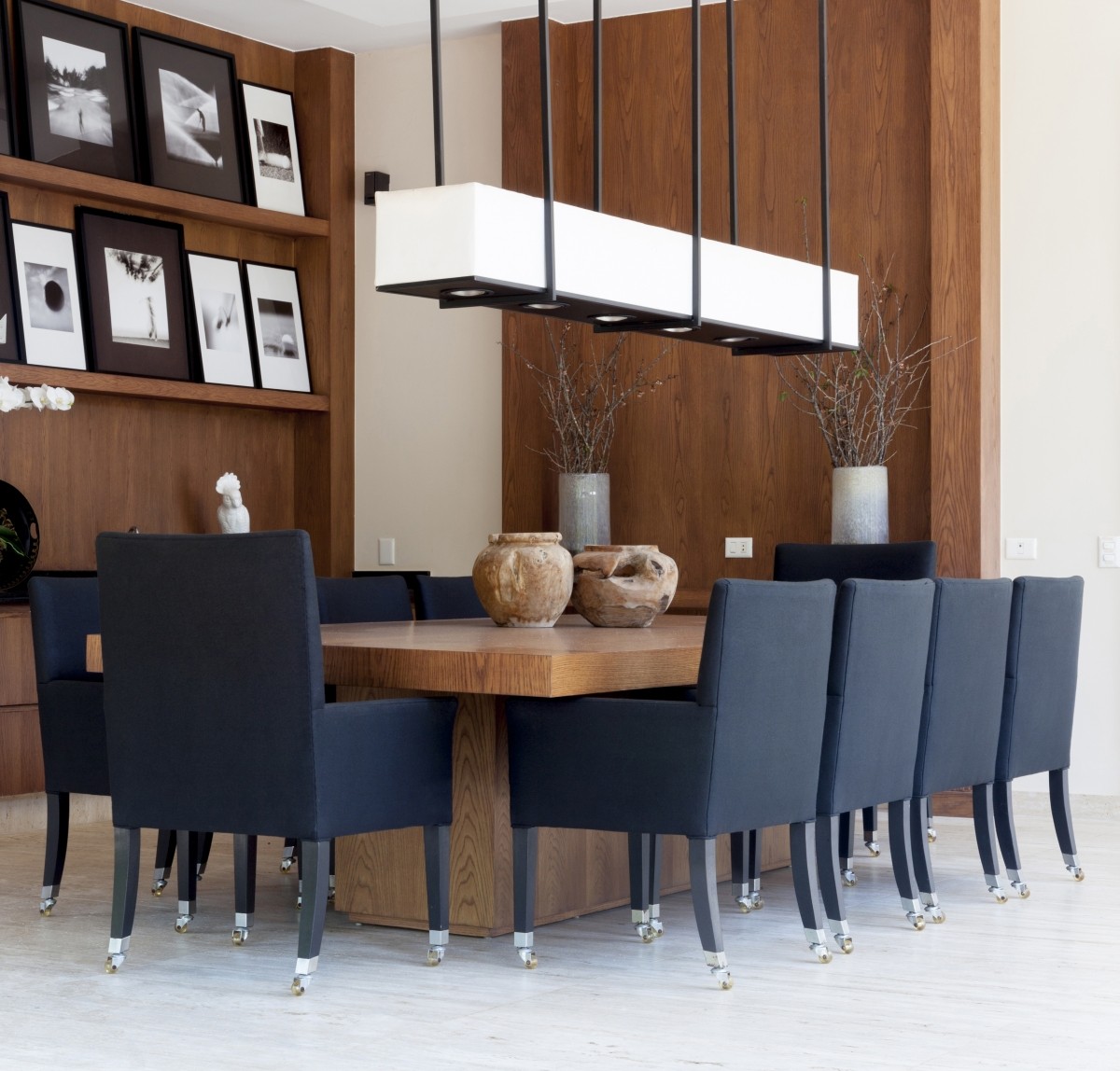 Christina Hamoui, based in Sao Paulo, Brazil, created this dining room which has a more masculine feel with natural elements and warm colors.  Very handsome!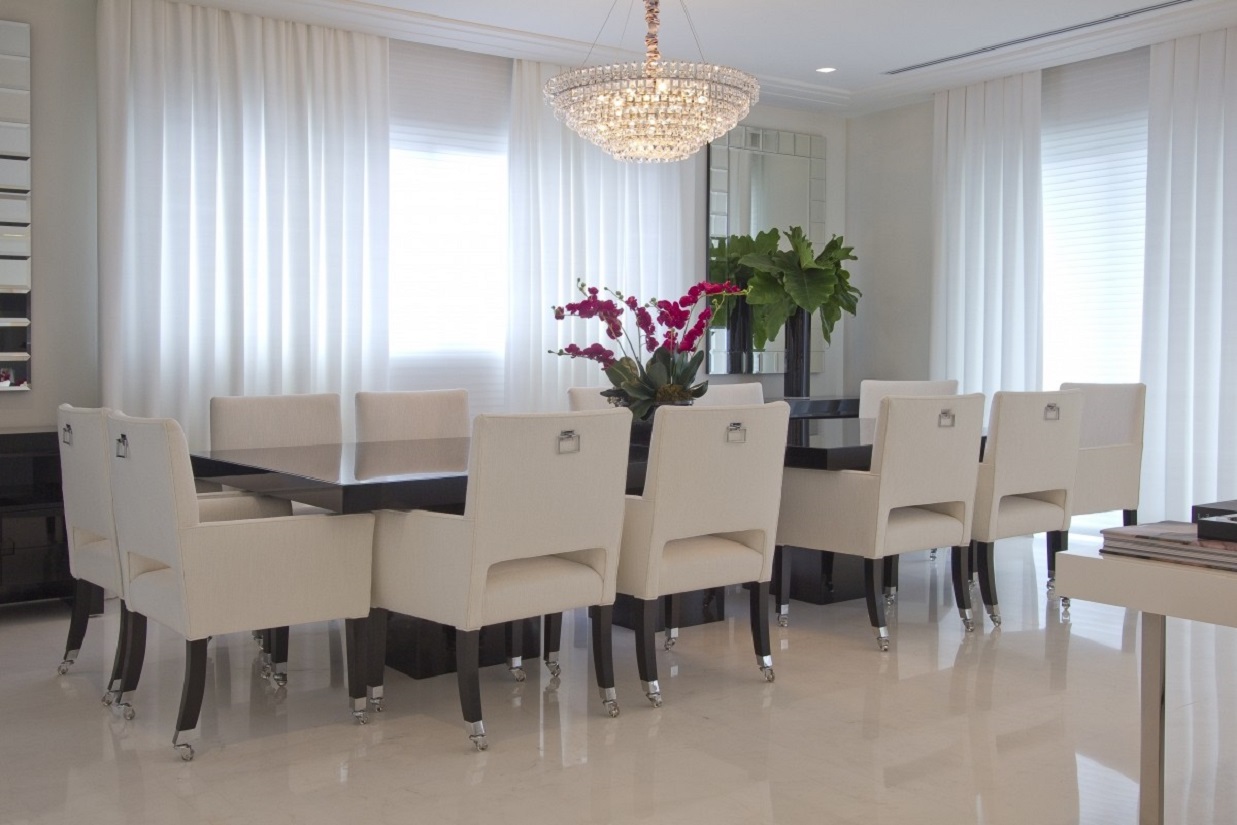 This dining room, also by Christina Hamoui, uses some of the same details interpreted a bit lighter for a more modern,  sophisticated design.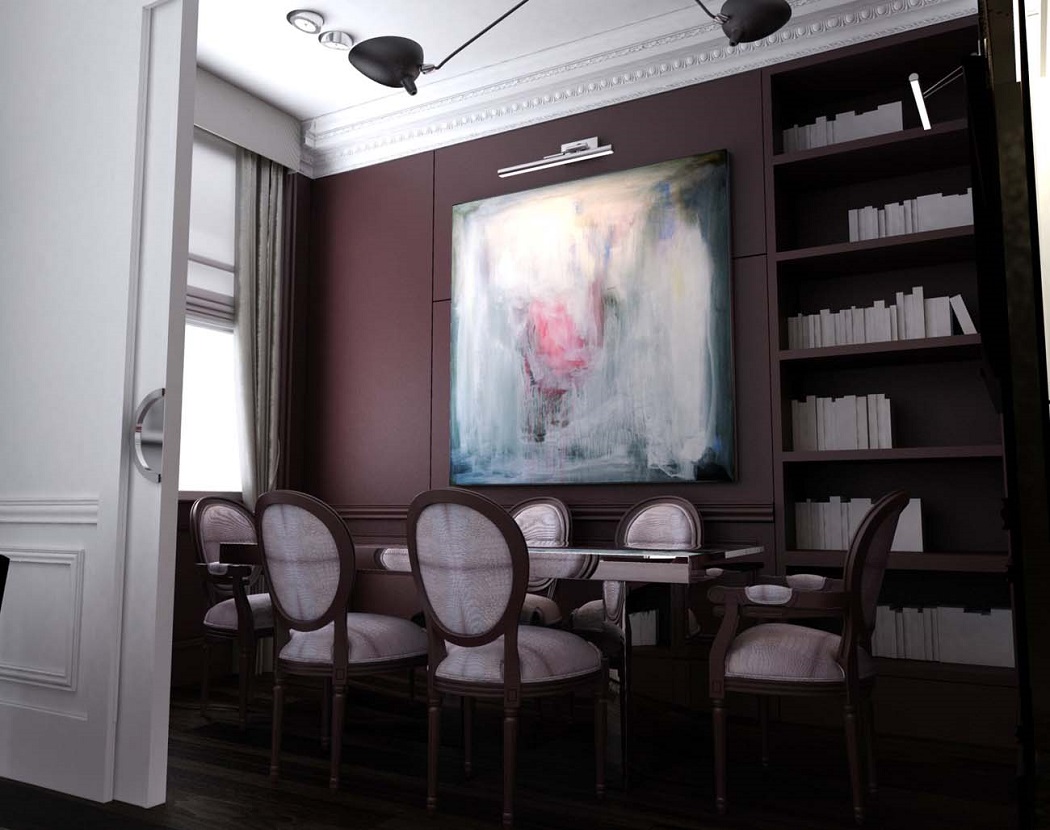 This dining room by London based Eduardo Cardenes, suggest the wonderful idea that I really like of creating a double duty space…a dining room + library.  Very smart if you don't have space for both.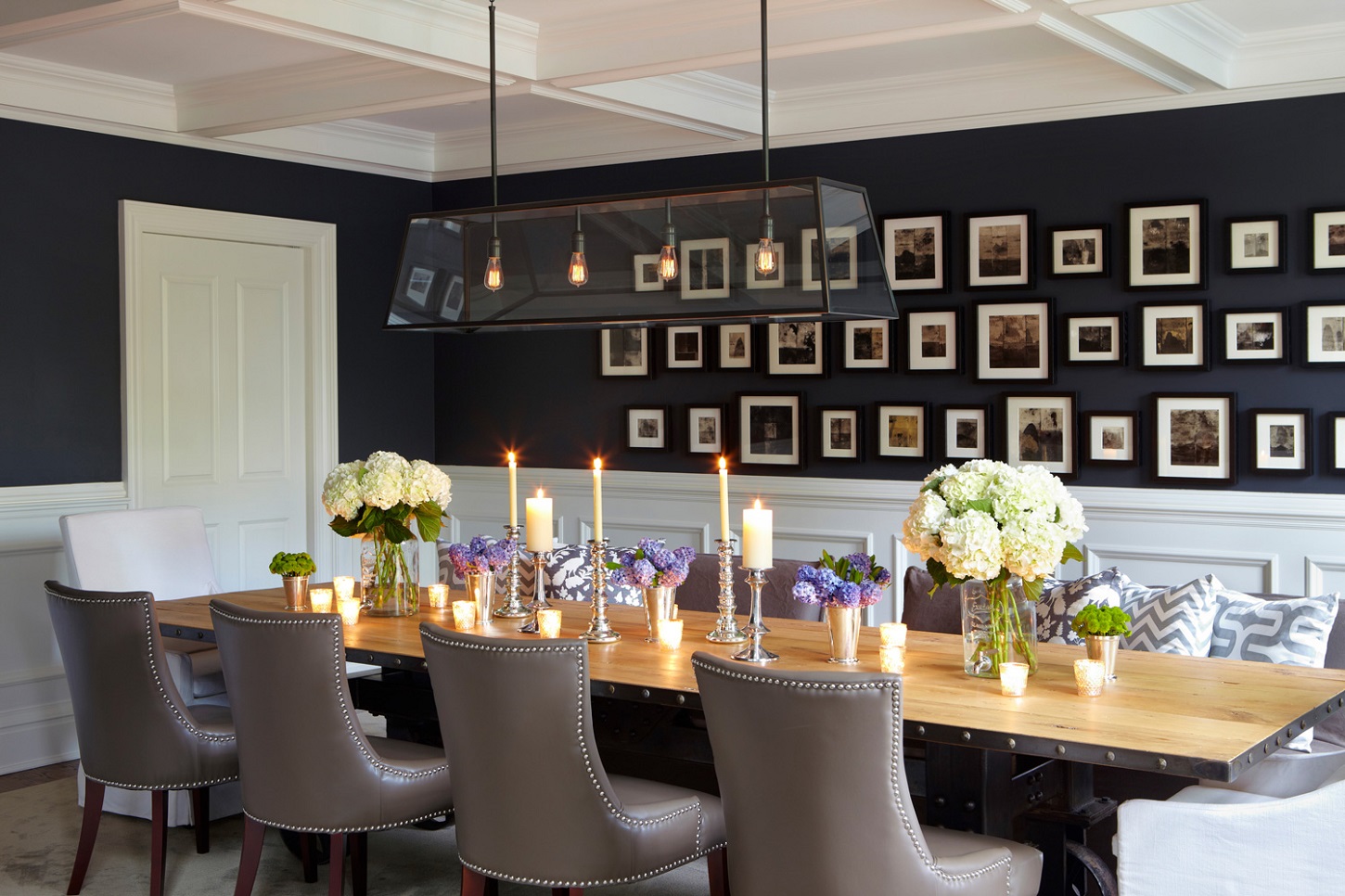 This dining room is from a formal Neoclassical style home in which a young couple wanted  the interiors to be updated and relaxed a bit, by New York based Chango & Co.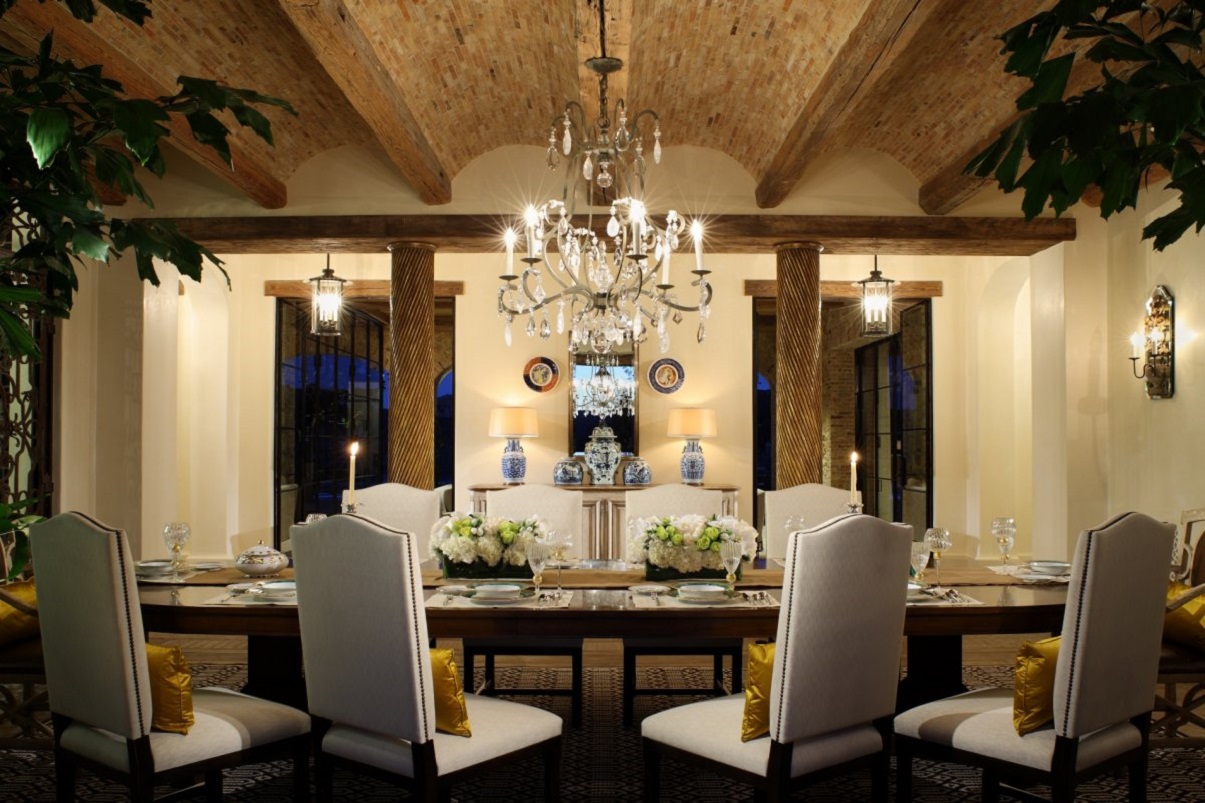 In this dining room from a large estate who's design was influenced by Tuscany Rustic Farmhouses, with interior design by Los Angeles based Joan Behnke,  reclaimed bricks from historic buildings were used to form the barrel vaulted ceilings, while the wood columns were handmade by local artisans to achieve the signature grand but warm effect.  Photo by Erhard Pfeiffer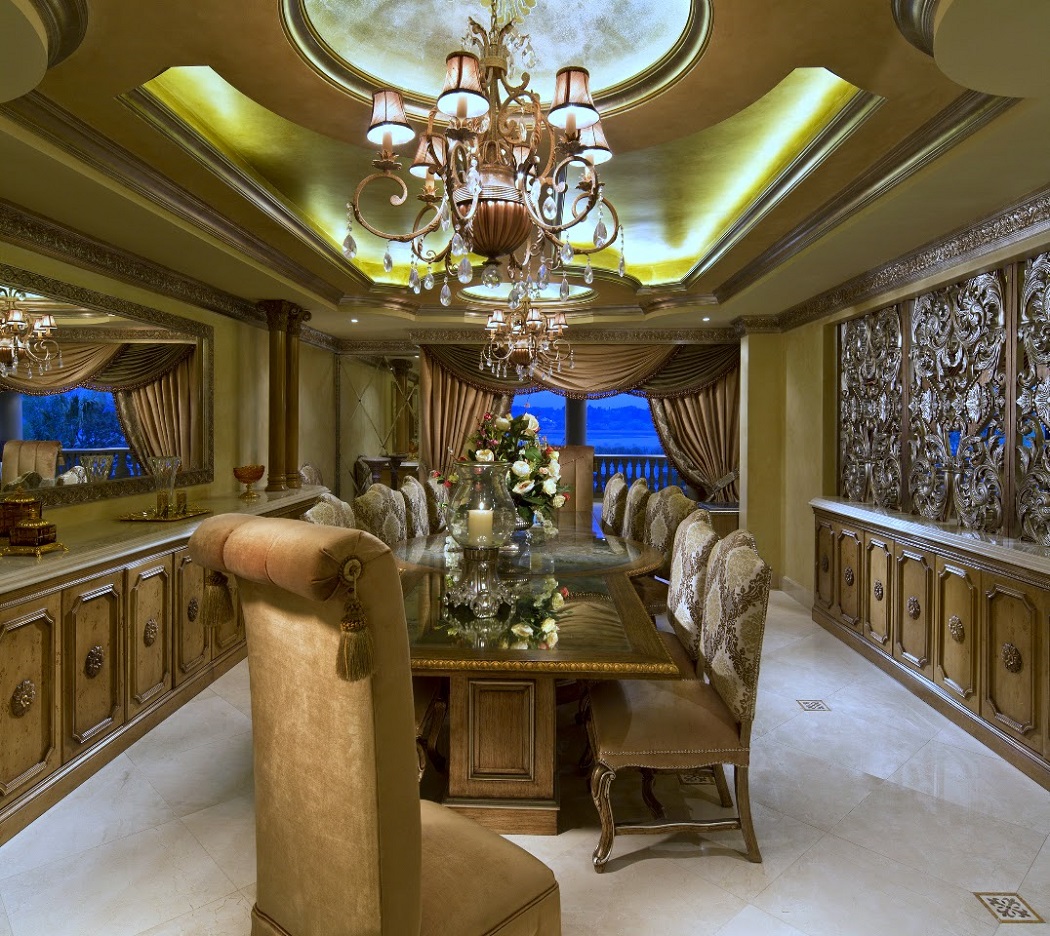 Here we have a high glam dining room from a South Africa estate by Miami and Dubai based Perla Lichi in her signature theatrical style.  Photo by Craig Dennis.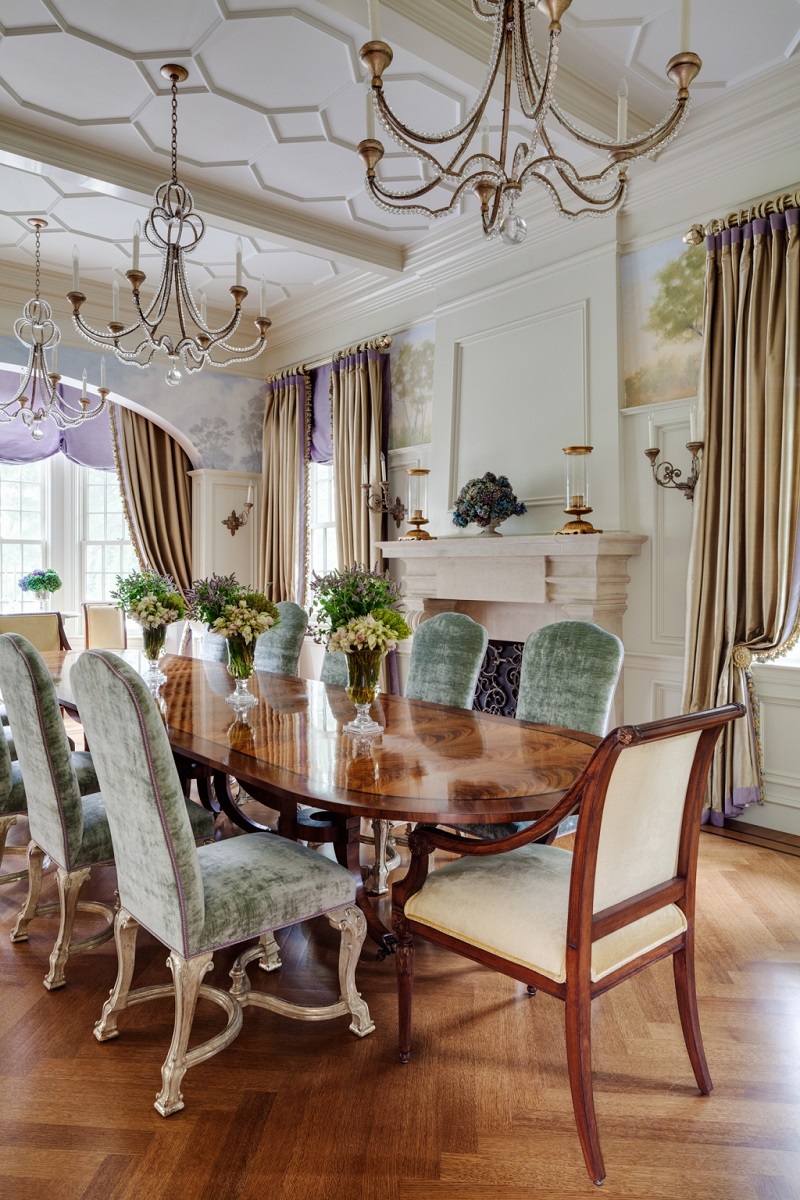 This Colonial Classic design dining room, rich with custom traditional detail, is from a family home by Cambridge, Massachusetts, based LDA Architecture and Design.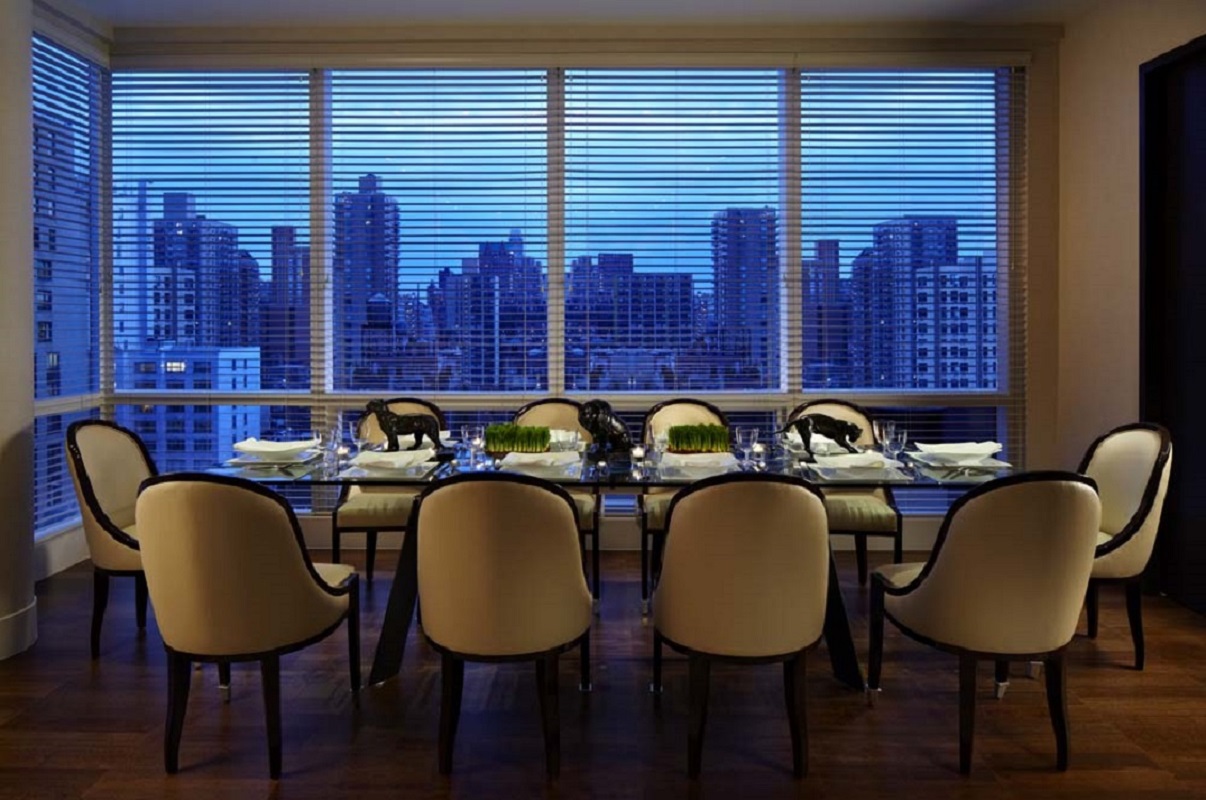 In this Art Deco influenced, contemporary design dining room from a high-rise residence by New York based Geoffrey Bradfield, the city view is the star attraction.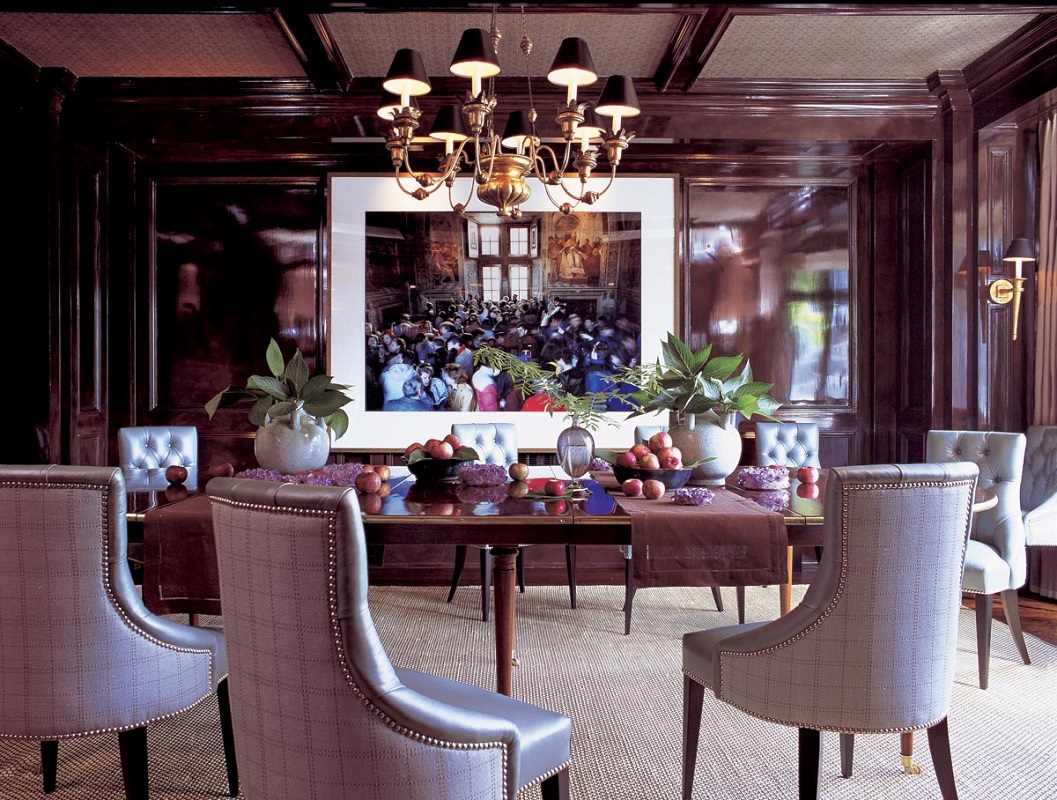 High gloss is on point here in this dining room by New York based Jeffrey Bilhuber.  Fourteen coats of brown lacquer were used on the walls, while iridescent leather was used on the chair fronts.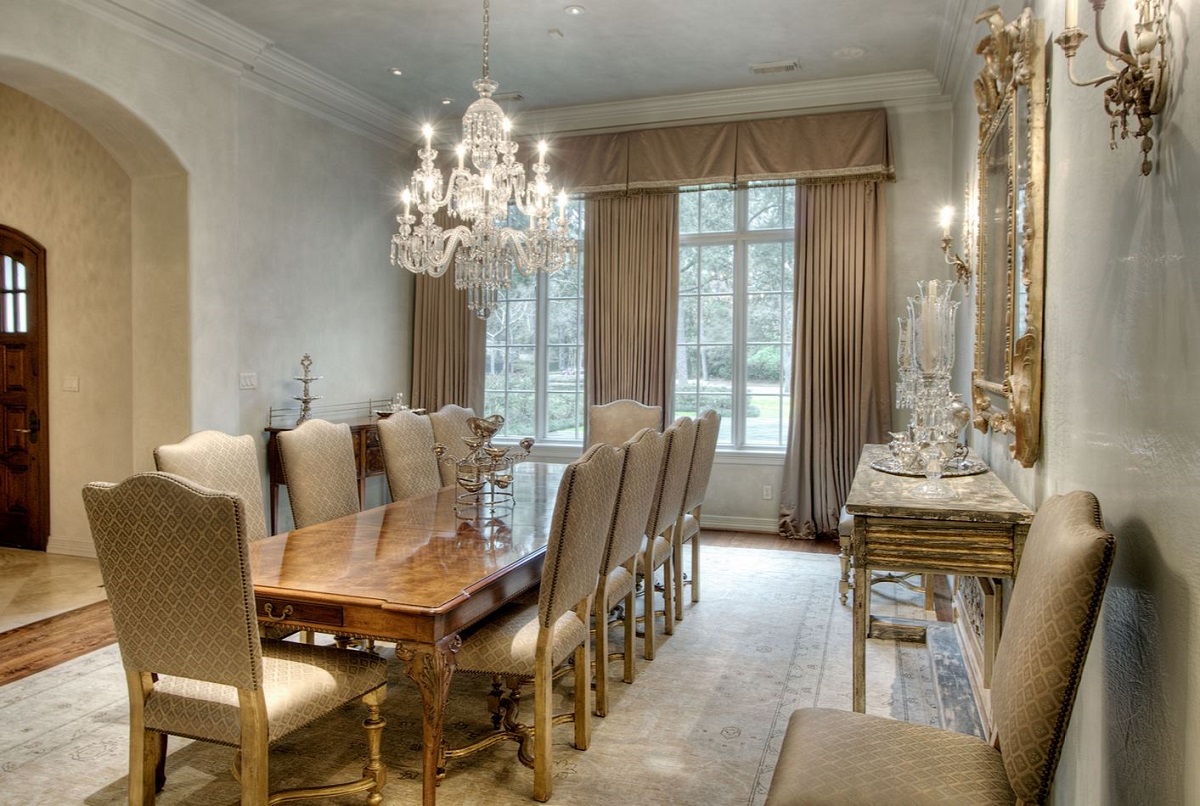 Here we have a dining room in the classic French Country style by Houston based Kara Childress.  Love the colors used here with this style, and that mirror!  See my other story on this designer here.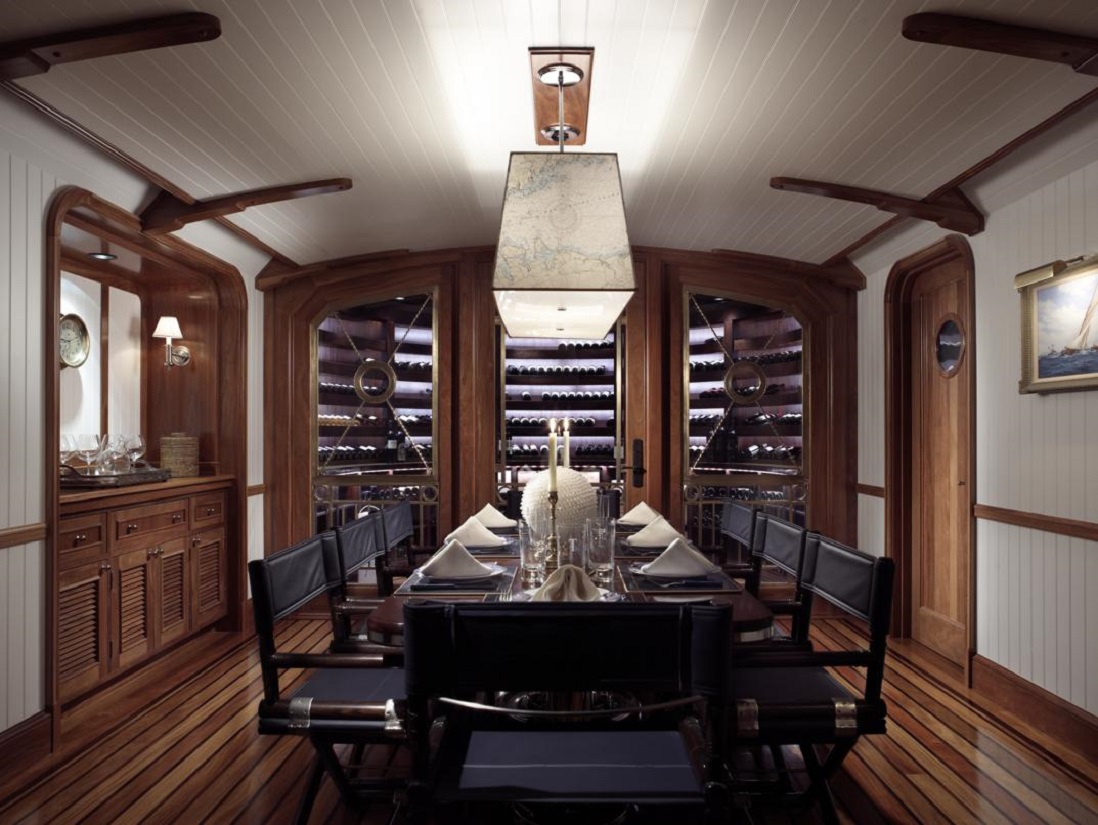 This dining room by New York and Palm Beach based Scott Snyder has a nautical theme.  You can also see the glass front wine storage area at the back of the room.  This isnt the homes main dining room, but it adds interest to this collection.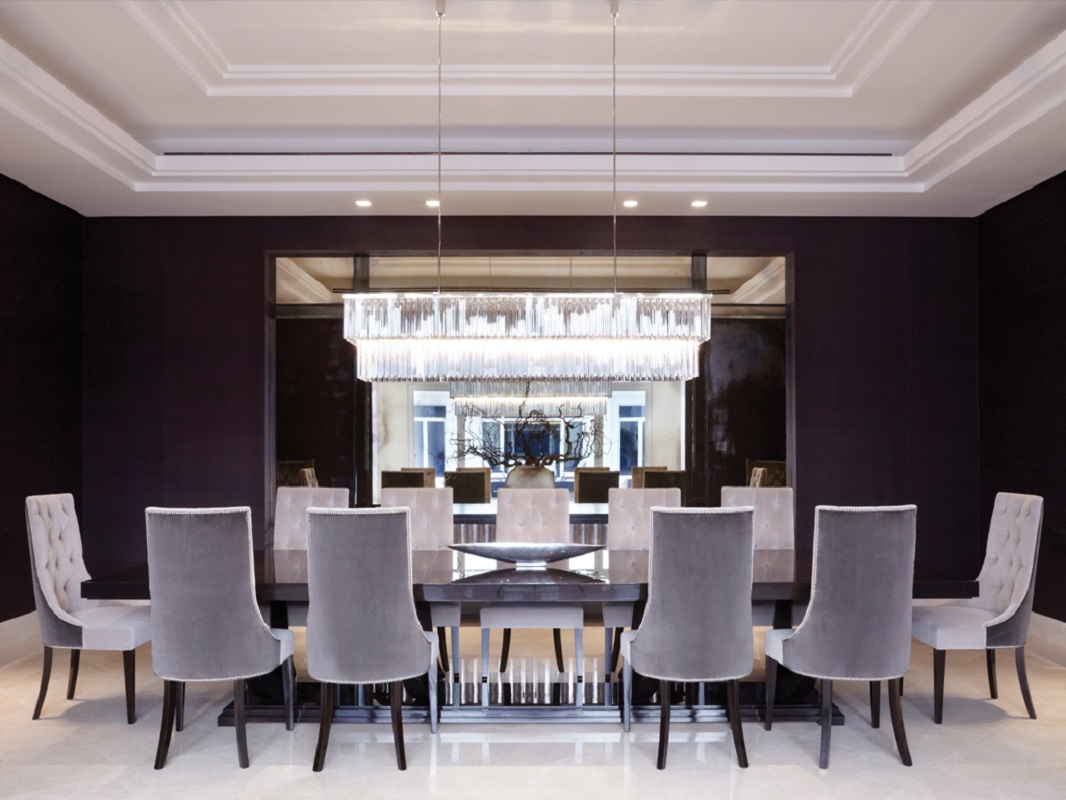 Here again, is the title photo.  This dining room is from Villa, Kuwait by Louise Bradley.  The contemporary design dining table, chairs, and chandelier are all from the designers home collection, which can be viewed on her website.
This concludes our collection for today on the 20 Outstanding Designer Dining Rooms my friends.   I trust you all have found design inspiration from out talented designers featured today.
Thanks so much for reading along you guys!  Please come back and visit us often.  If you like, you can even sign up for our email notications that lets you know whenever we have posted a new article along with a pic and a brief summary.
My friends!!  Let me hear from you all in the comments!  I love hearing from you guys and getting your feedback.  How do you think the site is doing so far?  Is there something more or less that you would like to see.  Other than that..just say hello!  I really appreaciate you guys so much!
Please like us and share: