20 Brilliant And Inspiring Home Libraries
For our design inspiration today, we are taking a look at home libraries.  We are living in the digital age where whatever you may want to read can be viewed, stored, and maintained on the device you are reading these words now.  Some say that home libraries will soon be obsolete, but certainly not anytime soon.  There are still plenty of people who love real books.  The popularity of reading on digital devices has actually inspired a renewed appreciation for the real thing; bound and printed.  The opening photo is of the sophisticated design home office/library from within a penthouse apartment at Trump World Tower in New York City, designed by architect Mark Cunningham.
The popularity of reading on digital devices has actually inspired a renewed appreciation for the real thing; bound and printed!
If you tend to be one of us who loves books, then you probably tend to keep them around as well, for we like to take comfort in our books.  Just as it is great to come home and have a nice dinner, or a relaxing bath, many of us enjoy spending time with a good book, a real book that you can touch and transfer emotions on.  When I am reading a book, and certainly after I am done with it, whatever emotion was evoked tends to stay with the book.  Anytime I see the book again, those feelings return.  So, for me, my collection of books is like a collection of emotional experiences.  The library/personal study below is from a historic Gold Coast residence completed by the Chicago based interior designer Jessica LaGrange.(see other post)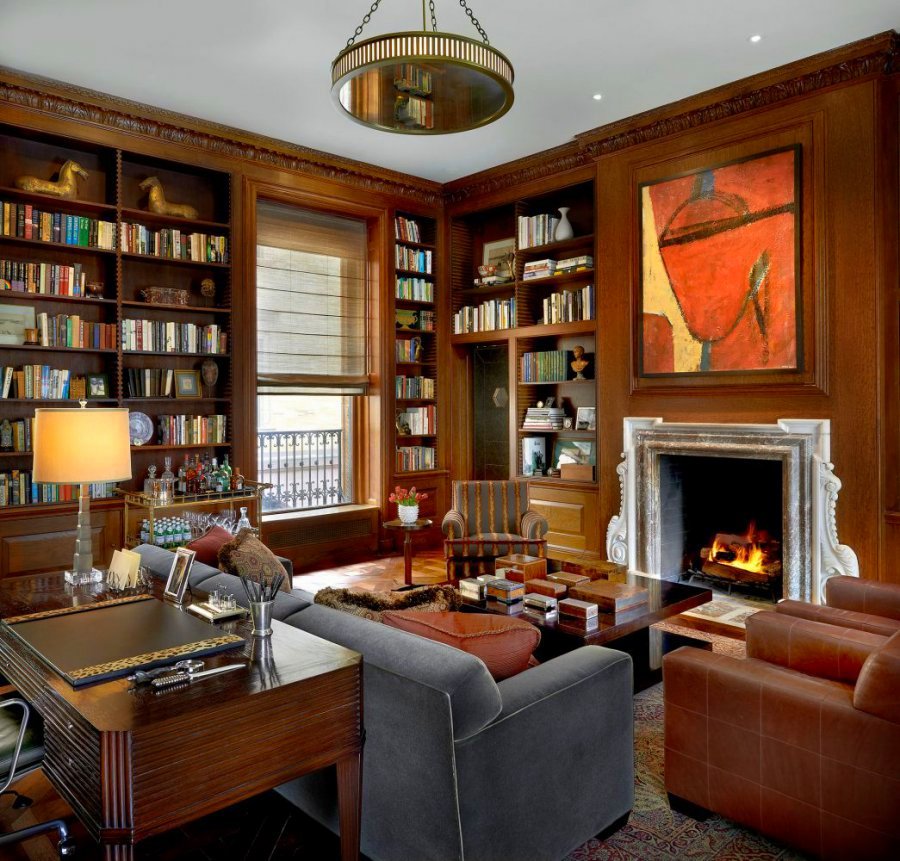 As a writer and certainly with these blogs, I spend hours and hours reading on my computer and multiple other digital devices but when I have an occasional moment just for myself, I always have an amassed stack of print magazines and a couple of the latest books from my list to pass the time with.  I admit that I tend to have a stack close in all the main areas of my house that I actually live in.  I have a home library here in my office where I like to keep my favored and most recent books.  We also have another library area that I've created down on the lowest level of our home on the staircase landing where we keep the older and collected books.  My partner enjoys cooking and has tons of cookbooks, so we also have a wall in the kitchen that serves as a mini-library.  I must confess that we also have many boxes of overflow that we have no more bookcases for.  We could really use a dedicated area for our books but only recently have I began to think much about it.
Once we have a designated place, we can attractively store them in an orderly fashion so we can actually find them.  No, I do not think that I have too many books.  I simply am in need of creating a better way to store and organize them which is something that entire books have been written on and there is even an app and other technologies available to help when I'm ready to do that.  I just have to designate a place and create a look.  Yes!!  A new home project!  So, this post is likely the first of a few that will come.  I'm sharing with you all the home libraries, offices, studies, and nooks that have been inspiring to me while trying to decide on the creation of my own personal library.  I hope you all will be inspired too, for I know I'm not alone in this situation.  Maybe you are not looking to create an entire room, maybe you are just considering a wall or a corner.   We are going to look at some creative ideas from various places in different styles and colors and functions.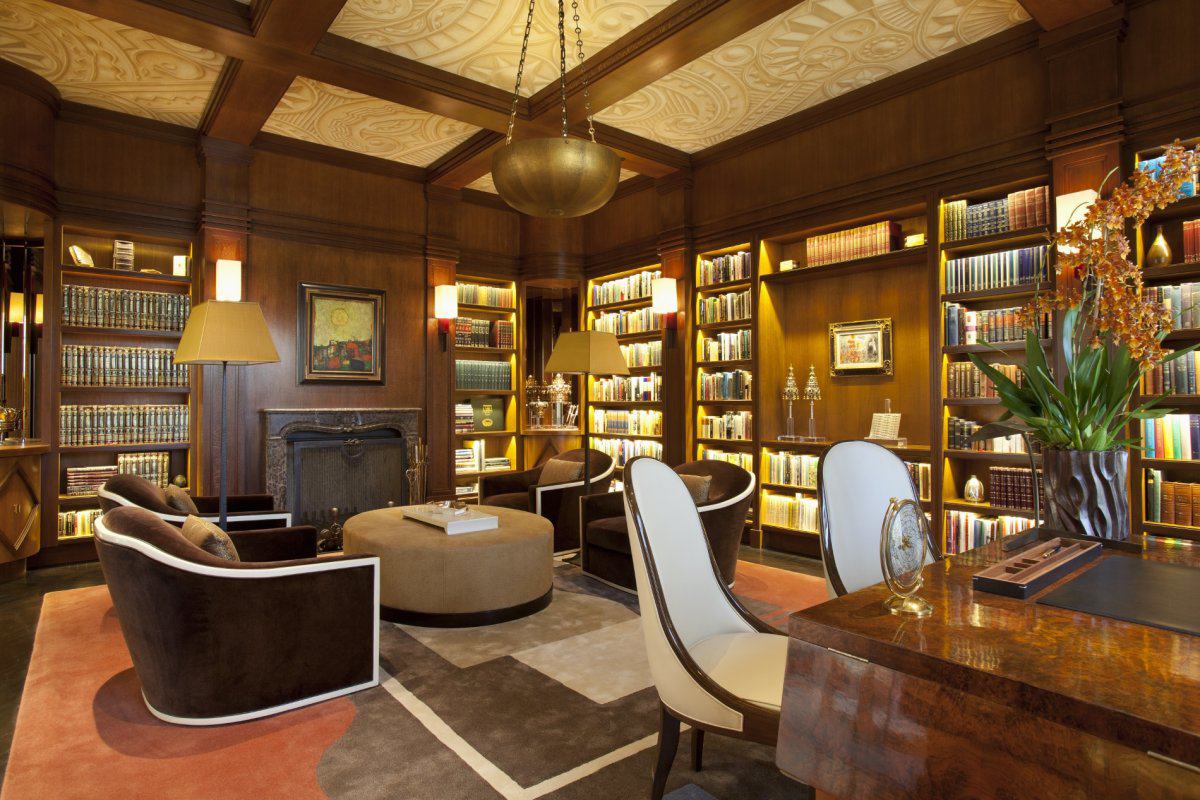 This spacious home library is from a home designed by Los Angeles based interior designer Joan Behnke. (see entire post)  The walls are lined with lacewood paneling and shelves which are filled with the owner's extensive collections.  Hanging above the marble fireplace is a 1960's oil on Canvas by Mordecai Ardon, while hanging in the nearby recess is Marc Chagall's circa-1980 Mouis et le Veau d'Or. The ceilings are adorned with beams and hand painted canvas murals.  Note the lighting within the shelves.
Here we have a library created within a formal dining room which is an idea that I love since both rooms are said by trend forecasters to be soon obsolete. If we combine them, maybe we can save both and have a fabulous multi-purpose room.  The look is from Ralph Lauren Home's Apartment Number One collection. Classic design furniture shapes and timeless menswear references are invigorated by color and sheen, creating a world of smart, sophisticated style for the modern Duke and Duchess.
This traditional design custom home library/office has been created by San Diego, CA based Robeson Design.  The photo shows a wall of shelving and cabinetry that includes the lights within the shelves and the rolling ladder.  Its a good example to show ways in which we can incorporate our other collectibles in with our books. The larger scaled colorful contemporary art positioned in the middle is great for it centers and grounds the various collections around it creating order, which I just have a maniacal need for.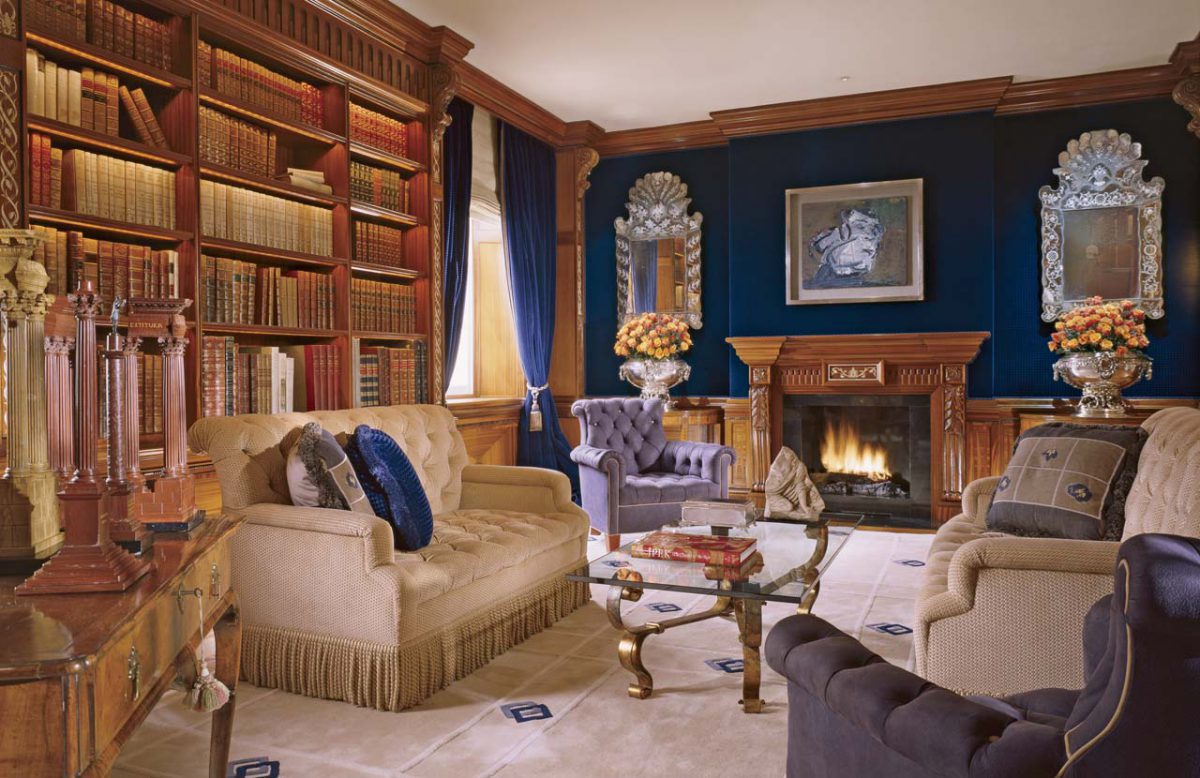 Out of a gutted space in a London residence in Eaton Square, New York based interior designer Geoffrey Bradfield fashioned this warm, traditional design library.  A contemporary painting by Frank Auerbach is hung above the walnut fireplace.  I really like the dark blue walls.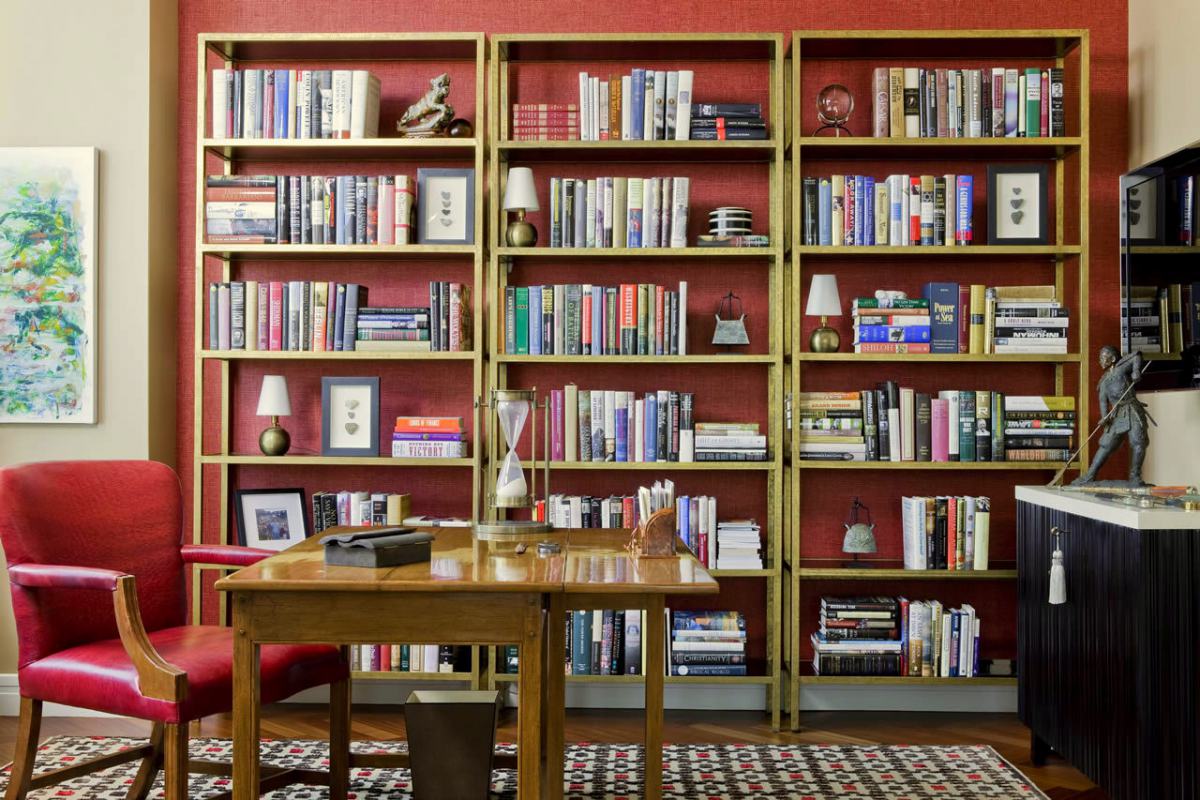 This home library/book storage solution was designed by the Boston based interior design firm Terrat Elms (see other project) within a sleek, sophisticated design penthouse apartment at The Residences at the Ritz Carlton Towers in mid-town Boston.  This is good.  I like that a feature wall has been created behind the open shelving.  Plus, the colors are great!  I'm not sure what the bottoms of the shelves are made with, but you definitely would want to keep the collection on each light as they have done here.  Note: When selecting shelves, it's good to have an idea of what you are going to put on them.  If you intend to actually fill them with books, the bottoms need to be very solid or else they will begin to bow in the middle.
Here we have a home library solution created by Madrid based multi-disciplinary designer Luis Bustamante, who's specialty, it is said, is creating interiors where fine art and functional living go hand and hand.  The designer has created floor to ceiling custom shelving with a rolling ladder.  The minimalist design is clean and perfectly functional and allows the neatly arranged books to act as the focal point in the room.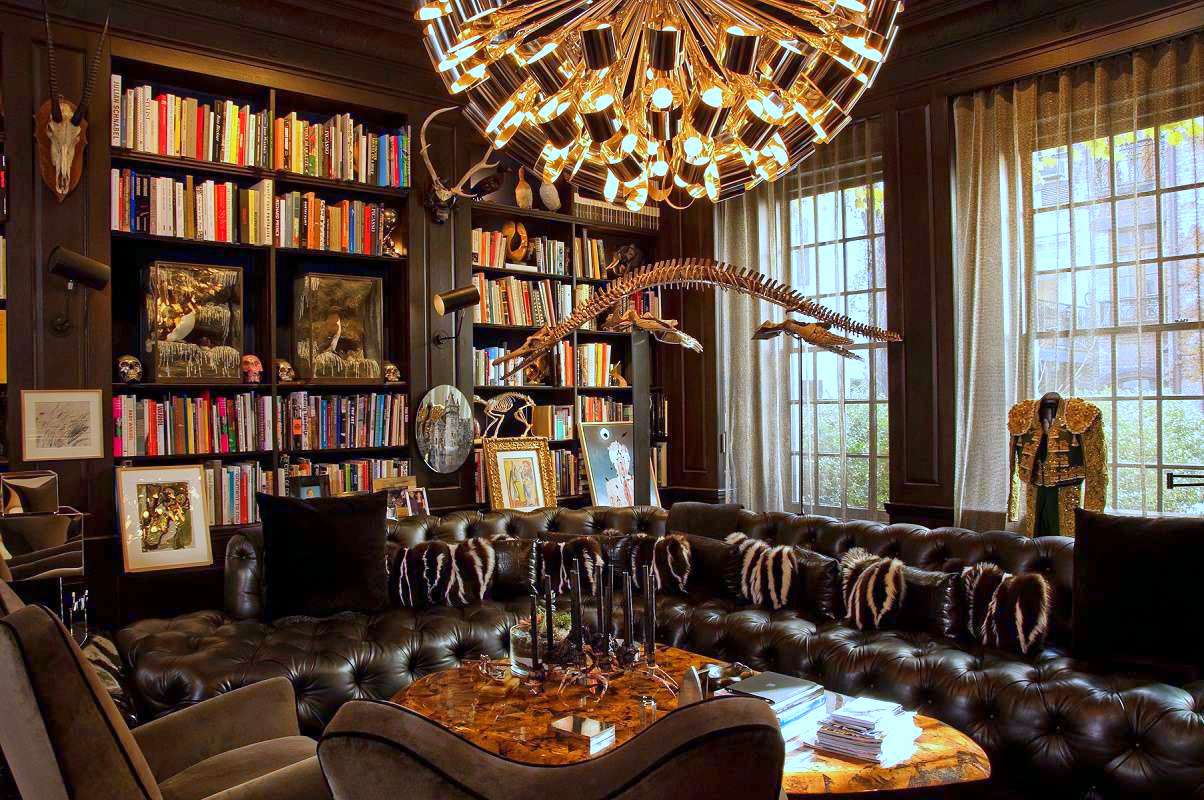 This art and collection filled home library is from one of Vogue's fashionable past featured residences.  It was the first shared home of Dr. Samantha Boardman, a psychiatrist and socialite, and her husband real estate developer/tycoon Aby Rosen, who is a major collector of modern and contemporary art.  The couple were married on the expansive terrace of this luxury home.  I love that it is filled with a mad array of curiosities.  That's another great thing about libraries and people's collections of books in general.  They reveal so much about the personality and lifestyle of their owners.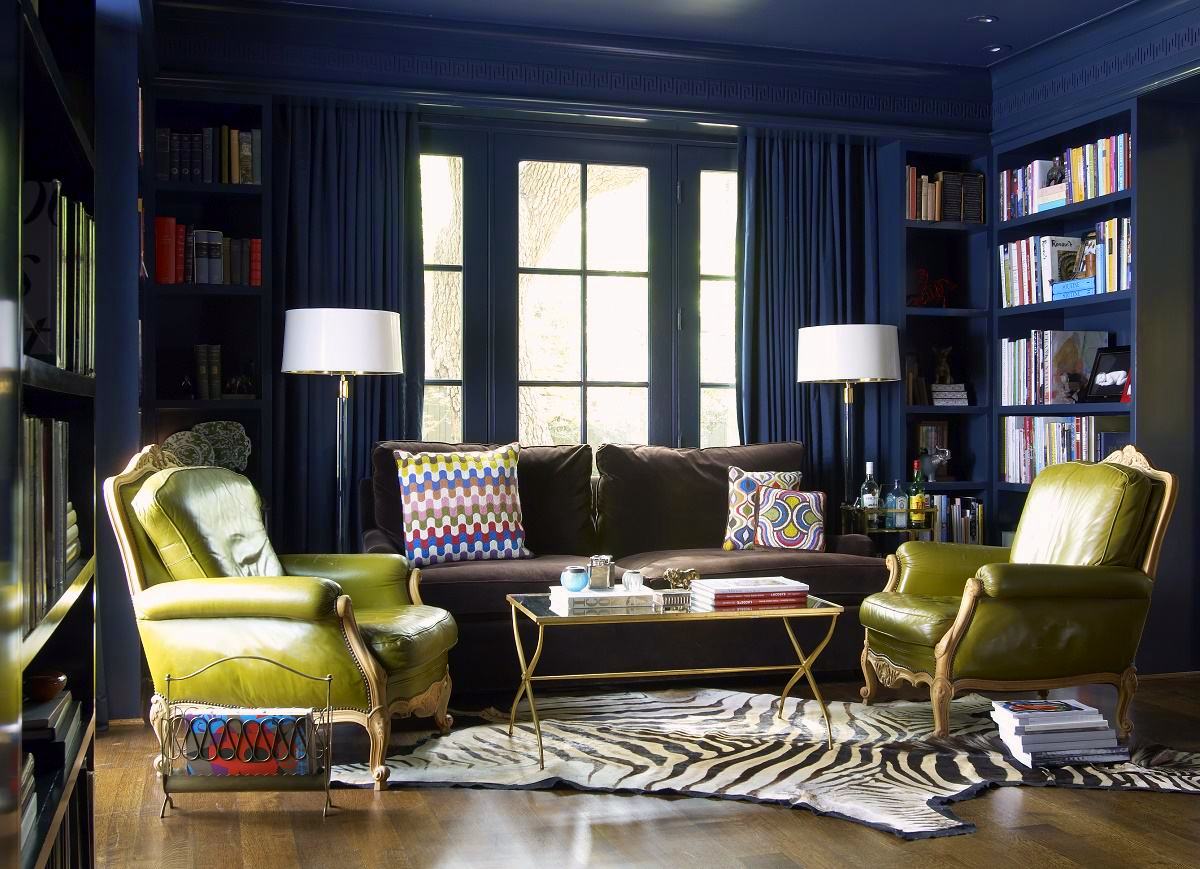 This home library was created by the Dallas, TX based interior designer Jan Showers (see other post) with her signature understated glamour.  The designer used a single deep shade of navy blue to encase the room, even matching the drapery to dramatic effect and completed the effect with a pair of 1940s Louis XV bergeres in their original acid green leather.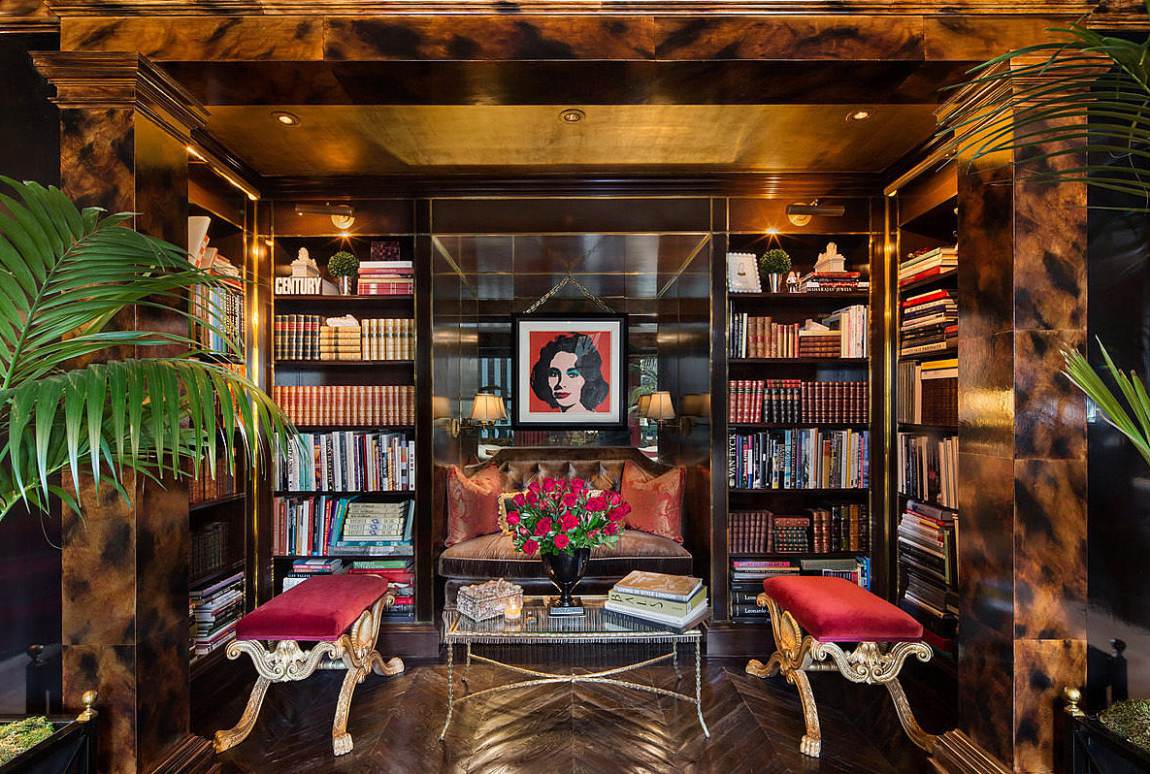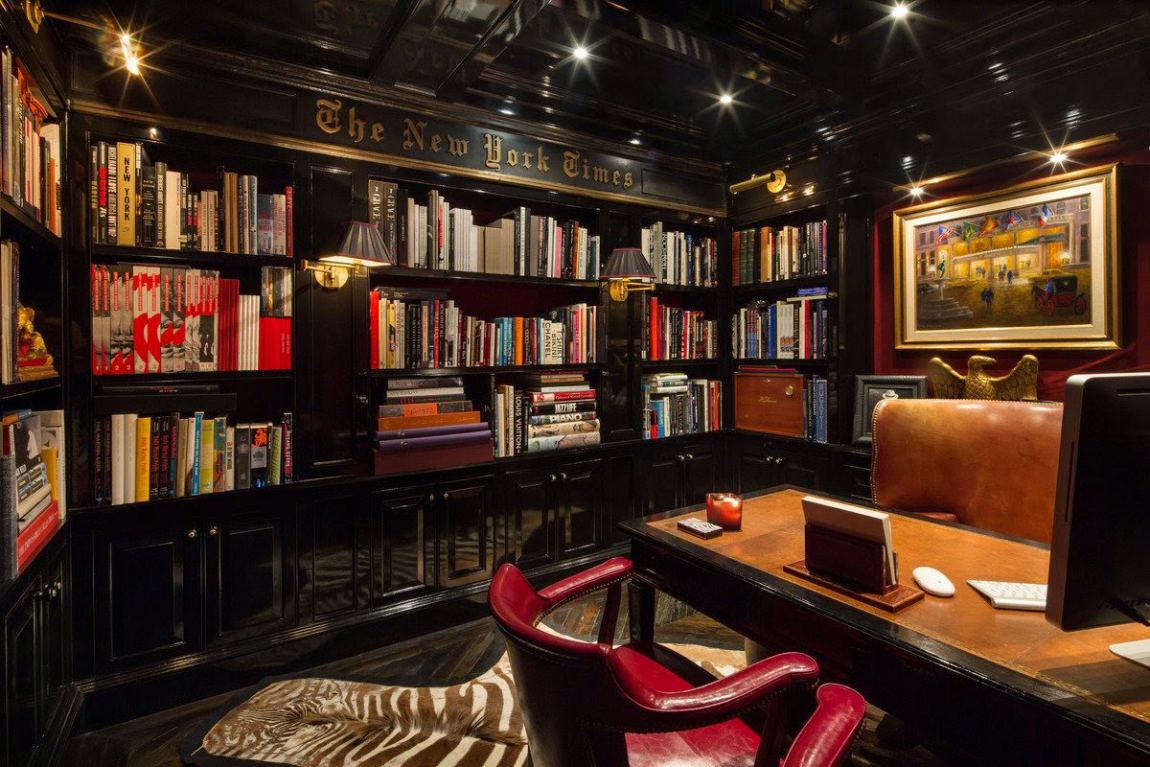 The two photos above are both from the iconic Dome Penthouse located on the 18th and 19th floors at the legendary Plaza in New York City.  The residence was created when a certain American fashion designer purchased and combined three separate units and then embarked on a massive renovation to recreate the old-world style of the land-marked building.  The completed residence has been praised, but it has also been horribly criticized in a way that was actually quite surprising for me to read.
In the more positive reviews, the home is said to ooze glamour with its gilded furniture, polished herringbone hardwood floors, and tortoise shell walls. The penthouse was filled with fine art, including dozens of Warhols and Basquiats, along with loads of antique furnishings, including pieces once owned by the Duke and Duchess of Windsor.  Included among these luxurious interiors were these home libraries.  I think they are great for inspiration and I like that they are bold and individual.  I will state that I did see the rest of the photos of this residence and I must say that I wasn't personally offended by it in any way.  It is a private residence paid for with private funds, so I don't understand the very ugly reactions I read from others whom I'm quite sure were no more personally affected than me.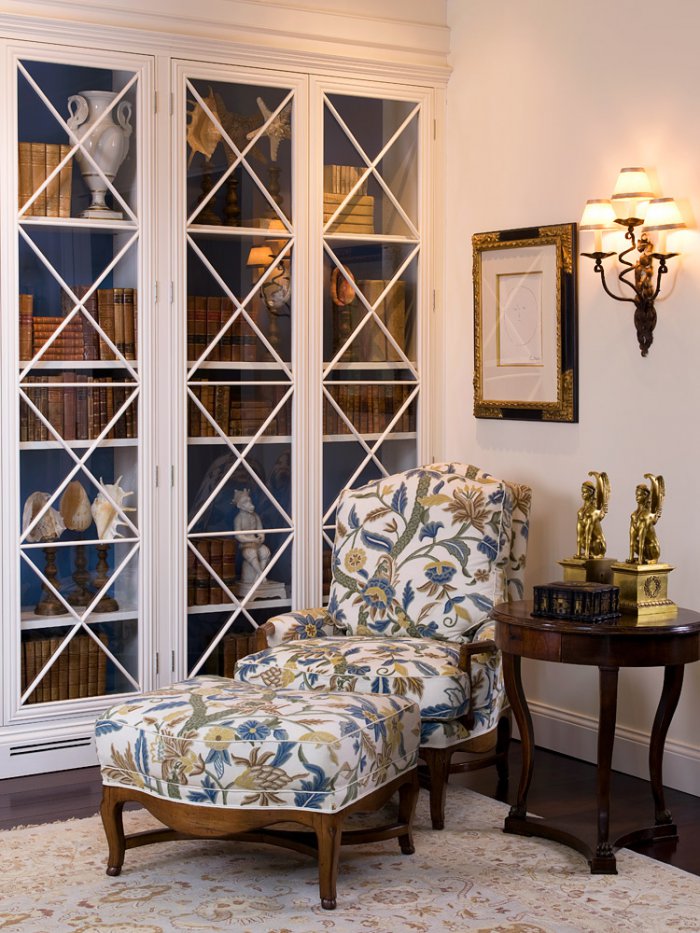 This library setting has been created in the corner of a greater living area within a Bridge Hampton residence by the interior and home furnishings designer Nancy Corzine.  The designer has created a reading nook with custom built in bookcases with glass fronted doors to hold books and collectibles.  I like that she painted the backs of the white cases with a color she was able to continue around it.  This is a good idea if you're not looking to devote an entire area yet.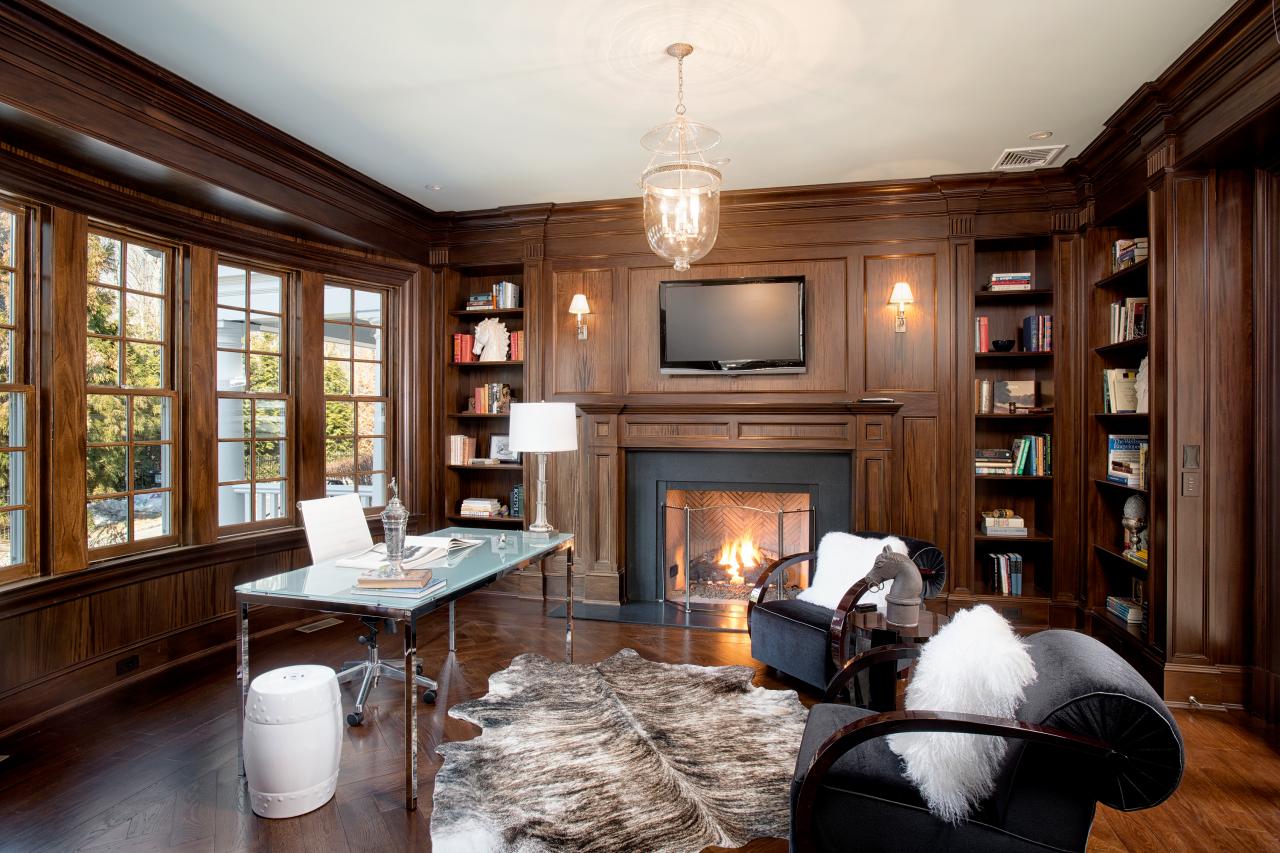 This handsome home library is from a grand Richard Granoff designed manor in Greenwich, CT with mahogany paneling and custom shelving in a traditional design with modern design furnishings.  I found this pic in a realty listing on PriceyPads.com, where the manor is said to radiate incomparable grandeur and sophistication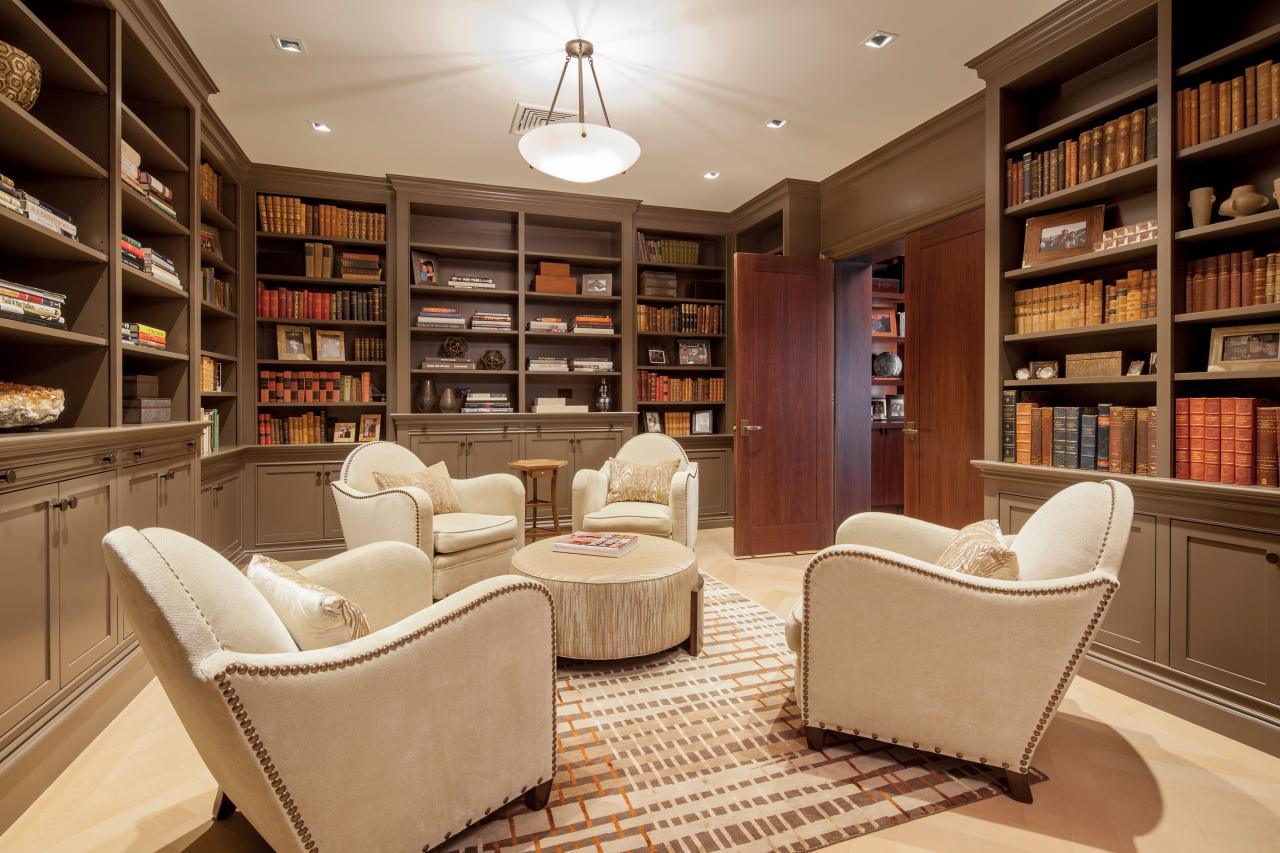 This library solution was created in one of the traditional living rooms within a five-story Boston townhome by Slifer Design.  The design firm had the room completed with floor to ceiling bookshelves and cabinetry custom designed specifically for the available space, which is no doubt the best possible solution.  A gathering of comfortable chairs around an ottoman was all that was needed beyond that to create a cozy place for reading or intimate conversations.  Photo via HGTV.com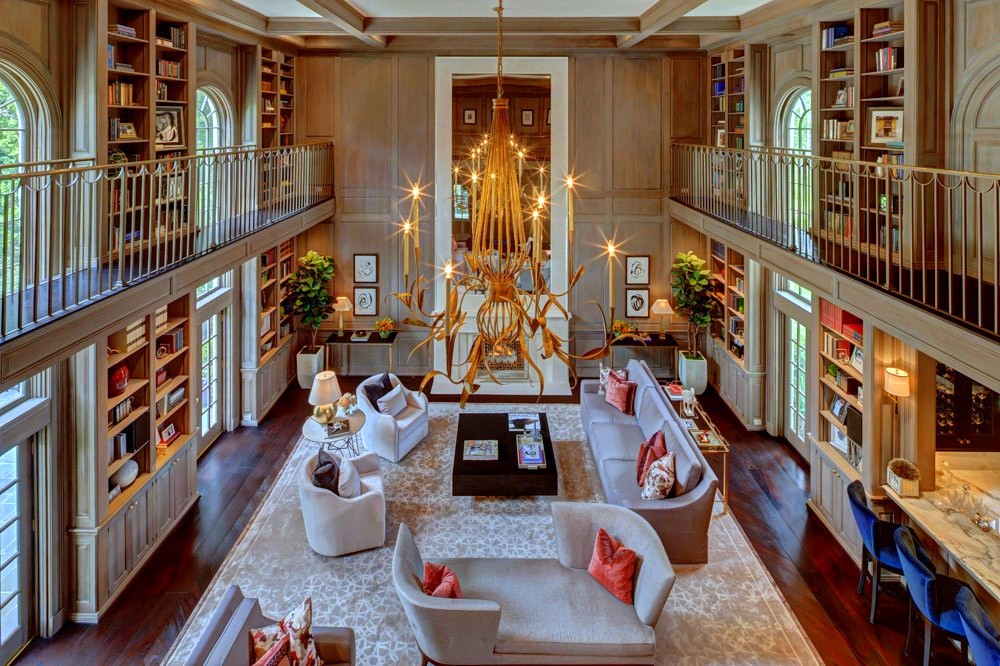 This double height library was completed by Houston based Laura U Interior Design.   It is a wonderful space with traditional architectural details combined with contemporary furnishings and fabulous lighting.
Here we have an exquisite mahogany library with coffered ceilings from a renovated Colonial Georgian estate located in Greenwich, CT with a couple of contemporary sofas gathered on an over-sized rug which was added to soften the room's tile floors. Pic via HGTV.com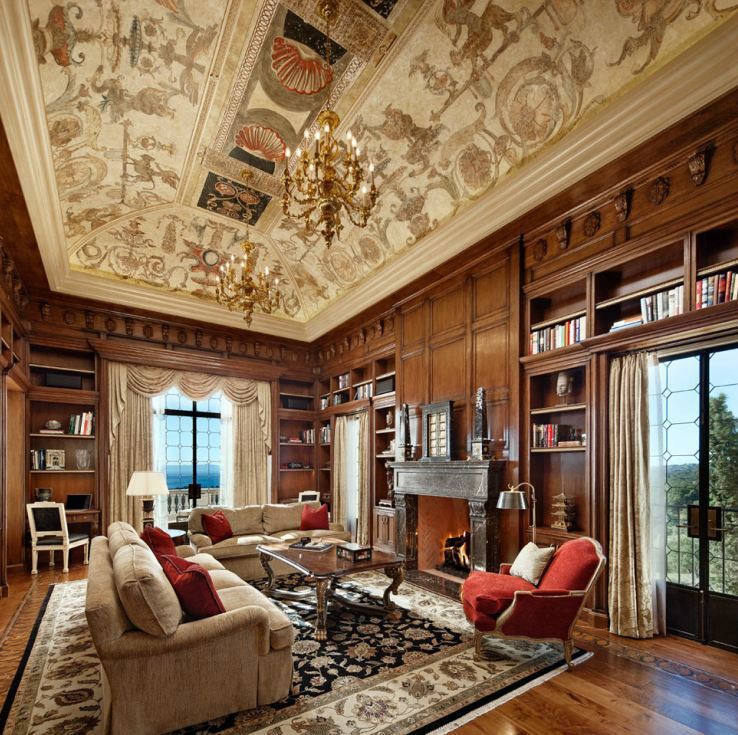 This polished wood paneled library comes from an Italian style palazzo in Montecito, CA created by Santa Barbara based SFA Design. (see entire post) The pitched ceiling is decorated with hand painted grotesque frescoes. The designers tempered the formality of the space with plump traditional design sofas making the room welcoming and comfortable.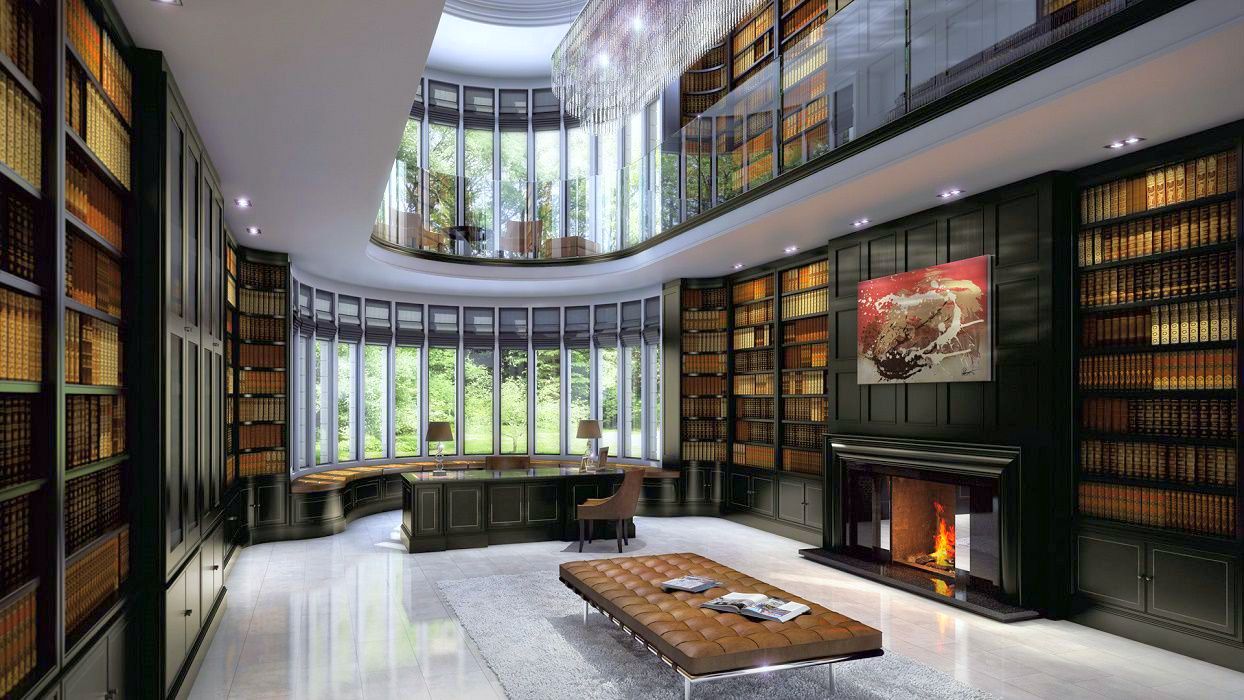 For a more custom high-end solution,  there is the new Metro Deco range from the Clive Christian Contemporary Collection which is based upon geometric linear principles, with clean lines and an inclusion of Art Deco elements. The design strongly contrasts with the ornate and embellished style of the Clive Christian Classical Collection.  Clive Christian home libraries are designed specifically to your tastes and needs with extraordinary attention given to every detail.
Another high end custom solution could be SigeGold Boiserie.  Shown here is a personal study paneled in warm natural cherry, with flute columns and carved capitals.  SigeGold custom makes doors, cabinets, boiserie, paneling and furniture.  Their consulting, design and customization combine with traditional Italian manufacturing techniques to produce exclusive furnishings.
And of course, there is the solution where you contact your favored architect, interior designer, or which ever specialist or artisan you prefer and have them create you a custom solution for whatever space you select.  I hope these images have provided you all with some ideas for your home libraries and how you may like the final results.  If you're not looking to create a new custom space, maybe you are looking to do something smaller or improve or make some changes to your current system.  A new paint color, or wood finish…lacquer maybe?  Perhaps have some lighting installed or upholster the backs of your shelves, or maybe gold leaf the backs?  Now that is a great idea!  I hope today's design inspiration has provided you with plenty of fresh ideas.   I could still do another collection or two on other fabulous home libraries that I have been inspired by lately.
I also came across some books you may be interested in pertaining to this:  One is "At Home with Books: How Book Lovers Live with and Care for Their Libraries"..from Potter Style.   The other being "House Beautiful's Decorating with Books"..from Hearst.  There are lots of others as well.
Home Libraries Conclusion
What do you all think?  Do you like these that I have presented today?  Are there any others you would like me to look into and post on?  Have you all created any wonderful library solutions of your own that you would like to share?  Tell us about it in the comments.  
Let me hear from you all!  Lets keep in touch!
Thanks you so much for reading along with me today.
If you have enjoyed reading today's post, please share it on social media.
Have a great day!
Please like us and share: