18 Statement Making Powder Rooms
Today we have a collection of 18 statement making powder rooms, both classic design and contemporary design, for your interior design inspiration.  The powder room (guest bath – 1/2 bath) is typically a smaller room designed for your guest's use.  Be sure to fully optimize this space to make an impression!
Its small size has its advantages.  You can easily do more for less, so do.  The powder room is the perfect place to play with big ideas and fantastical design elements.  Go bold!  Go glam!  Play with drama!  Turn it up and express yourself!  I have plenty of particulars that I think should go into this room, but I'm including a bit of something for everyone here.
Whatever your style, this is the place to really display it.  It's not usually a room that gets a ton of heavy traffic or needs to be utilitarian.  So, go ahead and get the finer finishes, and add those exquisite touches.  It's the smallest space, but you can make it have the greatest impact.  Use these images to help inspire you to dress up yours.  Have fun!
Our first image above is from the Baccarat Hotel & Residences in New York.  It is a contemporary design, Manhattan take on a classic design, elegant Parisian hôtel particulier, with interior design by Tony Ingrao.  This powder room is located within the Baccarat penthouse, a five-bedroom duplex, and includes Fantini-polished chrome fixtures, frosted-mirrored glass wall panels, honed Lido marble slabs, and mirrored glass and Lucite vanities.
This powder room is from a Beverly Hills condo by LA based M. Wright Design.  The luxury design details here include glossy croc-embossed wall coverings topped with gold leafed crown moldings.  The wall mounted marble vanity features gold plated Sheryl Wagner faucets and front leg supports.  The chandelier is an antique that has had all of its crystals replaced with new Swarovski crystals.  Photo by Unlimited Style Real Estate Photography. via Decoist  Its one of my favs!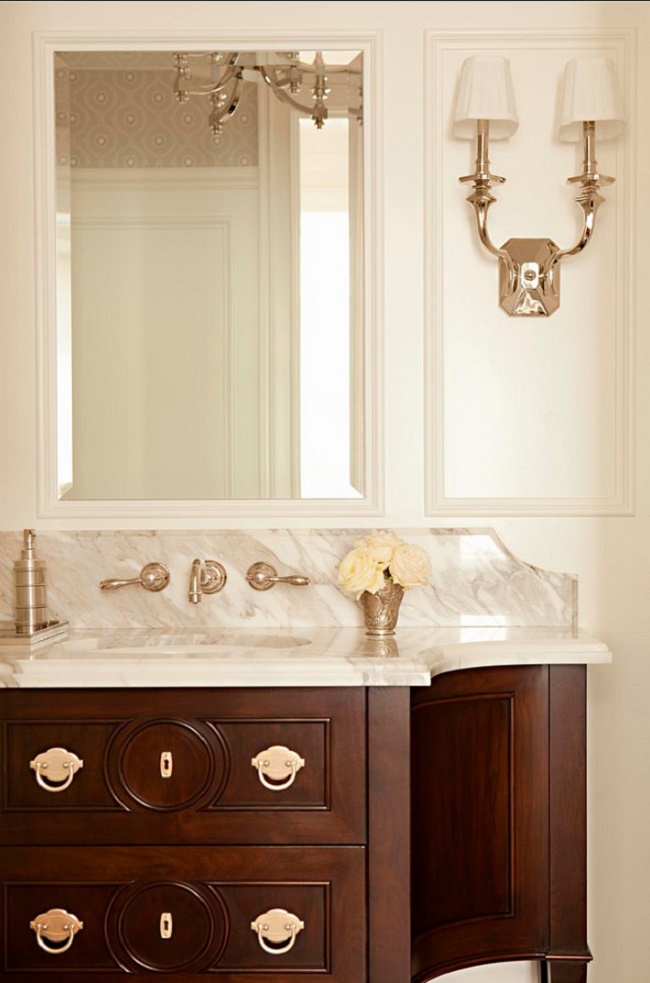 Here we have a traditional design powder room from a coastal home by Newport Beach, California based Wendi Young.   Paneled walls, polished Calacatta Gold marble vanity top and back, and faucets by Kohler.  Very poised and elegant!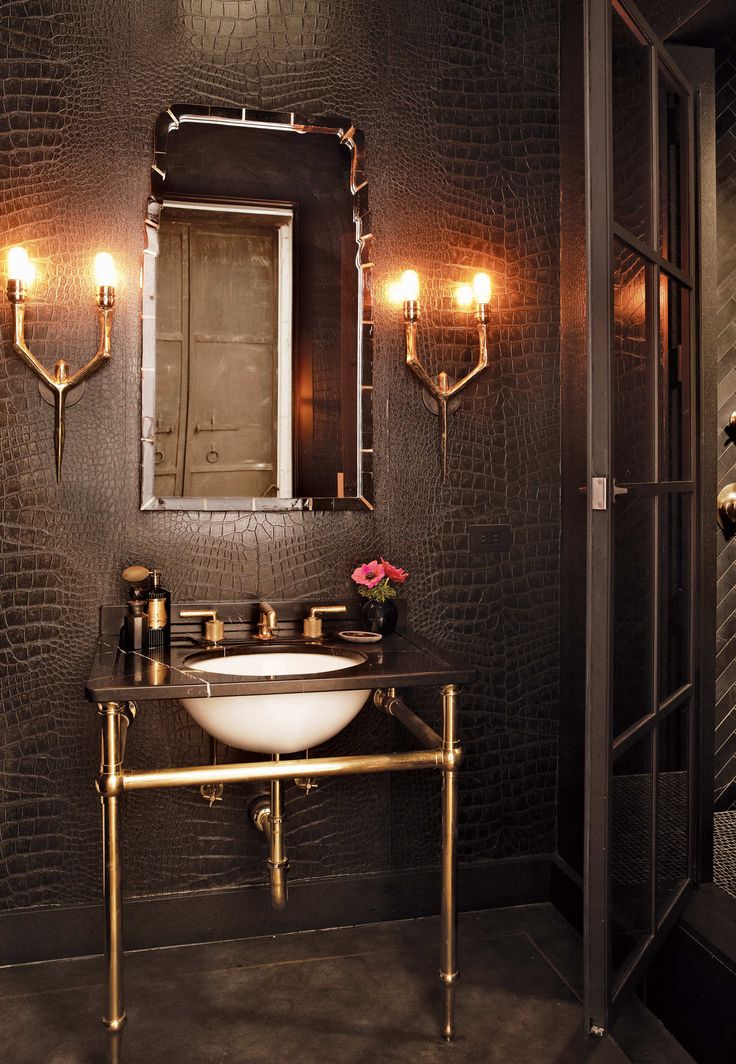 This powder room was completed by New York based Jenny Wolf & Bruce Maclean.  The croc-embossed wall covering is from Osbourne & Little, and the faucets are by Waterworks.  Photo by Francesco Lagnese via NYmag .  It has a funky vibe!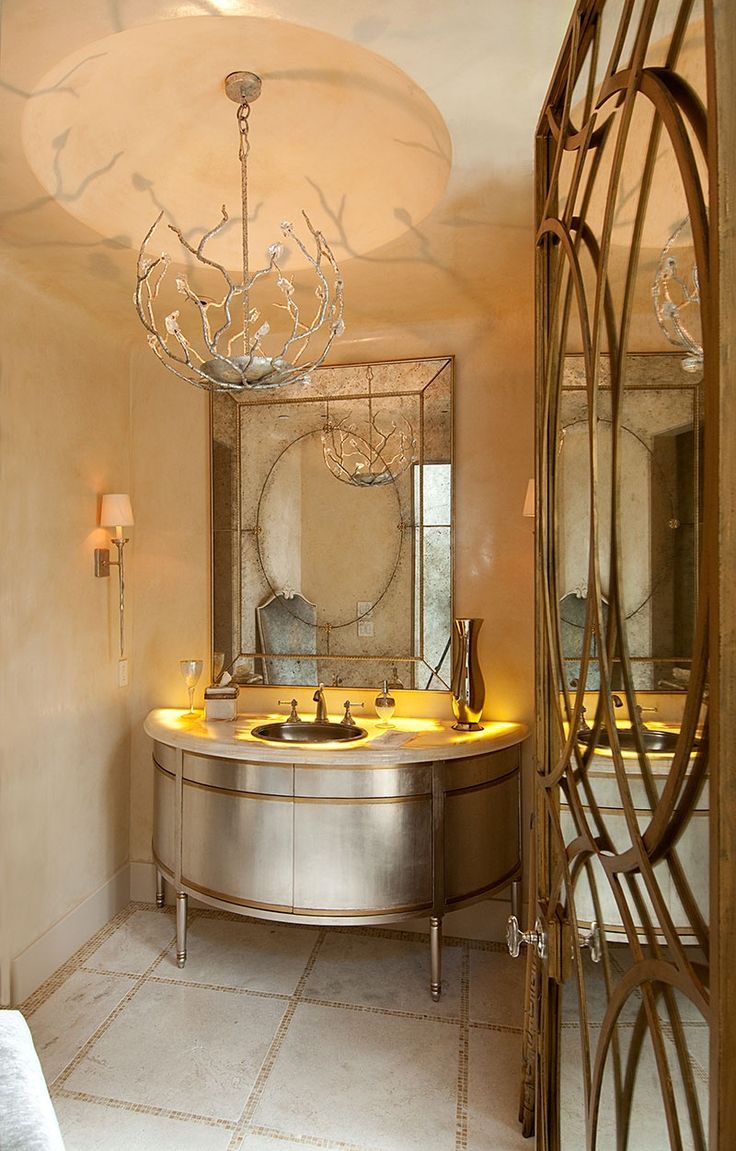 Here we have a powder room completed by Houston, Texas based M.L. Slovack Design & J.L. Bass Building, with hand finished walls and ceilings and a silver-gold washed demilune vanity, topped with a back-lit Onyx top.  The chandelier is perfect for the space, though the source is unknown.  That door is the star feature for me!!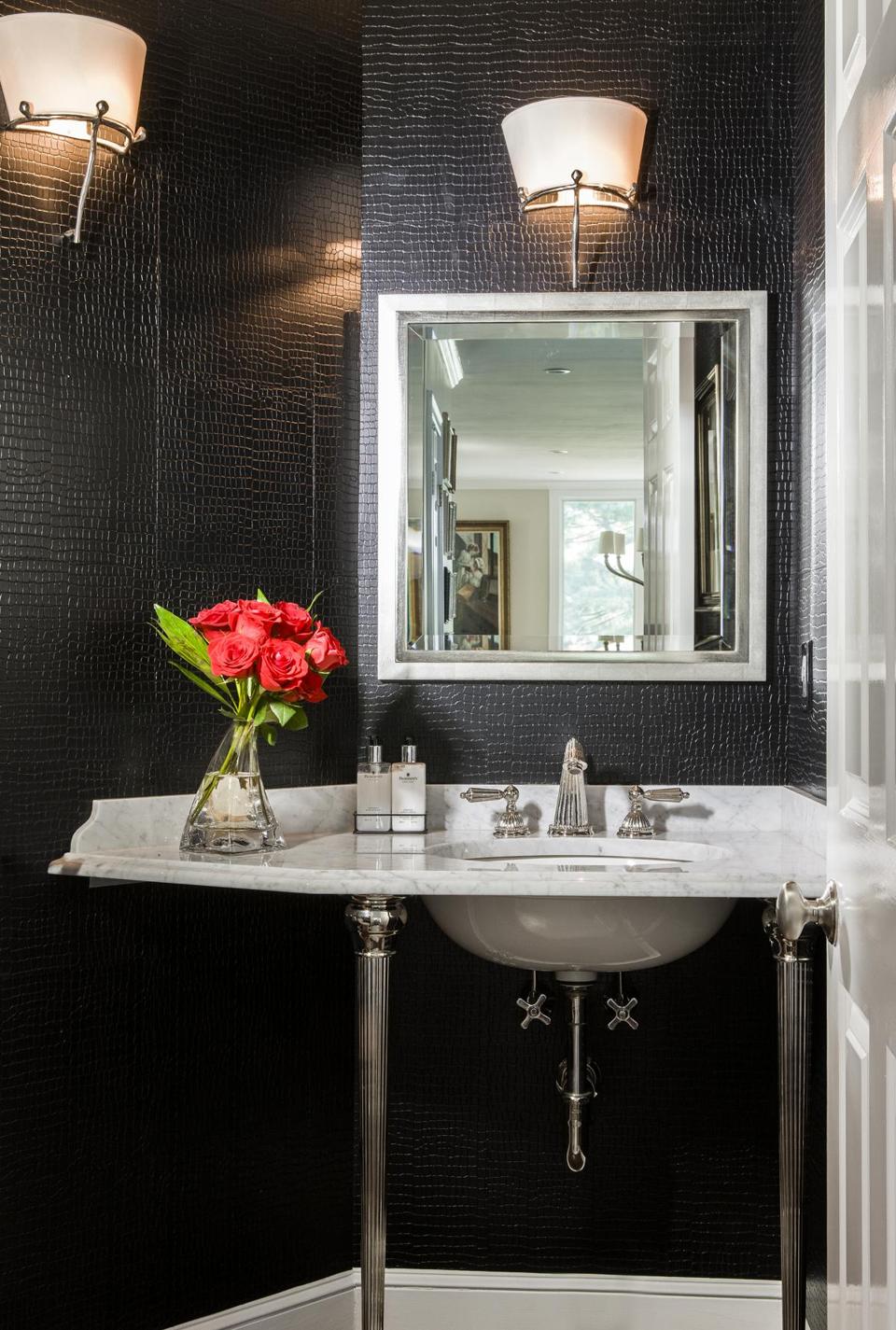 This contemporary design powder room is by Sally Wilson, of Wilson Kelsey Design in Salem, Massachusetts.  The space includes navy croc-embossed leather wall tiles from EcoModern Design, a custom white Carrara marble counter with elegant nickel faucets and front leg supports.  The simple frame of the beveled mirror has been finished with silver leaf.  Photo by Michael J Lee, via Boston Globe.  It has a refined urban feel.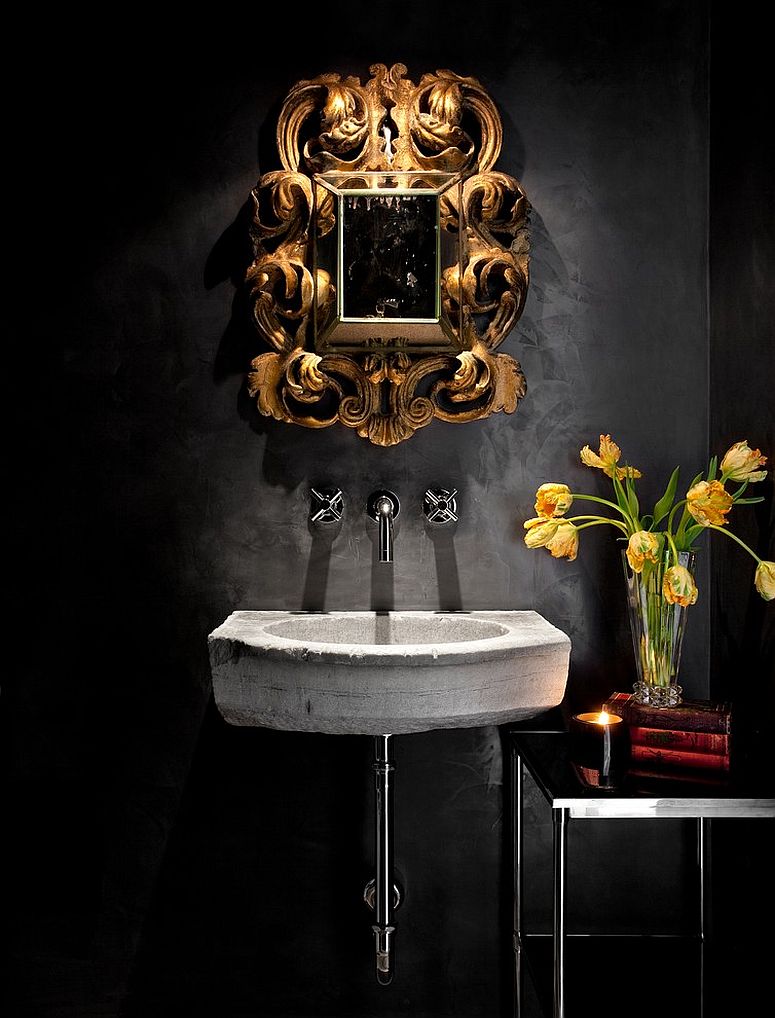 Here we have a dramatic powder room that is all about contrast.  The walls are finished with black plaster and a rough cement wall-mounted sink is paired with smooth contemporary faucets.  A gilded, high relief Baroque style mirror has been cleverly used, along with a sleek modern design side table.  These design ideas for bathrooms are by Ryan Street & Associates in Austin, TX.
Design by Elizabeth Stanley and photo by Ryann Ford.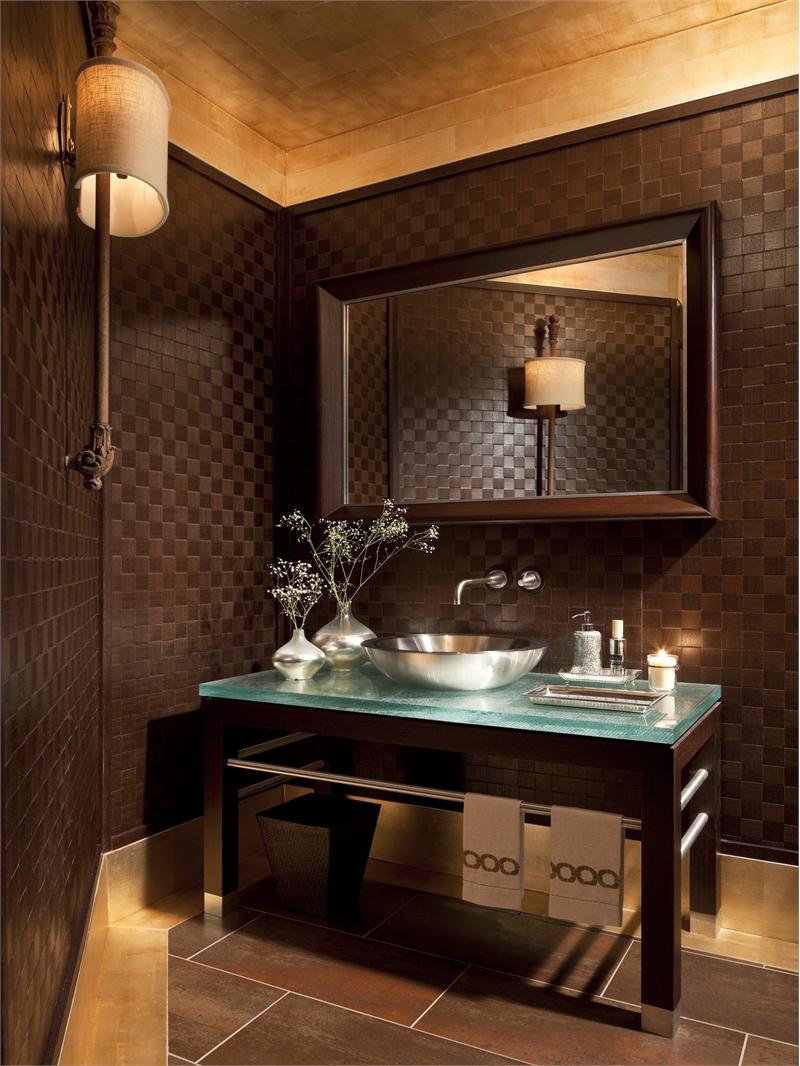 This powder room is by Pound Ridge, New York based SGH Designs and features Bottega Venetta-style woven mahogany paneled walls with burnished silver wall-covering on the ceiling and trim.  The custom vanity is complete with an etched glass top and vessel basin.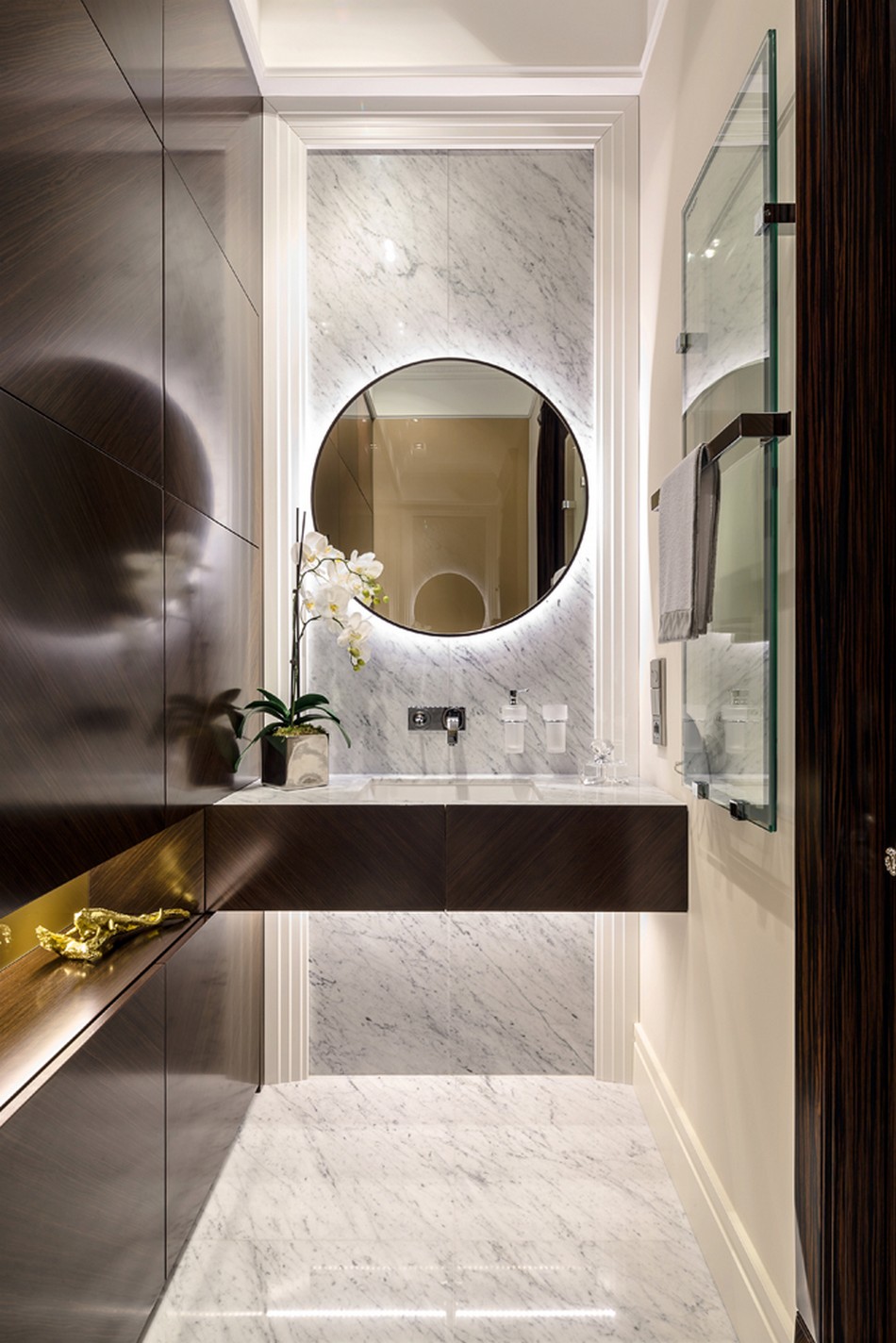 Here we have a sophisticated design powder room from a home in Italy by NG-Studio.  This bath includes marble tile, classic plaster detailing, and exotic wood veneers.  The mirror is lit from behind and the vanity is lit beneath.  Very chic!  via Freshome  Very Italian and sexy!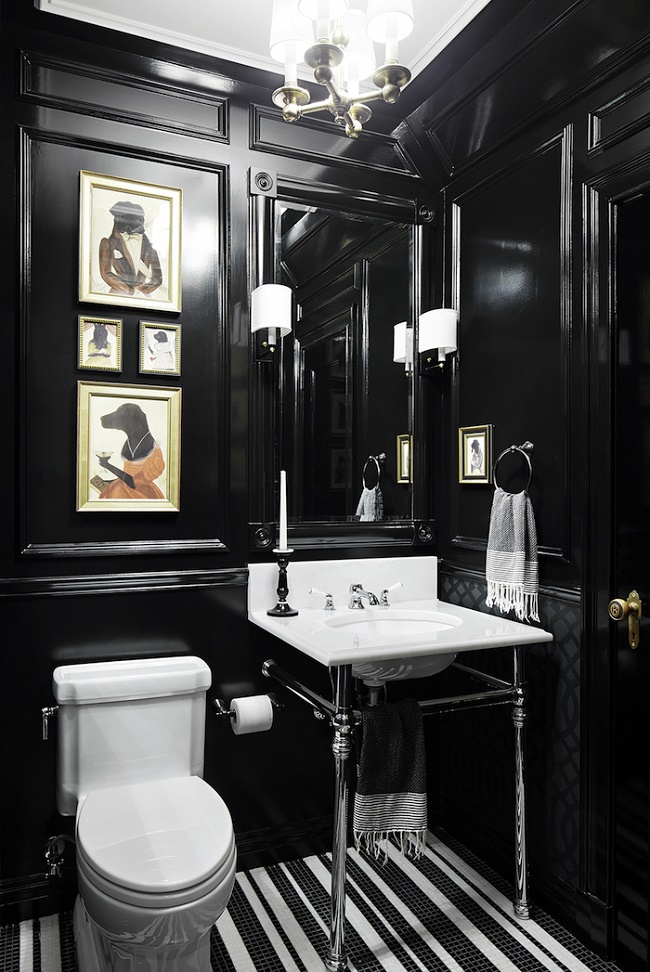 This classic design black and white powder room is from a West Village townhouse by New York based Rob Stuart, and was designed as a tribute to old New York society.  The floors are finished with tile and the paneled walls are finished in high-gloss black.  Photo by Donna Dotan via The Decorista.  It feels East Coast urban!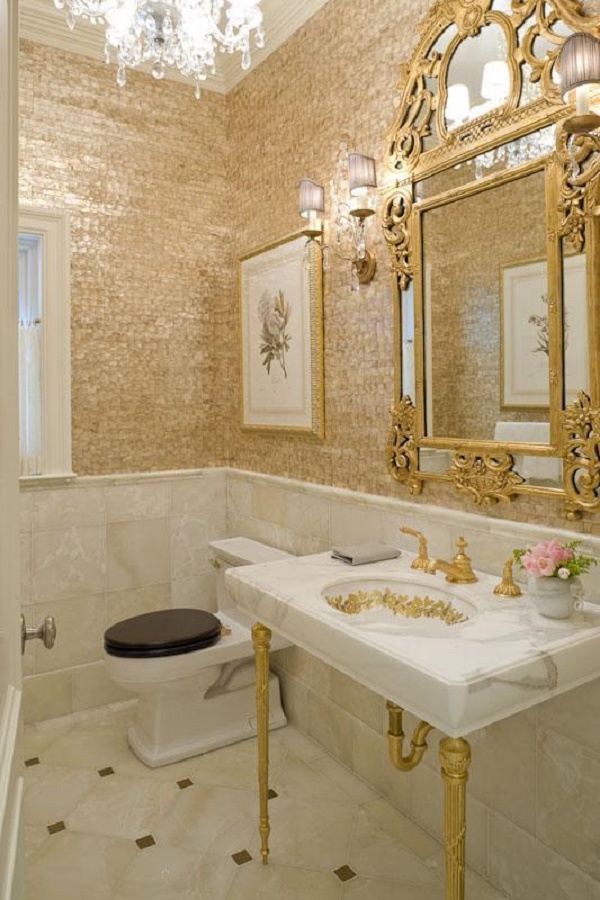 This fabulous traditional design powder room is by Boston based John Stefanon of JFS Design Studio.  It features mother-of-pearl wall covering from Donghia, with onyx floors and wall tile.  The counter is white Calcutta marble with a hand painted under-mount basin, and gold plated faucets and front leg supports from Sherle Wagner.  To complete the room, the designer used a Regency-style gilt mirror, and an antique chandelier and wall sconces.  Via Boston Globe.  It's so exquisite!!  This is what they mean when they refer to these rooms as "Jewel Boxes"!
Here we have a contemporary design by Fort Lauderdale, Florida based B&G Design.  The walls are dark rift oak paneled.  The counter is composed of back painted bronze glass with a vessel sink and clean design faucet.  The polished nickel sconces are mounted on the front mirror, while another floor-to-ceiling mirror is behind it.  The lights, mirrors, and glass enhance the floating effect.   Via Houzz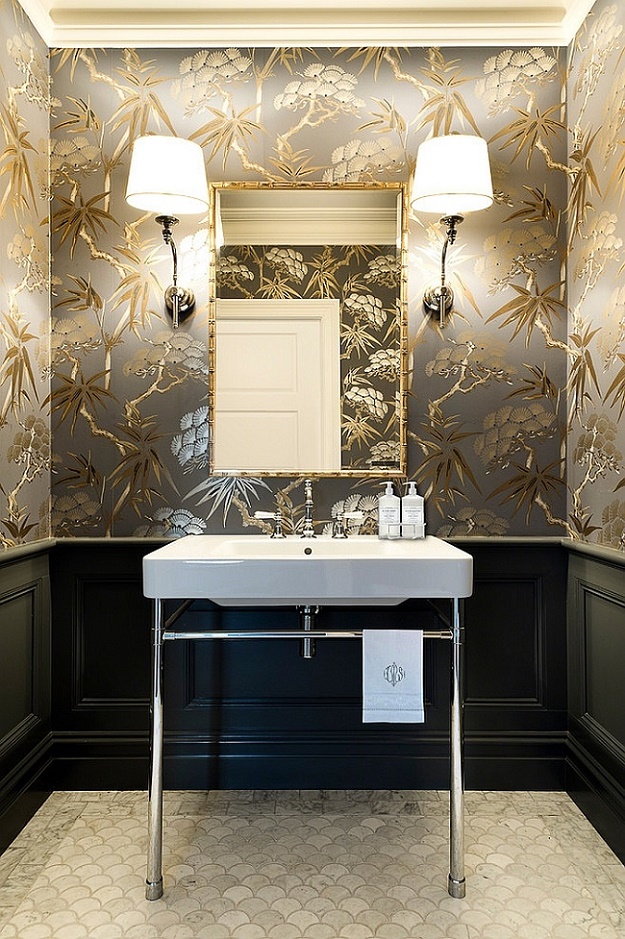 This powder room is by Sydney, Australia based Karen Aston Design, and includes black wainscoting and silver-tone bamboo design wall covering along with a gold bamboo framed mirror, via Decoist.  I love those floors too.  The shine of the silver makes this look fresh and appealing.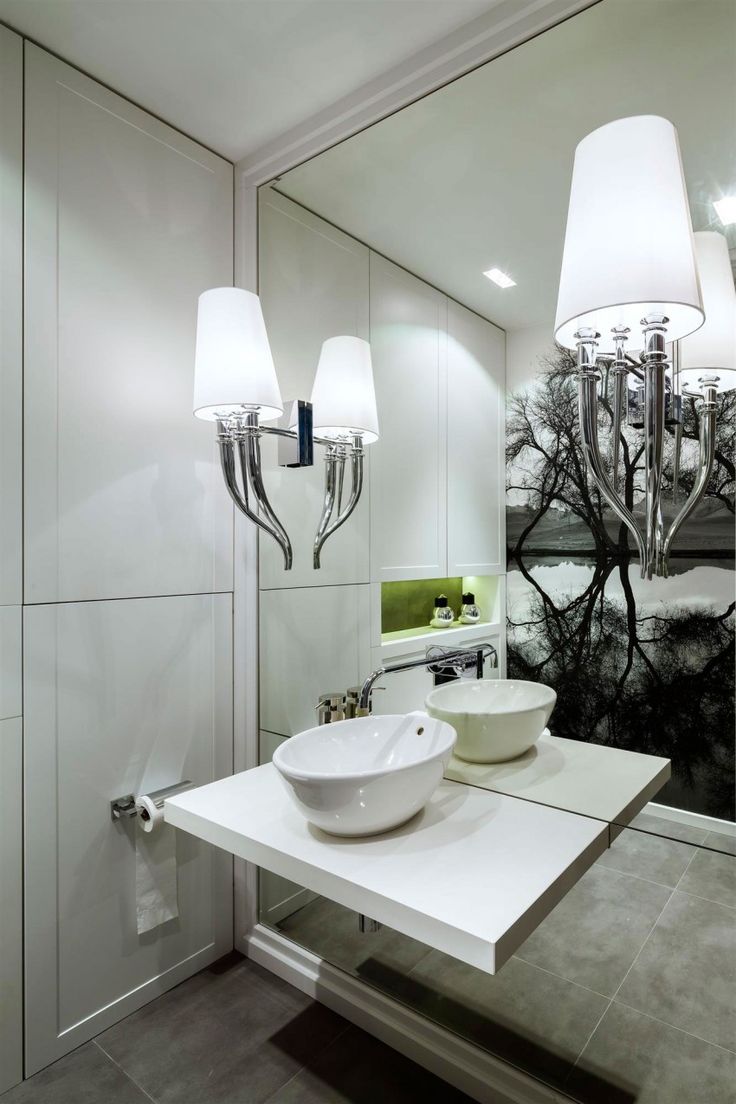 In this powder room from a Warsaw, Poland apartment by Hola Design,  mirror is used to face the entire back wall, which reflects the detailed painting on the facing wall.  The floating counter extends from it with a porcelain vessel sink, as do the shiny pair of sconces which really elevate this room via Bloglovin.  As much as I like the dark, dramatic spaces, my practical side also really appreciates good mirrors with plenty of clean, white light.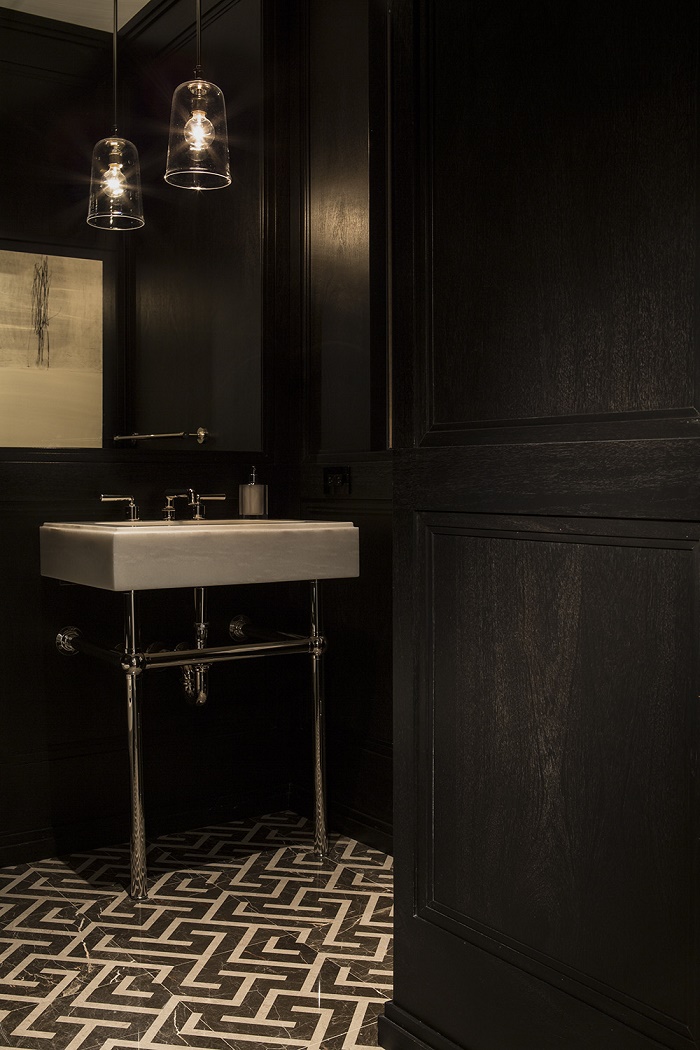 This classic design powder room is from a city pied-a-terre by New York and Miami based Michael Dawkins.  It includes paneled walls, a marble sink, and Waterworks fixtures.  See this entire apartment here.  This is a very elegant space.
This luxury design powder room is from a regal home by Dallas based Isler Homes.  The room is completely enveloped in marble and includes a re-purposed 19th century French marquetry commode with gilt bronze mounts, finished with an Ann Sacks honed Calacutta Borghini marble top and gold plated faucets.   Hanging above it is a grand scale carved and gilded Italian mirror, with a pair of French horn sconces on either side.  Via Houzz.  The idea of refashioning period antiques into vanities is one that I love.  Like I said earlier, use the best to make the biggest statement!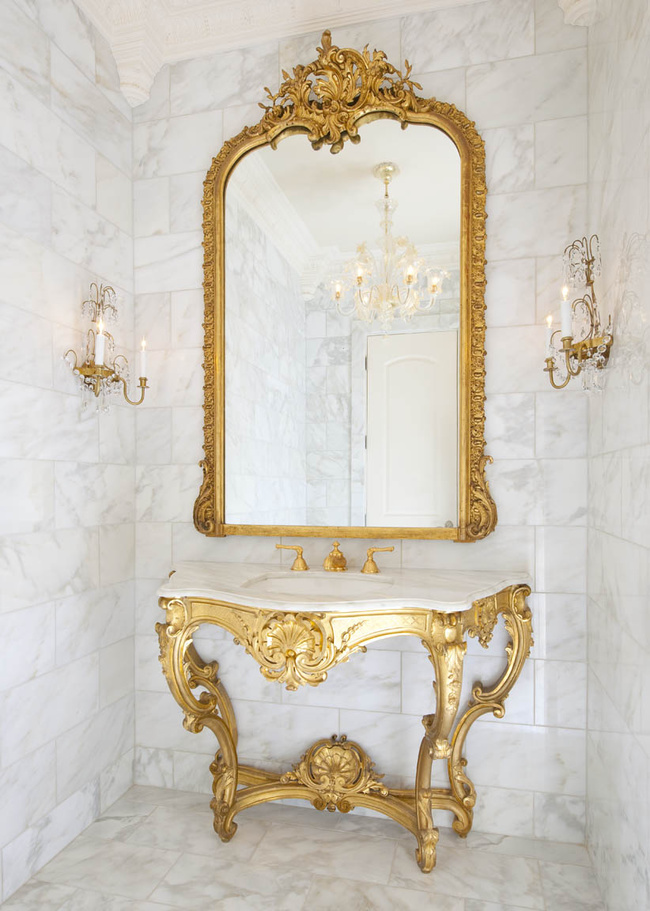 Here we have another home from Dallas, Texas based Isler Homes.  This all marble powder room includes a 19th century Louis XV style gilt-wood mirror, circa 1880, along with a 19th century Louis XV style console vanity with marble top, and gold plated fixtures.   Via Houzz.  I am a huge Francophile and love all things Louis.  The effect is so clean and absolutely modern, despite the use of period pieces, when used in this light and bright marble room.  You can't go wrong with a grand mirror, gold details, and a chandelier in the powder room, just my opinion.
Yes, I admit it.  I have fallen for the croc-embossed wall coverings and will be using them in my next project.  Lastly, we have one more from Emily Seiders with the Austin, Texas based Ryan Street & Associates.  The high gloss black walls are punctuated with the custom marble counter with under-mount sink, gleaming contemporary silver faucets, and leg supports.  The mirror is killer with that frame, and the picture light is genius.  A perfect fusion of classic, modern, and edgy.
Powder Room Conclusion
That concludes our collection of design ideas for powder rooms.  I hope you all have enjoyed the selection we have curated for you today, and have found some design inspiration to freshen up and personalize your powder room so it can say what you would like for it to say about you and your style.
Have a great day!!
If you have enjoyed today's post, please share it along below, and let me hear from you all in the comments.  Do you have any design ideas or tips for the powder room?  What do you think of these we have shown today?
Please like us and share: